Previously, ZenHotels only displayed reviews from two sources – users of our service and from TripAdvisor users. Thanks to this new partnership, our review database has more than 136 million reviews to help you decide!
What does this mean for you? 
This means that not only do you have access to ZenHotels' 2.2+ million accommodation options, but you also have access to more than 136 million verified reviews. 
Whether you're looking for a hotel, apartment, campsite, or any other type of accommodation worldwide, our review database will make it even easier for you to find the hotel of your dreams. 
To get the most out of these reviews and ensure you choose the best place to stay, here are some tips on how the new review data works.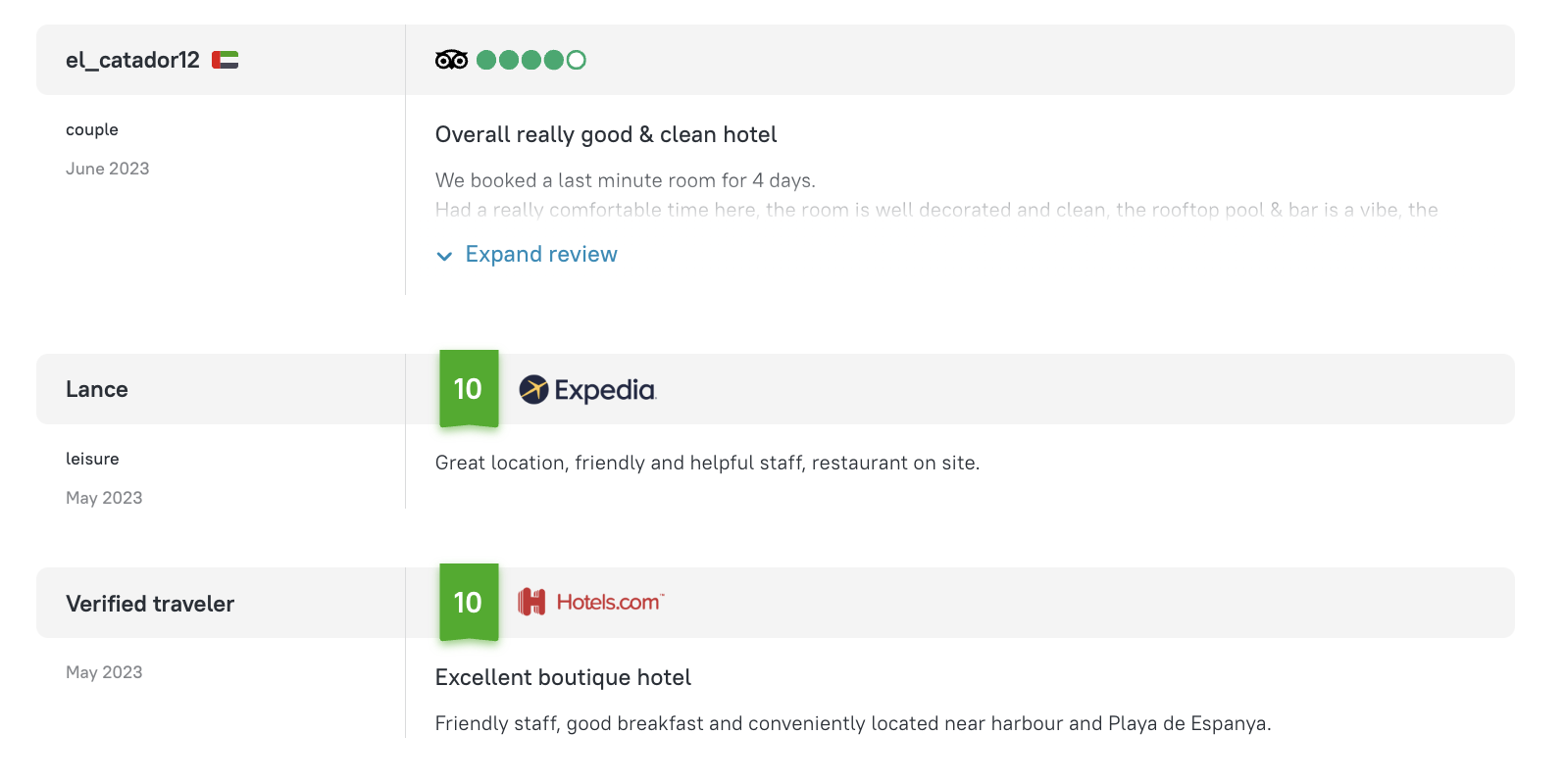 How reviews work
So that you can learn all the important details and make the right choice, we've gathered information from various sources on the hotel's page. Here's how it works. Users rate their stay based on several parameters:
Overall impression of the room

Cleanliness

Meals

Service

Hygiene products

Value for money

Wi-Fi quality

Location

Room

Ratings for each parameter are calculated by average. For example, if 10 guests rate the cleanliness of a property, their ratings are added up and divided by 10 — resulting in an overall cleanliness rating. Reviews from guests who did not rate cleanliness will not affect this value.
The overall property rating is the average result from all ratings (both our internal ratings and those from suppliers). As a result, on the property's page, you can find a lot of helpful information:
a rating scale for each parameter based on reviews from our users

an overall rating of the property on a scale of 1 to 10 based on all reviews (users of ZenHotels, TripAdvisor, Expedia, Hotels.com, Vrbo);

the property's rating on a scale of 1 to 5 based on TripAdvisor user reviews;

the rating and comment from each user who has left a review in your language.
Please, note
It's possible that a specific destination or hotel is not in demand on supplier websites, and there are no reviews for them yet.
How to sort reviews 
By default, reviews are displayed based on the language of the interface. Select the desired option in the upper right corner to see reviews in another language. 
If you primarily want to study positive reviews, choose the "high ratings first" sort option; if you're interested in negative thoughts, choose "low ratings first." Reviews can also be sorted by the date they were created.

How to choose a hotel based on reviews 
Here's what you should pay attention to:
Who left the review. The needs of travelers differ depending on what they're looking for and their vacation's aim. For example, families with children look for different things to couples in love. For your most comfortable stay, focus on guest reviews marked as "leisure travel."
The dates when the review was left. Pay special attention to recent comments (sort by creation date). Feedback mentioned in old reviews may no longer be relevant — for example, guests complained about low-quality facilities in 2021, but the hotel underwent renovation in 2023. 
How relevant the information about drawbacks is.

Think about what you want from your holiday and analyze the reviews with these preferences in mind. For example, if you're dreaming of a relaxing holiday, check what people have said about the hotel's proximity to the beach and how they rated the swimming pool. Or, if you're more in the mood for an adventurous city break, find out from reviews how easy it is to get from the hotel to the city center. 
---
Expanding the review database will help you choose the perfect setting for your dream vacation. We understand that accommodation can make or break your trip, so this partnership will give you access to all the reviews you need to help you choose where to stay.
We hope you enjoy your next dream vacation with ZenHotels!
Please note that currently, Expedia reviews are not available in all regions. We'll update you if something changes.