The best time to visit
High season in Thailand is between the end of October and the beginning of May when the heat sets an and the rainy season begins on the islands. Bangkok is located on the mainland, and rainfall and thunderstorms are common in the summer. They can be quite lively, but they don't usually last for long.
Be prepared for the fact that in June and July temperatures in the Thai capital remain above 30ºC day and night and walking around in that weather can be unpleasant – you're always looking for the next air conditioner. On the other hand, though, in the low season from May to October, hotels drop their prices quite noticeably so you would make some savings on your journey. The fruit is available in Thailand all year round, but in the summer the variety and prices are really good.
Getting around
When planning your day in Bangkok, remember that the Thai capital is perpetually stuck in a traffic jam. If you choose a hotel in the Old Town, you will almost inevitably take ages to get there and then have to leave way too early to get back to the airport. I'd recommend considering a hotel in the Sathorn district. If you really do have very little time to get to know the city, try one of the hotels close to Suvarnabhumi Airport, such as the Novotel Bangkok Suvarnabhumi Airport.    
And now a few words about what you should try to fit in during your day our in Bangkok. I've done this myself, so I know it works.
Go for a massage
What better way to start your day in Thailand than with a Thai massage? Where to do this will depend on how much you want to pay. The screaming street advert will offer massages for 300-400 baht, which sounds great but don't be too hasty – not all these massages are of the same quality. Remember the names Health Land and Asia Herb Association – these chains are known for giving good value for money.  
You could also try getting a massage in the hotel's spa. This will cost you considerably more (in some internationally branded 5-star hotels this can cost as much as 3500 baht), but you will not be disappointed by the results.
Take a ride in a tuk-tuk
You can use Bangkok's public transport system (underground – the BTS and overground/monorail – the Skyline) to get the main sights. Be aware that they work independently of each other, so if you need to transfer from one to the other, you will need to get another ticket. The price you pay depends on the distance you need to travel. Tickets start from 15 baht. You can also buy day tickets costing 140 baht. The monorail is especially convenient for getting to the newer districts and the shopping centers. The Old Town is a different story.
You normally have to use the public light railways (Skyline and BTS) with another form of public transport such as the popular river connections where tickets cost around 10-40 baht. You can easily get from the docking station in Sathorn (Taksin) on the Silom Line to all the main sights in the very heart of the Thai capital, places like the Royal Palace. 
You could opt for a taxi but remember the traffic jams. You would normally pay between 200-250 baht. You can try to haggle, but especially at rush hour, drivers are spoilt for choice. You can save a little by using the Grab app, the Thai version of Uber, but your smartphone will need to be connected to the internet.
The most colorful way to go about this would be the tuk-tuk. You can be affected by traffic jams with these as well, but they have more shortcuts available to them than normal cars. There are similarities with taxis when you use this kind of transportation.
Tuk-tuk drivers actively tout for business in front of hotels and the main sights. You can also try to haggle with them, and if you hold out, you might be able to get fares for as little as 50 baht. Don't fall for the "I know a place where you can get a cheap riverboat" story – they will take you a docking station, alright, but one where they will try to sell you a private boat transfer for "only" 2500 baht. Remember that public river transport in Bangkok is much cheaper.
Take a walk in the park
Parks are oases of calm and tranquillity in this megapolis and its crazy momentum. It's really worth coming here to "get back down to earth" and to properly understand that not all Bangkok inhabitants are constantly on the go – sometimes they spend time in the park, playing some sport, meditating or simply sitting on a bench enjoying the view.
One of Bangkok's most pleasant (and as yet undiscovered) parks is called Lumpini Park. This is the ideal place to take shelter from the heat and feel at one with nature. Mornings here are quiet so you can spend time quietly reading or watching the fidgety lizards as they enjoy the heat; these animals are one of the symbols of the park. There are also many interesting statues, a children's playground, and an outdoor training area. A food court opens up in Lumpini Park after midday so you can get something to eat without setting foot outside this green area.
Visit the Golden Buddha
One of Bangkok's most popular tourist attractions is the Wat Traimit Temple, inside of which can be found a large golden statue of Buddha. This place is worth visiting not just because of the 18-carat gold statue but also because of the temple itself. It should be noted that all holy places in Thailand require you to respect a dress code which means that shoulders and knees should be covered. Entrance to the temple costs 40 baht. If your dress is considered immodest by those around you, you might be invited to hire a shawl for 20 baht.
Admire the architecture of the Royal Palace
Bangkok's Royal Palace is visited daily by hundreds of people from all over the world. They queue to admire the beautifully exotic architecture. Entrance costs 500 baht, and only cash is accepted. You should try to get there before 8.30 am when it opens so that you have a chance of getting in before the tour groups descend and it won't be so hot at that time of day. You can also buy tickets on the palace's official website, but you need to do that at least a day before you want to go. The tickets are timed, so make sure you are not late.
And don't forget about the dress code; it is in force here too so you must try to keep as covered as possible. Next to the Royal Palace is the Temple of the Reclining Buddha, built in the same style. Entrance costs 200 baht. It's worth looking in here if the queues into the Palace are too long and your valuable time is running short. This is no less impressive than the palace, and the huge size of the Buddha is impressive.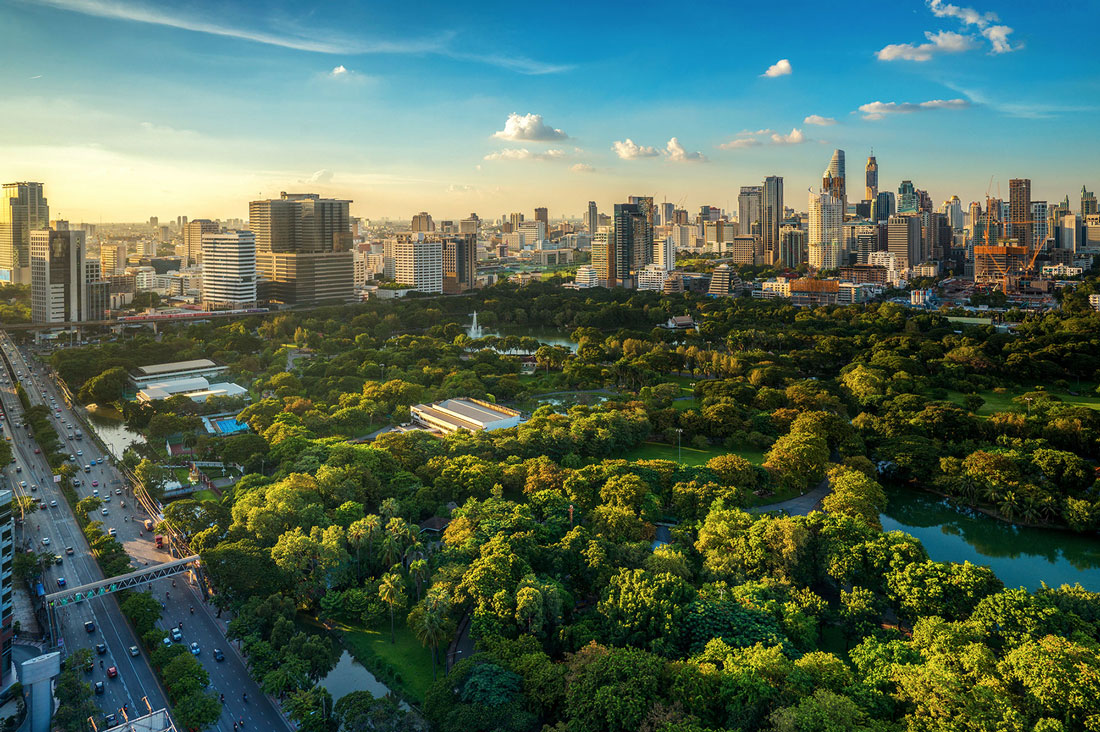 Lose yourelf in the Chinese Quarter
The Chinese Quarter is one of the best-known neighborhoods in Bangkok. Life literally seethes beneath bright signs and enormous Chinese symbols. It seems like you can find anything here from cheap noodles and Peking duck to practitioners of Chinese medicine. Loud noises, strong (and not always pleasant) odors, piles of cheap souvenirs you'll find nowhere else in town and red Chinese lanterns combine to give this area a madcap energy which you need to experience, if only for a few minutes, and then remember – this is Bangkok too!
Apart from the spices and fruits, you can also buy jewelry hand made to your own specifications. OK, the quality of the metal may not be the best, but for all that, you can be sure that whatever you buy will be unique. And if you suddenly fancy something exotic to eat, here's where you'll find shark fin and black forest mushrooms.
Head for a shopping center
Shopping in Bangkok is something which needs to be seen to be believed. Local shopping centers can be absolutely enormous. In addition to better-known brands such as H&M, Zara and other international giants of the fashion industry, lesser-known brands are also represented, such as Findig, Greyhound, Sretsis, T-Ra, Valit Itthi, Sanshai, and many others. You're almost certain to come across something interesting for a good price.
If your stopover in Bangkok is on the way home from a resort holiday, it makes sense to pick up some tropical fruits to enjoy at home. You can pick these up on any street stall or in supermarkets like Big-C or 7-Eleven. The fruit costs a bit more in the supermarkets (around 10-15 baht per kilo more), but it will be better packed – meaning it stands a better chance of getting home in one piece – and you can pay using your card.
Note that it's not a good idea to use ATM's in Thailand. However much you take out, you will be charged 220 baht commission so using an exchange office could be better value. USD, GBP, and Euro are widely exchanged.
Get a bird's-eye view of the city
Bangkok is aiming ever higher with its magnificent glass skyscrapers resembling visitors from the future. When the heat diminishes in the evening, the city is lit up by hundreds of little flames, the best time to see the city from a height. The higher you go, the better your view will be.
Try, for example, the Moon Bar, located on the 61st floor of the luxurious Banyan Tree Bangkok hotel. If it's not raining, you'll not only be able to enjoy the latest cocktail in the open air (average cost for a drink is about 580 baht), but you can also take some unbelievably beautiful photos from a zone which has been specially set up with the optimal lighting conditions.
You can go even higher if you go up to the viewing platform of the Manakhon skyscraper, which is the tallest in Bangkok. It's cheaper to get your ticket online where it will cost 1400 baht. You'll pay almost twice as much on the spot.
Another way to see Bangkok from above is to take a ride on the Big Wheel. A ticket for an adult costs 400 baht, and it is open until midnight.
---
Bangkok is a dazzling array of skyscrapers, a swirling mixture of the aromas of Asian food, a feeling of freedom and yet draws you into a crazy tempo of the frenzied every day. Some places are grubby and unattractive, others are super-modern and expensive. Luxury hotels sit cheek by jowl with slum districts and expensive restaurants next to little Chinese takeaways. Bangkok has a kind soul and a big heart, it is unique and depends on no-one, it has rich traditions and belief in a bright future. It's easy to lose oneself here – and also to find oneself. Either way, you won't get bored.