Contents
The weather
Koh Chang is in the tropics, so you need to choose carefully when to go. The high season is between mid-October and mid-April and the weather at this time is dry, clear, and still with calm seas and excellent swimming conditions. This is the best time to travel.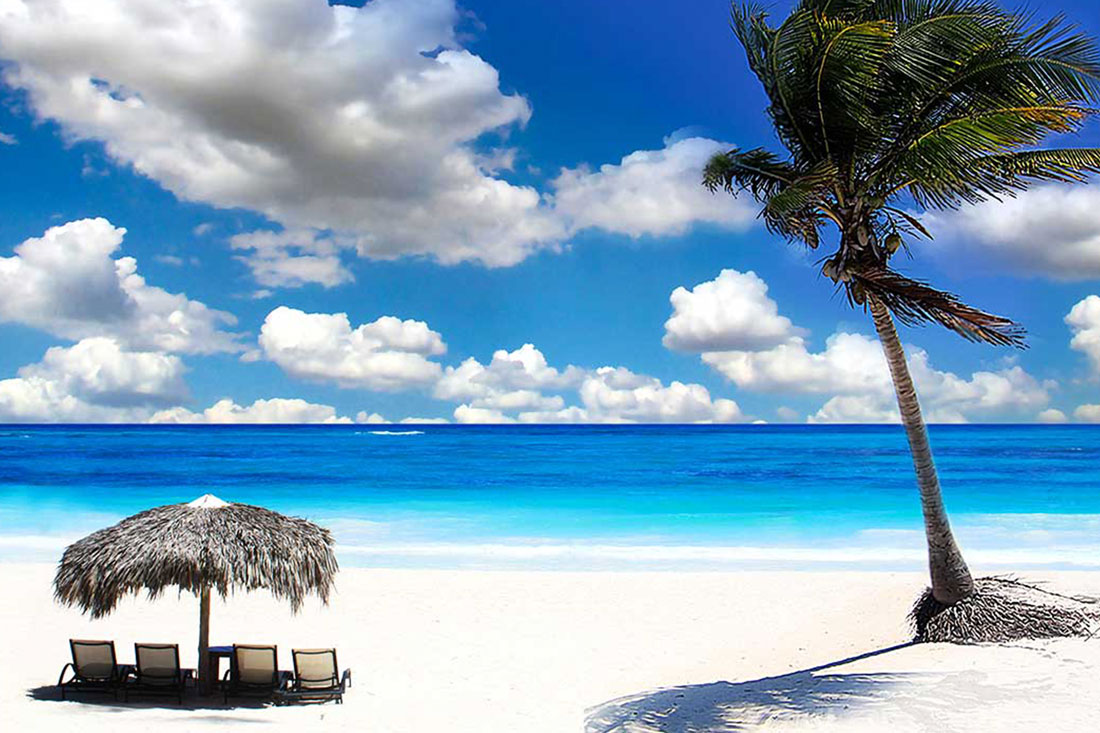 From May to September, like everywhere in the tropics, violent storms can quickly blow up, and the monsoons and heavy seas can spoil the experience. 
There is no weather station on Koh Chang so the forecasts can be a bit hit and miss. However, the average temperature all year round is about 30º-33ºC and the water 26º-28ºC
How to get to Koh Chang
There's no airport on Koh Chang – the nearest one is in Trat, on the mainland. You can get there via Bangkok or even Dubai and Abu Dhabi. It's a bit of an effort, but once you're there, it's worth it.
Bangkok Suvarnabhumi airport to Koh Chang
The bus number 392 to Koh Chang leaves Bangkok Suvarnabhumi airport at 07.50 and returns at 13.00. The bus takes you to the boat jetty where you board a ferry. There are ferries every half hour from 6 am). The bus journey costs 600 baht (~$20.00/€17.80) one way and 900 baht return (~$29.00/€25.50). The ferry ticket costs 80 baht (~$2.50/€2.20) one way. It's best to buy tickets in advance on the website. Bottled water is available on the bus, along with cakes and seasickness tablets. The journey takes about eight hours.
Another option is to take a minibus. They run to Koh Chang at 9.30am, 11 am, and 2 pm and the return journeys are at 7 am, 9 am, 5 pm, and 7 pm with a journey time of around 7 hours including the ferry. Tickets cost 600 baht (~$20.00/€17.80) one way and 900 baht return (~$29.00/€25.50). The ferry ticket costs 80 baht (~$2.50/€2.20) one way. You don't need to buy the minibus tickets in advance. You can get them at the airport cahs desks near exit number 8. 
Bangkok – Trat airport – Koh Chang
Only Bangkok Air flies from Bankok to Trat, and you can find out the latest timetable and buy tickets on their website. The flight takes about an hour and costs from 2650 baht (~$85.00/€75.50) one way.
From the airport at Trat you need to get to another boat jetty and jump on a ferry to the island. You can get to the jetty using one of the many songthaew buses which leave from both the airport and the bus station. The fare on a songthaew is 70 baht (~$2.25/€2.00) and the ferry ticket 80 baht (~$2.50/€2,22) one way, 120 baht (~$3.85/€3.40) return.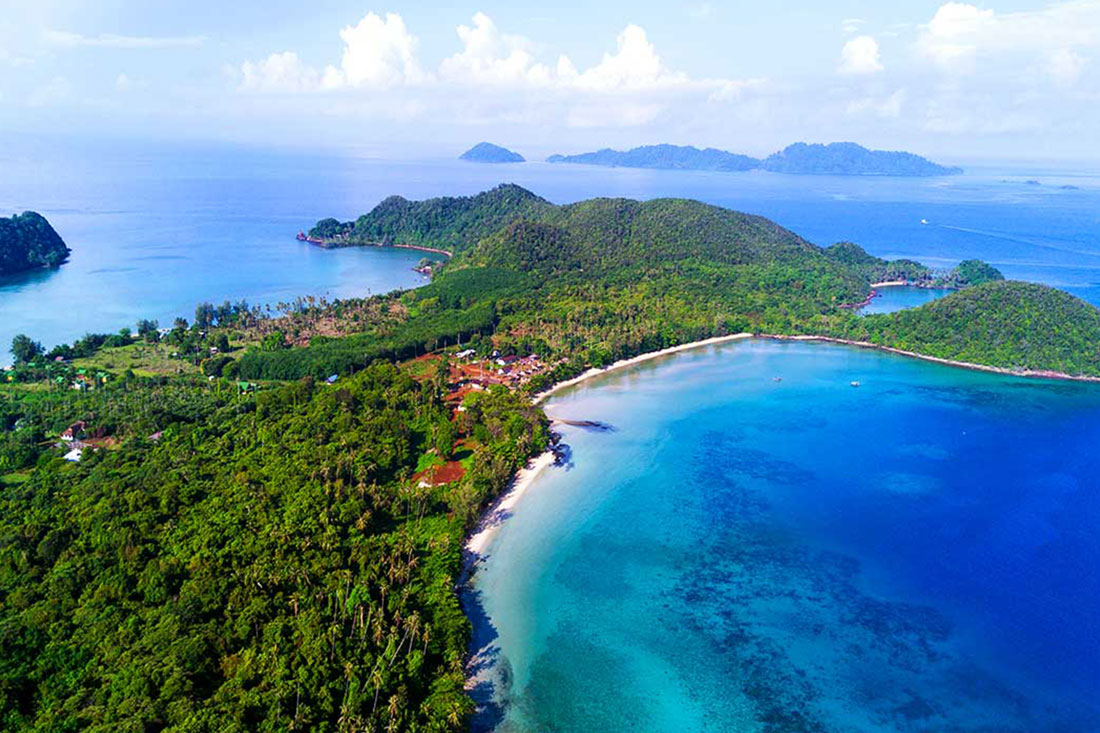 Another option is to take a taxi or group transfer. A taxi will cost 1500-2000 baht ($48.00-$64.00/€42.60-€56.80) and a group transfer 400-600 baht (~12.80-$19.00/€11.35-€16.90).        
Public transport on Koh Chang
Public transport on Koh Chang, like almost everywhere in Thailand, is by tuk-tuk. The prices are not fixed so you will need to haggle with the driver, but a short journey, say to the next beach, will cost around 20 baht ($0.64/€0.57) and to the next town costs from around 40 baht ($1.30/€1.15). A journey across the whole island, say from White Sand to Bang Bao will cost no less than 100 baht ($3.00/€2.85). You cannot miss the tuk-tuk stations – they are on every beach.     
Koh Chang's beaches
Koh Chang is an idyllic place where there are dozens of breath-taking white sandy beaches sloping down to the sea, incomparable tropical nature, almost untouched jungle and heavenly views.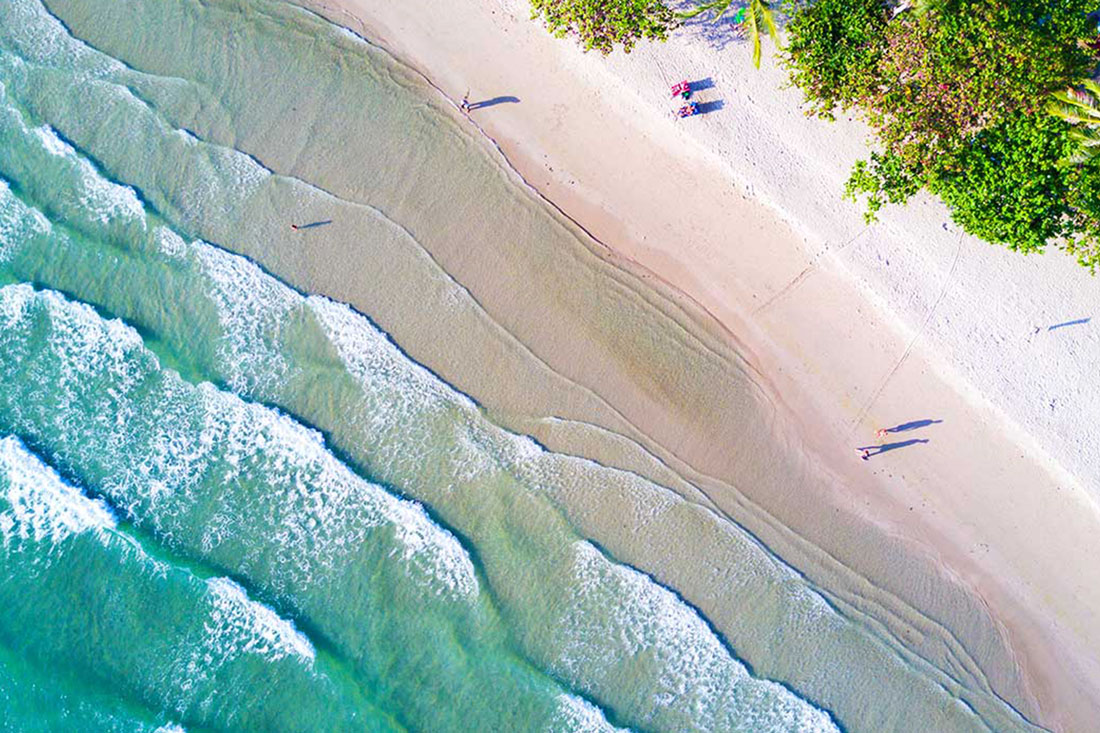 The western part of the island is best for holidays as it's where most of the hotels are to be found. The beaches are either public or belong to hotels. The public beaches we have chosen to write about are free of charge.
White Sand Beach is the best known on Koh Chang. This is normally where you find people who have booked package holidays. White Sand can be a bit noisy, but it has great facilities (shops, bars, restaurants, cafes, street food, nightclubs and the rest). If you like the hustle and bustle and are worried about the language barrier, this would be the place for you.
Chai Chet, situated in a small bay, is excellent for kids. The hotels here focus on good order and calm. If you stop in one of these hotels, you can use the sun loungers for free, and there are swings for the children.
Klong Prao beach extends over three kilometers with incredibly beautiful coconut tree forests running alongside the front, but the facilities here are a bit of a let-down. Either you have to sit in the hotel all day, or you can hire a scooter (from 800 baht – ~$25.50/€22.75).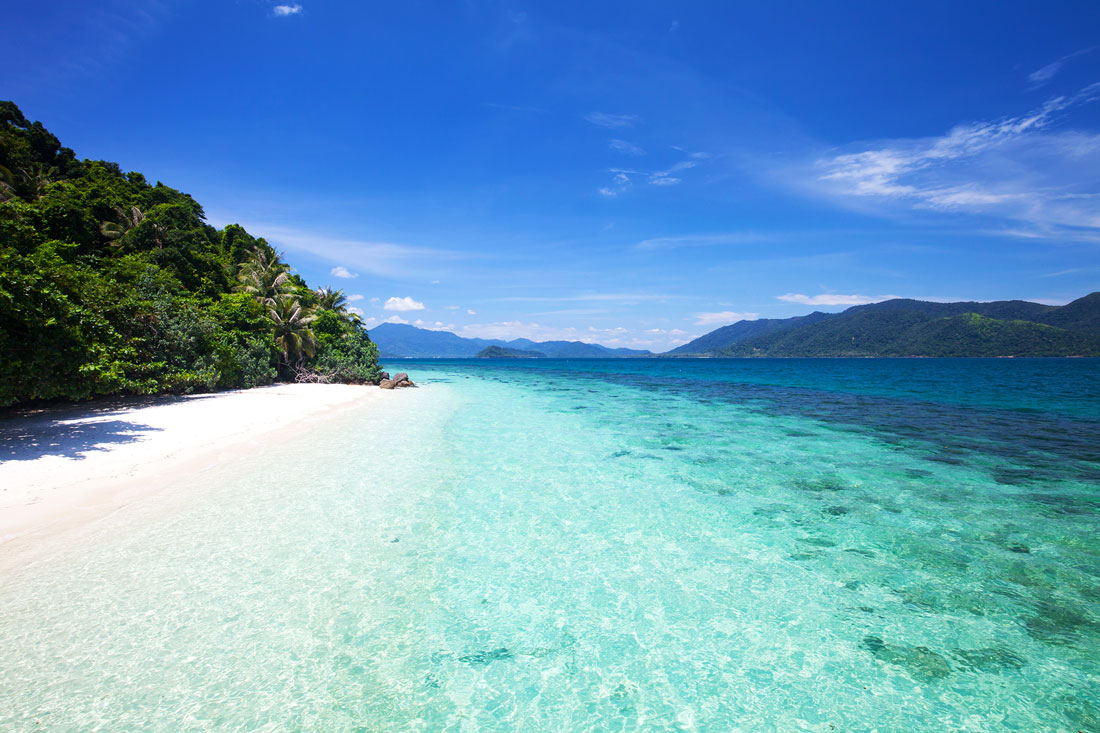 Kai Bae beach is a good compromise between White Sands and Klong Prao. It's not too busy, but at the same time, it's not too far from all the restaurants, shops and cafes. The northern section of Kai Bae is a pebble beach, whereas the southern part is sandy. The great thing about this beach is the multi-story viewing patform (free entry) which offers fantastic views over the beach and the neighboring islands. There's a large car park on the first level, and the entertainment area has lots of little shops and stalls selling drinks and coconut ice-cream.
Lonely Beach will appeal to those who want to get away from the noise of the city and get closer to nature. Mountains can be seen close to the beach, and the jungle comes right down to the shoreline. Frequent visitors to the beach are the agile little monkeys and brightly colored birds. Access to the sea is very smooth, and the tides don't affect swimming in any way.
Khong Koi beach is down in the southernmost part of the island. Here the sand is abundant, and the seas are blue, and there are plenty of quiet spots as well as busy places. There are cafes and hotels nearby but if you need to do any shopping you need to head for more populated areas.     
Things to do
Activities
Having taken full advantage of time spent relaxing on the beach, it's time to get moving again. Take a leaf out of those nimble little monkeys' book, who are so admired in Thailand, and head for the Tree Top Adventure Park which charges 1250 baht to get in (~$40.00/€35.50).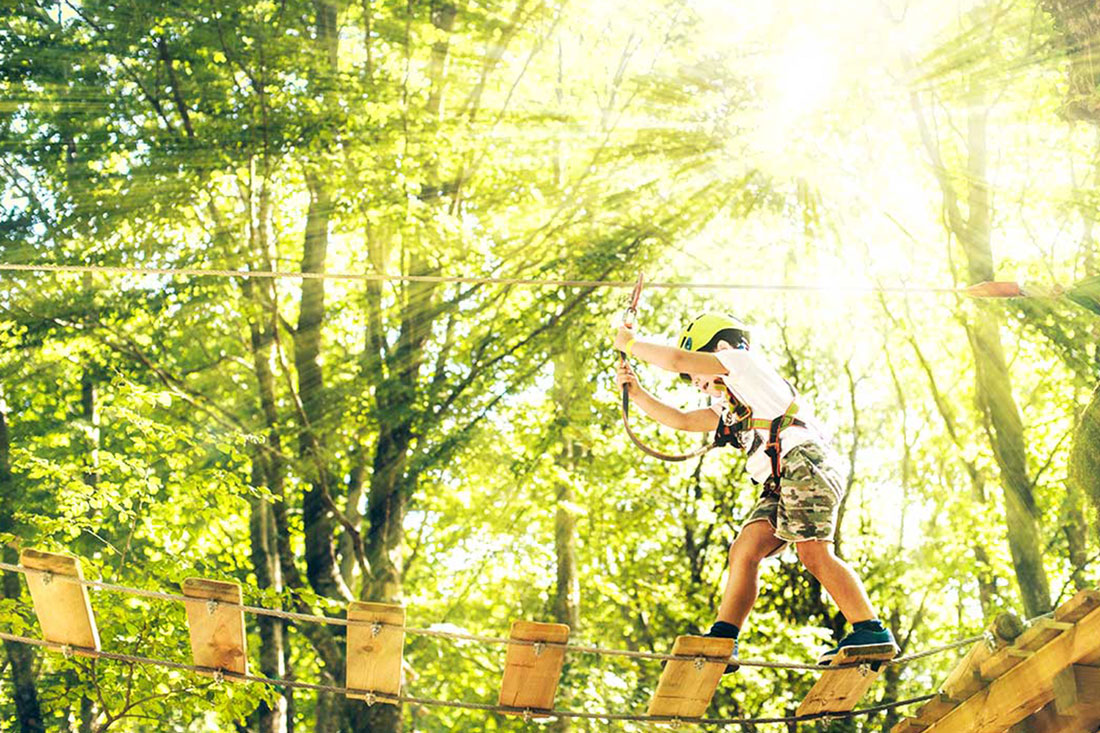 You'll find all sorts of tree-based activates here from rope swings to zip wires, to moving steps, balancing, skateboarding, air bicycle and a whole lot of other activities. You don't need to be an expert in anything as all levels are catered for in all activities on offer. Transfers to the park are included in the tickets, which you can order on their website. They also have points of sale on the beaches at White Sand, Chai Chet, Klong Prao, Kai Bae, and Lonely Beach.
Why not try some scuba diving to get closer to the underwater marvels of the Gulf of Siam? The island's leading diving school, Koh Chang Divers, offers diving programs for beginners as well as more experienced divers and prices start from 3000 baht (~$96.00/€85.00) for two dives). If you're not comfortable with the full diving experience, maybe snorkeling with a mask in the island's most popular aquaria is a better option. The sight of all those schools of brightly colored fish darting through the azure waters will stay with you for the rest of your life. Prices start from 1000 baht (~$32.00/€28.40).
For the curious
Elephants are revered like demigods in Thailand. They are intelligent and incredibly dextrous. You can get to know them better at the Ban Kwan Chang safari park. They charge between 400 and 700 baht (~$12.80-$22.40/€11.40-€20.00) to ride through the jungle and bathe in the river on the back of an elephant. At the end of the ride, you will have the chance to purchase a touching color photo of the experience and some refreshments for your new four-legged friend. If you haven't been on the back of an elephant, you haven't been to Thailand.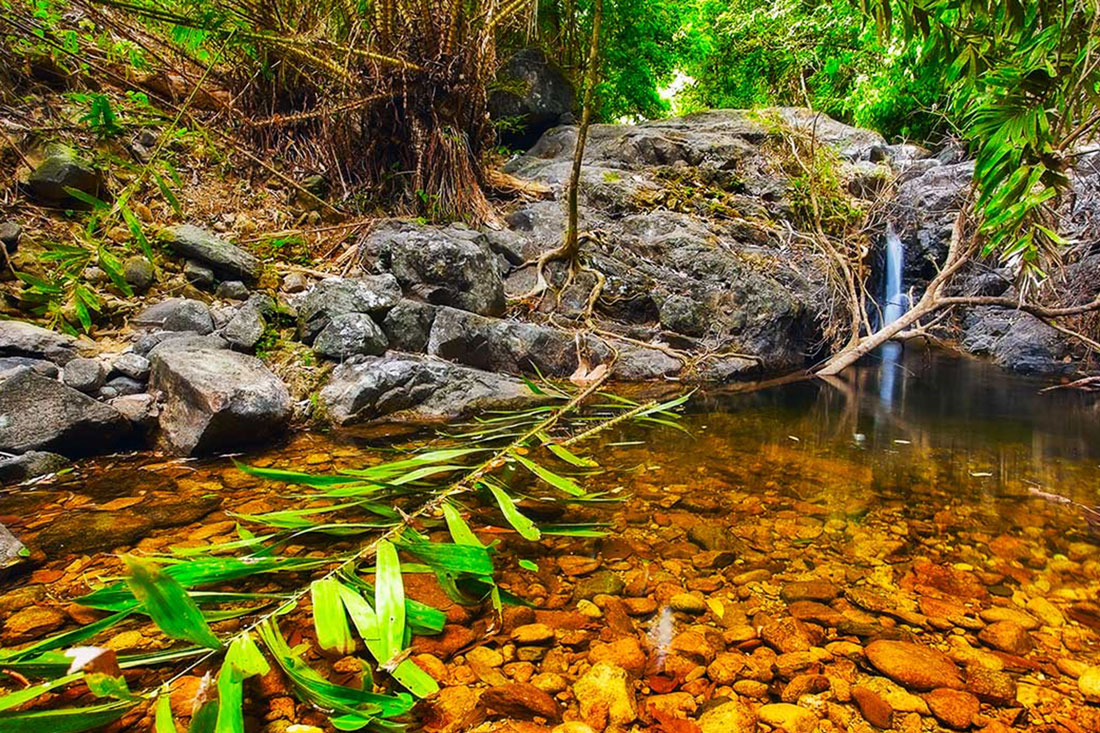 If you want to combine a bit of contemplation with your activity, why not hire a kayak or take yourself off to the waterfalls? All the beaches have kayak hire stations, and they cost between 100 and 500 baht (~$3.20-$16.00/€2.80-€14.20), and there are waterfalls all over the island. The prettiest is said to be the Klong Neung Waterfall which costs 200 baht (~$6.40/€5.70). Here you'll see an abundance of tropical fish and sea turtles.    
For the enlightened
Throw yourself into Buddhist culture, make a wish or see into the future – you can do all this at the island's Wat Salak Phet Temple. Close to here is a mango grove where monkeys sometimes come in from. Tropical aromas mix with the scent of the ritual incense, and you can watch the monks praying in the temple\s light rooms.
You can try "kau cim" to tell your fortune. This involves shaking bamboo sticks in an inclined jar until one falls out bearing a number between 1 and 28. You then take your stick over to a stand where there will be a note corresponding to your number. This note will tell you your future. We hope your wish is granted.
It is respectful to leave some sort of donation or refreshment for the monks, the spirits or the wild animals which wander into the temple. You could leave some fruit, drinks, incense or any object which would be of everyday use.
Don't forget that you have to take off any footwear before you enter a Buddhist temple, your shoulders and knees should be covered, and your head uncovered. Women should not touch the monks or take anything directly from them or give anything directly to them. If he comes into contact with a woman directly or via an object, he has to start his vows all over again, and that can take years.
Thai food
The signature dish of Thai food is tom yam soup, a sweet and sour broth made from chicken stock with shrimps and other seafood products. Tom kha gai and tom kha goong are based on coconut milk; phat thai (fried rice noodles in a fish sauce, with sugar, lime juice, tamarind, peanuts, and egg can be served with different meats and tofu) and khao kluk kapi is fried rice with shrimp paste, pork and vegetables).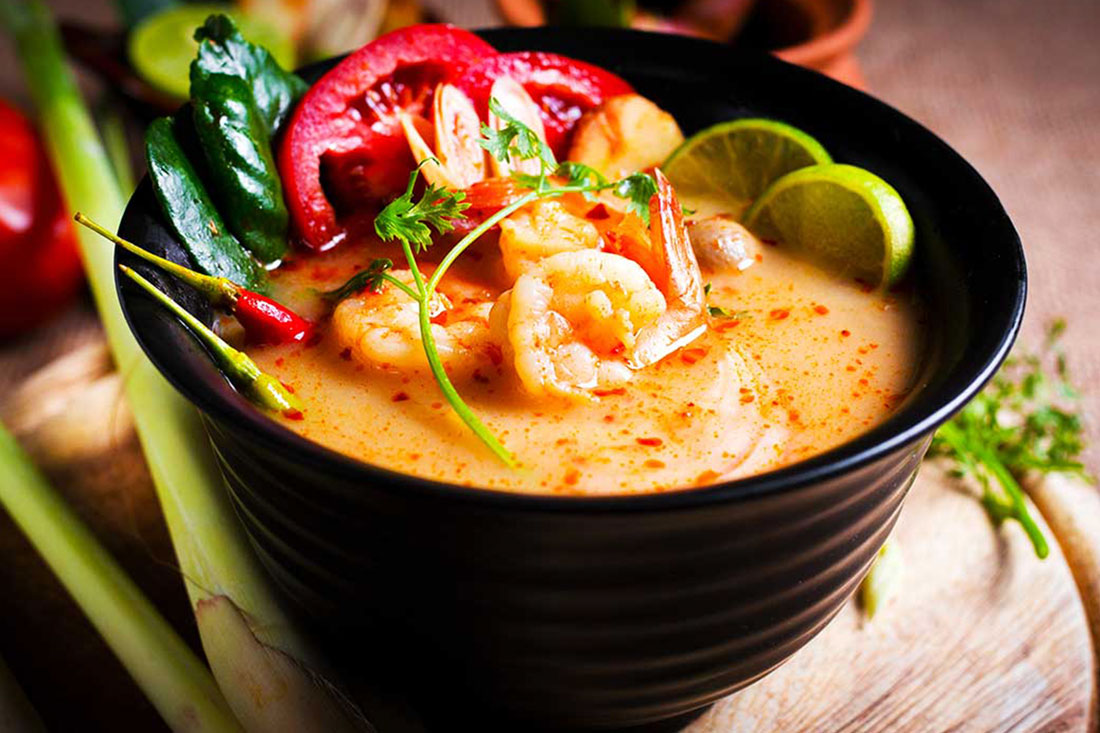 The typical Thai meal is characteristically a combination of rice or noodles with different types of meat, fish or shellfish with the addition of peanuts or cashew nuts, lime leaves or lemongrass. These dishes can be quite hot because of the spices, but the staff in most restaurants understand the words "no spicy!"
Cooking at home is not really done in Thailand – most people eat out. You can quite safely eat in big restaurants as well as smaller, local places. Street food is very good. Mobile street traders sell good meat, vegetable, and fish kebabs for about 20-50 baht (~$0.64-$1.60/€0.57-€1.40) straight from their stalls. 
At the

Goya

Cafe

try fish fried in tamarind and the best tom yam on the coast. The average cost is about 400 baht for two (~$12.80/€11.40)  

The

Chantara Restaurant

offers a large selection of grilled seafood – shrimps, crab, seabass, lobsters, and other such delicacies. The average cost is about 600 baht for two (~$19.00/€16.90)     

The

Happy Turtle

is known for its European service with Thai prices. There are local and international dishes here, and the average cost is about 600 baht for two (~$19.00/€16.90)       
You can shop for your own food and drink in supermarkets like
7-eleven
and
Tesco Lotus
. Traditional street food can be found at the
night food market
on White Sand Beach. Beachwear, souvenirs, and leather goods are best obtained in
Findig
.
Nightlife
The nightlife on Koh Chang isn't comparable to the nocturnal adventures you can have in Pattaya, Bangkok or Phuket, but it is a good place to pass the evening over a glass of wine, go to a night-time beach party, listen to some live music or watch some Thai boxing live on TV and lose your voice cheering as loudly as the locals. 
The main nightspot on Koh Chang is White Sand Beach. There are loads of bars along the beachfront with something for everyone – country, reggae, the latest dance hits, rock ballads – you name it. It has to be said, though, that the other beaches are catching up and doing more and more to keep the night owls happy. 
Pros and cons
People who have visited Koh Chang speak very highly of well-maintained beaches, the wide choice of hotels to suit every taste and budget, it's untouched nature and its authenticity. That all-consuming globalism we know so well has not quite got here yet. However, the fly in the ointment is that it's not easy to get here, the journey can be uncomfortable and take a long time. Best not attempt it unless you have plenty of time to take off – not less than a 10-day stay. And, of course, compared to many other resorts in Thailand, Koh Chang is not a place for party-goers.   
---
Getting to Koh Chang isn't easy, but your efforts will be rewarded with the lazy waves of the Gulf of Siam, warm sunshine, clear blue skies, and heavenly views of waterfalls and jungle.