How can I participate in the program?
Everyone who books a hotel on ZenHotels.com is entitled to receive bonus points. Nevertheless, we would recommend that you register with us so that you can save up your points in one place allowing a much more efficient way of getting your reductions.
How can I find out how many points I will get for my booking?
We will convert up to 4% of the cost of any given booking into points which will be credited to your loyalty account. You will see the number of points you will receive before the booking process is completed.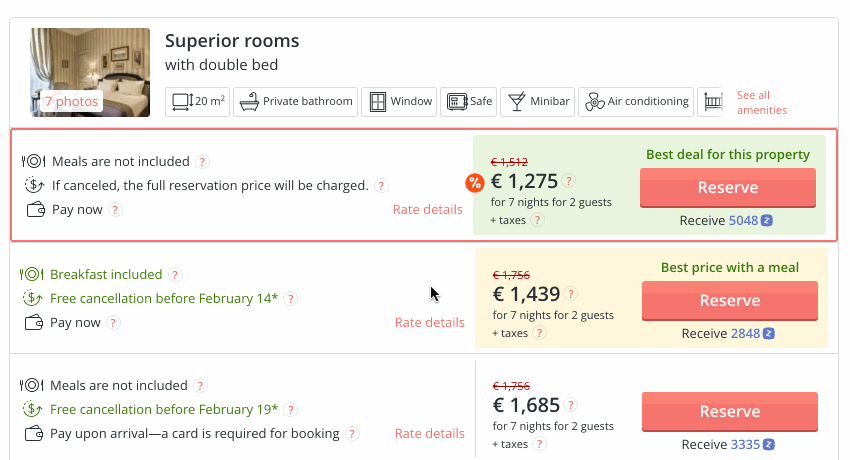 How can I get more points?
We will award 700 extra points when you download the mobile app for the first time.

We will also award you points for participation in our promo events.
Please note that the maximum number of points you can earn in the course of one month cannot exceed 100,000
.
Calculation example
So you head for beautiful Venice for a break, and you book your hotel using the ZenHotels mobile app. You pay 765 euros for two of you. We will credit you with 3,060 points.
In the spring you decide on a four-day long weekend in Barcelona, and because you book early it costs only 244 euros – a further 976 points are credited to your account.
Voila – you already have 4,036 points in your pocket which you can put towards your next booking.
But wait – you get further 700 points for downloading the mobile app, so you now have
4,736 points (47 euros) to put towards up to 50% of the total price of your next reservation.
Can I earn points for bookings made using the app?
Yes, you can. Points will be awarded for bookings made via the app to the account of the person whose email address was used to activate the app.
When do I get my points?
Points are credited within five days of checkout from the hotel if you choose to pay at the time of booking or within 60 days of checkout if you choose to pay at the hotel. As soon as the information about your actual stay has been verified, you will receive an email confirming the number of points which you have been credited.
When can I start using my points?
You can start redeeming points from the second eligible booking you make on ZenHotels.com. 100 points = 1 euro. You can use your points to pay for up to half the value of future bookings.
How can I check my balance?
You can see how many points you have by logging on to your account.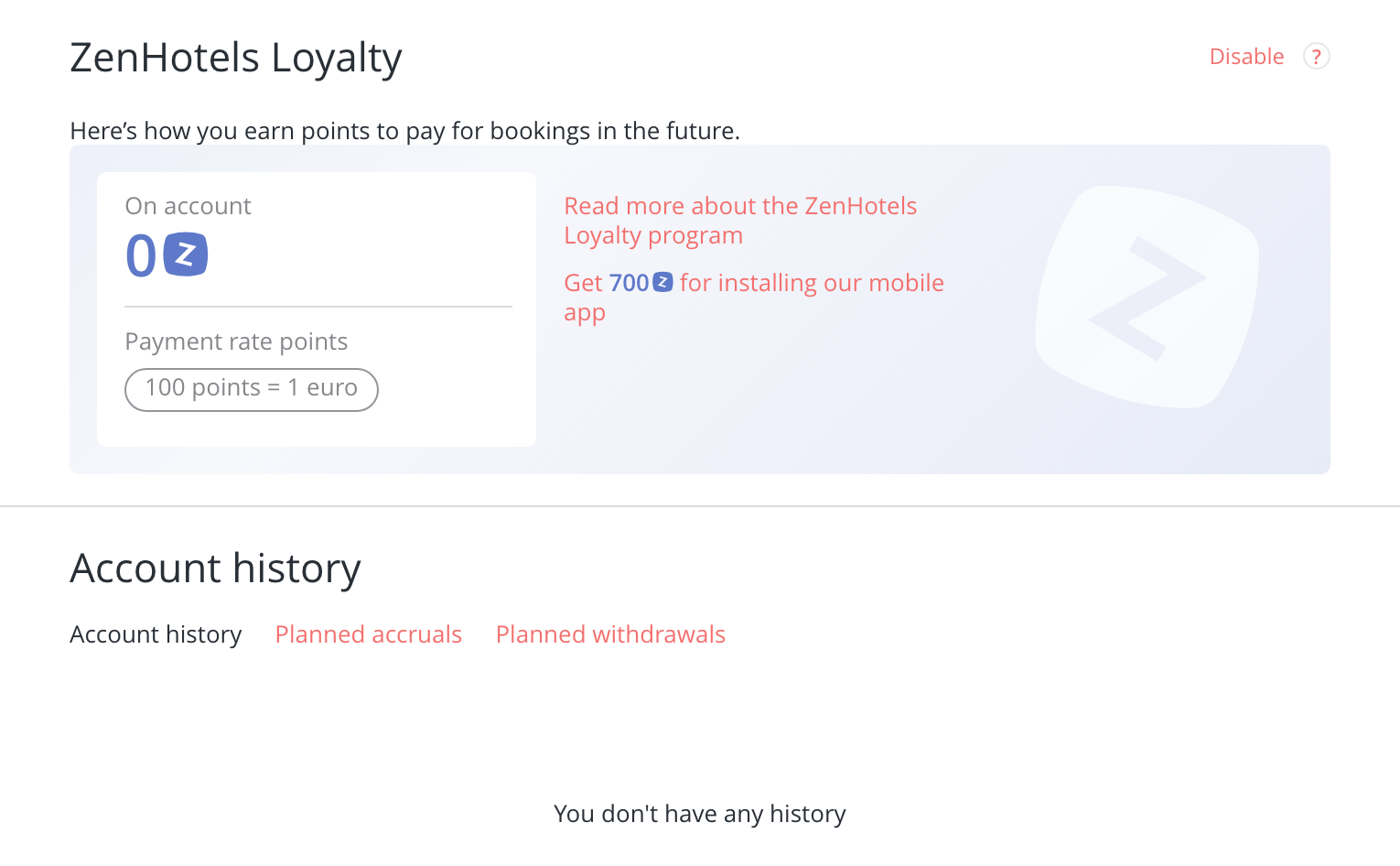 How do I pay for my hotel using my points?
The information on the hotel page will indicate whether or not points can be used to part-pay using points, but to be sure, use the "Points and promo codes". On the hotel page, you will see how to choose to pay on booking, and the menu for using points will appear.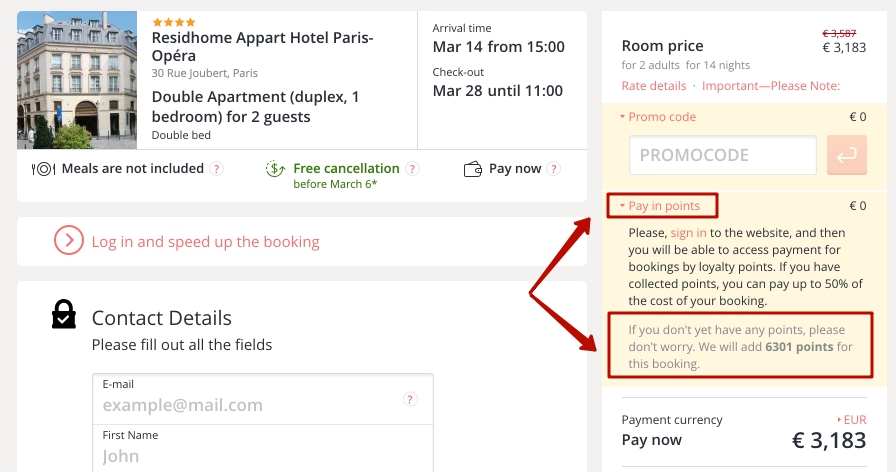 Points can only be used to pay for bookings paid for on the site as it is a ZenHotels loyalty programme, not a hotel one. You can pay up to 50% of the total cost of your booking using points.
Please note that payment in currencies other than the euro can lead to a 1% margin of error when calculating points.
What if I paid for my hotel stay but never turned up or canceled my reservation?
Points are awarded only for consumed bookings, and there are no refunds of points for canceled bookings. Please take account of this when you make your payment.
Do points have a use-by date?
Points are valid for two years from the moment they are granted.
---
If you have any questions, please do not hesitate to check our FAQ pages here. Book and travel the Zen way!