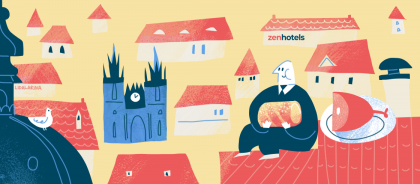 48 Hours in Prague – How to Get the Most out of a Two-Day Stay
Prague is a real European treasure trove combining the best of east and west, Slavic geniality and European elegance. Even if you are only passing through, you are sure to fall in love with this city.
---
Getting there
Václav Havel Airport is a 20-minute drive from central Prague, traffic permitting. You can make the journey by local bus, transfer shuttle or taxi. 
Buses
The number 110 drops you at the Nádraží Veleslavín subway station on line A and the 100 takes you to Zličín subway station on line B, while the 191 goes to Petřiny subway station on line A as well as to Anděl subway station on line B. The 510 night bus will get you to I P Pavlova subway station on line C. A ticket valid for 30 minutes costs 24 Kč (€0.90/$1). The AE express bus goes to the central railway station (Hlavní Nádraží). You can only buy tickets for this bus from the driver (tickets for other buses are available from subway stations and newsagents – you can get them in the arrivals hall at the airport). The express bus costs 60 Kč (€2.30/$2.60), and half that for children. All buses stop at the bus area outside terminals 1, 2 and 3. 
Shuttle
CEDAZ and Prague Airport Transfers operate shuttle buses at Prague airport. CEDAZ has pickup points close to terminals 1 and 2 departing every half hour. They will take you to central Prague (V Celnici street) and then the main railway station. You buy tickets either directly from the driver or from the company's counter in the arrivals hall, and they cost 150 Kč (€5.80/$6.50). 
Prague Airport Transfers need to be booked in advance via their website. You can either pay on booking or the driver. The shuttle bus will take you to Můstek subway station (lines A and B). The station is located on Wenceslas Square, and the transfer costs 140 Kč (€5.50/$6). 
Taxi
It costs about 700 Kč to get from the airport to the city center, depending on the traffic – if the traffic is light it can cost as little as 380 Kč (€15/$17). Both Uber and Gett can be ordered in Prague.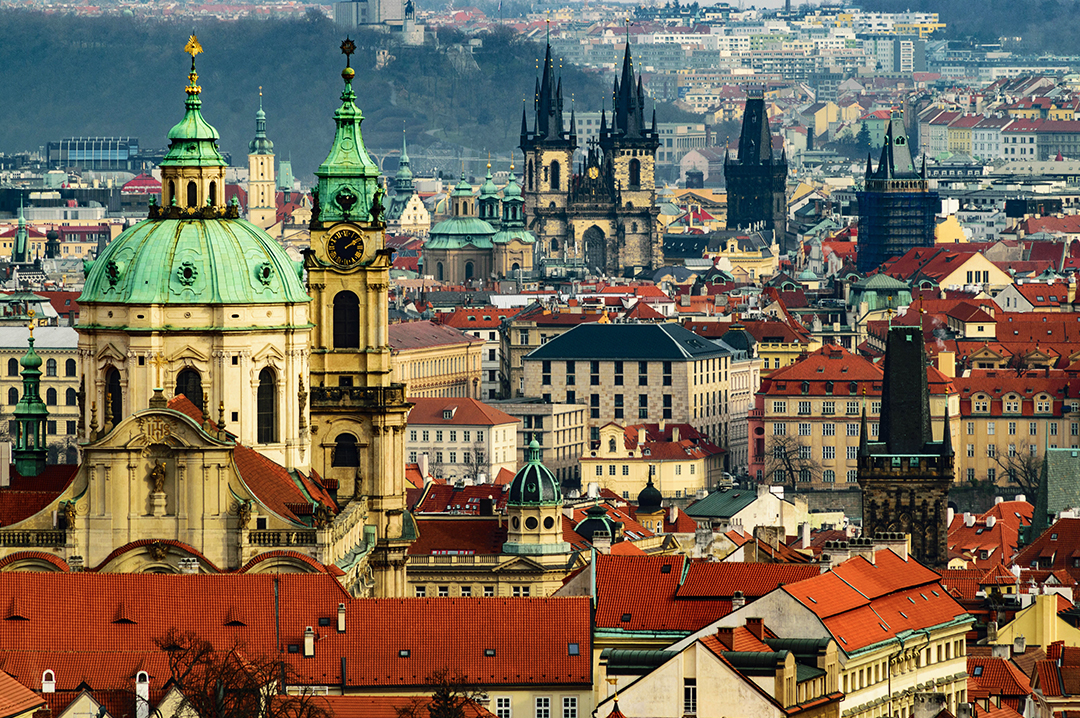 Where to stay
Prague is divided into 22 districts, and each one is numbered. These are further divided into areas and neighborhoods. Most of the famous attractions are in Prague 1 and the historical neighborhoods of Staré Město, Malá Strana, Hradčany and Nové Město. 
Day 1
Prague Castle
Prague Castle is a good place to start getting to know the city. A full entry ticket costing 350 Kč (€14/$15) will get you access to the Old Royal Palace, an exhibition about the history of the castle, St George's Basilica, Golden Lane, the Rosenberg Palace and of course the incomparable St Vitus Cathedral.   
History
The cathedral was founded in 925. The lower gothic construction was started in the 14th century, and construction ended in 1929. The Sagrada Familia in Barcelona has nothing on this. The cathedral's central nave is so high that it could easily accommodate a nine-stored building and the most recent stained-glass windows were reverentially pieced together based on designs by Alphonse Mucha and František Kisela.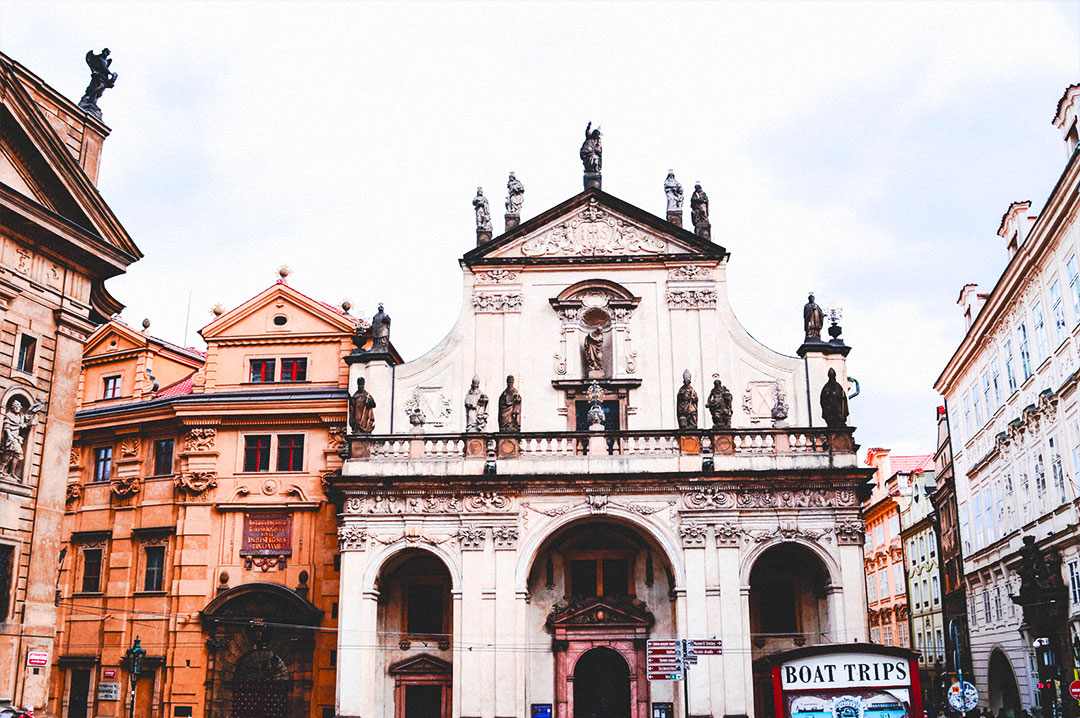 The other parts of this excursion only reinforce the impression created by the cathedral and really help you get to grips with Czech history, especially the narrow street called Zlatà Ulička or Golden Lane, one of Prague's oldest streets with its tiny two-story houses nestled snugly beneath the fortress walls. 
Originally, gold coin makers lived here who were then supplanted by craftspeople and then later, so the story goes, the street was inhabited by alchemists. In the early 20th century, one of the little houses served as Franz Kafka's residence, but now the buildings house little shops selling crafts, souvenirs, ceramics, toys, etc, as well as the Czech native beer-based cosmetic brand Manufaktura, which is supposed to work miracles. On top of all that, it's organic and has natural colorings. 
Shrines and the mystery of the city
Let's delve deeper into the architectural treasure chest that is Prague, starting with the churches of the Old Town and Týn Church, which looms over Old Town Square. The church's gothic exterior belies an interior full of baroque splendor, but this is by no means all. Týn has a chivalrous past. Of course, there were no jousting tournaments in the church itself, but its ceiling is supported by beams which were originally intended for the jousting competition at the wedding of the young king Ladislav the Posthumous. 
The king died the night before the event was due to take place, and the logs were given to the church. If you get the chance, you should try to hear the Mundt organ dating back to 1673. A number of other churches, basilicas, and cathedrals are packed into the area around Тýn church, all easily recognizable by their spires. Try to visit the church of St James the Greater, St Joseph, St Elijah, Our Lady of the Snows and many others.
Retail therapy
If exploring all these churches leaves you feeling a bit down, then head for the shops. Look out for Czech garnet at the Granát Turnov store, Bohemian crystal at Erpet, books at the Palác knih Luxor bookshop and a whole treasure chest of antiques at the Bohemian flea market on the river bank. The market is between Palackého and Železniční Bridges. It has the atmosphere of an art café – the crowds are not too bad, and you're surrounded by the buzz of young artists.
And as dusk starts to close in, it's time to start finding out a bit more about the secrets of the city. Discover the story behind the former Jewish ghetto, the district of Josefov, the Old Jewish cemetery (a place which was even overlooked by Umberto Eco) and the golem living in a garret above the Prague Synagogue (a mythological being brought to life by Prague Kabbalists for the protection of the townsfolk). Then you can move on to the statues of the saints and patron saints on Charles Bridge, not forgetting the alchemists, astrologers, and witches.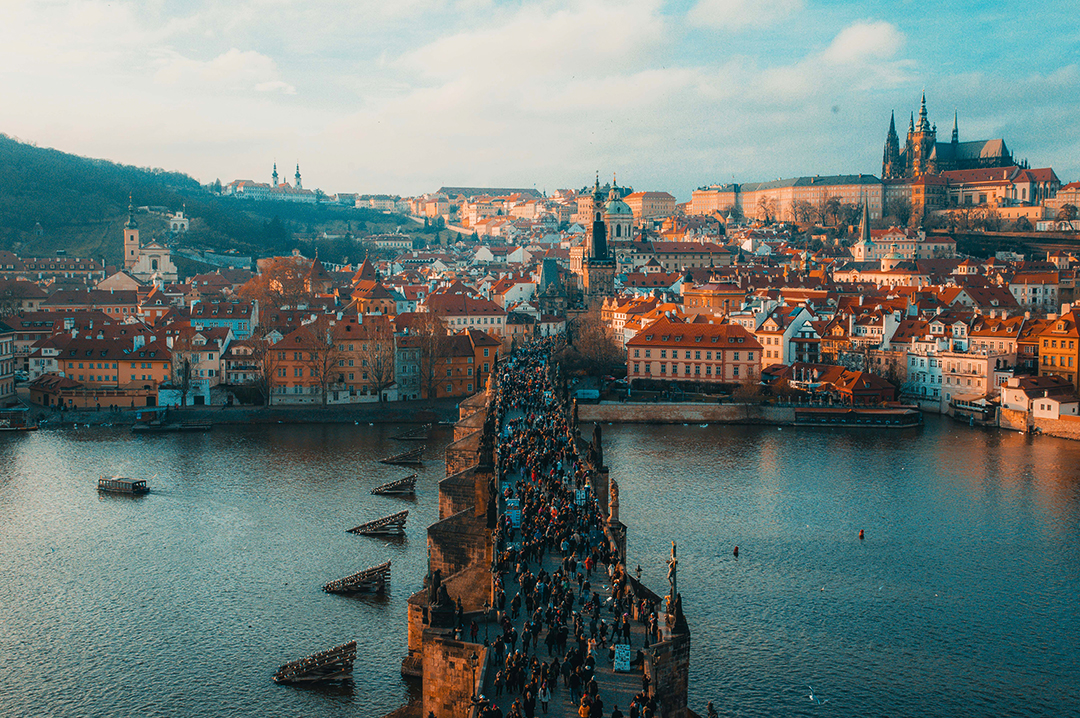 Trying to delve into all Prague's secrets on your own is an impossible task, so you would be well advised to sign up for one of the many excursions (200 Kč/€8/$9) which are available. If you are lucky, you might even see a real ghost. But all the gloom evaporates as soon as you hear the chimes of Prague's medieval Astronomical Clock. It shows both the real-time relative to the sun and sidereal time relative to the stars, all beautifully decorated with incredible sculptures. The Czechs believe that for as long as this ancient clock is working, nothing can harm them.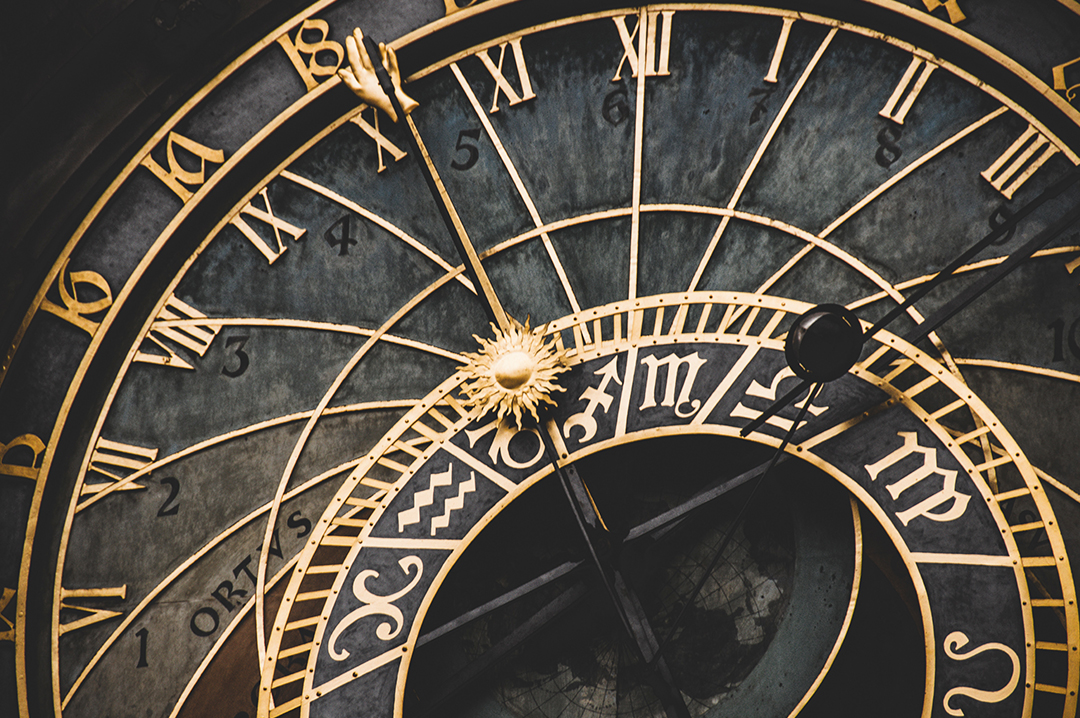 Day 2
Kafka and Mucha
You got to know Kafka's place on Golden Lane on your first day and saw Mucha's stained glass in St Vitus Cathedral. Let's look at these two a bit more closely now. 
Kafka's first editions, personal writings, drafts, diaries, photos, and sketches are displayed in the Kafka Museum. The exhibits are divided into two sections – Imaginary Topography and Existential Space. It's only to be expected that the museum will make your head spin with its paradoxes and transmutations. If you want to take a second look at what you think you know, take a look around the museum bookshop. Here you can find some of Kafka's less commonly read works published in various languages. The museum entrance fee is 200 Kč (€8/$9).
If you are more inclined towards the world of art and painting, then you should make for the Alphonse Mucha museum, the only official museum dedicated to this legendary artist, which was founded by his family. The exhibition includes some of his best-known posters, which he created during his time in Paris, the Slav Epic painting, his drawings and pastel sketches – Art Nouveau in all its head-spinning wonder! The museum entrance costs 240 Kč (€9/$10), and the entire museum takes about 2 hours to view.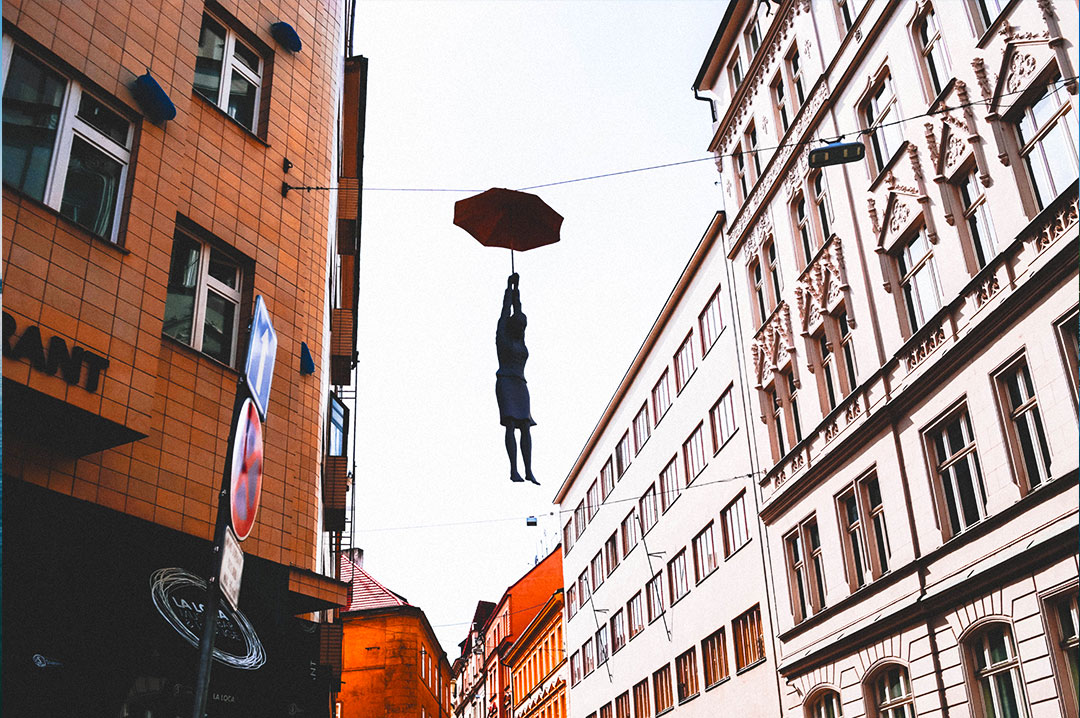 An evening of classical music
Any memories of Prague would be incomplete without an evening of classical music. Not for nothing did even Mozart call Prague "Little Vienna," and he was enthralled by the acoustics of St Nicholas Church and its incredible organ. The church often hosts concerts of religious as well as classical music by such composers as Debussy, Bachj, Haydn, Vivaldi, and many others. The concerts are widely advertised and tickets can be booked in advance online – admission for an adult costs 490 Kč (€19/$21).
If you had enough of all those churches on the first day, go and take a look at the Clementinum whose Mirror Chapel doubles up as a concert venue. Sometimes you might get lucky and catch one of their free concerts. Tickets for the regular concerts cost from 500 Kč (€20/$22) and you can reserve and pay for tickets following this link.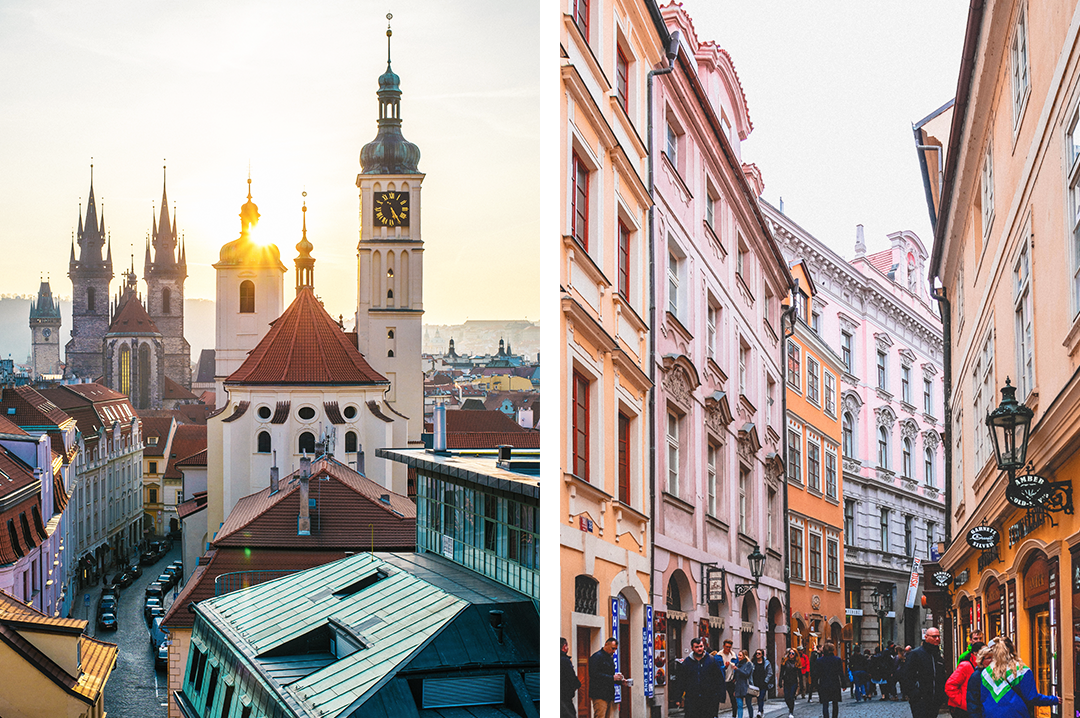 For the less classically minded, there is the Prague underground whose heart is in the non-commercial center for modern art at the MeetFactory. This "factory" was founded by the Czech sculptor and showman David Černý, a cult figure on the local cultural scene. The MeetFactory is located in a former factory covered in graffiti and adorned with industrial sculptures. The railway runs alongside, adding to the urban feel of the place. The factory brings together artists, sculptors, and musicians, where events hosted by independent groups and DJs take place, exhibitions, and lectures are held and very popular raves are hosted. Events can be found on the venue's official site.
Eating and drinking
Breakfast: BAGEL Lounge
The BAGEL Lounge offers cheap breakfasts. A combo (meal plus drink) costs 99 Kč (€4/$4.50). You can choose from a large bagel with ham, cheese, and salad, fruit granola, porridge with a choice of four toppings, freshly baked croissants with butter, Nutella and jam or a large Czech breakfast consisting of an omelet with filling and mixed salad. You can choose between tea and coffee to drink.
The must-eat Prague delicacy is the trdlo – a wonderfully stodgy cinnamon flavoured doughnut. Trdlos (first of all you have to learn how to pronounce the word…) are made from a pastry which is wound around a cylindrical wooden stick. The pastry itself is cooked over an open fire. The traditional way to eat it is without adding anything, but sometimes you can opt to add a topping such as fruit, stewed plums, berries or chocolate. Trdlos are sold on virtually every street corner and you should not simply walk on by when you see them. They are really good with a cup of nutmeg coffee. These delicacies cost around 50 Kč (€2/$2.25).
Morning coffee and lunch: Starbucks, U Zlaté Podkovy and U Dvou Koček
Don't miss out on the Starbucks with possibly the greatest view anywhere in the world for your morning coffee. It might sound like a boastful recommendation, which is understandable, but if you follow the link, all will become clear. The coffee shop has its own observation platform with an incredible view over Nové Město, St Nicholas Church and the other numerous squares and churches of old Prague. A medium caramel macchiato costs 119 Kč (€4.70/$5.25) and a cappuccino or latte comes in at 89 Kč (€3.50/$4).
For lunch, head for U Zlaté podkovy, a Czech restaurant located on the medieval Nerudova Street, not too far from Prague Castle. You should be sure to try the "soup in bread", where your soup is served in a bowl made of bread (99 Kč/€3.85/$4.25), then for the main course, pork steak marinated in beer with sour cabbage and a variety of sauces (350 Kč/€14/$15.50). If you have any room left for dessert (it's a risk…) then you might try the home-made strudel (98 Kč/€3.80/$4.25) and a glass of flavoured grog (65 Kč/€2.50/$2.80).
Many Prague hostelries still offer weekday lunch menus from 11am until 3pm. At the U Dvou koček they offer local Czech cuisine at lunchtime such as а hearty soup (from 30 Kč/€1.20/$1.30), rich duck with red and white cabbage (119 Kč/€4.50/$5.10), dumplings stuffed with smoked meats (109 Kč/€4.25/$4.75) and much more. There is a different menu each day, including special selections from the chef.
Dinner: Pivovarský dům and U krále Brabantského
Aside from the better-known brands of Czech beer, whether dark or light, filtered or unfiltered, here you will find all sorts of exotic brews. The best place to try them out is in the small Czech pubs. At Pivovarský dům, apart from the classics, you can try a beer made from plums, bananas and even coffee. A glass of this extravagant specialty costs 49 Kč/€2/$2.25. A large meat platter to enjoy with your beer comes in at around 485 Kč/€19/$21, and the main course of pork in cranberry sauce will set you back about 325 Kč/€13/$14.50.
To celebrate your last night in Prague why not enjoy a feast fit for a king and head for the mediaeval pub U krále Brabantského? If you are a couple, order the robber-knight dish, which includes mixed grilled meats and vegetables such as chicken wings and breast, pork steaks, skewered meat, gammon with plum sauce, corn on the cob, potatoes, courgettes and sweet peppers. All this food is served with garlic, and hot sauces and costs 469 Kč/€18.25/$20.50. If you prefer fish, go for Dr. Mračka's platter for 299 Kč/€12/$13.50, which includes two smoked trout from the Vltava River with vegetables on the side. Top the whole thing off with a glass of Moravian wine for around 70 Kč/€2.70/$3 a glass.
---
Architecture to die for, hearty food, city legends, timeless classics, modern infrastructure, and quaint traditions will all make you want to come back to Prague time and time again in search of new memories and urban myths – truly a city where you will always find something new every time.

5,1k

10 minutes read