When to go
It's surfing season all year round here and the sea temperature is always around 25ºC-27ºC, but like everywhere else around the equator, there is a dry and a wet season. The rainy season normally kicks in around November and goes through to March. The rainiest time is in January and February, but none of this should stop you from surfing. It doesn't rain all the time, most often only at night. 
Most prefer to go surfing during the dry season, between June and October. The waves are at their best at this time, the wind is not so high, but the water is a bit cooler, so it's worth investing in a wetsuit.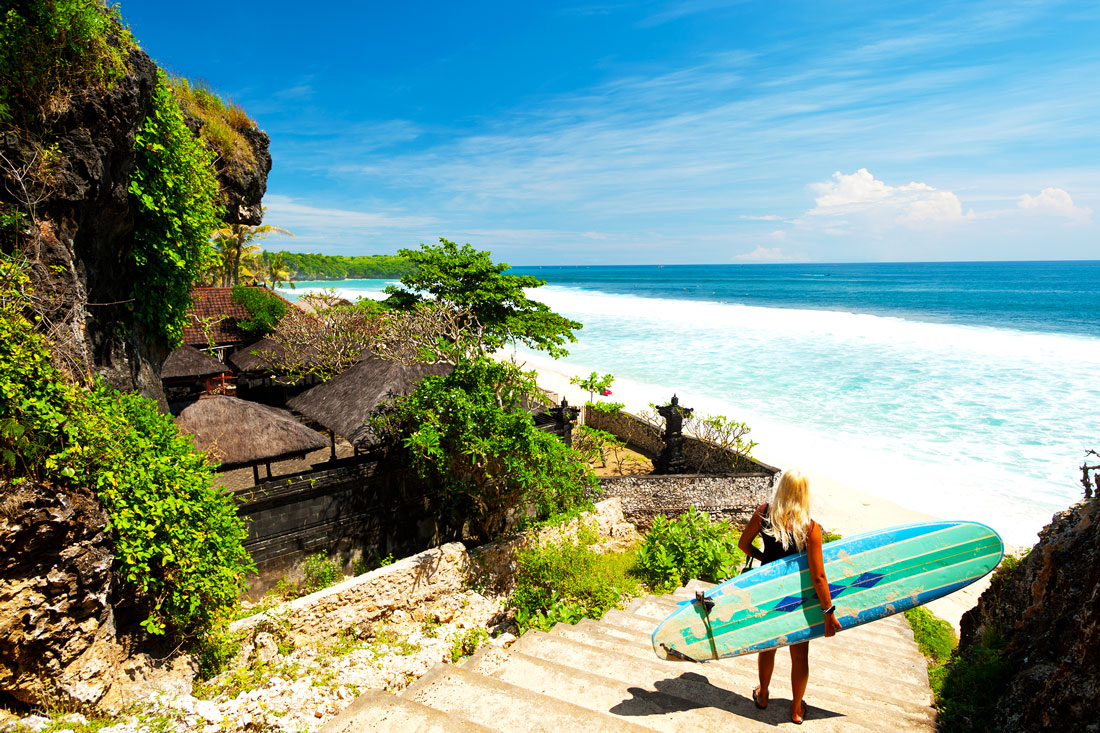 Visas
Visas for US and EU citizens are issued on arrival in Indonesia and are valid for 30 days. Visitors receive a stamp in their passport (free of charge) as soon as they arrive at Denpasar (Bali) airport, which gives them the right to holiday a Bali and travel around the country.
If you are planning to stay longer, you can arrange this on arrival. In this case, you receive a sticker in your passport, and this allows you to extend your stay by a month and costs $35.00/€31.50.
Getting around
There is not much in the way of public transport on Bali, so people tend to move around on bikes which you can hire when you're there. Hire costs start from 80,000 IDR (~$5.50/€5.00) per day. 
Every diving school has its own transfer service, so there's no problem getting to where you need to be.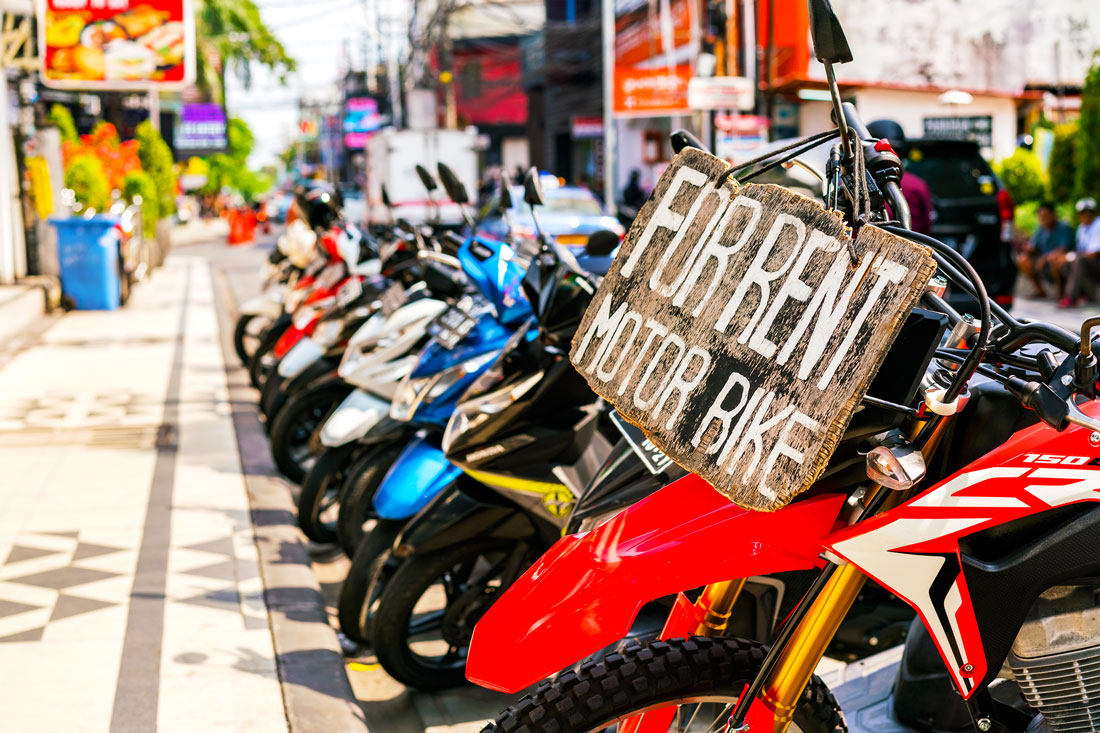 What you need to take along
To enjoy your surfing experience, you will need the following:
Insurance
No activity sport comes without risk, and surfing is no different. There is a chance you might get some lumps and bumps or cuts and grazes, or even dislocate or break a limb.
Fitness
It would be a good idea to get in some swimming practice before you leave as you will need to swim out to the line-up where the waves are formed and reach their maximum height before they begin to roll and where you end up riding the foam as the wave breaks.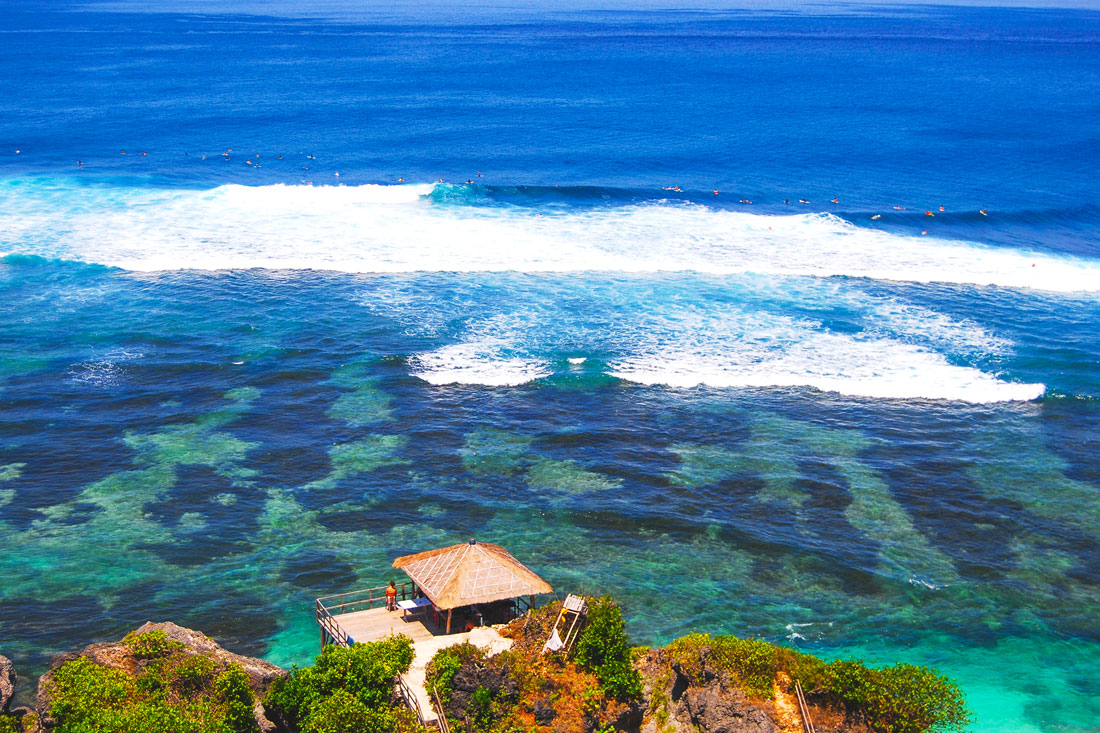 High factor sun cream and zinc cream
These are indispensable as spending a lot of time in the water increases your chances of getting a sunburn. You should use zinc cream on your face as it will not wash off, unlike the cream. You will be able to get zinc cream at the surf school or in specialist shops. 
Protective lycra
You can easily get hold of this on the market at Kuta on the central Legian Street or in shops like Billabong or Rip Curl. Prices start from 200,000-650,000 IDR (~$13.60-$45.50/€12.30-€41.00).   
Which beach to choose
The best surfing beaches are said to be located on the Bukit peninsula on the sea-washed southern coastline.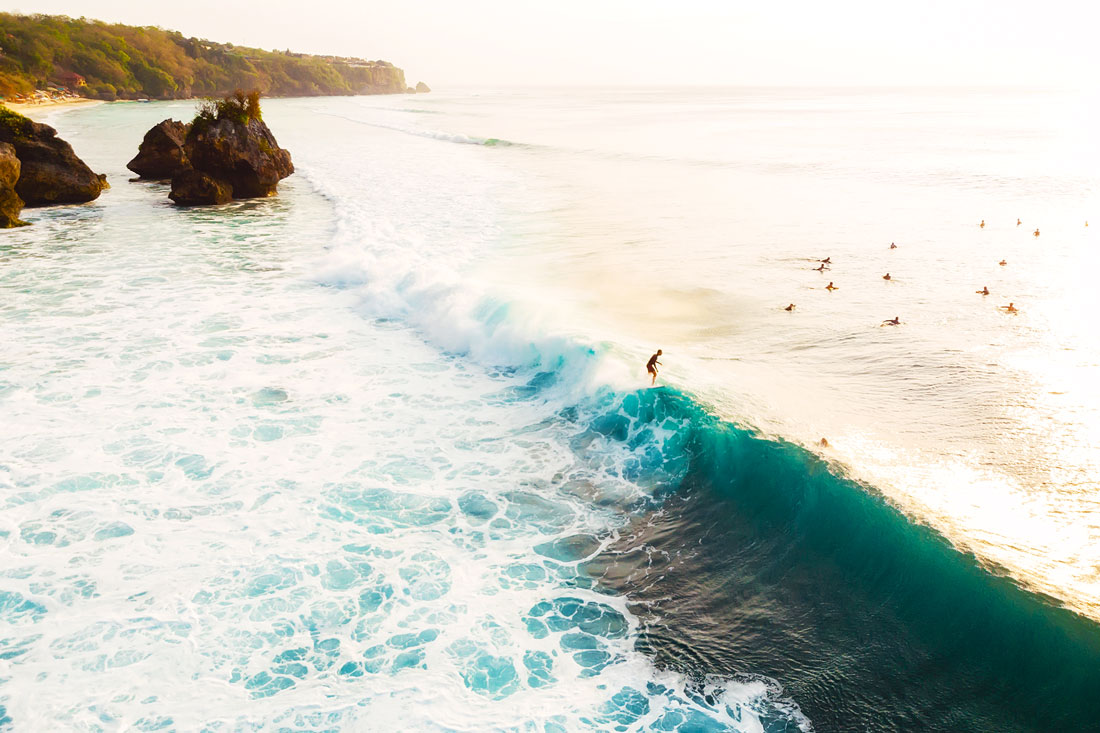 If you're new to surfing, then I suggest you head for the beaches at Kuta. The waves form close to the shore, and the seabed is sandy and less likely to cause injury if you fall off. There are a lot of surf shops here and places to hire surfboards. 
You can surf on Kuta all year round apart from during the rainy season from December to February. At this time, surfers ten to move to the eastern and southern beaches at Nusa Dua, Serangan, Sanur, Green Ball, and Keramas.
Seminyak and Canggu are also popular among visitors. The coastline is similar to the one at Kuta, but you also find more experienced surfers here as well as newbies. This is a good chance for the less -experienced to learn from the ones who know how to ride the waves best.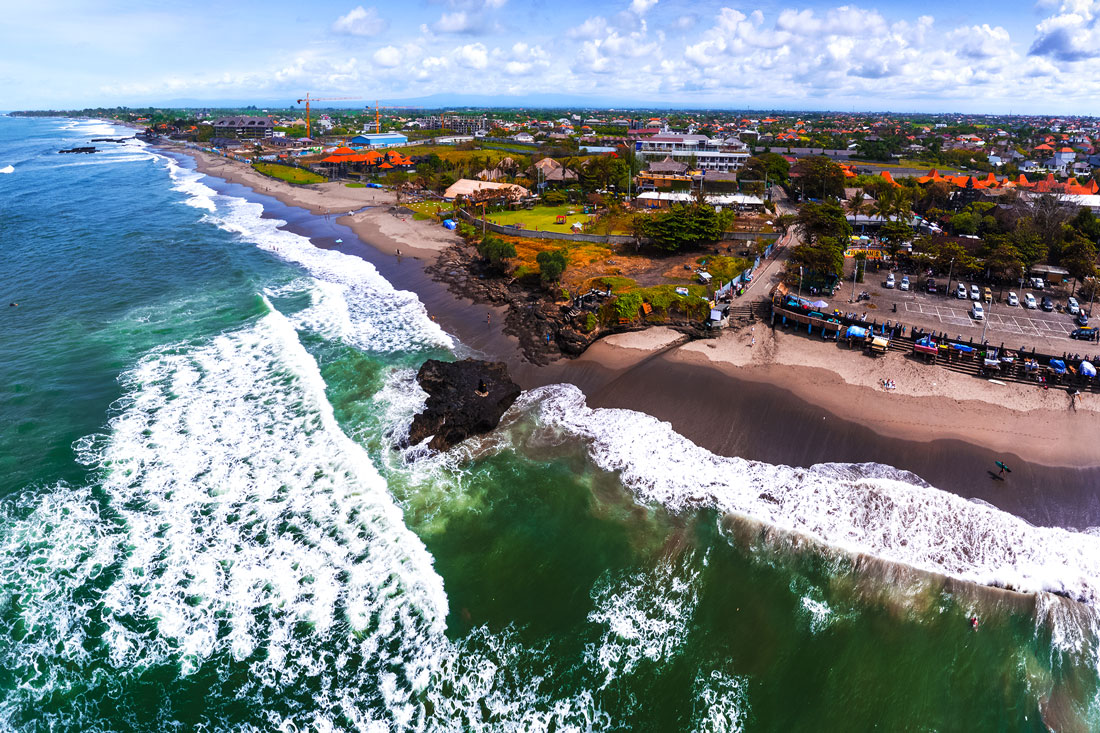 Batu Bolong is in Changu. If you are new to surfing, then then your school is likely to be here. The waves here are slow and long, but the seabed is not sandy but formed by a reef, but as it's quite deep, it's not dangerous. There is a lot of swimming involved as the line up is quite far out.      
Nusa Dua is an expensive resort for higher-end travelers. The conditions here re not ideal and the area is favored by local athletes. You'll see many surfers here even during the rainy season.    
Uluwatu and Padang-Padang Beach area in the east of Bukit. There are two types of venue, one for beginners with short, straight waves, and one for more experienced surfers where the waves form long, irregular, and complex "tubes" and the current is strong.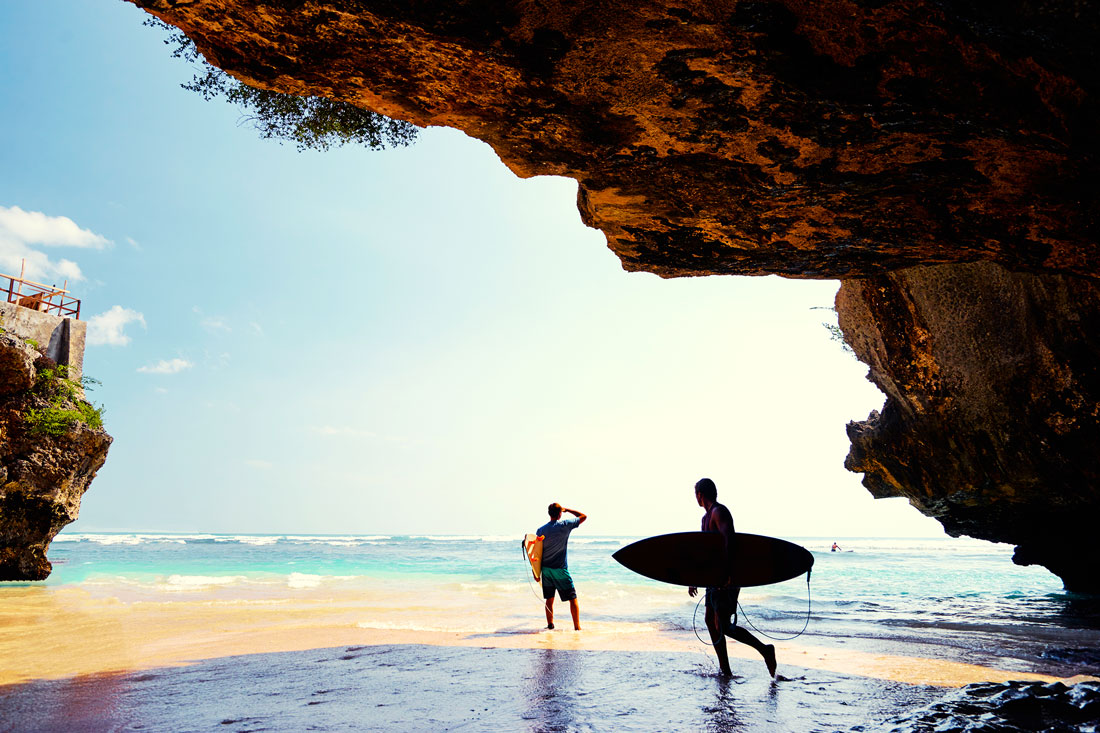 Surf schools
There are many surf schools in Bali.
The first two lessons take place in a swimming pool or in calm waters. Students are shown how to mount the board, how to lay down on it properly, and how to crawl. Only then are they allowed out into the open sea with an instructor. Children are allowed usually from age 10. The prices of surfing lessons for children hardy differ from those for adults.
Indonesian surfing instructors don't bother with the theory – they go straight to the real thing. Their English may not be brilliant.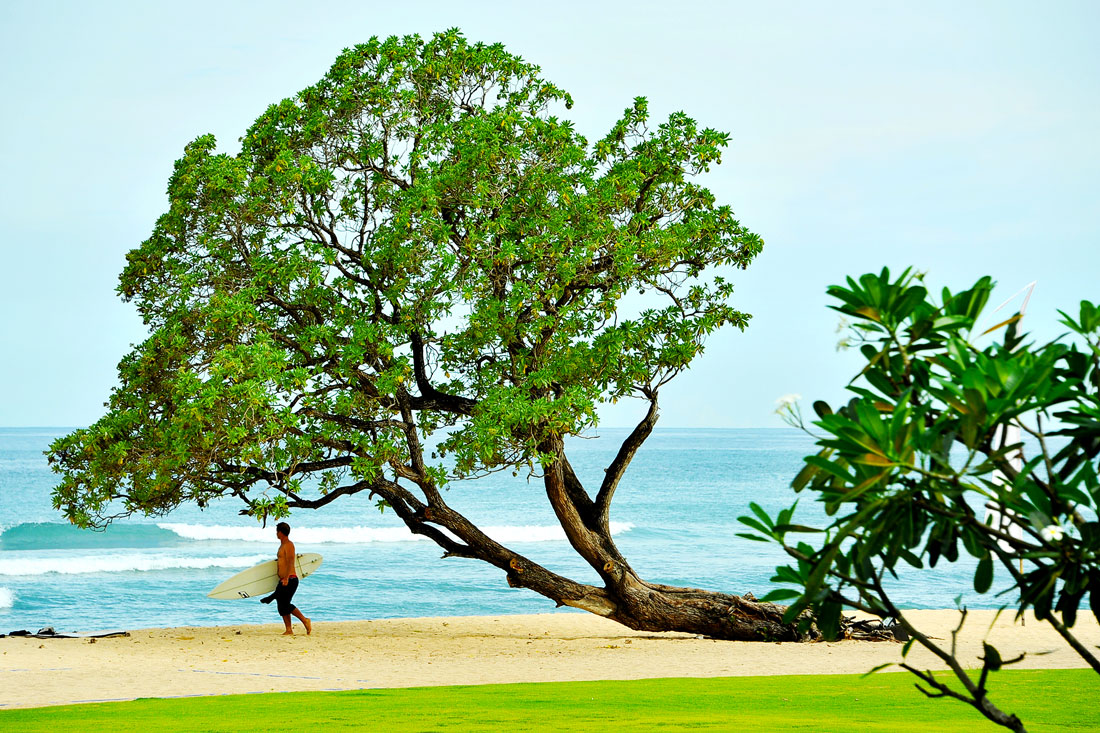 Prices
A taster surfing lesson costs around 600,000 IDR (~$45.50/€41.00), and a full beginner's course consisting of four lessons is around 2,300,000 IDR (~$98.50/€89.00). Some surf schools will offer special packages, including surfing lessons and accommodation. Individual lessons cost around 1,500,000 IDR (~$98.50/€89.00).
Surfboard hire on the beach comes in at around 50,000 IDR ($3.50/€3.10). Teaching boards come in different sizes, and your instructor will recommend the one best suited to your height. 
Those new to surfing only need a board that will allow them to progress from the "I stood on board for the first time" stage to a more advanced level. For this, you should choose a stable board with a big surface areaб and these are boards specifically for beginners. They are very stable and float. It will be easier for the beginner to catch the wave and stand upon it.
All surf schools will give you leggings and lycra to use – they make the sport more comfortable and stop chafing against the board.
---
If you are off to learn how to surf the waves at a surf school, there is no reason to worry about when the best time is to go. The schools take good care of their students and will decide which beach is best suited to your needs and where you will get the best experience and most enjoyment from your time there.