Contents:
Things to note for the traveler
Time zone: UTC+4
Languages: French and English, but French is the most prominent
Currency: Mauritian rupee (~$0.028/€0.025). Best to convert from USD or Euro.
When to go
When it's summer here, it's winter on Mauritius, so the best time to visit is between October and May. There is no rainy season as such here – it can rain at any time, and as the locals say, the rain can be quite unpredictable. You are more likely to encounter showers in the mountainous center of the island, so you should be OK on the beaches.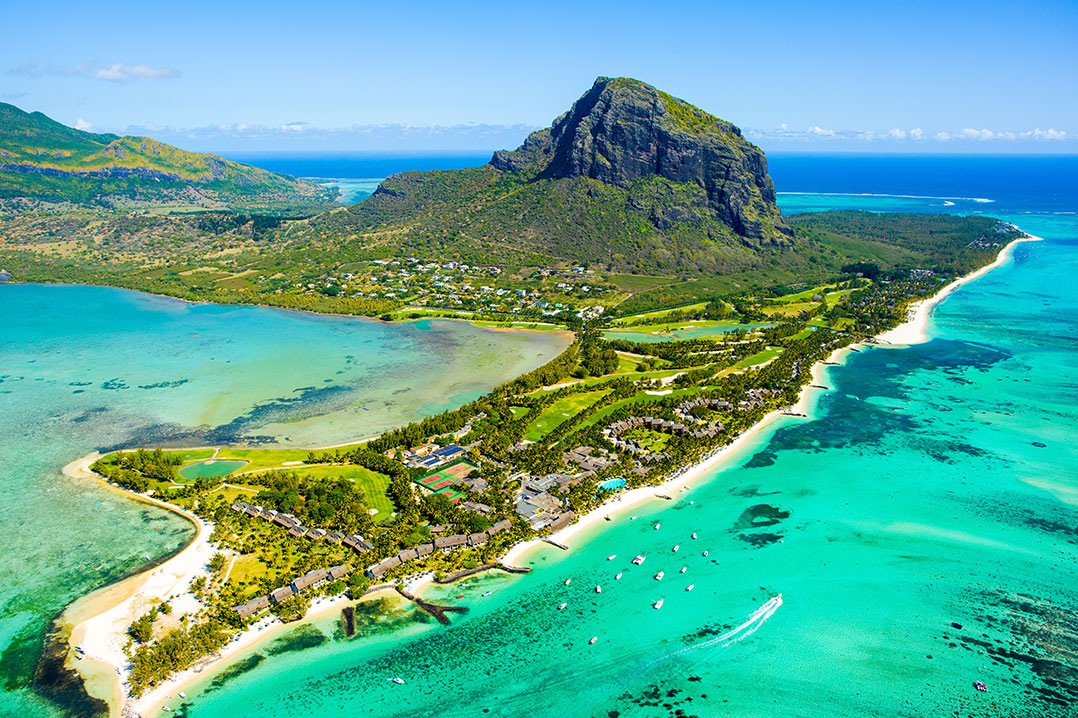 What to take
Sunblock, sunblock, and yet more sunblock, and no lower than SPF50. Forget any ideas of "oh, I'll stay in the shade" or "it's cloudy today, so it doesn't matter" – it does. The Mauritian sun takes no hostages, even in the shade. 

Flippers, mask, and snorkel. You won't find any once you're there, and there are starfish and unusual tropical fish even in the waters around the hotel beaches. 

Electric sockets are 3-pin like in the UK, so you should think about whether you need an adaptor.
If you take a starfish out of the water for more than a few seconds, it will die. In fact, think twice before you touch anything in the water – it might sting you and/or poison you.
Visa requirements
Citizens of the US and EU do not need a visa for stays of fewer than 60 days.

Getting there
There are few direct flights to Mauritius from London. The best way is on Emirates via Dubai, and the flying time (including the stopover in Dubai) is about 13-16 hours. 
A double-decker plane.
If you are flying in on the double-decker A380, pay attention to where you check yourself in – why not try the upper deck? 
The only airport on Mauritius is the international Sir Seewoosagur Ramgoolam Airport, which is located near the town of Mahébourg, 46km south-east of the capital Port Louis.        
Where to change money
Forget what anyone tells you about not changing money at airports. Mauritius is a different matter altogether, and it is worth buying local currency on arrival, something even the locals would agree with. If you ask them where to get the best rate, they would tell you to go to the airport. However, if you're not planning to spend your time on the beach, but want to visit some of the larger towns, banks are also a good option. 
Getting around the island
It is not a large island – it takes a couple of hours to drive north to south and an hour and a half from east to west. If you want to walk, then it would take less than 24 hours north to south. The island is 65km long and 50km wide. It has an area slightly smaller than the county of Leicestershire in the UK.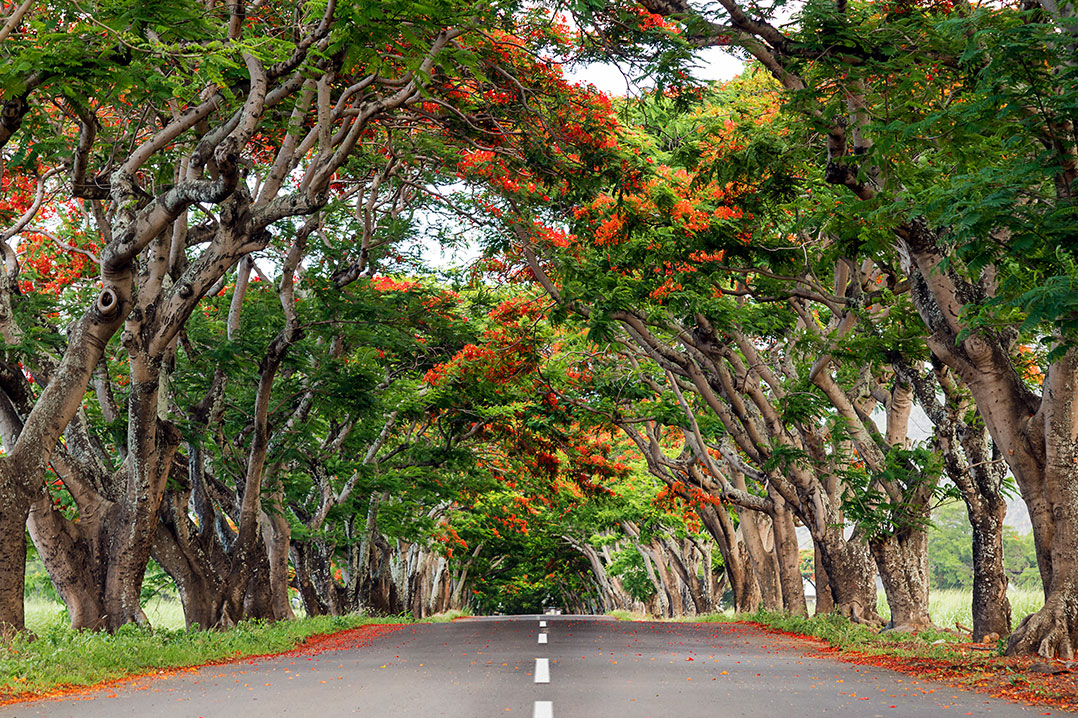 Car hire
The best way to get around the island is by car. There aren't so many mopeds here, and there are reasons for this. Firstly, the rain – it's really not nice if you're caught in a shower in the open-air. Secondly, the roads can be quite dangerous. You can rent a car in advance, or your hotel reception can help you once you've arrived. Car hire costs, on average, about $60.00 (€55.00) per day. 
They drive on the left on Mauritius, so the steering wheels are on the right. The island is so green that you find yourself driving through endless foliage on either side of the road. It is certainly very beautiful, but the vision is not good, and there are no pavements meaning that people, animals, and cyclists use the road itself. The locals, of course, drive quickly. It has to be said, though, that the quality of the roads is quite good. 
Buses
If you want to get down with the locals, then you can use the local bus system, although they themselves tend to prefer taxis or hiring cars by the day. 
The bus service does not run every day on every route and tends not to run a service at night. You pay for the number of stops you are on the bus, so the price will vary according to the distance and stops passed – as well as the age of the bus and whether it's an express or stopping service – and whether it has air-conditioning or not. Taking a bus from one end of the island to the other is not a comfortable way to travel and can be expensive. The minimum cost of a bus ride is around 25 rupees ($0.76/€0.68).
You can get your ticket from the driver. You can find out more about the Mauritian bus service by clicking here.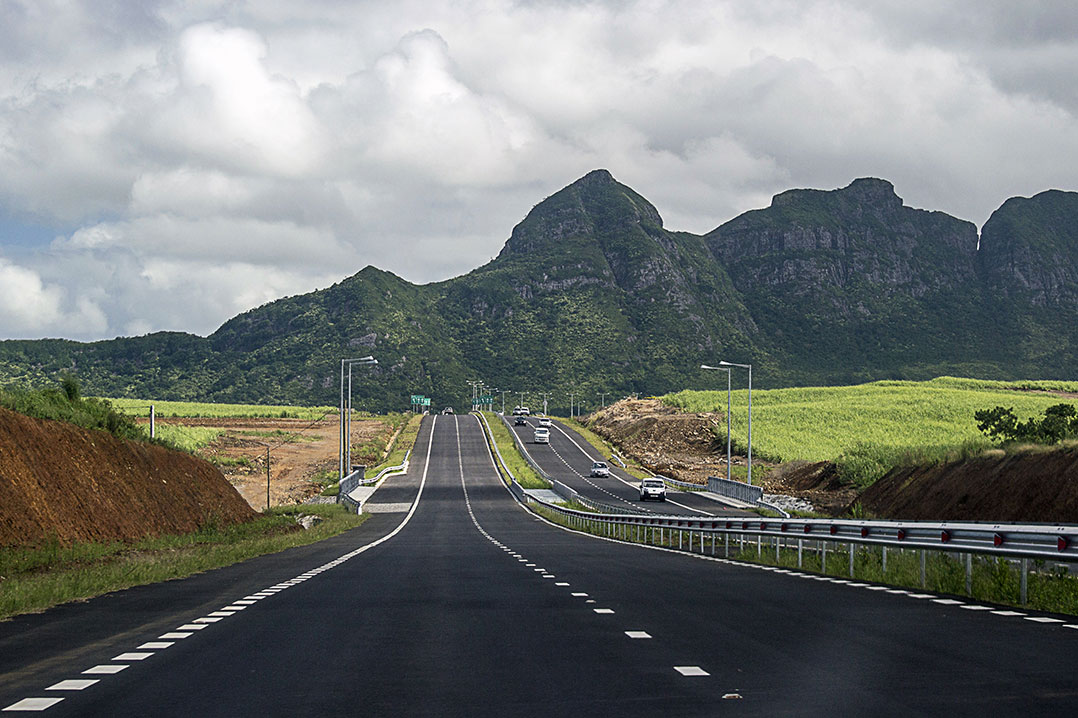 Taxis
Taxis aren't expensive and will probably be the least stressful way of getting around than buses or car hire. You can order taxis at the airport, from hotels or find them near the main beaches and supermarkets. 
The local taxi drivers don't take any notice of the meters and make the fares up in their own special way. It is based on the distance between pickup and drops off plus waiting time. Note that if you take a taxi for a day, the price is fixed, so it may well be cheaper than taking a number of taxis. 
Hiring a taxi for a day would cost approximately 2500 rupees ($68.00/€61.50).
For this price, you get your own personal driver for the day who will take you wherever you want to go on the island and who will wait for you for as long as it takes. 

Resorts on Mauritius
The island can be divided into five zones – north, south, east, west, and central. Each part of the coastline has pros and cons, which we will look at.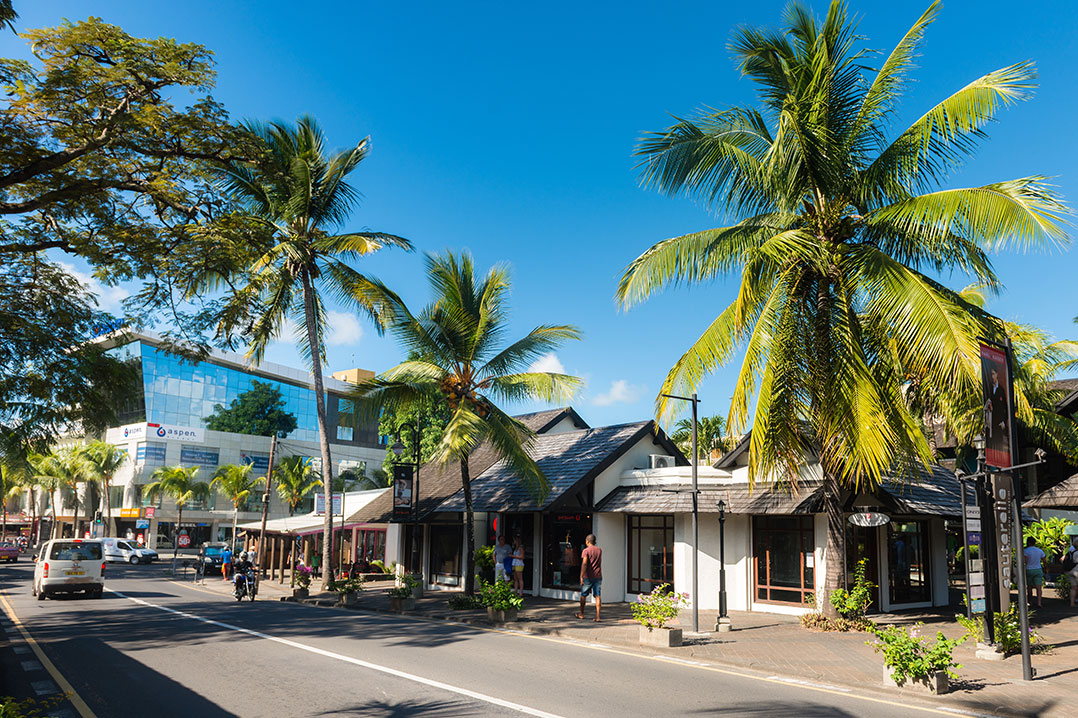 Northern coast
The north of the island is the area around the town of Grand Baie and is one of the most popular destinations with some of the best beaches with their white sands, not too windy or crowded (at least by Mauritian standards). Some of the island's attractions are located nearby, such as the Pamplemousses botanical gardens. It's an area which would suit visitors with all kinds of tastes.             
Western coast
The western coast and the resort of Flic-en-Flac also compete to be called the most popular on the island. The sand is just as white, the wind as gentle, and the sunsets as beautiful. There are more attractions located in this area to the west ,such as the village of Chamarel, with its seven-colored earth, underwater waterfall, the Black River Gorges National Park , and many others. You will also find here the district of Tamarind and the Le Morne promontory, favoured by surfers.        
Both the northern and western areas are situated close to the island's capital city, Port-Louis, which you can always visit for a change of scenery.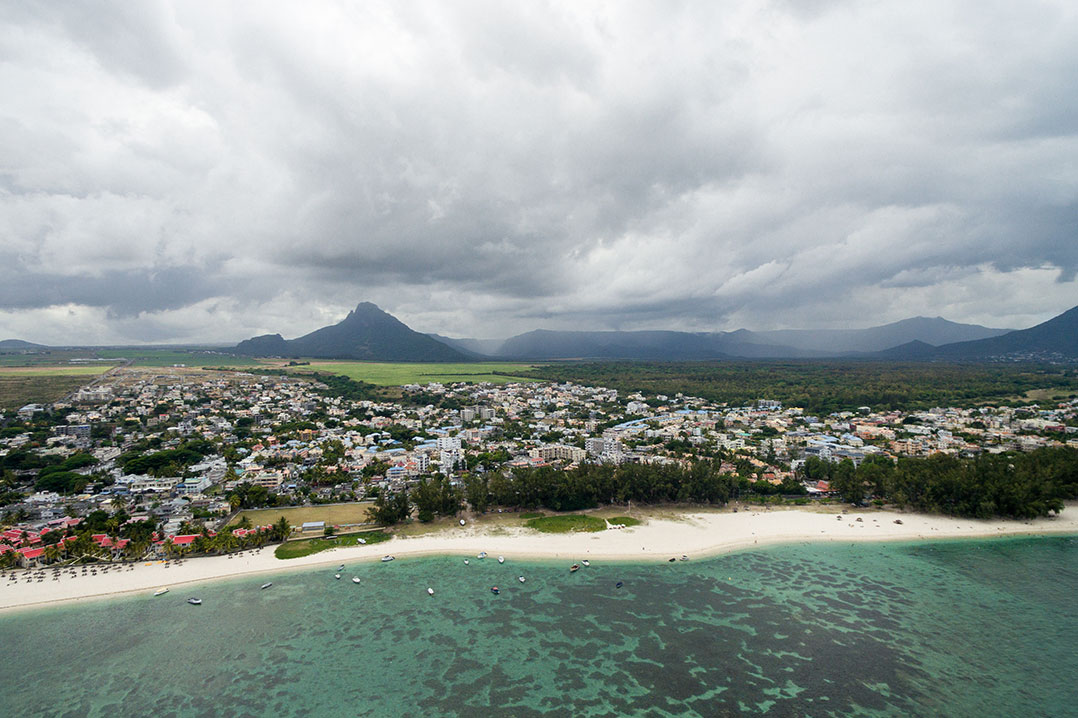 Southern district
The south of the island and the town of Bel-Ombre are surrounded by stunning landscapes and wild beaches. This is the more agricultural part of the island and feels a bit more remote. There is not much to see away from the hotels, and the infrastructure is not very developed. For the sights and sounds and a bit more life, head for the eastern town of Mahébourg, where you'll find the Mahébourg museum of the history of Mauritius (free entry).                
Eastern coastline
The east of the island and the resort of Belle Mare are where you will find the most beautiful sunsets, but it's also the windiest part of the island. As in the south, the east does not have much in the way of entertainment, and the infrastructure is not well developed. You are only likely to come across farms and farming villages outside the hotels with perhaps a few souvenir shops.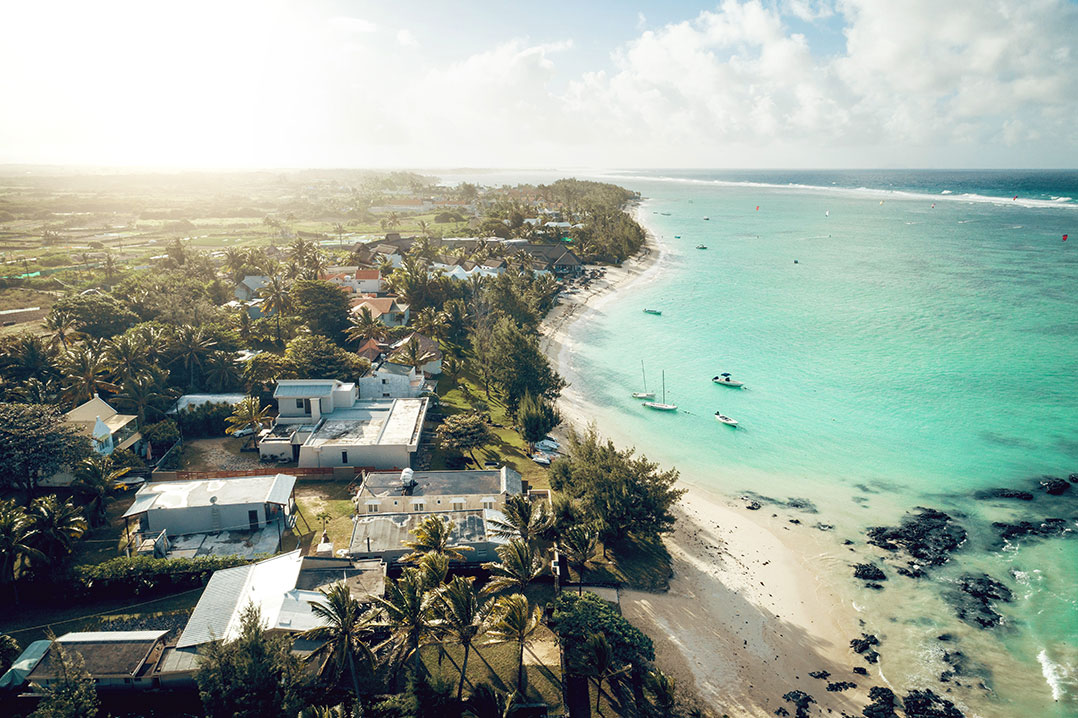 Central plateau
The island's main population centers are in the middle of the island. The colonial architecture of Curepipe is of interest. It rains a lot in this part of the island.      

Where to stay
You will be spoilt for choice for hotels on this island. They usually are situated in extensive grounds or have individual villas, which allows you a sense of being away from other people. The hotel you choose will depend on the level of service you prefer, as well as the location and how much you are prepared to pay. What's on offer varies from expensive resort properties to budget villas, apartments, and guest houses. Prices range from $30.00-$1500 (€27.00-€1368.00) per night. 
Lower priced but comfortable
Veranda Grand Baie Hotel & Spa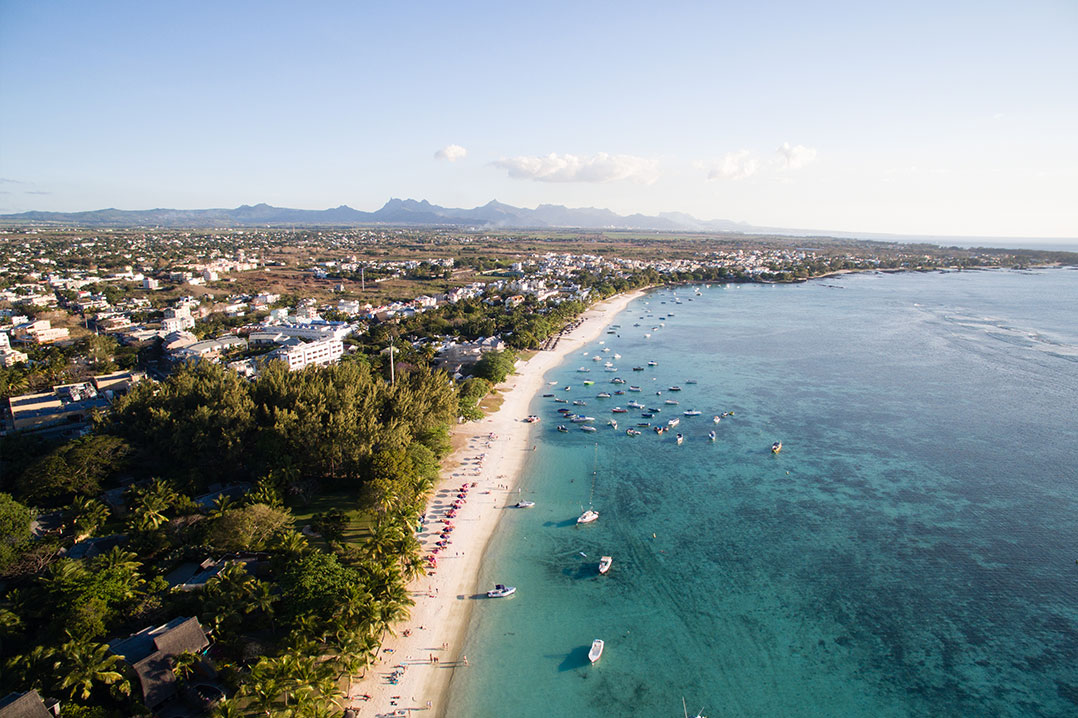 Beaches on Mauritius
All beaches on Mauritius are public beaches, and anyone can go bathing there – unless they belong to an hotel when only residents are allowed. There are excellent beaches everywhere on Mauritius covered in snow-white coral sands, blue seas and beautiful sea life – starfish, are as common as cats and dogs. 
The following beaches are particularly noteworthy: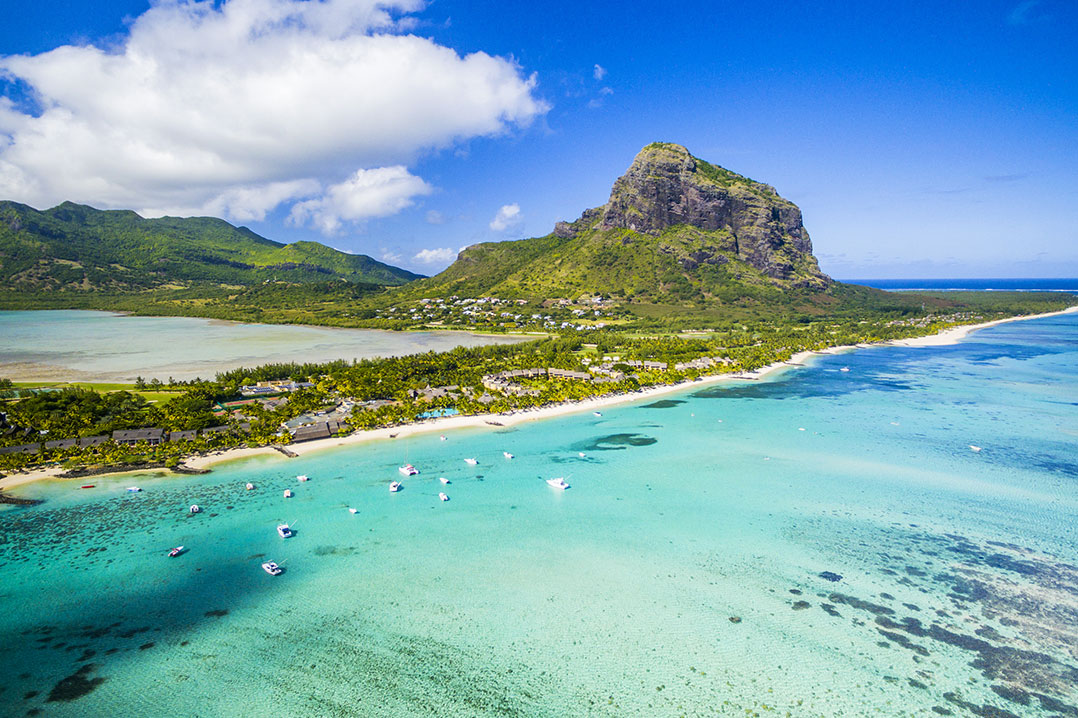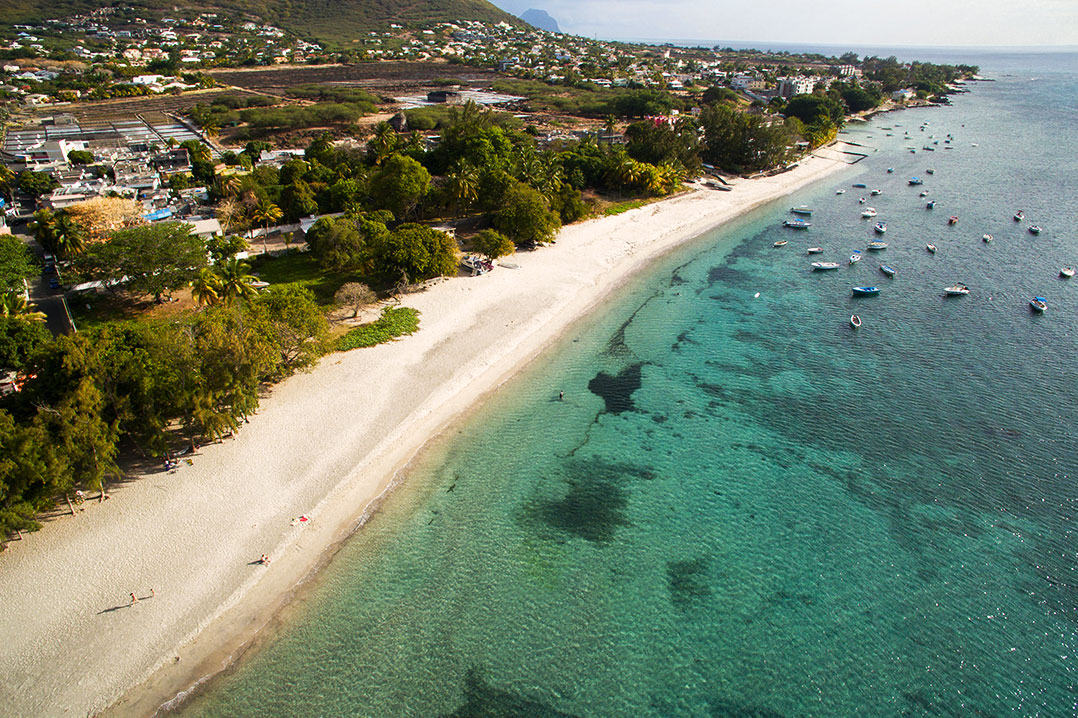 Nude sunbathing – no thanks
If you want to sunbathe in the altogether, then this is not the place for you. It is forbidden to sunbathe naked on Mauritius unless you fancy risking three days in a cell and/or a 1000 rupee ($27.00/€24.60) fine. 
Safety and security
Mauritius is a safe place to go on holiday, but it's better to be extra safe than sorry. So as to make sure nothing can spoil your holiday in paradise, it's best to follow three simple rules. 
Crime rates on the island are extremely low, but you should still take basic measures to look after your property – you get pickpockets all over the world. 
This is a clean country. You can drink the tap water, but like elsewhere, bottled water is recommended.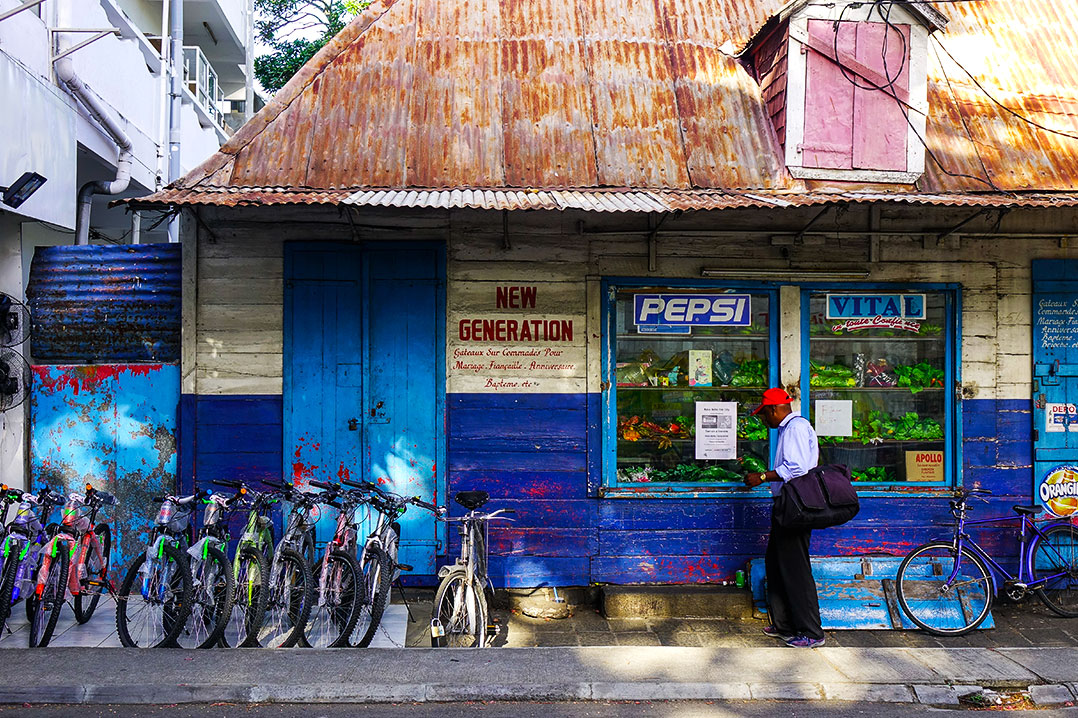 Widespread illness and epidemics tend not to occur on the island, so no vaccinations are necessary. Any craft (sea and air) arriving on the island undergo strict sanitary checks so as to minimize the risk of any infections which may be prevalent in neighboring countries like Madagascar. 
The only risk you might face would be from the flora and fauna and poisonous sea creatures, like the stonefish, but the necessary precautionary measures are taken. 
Do not touch the coral. Harvesting or selling coral is also forbidden for locals.

Do not pick up objects or animals from the seabed.

If you are swimming close to a coral reef, then best wear some waterproof shoes.

Do not go snorkeling or diving or swim out beyond the reefs without an instructor. 
Whacky baccy
Marijuana grows all over the island and is sold freely on the beaches, however, possession and smoking weed is forbidden and could result in not just a fine, but also deportation from the island. 
Mauritian cuisine
Many cultures have influenced Mauritian cooking, but the main influences are Creole, Chinese, and European. Spices are frequently used in Mauritian cooking. The main ingredients are usually rice, vegetables, and seafood. A meal in a mid-range restaurant would normally cost around 600 rupees ($15.00/€13.70) per person. 
This is the island's signature dish and is served in almost every restaurant and costs upwards of 500 rupees ($13.70/€12.30). It's something quite unique which you can't replicate elsewhere. It's a salad made of palm hearts, but not just any palm hearts, but seven-year-old palm hearts with the addition of seafood delicacies like blue marlin.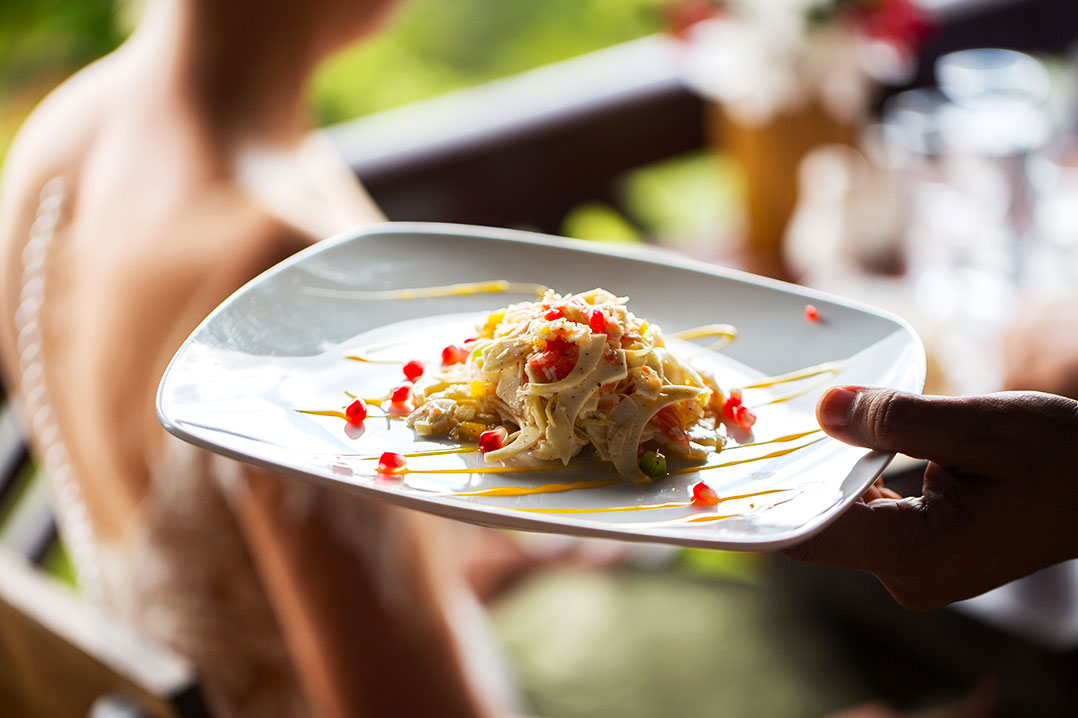 Bol renversé (Upturned bowl)
This is one of the most popular dishes on the island and can be found in almost every eating place. Fried chicken or shrimps are mixed with vegetables, soy sauce, and rice and placed in a bowl which is turned upside-down before serving and then lifted. It costs around 250 rupees ($6.80/€6.10). 
To appreciate the local cooking properly, it's worth trying street food which is served from mobile stalls. 
A good example of the local stuffed flatbreads with a filling made of peas and tomato sauce. Similar to a sandwich on top of which they put salad, beans, curry sauce, meat or rice. Hot sauce is a must. 
This is the traditional local flatbreads made of ground millet. You use it to eat meat or vegetable curry.
They cost around 12 rupees ($0.30/€0.27) each.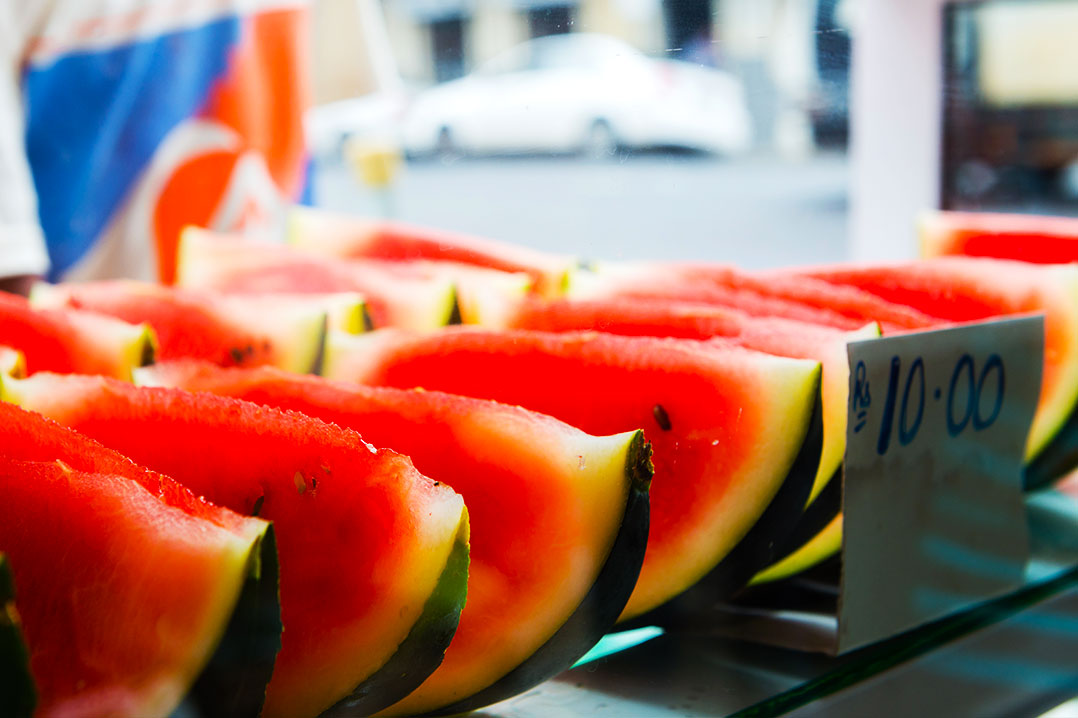 Where to eat
Continental cuisine served in an old mill, which is also an art gallery. 
A popular restaurant specialising in Mauritian and international cuisine.
Located in the former Maison Eureka (Eureka Mansion)
This establishment is located in the Black River hills not far from the village of the same name. There is a wonderful view from the terrace over the coastline stretching from Le Morne to the Black River. 
This restaurant is in the central part of Grand Baie with great views of the sunset. 
This restaurant is in an exotic garden not too far from Tamarind and Black River National Park. You can find out more about the different restaurants in Mauritius here and then choose the one which suits you best.     
What to see and do on Mauritius
There us a lot to keep you busy on this island, from relaxing therapies to extreme sports and enjoying the views. As we pointed out above, to get around, it's best to hire a car or a driver as it's not possible to get to most of the sights by bus. Another way to see the sights is to take a guided tour which comes in various shapes, sizes, and costs and can be arranged as part of a group or privately, or you can simply hire a driver who speaks your language.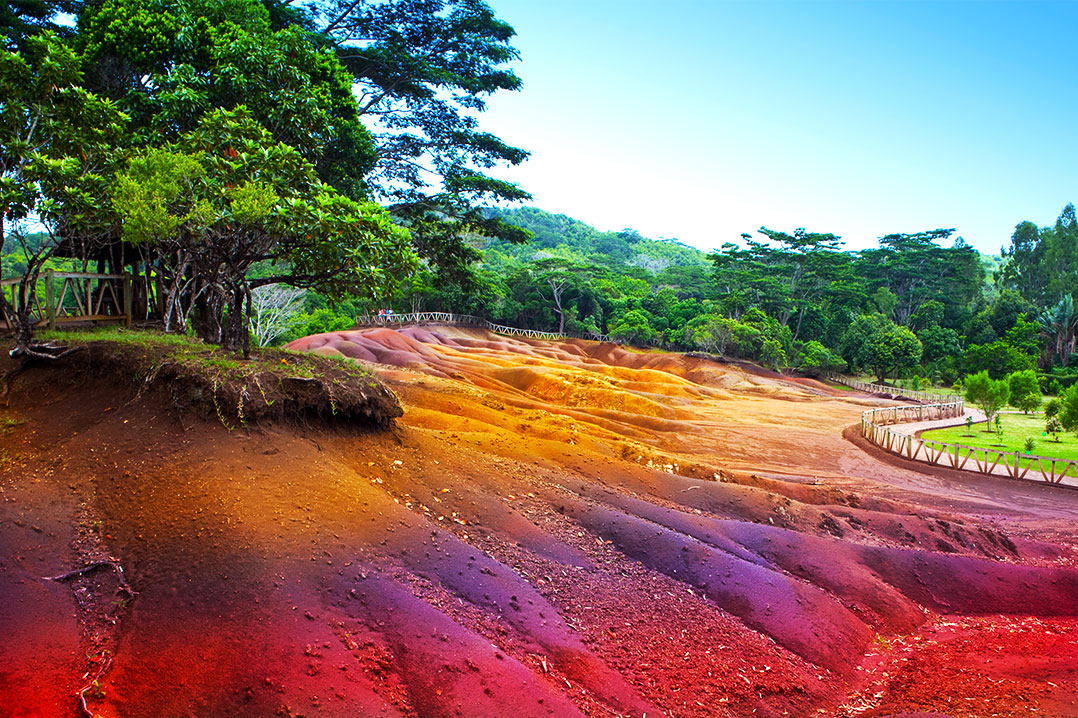 Things to see
This reserve is located close to the small village of the same name. The park is enormous, so you will require transportation to get around it. Entrance costs 250 rupees ($6.80/€6.10). You can buy them on the spot or on the website.    
There are two really interesting natural phenomena here which you should not miss. 
The St-Denis river splits into three streams which fall 100m through exotic, overgrown greenery into the depths of the crater of an extinct volcano below, into the midst of the jungle – it's an incredible view. 
You get the impression that an artist poured the dye over the sand dunes here, coloring them red, purple, green, blue, yellow, and other shades. The secret is in the chemical composition of the sand and the local climate, which affected the way that the volcanic rock cooled off, which gave the soil these hues. This is one of the symbols of Mauritius.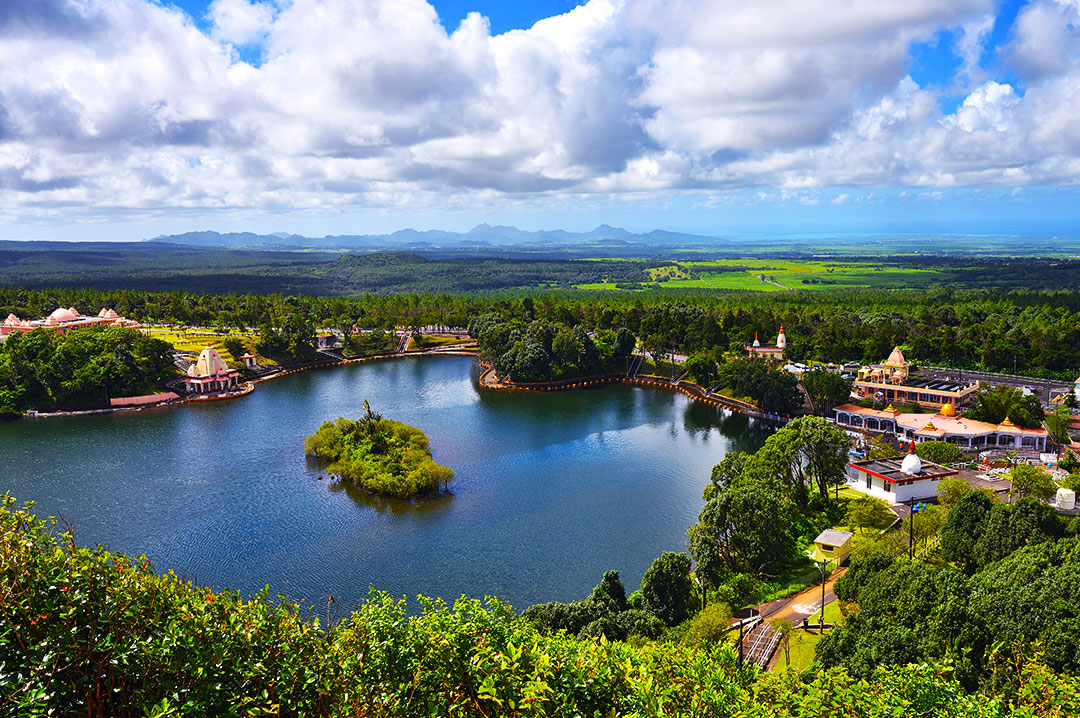 Grand Bassin lake and the Ganga Talao Hindu Temple
This sacred Hindu place of pilgrimage consists of a lake in the crater of a volcano and a temple. It is a popular place of pilgrimage for Hindus from all over the world. Anyone can visit the temple, regardless of faith, and it is completely free of charge. You will find yourself in the company of a lot of monkeys. 
Myths and legends
Legend has it that the God Shiva was traveling throughout the world with his wife, the Goddess Parvati. So as to prevent flooding, he took the River Ganges with him, but during his stay on Mauritius, he spilled some, which resulted in the lake.
Trou au Cerfs dormant volcano
This extinct volcano is located not far from Mauritius' main business center, the town of Curepipe. The heart of the volcano is overgrown with forest and tropical undergrowth, and on the actual floor of the former crater, instead of boiling lava, you find the boggy lake. The crater is 85m deep and 200m across. A viewing platform has been built at the top, and there is a large car park. It's dangerous to go down into the crater, so it has been forbidden.       
Seven Cascades at Tamarind (Tamarind Falls)
These seven waterfalls drop a total of 239m. It is possible to walk down the steps to the bottom of the falls and go swimming, but you should never do this alone, only with local guides. Thankfully, there are plenty of them wandering around the area near the viewing platform at the top, where you get a wonderful view of all seven waterfalls. It takes about 40 minutes to get to the topmost waterfall, and more than seven hours to the lowest one. 
If planning is not high on your list of priorities and you're not planning to visit the waterfalls on foot, you just want to gaze over this beautiful sight, you can cover everything we outlined above in one organized excursion in one full day. You can either do it by yourself with a driver and/or hire a car, take a taxi or take a taxi and hire a guide. I hired a car for myself – the only downside is that you have to get up early so as to see everything.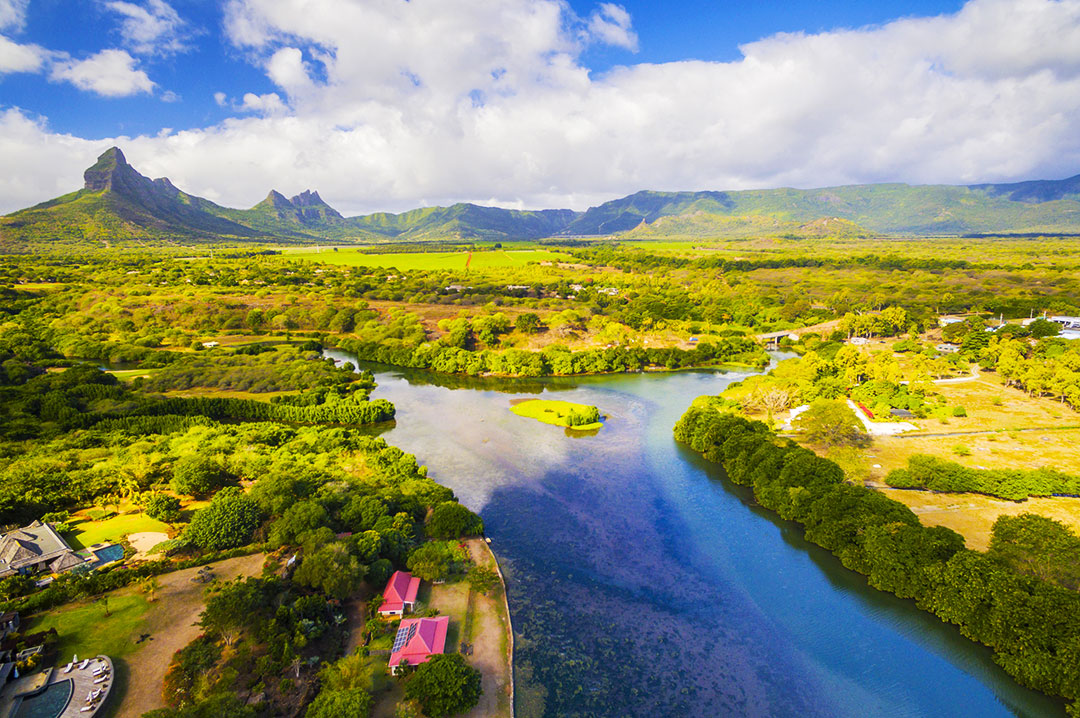 Black River Gorges National Park
This sizeable park of 6,500 hectares occupies 3.5% of the whole territory of the country! Here you will come across the island's unique plant and animal life, dry and tropical forest, marshland, rare plants, torrential mountain streams, waterfalls, volcanic lakes, deer, wild boar, monkeys, exotic birds – you'll find all this and more in the Black River Gorges National Park.         
There are also a number of viewing platforms with magnificent views – and even the highest point of the island, the Black River Peak. There are two information centers to help people find their way around as well as specially designated picnic areas and more than 60km of paths for you to walk around, plus jeep and bus tours. 
It's free to get into the park, and you could easily spend the whole day here, or just take a look one small part of the park and combine the visit with other tourist attractions. This is what I did as I arrived at the park via the Ganga Talao Temple at Charamel.                      
This is another symbol of Mauritius, which is also a UNESCO World Heritage Site. This 556m high emerald-colored mountain can be seen from all over the island. You can get to the top via designated paths, but it's not an easy walk, and it's best to go accompanies by an experienced local guide. 
History and legends
It is said that fugitive slaves once hid on the top of the mountain, taking advantage of its inaccessibility. Nowadays, you can see rare red-flowered bushes on its slopes, which are to be found as part of the emblem of Mauritius. 
It's a challenging walk up to the top of Le Morne, but a determined novice can make it. Nevertheless, according to those who have made it there and back, you do need to be quite fit and to prepare yourself properly.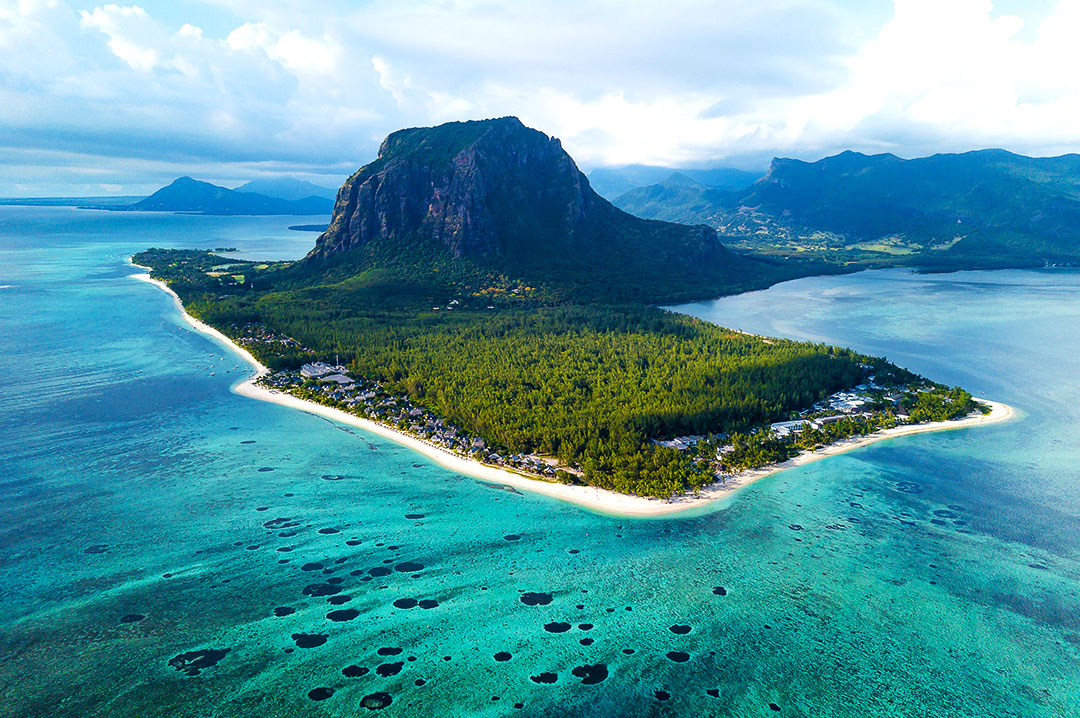 This is one of Mauritius' most exceptional (and most difficult to get to) attractions, but it is well worth the time, money, and effort – and it is, of course, another one of the island's calling cards. 
The Cascades of strong currents plummet into the depths of the ocean, creating the impression of underwater waterfalls, but in fact, it's nothing more than an optical illusion created by the unusual layout of the sea bed and underwater currents.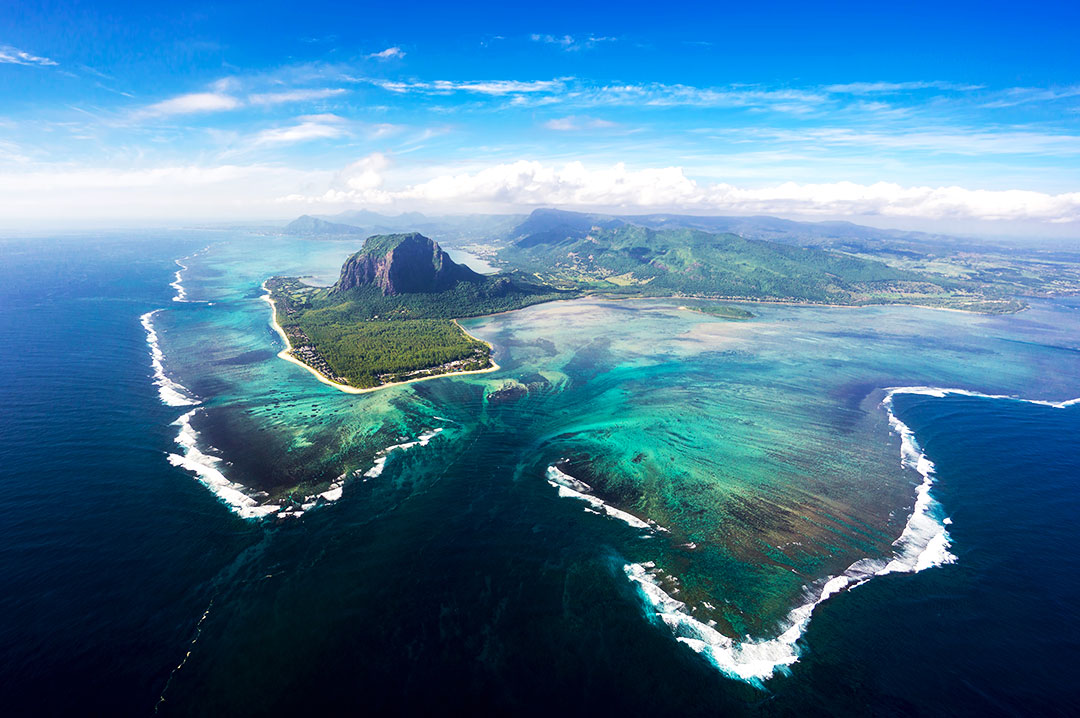 The difficulty arises in that you can only see this effect from above, so you either have to climb Le Morne or book an excursion in a helicopter. 
There are two companies that provide these – Air Mauritius and Corail Helicopters. You can choose the length of flight – 20, 40 or 60 minutes – and they cost around 4200 rupees ($113.60/€102.50)
Pamplemousses Botanical Gardens
These Botanical Gardens have a 200-year history, and more than 500 different types of plants can be seen on its 25-hectare site. You'll find nutmeg growing here as well as tea, camphor trees and many other examples of plant life – even more than 80 different types of a palm tree. There are even water plants, lotuses, and water lilies.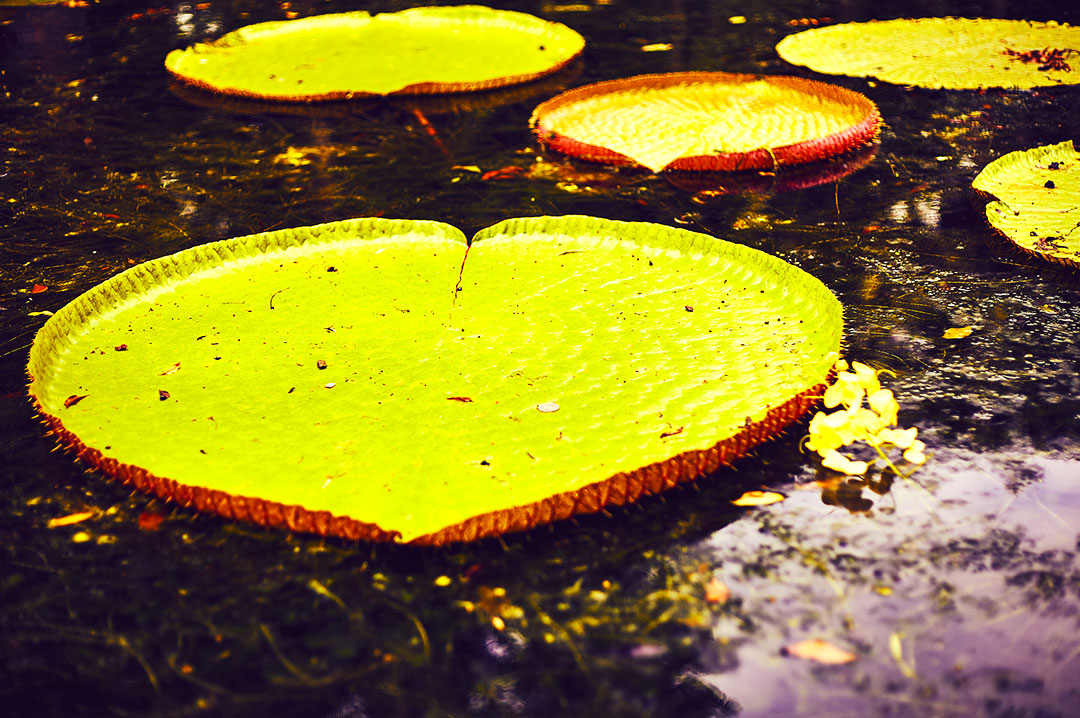 One of the gardens' main attractions is the Victoria water lily, whose leaves can reach 2m in diameter and can weigh up to 50kg. 
Entrance costs 200 rupees ($5.30/€4.80) 
Ride a giant turtle – who didn't dream of doing just that when they were a child? La Vanille is a place where childhood dreams come true and some of the main inhabitants of this nature reserve are the giant turtles – you touch them, feed them, and even ride on their backs.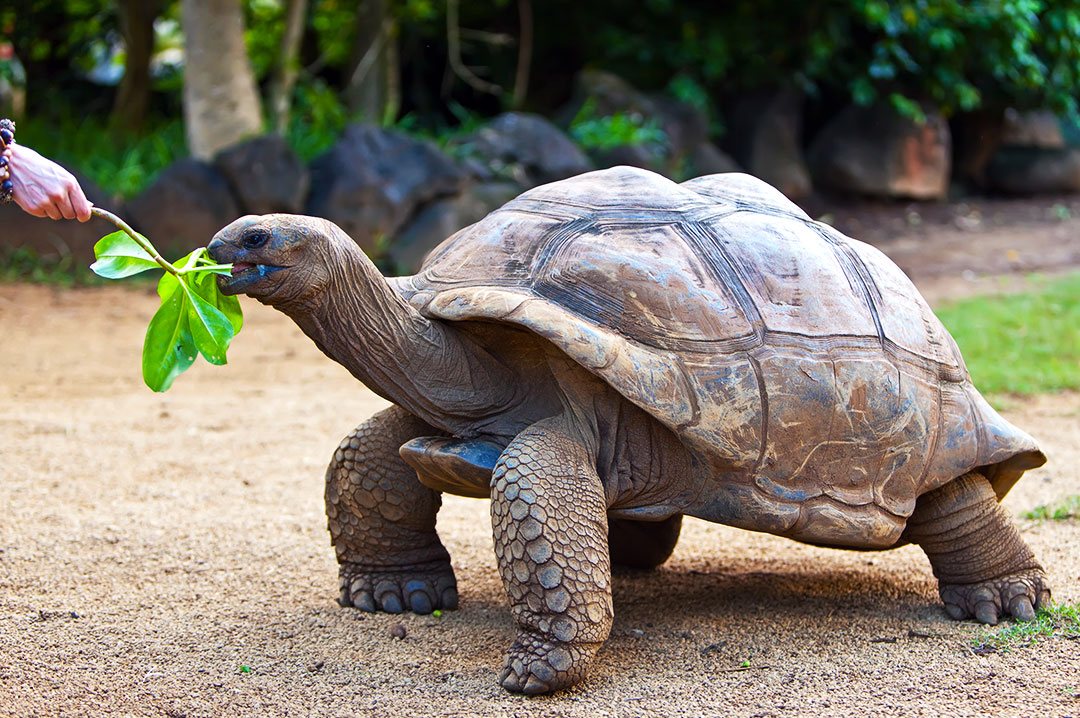 The reserve was originally founded to preserve the crocodile population, but it was not long before it became a large zoo with many animals. You will find monkeys here, bats, iguanas, geckos, chameleons, wild boar, lots of butterflies, and unusual plants. 
You should also be sure to try some crocodile meat! Entrance to the nature reserve costs 350 rupees ($9.48/€8.50), and you can find the exact opening times on its official website.        
The capital city Port Louis and the Citadel
It's worth visiting the capital city even if it's just to see how the locals live and to briefly get back to civilization. There are a few museums here like the Blue Penny Museum  (150 rupees/$4.000/€3.50), the Photography Museum (150 rupees/$4.000/€3.50), and others. There are also shopping centers. It's also worth visiting Fort Adelaide (known to the locals as the Citadel) which has been preserved since colonial times. It is on a hill over the city and affords some nice views.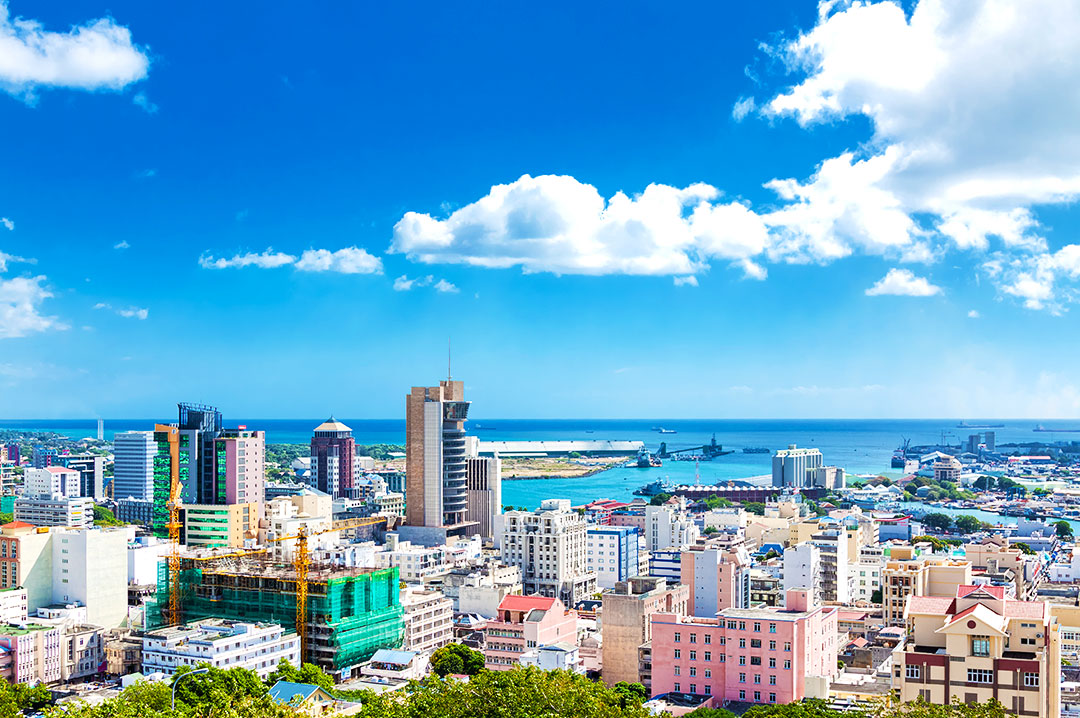 For those who like things a bit more extreme, here are a few great suggestions: 
In actual fact you it's worth visiting this place even if you're not in the market for extreme sports and you just want to stroll around – and it really is worth it. There is a safari, lions, leopards and other big cats, giant turtles, incredible Tarzan swings and ziplines, a hanging bridge over the gorge – all this and more. It's worth noting that here the animals are in good health, happy and cheerful. They don't give them anything to make them drowsy even when they are out and about amongst the visitors.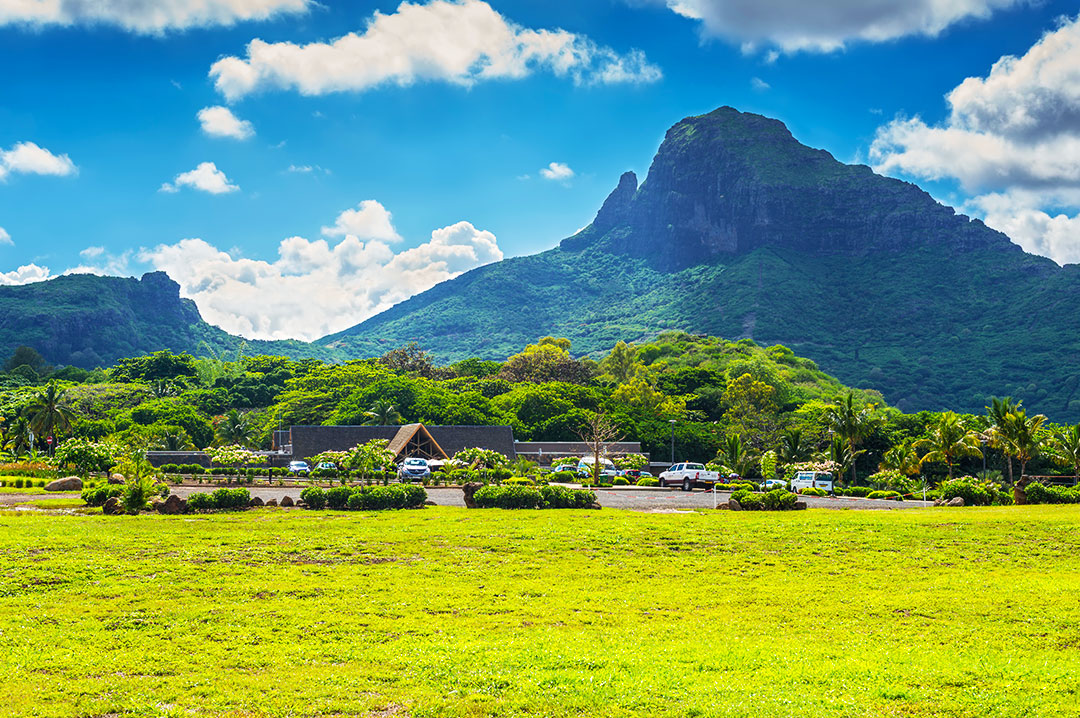 All the park has to offer can be found here on its official website.       
Entrance costs 850 rupees ($22.70/€20.50). 
A walk on the ocean floor
You can only experience this on Mauritius, walking on the ocean floor on your own legs using specialised equipment. A transparent helmet is placed over your head, a bit like a small aquarium, with oxygen tubes attached. They then lower you to the ocean bed, and you can walk – more like a moonwalk – around the underwater world. The helmet is a bit heavy, but once you are under the water, you don't notice it so much. You can also ride around the ocean bed on an underwater scooter. 
You can register here or via one of the local guides.    
Cost is appr 2000 rupees ($53.00/€47.80)
There are around 30 diving centers operating on the island which are registered with the Mauritius Scuba Diving Association. You can dive all year round, but the best time is between November and April since this is the time of year that most of the exotic fish come in shoals towards the shore. The diving is good around the reefs, which attract so much underwater life-like underwater breakwaters, approaches, caves, and arches. Your deep dive will allow you to observe hump-backed whales, sperm whales and look out for one of the 22 shipwrecks they have counted around the shoreline. One dive costs around €40.00/$45.00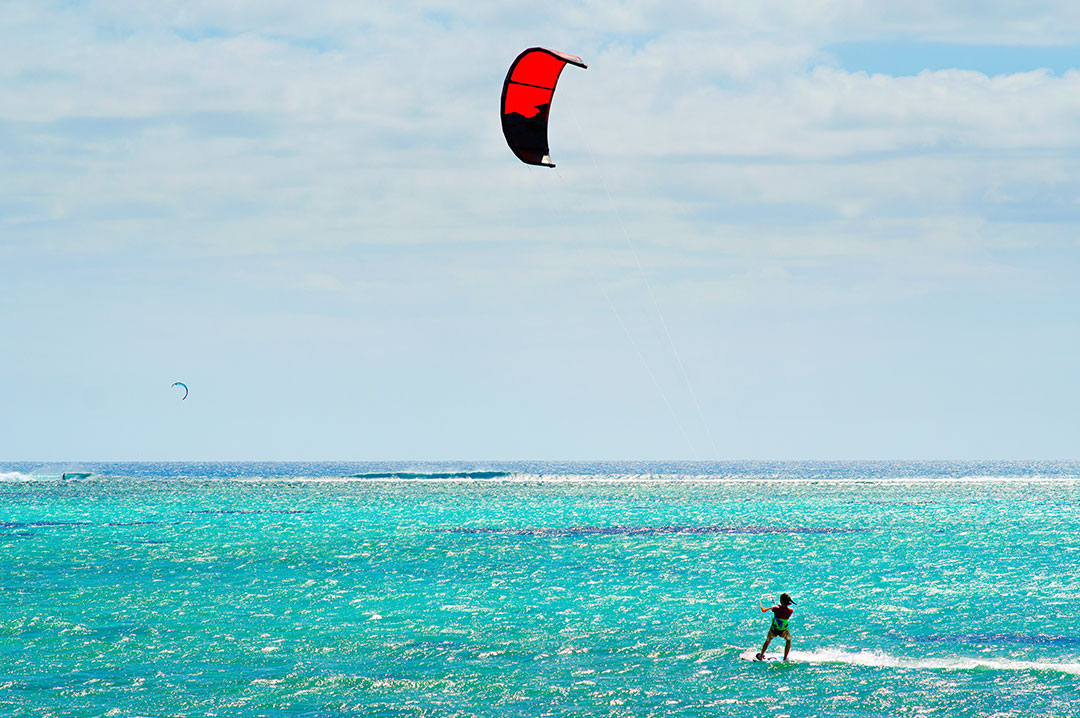 Surfing, windsurfing, kitesurfing
You need to travel to the south, south-east or south-west of the island to experience these. Mauritius is one of the few places on earth where you can enjoy kite-, wind- and sea surfing all at once. 
One surf usually costs around €100.00 ($106.00), kitesurfing is around €80.00 ($83.00), and the best time to do this is from May to January. 
Mauritius is an absolute paradise for those who like deep-sea fishing. In the island's waters, you can catch marlin, tuna, sailfish, dorado, barracuda, and all sorts of different types of shark. 
This costs from $227.30 (€205.00) and you can find out about the companies offering these services from your hotel or local guide.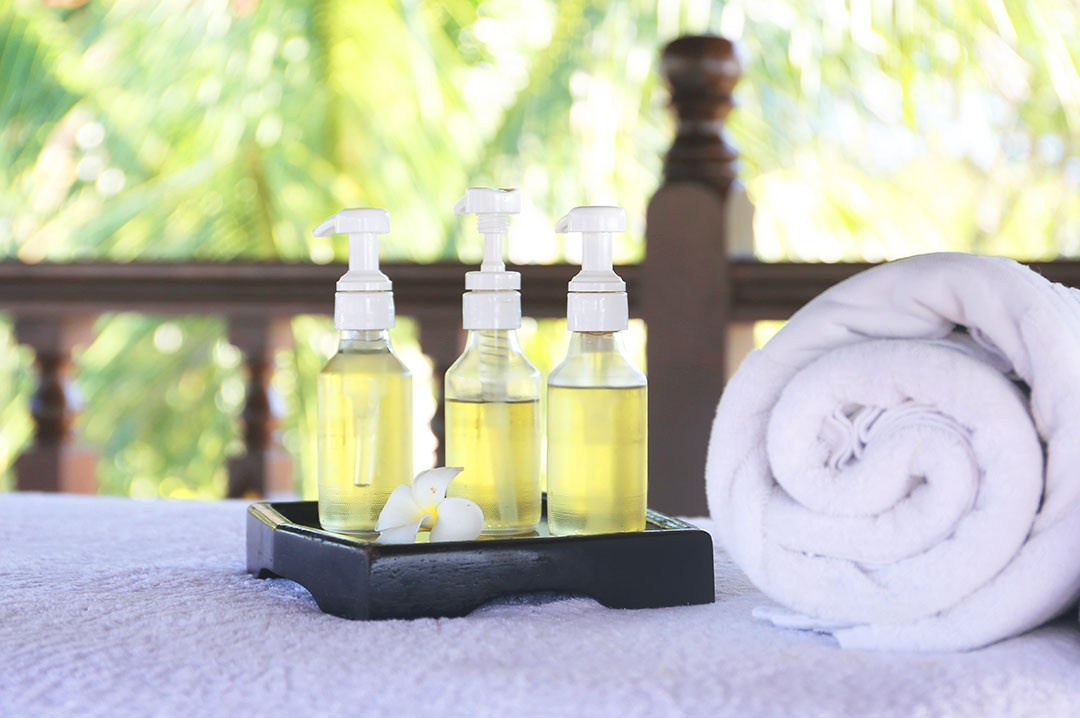 Relaxing spa treatments are available all over Mauritius and prices start from 1500 rupees ($45.50/€41.00)
All five-star hotels on the island have spa centers as do most four-star properties. If your hotel does not have such specialist facilities, then why not try the Kairali Ayurvedic SPA. This is one of the few non-hotel related spa providers, which is amongst the best on the island. You can find out more here.             

What to bring home
Branded clothing. Duty-free shopping is well-developed on the island, and what's more, there are several designer factories here too, like Ralph Lauren, Calvin Klein, and Hugo Boss. If it was "Made in Mauritius, it will be cheaper than the same products bought in Europe, so it's worth getting them here. You can buy direct from the supplier or in the large shopping centers, but still, keep your eyes open for fake goods. The main shopping centers are

Caudan Waterfront

and

Bagatelle Mall

     

The dodo is the symbol of the island, and you can buy dodo souvenirs in all shapes and sizes – from postcards, fridge magnets to clothes and jewelry 
The dodo
The dodo was a large, clumsy, flightless bird that once lived on Mauritius. When humans arrived on the island, they used the bird increasingly for food, which led to its extinction in the 17th century. The only remaining examples of the bird are to be found in Oxford, Copenhagen, and Prague. The dodo became the symbol of Mauritius and is found on its coat of arms.  
Marlin souvenirs

Sailboat models. After the dodo, the sailboat is the most popular souvenir. You can pick up wooden models in varying levels of detail of these ancient crafts from anywhere on the island. 

Caramel sand. You can get little containers of the multi-colored sand as a keepsake of your visit. 

Flax goods, leather, and natural fabrics, as well as Mauritian woven goods. 

Local flowers presented in the shape of a heart make for a romantic present, but keeping it fresh for the journey home is a challenge. 

Jams, rum (the local Green Island or Rhumerie de Chamarel re popular), exotic sweets, coffee, aromatic teas, and cane sugar are foods you might want to bring back.
---
So is Mauritius worth the visit? Of course, it is. It might mean saving up for a while, but it's worth the effort. The island is unbelievably beautiful, and they love visitors here, so even if the beauty of the island is not enough, you will appreciate the fantastic service.