When to go
Tallinn is a city in northern Europe, so it's best to visit between May and September. In May, the average temperature is around 11ºC, in July around 17ºC and in September around 14ºC. During the rest of the year, a cold wind can blow in from the Baltic Sea and can rather spoil the experience. Summer, though, is very pleasant and you can really appreciate not just the medieval color but also the sprawling, green parks, and opportunities to lose yourself in thought on the shores of the Baltic Sea. 
Getting there
You can fly direct from most European countries using low-cost and some scheduled airlines. You can also use Air Baltic via Riga and take the bus from there, and also a bus and rail service runs between Tallinn and St Petersburg in Russia. You can also travel by ferry to and from Helsinki in Finland, which takes about 4 hours.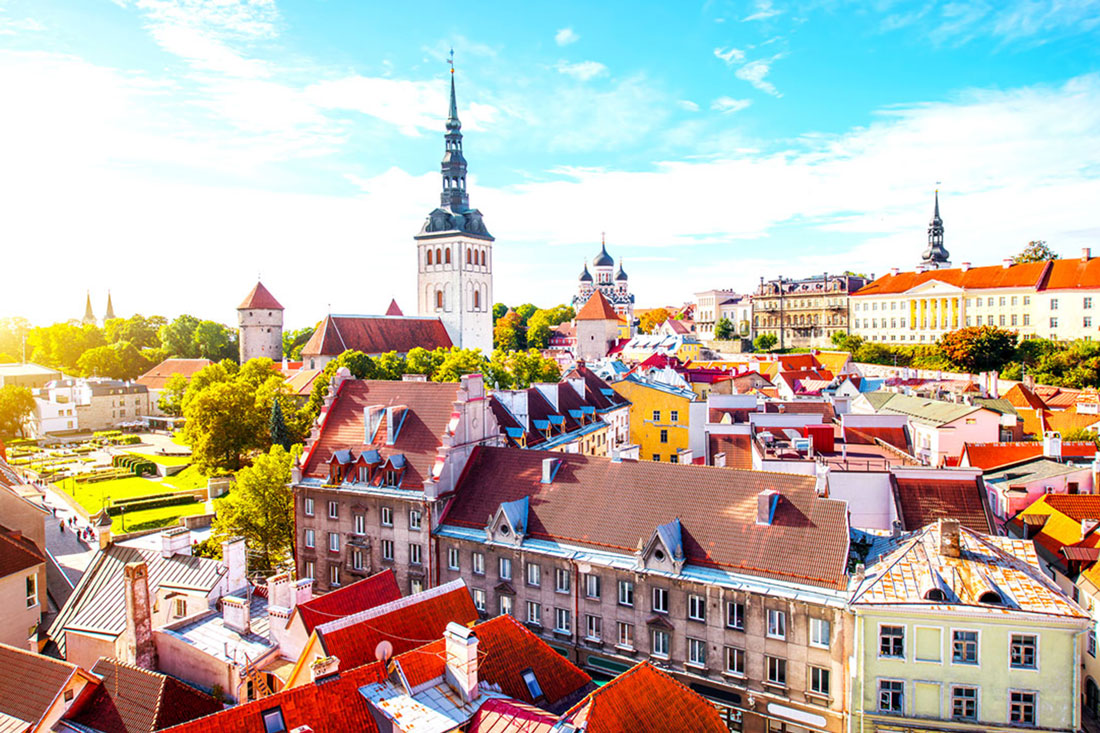 Where to stay
Tallinn is divided into eight districts. The Old Town is in the Kesklinn district. This is where most of the hotels are located along with many flats and apartments to rent. In the neighboring district of North Tallinn (Põhja-Tallinn), the hotels are somewhat cheaper because they are much further from the tourist sights. You can see all this in more detail by looking at the city map on the city of Tallinn's official website.
Tallinn is quite expensive, so the cheapest way to get accommodation is to get a group of friends together and rent a flat, like one of those on the Delta Apartments site in the center of town.
You might also consider the Welcome Hostel Rotermann, but of course, this won't be as comfortable.
The Pirita Marina Hotel & SPA is on the Baltic seashore. It is actually located 5.5km outside the center, away from the main sights. 
What to see
Day 1 – the Old Town
The Old Town is Tallinn's main tourist attraction. It's the central part of the Kesklinn district and is a UNESCO World Heritage Site. Medieval houses and streets built between the 11th and 15th centuries are carefully preserved here, and even the city wall itself with its towers and gates are a monument to the Middle Ages. You enter the Old Town via the Viru Gate which you can recognize by its two symmetrical towers at the bottom of Viru Street.
The layout of the Old Town
The medieval part of the Old Town is split into two parts – the Lower Town and the Upper Town on Toompea Hill. You can easily walk around it in a day. You will need more time if you want to visit any of the interesting museums, towers, and churches along the way.
At the centre of the Old Town is Town Hall Square, a former market place. It's good to know that this tradition continues even today when, in winter, the square is home to a Christmas market. In spring there is an Old Town festival which has a true carnival atmosphere. The main tourist attractions on the square are the town hall itself, the Town Hall Pharmacy and the Oleviste Church (St Olaf's).
The Town Hall is now a museum. It's an interesting place to visit for two reasons. Firstly, for its gothic interior of vaulted ceilings and narrow staircases with medieval seating. You can look out for the carved images recounting the legend of Tristan and Isolde. Secondly, for its collection of fabrics by Estonian craftspeople. Entry for an adult is €5.00, for children, it's €3.00 and a family ticket for two adults and a child costs €10.00.
The Town Hall Pharmacy is Europe's oldest continually operating pharmacy which has been open since 1422. In the Middle Ages, they would sell such wonder cures as powdered rhino horn or potions made of snakeskin. There are a few things going on in this historical building today, including a regular pharmacy and display collections of pharmacy bottles, medical books and other related exhibits from the 17th to 20th century. Entrance is free.
St Olaf's Church was built in the 13th century, and in the Middle Ages, its spire reached 159m. The church was rebuilt after a number of fires, and now it is 124m high, but nevertheless, it still towers over the Old Town and is known as one of Tallinn's best viewpoints. You need to buy a ticket to go up the bell tower. It costs €3.00 for adults and €1.00 for children.
The renovation of the tower
The church tower has been closed for renovation since 15th June 2019 and is due to reopen in the spring of 2020.
Not far from Freedom Square (Vadabuse väljak), Tallinn's Old Town's other main square, you will find the Kiek in de Kök artillery museum. This is a whole collection of different museums and attractions including the Kiek in de Kök artillery tower, fortified underground tunnels, the Bastion Passages, housing a stone-cutting museum, the Maiden's Tower café-museum, the Gate Tower and the Cavalry Tower. Tickets for adults cost €14.00 and for children, €8.00. A family ticket costs €28.00.    
The Maiden's Tower deserves a special mention. It was built in the 14th century, and for last few hundred years, it has been a private dwelling house as well as a café. The artist brothers Kristjan and Paul Raud lived here in the 18th century. Nowadays, you drink coffee here, have a meal and, most importantly, enjoy the views from a height over the Danish King's Garden and the Old Town. An adult ticket costs €3.00, a child's costs €2.00 and a family ticket, €6.00.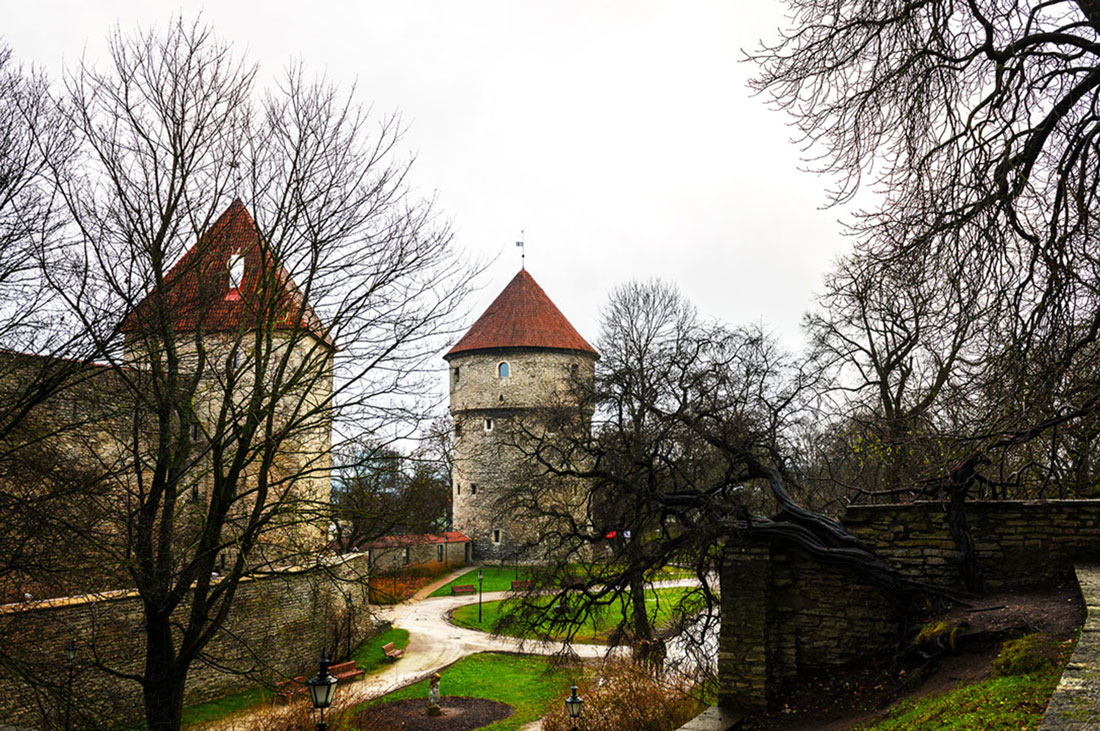 The Governor's Garden is located just behind the Maiden's Tower. In the summer, archery competitions are held here. 
Another way to enjoy the views of the Old Town is to visit the viewing platform at the Kohtuotsa viewing platform, located a short distance from Town Hall Square on the eastern side of Toompea Hill. You get a different view from here as the roofs and towers of the Old Town are contrasted against a background of modern high-rise buildings. You can see both the medieval districts and distant Soviet structures at the same time.     
The Alexander Nevsky Cathedral is on top of Toompea Hill and is Tallinn's largest Orthodox church. It was built according to the design of architect Mikhail Preobrazhensky. Next door is Toompea Castle, the former royal resident. This is now where the Estonian parliament sits.
On the opposite side of Old Town Square, you will find St Catherine's Passage. This is worth a visit so as to really appreciate the medieval atmosphere. This short street leads from Vene Street along the arcades under the walls of the former convent of St Catherine and ends at Muurivahe Street. The passage is packed with local craftsmen in their workshops hand-making artifacts out of glass, felt, ceramics, and jewelry. The workshops first opened here in the 15th and 16th centuries, and you can still watch the craftsmen at work today. During Soviet times, the movie "The Legend of Tila" was filmed here.
Tallinn's city wall is considered one of the best-preserved fortifications in Europe and comes highly recommended for the more romantically inclined amongst you as you can stroll around them as if you were a watchman from the Middle Ages. These fortified walls extend over 1.9km, and there are 20 towers, some empty, others housing museums. Wherever you are on the walls, you will have a never-ending view over the red-tiled roofs of the Old Town. A ticket for adult costs €2.00 and for a child, €1.00.
Tallinn City Card
You can save money if you buy a Tallinn City Card. It is valid for the following:
Free entry into all Tallinn's main museums and tourist attractions

Free travel on public transport

Discounts in shops and restaurants

Discounts on entertainment and excursions
A 24-hour card costs €26.00, for 48 hours, €39.00, 72 hours – €47.00. The same cards for children under 17 cost €15.00, €20.00 and €24.00 respectively.
Day 2 – Kalamaja district and Kadriorg Park
When you have had enough of all those views over the medieval Old Town, why not head for Kadriorg Park? This extensive green area surrounds the Kadriorg Palace.
Whose venerable buildings on northern baroque style today house the Estonian collection of foreign art.
Entry to the Kadriorg Palace costs €6.50 for adults and €4.50 for children. A family ticket costs €13.00. Entrance to the park is free. Several museums are located close to the park, including the Mikkel museum, Peter the Great's House and the house of the Estonian writer Eduard Wilde. Here is what they charge for these museums.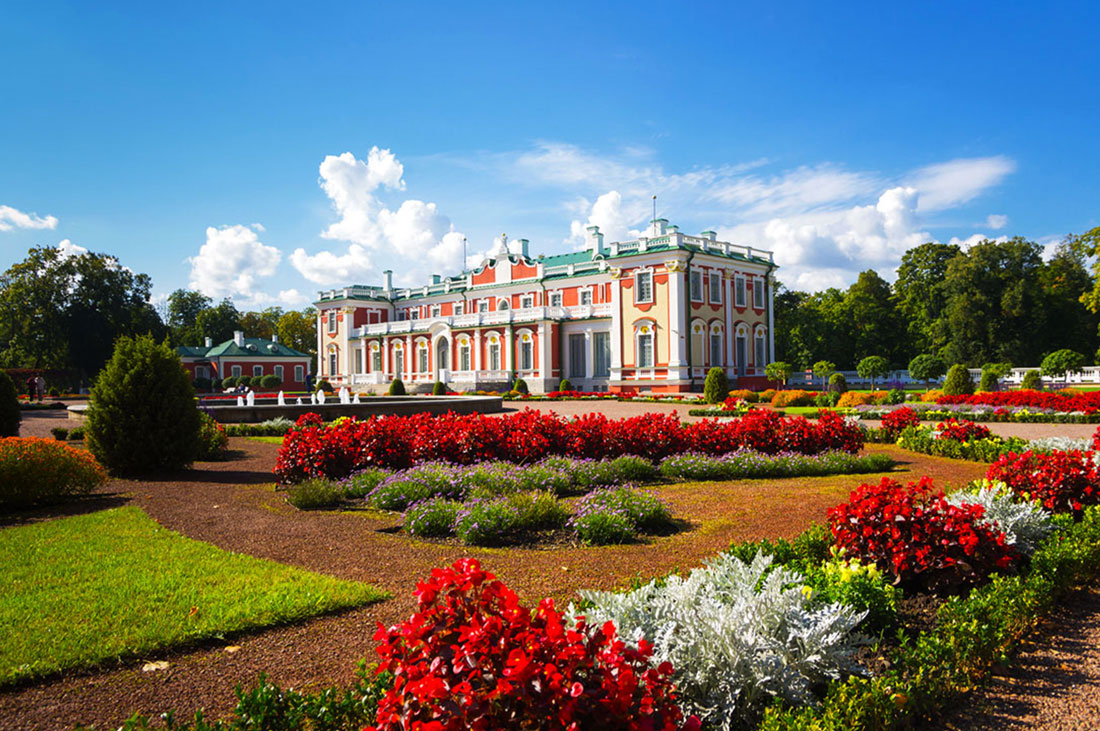 After your program of high culture, head for the Gourmet Coffee shop next to the Kadriorg Park. A cup of coffee here costs around €3.00 and a latte macchiato €3.30, an americano @4.00 and a macha latte €4.50. Many visitors are of the opinion that Gourmet Coffee has the best coffee in Tallinn.
The Kalamaja district is situated between the Old Town and the shores of the Gulf of Tallinn. This has been Tallinn's main fishing port since the 14th century, it's where the fishermen lived, and even the name means "fishing settlement". At the end of the 19th century a lot of industry sprung up in Kalamaja. The wooden houses once inhabited by the workers are now part of Tallinn's architectural heritage.
Not for nothing is the Telliskivi district known as Tallinn's hipster refuge. Here you will find fashionable galleries, little artisanal shops, street food stalls, a Saturday flea market, and an unbelievable amount of graffiti. This creative space is housed within a former electrotechnology plant and brings together Bohemian entrepreneurs and their representatives.
If you're looking for somewhere with a bit of atmosphere, then try out Peatus, a small restaurant which is located inside real railway cars not far from the former railway depot. The food at Peatus is quite simple. In the morning, you can enjoy a breakfast of toast and boiled eggs for €4.00 and granola for €5.00. During the day they serve potato snacks for €3.00-€5.00, seafood and coconut milk soup for €9.00, and beef or chicken burgers for €7.00-€8.00.
The interactive «Seaplane Harbour» museum focuses on Estonia's naval and military past. The main exhibit is the Lembit submarine which was built in the UK in 1936 for the Estonian Navy and was in service for 75 years. Today, visitors to the museum can walk through the submarine's compartments and take a look at the technology which was built almost 100 years ago. In addition to the historical submarine, there are many other exhibits such a hydroplane. In fact the museum building itself is constructed next to a seaplane hangar. Entrance for adults costs €15.00, for children €8.00 and a family ticket costs €30.00.
Not far from the "Seaplane Harbour" you'll find the «Pohjala» craft brewery, founded in 2011. Beer brands from this Estonian brewery are now sold in more than 30 countries worldwide. As well as the brewery itself, this building also houses a restaurant and a shop, so you can also grab a bite to eat here while you find out about the finer points of beer production on one of the guided tours and then buy some souvenirs.
Koht Craft Beer
Lovers of craft beers should pay a visit to the little-known Koht bar in the Old Town. You have to go under an archway into a courtyard to find it. Here they sell craft beers from all over the world, including some rarer types, like "Cookie Dough" white stout from the US Swamp Head craft brewery. A glass of beer costs from €2.50-€5.00 depending on the type and where it comes from. You can chat with people from all over the world here. There is a craft beer shop in the next building.
Food and drink
Estonian cuisine is a mixture of Scandinavian, German and Russian culinary traditions. The main ingredients used in Estonian coking are pork, potatoes, pickled cabbage, fish, and dairy products.
Baltic sprats are a traditional Estonian snack, and they use them to make "smorrebrod", an open sandwich made of black rye bread smeared with butter and slices of hard-boiled egg. This is the preferred breakfast for many Estonians. If you are staying in ana apartment, you can try to make one for yourself. In the Prisma supermarket, a tin of Baltic sprat costs €2.00, black bread costs €0.89, 10 eggs cost €1.00 and 200g of butter costs €2.00.
If you want to try some more refined dishes based on Baltic sprats, head for the Farm restaurant in the Old Town. They serve a kind of spicy sprat dish with egg and fresh cucumber salad for €8.00.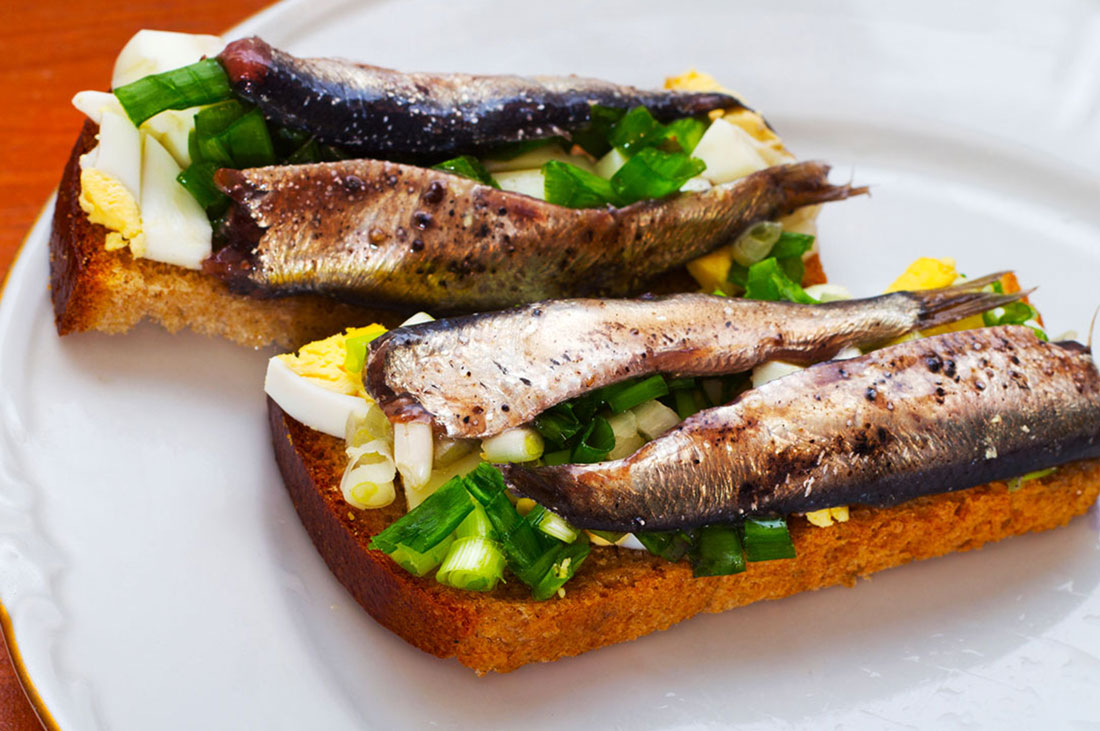 Blood sausage with lingberry jam is an Estonian Christmas specialty. The sausage is made from processed beef, veal or pig blood. Vanaema Juures is a restaurant serving traditional Estonian cuisine and has this blood sausage and lingberry combination on its menu served with pickled cabbage and pumpkin salad for €6.00. At the Christmas market, you can get quite an impressive portion of blood sausage with pickled cabbage and lingberry sauce for €8.00.
Mulgikapsad is stewed pork with pickled cabbage and barley and is eateн with a baked potato. At the Liisu Juures restaurant on Old Town Square, you can get a dish based on this with a baked potato for €10.00.
Piparkukas are another spicy Christmas treat; they are also known as «peppered cookies.» Apart from the black pepper, these biscuits contain ginger, cinnamon, cloves, and cardamom. You will find them at the Christmas market on Old Town Square, and they cost between €1.00 and 3.00 each. You can also get traditional gingerbread cookies or even a whole gingerbread house at the Kohvik Mademoiselle café. Here are some of their prices:
35g gingerbread cookie – €0.50

100g gingerbread cookie – €1.30

150g gingerbread cookie – €1.80

600g gingerbread house – €15.00
Marzipan is an almond-flavored sugar paste and comes in a large number of varieties of sweets and cakes, most of which you can find at the Marzipan Room. One sweet costs €0.70.
What to take home
Ideal souvenirs from Tallinn would be spicy sprats, gingerbread cookies, marzipan sweets and cakes, local craft beers, rum-based strong Estonian liquor called Vana Tallinn, chocolate from the Kalev handmade chocolate shop in the Old Town. If you want to take back something different, drop by the Nukupood doll shop not far from Old Town Square where they sell handmade dolls and soft toys by independent Estonian designers. This kind of unique gift will mean more to someone than something from a more traditional souvenir shop.
---
Tallinn is a small but colorful place where you can languish in the medieval atmosphere, think deep thoughts as you stroll along the Gulf of Tallinn, take part in street festivals and markets, but most importantly return home in the knowledge that you will go back to Tallinn one day.