How to get there
Flights to Bangkok
Flights with Emirates and Qatar Airways are popular since they often have more attractive prices and a high level of service. These flights have stop-overs in the Emirates or Qatar, where you can go into the city during a long connection (no visa required).
The 120 km journey from Bangkok Airport to Pattaya can be traveled by taxi for 1,000-1,500 bahts (≈ $32-47) or by bus for 150 bahts (≈ $5 per person).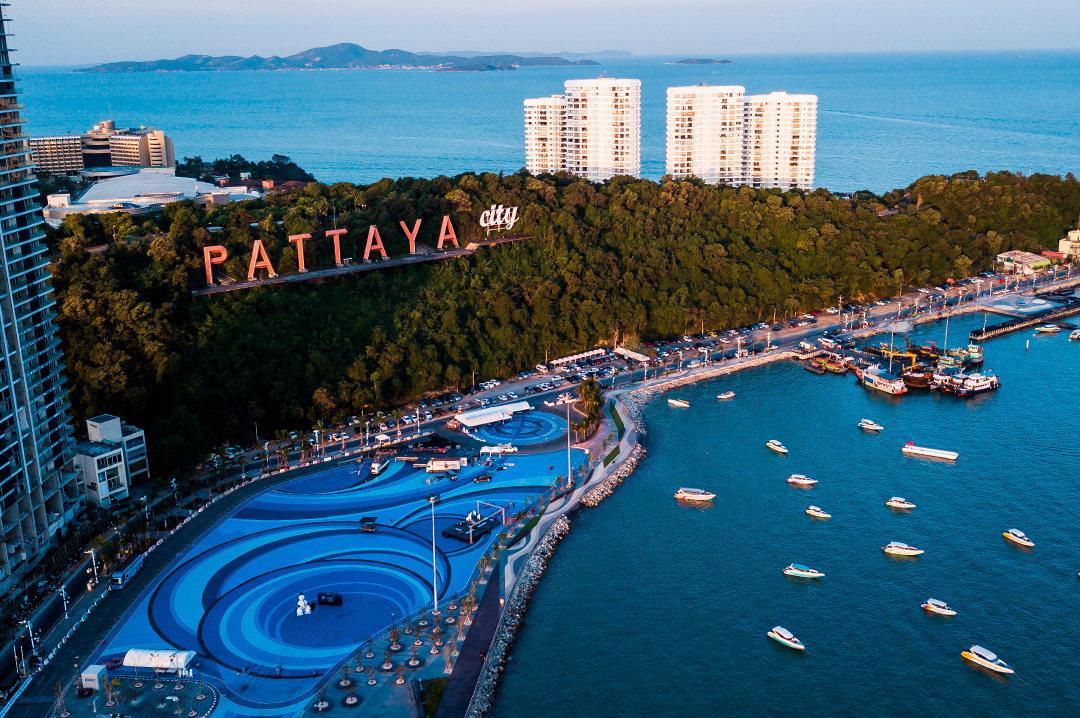 Flights to Pattaya
Qatar Airways now offers flights to Pattaya Airport. The cost of these flights is no higher than the cost of a flight to Bangkok and sometimes lower, and it certainly saves time and effort.
When to go
You can relax in Pattaya all year round, as the sea is always warm and calm. May-October is the rainy season, but the rains here are tropical and don't last long. Indeed, the humidity is higher at this time, but prices are much lower during the off-season. The high season is from October to April.  
Where to stay
I recommend three options for different budgets.
The Mövenpick Siam Hotel (5*) is a luxury beachfront hotel away from the noise of central Pattaya with panoramic ocean views and complimentary Mövenpick ice creams and desserts.
At Mind Exclusive Pattaya (4*) is located on a quiet lane not far from Beach Road (Pattaya's central waterfront with shops, bazaars, cafés, and massage parlors). The hotel's spacious rooms each have their own kitchenette and washing machine. Located nearby is a currency exchange office with advantageous rates, supermarkets, and cheap moped rentals.
Baboona Beachfront Living (3*) is a cheap hotel on Beach Road where you can stay in a room with a balcony and an ocean view.
What you should see
Wat Yansangwararam (Wat Yan)
Wat Yan is a large temple complex with several buildings built in the various architectural styles of other Asian nations. There is also a museum, a huge well-kept park, and a pond with lotuses. It's not popular among the fans of group excursions, so it's a surprisingly calm place.
After climbing to the top of the 300 steps, you'll see Buddha's footprint imprinted in stone, and you can also admire the quiet panorama of Pattaya and its surroundings. This is where monks offer meditation lessons for anyone who wants to learn, but they are only taught in Thai. It's hard to believe that there are such peaceful places a mere 20 km from the never-sleeping Pattaya.
You can get here by renting a moped or car, or take a taxi. Admission is free.
Khao Chi Chan (Golden Buddha Mountain)
It's possible to catch a glimpse of the mountain from the top of the 300 steps at the Wat Yan temple complex. At over 100 m tall, the largest image of Buddha in the world was etched into the mountain by laser in 1996 to commemorate the golden jubilee (50th anniversary) of King Bhumibol's reign. Then, the etched outline of the image was filled in with gold leaf. Right at the foot of Khao Chi Chan, you will find a little tropical garden with a waterfall and gazebos for meditation. It's convenient to combine a trip here with a visit to Wat Yan or the botanical garden.
You can get here by renting a vehicle or by taking a taxi. Admission is free.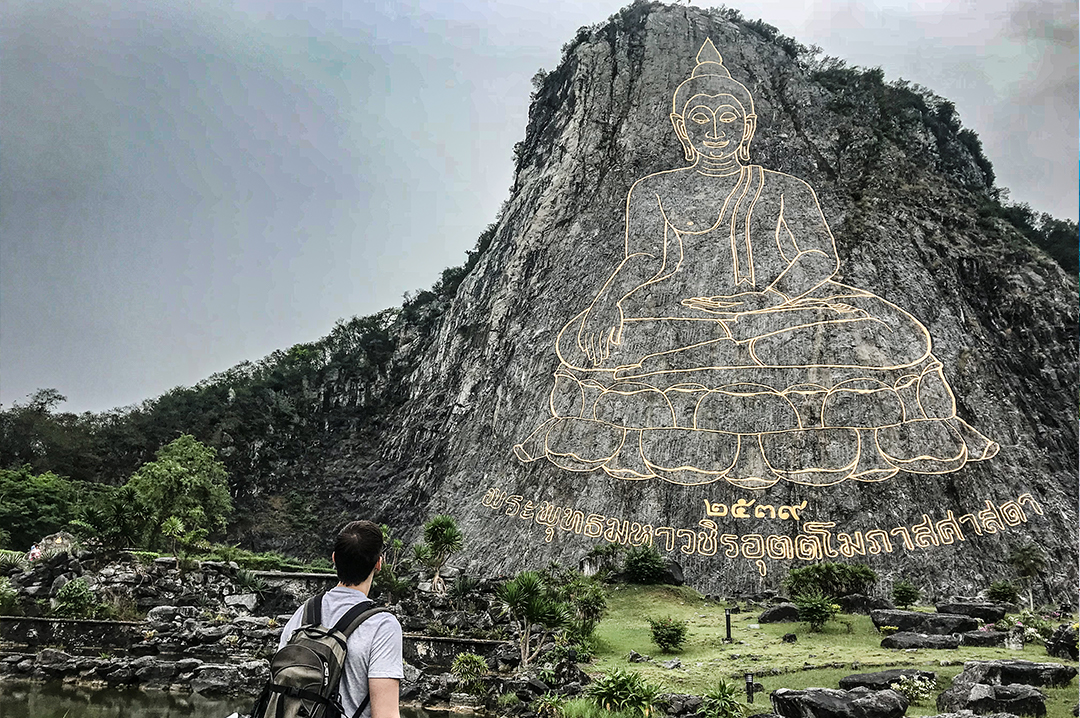 Nong Nooch Tropical Botanical Garden
Located very close to Wat Yan and Khao Chi Chan, this is the largest botanical garden in South-East Asia and one of Pattaya's most popular attractions.
The botanical garden has an orchid garden, a mini-zoo, a 'dinosaur valley', an elephant farm, a French garden and other thematic gardens, an exhibition of vintage cars, a hotel, and a café. There is also a dance show
You can get here on the park bus, which runs in the mornings and afternoons. You can reserve your spot on it through a travel agency or at a hotel. The fare is 100 bahts (≈ $3.20). The price of admission is 500 bahts (≈ $16). The garden is open from 8 a.m. until 6 p.m.
Hat Nang Ram (Beach of the Dancing Girl)
Located among military bases, this beach was the pearl of our vacation. Having reached it on the very last day of our big trip, we stopped in our tracks and could hardly believe our eyes. Not all the beaches in Bali and the Dominican Republic that we visited could compare with the beauty of Hat Nang Ram: pristine snow-white sand, clear pale blue water, pine trees, the green hills of islands in the sea—and warships in the background, giving the place an extra bit of zest. The realization that we had discovered a paradise located only a 40 minutes' moped ride from dull Pattaya made it even more delightful.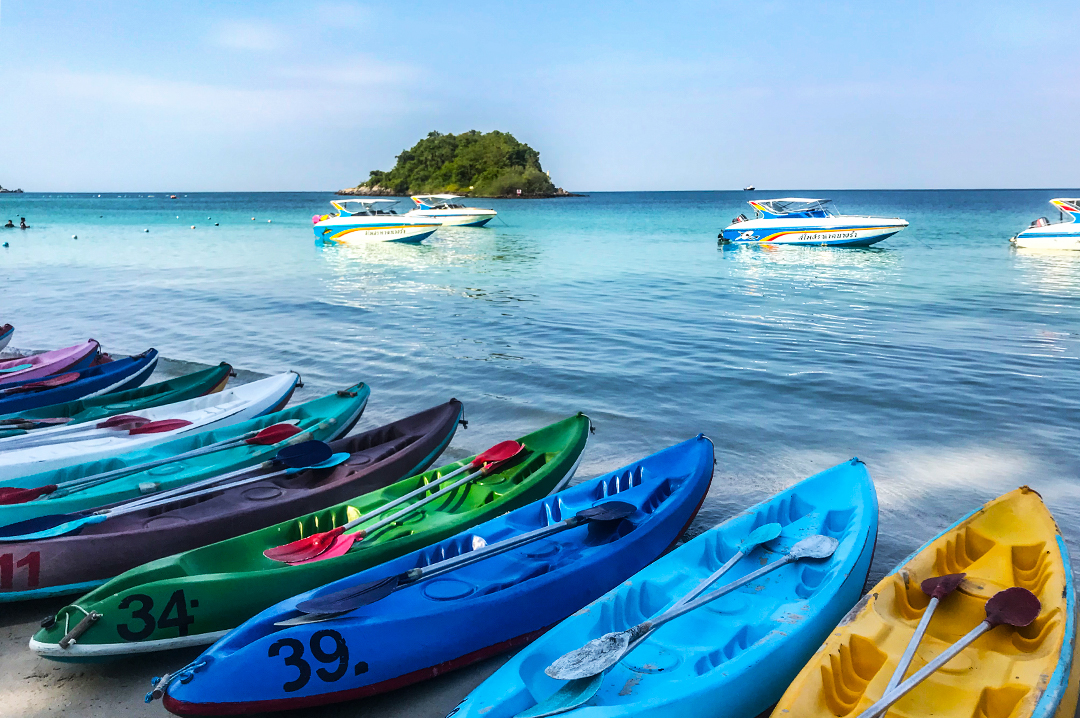 This beach is a favorite picnic spot for locals, so on weekends, all the shady spots are occupied by adults. Meanwhile, the Thai kids, in huge inflatable unicorn-shaped life preservers, which can be rented here, splash about in the water without removing their amusing pajamas.
Entry to the beach: 20 bahts per person (≈ $0.60).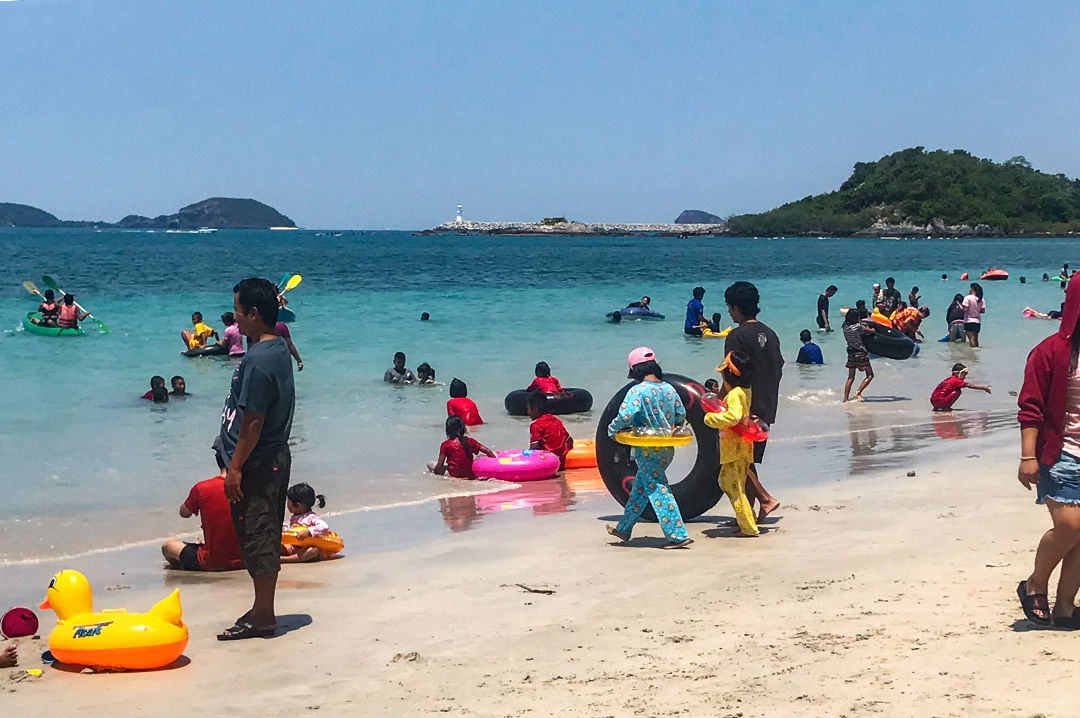 Jewelry factories
It is widely thought that you can buy inexpensive and high-quality jewelry in Thailand. There is a multitude of jewelry stores on the streets of Pattaya. You can also observe the manufacturing process and purchase guaranteed high-quality jewelry in factories, but the prices are higher here. The two main factories are Gems Gallery and World Gems Collection. Both of them provide a free taxi from your hotel and back.
We visited Gems Gallery ourselves. They have a huge selection but the prices were higher than in Sri Lanka.
Where else to go
From Pattaya, you can take a short trip to the Khwae Yai River and go river rafting, take a journey to exciting Bangkok, or travel to mysterious Cambodia and visit the temple of Lara Croft (Ta Prohm) and Angkor Wat, descend from Pattaya Park Tower by zip-line or in a cable car, or see the entirely wood-carved Sanctuary of Truth.
What to do in Pattaya in the evening
Stroll along Walking Street
Pattaya's main pedestrian street wakes up at sunset and, as the night approaches, it gets filled up with groups of embarrassed Chinese tourists, lonely Europeans, Thai transvestites, and the pounding rhythms of club music.
Here you can find cheap accommodation, stroll, eat dinner, buy souvenirs, go to the cinema and bars, watch Thai boxing, and be seduced by one of the innumerable shows.
Go for a Thai massage
Massage became our main nightly pastime. On Beach Road, adjacent to Walking Street, you can easily find massage parlors. The most popular service is a foot massage. After a busy day of touring, you can spend 15 minutes to an hour sitting on a large leather chair getting a massage for somewhere in the range of $2-7.50; the massage parlor also has air conditioning and Wi-Fi.
You can choose a shoulder and head massage or a full body massage performed by four hands or using massage oils. Body massages are carried out in separate cubicles in special costumes, and the procedure is reminiscent of yoga due to all the stretching and twisting. The body feels so good that it's completely incomprehensible how you will live without massage after you leave Thailand.
Buy souvenirs and try Thai street food at night markets
There are a lot of night markets in Pattaya. They differ from ordinary markets in their special festive atmosphere and by the fact that you can stroll around slowly, without suffering from the scorching heat of the day. Prices aren't high but don't forget to bargain. You can also eat here.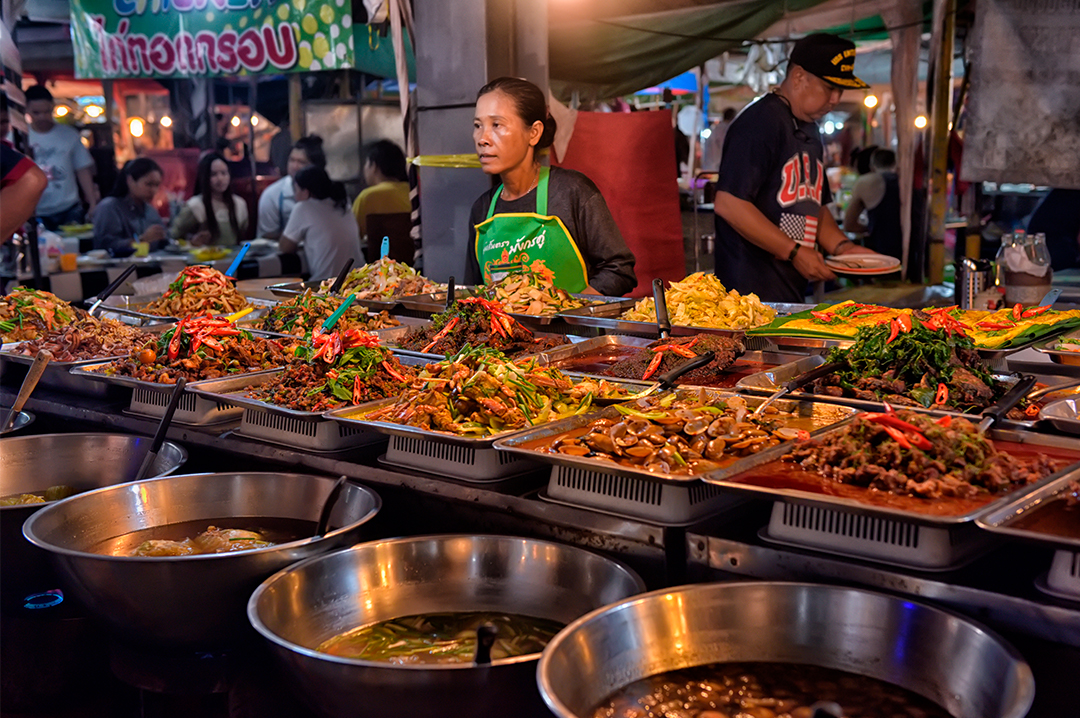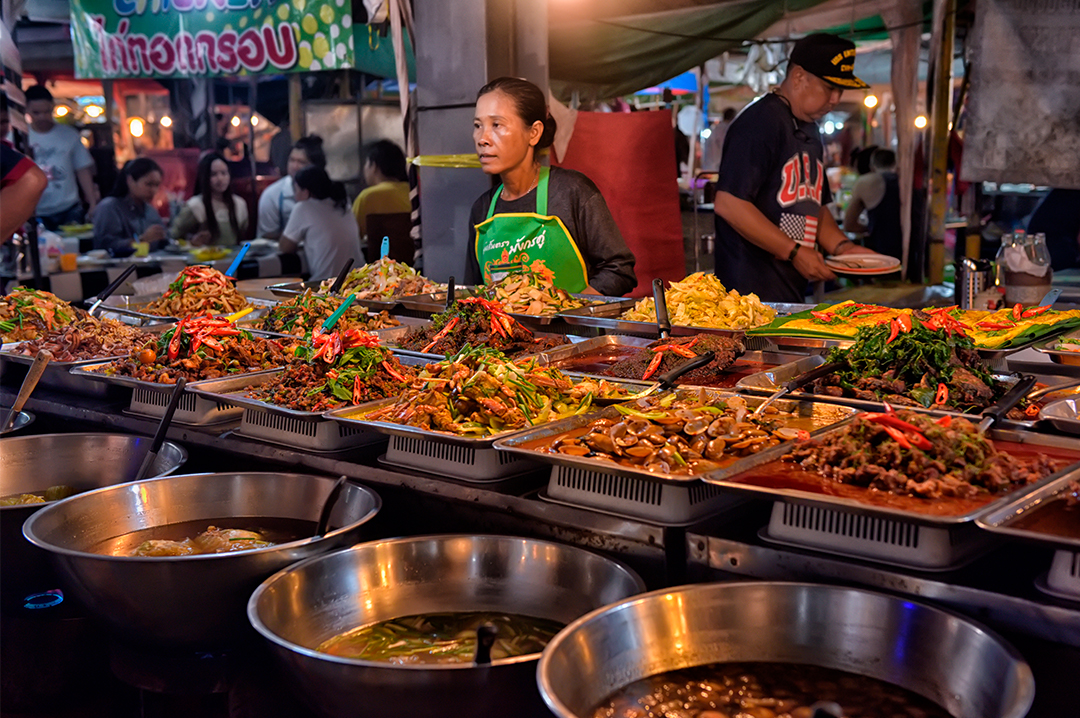 Thep Prasit Weekend market – Pattaya's main night market. It's located at the intersection of Sukhumvit Road and Thep Prasit Road. Open from Friday to Sunday from 5 p.m. until midnight.
Soi Buakhao Market, Soi Buakhao, Pattaya Thai Road – Open on Tuesday and Friday until 2 a.m.
Pattaya market – At the intersection of Second Road and Soi 5. Open daily.
Jomtien Night Market – On Jomtien Road. Open daily from 7 p.m. until midnight.
Pratumnak Night Market – At the Pattaya Park Hotel. Open from Friday to Sunday until 1 a.m.
How to travel around
Minibusses
You can travel by minibus (sometimes called a baht bus or songthaew) from Jomtien to the center of Pattaya and along the main streets. In Pattaya, a baht bus is a small pick-up truck with two benches facing each other along the sides of the cargo bed with a canopy on top. You can get on and off anywhere along the route. The ride costs 10 bahts (≈ $0.30).
Mopeds
The moped is the most convenient mode of transportation, as it enables you to avoid getting stuck in perpetual traffic jams while giving you freedom of movement. The price of a moped rental starts at 200 bahts (≈ $6/day). You can find brand new Kawasaki, Honda, or even Harley-Davidson motorcycles for rent on Beach Road.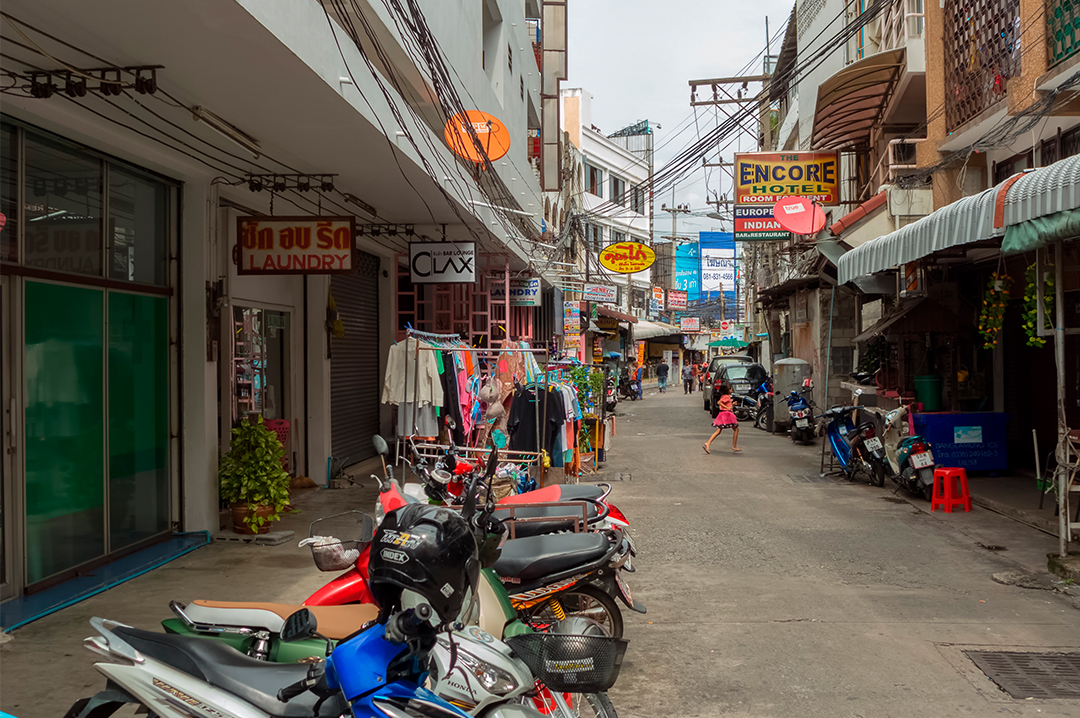 Taxis
Uber and its local equivalent, Grab, work in Pattaya, but get ready to wait in traffic jams. The Grab app is free, and you can download it in advance. But in order to always keep in touch, buy a local SIM card that comes with an Internet package.
Where to eat and what to try in Pattaya
You can try tom yum (a hot and sour soup) or tom kha (a sweetish soup with a coconut milk base), eat pad thai noodles with shrimp or enjoy the fried rice, sip natural fruit shakes or savor trendy cocktails while enjoying the panoramic view.
Sky Bar and The Roof Top Sky Bar
The high-rise buildings of Pattaya turn into a pleasant rest and relaxation bonus when you end up on the roofs of the Hilton Pattaya (5*) or [email protected] Design Hotel (4*). You can relax on the cozy chairs and sofas and enjoy the panoramic view of the city, the sea, and the sunset while listening to music from the DJs and drinking delicious cocktails.
The bar at the Hilton opens at 5 p.m., and there are discounts until 7 p.m. (the usual price of a cocktail is ≈ 400 bahts, which is approximately $13). You can already come to [email protected] in the afternoon, order a cocktail, and gain access to the rooftop pool.
Mae Sri Ruen is located right beside the Hilton Pattaya (5*).
It's a simple and surprisingly cheap café. The café's parking lot is regularly filled with new Mercedes and other sports cars driven by locals. Rice with chicken or pork costs 60 bahts (≈ $2), and fried rice with shrimps costs 80 bahts (≈  $2.50). The café's staff are agreeable, and there's a large selection of delicious fresh food and drinks. The café has a small terrace with a view of Beach Road and the beach.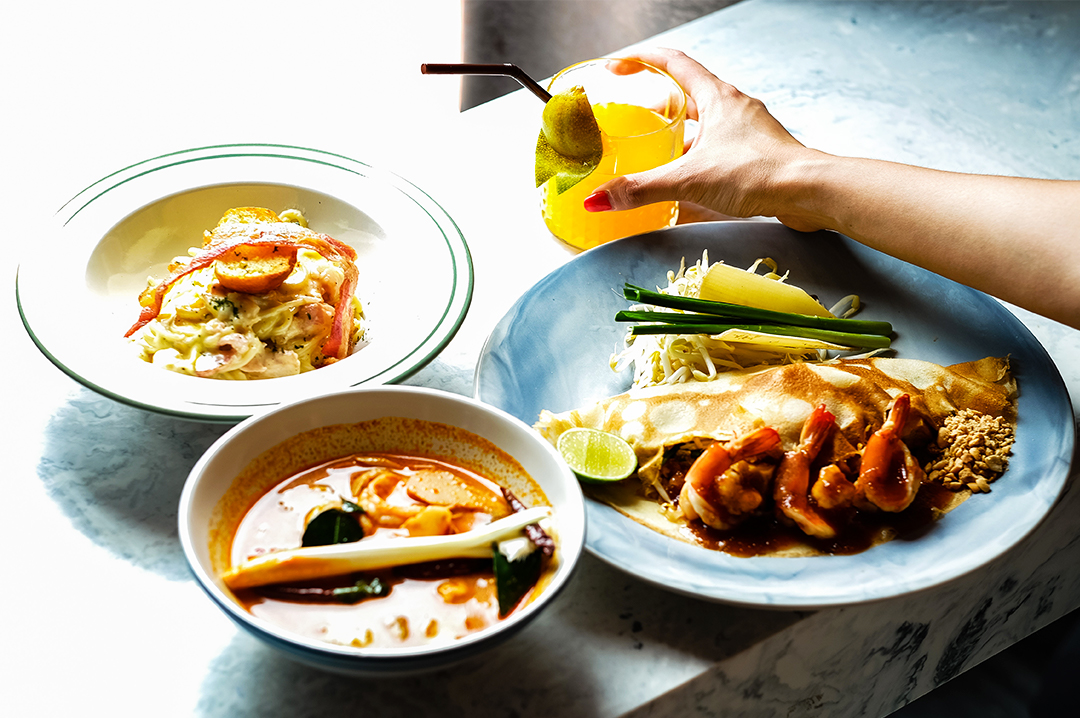 Praneat Seafood is a stylish and pricey restaurant in the Na Jomtien district across from the Mövenpick Siam Hotel. You will enjoy the fresh seafood, large portions, and live music here. Well-to-do locals like to come here. A combination platter of curry soup, mushroom salad, fried fish and scallops costs 999 bahts (≈ $32).
---
For me, Pattaya became part of a long trip from Bangkok to Cambodia and back to Bangkok, and, to my surprise, it was one of the most enjoyable parts of the trip. Where else can you go for a massage for $6/hour that has Wi-Fi and air conditioning and eat delicious seafood dishes in a decent café for $2?
Where else can you find a beach nearby that looks like it's straight out of a magazine? Where else does your hotel room have a panoramic bird's-eye view of the ocean surrounded by tremendous, calming temples and parks? Where else can you live in a parallel universe to the package tours?… Where else?… Where else?… Fortunately, there are so many times when you'll find yourself thinking "where else?"
The editors thank Yulia Kuzina for the photos.
Other photos: Evdoha_spb, Andreas Marquardt, Sattahipbeach