Go to the cinema
France is a country of cinephilia. A country where the closing of the Cinémathèque provoked a students' revolution. During the Occupation, the father of the Cinémathèque Henri Langlois carried rolls of banned film in a pram — today, these meticulously preserved and restored films are shown daily in hundreds of independent cinemas that are true to the legacy of the legendary film archivist.
Films are not voiced over in France, so if you don't know French but are studying any other language — from Hungarian to Japanese — then don't worry, you can be sure to find an appropriate film.
At the main Mecca of film lovers, Cinémathèque Française, you can watch silent films accompanied by a live piano performance, and attend presentations of the cinema industry's new releases or take part in discussions on the classics of cinema art.
The Cinémathèque often treats its audience to underground films of various periods: from Fischinger and Eggeling to Anger and Rice. A true present for cinephiles consists of the programs allowing you to trace the origin of national cinema traditions: in a month, you can soak up the history of Indian, Iranian, Japanese, or Polish cinema.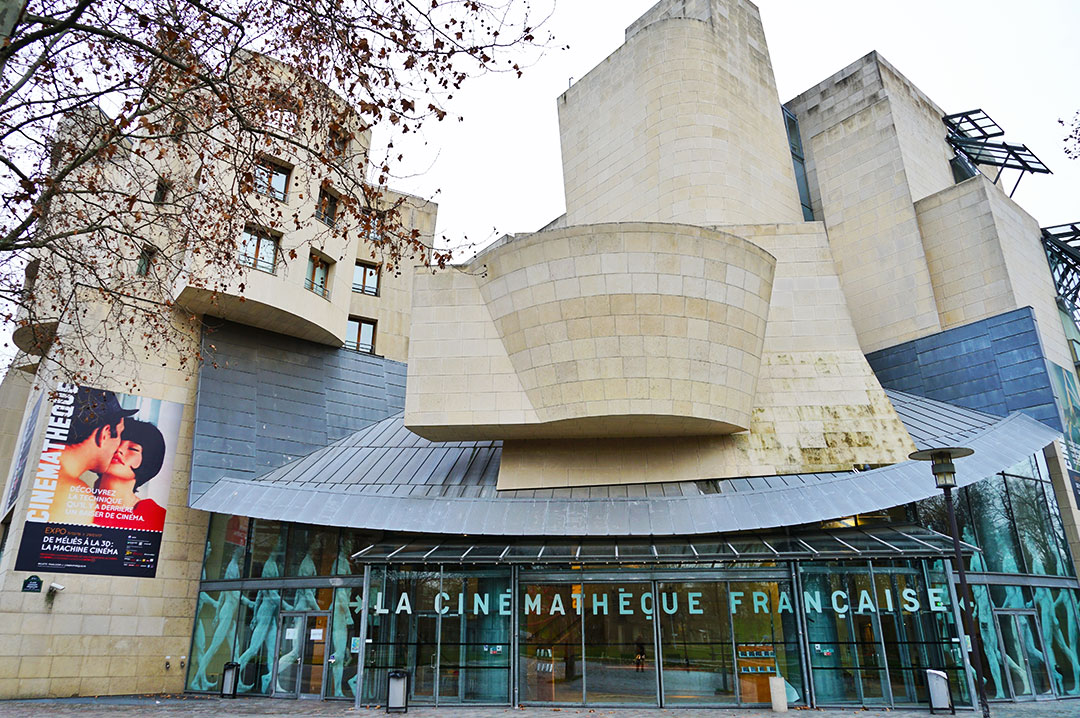 If you are a big fan of long shots and don't manage to keep up with the flashing scenes of modern action movies, like film festivals or want to watch contemporary independent documentaries, then cip-paris.fr will become your best friend — this is the site of the association of independent cinemas of Paris, where you can find the timetable of all 28 halls in 13 districts.
The association has options to meet any taste: from cinemas specializing in low-budget independent cinema to those showing only Hollywood classics, and from tiny places with a single hall (such as the charming Studio 28 on Montmartre) to independent giants with 300 seats (7 Parnassiens in the 14th district).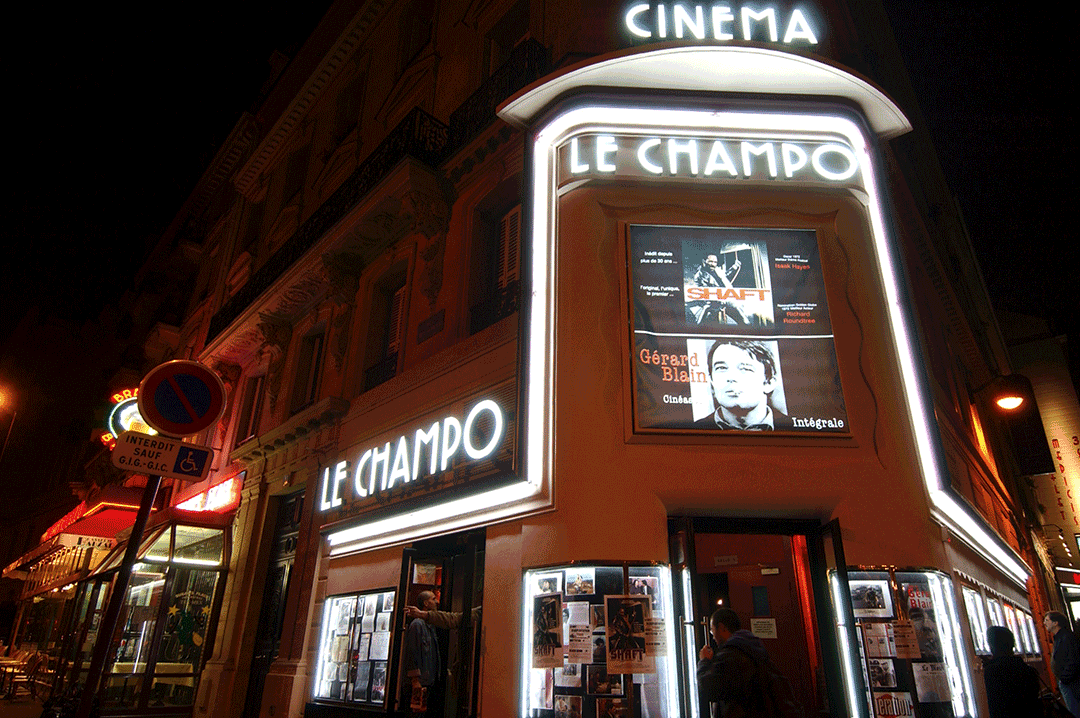 Bear in mind that students and youths up to 26 get discounted entry (you can buy a ticket for €5-7), while if you plan to visit the cinema regularly, you should buy the association's card for €30 or €48 (for 5 or 9 viewings, respectively).
We particularly recommend Christine 21 in the 6th district and Reflet Medicis and Grand Action in the 5th, as they provide the most authentic atmosphere (chamber halls, posters from premieres of the 1960s, hand-crafted announcements) and high-quality listings.
Also, don't forget that not all small theaters belong to this organization. The best of these independent of independents are Le Champo with a good selection of classics and high-quality retrospectives, as well as Espace Saint-Michel, where you can see rare documentaries as well as regular presentations at which you can mingle with camera teams.
Walk among the markets
Each self-respecting Parisian sets aside one day at the weekend to visit the markets. This activity combines two hobbies of any capital inhabitant: lazy strolling along the stalls and aimless extended conversations with the stallholders.
Market conversations comprise an entire religion with their sacral (they have been crushing grapes into wine with their heels or storing the wedding dress of Napoleon III's great-niece for generations) and blasphemous topics (God forbid you should question the freshness of the food or request too large a discount).
At the market, you can not only stock up on fresh farm produce from all corners of France but also try out the delicacies at a very low price. Oysters here are no worse than those served at Grand Café Capucines, but they cost a third to a fifth of the price (€8 per dozen). While tasting various kinds of foie-gras or goats, cheese can comprise an entire lunch (so you can also economize on a trip to the restaurant).
Food markets
Marché Président Wilson, where Michelin-starred chefs stock up, is near Palais de Tokyo and Musée d'Art Moderne, so you can first enrich yourself culturally and then turn to more worldly nourishment. It's quite expensive here, but if you need some rare ingredient (for example, puntarelle), there's no better place to find it.
The food at this market is top-quality, the atmosphere is tranquil and Bohemian, and all the people there are locals – you won't find any other tourist. Make sure to look into one of Paris's best cheese stalls, which has been producing dairy items since 1979.
Opening times: Wednesday — 7:00-14:30, Saturday — 7:00-15:00.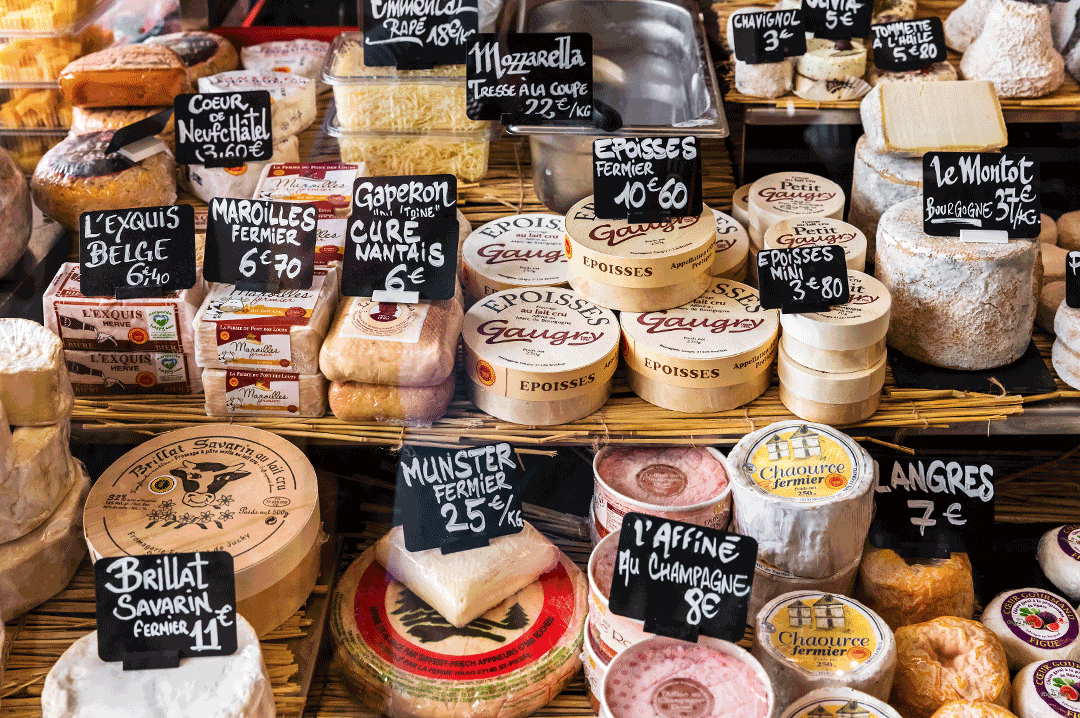 Marché Richard Lenoir is a lively and multi-cultural market. Here you can feast on freshly-caught Normandy oysters and mussels, washing it down with tasty wine (yeah, even at 10 in the morning…).
The particular stall is manned by a family: husband, wife, handsome sons, all of them very pleasant and friendly. Nearby you'll find a high-quality Italian stall and a rare Polish one with various sorts of smoked fish (our favorite is smoke-dried salmon). You can also buy Polish-style black bread here.
Opening times: Thursday — 7:00-14:30, Sunday — 7:00-15:00.
Marché Saxe-Breteuil is right by the entrance to Hotel des Invalides. Firstly, it's amazingly beautiful and atmospheric. That's the only time in Paris that I bought a bottle of milk with 3 cm of cream on top (cru, unpasteurized), and then I selected the perfect accompaniment for it — Brioche aux pralines roses.
I sat on a bench nearby and gained unreal pleasure — a high-quality selection of products and lots of stalls with organic food. For example, there is one seller specializing solely in mushrooms (too many sorts to count), there is a family that brings an amazing number of types of apple, and you can buy all imaginable types of food made from them: cider, jam, and apple vinegar.
Opening times: Thursday — 7:00-14:30, Saturday — 7:00-15:00.
If you have spent your entire budget on museums and souvenirs, and you need a market not to try foie-gras and oysters, but to save on food bills, head to the market at Place d'Aligre. Prices here are well below average (five avocados for €2, and three grapefruit for €1.50) with a fairly rich choice.
Opening times: Tuesday-Saturday — 9:00-13:00, 15:30-19:30, Sunday — 9:00-14:30.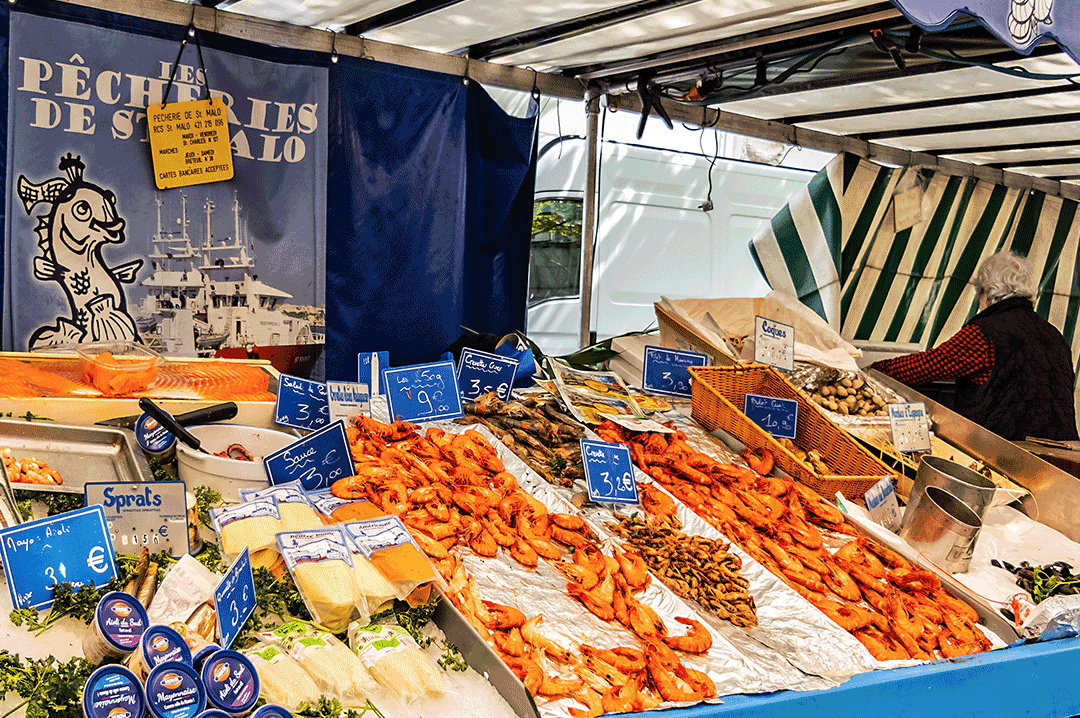 There are two more options for those with nerves of steel: the markets at Ornano and Barbes (the former is open on Sundays, the latter on Saturdays). At these markets, you can pick up, for example, a kilo of avocados for €1 or four mangoes for €3, but you will have to fight your way through a big crowd, holding tightly onto your bag.
Barbes is a place where Parisians themselves feel unsafe: the market is located in a fairly underprivileged district, right by the overland part of the subway, and here it's always dirty and noisy. On the other hand, you won't find such prices anywhere else, so if you're prepared to hold your nose and descend into this chaos, you can bring back tons of presents for your friends and yourself thanks to economizing on food.
Flea markets
Apart from the food markets, any self-respecting Parisian will visit the flea markets (marché aux puces). Paris contains several permanent such markets: Saint-Ouen, Porte de Vanves, and Puces d'Aligre, but flea markets appear spontaneously throughout the city at weekends — brocantes and vide-greniers (you can find them on the site vide-greniers.org).
The former is staffed by professional sellers who are experts in the goods they sell, know the price of rarities and pay regular rent; hence everything is much more expensive at permanent markets. 
Porte de Saint-Ouen is the oldest flea market in Europe and resembles an entire town sprawling over several hectares and encompassing around 15 small markets. Most of all, we recommend Vernaison, which is the oldest part of Saint-Ouen.
It retains the atmosphere of a real marché aux puces, which you wouldn't say of the covered market, whose stalls often resemble hipster shops. But overall, it makes sense to visit Saint-Ouen only if you plan to fit out your country chateau with furniture from the Louis XIV period. If you are a mere mortal in search of vintage clothes or a pretty jewelry box, the prices here won't be attractive.
Opening times: Saturday-Sunday — 13:00-17:30.
It's better to go to Porte de Vanves, which is smaller but with more acceptable prices and a decent choice. Moreover, you won't have to get there via a downtrodden district. Spontaneous markets have the advantage of being held in more central districts: it's much more pleasant to stock up in one of the canal districts or in an old picturesque lane than to travel to the end station in a faceless suburb.
Those selling at vide-greniers are locals who simply want to get rid of old family goods that have been lying around for too long. Often they don't have much idea of how valuable their goods are and might give them away for a trifle. Moreover, here you can always find true rarities that lay in some chest for generations and remained in an ideal state.
Opening times: Saturday-Sunday — 7:00-14:00.
By the way, all the guidebooks copy the same life-hack: you need to get to the market for when it opens. If you are a collector and are looking for real pearls, then being the early bird may well get you that juicy worm. However, in other cases, we recommend coming towards closing. The sellers may give you massive discounts, and sometimes give items away for a symbolic amount (50 cents or one Euro for a raincoat, for example) or even completely for free.
Take in a jazz concert
Paris is one of the world's jazz capitals. Jazz concerts are held every day in various corners of the city. You can listen to global stars, get into a free tribute concert or jam session, or dance all night to swing and funk. To find out what jazz events are on look at the website parisjazzclub.net.
Free concerts are held every Sunday and or Monday at the clubs 38 Riv, Sunside, and Baiser Sale, where you can gain entry simply by buying a drink (from €6 to €14). Moreover, at Sunside, the performance is of very decent quality and the program constantly changes, so you will probably find an appropriate concert whether you prefer classic or alternative jazz.
If you know your jazz and want to go to a concert of your favorite performer, then check out the programs at Duke de Lombards or New Morning — you are sure to find something worthy. If you want to dance until morning to modern electro-jazz, then we recommend La Gare.
At Caveau de la Huchette, the oldest jazz club in Paris, which is located in a medieval wine cellar and retains the authentic 1950s swing, you can dance all night with charming partners — the regulars, who have been polishing the floor here with the steps they have learned for 40 years.
Unfortunately, after the nameplate appeared for a second in the film La La Land, the number of visitors increased five-fold. But this place nevertheless allows you to visit real dances where the boys (aged 60-80) invite the girls, and, according to the stats, there are more than enough boys for a party of 10 girls. 
Take an excursion through national cuisines
Do you want to repeat the experience of the heroes of the film You and Me by Fritz Lang and spend time in all the capitals of the world in a single evening? Paris of the 2020s provides even more opportunities than New York of the 1930s, so you can use even better them and put on a veritable gastronomic orgy.
 You can try Ethiopian cuisine at Les Saveurs d'Abyssinie in the 5th district. It's a little cafe located in a quiet lane in the Latin quarter that you can visit after walking along the iconic Mufftar Street. It's a cozy establishment with lowish prices (by Parisian standards). Make sure you go for the assortment of vegetable or meat dishes (€14-17 for two) and try Ethiopian mead (called "tej").
You can try dishes from other African countries at BMK Bamako-Paris in the 9th district. By the way, if you're into food from Mali or Ivory Coast, traditional recipes are constantly uploaded to the BMK site, which will help you to continue your gastronomic adventure at home.
You can try Afghan food at L'Afghani on Montmartre. This little restaurant with an authentic interior (wooden pillars, brass lights, and national costumes hanging along the stone walls) provides a huge selection of Afghan national dishes and drinks. If you can't make sense of the menu, the friendly restaurant owner will help you – he nearly always greets the guests. We particularly recommend the national vegetable ravioli or beef stew in a sweet sauce with ginger and nuts. No hot dish here will cost more than €14, with starters costing €4 to €7.
You can try real Peruvian ceviche at Sabor Peruano in the 17th district. This place is very small, designed for just 12-15 people, and is little known. Hence you probably won't have any trouble getting a table, and you will probably even be able to hold a normal conversation (rather than outshouting the background) during your meal, which for Paris is pretty rare.
By the way, nearby, you will also find La Cabana — a Colombian restaurant with great dishes. La Cabana is for fans of the authentic experience. The gaudy tablecloths and shelves with dry foods create the impression that you're sitting in a Latin American food shop. If you want to wash down the ceviche with cocktails or a good glass of wine in a slightly more upmarket establishment, then we recommend Ceviche Piscobar in the 2nd district or Mancora Cebicheria in the 3rd.
The "capitals" of Korean cuisine in Paris are the 1st and 2nd districts. Between the Palais Royal and Opéra, you can spend a whole week on Korean national dishes, eating in a different restaurant each evening. For example, check out Bibim House or JanTchi to try wonderful bibimbap (and you'll learn a new word at the same time, one which you can deploy among friends when you get home). If you want a quick snack at lunchtime, then we really recommend Kini in the 8th district: tasty, cheap (€7-12), and authentic food, with rapid and pleasant service.
If you think that the fruits of civilization have killed a fan of Japanese cuisine in you, then you must try Ito Izakaya for a new "reading" of Japanese gastronomy. Here for €35, you can eat ten exquisite "tapas" that will fill you up until you drop and which will unveil taste receptors you never knew you had. If you're looking for something a bit cheaper, then the same 9th district contains what we believe to be the best Asian fast-food outlet — Maison Zhang, with its huge choice of jiaozi and dim-sums.
Visit little-known museums
If you don't want to be caught trying to follow the arrows in a heavy crowd in the direction of the Mona Lisa or to wait for everybody else to take a selfie with The Sunflowers before you can go up to the Van Gogh painting more closely, you always have the chance to gain aesthetic experience without putting up with the "pleasures" commensurable to the rush hour in the subway. While the Musée de l'Orangerie, Musée d'Orsay, Louvre, and Pompidou Center mostly attract tourists' attention, you can hide in lesser-known but equally interesting museums.
For example, after hanging out at Trocadéro or by the Arc de Triomphe, you can take a look into the nearby and excellent Musée Guimet, which exhibits pearls from Asian painting and decorative arts. Here you can see the famous statue of Bodhisattva from Pakistan, Japanese silk paintings and noh theater masks, Indian textile of the 17th-19th centuries, Chinese ceramics from the Neolithic period, and much more.
Don't miss the museum's Japanese garden hidden in the internal courtyard of the neighboring mansion. If you plan your visit in advance, you may be able to attend a tea ceremony held in the tea pavilion in the heart of the garden.
Price of a ticket for the entire exhibition — €11.50 or €8.50 if you are aged from 18 to 25 (don't forget your passport).
Few people know that the Jacquemart-André mansion in the 8th district hides the second most important collection of Italian Renaissance art in France. This building, which once belonged to extremely rich collectors, Mr. and Mrs. Jacquemart-André, contains a unique exhibition: Italian sculpture of the 14th-17th centuries, canvasses by Mantegna, Uccello, and Botticelli, Hals and Rembrandt, Gainsborough and Lawrence, Buddhist sculptures, and Chinese porcelain.
The refined taste of the owners is visible not only in the art collection, but also in the interior, which allows you to soak up the atmosphere of the aristocratic fin du siècle with its winding marble staircases, smoking room wrapped in silk and covered by rugs, the luxury winter garden, oval guest room with marble busts set around its perimeter, and gilded walls.
Make sure to look into the museum cafe in the mansion's former dining room: here, they serve the most delicious desserts that are quite in keeping with the elegant interior. By the way, the Jacquemart-André Museum is highly valued by Parisians for its high-quality exhibitions, whose theme varies from Renaissance painting to abstract expressionism.
Price of a ticket for the entire exhibition — €14.50 or €9.50 for visitors aged from 7 to 25.
After taking a stroll among the Jardin de Luxembourg, take a look into the little, charming Musée Zadkine. Apart from the museum halls, you will find a sculptor's studio and a quiet garden with very famous works where you can spend a couple of hours observing the sun rays transform the sculptural compositions. 
Price of a ticket: €7 or €5 for visitors aged from 18 to 26, and free for those aged up to 18.
One other treasure trove for lovers of sculpture is the Musée Bourdelle in the 15th district. Here you will find around a thousand works by this famous sculptor and monument maker, including little-known paintings and graphic works. Moreover, you can view works from Bourdelle's own private collection — by Rodin, Ingres, and Delacroix. The museum site also includes a workshop and an open-air exhibition.
Price of a ticket: €8 or €6 for visitors aged from 18 to 26, and free for those aged up to 18.
---
Paris is a city that you can endlessly rediscover. After ticking all the must-do and must-have boxes, you can calmly sigh with relief and completely redraw the image of the French capital in your imagination. Instead of snails and onion soup, Korean bibimbap or Ethiopian gomen may become your gastronomic symbol of Paris, while the smile of the Louvre's Mona Lisa will fade against the light of the charms of the Virgin with Child from the Jacquemart-André Museum, Rodin's The Thinker will give way to the musician Zadkine, and instead of the overplayed songs of Joe Dassin the city's soundtrack will be a jazz melody by Barney Wilen or Django Reinhardt.