Day one
Salzburg is a major transport hub, connected by regular flights to Vienna, Frankfurt, London, Amsterdam, Zurich, and Dublin.
A taxi from the airport costs from EUR 15. That's a bit on the expensive side given the distance is just 4 km. You can slightly reduce the price with Uber, which is always there when you need it, and that will cost EUR 14, or you can keep things simple and hop on a bus: a ticket for one hour bought from the driver costs EUR 2.20, or a 24-hour ticket costs EUR 3.20. The only cheaper way is to buy them from the Tabak Trafik outlets. Buses nos. 2, 8 and 27 go from the airport to the city.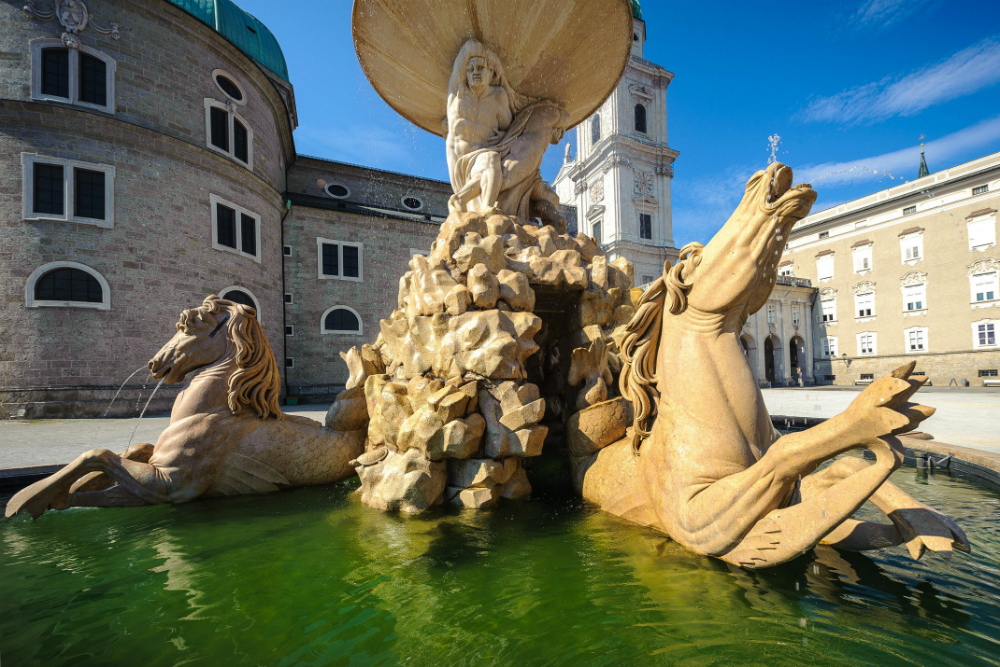 You can reach Salzburg by train from Italy, Germany, Switzerland, and Hungary. The train station is located around 1.5 km from the Old Town. You can either walk it or take one of the buses nos. 130, 131, 140, 150, 160, 170 or 180 to Salzburg Mirabellplatz. Buses 160 or 170 will take you to the other bank of The Salzach. If you want to visit the cathedral, then get off at Residenzplatz.
A hearty breakfast is a key to having a great day, especially after you've been on the road. Try the Carpe Diem cafe. Here you can put together a plush morning menu: Austrian cheeses, home-made ham, cheese strudel, fruit waffles and several types of egg. The cafe is on one of the main streets, so after your feast, you can walk around with a new energy boost.
A Salzburg weekend is enhanced with the 
Salzburg Card
for tourists. This allows you to visit all of the city's museums and sights for free, with all public transport thrown in, including funiculars and the river tram. If your cultural foray only lasts one day, then take a 24-hour card for EUR 29, but if you want to spend the entire weekend in the museums then buy a 48-hour card for EUR 38. The option for 72 hours will cost EUR 44. You can book a Salzburg Card online or buy it when you get here: at the hotel, from ticket offices, the airport, and city information offices.
Where to stay
Salzburg is a modest-sized city, and its main sights are arranged quite compactly along both sides of The Salzach. Whichever district you go for it will be close to the center.
You will find laconic modern rooms in the Star Inn, a hotel near the Hohensalzburg Fortress. A tunnel leads from the hotel to the Old Town: you are descend, ascend, and you're already in the center. Oh, and for breakfast it's fish with sparkling wine – how can you resist?
Star Inn ≈ 180 € per night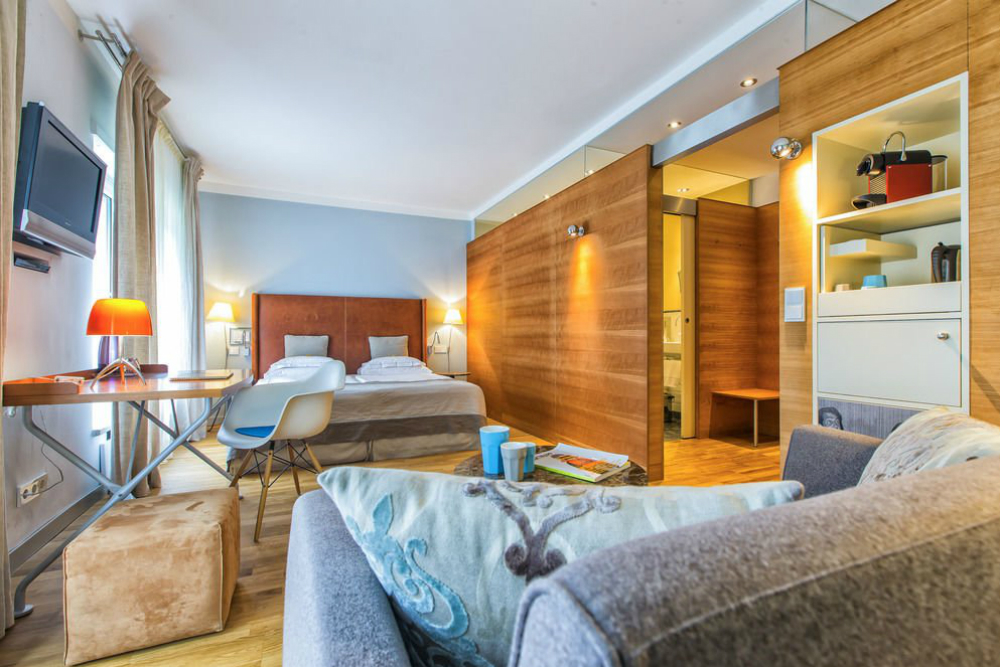 On the opposite bank of The Salzach, you will find the charming Hotel & Villa Auersperg. Here, you can hire a bike and cycle around the city center, while rewarding yourself in the evening with a cocktail in the hotel garden. Many guests are in awe at the collection of music disks — well, where else should you listen to classical music if not in Salzburg? A hill called The Kapuzinerberg is near the hotel, and its peak sports the Stefan Zweig Centre (Austria isn't famous for Mozart alone!). This is a very quiet part of the city even though it's just a stone's throw from the center.
Hotel & Villa Auersperg ≈ 201 € per night
If, however, you want to live like an Austrian emperor then go for the luxury Sacher Salzburg hotel, which has been putting up guests since 1866. You will be overwhelmed by the luscious interiors with silk wallpaper and exquisite furniture. As a tasty bonus, you get a wonderful view over the Old Town. The hotel's own cafe serves sachertorte made according to a traditional Austrian recipe. To complete the experience, wash it down with a Vienna coffee.
Sacher Salzburg ≈ 660 € per night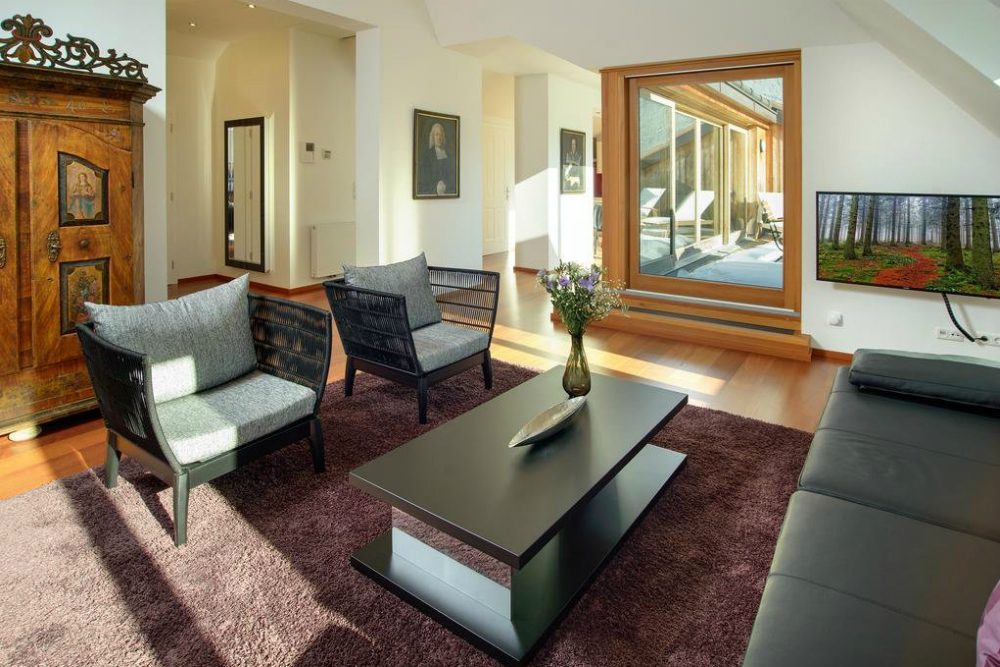 Aficionados of secluded holidays and open spaces will appreciate the designer apartments at My Wonderland near the Mozarteum conservatory. There's ample room for the entire family here or for a large group — a full 100 square meters. The interior is a mixture of classical and modern styles with a large number of unusual touches.
My Wonderland ≈ 141 € per night
If you are looking for a budget alternative then consider the myNext hostel. It's virtually on the doorstep of the Augustiner Brewery in the neighborhood of Mülln, and it was founded back in 1621. Here you will be served large portions at democratic prices with legendary beer — you're sorted with a classic Austrian evening.
myNext ≈ 107 € per night
A trip through the city
Doing the Mozart trail
It's not easy to take in all the places in Salzburg associated with Mozart in one go, but it's worth trying. The composer was born in Hagenauer Haus at No. 9 Getreidegasse. Mozart's father was a violinist and composer in the Capella of the prince-archbishop of Salzburg, hence children in their family were taught to play music from a young age. The little Mozart was enchanted by the music played by his sister Nannerl on the clavichord, and by the age of three he could find the right cords perfectly. The house on Getreidegasse has preserved the interiors where the future genius grew up, music from his childhood, toys, and musical instruments.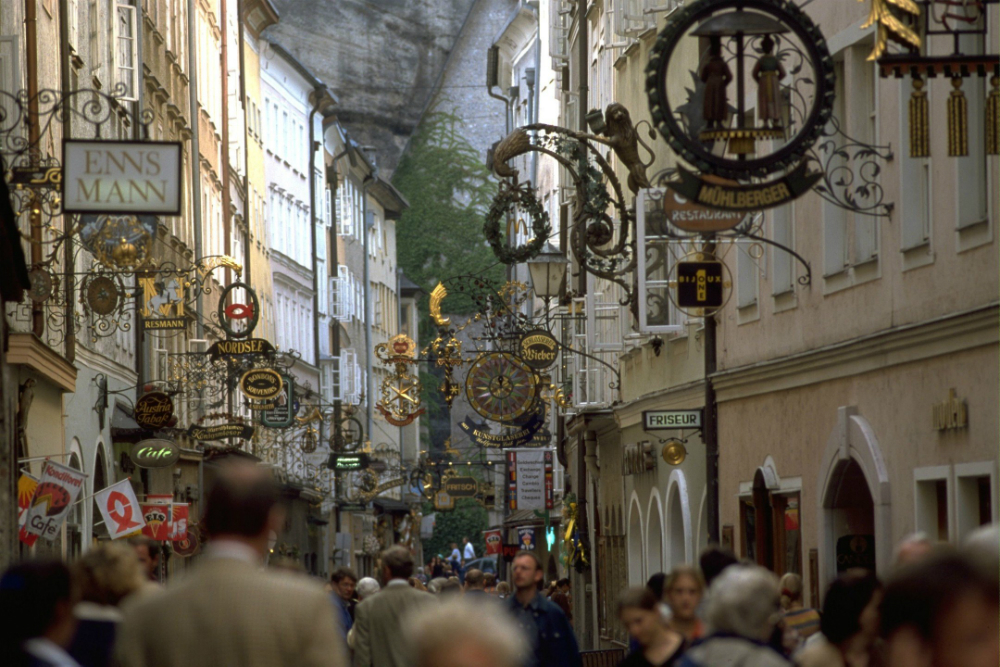 After that, Mozart moved to  8 Makartplatz, where his father lived until his death. The son adored the father, and in childhood he composed a lullaby in a secret language called Oragnia figa tafa. They would sing it as a duet every evening, and it was only after doing so that the young Mozart would fall asleep. You will hear this and other touching stories in the house-museum at Makartplatz.
Open every day from 9:00 until 17:30; open in July and August from 8:30 until 19:00.

Ticket prices: EUR 11-18. Or free with a Salzburg Card.
Salzburg Cathedral, a magnificent building in baroque style, and also associated with Mozart, as he was baptized there. Organ concerts are now held in the cathedral
January, February, and November — open on weekdays from 8:00 until 17:00 and on weekends and public holidays from 13:00 until 17:00.

March, April, October, and December — open on weekdays from 8:00 until 18:00, and on weekends and public holidays from 13:00 until 18:00.

May to September — open on weekdays from 08:00 until 19:00, and on weekends and public holidays from 13:00 until 19:00.
You should then complete the Mozart trail with a concert at the conservatory. The Mozarteum has raised more than one generation of world-famous composers and musicians. You can view the program on the official website, but you can only buy tickets at the ticket offices.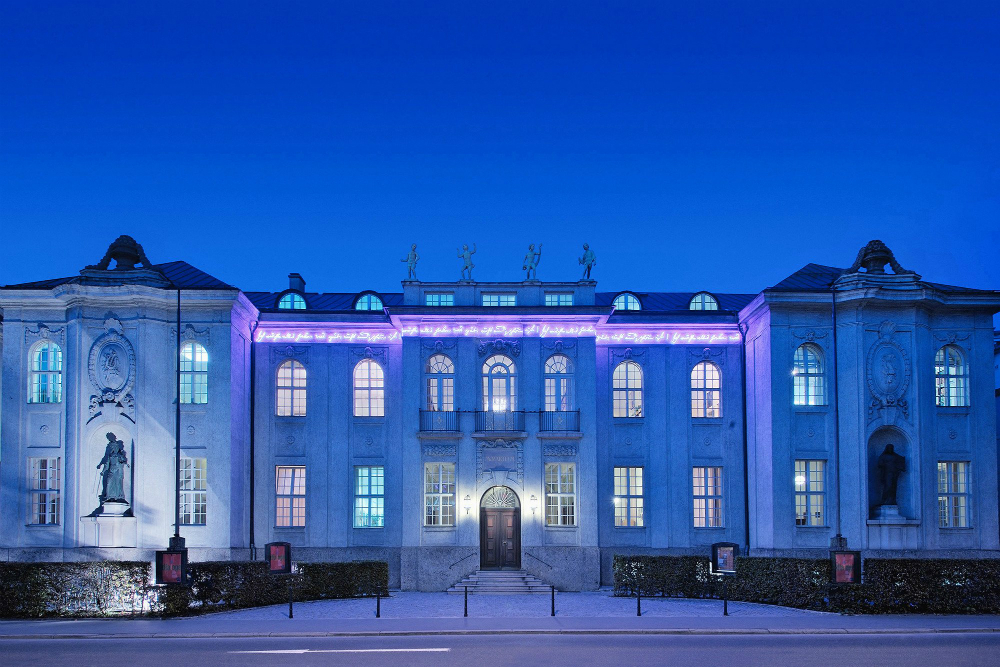 You haven't been to Salzburg if you haven't bought Mozart-themed souvenirs. Apart from the standard set of magnets, mugs, and badges, you can buy the time-honored Salzburg Mozartkugel, a marzipan-based confection. Original hand-crafted Mozartkugel is sold at the Furst Confectionary, where it has a silvery-blue wrapping. There are also budget (souvenir) equivalents in white and red sweet wrappers — they are sold just about everywhere.
The Salzburg Bull and the ancient catacombs
Hohensalzburg Fortress is found at the very heart of Salzburg at the top of the Festungsberg mountain — it's over 900 years old. You can reach the top via a funicular and view the city from a great height. Long distance telescopes on the walls of the fortresses enable you to view the whole of Salzburg as well as the Alps.
Hohensalzburg Fortress is a startling place. Its royal chambers have retained a Golden Hall with luxury fixtures — gilded furniture, exquisite carvings, and maiolica. The Krautturm (powder tower) houses the oldest organ in the city, known as the Salzburg Bull. It emits unusually low notes similar to the bellowing of a furious animal. You can listen to it and appreciate its sounds every day at 11 and 18 hundred hours.
There are several museums in the Hohensalzburg Fortress: one will tell you about medieval torture and weapons, while another will introduce you to the glorious Austro-Hungarian Archduke Rainer regiment. The Marionette Museum exhibits old puppets used in Mozart operas (yes, more Mozart!).
January to April: from 9:30 until 17:00

May to September: from 9:00 until 19:00

October to December: from 9:30 until 17:00

Weekends and Easter: from 9:30 until 18:00
At St Peter's Abbey, a Benedictine monastery, you have the chance to immerse yourself in the majesty of church architecture. It was founded way back in 690 and has been rebuilt umpteen times. The abbey is famous for its library which stores original religious manuscripts, as well as original musical scores of Hyden and, naturally, of Mozart. Ancient catacombs are found nearby — early Christian hermits lived there, searching for salvation.
Open daily from 9:00 until 20:00.

Free entry.
For lunch, you can come back down to Earth and try an inn with traditional Austrian cuisine called Gasthof Alter Fuchs. Between 11:45 and 14:00 you can order a plentiful set lunch for EUR 6.90, but the establishment's pride and joy are its schnitzels with cranberry sauce (EUR 10.50), apple strudel (EUR 3.90), appetizing hot chocolate (EUR 3.20) and several types of beer and fruit schnapps.
Modern Art
If you get tired of history and the classics you can switch to something more modern — for example, the Red Bull Hangar-7 museum. This is where physicists and lyricists have to reach a compromise. The former will be in awe of the airplanes and racing cars, while the latter will love the unusual multimedia art installations. Our choice is the statue of the Steampunk Predator from the famous film!
The building itself is a startling contrast with the pastoral views over Salzburg: glass, metal, geometrically aligned cylinders and ellipses. The museum has a massive hangar where the latest racing car engineering is test run, and there is also a restaurant and a mind-blowing souvenir shop. Fans of racing car engineering — watch out!
Open daily from 9:00 until 22:00.

Free entry.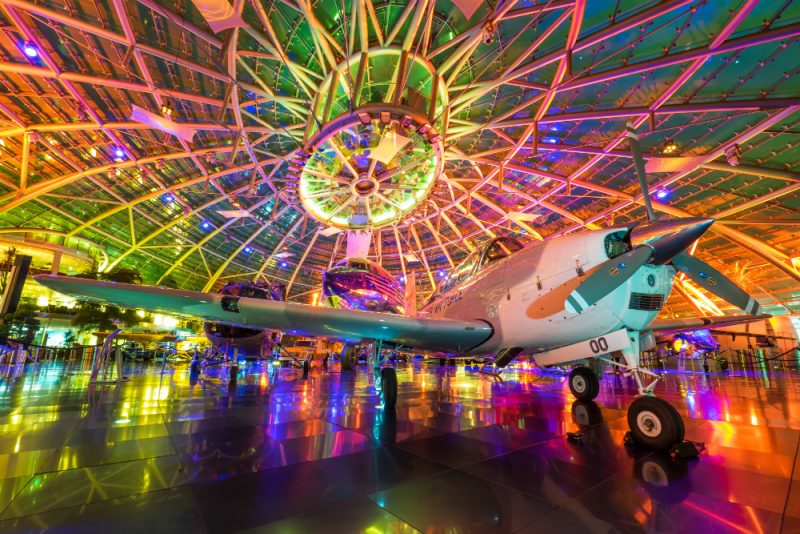 Plans for the evening
If you plan to visit Salzburg, as well as jeans take something more formal with you. Unhook your evening attire — it's time to head for that symphony concert. The marble hall of the Mirabell Palace has hosted generations of eminent virtuosos. As the aficionados say, the hall's acoustics transmit the original sound of classical works — it's incomparable to a performance anywhere else, and even more so to a recording. You can book tickets online, with an adult's ticket costing from EUR 32 to EUR 38.
Day two
Untersberg mountain
Untersberg is informally known as the "home mountain" of Salzburg. From its peak you can see an astounding view over the city — it appears that Salzburg has obediently lain down at your feet. You can get to the top of the mountain by cable car (free with a Salzburg Card). It takes just 10 minutes for you to reach a height of 1,776 meters. Don't forget a wind jacket and trainers — this is still high-altitude terrain even if tourist paths have been etched out. For those who prefer lazy contemplation, you can hire a deckchair.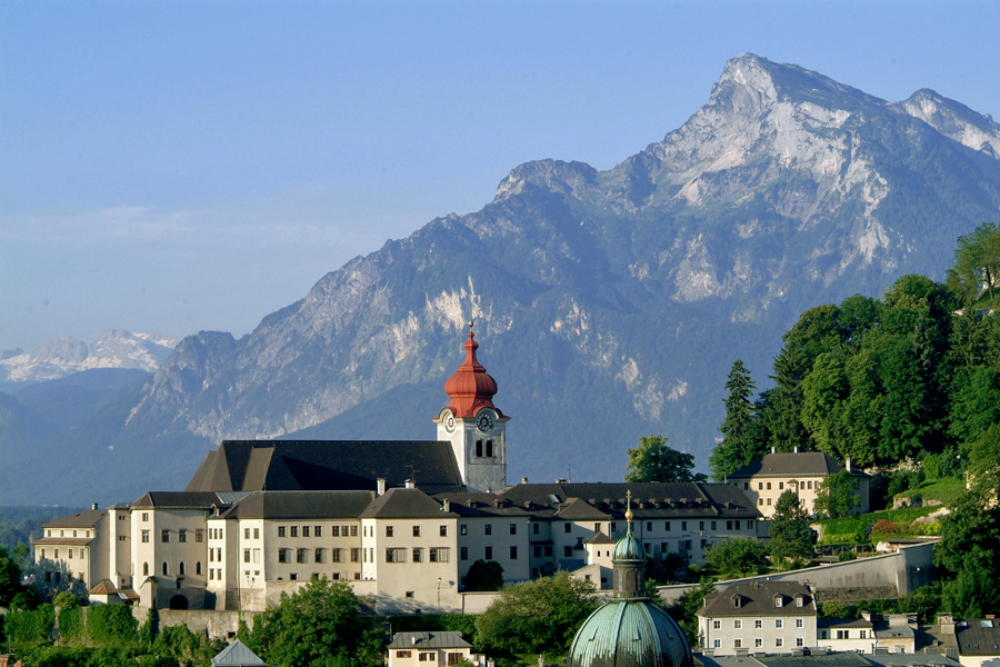 Bus no. 25 will take you from the city center to the cable car. The stop is called Grödig/Untersbergbahn. The cable car works from 8:30-18:00.
Heading out of town
Just a few kilometers from Salzburg you will find Hellbrunn Palace, which was built in 1612 by the architect Santino Solari: the apotheosis of landscape design and unusual fountains. The jewel in the crown at Hellbrunn Palace is the mechanical theater of puppets: they play out scenes from the life of the medieval city and are powered by water pressure. In order to fully enjoy Hellbrunn you should get there just as it opens, as it gets very crowded by lunchtime.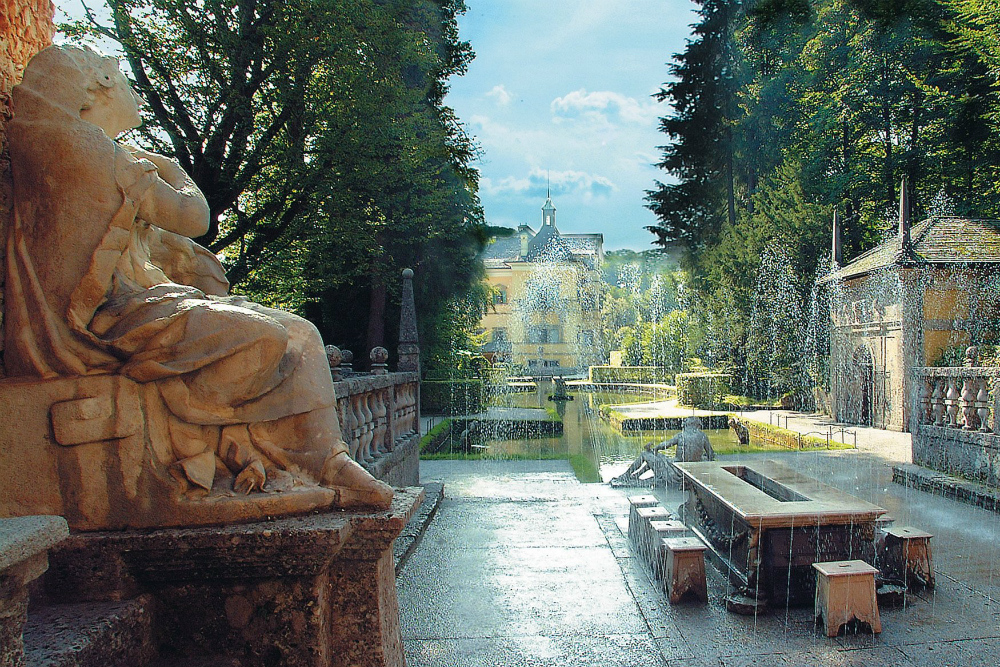 From Salzburg to Hellbrunn you can take bus no. 25 (Salzburg Rathaus—Hellbrunn Fürstenweg) or no. 170 (Salzburg Rathaus —Salzburg Alpenstraße). The journey will cost EUR 2 or is free with a Salzburg Card.
It's open from 29 March to 4 November. A ticket costs EUR 12.5. There are discounts for Salzburg Card holders.
April, October: from 9:00 until 16:30

May, June, September: from 9:00 until 17:30

July, August: from 9:00 until 18:00

Additional evening tours in the summer from 18:00 until 21:00.
Must-do's in Salzburg
Count all the images and mentions of Mozart in the city.

Go to a concert at the Mirabell Palace.

Take a stroll along Getreidegasse while listening to songs from the musical Sound of Music.

Breakfast with sausage or ham rolls.

Try nockerl and drink it down with coffee from the old Austrian coffee house

Tomaselli

.

Buy a couple of kilos of Mozartkugel: the original ones are in silvery-blue wrapping available at the

Furst

Confectionary, or you can buy economy-class equivalents with red wrappers in any shop.

Arrange a trip to Hellbrunn and take in a performance of the mechanical theater.

Ride to the top of Festungsberg and descend into the catacombs.

Buy a ton of

Mozart

souvenirs

.