Perhaps, given a chance, I had always wanted to come here as a tourist, but tat the beginning of this summer, I received a grant from the Women Deliver conference, the world's largest gathering to discuss gender equality and the women's rights held in different places all over the world once every three years – and in 2019, it was the turn of Vancouver. So, at the beginning of June 2019, here I was, in maple leaf country.         
Contents
Visas
US and EU citizens do not need a visa to visit Canada as long as they re not planning to stay for more than 90 days.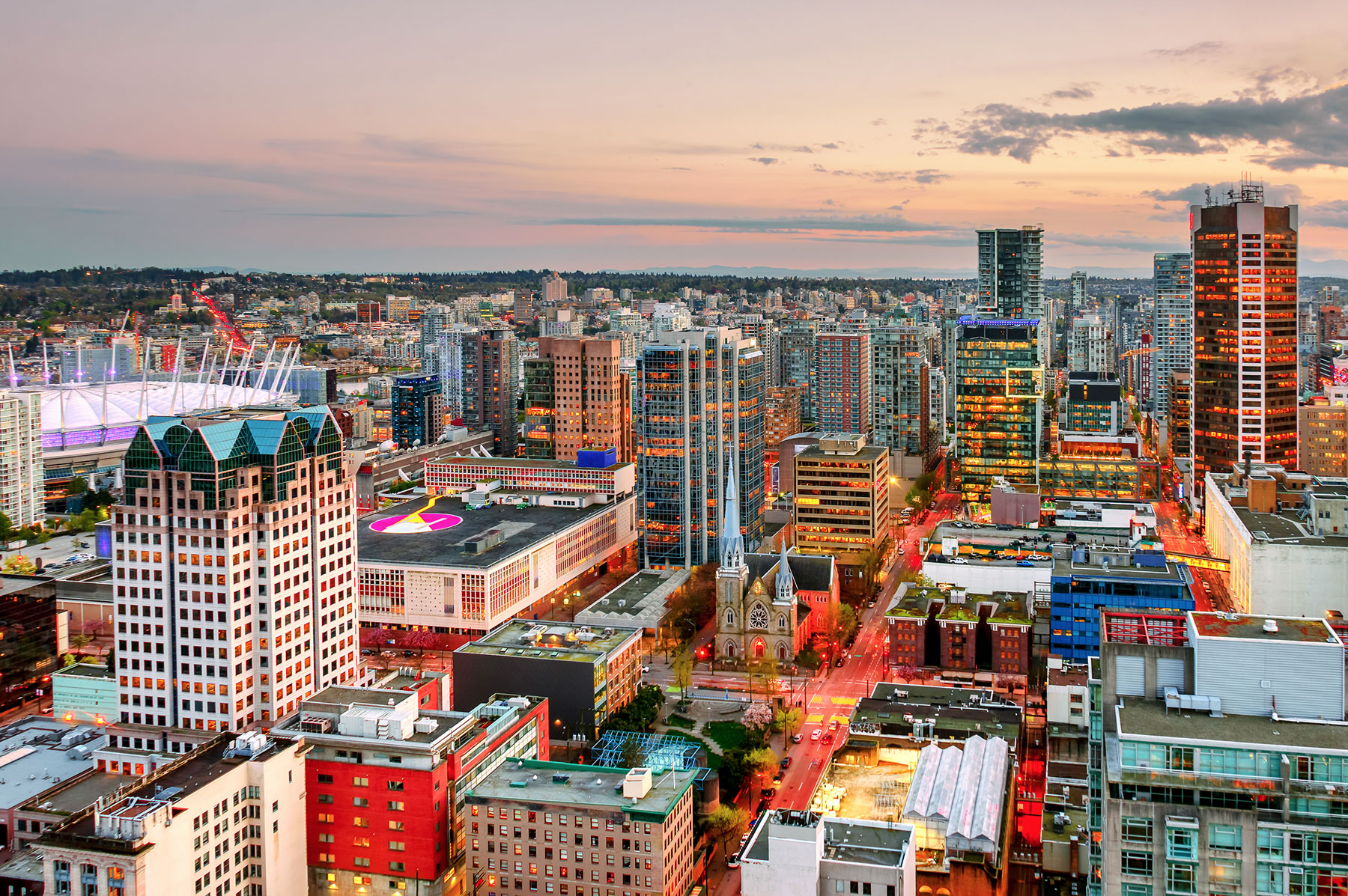 Getting there by air
Flights to Vancouver from London take about 10 hours and cost from around €450.00/$451.00. From Washington, the flight takes 8-9 hours and costs around €336.00/$370.00.
Getting to the city from the airport
Once you've gone through customs and picked up your luggage, head for the exchange bank. You can use your credit card virtually anywhere in Vancouver, but it's worth having some cash to hand for emergencies. I'd suggest about 100 CAD (1 CAD is about $0.76 US). I suggest using cash to pay for your journey into town. 
The cheapest way is to use public transport. As you leave the terminal building, you will see signs for the SkyTrain, which will take you straight to the Waterfront Station in 30 minutes, right in the center of the city where the main hotels are located. The historic neighborhood of Gastown, the Canada Place complex, and the waterfront itself are all within walking distance.
A one-way ticket costs 7.50 CAD (€5.10/$5.60), and the trains leave every 12 to 20 minutes. If you still want to go by taxi from the airport, it will cost no less than 35 CAD (€24.00/$26.40) to the center of town. Don't forget to leave a tip; if everything was to your satisfaction, in Canada, it's normal to leave 15%. Unfortunately, there is no Uber or another ridesharing service in Vancouver.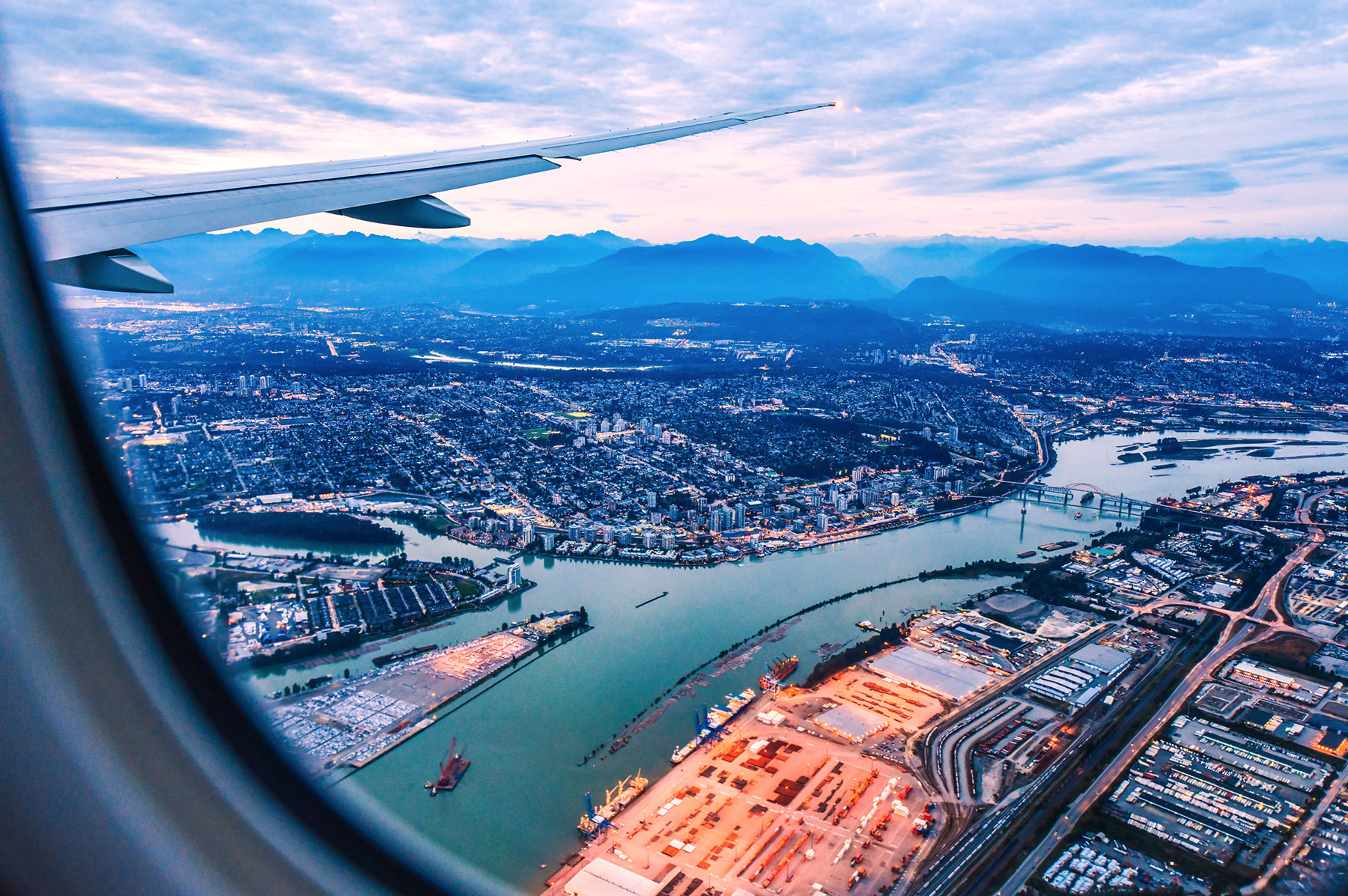 Where to stay
Downtown
This is the most central district where you will find the famous Howe, Granville and Robson Streets with all their restaurants, bars, and shops. Many of the city's top hotels are to be found here. 
Moda Hotel, from €142.00 ($156.30) per night for two
The St. Regis Hotel, from €268.00 ($295.00) per night for two
Rosewood Hotel Georgia, from €407.50 ($448.00) per night for two
Coal Harbour
Situated close to the Downtown district, but closer to the waterfront and extending as far as Stanley Park, you will pay a bit more to stay here than you would downtown. 
Vancouver Marriott Pinnacle Downtown, from €350.00 ($385.00) per night for two
The Westin Bayshore, from €380.00 ($418.00) per night for two
Fairmont Pacific Rim, from €574.40 ($632.00) per night for two
Yaletown
This area is in the south of the city close to the stadium and Granville Island with its excellent breweries and the city's main farmers' market. Here you will find many fashionable restaurants and bars and the nearby, well-know Robson Street, great for shopping. 
OPUS Hotel, from €311.70 ($343.00) per night for two
Level Furnished Living Yaletown Seymour, from €309.00 ($340.00) per night for two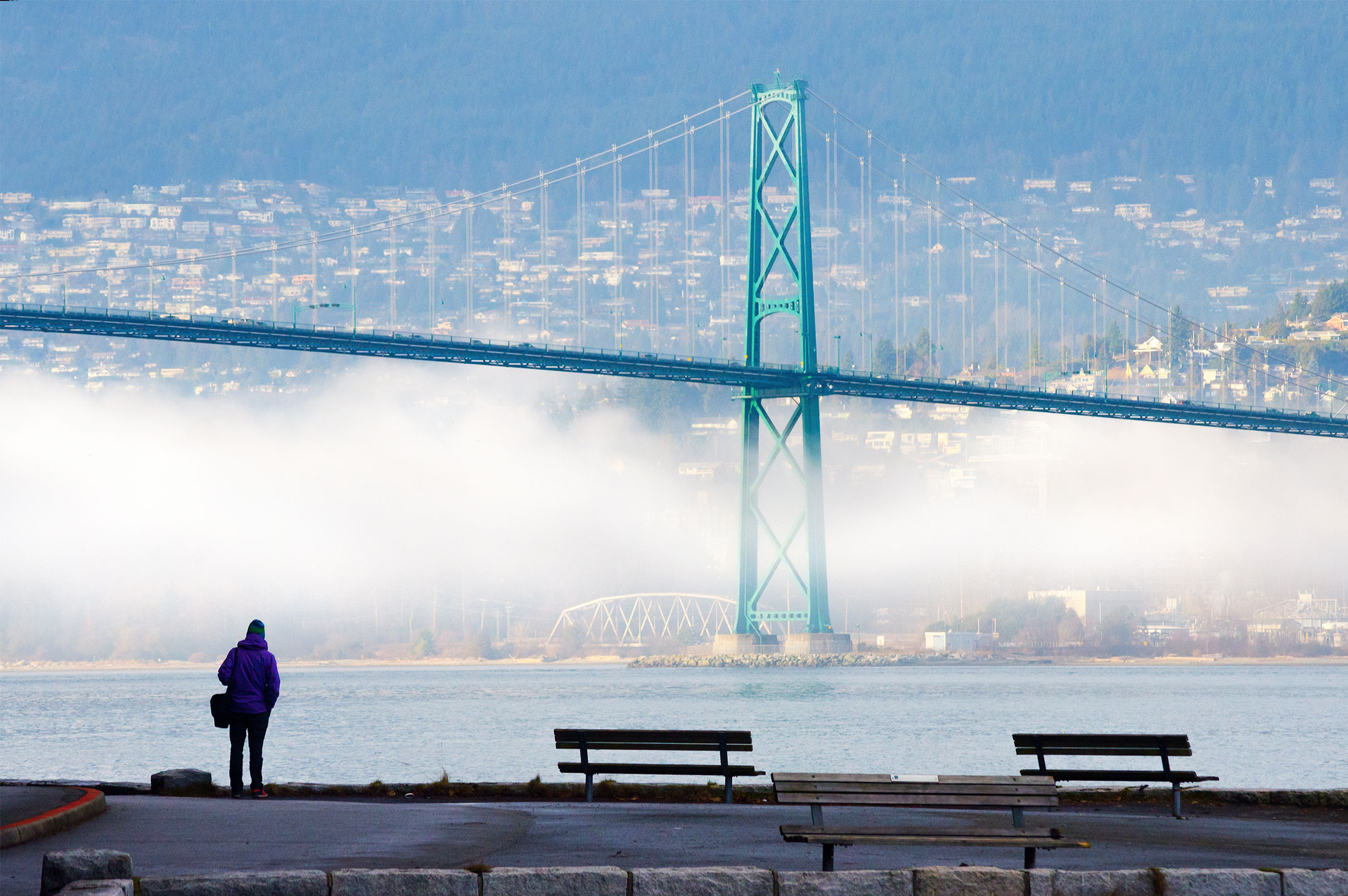 West End
Here you will find more budget hotels for those who prefer more nature than the concrete jungle. You can choose a place with great views over Stanley Park or perhaps somewhere closer it the city beaches. 
Sandman Suites Vancouver on Davie, from €207.80 ($228.60) per night for two
Best Western Plus Sands, from €243.00 ($267.70) per night for two
Rosellen Suites at Stanley Park, from €287.00 ($315.00) per night for two
What about the weather?
The city is surrounded on three sides by the sea and on the fourth by the Rocky Mountains. Thanks to its location, Vancouver enjoys its own unique weather and is one of Canada's warmest cities in the winter and one of the coolest in summer. During the 2010 Winter Olympics, Vancouver earned the status as the warmest place the winter games had ever taken place – cherry blossom was blooming on the streets. 
The average temperature in January is 3ºC, and in July is 20ºC. It hardly ever snows in winter, and summers are dry and sunny. (when I was there, the temperature got up to 30ºC). November to March tends to be very rainy, so it's best to take a brolly). 

Day 1: Bike ride around the park and sunset on the beach
Vancouver is a real melting pot and is considered the most ethnically diverse city in Canada. Immigrants from all over the world brought with them their cuisine – but there will be time for that later. 
The best way to start the day is at the Botanist restaurant, about as Canadian as you can get, at the Fairmont Pacific Rim hotel. On weekdays it's open from 6.30am, 7am at weekends. For 42 CAD (€28.70/$31.50), you can choose one of several breakfast types, such as cinnamon pancakes, poached eggs, and avocado on toast, eggs benedict with crab, avocado and crispy potatoes or porridge with fried apples, currants, pistachios, and vanilla sauce. You also get freshly squeezed fruit juice and coffee or tea.                         
After breakfast, head across the road towards the building whose roof looks like ships' sails. This is Canada Place consisting of many exhibition halls, offices, and Vancouver's World Trade Center. It's best to admire this wonder of architecture from the outside from where you will get a superb view of the harbor. Maybe you'll get the chance to stand next to the gigantic ocean liner which sails from here on her tour to Alaska – you'll feel tiny alongside her. You could try out the virtual flight ride Flyover Canada, a virtual 4D flight with spectacular views over Canada. A ticket for adults costs 30 CAD (€20.50/$22.50) and for children costs 20 CAD (€13.70/$15.00).                   
Incidentally, on Thursdays between the middle of June and the 29th of August, Canada Place has an open-air cinema at dusk. You can see what is being shown on the programme, and then turn up at sundown to take your place. Also, until the end of August, on Mondays from 5.30pm-6.30pm, you can come and join the communal Zumba dance happening next to Canada Place.       
Head out from Canada Place towards the waterfront, past the Vancouver Convention Center West Building to the Olympic Cauldron. You can't miss it – it looks like, well, a cauldron. It was built for the 2010 Winter Olympics and while there is no longer a flame burning here, you can have your photo taken next to it to show you've been, just like with the nearby art installation known as the "Digital Orca", a huge figure of a killer whale which looks like it's made out of Lego bricks. The Pavco company, which owns this land, wanted this statue to be the area's visiting card and for people to think of the movie "Free Willy."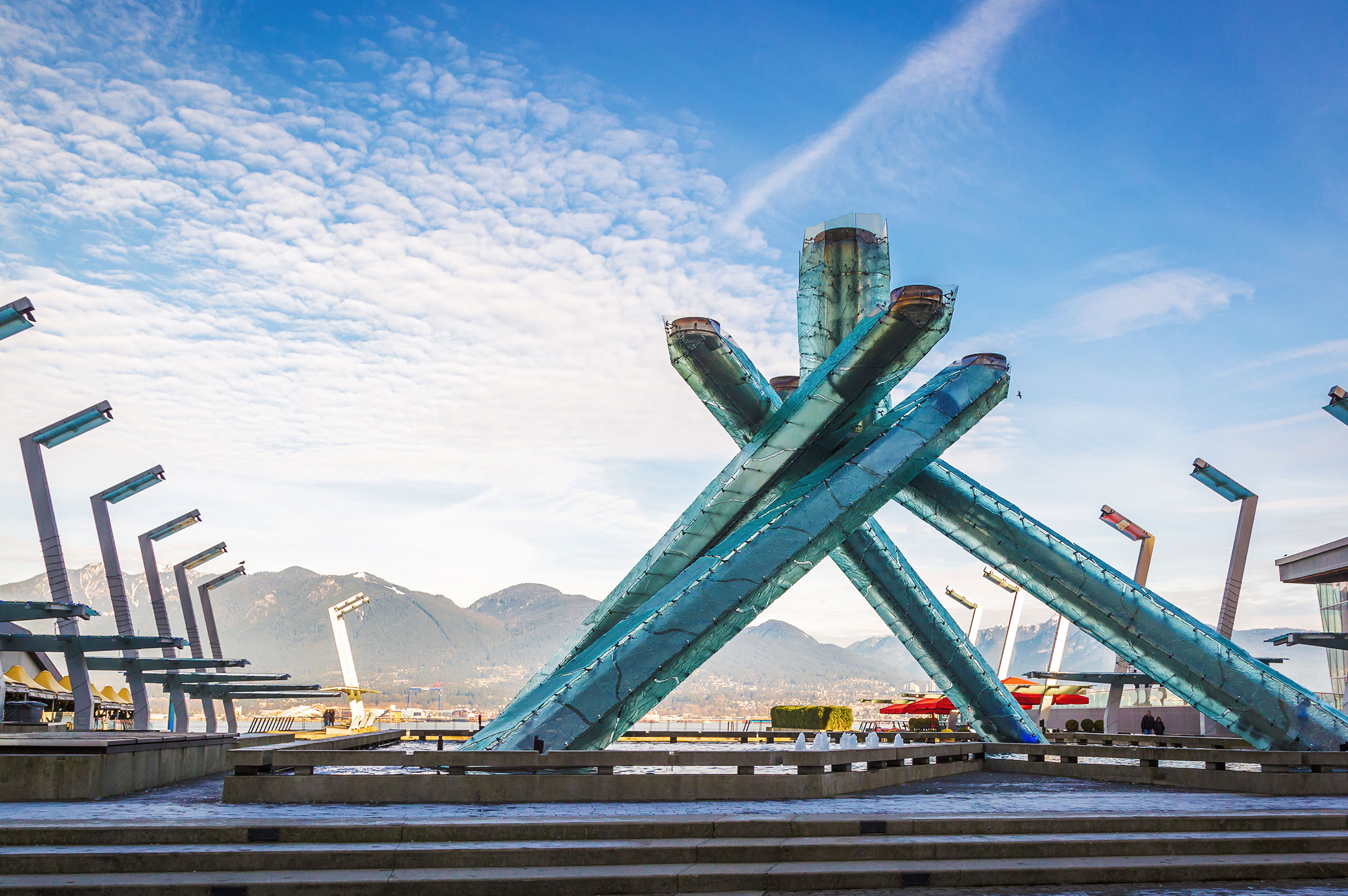 Continue your walk along with the waterfront, and to your left, a view of the skyscrapers of the Downtown district will open up, and to the right you will see the harbor and its yachts with their brilliant white sails. It's a really lovely place for a stroll here, but if you want a bit more activity, why not hire a bicycle from Spokes Bicycle Rentals (the most basic model costs 8.50 CAD/€5.80 for 1 hour's hire) and ride up to Stanley Park.             
Stanley Park is an evergreen oasis covering almost 405 hectares, about 10% more than Central Park in New York City. The park is crisscrossed by pathways, and its perimeter is 8.8km long. Here you can simply enjoy the wildlife, like the raccoons dashing across the path in front of you.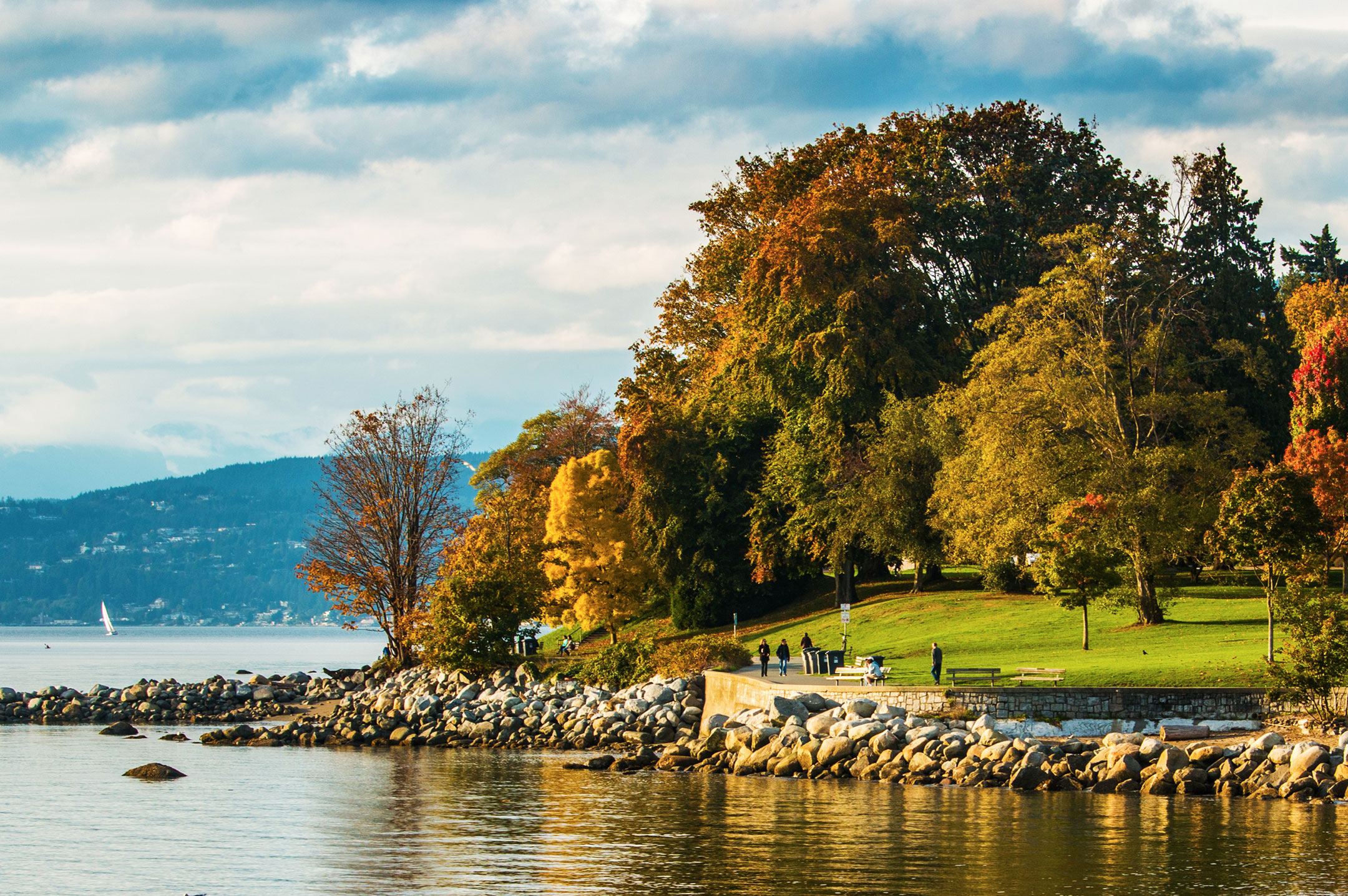 Stanley Park is where you will find the famous Vancouver Aquarium, not just a tourist attraction, but a maritime research and rehabilitation centre for sea life, such as the Atlantic white-sided dolphin, which was saved from being killed when becoming entangled in fishing nets. Entry for an adult costs 28 CAD (€26.00/$28.60), for children aged three and upwards, free, for children aged 4-12 years a ticket costs 21 CAD (€14.30/$15.80). There are also discounts for students and senior citizens.          
Before the British colonized British Columbia, the area was inhabited by native peoples. You should make a point of visiting the totem poles, which used to serve as commemorative symbols for the native peoples or even served as family trees. They were carved out of redwood and then decorated; the owl symbolized the kingdom of the soul, the whale symbolized the sea, the wolf was the earth, and the frog represented the link between sea and earth. Next to the poles is the Legends of The Moon souvenir shop where you can find crockery, clothing, confectionery, jewelry, and lots of little handmade knick-knacks for any taste and pocket.             
By this time, you're bound to be getting hungry and close by you will find The Teahouse in Stanley Park where you can get something to eat. You should try out the fish and seafood, like the salmon with rice and vegetables which costs 30 CAD (€20.50/$22.50), or smoked salmon pizza or a salmon burger for 20 CAD (€13.60/$15.00). Prices for a glass of wine start at 10 CAD (€6.60/$7.50).    
In the evening, head out to English Bay. This is where you can hire canoes until 7pm. A canoe for one person costs from 15 CAD for an hour (€10.20/$11.20) and for two, from 24 CAD (€16.40/$18.00). You can finish the evening off at the popular Cactus Club, which is just the opposite. If you haven't made a reservation, you might have to wait for a while to get in, but it's worth it. Order the tuna carpaccio for 20.50 CAD (€14.00/$15.40), a glass of wine (from 10 CAD/€6.80), or some beer (from 7.50 CAD/€5.10) and just watch the sun go down. If you're lucky, it will be one of the most romantic sunsets you've ever seen.              
Getting around town
You can spend a few days getting around central Vancouver just on foot. To save time, you can use the local buses, the SkyTrain metro service, or even the SeaBus water service. If you are thinking about going out of town, you can rent a car for around 250 CAD (€171.00) for three days. 
Day 2: The island, the historic district and the Olympic Village 
Did you know that Vancouver has its very own island? To be more exact, it's a peninsula, but nevertheless, everyone calls it Granville Island. It is an artificial island originally developed as an offloading area for building materials as the city developed. Now, this is where the inhabitants come to buy food and souvenirs at Vancouver's market, to stroll along the waterfront and visit the local bars. You can get here from the center of town by bus, by car, water transport, pushbike and even on foot – see here for more details.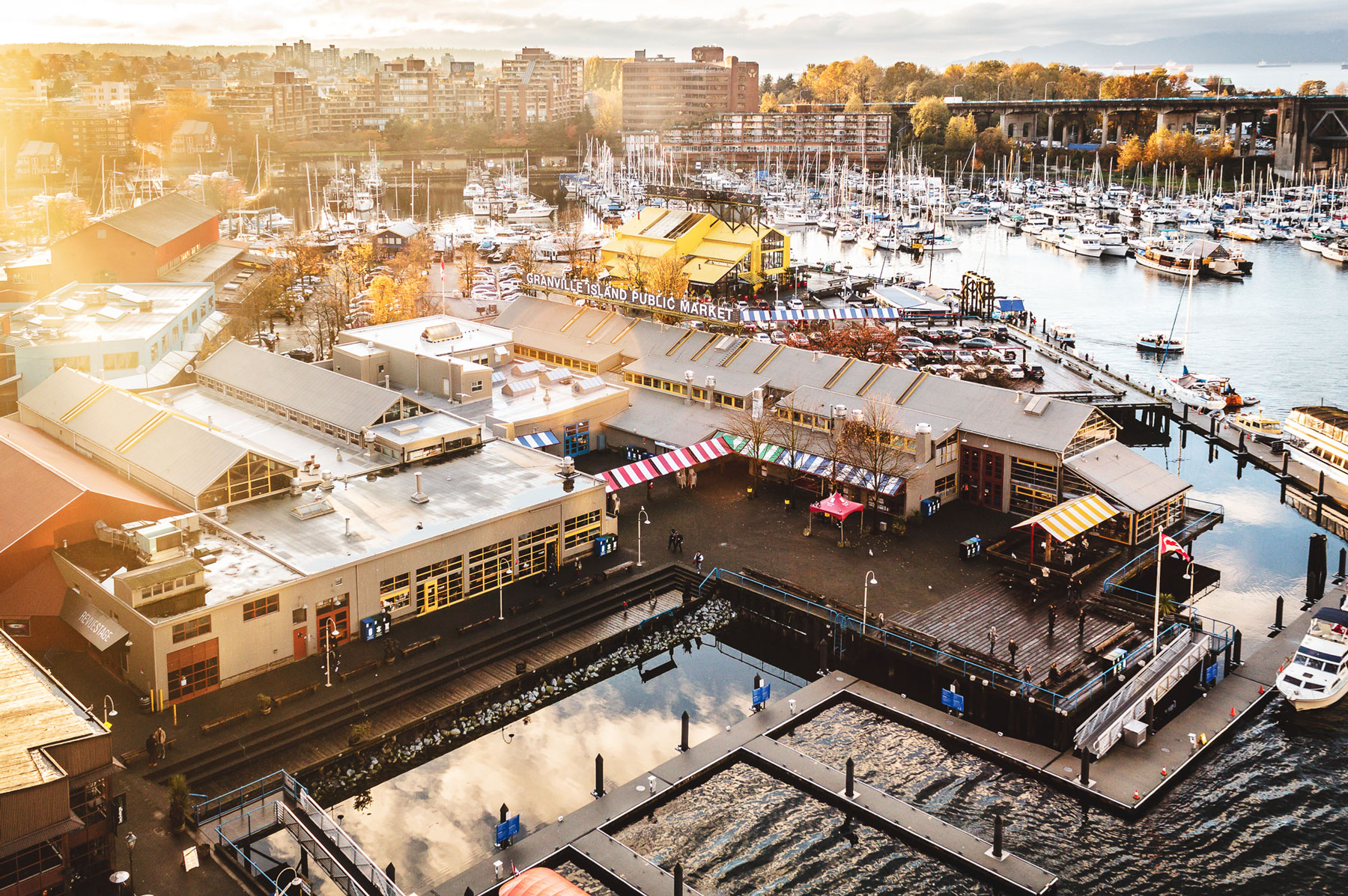 The market is open from 9am until 7pm. You should come early in the morning for seafood, berries, honey, home-made cakes, and biscuits or less common drinks. A list on the island's website publishes weekly a list of the farmers who will be selling their produce. You can buy a variety of good things which you can either eat there or pop into one of the nearby small cafés.           
This is also the site that will help you understand which of the hand-made artifacts you might want to take with you after your visit to the island. You will find ceramics, glass, wooden artifacts, pictures – a bit of everything. 
You'll need to spend a few hours on the island before you head back downtown. Your next destination is the historic district of Gastown. The architecture here dates back to Victorian times, including old red-brick houses and stone bridges.      
The symbol of the district is the Steam Clock. Its mechanism is steam-driven by heat generated from beneath the earth. Every quarter of an hour, it makes a noise like a locomotive to mark the time, and it lets off clouds of steam.              
Another place you should visit is Chinatown, the largest anywhere in Canada. Here you will be surrounded by street vendors and the smell of spices, signs covered in strange symbols, and the enchanting Dr. Sun Yat-Sen Classical Chinese Garden. 
Tim Hortons was founded by the Canadian ice hockey player of the same name. These places are to be found on practically every street corner, and for Canadians are the equivalent to Starbucks for the Americans. Coffee only costs a couple of dollars, and a packet of 12 doughnuts costs around 9 CAD (€6.10/$6.70). To find the best coffee in Vancouver, you should go to Nemesis coffee, which is often in the list of coffee shops. A cup of coffee costs 3.25-4.00 CAD (€2.20-2.70/$2.40-3.00). The tea here isn't bad either; a cup costs from 3.50 CAD (€2.40/$2.60).                
Areas best avoided
Vancouver has its own fly in the ointment – East Hastings Street, whose epicenter is the intersection with Main Street. This are between Gastown and Chinatown is where all the homeless of the city seem to have moved in. There are a lot of drug users amongst them, and many have no problem shooting up in the street. The police are around, but they don't get involved. Even local residents prefer to avoid this area, something I would recommend you do too. It's not that anything is likely to happen to you, but it's not a nice sight to see.   
As soon as it starts to get dark, it's worth taking a look at the Olympic Village, where the athletes participating in the 2010 Winter Olympics lived. The walk from the museum takes about 5 minutes, and the view from the waterfront is a spectacular one of the city by night with the skyscrapers lit up, the brightly lit World of Science and the stadium. Incidentally, between 7am, and 10.30pm there False Creek Ferries run from the Olympic Village, a great way to see the city from the water. Fares start from 3.50 CAD (€2.40/$2.60) – details available on the website.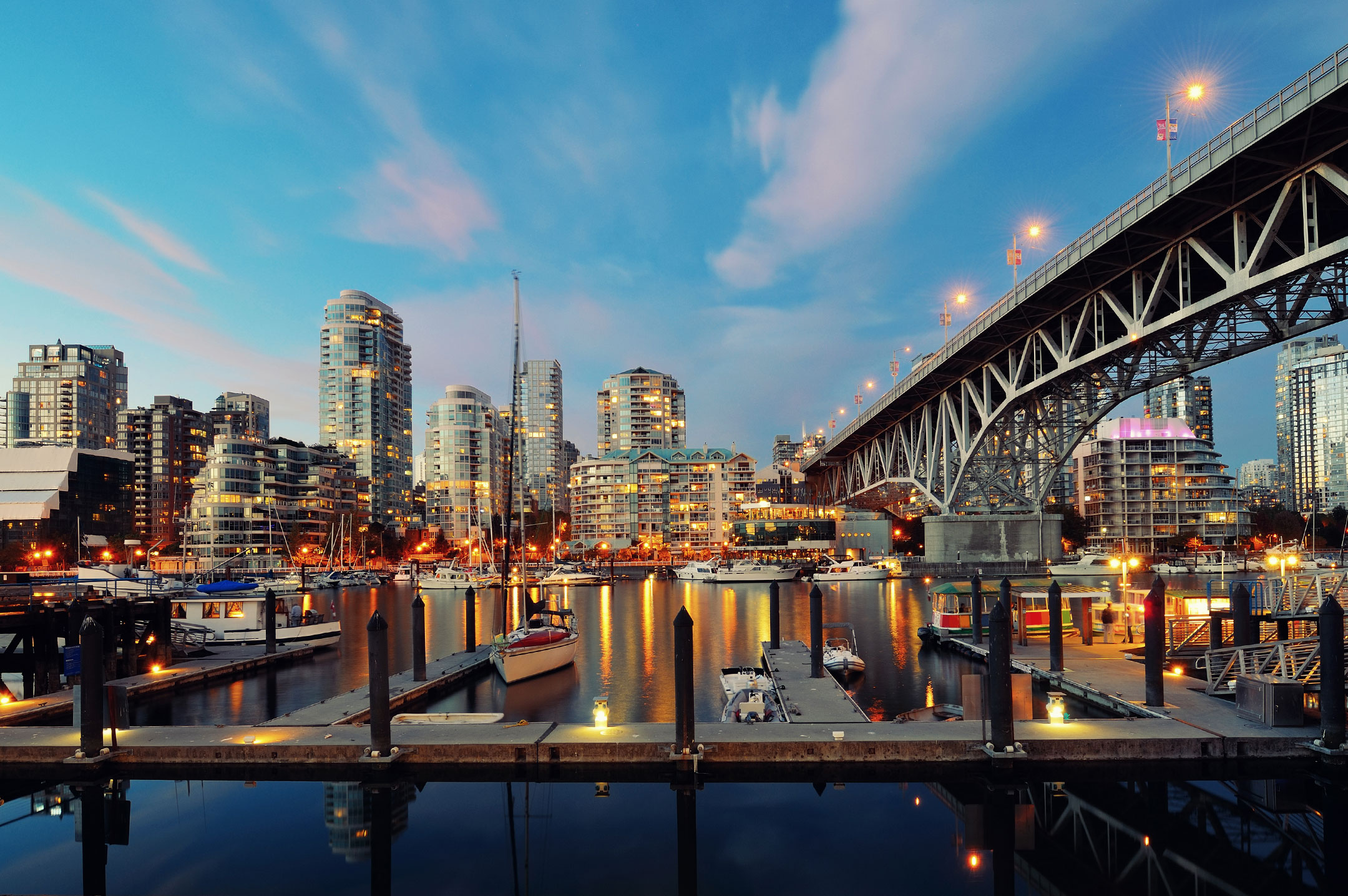 If you want to eat something filling, get yourself a hotdog for 7 CAD (€4.80/$6.20) from one of the street food trucks you are bound to come across at some point on your travels. Chat with the vendors (often they are students from places like India or Bangladesh) and then walk further down to Science World. You can't get this museum mixed up with anywhere else as it was built in 1986 in the shape of a geodesic dome when the city was getting ready to host that year's World Fair "Expo '86". The exhibits are interactive, and you can get up close and personal with the marvels of chemistry, physics, and biology as you press the buttons and turn the dials on the exhibits. Have a go at blowing giant square soap bubbles or take a stroll through the Hall of Mirrors. You really can spend hours in this museum. Entry for an adult costs 27.15 CAD (€18.80/$20.70), and there are discounts available for other age categories.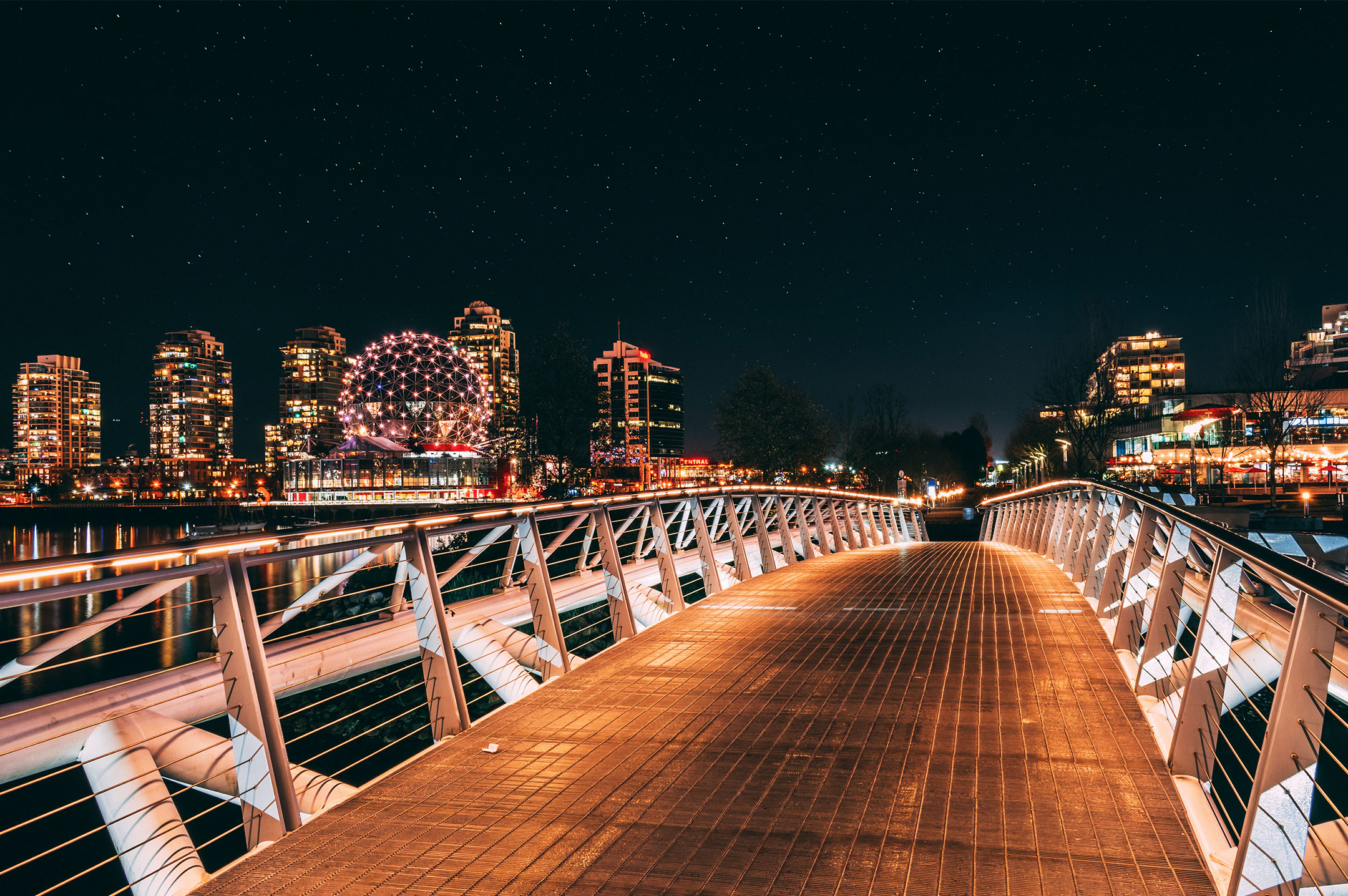 You should spend the evening at the Craft Beer Market, where you will find some of the best beers and ales not only from Canada but from all over the world. It's open till late. Prices for a 0.4l glass start from 6.75 CAD (€4.60/$5.00). Other decent beer houses are located only a 10-minute walk away at Brassneck Brewery and 33 Acres Brewing.         

Day 3: Suspension bridge, mountains, and shopping
The Vancouver city government has drawn up a plan which will make the city the greenest in the world in the nearest future. Some of the initiatives they are undertaking are to develop new garden areas and allotments which residents can rent and use for their own purposes, they are opening new farmers' markets, planting trees, and using "green" technology in construction projects. 
Even in the very center of town, close to the skyscrapers, there are many eye-catching green areas. But if you want to get even closer to nature, then head for the Capilano Suspension Bridge, the 70m high structure which spans the 140m distance across the river. A free shuttle will take you there – take the express which will pick you up in the city center and takes 20 minutes in one direct journey with no stops. You can pick up the bus at Canada Place next to the information kiosk. In summer, the first bus of the day leaves at 8am, and this is the best one to get if you want to avoid crowds at the bridge.                        
Getting into the park itself costs 54 CAD (€37.00/$40.70) for adults. Children up to age 6 can get in free of charge, and there are other tariffs available. Once you've had your photo taken on the bridge, head for the Treetops Adventure and its elevated pathways strung between the trees of a tropical forest. The air here is fresh and smells of pinewood, and you will go on smelling it for weeks. This is included in the entry ticket price.       
From the bridge, you can also make your way to Grouse Mountain. To do this, go out onto the Northbound Capilano Road and get onto bus number 236. It'll cost a couple of dollars, maybe less, so make sure you have some change. After about 10 minutes you will find yourself at the Grouse Mountain Skyride cable car, which will take you up to the top. In winter, they snowboard and ski here, and in summer, people have fun in the high-rope park or on the zip wires and try to spot some of the grizzly bears which live there.
From May to October, a ticket to the top for grown-ups costs 59 CAD (€40.30/$44.40), which includes the return trip by cable car and the other attractions – details are available here. You can enjoy a meal with a view at The Observatory restaurant. For between 37 and 48 CAD (€25.30-32.80/$27.80-36.00), you can get a meat or fish main course and desserts such as a honey parfait or chocolate tart costs between 12 and 13 CAD (€8.20-8.90/$9.00-9.80). Wine prices start from 11 CAD (€7.50/$8.20).                      
You can easily spend half a day in these parks, but you go back into town on the same bus you used to come, the 236, which will drop you right in the center of the Downtown district. You can spend the rest of the day shopping. Nearby in the center, you will find malls such as the CF Pacific Center and lots of small souvenir shops. I wouldn't bother with the well-known brands – in the nearby USA, you can buy everything much cheaper. Look out for local businesses as it's worth buying your souvenirs and presents for colleagues, friends, and family from them.            
What souvenirs to take home
Canada produces 90% of all the maple syrup sold in the world, and here do make anything and everything with the stuff. For instance, you can buy a bottle of pure syrup for pancakes, syrup cookies, and even salmon in syrup. The lot would cost around 40.00 CAD (€27.30).
Vitamin tablets here come highly recommended, so in a pharmacy, you would pay around 10.00 CAD/€6.80 for a supply. Drop by The Ordinary pharmacy, which has great prices for Canadian produced cosmetic face, hand and body creams. You can pick some up for around 15.00-20.00 CAD (€10.20-13.70/$11.20-15.00).            
If you are looking for clothes and accessories, watch out for Lululemon sports clothing, the outdoor lifestyle brand Roots, and Herschel rucksacks. You can pick up hockey-related clothing and accessories as well as leather purses with and without ethnic symbols in most souvenir shops.
Head for Miku to enjoy some sushi in the evening – one of the best venues in the city. It's best to book in advance – you can get an idea of the prices here.           

Day 4: art, roses and the university campus
Start your last day with a good breakfast at the Medina café. They have a huge choice from granola at 9.00 CAD (€6.10/$6.70) to paella at 18.00 CAD (€12.20/$13.40). It all depends on how hungry you are.         
Five minutes' walk away, you will find the Vancouver Art Gallery. Adult entry costs 24.00 CAD (€16.40/$18.00), children up to 5 years of age go free, and other discounts are available. Check out their website before you go to see what special exhibitions are on – you might find something of special interest to you on show.             
If you still haven't had enough of the views over the city (doubtful, but you never know), a 15-minute walk away is the Harbour Center where, on the roof, you will find the Vancouver Lookout viewing platform. Compared with similar venues in other large cities, it's not so high up at 168.80m, but the view is not bad at all. An adult ticket costs 18.25 CAD (€12.40/$13.70), and there are group discounts available.      
I think it's also worth popping into the campus at the University of British Columbia (UBC), a prestigious place of learning with a great campus. Everything you could need as a student is catered for here – it's almost like a city on its own. The bus stop is at the intersection of Southbound Granville Street and W Georgia Street. Wait for bus number 14 and get your couple of dollars ready for the fare – and 40 minutes later, you'll be on Westbound University Boulevard.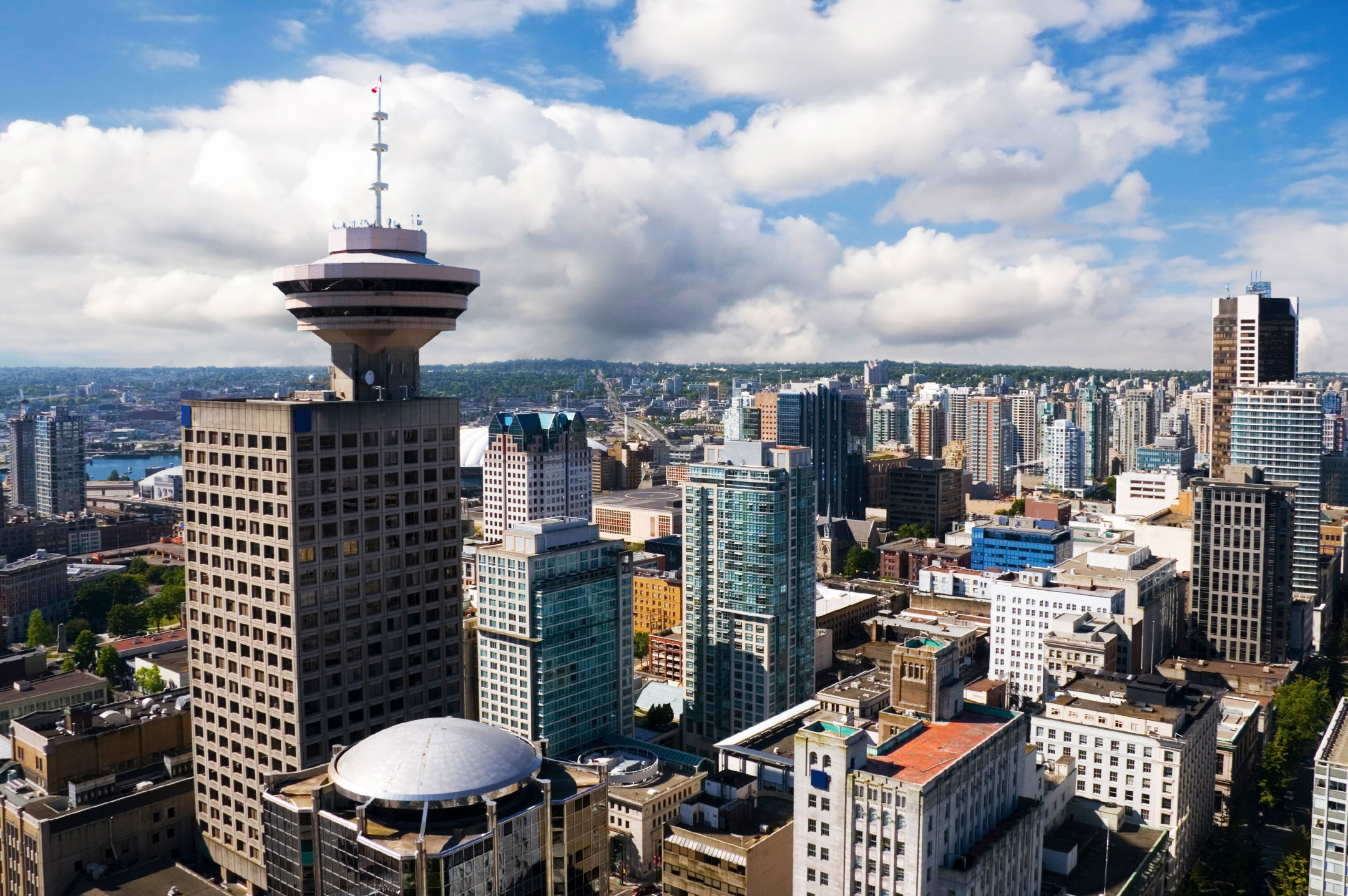 The whole area is beautiful and well kept, and if you fancy a pleasant walk with attendant cultural input, go to the Museum of Anthropology. An adult ticket costs 18.00 CAD (€12.20/$13.40) and children up to 6 years get in free. The collection covers the entire history of world art and culture, naturally with a strong accent on the native peoples of Canada. They have everything here: sculpture, native Indian totem poles several times taller than human beings, gold jewelry – even from Africa and Asia – ceramics, drawings, textiles, and much more.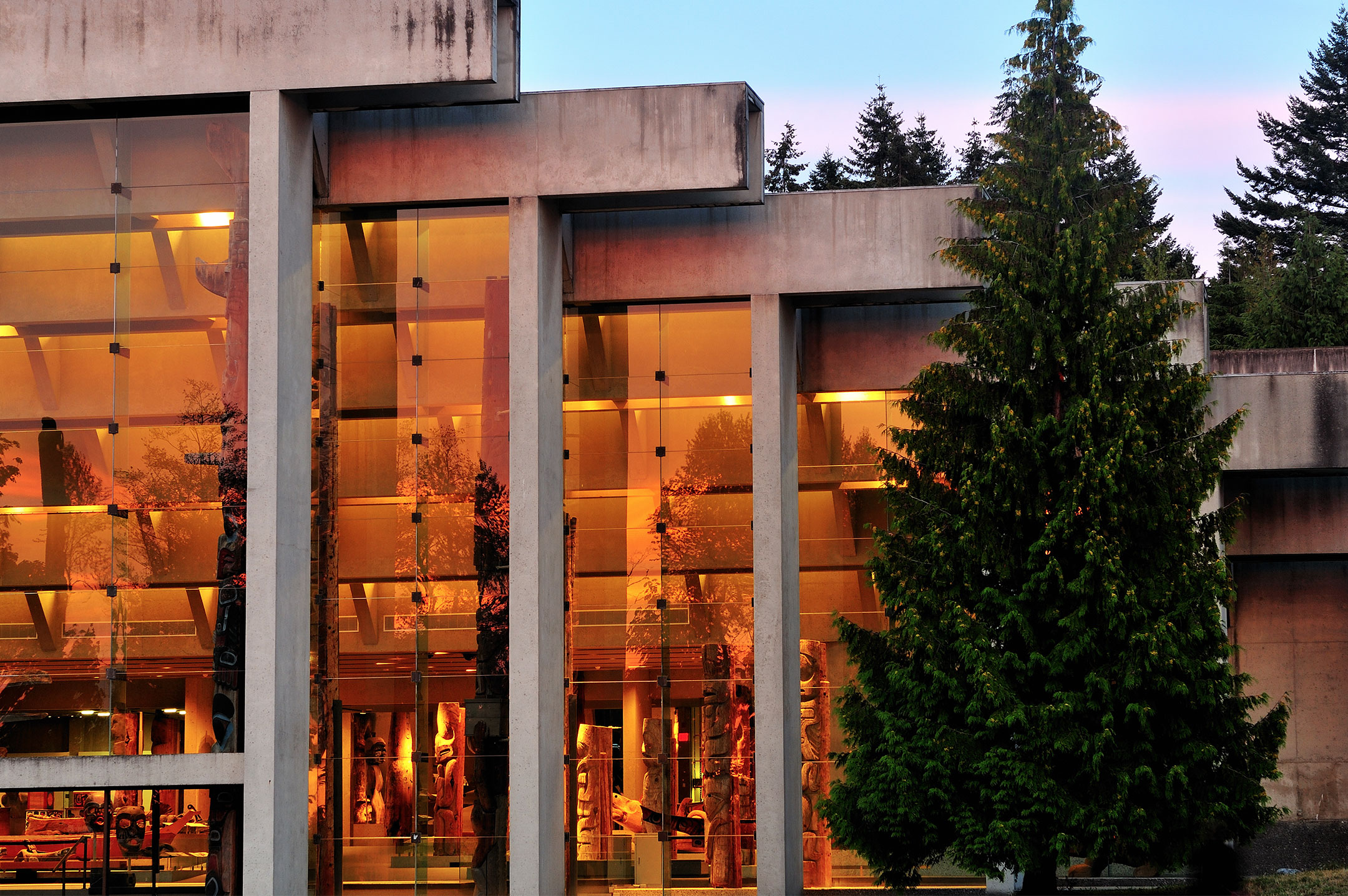 300m away is the UBC Rose Garden, which is free to visit. The rosarium has more than 3500 different types of rose, and the best time to visit is from June to September. There is a fantastic view from here over the Burrard Inlet and the mountains.       
Another great place close by is the Nitobe Japanese Memorial Garden. Suffice it to say that it is considered one of the best outside Japan. An adult ticket costs 7.00 CAD (€4.80/$5.30). If you also want to visit the UBC Botanical Garden, buy a ticket for 15.00 CAD (€10.20/$11.20), which will get you into both. For 26.00 CAD (€17.80/$19.50), you can also go to the Greenheart Treework, similar to the Treetops Adventure at Capilano Park.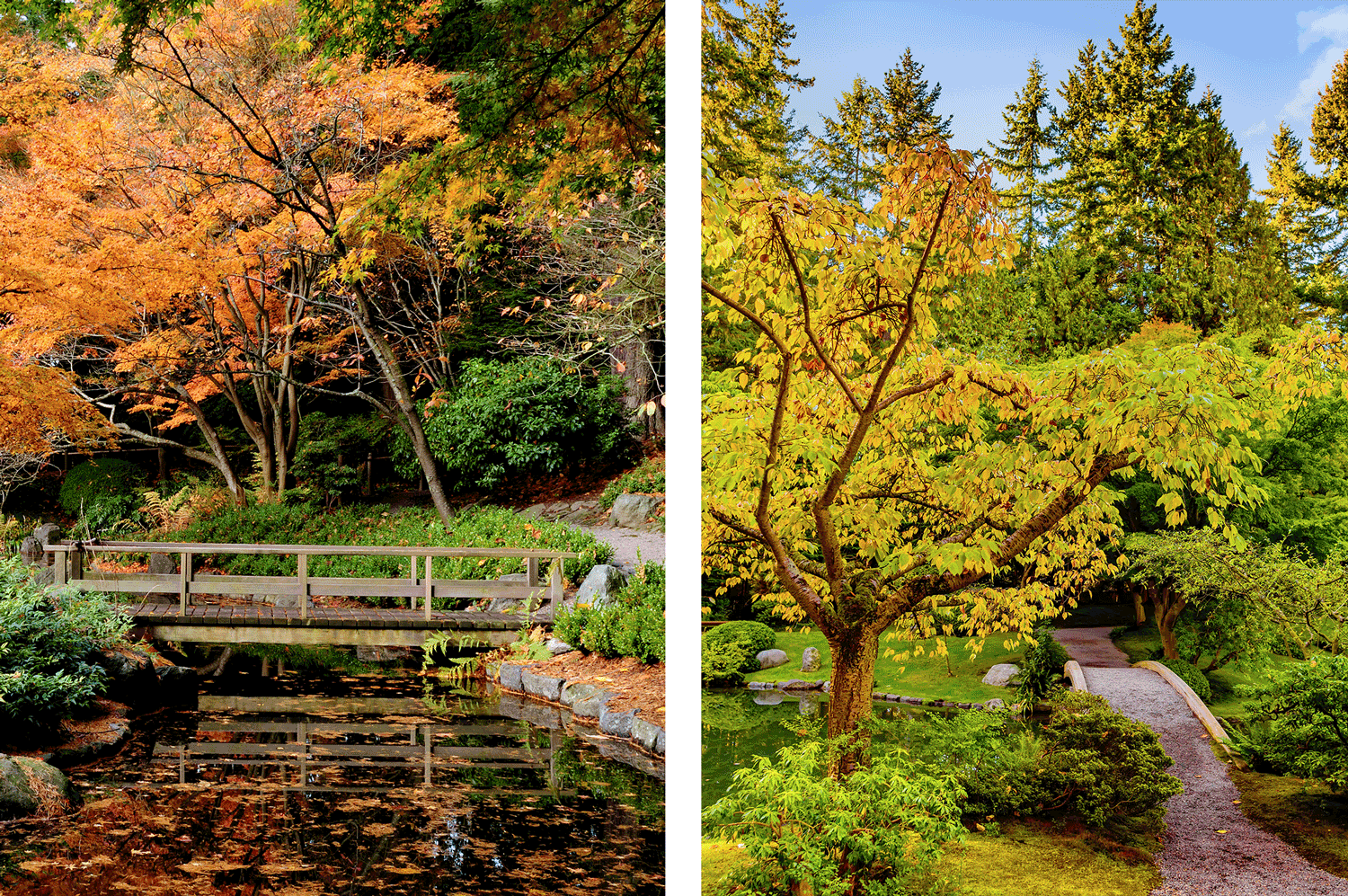 You can spend hours in the UBC Botanical Garden, strolling up and down the paths. There are more than 8000 types of flowers, trees, and bushes here, and if you come in spring, you will be here at the peak of the rhododendrons' blooming season. 
Head back into the downtown district as evening falls. Your final task is to have dinner at the Blue Water Cafe if you like seafood or the Elisa Steakhouse for steak. They are located next to each other. The average check in both places comes to about 50-60 CAD (€34.20-37.70/$37.60-41.50). 
Wine tours
If you still have a day free during your stay in Vancouver, why not consider a tour of the wineries, such as those in the Fraser Valley, about 100km from Vancouver itself. Thanks to the region's mild climate, Chardonnay, Bacchus and Pinot Noir grapes all happily grow here. Find information here about group tours for 119.00 CAD (€81.40/$89.50) per person. The six-hour tour will take you through various vineyards, and you will try some good wines.       
---
Vancouver does not boast a lot of museums, exhibitions, or other types of culture. Having said that, though, it is not a city full of noise and stress with the work-life balance tipping ever in the direction of work. In their free time, people simply enjoy life, they jog along the waterfront, go to music festivals, or take their tents and go fishing in the mountains. Four days is really only a brief introduction to the city. To get to know it better, you will need to stay longer. I'm lucky. I already have my ticket to go back.