How to get there
Florence has its own airport, Aeroporto Amerigo Vespucci, serviced by flights from Alitalia, Air France, Lufthansa, and other airlines — so there are plenty of options. 
If you want to fly without connections, then you can always take a flight to Milan. Upon exiting Milan Airport, take the train to Milano Centrale station. The journey will cost from €4-13 and take around one hour. After that, buy a ticket to the station called Firenze S.Maria Novella. It will cost around €25-50 and take 1.5 hours. You can buy train tickets from the Trenitalia website.
There is another way to get there, and the cheapest but least comfortable method. From Milan station, take the underground to Central FS station at the cost of €2 and from there to Milano San Donato station. The bus station is right next to it, and there you can hop on a night bus for €19 that will take you to Florence in 3.5 hours.
The best time to go
It's best to visit Florence in the spring — it's already 16 degrees in central Italy in March. Winter is also great there: a huge Christmas tree is decorated on the central square, Christmas fairs open, yet it's sunny all around. On the other hand, we don't recommend going there in August: it's hellishly hot then, all the locals leave for the sea, the shops are closed – even the small ones – and the city is empty.
Where to stay
Historical center. This is the most expensive district, but it contains the city's main tourist attractions. Obviously, this is the least economical choice, but on the other hand, the most interesting places to visit are just a stone's throw away. 
Hotel Duomo is ideal for those who dream of breakfasting with a view of Florentine Duomo — as the locals call their cathedral.
There is a far cheaper option — Hotel Medici. This hotel is also located in the center. Although it doesn't have the luxury or even modern interiors, it will delight you with its open roof that you can climb up to and drink coffee on early in the morning while admiring the cathedral of Florence.
Sant'Ambrogio district. This is walking distance from the historical center, but quite different people live there — mostly locals (and lots of students). If you want to figure out who Florentines are then we advise staying here. The Mercato di Sant'Amrogio market here is open every day, where at any time, you can buy fresh produce and select home-made pasta.
The spacious art-hotel Al Giglio Bottonato is situated in a historical palazzo (building), so here you can feel that you're a true Florentine during your stay.
In fact, there are a lot of art-hotels in this district, so let us recommend one more: Msn Suites Palazzo Dei Ciompi. It's found in a 19th-century building with antique furniture, a lift, and modern cuisine.
San Frediano district. This is on the other side of the River Arno. It's somewhat cheaper than the two previous districts, but you can still get to the center on foot in just 15 minutes. Its main advantages include a quieter atmosphere (it has fewer tourists) and luxurious views of the river. 
Hostel Santa Monaca is a very cheap option for students or those who want to see the world but aren't prepared to spend a fortune on their journey. It's surprising, but even with a breakfast that cheap, you will be in a room with old ceilings.
Florentines (and Italians as a whole) are highly enterprising people, so they often convert empty buildings into mini-hotels. One of these is Soderini A – 1 BR Apartment. This is an apartment with a bedroom, kitchen, and little balcony with a view over the Arno, where you can drink Chianti for days on end.
Budget
The budget totally depends on your appetite, but the minimum is €40 per day. This is the optimal amount where you don't go OTT but you aren't unreasonably tight-fisted either. Although Florence is far cheaper than Milan, you will be sure to want to try and buy everything. 
About Florentine people
Italy is remarkable for its local patriotism. Each city with its cuisine, architecture, and local Duomo is the best in the eyes of its inhabitants. One Italian from a little Ligurian town split into two parts by a river told me that the residents on each bank of the river argue about who is best. He would be most offended if he were taken for an outsider.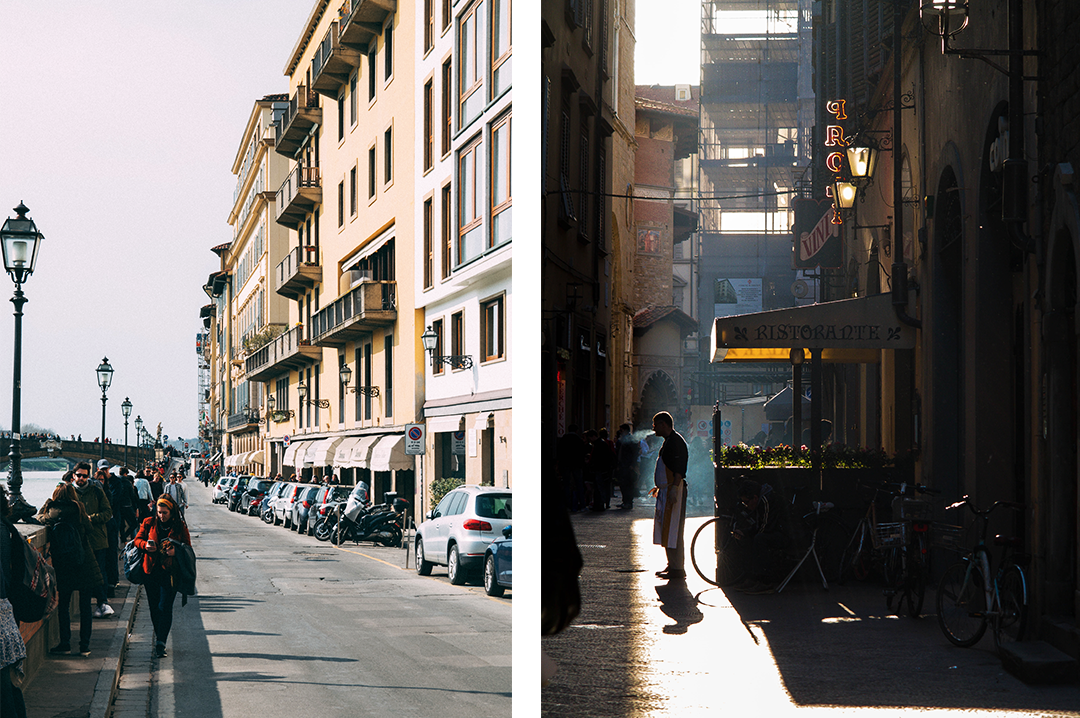 Florentines also adore their city, and they have much to boast about. The father of Italian humanism Coluccio Salutati called Florence Rome's chief rival. At the end of the day, it was the Tuscan dialect that became the basis of the Italian literary language.
Hence Florentines have the right to be true snobs. What's funny is that despite their aristocratic airs and deep knowledge of wine and art, the favorite local sport is Florentine Calcio. This is an ancestor of modern football, but far more aggressive. Here you can get into a fight, and the sport is played not on a green pitch but essentially in the mud. Nevertheless, the players dress in historical kits of the 16th century (but only in trousers – they play topless).
Who to go with
It's best as a couple, as Florence is a very romantic city. But going with friends is also great: you can visit the wine enoteche, and listen to live music in the evening at a bar called NoF. If you can't find friends able to join you, then head for Florence on your own. The heroine played by Julia Roberts in the film Eat Pray Love had a great time there alone, so you have every chance of doing the same.
What to do there
Soak up the art
As we have already said, Florence is a city of art. This is where you will find the Florence Academy of Art, where you can view the legendary statue of David made by Michelangelo (yes, the real one). Future artists will find something to inspire them – and so will you!
Uffizi Gallery — one of the oldest museums in Europe. Every day tourists queue up here to view paintings by Da Vinci and Botticelli (the famous work Birth of Venus is located here). A ticket will cost €12 until the end of February 2020, but from March to October, it will cost €20. It's best to buy the ticket in advance online, so you don't waste time standing in the queue. Set aside at least three hours to visit this gallery on three floors.
Museo di Novecento — a museum of 20th century Italian artists. If you're tired of the Renaissance, take a look here. It exhibits over 300 works (sculptures as well as paintings). The entry cost is €8.50. You will spend less time here than at Uffizi: you can view the entire museum in 90 minutes.
Take in Palazzo Pitti — this palace was the main residence of the Florentine Medici dynasty. Now it's a museum complex containing the Palatine Gallery. Here you will find the Medicis' own collection of paintings: artists include Tintoretto, Rubens, Caravaggio, and Van Dijk. They are set against a background of luxurious architecture in baroque style, as well as halls decorated with stories from Roman mythology.
The House of Dante will appeal to lovers of the Divine Comedy — here you can view items from Dante's period, including artifacts linked to alchemy (this was the poet's hobby), and illustrations to the Divine Comedy. In the past, the house where the Alighieri family lived and Dante was born was actually located here, but that building disintegrated over time. The Italian authorities could not let this pass: archeologists discovered the exact place where the poet lived, and they began to rebuild the house stone by stone at the start of the 20th century. Entry costs €4. 
Palazzo Strozzi was commissioned by the rich and influential Strozzi family. Filippo Strozzi, at the time the head of the family, a banker and condottiere, wanted a house to match that of his eternal rivals — the Medicis (and the Medicis were for a short time the rulers of Florence). 
Global-scale exhibitions are constantly held here — shows of 20th-century art collections belonging to Solomon and Peggy Guggenheim, as well as an exhibition of works by Gustav Klimt and Paul Cézanne. Entry tickets usually cost around €10.
Souvenirs
Apart from classic Italian souvenirs (little statues of the Duomo and wooden Pinocchios), there are other interesting items to bring from Florence. We recommend stopping by the Chianti Riserva boutique as well as an art book from one of the museums.
By the way, the museums also sell miniature table games that help you to learn the names of paintings: you have to draw a card and try to guess the author, name, and date of creation of the artwork. Each card contains an interesting fact about the painting. A wonderful game like this costs around €15.
Take a walk around town
If it's too expensive to visit absolutely every museum, then don't get upset! Florence is an open-air museum in itself, where you will find unique sculptures on each square and luxurious views at every turn.
The greatest architectural achievement of the city is the Duomo Cattedrale di Santa Maria del Fiore. The cathedral took over a century to build and dates to the early Renaissance period. You can go inside: take a look at the clock, which runs backward, as well as frescos with stories from the Divine Comedy. You can also climb 414 steps up the tower, from where you will get a view of the city. Entry costs €18. 
Near the Duomo you will find Piazza Della Signoria, where a multitude of amazing sculptures stands right on the street. Make sure to get on to the Old Bridge (Ponte Vecchio), which is located 11 minutes' walk from the central square and three minutes from Piazza Della Signoria.
Even though crowds of tourists flock here just about round the clock, the view from the bridge makes it worthwhile. By the way, there are lots of nice little shops there where you can buy hand-made useful items and works of art (notebooks, statuettes, and paintings).
Another essential part of your trip to Florence is a visit to Giardino di Boboli. These gardens were founded by Eleanor of Toledo — the first wife of Cosimo I de' Medici. A huge collection of sculptures has been assembled in the open air across 4.5 hectares: a fountain of Neptune, a sculpture of Archimedes, sculptures of muses, Paris and Helen, and grottoes of Adam and Eve.
Just imagine that this magnificence is kept not within the walls of a museum, but outside. Admittedly, you will need to pay for this attraction too. In high season (spring to summer) a ticket costs €10, while in the low season it costs €6.
Apart from all that, what is probably the city's biggest attraction is Piazzale Michelangelo. To get here, you will need to cross the Arno and take a tiring path up the steps. But you will be well rewarded — you will get to see that famous postcard view from the square. Grab a bottle of wine from Enoteca Fuori Porta (prices start at €5) and enjoy it right on the square.
Eat
Tuscan cuisine, just like all Italian dishes, is really simple. It's based on flour products, fresh olive oil, and the meat of wild animals. There is a reason why it's hard to imagine the Tuscan landscape without boars, deer, and rabbits. So we tell you what and where to try.
Bread. This is the basis of Tuscan cuisine. Fresh bread is usually provided for free in restaurants or trattorias in order to brighten up the wait for the main dish (be careful, the risk of filling up on bread before the main dish arrives is a huge one!). 
If you get hooked on the local bread (and that will happen for sure), go to the Ghibellina Forno pasticceria (established in 1890). Apart from bread loaves, here you can buy panini sandwiches, focaccia and desserts — biscuits, cakes, and brioches. Prices here are average for Italy: one brioche with chocolate will cost around €1.50, while a panini will cost about €5-6. 
Meat slices. Each Italian region has its own meat slices. In Florence, it's lardo di collonata. An original bruschetta with lard, filter coffee, and honey is made at Johnny Bruschetta Firenze. Forty centimeters of bruschettas lain side by side will cost you €8.
Starters. This is nearly always pasta. The most famous Florentine type is pappardelle sul cinghiale. It is like spaghetti Bolognese — except that instead of a ragout from pork and beef, they use boar ragout. We recommend trying this dish at Gustavino Piazza Signoria. A plate of this pasta will cost €12.
Main dishes. The true hero of local cuisine is the bistecca alla Fiorentina. It's made from a special type of meat and weighs at least 450 grams (often you can order a half portion). The stake is cooked rare on coals and is only salted, without using any spices.
Just don't dare to ask for ketchup to go with your stake, or for it to be well done — that's not acceptable here. Head to Chianineria – Trattoria dall'Oste for your steak. They specialize in the dish here (it costs from €7 for 100 grams). 
If you want to try something exotic, then you will find that too in Florentine cuisine: for example, fried brains (cervello alla Fiorentina). You can try this exotic dish at Trattoria Omero.
Desserts. The most famous Tuscan dessert is a cake made from chestnuts and rosemary called castagnaccio. We recommend trying it at Il Cernacchino. It costs just €3, so order a cup of coffee alongside it.
---
When flying into Florence, remember that you will definitely want to return again and again. And not only because there is something that you won't have seen, not tried or not bought (although that is certainly going to be the case), but because you can never get enough of this city. Like after a first date, you will look to get another encounter, readjust your itinerary, persuade your friends, and change your plans so that by chance, you end up there again and fall into the city's embrace.