What you need to know about campsites
Nearly all campsites require a deposit (cash, check or amount on your card blocked) totaling 50% of the cost of the accommodation.

Nearly all campsites hold a meeting for each new set of arrivals, where they tell you about planned events for the upcoming week, introduce you to the team, hand out a local map, tell you about the nearest shops, and offer trips and equipment rental. Don't be shy to ask where and when it will be held.

At many campsites you can order fresh bread in the evening, that will be delivered to reception the next morning (so that you don't have to worry about such trifles during your holiday).

If you check in to a mobile home (a little house with a parking space and territory attached), you need to fill in an inventory list, i.e., note on a special sheet of paper the equipment, dishes, and household gadgets present. If something is missing, you should inform the administration.
How to prepare for the trip
If you have decided to arrange your next holiday in a camping format and are willing to spend a week or more in a tent, then you most probably already know what things to take with you. Let's go through the list one more time, just in case. You will need:
Thermal underwear in case it's cold at night;

A sleeping bag, roll mat and of course the tent;

Some of the many gadgets that make life easier in the field, such as a portable water filter, portable shower, and solar chargers.
If your format is a caravan holiday, then the main thing to focus on is hiring the vehicle itself. There are lots of services for hiring caravans (average price from €200 per day). Packing for the road will not differ significantly from packing for usual journeys. The caravan will have everything for a comfortable sleep, while you can take a shower at the campsite (civilized campsites are always equipped with shower cabins and toilets).
There is no need for special preparation for life in a mobile home on a campsite. Such a holiday doesn't differ that much from staying in a hotel, apartment or cottage. All the fruits of civilization will be to hand (the only thing you may have to pay extra for is bedding, but you can bring it with you).
Accommodation types 
As we have already noted, campsites provide two types of accommodation: places for vehicles or tents, as well as stationary accommodation — small mobile homes or large stationary tents.
Mobile homes are little houses with a parking space and territory attached. They accommodate from 2 to 8 people, and most often, they contain two bedrooms, a kitchen corner, and an eating area (which often transforms into additional sleeping places).
At more expensive campsites, they may have showers and toilets inside. As a rule, these homes have a terrace with a table and chairs, while five-star campsites may have deckchairs, umbrellas, and your own place for a barbeque.
Campsite recommendations from ZenHotels.com
Happy Village & Camping — camping in Italy.
Camping Del Mar — camping in Catalonia.
Bear in mind that bedding and towels are usually provided at extra charge (the average price of a set per person per week starts at €10). At the same time, you are not prevented from bringing your own.
Cleaning in a mobile home is also available at a price (€30-50 on average), but you can also ask for equipment from the administration and clean up after yourselves. It's best to agree this when you first check-in.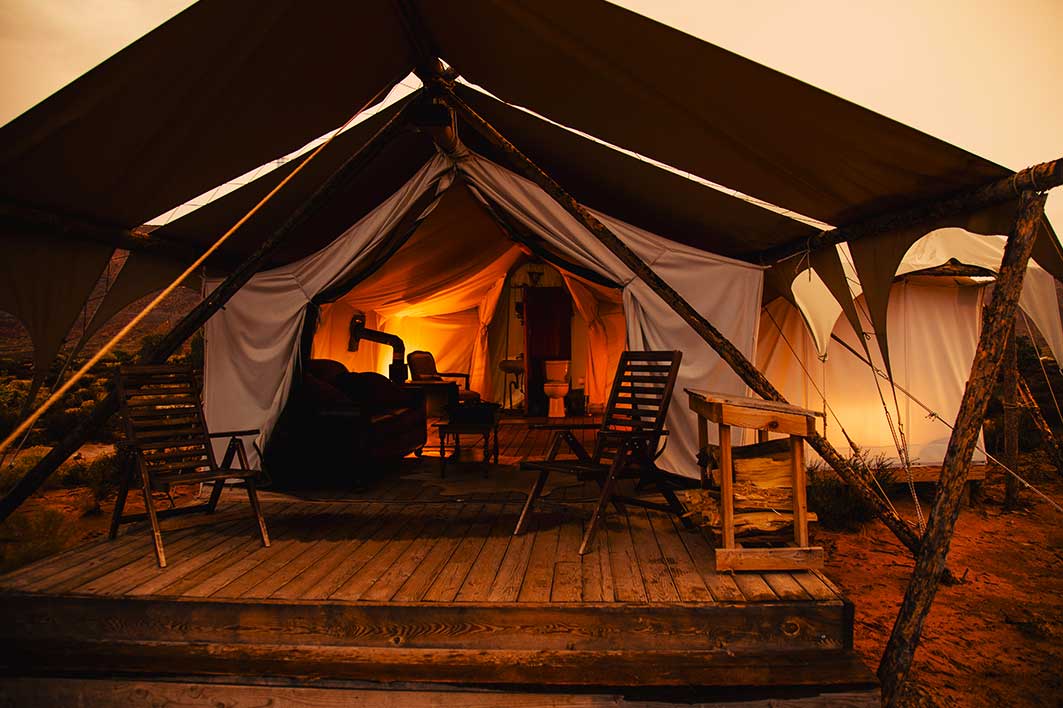 A stationary tent is essentially an improvement on a personal tent, often coming with a terrace and always with a parking place. Such a tent will accommodate from 2 to 8 persons. Inside, its layout will include sleeping areas and a kitchen. As a rule, you sleep on bunk beds, and the kitchen is equipped with a table, chairs, a cooktop, and a microwave. With bedding, it's the same story as at a mobile home. Tents don't have toilets or showers, and the kitchen won't have a sink. However, staying in a tent will only cost you half the price of a mobile home.
How to book a campsite on ZenHotels.com
It's very easy to book a campsite on ZenHotels.com: it's enough to select the town and journey dates, and then open the Accommodation Types section. There you will find "Camping." Tick it, and all possible options will appear for the given location. If relevant, show in the comments section when booking that you will need a transfer from the nearest train station. Most campsites offer such a service.
For how long can one hire accommodation at a campsite?
Most often, campsites offer accommodation from Saturday to Saturday. It may be possible over a short holiday period to hire a home for fewer days, but not always, therefore, if you show that full week when searching, your chances of finding more options at a lower price will increase.
Where to go
There are campsites in most countries of the world, and you will easily find accommodation options. Of course, if you are planning to stay in a city, then it will be easier to book a hotel. But if you dream about a holiday in the countryside, going for walks, and taking photos in nature reserves, then camping is a great choice for those purposes. For example, you can enjoy a great camping holiday in Croatia, Spain, France, Norway, Iceland and so on.
Campsite recommendations from ZenHotels.com
Camping Medulin, Croatia
Camping 3 Estrellas, Spain
Mindresunde Camping, Norway
Reykjavik Safari Camping, Iceland
It makes particular sense economically to choose this format in countries where accommodation as a whole is expensive. At the campsite, you will have the opportunity not only to live in good conditions at a far more modest cost but also to stay close to nature (for example, beside a lake or in a national park).
Campsite recommendations from ZenHotels.com
Camping La Pinède — a little house in a campsite in Provence.
Maison Gauthier — a simple house in Provence.
How to get to campsites
Campsites are often located in parks or specially protected natural territories, hence getting there by public transport can be quite problematic. In that case, it's easiest of all to hire a car. However, many campsites offer their own transfer from the nearest stations. You need to agree to this service in advance by contacting the campsite directly (as we wrote above, when making a booking on ZenHotels.com indicate that you need such a transfer).
If you arrive at the campsite by car, then one parking space will probably be provided for free. If you have two cars, then you will need to pay for the second one (the average price is around €50 per week).
---
As you can see, there is nothing extreme or unusual about camping. Don't also forget that it's a place where people from all around the world come to stay, united by a single philosophy of holidays. This holiday will definitely become an unforgettable experience, and will perhaps open a new page in your tourist biography.