International travel
All arriving foreigners will need to provide a negative PCR test result no older than 72 hours before their trip and, if necessary, pass quarantine at their own expense. Travelers will also need to provide proof of accommodation address should they need to self-quarantine at the time of arrival in the country.
How to get there
From Frankfurt — on Lufthansa flights, from Paris or Amsterdam — Air France or KLM, from Qatar — via Doha, from the Emirates — via Dubai. It will take at least ten hours to get there, but with long connections, the trip could take up to 24 hours.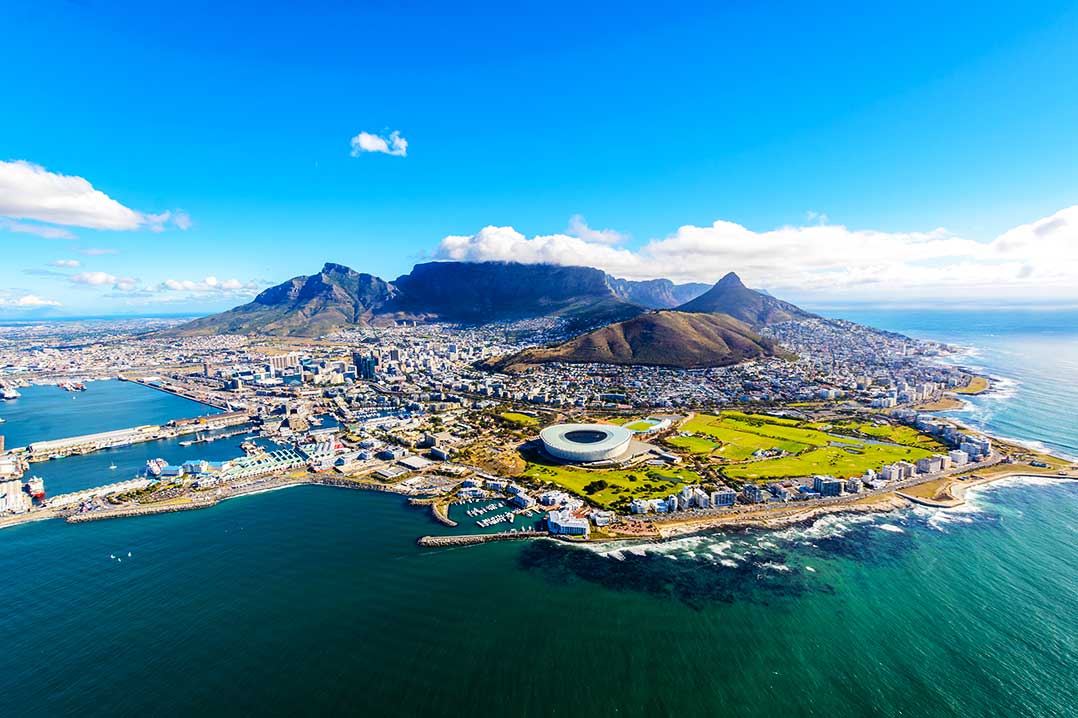 Where to stay
If it's legends you have in mind, then the natural choice is the Belmond Mount Nelson Hotel at 76 Orange Street at the foot of Table Mountain. This hotel, with its own garden, was opened in 1899 as a place of relaxation for gold magnates, diamond kings, politicians, and people from the art world.
At various times it has hosted Winston Churchill, H.G. Wells, Arthur Conan Doyle, and the Prince of Wales. To commemorate the visit of the latter, a special grand entrance was opened.
Not only old photos and colonial furniture have survived from the past, but also historical sites — for example, the lawn where John Lennon meditated, or the table where Nelson Mandela dined. 
All the rooms are quite expensive here, but take a look at How to Drink Tea like the English — you will see that this is a rather cute idea.
Those who love nature above all else should consider staying at the Vineyard country estate on Colinton Road. Cute knitted rugs on the beds, terraces with wicker furniture, works by South African artists, libraries, fountains, and sculptures — and all this amidst flowers and trees growing on the side of the hills.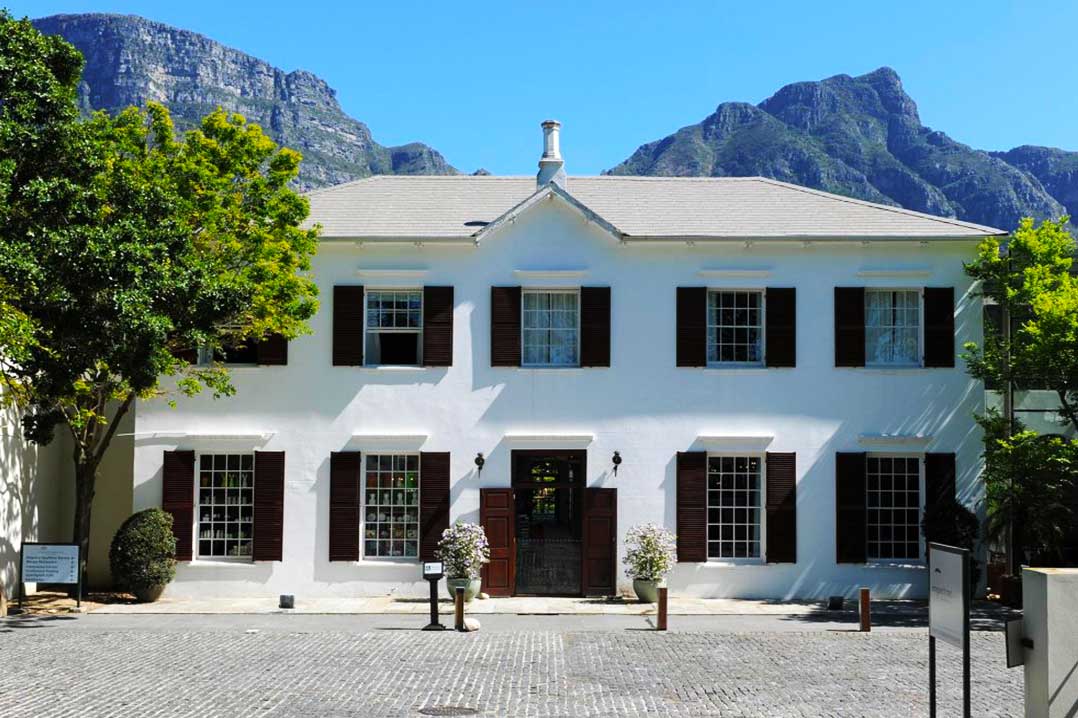 When to go
Everything here is the exact opposite of what you're used to. When it's winter in our world, it's summer in Cape Town. The warmest month is January: during the day, it's +25C, and nor is it cold at night. In the winter months (from June to August) it's +16 to +18 during the day, while the temperature might fall to zero at night. The most pleasant time to visit is from November through March.
Money matters
The local currency is the Rand. If you are planning a packed program, then it won't harm to acquire a City Pass Cape Town (from R1,095), which provides access to over 70 local attractions. As far as expenses are concerned, it's hard to estimate them in advance. If you stay in a guest house and spend modestly, then you will fork out from R1,500 per day. It's an expensive city, but magical nevertheless. 
What to take
Make sure to bring a sun hat and warm clothes. Don't forget about the wind, which can be fairly strong. So a wind-breaker won't be out of place — especially if you plan to visit the Cape of Good Hope, whose initial name was the Cape of Storms.

Day 1: a mountain with hamster-elephants and Napoleon's wine 
The morning cranks up the large machine of attractions. Artists appear on the seashore; the cafes make you freshly squeezed passion juice and fat eggs Benedict. Nothing much reminds you of the apartheid era — the policy of racial segregation practiced in South Africa for almost half a century. Perhaps only the tales of guides during special trips. 
The first thing that grabs your attention is the huge stone "table". Table Mountain, or "Tafelberg" in Afrikaans, in the symbol of Cape Town and its main place of strength. Many travelers come here in cloudy weather to walk among the clouds.
When the weather's clear, you can also greatly enjoy climbing up one of the footpaths (which will take about three hours) or traveling up in the rapid funicular (R190 one way). From the top, you can take in the view of the city with its hilly relief and shrubby vegetation called fynbos. While to the sides you can see Devil's Peak and Lion's Head, the peaks on the neighboring mountains.
Anyway, you can be sure to encounter real wild animals during your walk. For example, dassies (aka rock hyraxes), which are considered to be related to elephants, although they are quite small animals and look more like hamsters.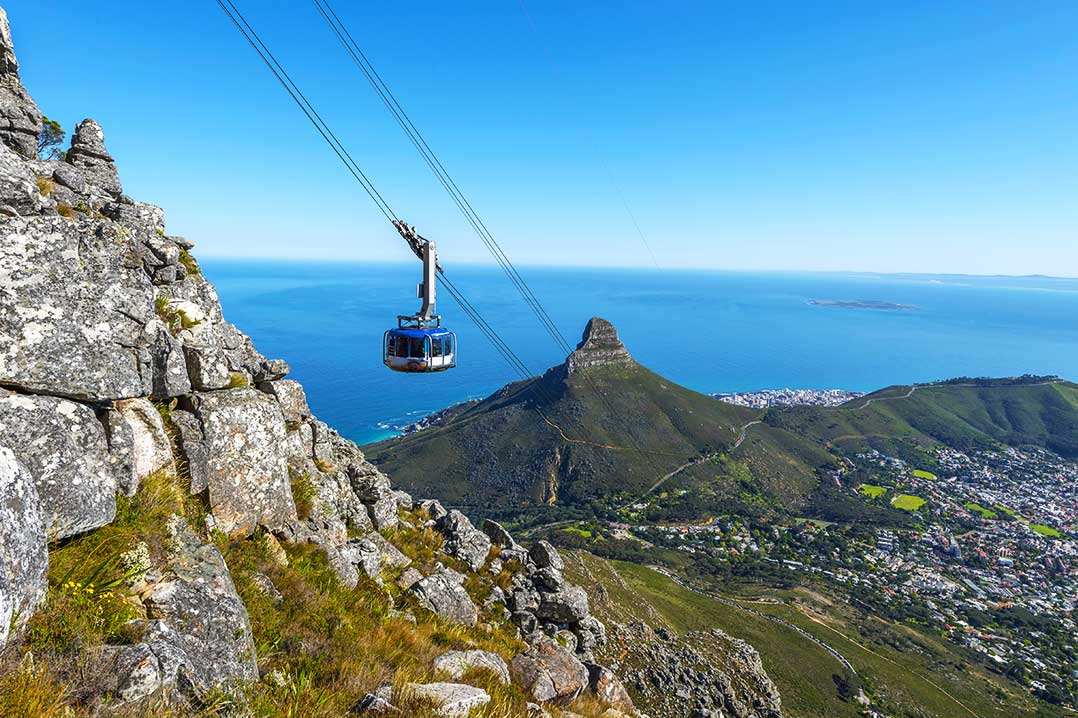 After descending Table Mountain, you can confidently head for Klein Constantia with its vineyards, each of which has its own way of pouring its soul into bottles. For example, the oldest wine farm in the region, Groot Constantia, will treat you to heavenly nectars drunk in the past by dukes and kings.
It was here that Muscat de Frontignan was planted in the 17th century, which marked the beginning of the local wine industry. The first governor of Cape Colony, Simon van der Stel, decided that these parts had potential and sent soil samples to Holland for analysis.
Then he was given this land plot as a present, and he planted vines that were not only theoretically propitious for this land but turned out to be so in practice: it went on to gain in strength and win global recognition.
Groot Constantia with its little ducks living in the ponds, is a great place to spend an hour or even the entire day. During a trip with wine tasting (R105), guests get to try five different wines and are told about the particulars of South African winemaking.
Or about the producers' famous clients, among whom was, for example, Napoleon — he ordered his favorite Vin de Constance to his home in St. Helena. This wine was lauded in the works of Charles Dickens, Jane Austen, and Charles Baudelaire.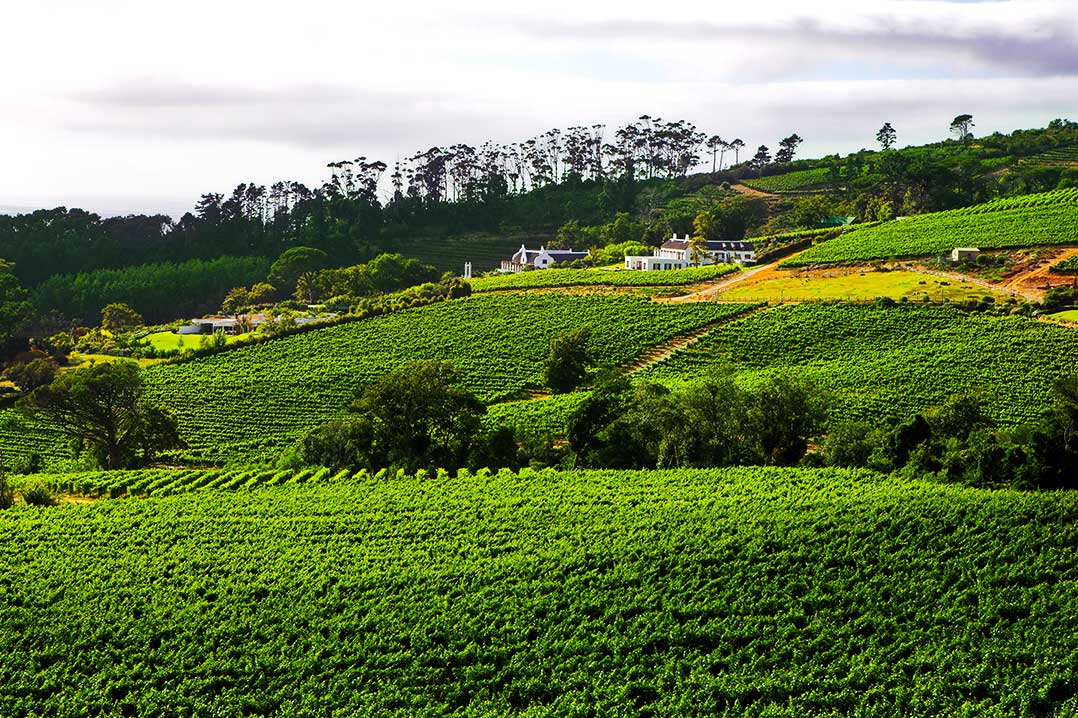 You can concentrate on one vineyard or visit several at once. For example, head for lunch with wine tasting at Fairview, where they bake dozens of sorts of bread, make delicious cheese and demonstrate an attraction called The Goat Tower. This is a sort of fitness center for goats, which run up and down spiral walkways. This farm is also ancient, with a rich history — they first produced wine here back in 1693.
The coastal region, which encompasses Constantia, Stellenbosch, Paarl, Swartland, and Franschhoek is a wine route that you can traverse with a guide. Or you can simply visit any of the vineyards on the way, put down a rug in the middle of the meadow and get your portion of pleasure.
It's best to buy wines at the vineyards, where you can taste them in advance. The best wine is considered to be Chablis from Chenin Blanc, as well as the sweet Muscat wines. A bottle will cost from R190. If it's red wine you're after, then check out Pinotage — this is a totally local sort. A decent choice would be Delheim Vera Cruz Pinotage 2015 (R 450) — a subtle, full-bodied wine with a deep berry taste and a hint of tobacco.
The usual place to eat dinner is the old port Victoria and Alfred Waterfront, where you can see pretty yachts and fashion boutiques with flashy new collections. In the past, old warehouses were located here, and old sea dogs would sit around with roll-up cigarettes, but now it's teaming with tourists.
This is one of the most famous boulevards of the African coast, where theatrical performances are held, big wheels turn, and seals enjoy themselves by the ancient ships. If you want something out of the ordinary, you can take a yacht trip on the sea to witness the pink and purple sunset right from the water (R320, look for the Sunset Cruise sign).
Day 2: a museum in a silo building and a helicopter without doors
We start the day with a trip to Zeitz MOCAA (entry costs R190) — the largest museum of contemporary African art in the world, located in a former silo built in the 1920s-30s.
The silo compartments have been converted into 80 exhibition halls, and The Silo Hotel is located on the top floors. You can order fancy cocktails or rooibos, a local type of tea, at the bar on the sixth floor. The view from the windows is so amazing that you might never forget it.
You also get fine views of the city from helicopter trips, which run regularly. These helicopters may have no doors or windows — you get belted in and swept over the cliffs and ocean. And not simply swept, but with a trick: once the pilot gets into the swing of things, he turns the engine off right above a grotto in the mountains, and this huge body with a propeller suddenly drops.
It's not just for fun, but it's part of the plan because this is called extreme riding, and we are flying on a US Marine helicopter. You can buy a ticket for such a trip at, for example, Huey Helicopter Flights (R4,250).
In order to get a feel of the country's history you need to visit Robben Island — where future president Nelson Mandela was incarcerated. You can visit his prison cell with a red bucket and brown blanket that kept him company for 18 years as part of an excursion.
Tickets are for sale in kiosks on the shore (R360). Apart from the cells of famous prisoners here, you can visit a number of churches, colonies of rabbits, pods of seals, and a huge number of birds — as though crying out for the right to freedom of each living entity on the planet. A trip to the island by ferry will take 20 minutes (included in the cost of the excursion).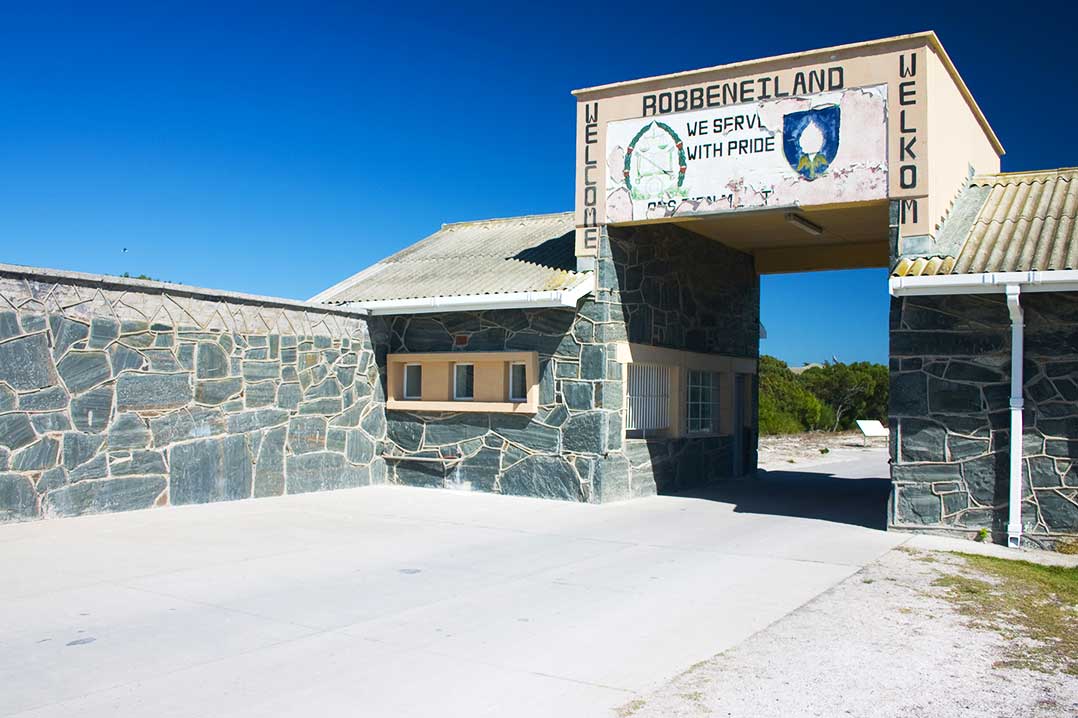 If, on the other hand, you prefer to walk than fly or take the boat, you can stroll along Long Street, which, as is evident from the name, doesn't occupy a short distance. Here you will find lots of antique shops, souvenir outlets, galleries, boutiques, and old Victorian houses with carved balconies and stucco.
One of the buildings at the top of the street houses Turkish baths, which, by the way, have been there for over 100 years (Long Street Baths & Turkish Steam Bath — R64 per hour).
From here, you can walk to the historical square Greenmarket, where protests were frequently held during apartheid, and today all sorts of tasty treats are for sale.
Here you can find zebra and kudu skins, sandals with beads and bracelets made from rhinoceros ivory, hats and headscarves, and other African artifacts, as it's just like a flea market. On the square, you'll find an interesting old building named Old Town House — the city's first museum of arts, opened in 1916. For just R10, you can view works by Rembrandt.
From Cape Town, you can bring home a mask, sculpture, drum, painting, wine, rooibos, souvenirs for home, or elephant feces under glass — the choice of authentic items is massive and quite original.
Next, you can head for Boulders Beach (entry costs R75), famous for the penguins that live there. You can get there by car in 40 minutes from the center of town, or take a bus as part of an excursion using your City Pass.
This is a film that you can watch for hours: penguins waddling along the paths, walking, sunbathing, messing around, or skidding along the sand. From time to time, you'll want to pick one up in your arms and take it home with you, but you will need to stop yourself. Penguins only seem to be shy. If you try to take their freedom away, they will bite you and send you to penguin anathema!
In terms of security and comfort, walking around Cape Town is unique for South Africa. People mostly get around by car in Johannesburg: the crime situation there is quite tense. Admittedly, in Cape Town too we don't advise visiting the slums at night — unless you are there on an ethnographic mission. The districts that are best avoided include Nyanga, Mitchells Plain, Tafelsig, Khayelitsha, Lotus River, and Grassy Park.
Day 3: The Perfume Garden and the Woolsack – Kipling's house
Many walking trips begin on the shore and end on the shore, too. But if you head further inland, you can find interesting things to do as well. The Castle of Good Hope (entry costs R50) on the corner of Buitenkant and Strand streets is an example of Dutch classicism of the 17th century and the oldest building in South Africa. This used to be a food warehouse of the Dutch East India Company, and then became a fortress and a place where sailors could relax between sailings. 
Further, you can get to St George's Cathedral at 5 Wale Street, which retains the energy of Desmond Tutu — Nobel Peace Prize winner, anti-apartheid activist, and South Africa's first black bishop and then first archbishop.
Over many years he spoke here about tolerance and equal rights for people irrespective of their racial and ethnic origin. It's worth reading the plaques with his sayings and viewing the cathedral's collection of stained glass windows. 
Not far from there, on Queen Victoria Street, the Company's Garden spreads out, planted by Jan van Riebeeck — the Dutchman who founded Cape Town. Here previously was a fruit and vegetable garden where produce was grown to supply the approaching ships. Now it's a historical park — small and quiet, where squirrels run about, and geese wander.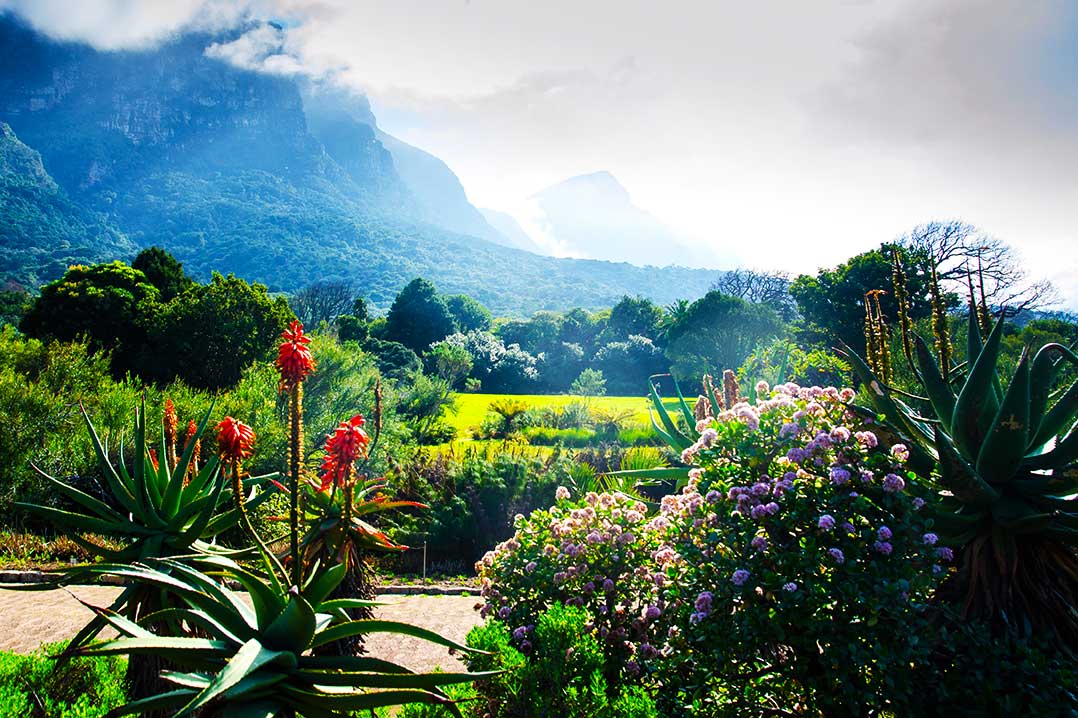 While if you want to reach a true Mecca of unique plants, then head for Kirstenbosch Gardens (entry costs R70), located on Rhodes Drive in Newlands. You can get there by car or on a bus during an excursion using your Сity Pass.
Founded in 1913, this botanical garden will strike you with its internal harmony and grace. It has everything: a perfume garden, a garden where medicinal plants are grown, amphitheaters, and the endless wild rage of flowering trees. They recently built a hanging bridge here, from which you get a wonderful view.
On the road back to the center, you can turn into Woolsack Drive, to view the house known as the Woolsack. Essentially, a woolsack is a cushion filled with wool on which the Lord Chancellor sits in the British House of Lords. It's believed that a family bearing this surname once lived here.
This mansion was built to order for the British imperial politician and businessman Cecil Rhodes, who had a penchant for art and wished to build a college for artists and poets. The Kipling family was the first to live in it, and then other writers took up residence. Today it's student digs for the University of Cape Town. 
Day 4: chacma baboons aren't big fans of selfies
The next day, you can take a trip to Cape of Good Hope (entry costs R740), where it has been easier for many boats to crash than to anchor. This rocky cape destroyed the hopes of navigators to find India for many years, smashing their ships to smithereens.
Then, though, Vasco da Gama successfully navigated the intricacies of the local landscape and the fierce winds. The cape was given its name so that it would let travelers pass, and was never renamed.
Apart from the legendary ghost of the Flying Dutchman and thousands of mentions of the fact that it's not the southern-most part of Africa (that accolade belongs to Cape Agulhas), we will find a massive nature reserve.
Crammed into the thicket, you will find thousands of species of plants — twice as many as are found in the whole of Britain. It includes gladioluses, daisies, and the most fancy-looking succulent plants, as well as the evergreen silver tree and many species of protea. This flower has even become the symbol of the country.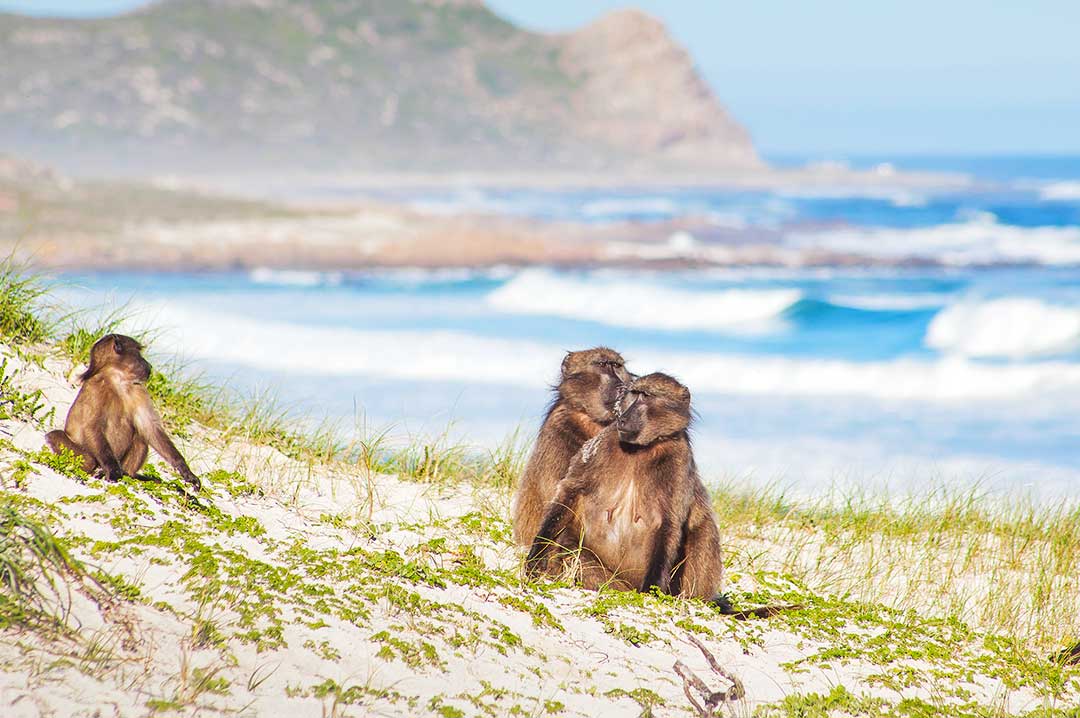 Moreover, the local kings live here — chacma baboons. From time to time they might emerge and appear on parked cars, but it's not advisable to try, and stroke these cuddly beasts — these fluffy little animals are highly aggressive.
Getting to Cape Agulhas, you can stand there for some time in silence and delight. Before you, an endless ocean opens up, with the Antarctic somewhere in the distance and, right below you, the meeting point of two oceans — the Indian and Atlantic. A happy and touching moment.
Where to eat? 
Now we'll tell you about the food. In Cape Town, you can try crocodile or lion stake, as well as shark or ostrich fillet, but that's an exotic choice for connoisseurs. Local dishes that are really worth trying include oysters (R195 for half a dozen), bobotie, which is spiced minced meat baked with an egg-based topping (R75) or snoek pâte (snoek is a local species of fish) with grilled rolls known as roosterkoeks (R69).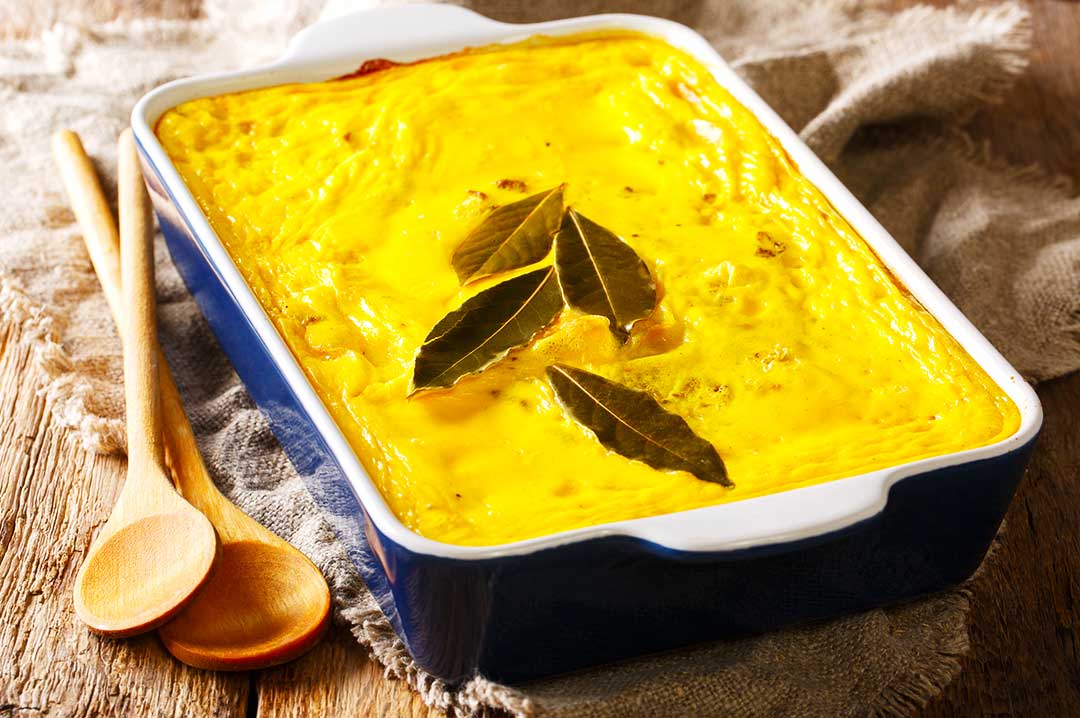 The city has a great place for extrovert foodies — Reverie Social Table (R820 for a five-course meal and wine) at 226A Lower Main Road. Guests are seated at a common table with people from different corners of the world, and then the dishes are served.
Chef patron Julia bakes the bread herself, makes her own cheese soufflé, and creates other wonderful dishes. This aesthetic and gastronomic pleasure is complemented by a nice conversation with neighbors — so that's how to spend your evening, which more closely resembles a dinner party. 
If it's music you want, it's worth spending time in the pleasant fish specialist Pigalle Restaurant at 57A Somerset Road, where spontaneous dancing breaks out in the evening.
You can order a large plate of seafood, including shrimps and langoustines (R490) and some good white wine — for example, Thelema Stellenbosch 2015 (R240 per glass). And then watch the establishment gradually fill with the joy of life and the rhythmic movements of the dancing public.
Also, make sure you don't miss Alexander Bar, Café & Theatre at 76 Strand Street with its velvet armchairs, piano, type-writers, lamps, and old phones on the tables that are still fully working.
Any person from a neighboring table might call you, just for a chat. Hello, what is your name? Just like in films! Don't be afraid and don't hang up on them — dive into this experiment.
---
Cape Town is windy, joyful and alive. It's not that part of Africa that you may want to avoid. It's a calm, safe, and creative Africa that paints pictures plays on the saxophone and wears bright ribbons in its hair.
It's the Africa of freedom and pleasure, who knows how to please the traveler without losing its domestic magnetism. Throughout the centuries, Cape Town has attracted adventurers to this corner of the Earth so that they can breathe the ocean air, raise their arms and shout at the top of their voice: 'Freedom!'