Before you travel
You really must make sure you check the airline's conditions of carriage before traveling as many have specific rules for carrying drones.  
Drones with integrated batteries can be carried in hand luggage or checked in, but additional power sources can only be taken in hand luggage. It's vital you check the rules surrounding the carriage of lithium polymer batteries as many airlines limit their maximum power capacity to 100Wh. They are very strict about this as there have been a number of unpleasant incidents involving these devices generating smoke and/or catching fire. 
Next is to check whether the use of drones is allowed in the country or countries you are visiting. The best way to do this is to check the civil aviation authority website of the country you are traveling to. Some countries, like Cuba, categorically forbid the import and use of drones under any circumstances, others require you to get a special permit, like Thailand.
Where are drones permitted?
If traveling with a drone is your thing, then you should add this site to your favorites. Red, yellow and green flags will give a quick overview of how strict each country or state is regarding the use of drones, and if you click on the entry, you can find out more detailed information.
Drone checklist
Follow these simple guidelines to make sure you don't fall foul of the rules and end up with a hefty fine – or worse.  
Check the weather forecast. Don't use your drone when it's raining or during thunderstorms and be sure to keep an eye on the air temperature since different drones have different tolerance ranges. Capacity and operating time are reduced in cold temperatures and use during particularly high temperatures can lead to irreversible damage.  

Do not use in fog or when it's dark.

Do not allow the drone to fly higher than 120m as this is the altitude limit for non-commercial photography in most countries.

Keep your drone in your direct line of sight.

Don't fly your drone close to large groups of people so as to avoid injuring them if you lose control.

Never fly your drone close to animals; you'll frighten them and probably end up losing the drone.

Do not fly your drone close to airports.

Do not fly your drone close to electricity cables.

Keep a close eye out for local signage indicating that drones are not allowed. Flying objects close to popular attractions or key infrastructure is often prohibited. Breaking such rules can result in fines, confiscation, or even the shooting down of the drone. 

Try not to fly your drone close to private property, strategically important establishments, or in built-up urban areas. 

Be sure to obtain the necessary permits where they are required.
Rules for the use of drones in selected countries
In Bulgaria, the Dominican Republic and in the Maldives, you can use your drone anywhere without prior authorization as long as you avoid No-Fly Zones (NFZ). These are normally clearly indicated. 
UAE. Drones need to be registered with the Civil Aviation Authority. You can apply via the website or the app. Drones must remain within your direct line of sight and may not exceed an altitude of more than 120m. Drones may only be flown by day and away from airports, helicopter landing pads and at a distance of 5km or more from piloted aircraft. You must keep a minimum distance of 50m from other people and terrestrial transport.                                    
Australia. Drones weighing in excess of 2kg must be registered with the Civil Aviation Safety Authority. You may only fly the drone during daylight hours, within your direct line of sight and at the height of no more than 120m. You must maintain a minimum distance of 30m from other people, and you may not fly your drone above crowded areas, which include beaches, sports venues, parks, and recreation grounds. It is forbidden to fly your drone within three nautical miles (5.5km) of airport control towers. 
Greece. Make sure your drone is never more than 50m away from you in any direction. To exceed the 50m limitation, you must fill in a special form which needs to be forwarded to the mailbox [email protected]. You must not fly your drone in crowded places, within 8km of an airport or runway. The pilot (you) is responsible for any damage caused by the drone.
Estonia. You need special authorization to fly your drone in controlled airspace. No permission is required for drone flights outside such designated area.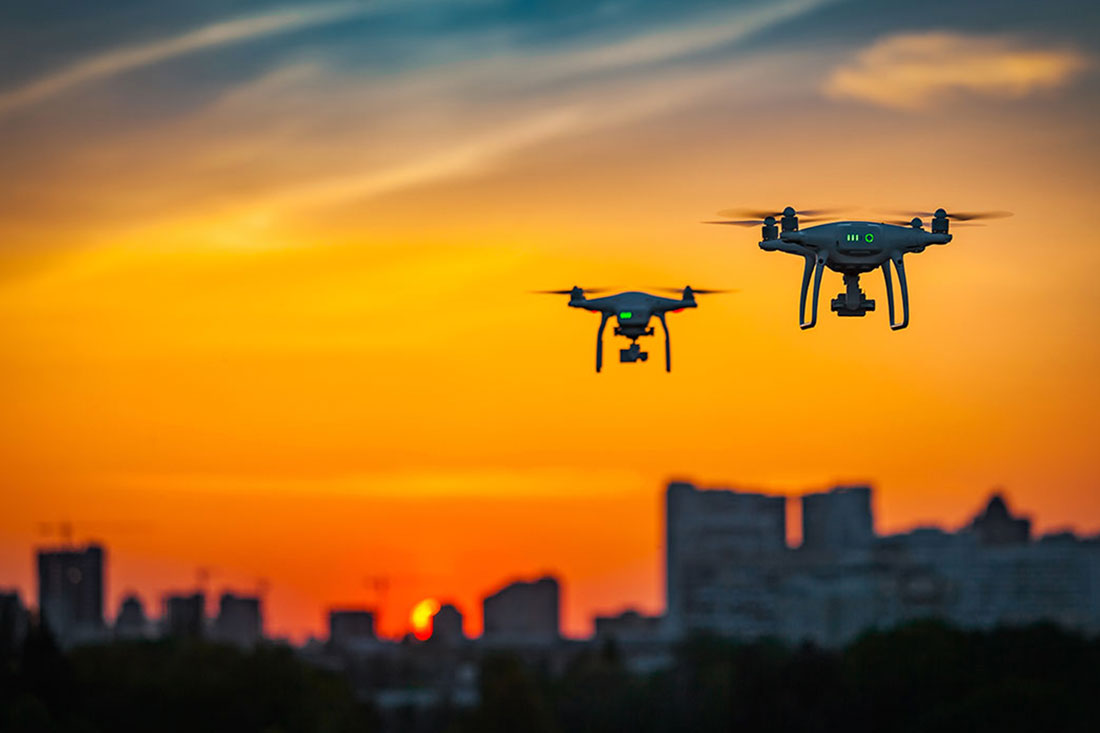 USA. All drones must be registered on the Federal Aviation Adminitration (FAA) website and there is a charge of $5.00 and the authorization remains valid for three years. Drones must not come within 5 miles of airports and must always give way to piloted aircraft. It is forbidden to fly drones over military installations, groups of people, sports stadia, and natural disaster zones. It is also forbidden to take panoramic shots of National Parks (such as Yellowstone, the Grand Canyon, Yosemite, and others). These rules are clearly displayed everywhere, and if you break them, you will suffer twice in that your drone will be confiscated, and you will be fined. There is an app for drone pilots called B4UFLY, which will help you understand whether or not you are in a restricted zone (iOS, Android).
Italy. Flying drones is only allowed in Italy as long as you follow the strict rules set by the Italian Civil Aviation Authority (ENAC). You may not fly your drone higher than 70m, you must always keep your drone within direct line of sight, you are not to fly your drone above inhabited areas not within 5 miles of an airport. Do not fly your drone at night and stay away from people, private property, and popular tourist attractions. For the avoidance of doubt, the Vatican is a total no-fly zone.
Thailand. A valid permit from the Civil Aviation Authority of Thailand is required to bring drones into the country. The drone then has t be registered with the police for which you will need your passport, a photograph of the drone and to fill in 8 (!) forms. There is a fine of 100,000 baht for flying unauthorized drones and a potential prison term of up to 5 years. Even the most experienced drone pilots warn against using drones in Thailand.    
Cuba. Zones are forbidden here, and that's the end of it. The authorities will actively look for them on arrival at the airport and confiscate them if found. You can get them back when you leave the country, but they will charge €1.25 per day to look after them after the first three days, which are free of charge.  
It is also forbidden to take drones into Vietnam, Sri Lanka, India, Azerbaijan, Israel, Qatar, Belarus, Slovakia, Serbia, Kosovo, Monaco, Turkey, Morocco, Tunisia, Egypt, Kenya, Venezuela, Columbia, Brazil and some other countries.
---
Different countries have different regulations concerning the use of drones. You must familiarize yourself with local laws before you travel and complete the necessary formalities. If you play by the rules, you will be fine, so you can feel free to reach for the sky! Take some fantastic pictures and may your drone always enjoy happy landings!