Don't walk on the cycle lanes
Amsterdam is a city of cyclists. You will find dedicated cycle tracks, traffic lights, and parking areas for bikes absolutely everywhere. Every other visitor to the city posts photos of themselves on social media posing on a bridge thick with bikes leaning up against the railings through which you can see the sparkling water of the Amsterdam canals.
Cycle lanes cover the whole city – even the whole country. If you want to get from Amsterdam to the nearby city of Haarlem, then simply download a Google cycle map and keep to the cycle lanes. These maps work offline so you won't get lost. According to Google maps, it's only 20.5km from Amsterdam to Haarlem, which shouldn't take you more than an hour.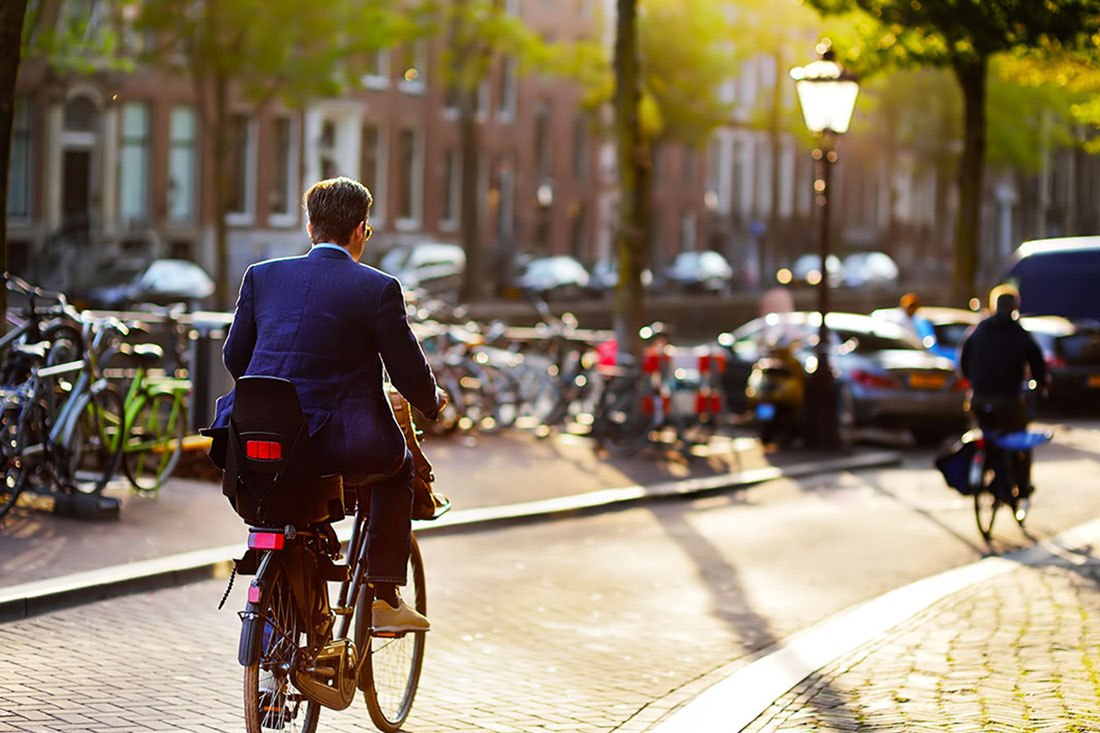 But there is another side to this endorphin-filled obsession with cycling and that is to remember that walking on cycle lanes is not allowed. The inhabitants of Amsterdam strictly observe this rule, and it also applies to visitors to the city. There is a constant sound of bicycle bells in this city, but not everyone pays attention to them.
If you stand gaping on a cycle path and cause a cyclist to have an accident, you're responsible, and this is as good a reason as any to be very careful on Amsterdam's streets – you will also come across tandems and whole crowds of bikes at once. 
Take photos of the girls in the windows
In April 2018, the Amsterdam city authorities tightened up the rules about how to behave in the Red-Light District. Firstly, it was forbidden to take more than 20 people at once on a guided tour of the area. Secondly, visitors to the area have to behave properly – stand with your back to the windows, don't stare at the girls for too long, and do not take photographs. Thirdly, all tours have to finish by 11pm. The guides are responsible for making sure these rules are followed.
Individual visitors are also expected to behave respectfully. Do not shout, do not stare, no photography. If you try to take a photo with no-one noticing, think again; you are likely to find yourself set upon by both the girls and their minders – and you are almost certain to lose your camera.
These rules weren't made up just for the fun of it. They are designed to protect the privacy of the working girls in the Red-Light District. Many of them hide their profession from their nearest and dearest and don't want their photos plastered all over social media.
From 2020, no more excursions around the Red-Light District will be permitted. 
Use a smartphone whilst riding a bike
From 1 July 2019, the Amsterdam authorities brought in fines for cyclists who use mobile devices without hands-free equipment. The fine is €95, and if you choose to ride a bike when drunk, the fine is €100.
The most bicycle-friendly city in the world
The Netherlands is the No. 1 country in the world for bicycles. There are almost 23 million bicycles for 17 million inhabitants. Over short distances, the bicycle is indisputably the best way to get around compared to other forms of public transport or cars. 25% of all journeys take place using a bicycle, and there are 35,000km of cycle routes in the country.
Expect to find pickled herring in a normal restaurant
There is no point trying to order the famous Dutch treat of pickled herring with gherkins in cafés or restaurants in Amsterdam, as they are sold in special fish outlets and in little kiosks. They come on a paper plate, and you eat them standing up at a high table or simply on the move. This is a good value snack at around €2-€4 per portion.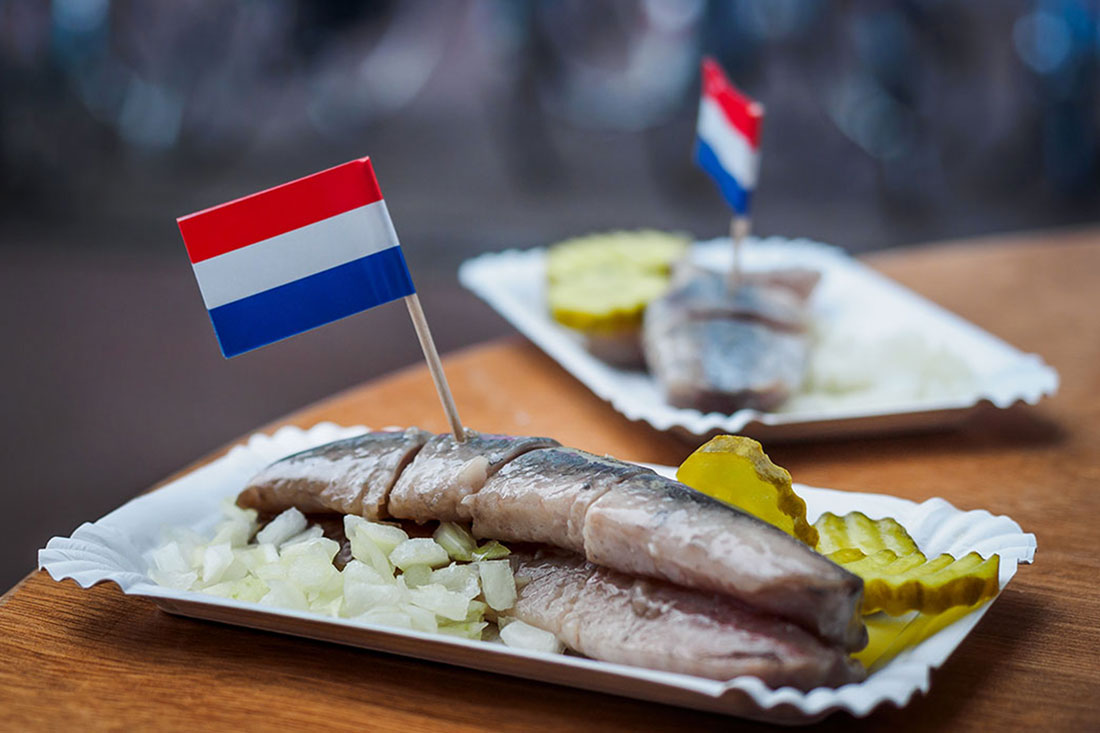 Pickled herring shops in central Amsterdam
Herring is served in two ways. Firstly, cut into slices with pickled gherkins and raw onion. The second way is in a crusty bread roll. The locals call this a "herring sandwich" – "broodje haring" in Dutch. 
Drink alcohol in the Red-Light District
It is forbidden to consume alcohol or narcotics in the Red-Light District. Many locals and local guides find this ruling absurd since people participating in a tour of the area may well have been drinking beforehand and anyway there are bars in the area. Nevertheless, tour guides can be fined if their charges seem drunk, shout, or make a noise. If these rules are broken, independent guides are fined €190 and guides working for travel companies are fined €950. These rules have been in force since April 2018.
A few words about the Red-Light District
De Wallen is the largest and best-known red-light area in Amsterdam. It is a historic district of the city, and apart from the girls in windows, it is full of architecture dating back to the 14th century and other places of interest such as sex shops, the Casa Rosso sex theatre, the Marijuana Museum, the Erotic Museum and even a Museum of Prostitution.
Be afraid of the dark sweets
In any Amsterdam supermarket, you will find, tucked away amongst the jelly mice, cars and crocodiles, packets of shiny black wax-like sweets. This is liquorice, otherwise known as "black Dutch gold".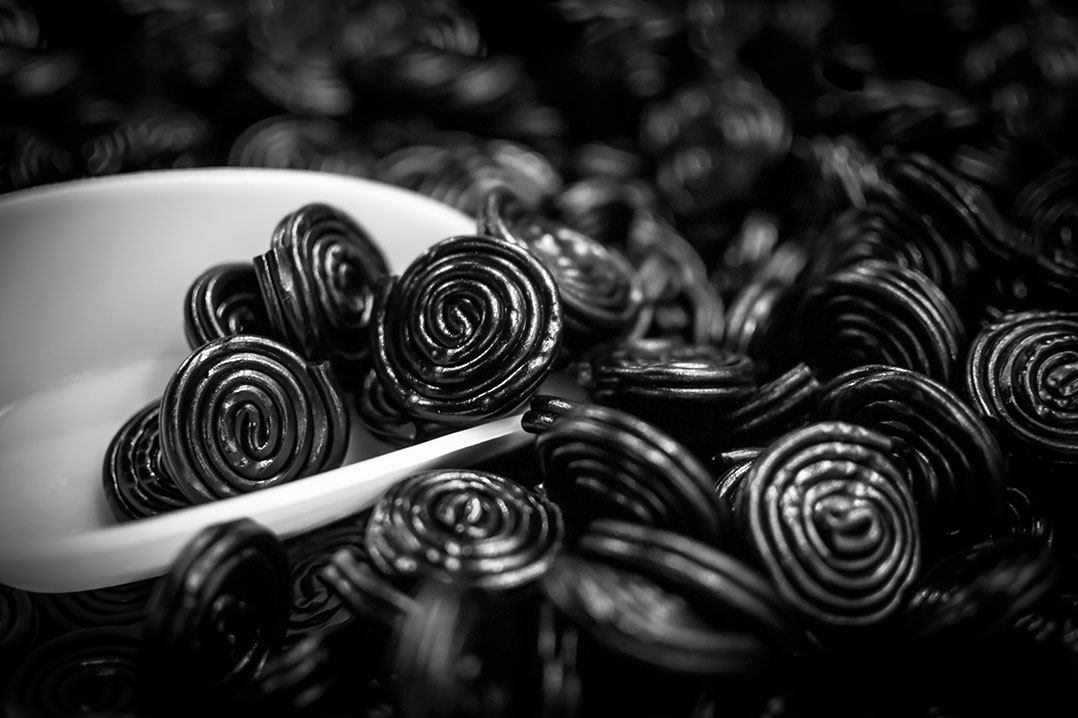 If you are not used to them, these sweets can seem inedible. They can be sweet, salty, or even bitter. If you're new to them, try the sweet version first – in the worst case they can remind you of the cough mixture you used to take as a child. The salty and bitter versions aren't to everyone's taste, so try them with caution!
According to official statistics, local people eat several kilograms per year of these shiny black sweets, which apparently have anti-bacterial qualities. They are also said to calm your nerves – time to stock up. 
You can find out more about the range of liquorice sweets on offer by consulting the website of local supermarket chain Albert Heijn. They sell the sweet, salty, and bitter versions as well as other flavors.
Go for a walk without a jumper and raincoat
Amsterdam is a windy place so in spring, autumn and winter it's best to take warm things like a jumper, hat, and scarf with you when you go outside for a walk. The weather forecast doesn't always give clear indications of outside temperatures, which can rise or fall quickly by 5-10 degrees.
It also rains a lot in Amsterdam, and the weather can change quickly and often during the day. Mornings can be sunny and bright, and by lunchtime, it's pouring with rain. The best way to protect yourself from these sudden downpours is to keep a raincoat in your rucksack.
Even though many hotels and shops put out baskets of umbrellas by their entrances for people to use when it rains, we would still recommend that you use a raincoat. The wind can be strong in Amsterdam, and umbrellas can turn themselves inside out or even break. A raincoat will dry quickly after a shower and is then ready to use again.
Eat in restaurants
If your budget runs to it, you can eat lunch and dinner in restaurants every day. But a more attractive (and cheaper!) option is to enjoy so-called street food. Firstly, street food in Amsterdam is quite diverse and, secondly, some parts of the national cuisine can only be experienced when bought from street stalls or little cafés. This is the case with herring, which we have already written about, but there are plenty of other interesting foods available from street vendors.
Must-try street foods
Dutch pancakes, or Pannenkoeken

Spicy meatballs, or Bitterballen

Fried fillets of white fish in breadcrumbs, or Kibbeling

Dutch fries

Dutch waffles with syrup, or Stroopwaffels
Meatballs are made from minced veal or beef with added spices and covered in batter. This delicacy can be bought at the Foodhallen food market. Take a walk around the market and make for De Ballenbar, where a portion of 3 meatballs will cost €3.25, or 5 meatballs for €6.75 and 10 meatballs for €13.
The fried fish is usually served with mayonnaise and marinated cucumbers. You can buy it on fish stalls where you get the herring. You can also get it in cafés like The Seafood Bar, where a portion of breaded fish will cost €3.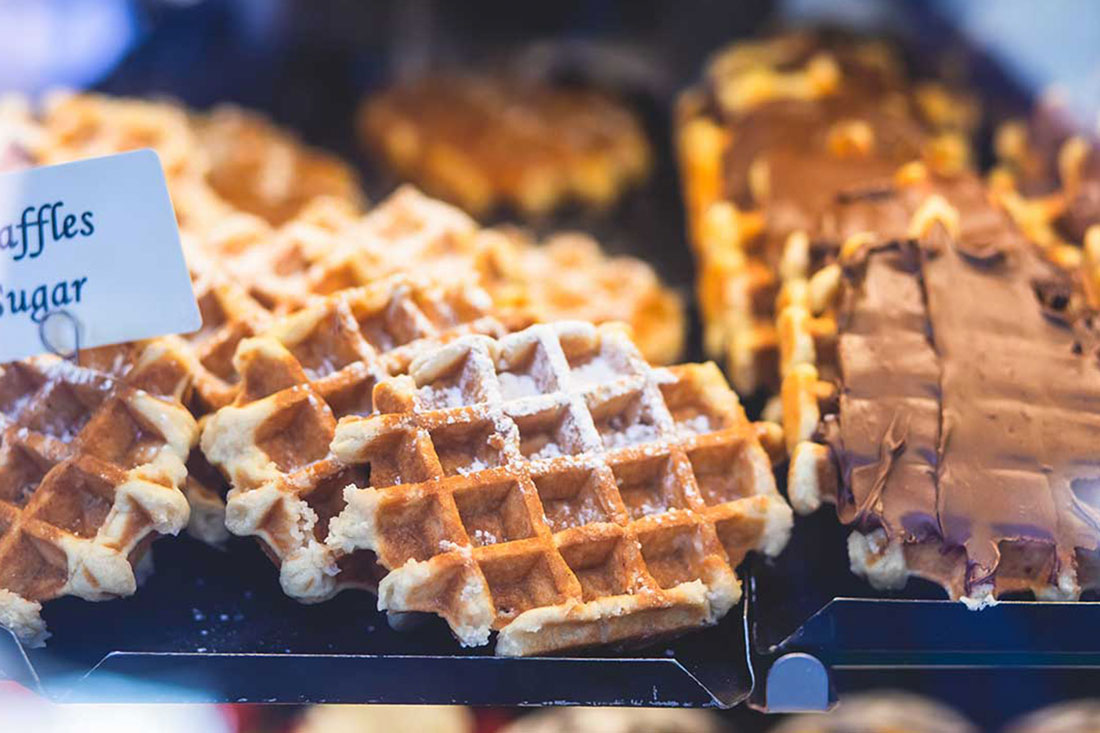 Dutch fries are served with a big dollop of mayonnaise, but you can ask for ketchup, too. They are sold everywhere on street stalls, like Friet Point, where a portion costs €3.
Dutch pancakes are made from buckwheat flour and are served with all sorts of toppings, from chocolate to cheese. Try a selection at The Pancake Bakery, where the average cost of a pancake with stuffing is around €15 – but it is enough to be considered a meal in itself.
Dutch waffles are a popular street dessert consisting of two circular waffles stuck together with syrup and cinnamon. You can get them at the Albert Cuyp Market. The Dutch waffle stands here are called Goudse Stroopwafels and waffles cost €1.50-€2.50 each.
---
Amsterdam is a city of free morals, but this does not mean that anything goes. The Dutch follow their own rules quite strictly, and they will even issue fines long after the infractions took place. So as not to spoil your holiday, read our guide to Amsterdam, keep to the rules we outlined above, and you will only have lovely memories of your trip.