Getting there
The best way to get there is by rail. You can get the Eurostar to Brussels and change there (the Eurostar ticket is valid to any station in Belgium), take a train from Paris and change in Brussels or fly to Brussels and take the train. The train journey from Brussels to Ghent (Gand-Saint-Pierre / Gent-Sint-Pieters) takes about an hour, and if you need to buy a ticket, it costs €15.60 each way with a 50% discount at weekends and official holidays.
The best time to visit
Ghent is the kind of place you can visit at any time of the year; in spring, the town blossoms into a luxuriant garden. In June, the traditional Ghent festival takes place, a folk celebration in the best Flemish tradition, including concerts, appearances by creative artists and traditional local food and drink. In summer there are many tourists as most of those studying in Ghent have gone home for the holidays. 
In autumn, the city is bathed in pretty colors – and the noisy students make their return, on warmer days filling the parks, squares, and gardens. Ghent in December has a fairytale atmosphere thanks to its Christmas market, but remember that this is a city on water, meaning it can get windy and chilly so make sure you pack warm things.
Cost
Ghent is not the cheapest city; a meal for one in a modest restaurant will come in at around €15. If you plan to stay overnight, a room in a four-star hotel will set you back about €100. It's worth considering hostels (remember, Ghent is a student city) such as De Draecke Hostel or the Hostel Uppelink.
Getting around
The simplest option is to walk. All the main attractions are concentrated into one quite compact area. The modern tram system is there for those who want to save their energy – and they run on time; the cheapest ticket option is to get a €30 СityCard Gent, which is valid for 2 days. If you don't have one of these magic cards, you can download the app and buy bus and tram tickets using your smartphone for €1.80 per ticket. The ticket is valid for 1 hour, and you can make unlimited journeys at that time. Another option is to buy the ticket from the driver or from a ticket machine, which will cost €3, but be aware that drivers generally do not accept banknotes of a higher value than €10.  
This magic card not only gives you free unlimited travel on public transport but also gives you free entrance into Ghent's main museums. On top of that, you can use it to borrow a bike for free and ride around the city, which is well equipped for such journeys. 
What to do
Take a canal trip. As well as by bike, you can get around Ghent by boat and canoe; the views from the water are spectacular. Boat trips are free with the CityCard Ghent, but if you need to pay, it will cost around €7. If you're feeling energetic, you might want to consider hiring a canoe with the added fitness bonus! You can do this in two ways: either via the Uppelink hostel (€16 for three hours for a one-person canoe, or €13 per person for a double canoe for three hours) or via the kajakgent.be site (€10 per person in a two-person canoe for 2.5 hours). You need to order in advance in both cases.
The Ghent Altarpiece. The Ghent Altarpiece is a masterpiece of world art. The commentary will tell you that work on it was begun by Huybrecht van Eyck, "greater than anyone", and was finished by his brother Jan, his "second in art". The large and complex piece portrays the Adoration of the Lamb of God from the Revelation of John the Divine according to which the prophets, forefathers, apostles, martyrs, and saints gather before the altar upon which stands the Lamb, which symbolizes Christ. The Altar can normally be seen in the chapel of Sint-Baafskathedraal (St Bavo's Cathedral). Entrance costs €4, but at the moment part of the altarpiece is being restored at the Fine Arts Museum in Ghent.
Getting to the Fine Arts Museum. If you take tram no. 1 from the center of town, you will come to the Fine Arts Museum (Museum voor Schone Kunsten) after about 15 minutes. This is where you can see how the restoration of the Altarpiece of Ghent is progressing via a glass screen, allowing you to see into the workshop. Apart from this, the museum houses an impressive collection of paintings covering the period from the Middle Ages to the 20th century. For example, you can see, in all its colorful glory, the famous piece by Hieronymus Bosch, St Jerome at Prayer. Entrance costs €8 without the CityCard Ghent.
Also, try to take a look in the S.M.A.K. (Stedelijk Museum voor Actuele Kunst – the Municipal Museum of Contemporary Art) which is very close to the Museum of Fine Arts. This is a must-visit venue if you are interested in modern art and if you want to know what is going on in the world of contemporary culture in Ghent. If you like this sort of thing, you can spend hours here, with many impressive exhibits such as a piece of concrete wall with "Ich" (I, in German) on one side and "Du" (you in German) on the other, or the enormous room whose floor is covered in coffee grounds – can you imagine what that smells like? If you only have a day to spare, you will only have time for a quick visit; entrance costs €12, but if you are under 25, you're in luck as you'll get to see all this modern art for a mere €2. 
Pay a visit to the Castle of the Counts (Gravensteen). This is the symbol of Ghent, and it would be unforgivable not to pay a visit. For €10, you will be transported back to medieval times and get to know how it felt to be a brave knight or fair damsel in a flowing robe. Take a stroll through the magisterial halls with their grey turrets, walk around the massive walls of the fortress, and take a good look at the weapons collection. There is a fantastic view over Ghent from the highest point of the castle. A jaunty audioguide in English (included in the entrance fee) will add to the enjoyment of your visit.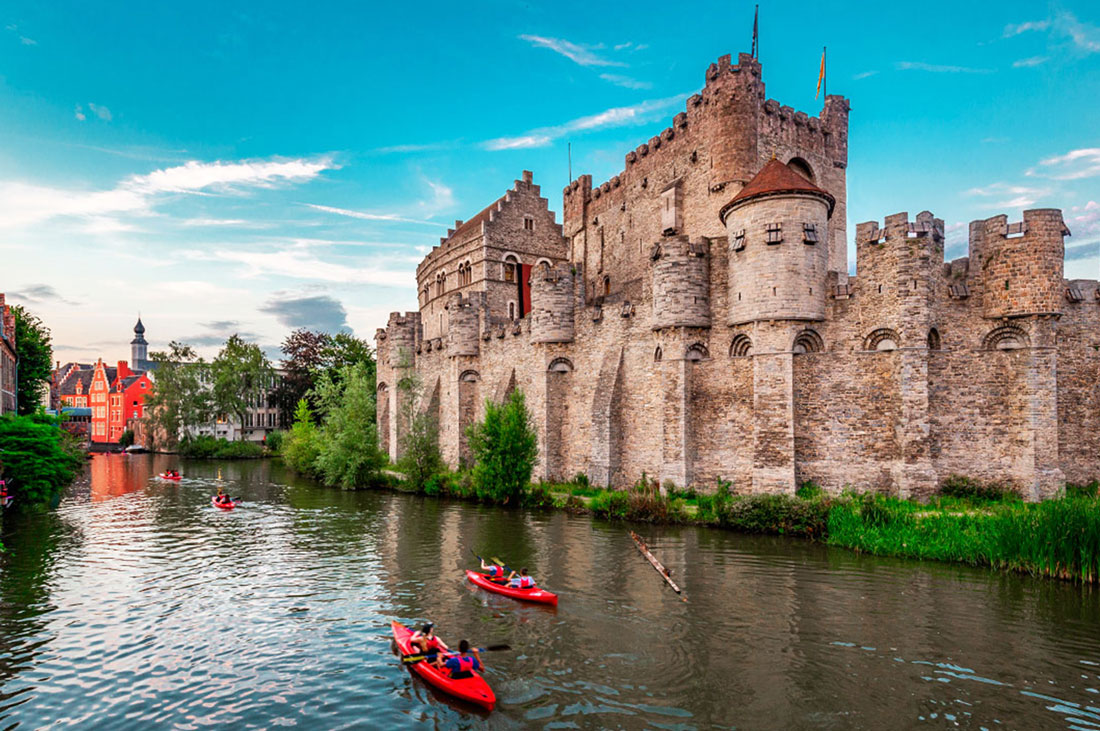 Go up to the top of the Belfry of Ghent (Het Belfort van Gent). It's not an easy climb, and it has a dragon on top, the mythical creature encircling its spire, performing the function of a weathervane. Don't worry, though; you won't have to rescue any princesses. The dragon is not your foe and is loved by the city's inhabitants. On very special occasions, the dragon breathes fire; this year you could have witnessed this fantastic spectacle on 17th March on the occasion of the 175th anniversary of the Ghent Festival. It's the first time this has happened in 199 years and is a very important event for the whole city.   
Gentenaars say that the dragon will now breathe flames annually but no official has yet confirmed this. Don't worry if you missed this fire-breathing event – just climb the bell tower anyway (€8) and get a bird's eye view over Ghent. You can even visit the bell museum in the tower.
Souvenirs. Finally, we get to the shopping bit! Ghent is great for shopping and has something for all pockets. There are a lot of small clothes and ornament shops from local designers. Decorative rings start from €10. Take a walk up Jan Breydelstraat. This is where you'll almost certainly find what you need. In terms of presents for friends and relatives, you can try some traditional treats like cuberdons or "little Ghent noses," hard little sweets with a soft center. You could also try Ghent snowballs whose recipe was created in 1913 for the World's Fair which took place in Ghent.      
Drink beer and eat tasty food. Gentenaars are proud of their local beer; the Gruut Brewery (Gentse Gruut Brouwerij) is where they make different sorts of beer based on mediaeval recipes with the addition of spices. You can try the beer in the café at the brewery as well as in the bars and restaurants throughout the city, such as the Brasserie Pakhuis which is located away from the hustle and bustle of the city in a pleasant stone building. A standard lager costs from €2 for 0.25l and more exotic types of beer cost around €3-€4 for 0.33l.     
Lovers of good food will also be well served in Ghent. You should try "Waterzooi," the local chicken soup and, of course, Belgian waffles – essential! For a tasty lunch you can pop into the relaxed café Meme Gusta where you'll pay around €43 for food and drink and in the evening go for dinner at the Naturell restaurant for a seasonal taster menu. A set taster menu of six different dishes without wine at the weekends will cost €83. During the week, they offer five dishes for €75.
An evening walk around the city. Ghent is very attractive in the yellowish light of the streetlamps at dusk. Life slows down and almost comes to a standstill. As darkness falls, the city takes on a mysterious air, medieval, almost like something from a novel. It almost makes you want to stay out until the first rays of the sun spread their pink hue over the waters of the canals. 
If you are lucky with the weather, you can spend some time sitting on the canal banks, not in the restaurants like the other tourists, but right down on edge, with your feet hanging over the canal – like a local (don't worry, the water is quite a way down). Watch as the small boats, canoes, and other craft sail past. Wave at the jolly townspeople as they celebrate a birthday on the water or the happy tourists who are trying with all their might to balance their canoe. Sitting by the canal like this would not be complete without a bottle of rosé and some snacks.
---
Ghent is a place which brings together modern life with medieval charm, rambunctious fun, and little hidden corners of peace. The city really bears little resemblance to the photos you see in the tourist brochures; it is a lively, contemporary place, and you will find it difficult not to fall in love with it. And when you fall in love with a place, you'll want to come straight back.