Why go to Guatemala?
All I thought I knew about Guatemala before I went there was that there are volcanoes and Mayan pyramids, they speak Spanish and that Guatemala City (also referred to as simply Guatemala) is not safe to walk around at night. In the end, it turned out that visiting Guatemala is like going to four different countries all at once.
This tiny country has two coastlines, mountains, lakes, waterfalls, jungles, and historic towns – and 3 of its 37 volcanoes are active. Volcán Tajumulco, the highest volcano in South America (4,220m), is located here, and you can visit it. The trip costs from $61/€55, but it's a tough trek and takes two full days.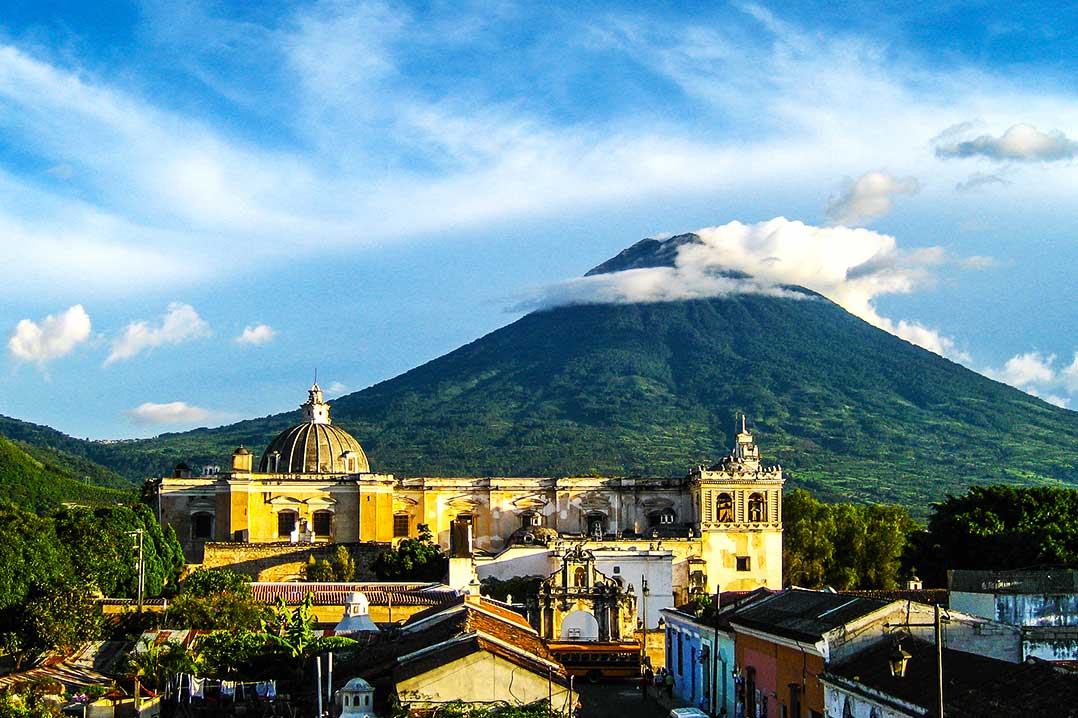 The Guatemalans themselves are really open and friendly and keen to share their culture with you. Around 40% of the population is native Mayan, a civilization which survived for more than 4,000 years and whose vestiges can still be seen in the sometimes sizeable ruined Mayan cities which you can visit. Tikal Park is Guatemala's main Mayan archaeological site, the former hub of the entire civilization. Unlike Chichen Itza in Mexico, this site is not hyped up or crowded.
Lovers of architecture will be impressed by the colonial buildings in Guatemala City, and what better place to get the full experience than in la Antigua, with its preserved architecture dating back to the Spanish Empire. The little villages dotted around Lake Atitlan will give you an idea of rural life, places such as the hippy town of San Marcos or the typically Mayan Santa Cruz. The local cuisine will open up new gastronomic horizons.
What's more, is that Guatemalans speak regular Spanish – it's really easy to understand them, and because of this, there are a lot of very competitively priced language schools in Guatemala. Week-long courses give you 4-6 hours of study per day, living with a local family who will also feed you three meals a day. Such courses cost $150-200 (€135-180), and the most popular schools are Cooperative School, ICA, and Antigüeña Spanish Academy.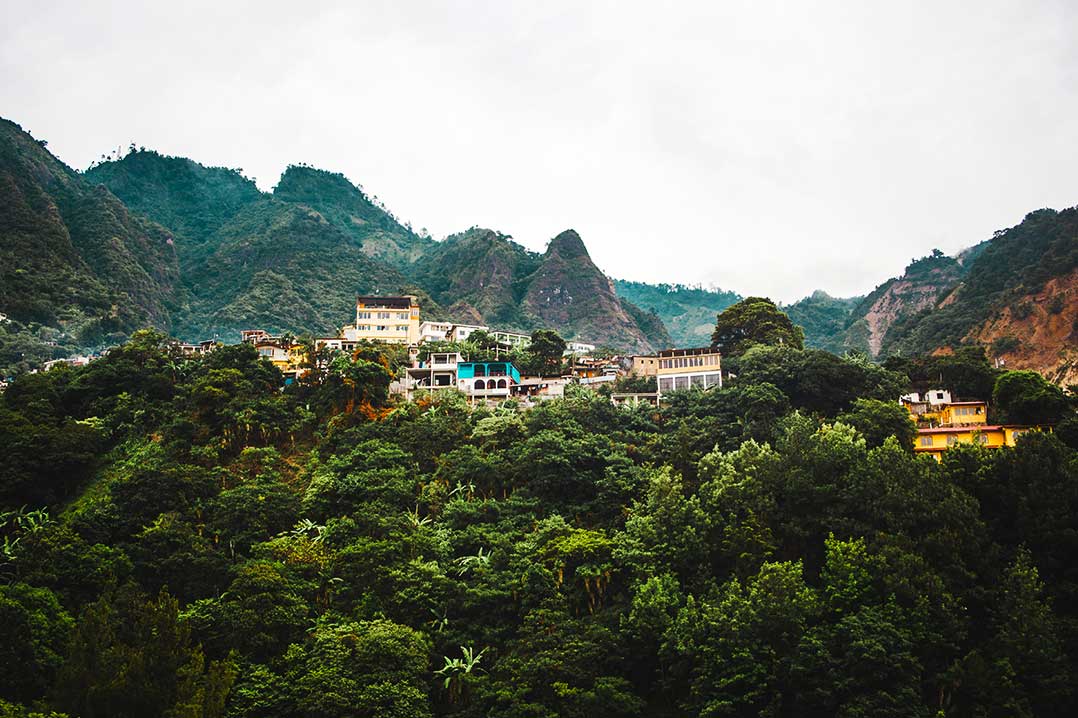 Visas
You can stay in Guatemala up to 90 days visa-free as long as you have six months validity left on your passport after your stay and you have an onward or return ticket. You should look out for a couple of things. On arrival, you might be asked by officials how long you are planning to stay, and they will stamp your passport with leave to remain for the number of days you stipulate. They might also ask you for proof of a hotel reservation, your planned route, and a return ticket. Best to prepare for this in advance, just in case.
Bear in mind also that Guatemala, Honduras, El Salvador and Nicaragua are covered by the same immigration controls, so you can travel visa-free for up to 90 days throughout these countries, something worth remembering if you are planning a longer trip around South America.
Getting there
There are no direct flights to Guatemala from Europe – you need to change at least once. Flights cost on average between $850-900 (€750-820) return from Europe or are sometimes even cheaper depending on the time you fly and a number of stopovers, and it will take at least a day to get there.
When to go and what to take
There are only two seasons in Guatemala – the dry season (summer, from November to April) and the rainy season (winter, from May to October). Winter is not only the rainy season but the season of mist and hurricanes. Snow is unknown to the locals since the climate here is very mild, the temperature never going below -10ºC – and then only high up in the mountains. Summer and winter average temperatures stick at around 26ºC in the south and 20ºC in higher areas. The difference in seasons is seen really in the amount of rain during the day and how low the temperatures fall at night. In the summer, nighttime temperatures are around 16ºC-17ºC, while in winter they can fall as low as 5ºC.
The best time to visit is between November and May when there is no rain, and you only need to think about bringing a sweater for the fresher evenings. If you are planning to go up to the volcanoes, don't forget to bring along your thermals, hiking boots, a fleece, a hat, and gloves. It can get very cold at the top of Acatenango (3,976m), and there is a biting wind. Be sure to bring along sun cream as well for use not just on the beach but also when you're up in the mountains. Ascents often begin in the middle of the day when the sun is at its highest.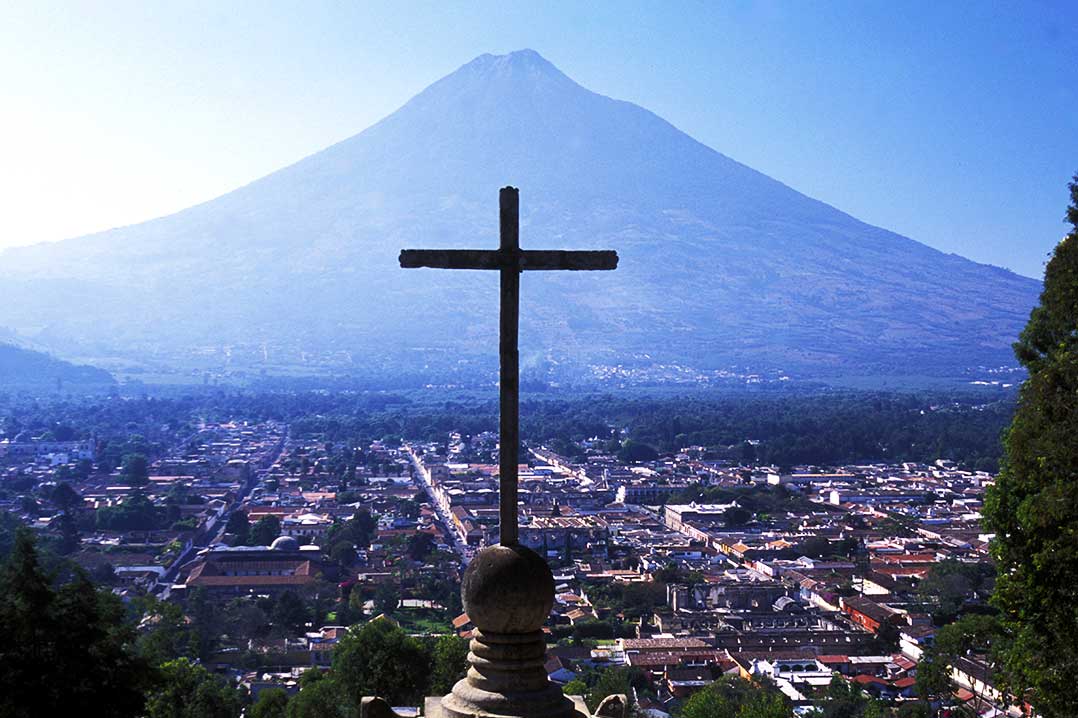 Getting around the country
There are only two passenger airports in Guatemala, Guatemala City and Mundo Maya (formerly known as Flores). There are no trains, but you can get to virtually anywhere by the affordable "chicken buses," decommissioned American school buses used by everyday Guatemalans. They are called chicken buses because of the crates of the birds which used to be transported on the vehicles' roofs. Now, they are the most widespread form of public transport.
Tickets cost between $0.50 and $2.30 (€0.40-€2), but you cannot take a chicken bus for distances over 100km. They are probably the least comfortable form of transport anywhere – they are slow, there is no air conditioning or ventilation, they are always as packed as a rush-hour commuter train, and they have favoured places for pickpockets. Rucksacks and other luggage items are transported on the roof of the bus. Nevertheless, it is one of those unforgettable things you have to do. No two chicken buses are the same. Each is painted in bright colors, and inside there are loudspeakers and disco lights. It's best to find out locally about timetables by asking the locals or at the stations.
For the convenience of visitors to the country, there are shuttle buses and more comfortable long-distance buses which run between the main cities. The best company in my view is Maya de Oro, which offers air-conditioned vehicles with toilets and WiFi. The locals tend not to use them as they are too expensive, for example, a ticket from Guatemala City to Flores – a distance of 483 km – costs $43/€38. The more competitively priced Fuente del Norte offers tickets for about half the price, but the buses can be stuffy, and the timetable is often not respected, while the drivers are a bit reckless when it comes to taking tight bends. There are no working websites that I know of which show the current timetables, but many of the companies have Facebook pages and, recently, an aggregator service called GuateGo was launched which brings together details of all the shuttle, bus, and other transportation companies. It's a great place to go for information, but book the tickets at your departure point on the day of travel. You can even book a shuttle to take you directly to your hotel or hostel.
Tuk-tuk, tiny little motorbike-cum-taxis, are popular in the bigger towns and cities. Always agree your price before you take one, for example from one end of Antigua to another cost around $1.20/€1, and to get around Flores, it costs about $0.60/€0.50. You can flag down regular taxis on the street, and you can use Uber in Guatemala City. The 15 minute trip by road from the airport to the bus station costs around $3/€2.60.
Getting around with help from above
On arrival in Guatemala City, my boyfriend and I bought ourselves tickets on the Fuenta del Norte bus to Flores ($18.50/€16.50 per person) – the capital is a risky place to visit if you don't know it. The journey took 12 hours as we literally drove across the whole country. The boneshaker of a bus stopped about every 20 minutes, and right in the middle of the journey, it broke down altogether. A large sign over the driver's seat read "thousands of people and our priest are praying for your safety". When, by some miracle, we only just missed hitting that van head-on when we rounded a blind bend, at that very second, I believed in God. We came back on the shuttle.
Better not to hire a car in Guatemala. For a start, you cannot get insurance against theft or hijacking, you have to drive around with the windows closed and the doors locked, and you should only use paid car parks. What's more, the only decent roads are the motorways – a regular car probably wouldn't survive on the local roads. And then you really don't need a car if you are traveling around Antigua and Lake Atitlan, as these short distances can be covered using the chicken bus services. It's cheaper doing it that way and less dangerous. In the smaller towns and villages, you can get around easily on foot. 
Where to stay
At first glance, Guatemala is far behind European levels of service and comfort, but you will be pleasantly surprised at how many lovely places there are in this country to spend the night, ranging from youth hostels and boutique hotels to jungle huts and ecolodges.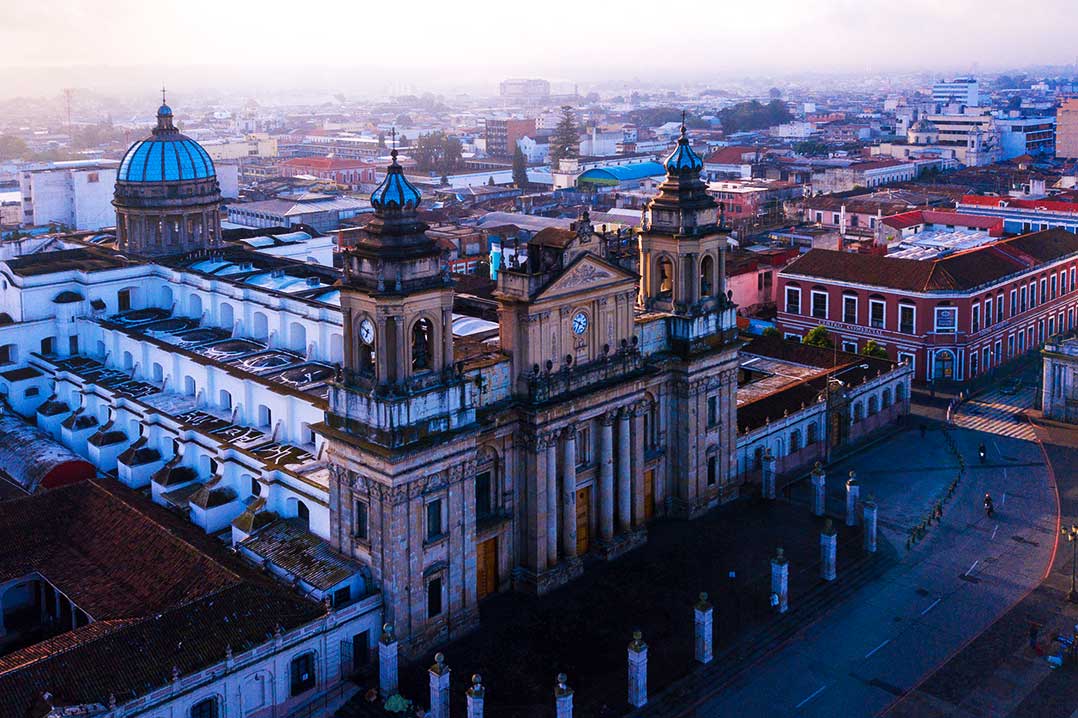 The least expensive option is to stay in a hostel. These are busy places, and, in the evenings, they often host events or put on some other kind of entertainment, like games. It's true that some hotels don't have a kitchen, but they will have their own cafe or bar, so it's best to check in advance. A place in a hostel normally costs around $4.60-$7.70/€4-€6.80 per night. A double room in a basic hotel starts from $18.50/€16.50 per night. One overnight in the five-star Hilton in Guatemala City will set you back $146/€130 for two. If you have a tent with you, make sure you choose the special camping sites close to hostels, for safety's sake. In Antigua, for example, you can pitch your tent on the roof at Camping & Travel for $4.60/€4 per night.    
Food
The average price of a meal in a restaurant comes in at about $4.50-$6/€4-€5.50. At the markets, you can eat for as little as $1.50/€1.30. Guatemalans use beans a lot in their cooking, along with rice and chicken. The typical "chapin" breakfast, which is served in every cafe, is made up of fried or scrambled eggs, fried plantains, refried beans, and tortillas. The traditional dish of pepian is made out of roast meat, vegetable salsa pumpkin seeds, sesame seeds, and chili.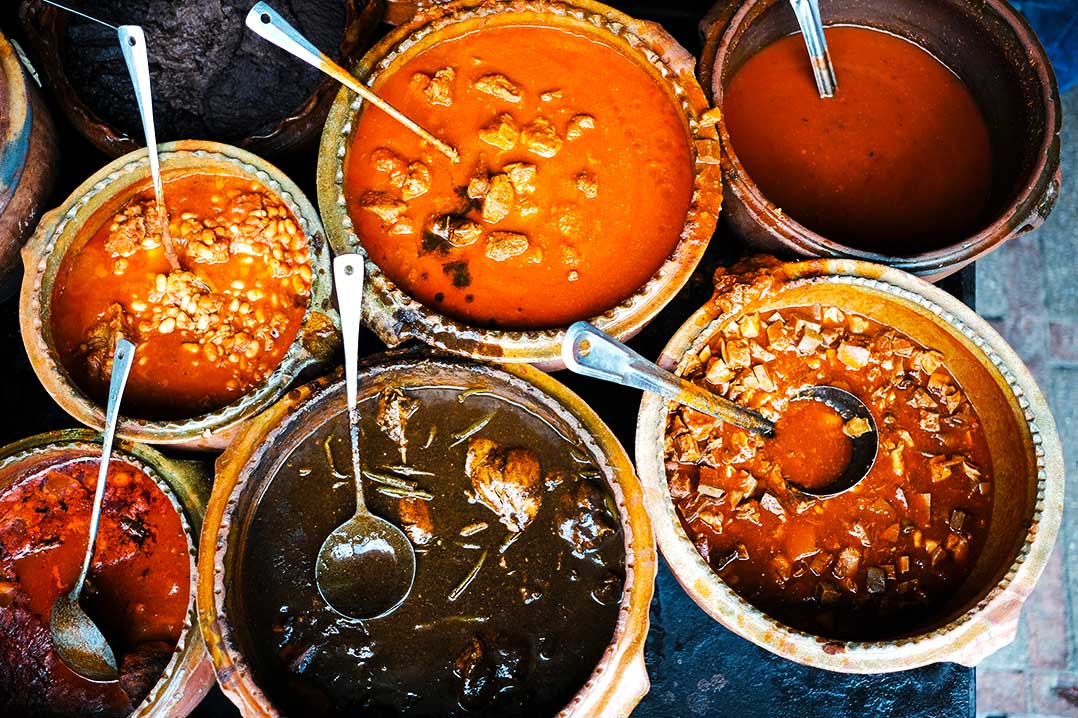 Safety
The question of safety in Guatemala is not clear cut, especially in Guatemala City which is considered the most crime-ridden city not just in the country but in the whole of South America. Don't bother going there. All you'll see there is people wandering around holding their automatic rifles, nothing else. Outside the city, things are much quieter and much safer.
Remain vigilant, as tourists are often the targets of scams. Keep your valuables with you at all times in a belt bag and only carry as much cash as you will need for the day. Put a strict limit on the amount of cash you can draw out on your bank card in any one day. Ensure that you don't use the flash on your camera, don't wander about at night and bear in mind that sellers will almost always increase prices for tourists. You should either haggle or shop in places where the price is clearly marked from the beginning. That way you'll avoid paying too much. 
What about money?
The local currency is the Guatemalan Quetzal. It's best to bring US dollars and change them in banks once you're here or to use ATMs to take money out using your bank card. Some cashpoints like BAC will dispense dollars too. If you have a multi-currency prepaid card, you can avoid paying commission charges. Cards are not accepted everywhere. You should not have problems using them in Guatemala City, Antigua or Flores, but elsewhere it's better to have cash. You should budget around $12-$15/€10-€13 per day.
Before you leave
Learn a few Spanish phrases. English is spoken only in tourist areas, so it will be useful to have a few basic Spanish phrases and numbers at your fingertips. 

If you speak Spanish, it's worth knowing that excursions in Spanish are cheaper.

Take a travel adapter. The sockets are like in the US, and the plugs have flat pins (like you get with MacBook chargers)

You don't need to worry about getting a local SIM card because almost all cafes and hotels have WiFi (unless it's some small roadside shack). You can find your way around easily enough using offline maps on your smartphone via the maps.me app.   
If you can, take two bank cards from two different banks and providers, one Visa, one MasterCard. Put limits on the cards and only take money out of cashpoints which are part of a bank, like BAC or BAM. There's a risk of card skimming if you use random cash machines in the street.   

Always haggle. Street vendors will always name a price higher than what they are prepared to accept, so don't ever take their first offer. If you're not confident that your level of Spanish is good enough to handle such negotiations, just turn and walk away. They will immediately come back with a better offer. 

Use chicken buses to cover short distances and the shuttles to go farther afield. If you need to get from one end of the country to the other, then best to use tourist buses. You will pay a bit more, but you will save time and nervous energy, and you'll keep all your stuff. 

Eat in places where the locals eat. Eat at markets and buy cooked food and fruit from the street vendors – using places where you see lots of locals is cheap and tasty. 
Places to see
You need at least two weeks to get the best out of Guatemala. Many visitors from Europe also visit neighboring countries as part of a bigger Latin American journey, but for that, you'd need at least a month and a half. 
The country can be divided into seven regions, each one very different from the others. One looks out onto the Caribbean Sea, another onto the Pacific Ocean. A third is littered with volcanoes, and a fourth is covered in thick jungle. Another hides the secrets of the Mayans, then there is the noisy capital and, after that, the quiet, hidden agricultural spots. Here's something about all of them.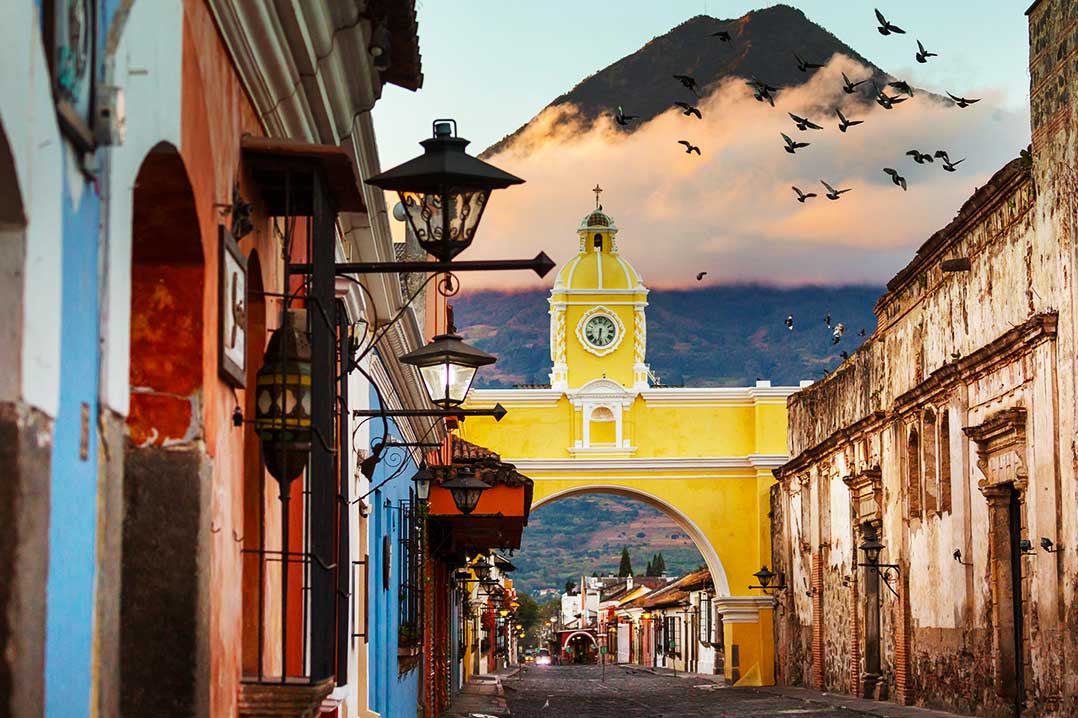 Antigua
Guatemala's former capital is now known as the country's main tourist centre. Having seen a number of volcanic eruptions and experienced many earthquakes, the city has been built on ruins but for all that has managed to keep the colonial atmosphere of the past couple of centuries. It takes about an hour to get here by chicken bus from Guatemala City (~$1.20/€1) or by private transfer (~$10/€9).
For breakfast, try Fernando's Kaffee (from $3/€2.50). You should also try some Guatemalan coffee at The Refuge Coffee Bar ($2-$3/€1.80-€2.60) and cinnamon buns at Canela Antigua ($0.70-$1.20/€06.60-€1.20).
You should spend the day walking around town. You will come across many single-storeyed buildings with volcanoes in the background, women in national dress, churches with colonnades, and a large market place. Take a walk up to the Cerro de La Cruz viewing platform, from which the town looks like a collection of child's toys. If you'd like to learn about Guatemalan cuisine, take in a cookery course at La Tortilla Cooking School (2 classes for $33.80/€30, five сlasses for $53.70/€47.70). The lessons are in English or Spanish.       
For dinner, try La Casa de las Sopas (the average check is $6-$7/€5-€6). In Las Palmas you can enjoy free salsa lessons in the evenings as well as live music, while you get a wonderful view over the city from the terraces at Bella Vista Coffee.  
Volcano visits
Antigua is the gateway to the Pacaya and Acatenango volcanoes. We first visited Pacaya, and the excursion took half a day. The ascent was quite easy: 45 minutes and the view over the volcano opens up before you. They won't let you go to the summit, as the volcano is still active – but this won't stop you roasting marshmallows in one of the cracks between the stones.
The walk up to the top of Acatanengo is a different matter – much tougher. It's a four-hour hike in the scorching sun – and sometimes the climb gets extremely steep. You will need to take food and at least four liters of water with you, as there is nothing once you get to the top. You don't need to take your own tents or sleeping bags, as they are provided at base camp (3,200m), where you will spend the night so that you can head for the summit (3,970m) first thing in the morning. This last stretch is difficult terrain, but, as you breathlessly reach the summit and greet the dawn, you will understand why all that pain was worth it.
Lake Atitlan
This is considered to be one of the most beautiful lakes in the world. It is surrounded by volcanoes and valleys with many tiny villages on the shores, like Santa Cruz, San Pedro, Panajachel and Santiago amongst others. It's a three-hour ride on a chicken bus (with changes) costing $2.30/€2, or a two-hour transfer (from $15/€13.30).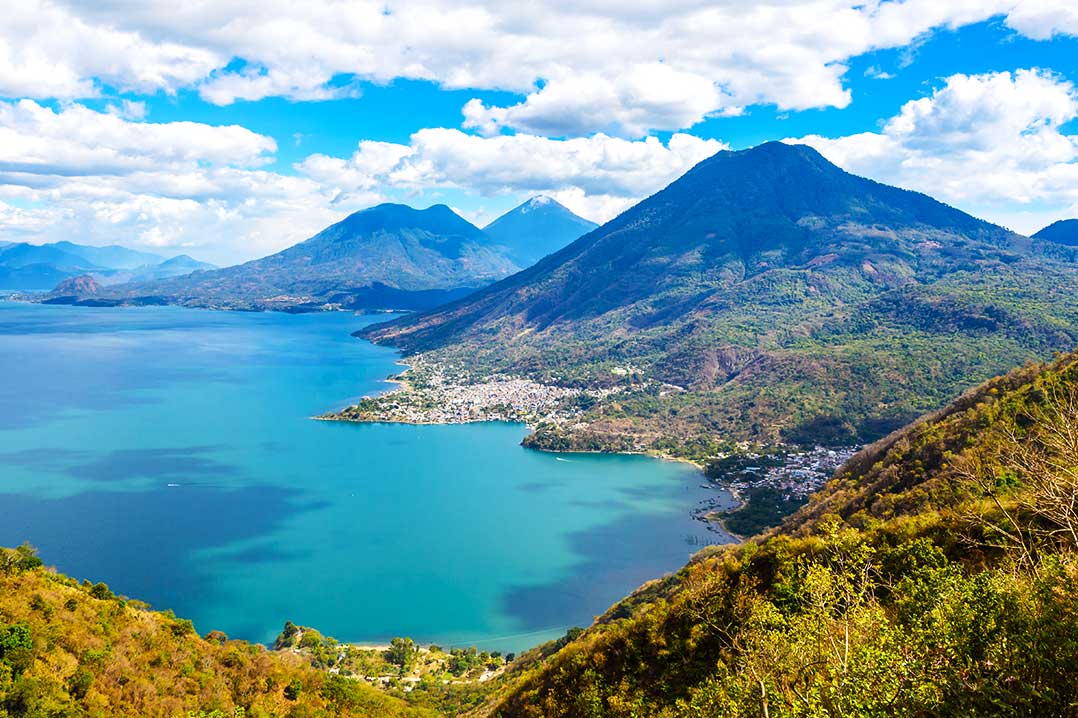 After a visit to the San Pedro volcano (from $45/€40), go and warm yourself up at the thermal springs (~$3/€2.60). Hire a canoe ($2/€1.60) or visit a coffee plantation (tours from $10/€9). You can also open your chakras at one of the nearby yoga centers (from $3/€2.60 per session) or participate in a traditional Mayan ceremony at the Sacred Caves (from $55/€49).
Pacific Coast and Flores
Much overlooked by tourists, the Pacific coastline offers three noteworthy points of interest; beaches covered in black volcanic sand, mangrove forests and sea turtle breeding grounds. You can find all this in the small town of Monterrico, only a two-hour drive from Guatemala City.
Flores is a tiny town on a small island in Lake Peten Itza in the northeast of the country. It takes about half a day to get there from Guatemala City, so people tend to stop on the way in places like Semuk Champey or Rio Dulce.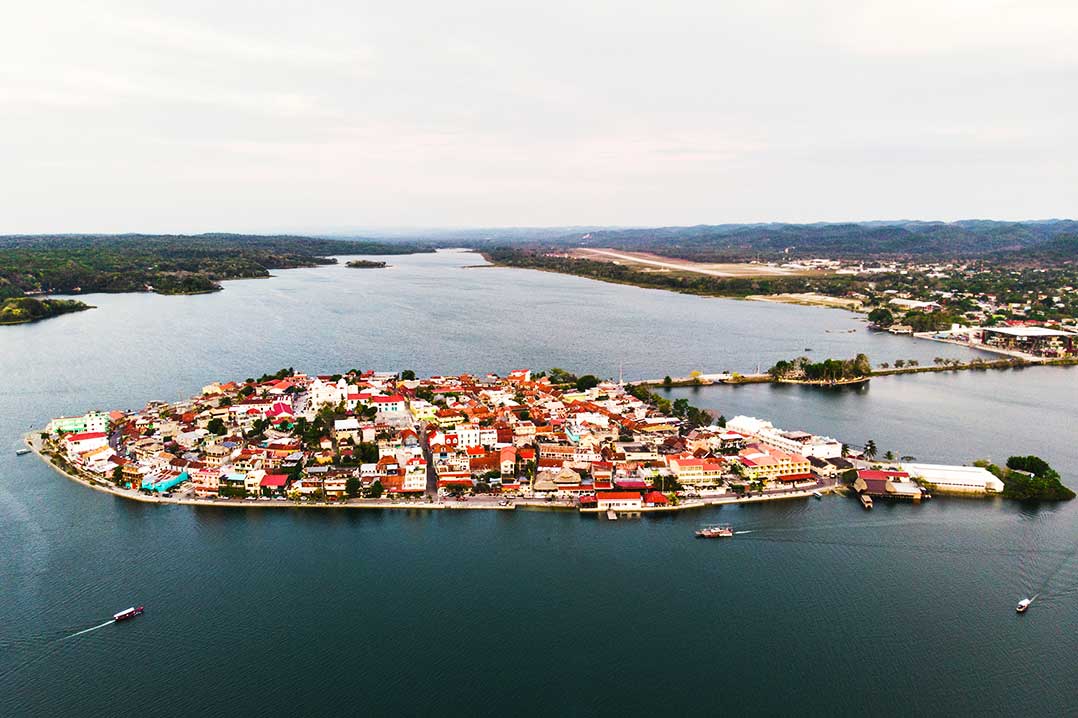 Flores became a popular destination for tourists because of its proximity to Tikal National Park. After breakfast, hire a canoe ($4.60/€4 per hour) and take yourself alongside the lake shore. Have lunch at Cool Beans and then go up to the Sky Bar to watch the sunset.
It's worth noting that many places offer Happy Hour where, for instance, you might pay just over $2/€1.80. For $0.60/€0.50 you can get to the village of San Miguel from one of the nearby piers. Here, there is an observation platform. For $1.50/€1.33 you can get to the beach by Jorge's rope swing.  
Semuc Champey
Because it's so difficult to get to, Semuk Champey will appeal to those who like to be away from civilization. Here you will find waterfalls and cascades from pools of clear water where you can go swimming (entry costs $7.60/€6.70). You have to take a shuttle bus to get there from the larger towns, or by chicken bus from Cobán to Lanquín (~$0.60/€0.50) and from there on foot to the park entrance (~$3/€2.60). You can stay at the Utopia Eco Hotel (a hammock costs $5.30/€4.70 per night and a room costs from $15/€13 per night), or alternatively El Portal de Semuc Champey (~$18/€16 per double room per night).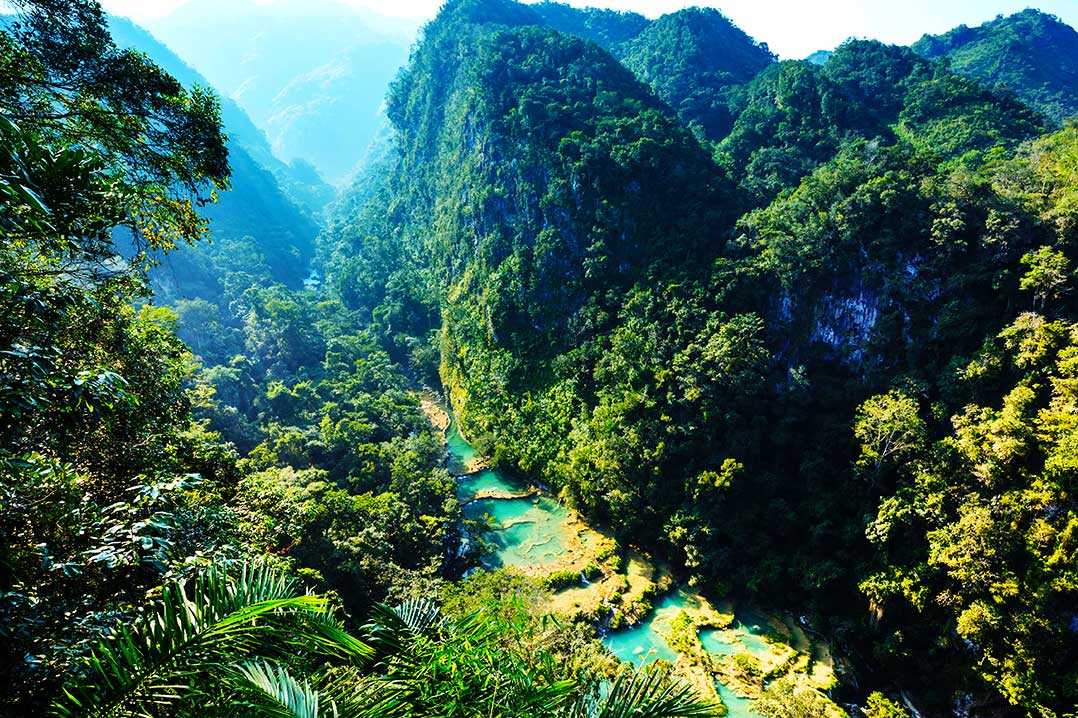 Rio Dulce
Rio Dulce (or the "Sweet River") is located between Lake Izabal and the Caribbean Sea and is a great place to observe nature. Monkeys and exotic birds live in the trees of the tropical forest and manatees live in the surrounding waters. There are some hotels in the jungle, but these are only accessible by water. It's best to speak to the hotels in advance to sort out how to get there. The only potential downside is that you are forced to eat the hotel food or take food with you, as there are no cafes or restaurants in the jungle.   
The Caribbean Coast and Livingston
This part of Guatemala is totally different to anywhere else in the country. There are few Mayans here since the main population is made up of Garifuna, descendants of slaves from Africa who were rescued after shipwrecks. English is widely spoken here, and people walk the streets with broad smiles on their faces. You almost wonder which continent you are actually on because the whole atmosphere is so different from the native influence elsewhere – it's much more Jamaican. You can only get here by boat from Rio Dulce (~$18/€16). Take a walk through the streets and make sure you try the local food, which is very different from what you find at other Guatemalan markets. Coconut bread is baked here, and they make tapado, a dish made of fish in coconut milk. Pop into Rasta Mesa where they will teach you to cook this dish for $12/€10.  
Five things to be sure not to miss
Mayan Pyramids. Apart from Tikal National Park, there are a few places in Guatemala where you can still find Mayan pyramids. These are Yaxha, Zaculeu, and Uaxactun. You can get to these places by shuttle transfer from Flores (~$15/€13). To get to the highest Mayan pyramid in Guatemala, El Mirador, you need to hike for three days through the jungle with a guide. If you want to do this then you should book via Carmelita Tour (from $300/€266 for five days, with a guide, food and tents included). 
Eat as much fruit from the markets as you want. Don't be shy, get up early and go to the market in any Guatemalan town and you will pick up fresh fruit for very low prices, such as mangos when in season, or avocados for just a few cents. The largest market in Central America is in Cichicastenango.  
Visit an active volcano – with lava. The Fuego Volcano woke up in 2018 and to this day continues to breathe fire and spew out ash and rivulets of lava. You can go and take a look at this from the neighboring Acatenango Volcano. You can book overnight or two-day tours departing from Antigua with prices starting from $36/€32 per person (equipment and food included). Book with confidence at OX Expeditions or Quetzaltrekkers. 
Hand-made textiles. Brightly-colored tablecloths, ornamental napkins, colorful quilts and blankets, unusually patterned rugs and other sorts of textile can be found for sale at any market in Guatemala. The craftspeople weave what they sell right in front of your eyes. This beautiful handiwork does not come cheap – prices start at around $4.60/€4 for one napkin. 
Overnight in the jungle. Fancy staying in a shack where the electricity is generated by solar batteries? Traveling to your overnight hostel by motorboat along the river? Nip to the shop for some beer in a canoe? All of this is possible if you decide to spend some time in the jungle in Rio Dulce National Park. OK, getting there won't be easy as there are no roads, the only connections between villages are by water, and the boat from Rio Dulce village only sails twice a day (a one-way ticket costs $14-$15/€12-€13).
---
Guatemala is underrated by travelers. Tourists tend to head for Costa Rica and neighboring Mexico, and nobody seems to have anything to say about Guatemala. Nevertheless, for me this country is a hidden gem – you just don't know what's there until you go and take a look. A month and a half turned out not to be long enough – there were so many other interesting places I wanted to see. Nothing bad happened to me while I was there, and I was just bowled over by the beauty of my surroundings, the warm hospitality of the locals, and their culture. So, if you think you've got nothing left to see, head for Guatemala.