Cancellation charges
Before you book anything, make sure you understand the hotel's cancellation policy. Hoteliers want to be sure that their suites won't stand empty for no good reason. Booked, canceled, no-one else takes it on – that room is empty and not making any money. A cancellation charge is really a kind of forfeit payment.
Different hotels have different ways of dealing with cancellations, and you can find out about them on the home page at Zenhotels.com. Some tariffs don't offer the opportunity to cancel at all and simply propose non-refundable rates.
In this case, you will see the note "non-refundable if canceled" on the hotel page. This means that when you make the booking, you will need to input your bank card number, and if you don't arrive, the whole booking amount will be taken from your card.        

Other tariffs give you time to change your mind. If your plans change or your holiday dates need to move, and you can cancel before the deadline shown on the hotel page, then it's all OK, and you won't be charged. If you cancel after the deadline, prepare yourself to be charged from 50% up to 100% of the total cost.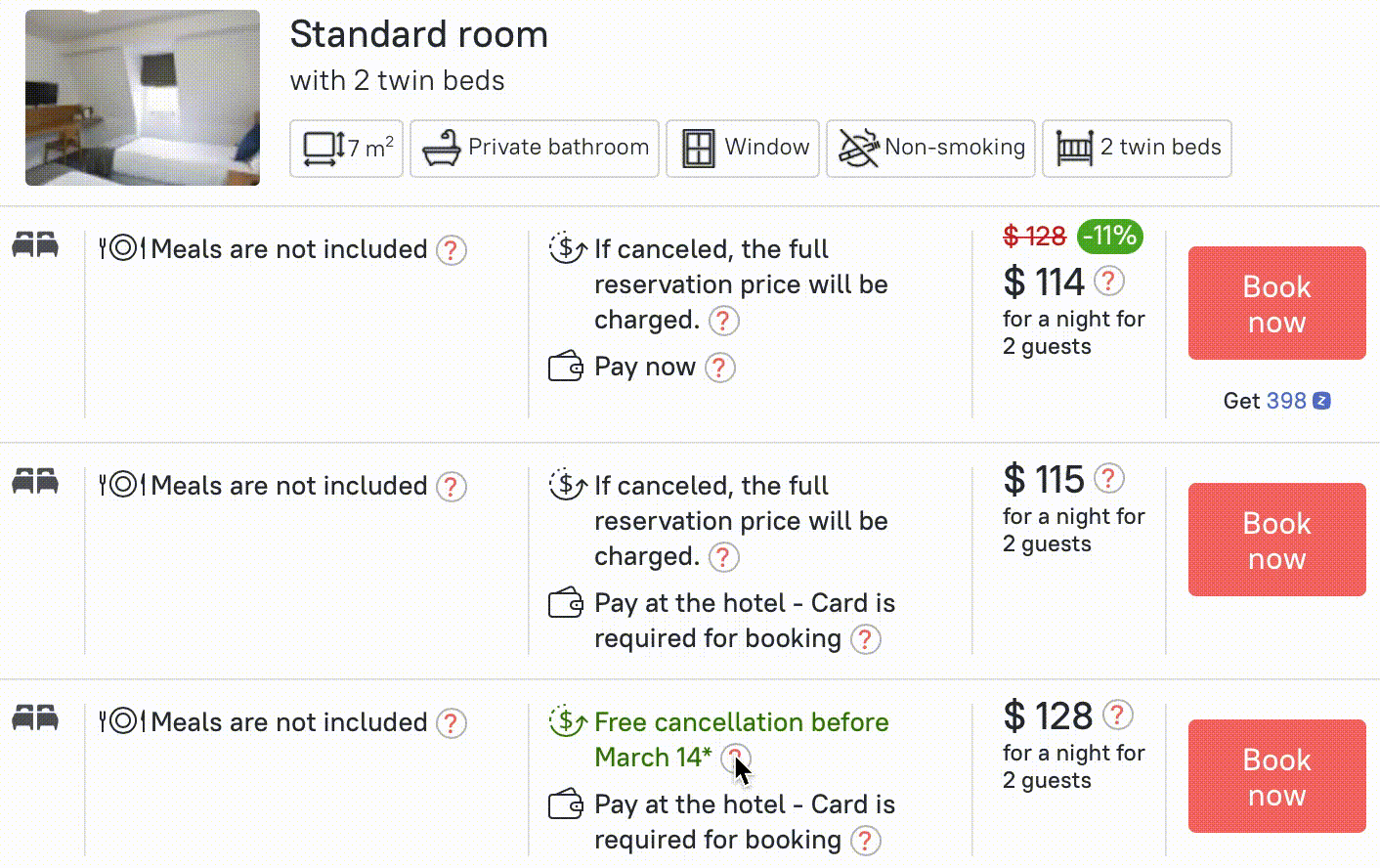 Smoking in restricted areas
Smoking is being actively discouraged all over the world. No smoking signs hang in hotel rooms, and public areas and smoking areas are restricted to balconies, terraces, open verandas, or specific places outside on the street. If you are a smoker, ask at check-in where smoking is permitted.
If you put your cigarette out in the wrong place, you can also expect to have to pay a fine imposed by the local authorities. In Germany and Belgium, for example, fines can range between anything from €150.00-€1560.00/$165.00-$1815.00). Not insignificant, is it? 
Taking too much from the breakfast buffet
So, you can't eat all of everything, so you'll just have a mouthful instead. The sheer abundance of all that food on the breakfast buffet can drive some people to pure gluttony. We've all seen it, how some people lose their heads in front of that seemingly endless supply of goodies and pile their plates with portions that would easily feed a family of five… and it's clear that they won't manage to finish it all. This is how so much food goes to waste, to the sorrow of many a hotel chef.
In Turkey and China, they are bringing in "clean plate" rules. If a person is so greedy that they take more than they can eat, then they will be charged a penalty. The Sefikbey City hotel in Kemer, Turkey, has already made this part of their house rules and fines greedy guests. On top of that, guests who take food out of the dining room, say, up to their own rooms, can also find themselves being charged extra. Thanks to the policy adopted by Sefikbey City, another 250 hotels are coming on board with similar rules.  
House rules
You can also read about the hotel's house rules in the booklets at reception or in your room and well as on notice boards.
This applies to hostels in particular. Even though many of these places sometimes resemble anthills with their eternal comings and goings, lots of people, and hardly any personal space, sleep is something they value highly. This is why they often have "quiet times." Once you pay for the right to stay in one of these places, you commit to respecting the house rules. If you break them, you're out, and you won't get a refund, so forget any ideas of all-night parties or rabble-rousing. Your wallet will suffer. Rules like this also often apply in some hotels and apartments, which are located in residential blocks.
Some places will charge you if you lose your key. It's not such a big deal if it's a magnetic card as reception can issue a new easily enough, but if it's a real key, then the hotel has to fork out to have a new one cut or even replace the lock altogether if this can't be done. The hotel will charge you for this pleasure. If you know you're a bit absent-minded, and you lose things a lot, then it's best just to leave the key at reception when you leave the hotel.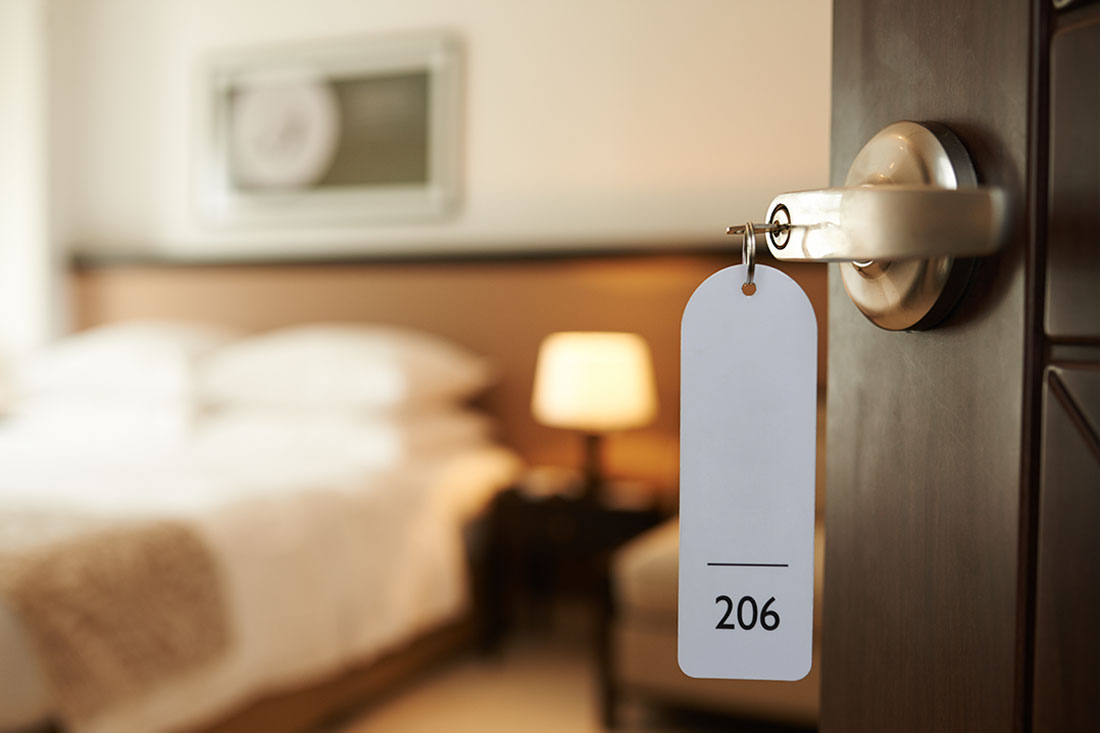 Some hotels will include a room inventory in the information folders or booklets in each room, amongst all the useful telephone numbers and adverts for extra services. More than likely, there will be a price entered next to each item. If you damage something, then that is the charge which will be added to your bill. It's best to check for an inventory list when you first check in to the room.
If, on arrival, you see that something is broken or damages (perhaps something wrong with the shower, a broken mirror or a wobbly table), then let the hotel know about it immediately so that they can fix it. You don't want to be held responsible for the actions of the previous guests and have to pay when you leave.
Hostels and apartments often ask guests for a deposit in case of breakage or damage. It's normally a fixed amount for the duration of the stay, which is returned in full when you leave, provided that all is in order. If you want to know more about the deposit in advance, then go to the "additional information" section of the hotel page. If you do damage or break anything, though, then this will be deducted from the deposit.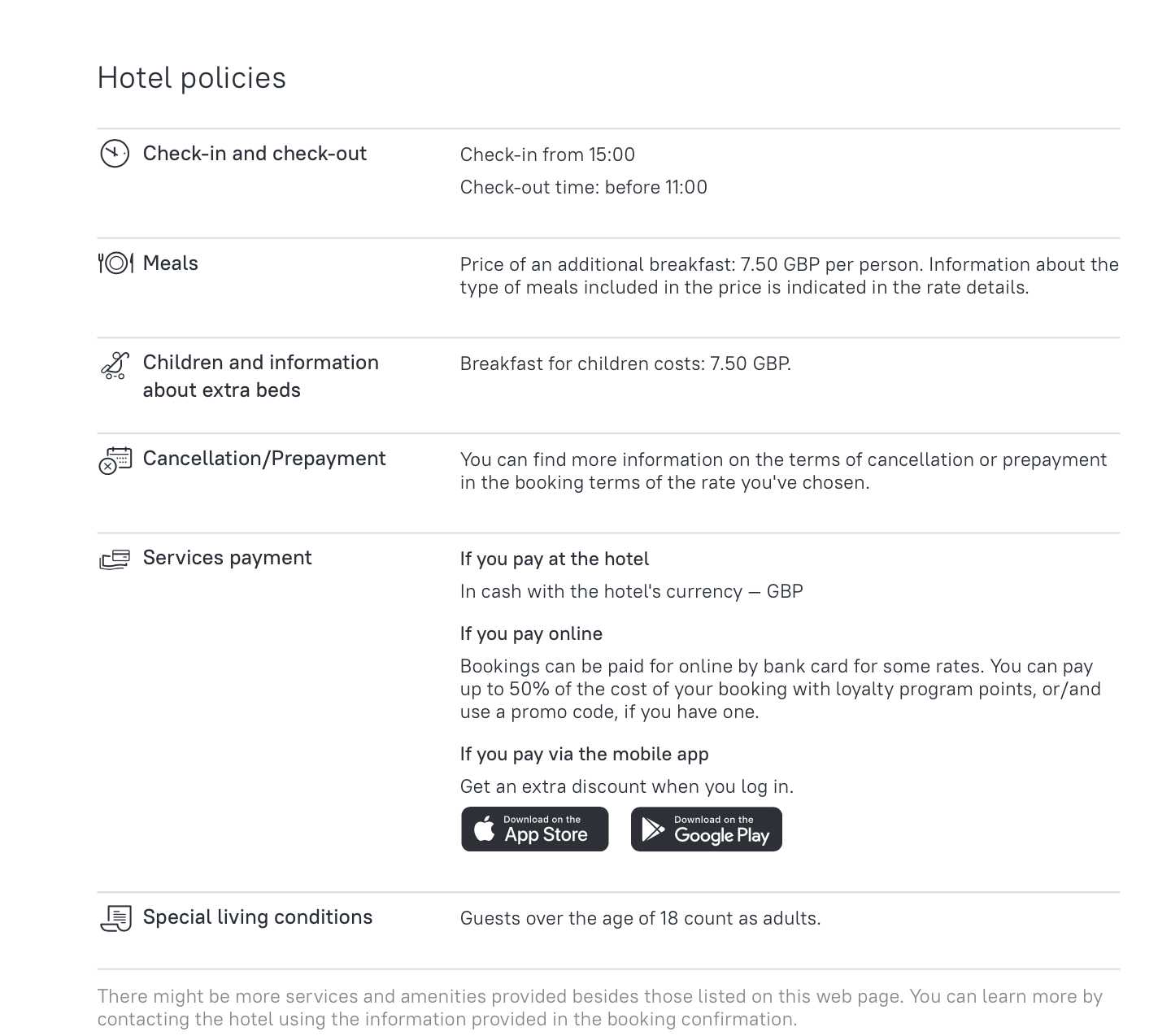 Your hotel key card tells you how many guests are allowed to stay in your room for the price you have paid. If you book double occupancy and you want to bring in a third person, then be prepared to pay a supplement – if, indeed, such a supplement is permitted by the hotel – or to pay the penalty. The hotel is well aware of how many people are allowed in the rooms, and they want to be paid for that so always make sure you know how many people are booked to stay in the room, how many beds you need, and whether you need any extra beds, cots etc.
---
Pay attention to the information on the hotel pages, and make sure you understand the rules – in that way, you won't have to pay any penalties at all!