Roundtrip, like ZenHotels, is part of the Emerging Travel Group
The Emerging Travel Group (ETG) is a world leader in online travel. Since 2010, we have been transforming the travel industry by creating the world's most high-tech travel service for the B2C, B2B and corporate travel segments.
Who can benefit
Roundtrip is a platform for booking travel services for business trips with ease. It's designed for:
Travel managers

who value the system's simplicity, the availability of all travel services in one place, and synchronization with the finance department. Our service is simple and easy to use, and offers plenty of convenient tools that help automate the organization of business trips.

Business travelers

who value the speed and simplicity of booking, a secure system, efficient customer support, and minimum stress. The special rates are a bonus that enable you to not only save on your budget, but also to search for upgraded options for the same amount of money! Roundtrip has all of this and more—our tools will eliminate your worries and make all stages of your business trip comfortable.

How to register
Any legal entity may register in the service. The entire process consists of two steps and takes less than a minute. Just follow the link and fill in your details. Roundtrip is absolutely free to use: not just for the first month, but free forever!
Special welcome bonus
After you register on Roundtrip, you will receive the promo code ROUNDTRIP05 for a 5% discount on your first hotel booking. The promo code is valid until February 15, 2023.
How the new Roundtrip service differs from ZenHotels
More travel services
With Roundtrip, you can choose from over 1.8 million hotels around the world, plus, you can book flights and transfers, rent cars, and order concierge service for top management. 
Roundtrip makes booking for large groups simple! For legal entities, the standard limit of six rooms per order has been removed. Our group booking team will help create the order and oversee every detail to ensure that the hotel is ready for your arrival.
On Roundtrip it's possible to book flights and transfers, rent cars, and order concierge service for the top management.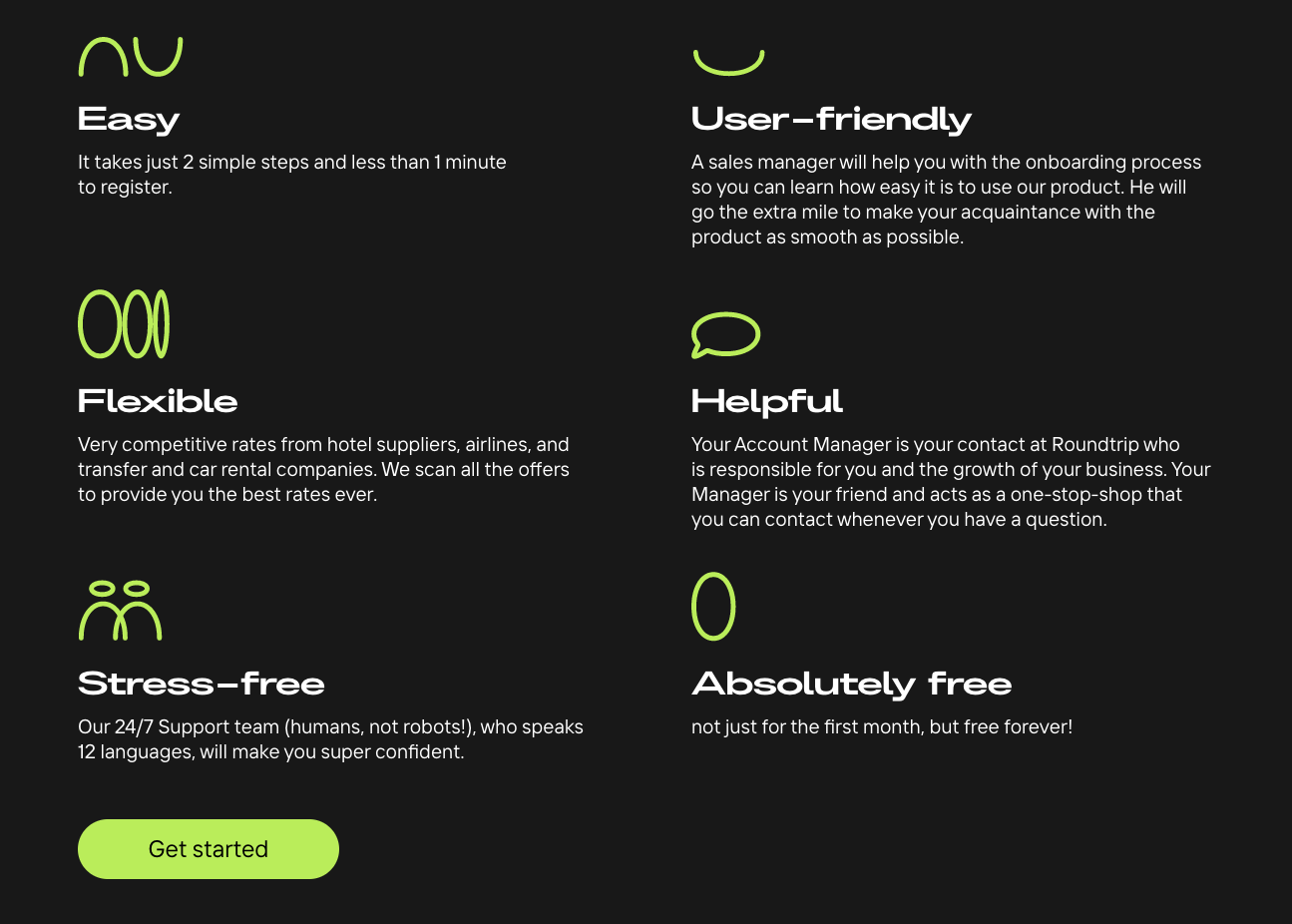 Reduced B2B rates
On Roundtrip, all travel services are available at reduced corporate rates—all you need to do is register. Even if your company has a strict travel policy, you will still find more accommodation options for your allocated budget than usual, and the detailed hotel descriptions will help you make the right choice.
Personal assistant
After you register, you will be assigned an account manager—your personal contact at Roundtrip—who is responsible for you and the growth of your business. You can contact him/her with general questions about working in the system. Plus, our 24/7 customer support center is always ready to answer your questions about orders.
An account manager — your personal contact at Roundtrip, who is responsible for you and the growth of your business.

Convenient reporting tools
We know how much time and energy goes into preparing reports. So, in the back office you'll find special features to help you quickly resolve any issues that arise at each stage of planning:
Employees' profiles.

Since Roundtrip is a service for legal entities, you can immediately connect several employees to one

back office

and assign them different access rights. This makes it possible for the documentation on all orders to be saved in one place, rather than with each employee separately.

Travel policies.

Add travel policies for your company and use them when making bookings. Grant your employees specific rights for working in the system. This will make it simpler to choose the perfect hotel.



Variety of payment methods.

Choose to pay how you like: by invoice, credit card, payment link, personal bank card or on the spot at check-in.

Cost centers.

It's possible to group business trip expenses together so that it's easier to keep internal reports.

Reporting.

You will have real-time access to reporting documents in your Online Account. You can also automatically upload them to a record-keeping system.
---
This is just a portion of all of Roundtrip's capabilities. And more useful features will appear in the near future. If you travel often for work and want all your trips to go smoothly, we welcome you to take Roundtrip for a spin!