Lake Louise
Where:

Banff National Park Canada

Price:

free
In mid-December, when the ice hardens on Lake Louise in the Canadian province of Alberta, a frozen body of water at a height of 1,731 meters turns into an ice rink. So here you have one of the most picturesque ice rinks in the world: in the Rocky Mountains of Canada, right on the territory of Banff National Park, surrounded by snow-capped mountain peaks.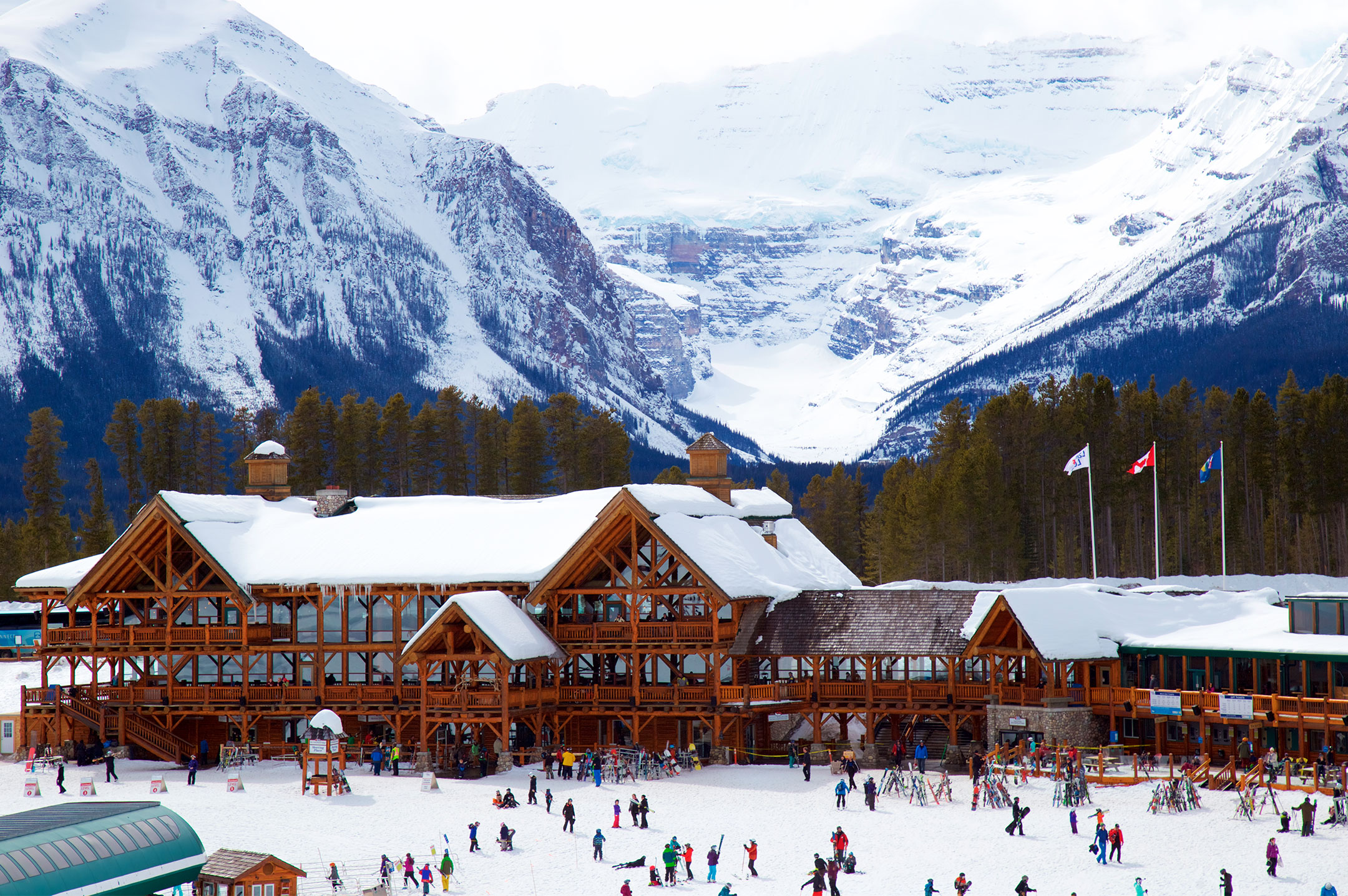 Skate
Where:

Somerset House, London

Price:

from £10
Skate is deservedly considered a cult location in the British capital: it is surrounded by the neoclassical facade of the 18th century museum Somerset House and is known as the only place where you can spin a dance with a flute of Champagne and chocolate truffles, party to DJ sets and take figure skating lessons.
Evergreen Lake
Where:

Colorado, USA

When open:

from mid-December to the beginning of March 

Price:

$15 + skate rental (no hourly limit, 4 years old and under are free) 
Inhabitants of any city of the world can only dream of the treasures of Denver. Just half an hour's drive from the city, at the bottom of Evergreen Mountain, you will find a huge eponymous Lake which in winter transforms into one of the largest ice rinks in the world. According to rumors, it was here in the 1970s that future Olympic champion Scott Hamilton perfected his axles.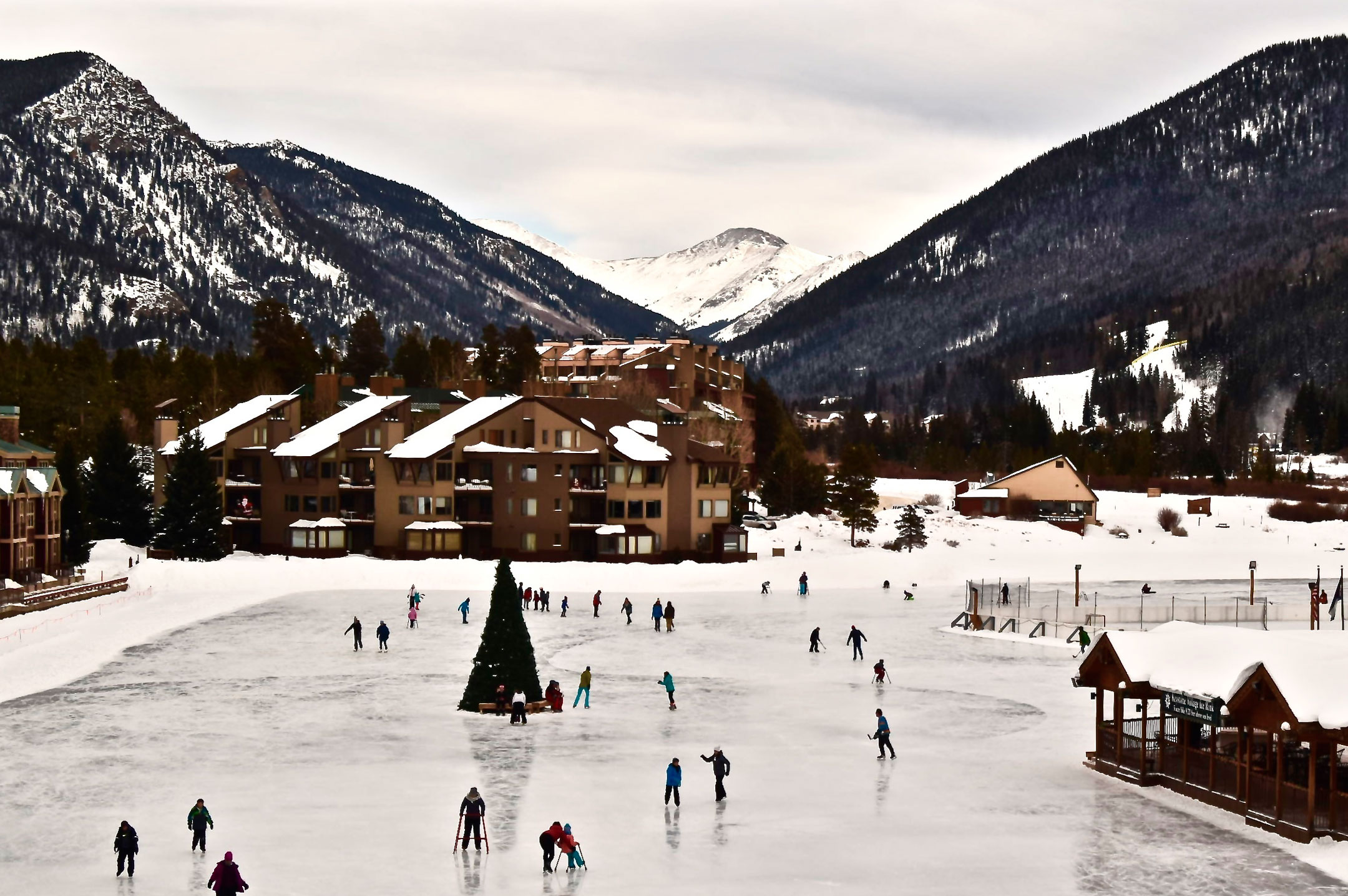 Now there is room not only for courting couples, families and tourists on skates, but even for ice hockey players. 10 ice hockey rinks have been equipped on the lake together with a huge arena for ice-skating. An extra bonus is the chalet Evergreen Lake House right on the lakeside, where you can drink punch or hot chocolate or simply warm yourself while admiring the snowy fir trees.
Ice rink on Alexanderplatz
Where:

Berlin, Germany

Price:

€5 (the price covers rental of skates and 90 minutes of skating)
In the very heart of Berlin, on the main square, Alexanderplatz, a skating rink is set up each year (check for the opening dates on the website). This is a classical family rink in the center of a Christmas fair with punch and non-alcoholic cocktails, grilled almonds and German sausages. You can begin the evening with skating and end it buying souvenirs from local artisans.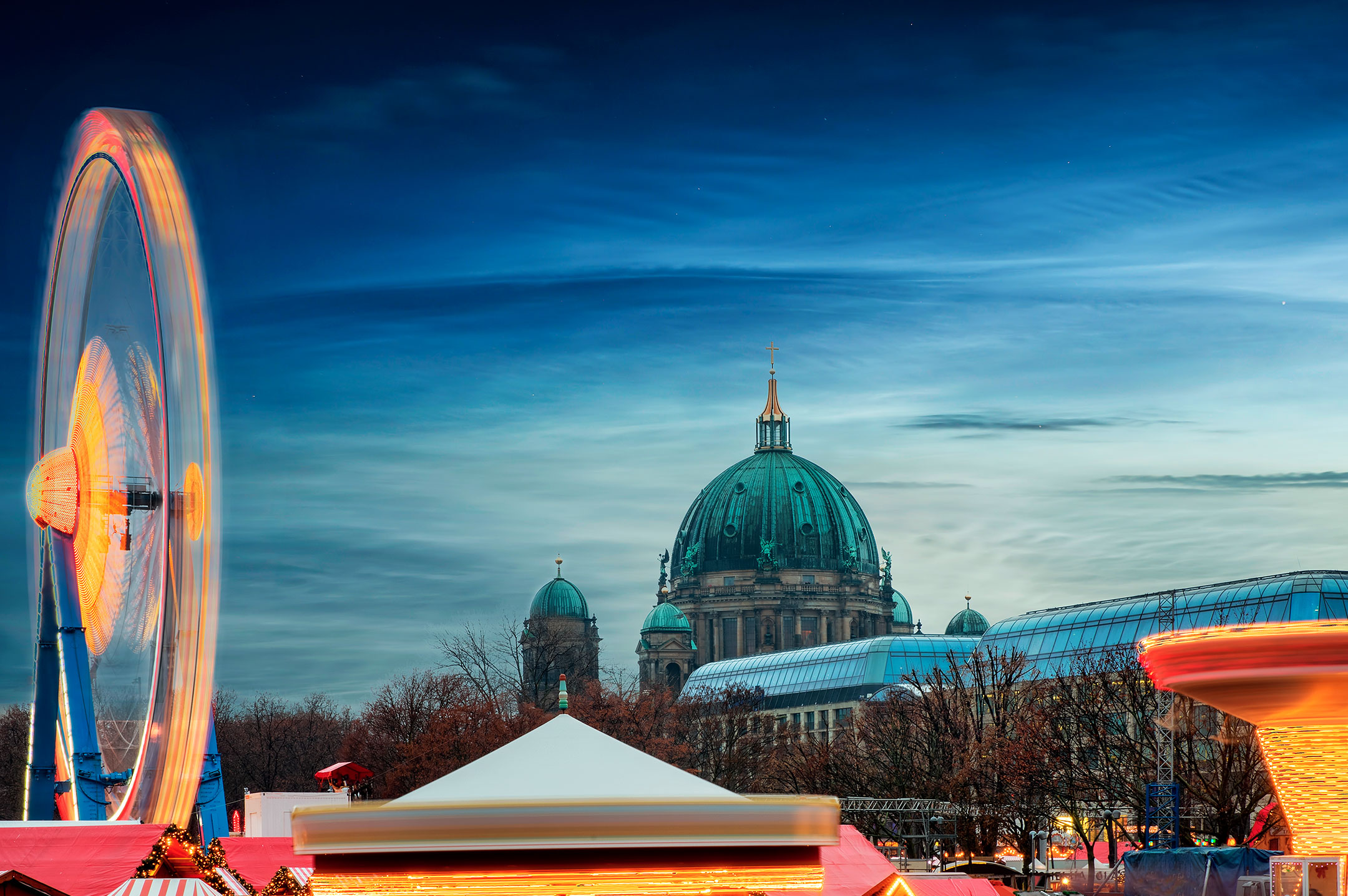 Rink on the roof of The Cosmopolitan hotel
Where:

Las Vegas, USA

When open:

New Year holiday season

Price:

from $175 for a fire pit

reservation

for six next to the ice rink (snacks, a drink and the rink)
The last thing you expect to do in Las Vegas is go ice-skating. But if you ascend to the rooftop of The Cosmopolitan mega hotel when taking a break from the casinos, then instead of the swimming pool you will find an ice-rink during the winter. Sin City does everything to surprise the tourists who leave fabulous amounts of cash here.
The ice rink at The Cosmopolitan is justifiably known as the most luxurious in our selection: you can book tables with fire pits, drink, eat snacks and, above all, avoid freezing. The average temperature in Nevada in the winter months is stable at +10 to 15 degrees Celsius.
Rideau Canal Skateway
Where:

Ottawa, Canada

When open:

from January to March

Price:

free
Just imagine a 200km canal between the Great Lakes and Montreal, part of which is the longest natural skating rink in the world. Rideau Canal Skateway is included in the Guinness Book of Records as the world's largest. Its length is nearly 8km, while its width in some places reaches 70m and total area is comparable to that of Lichtenstein (!) — 150 square km.
So it should be of no surprise that in the winter season around one million people get to skate on it (there will most probably be restrictions on the number of visitors — check the official website for information). 
If you make it to Rideau don't miss the Beaver Tails stall. Here they bake traditional Canadian treats in the form of pastries resembling wide, flat beaver tails with various fillings. This dessert was invented in Ottawa in the late 1970s and it is now a local symbol. 
LaLaport ice rink with a view of the ocean
Where:

Tokyo, Japan

When open:

from early December to mid-February

Price:

1,500 yen (including rental shoes fee) 
At the very epicenter of consumerism in the Japanese capital, in the LaLaport shopping mall, what is probably the most beautiful ice rink of Tokyo is set up. It's famous for its views over the ocean gulf and the romantic atmosphere that drives the Japanese crazy just as much as they go crazy over figure skating as a professional sport.
Against the background of pop-music, local teenagers perfect their axles and toe-loops, dreaming of emulating their national heroes — figure skating Olympic champions Yuzuru Hanyu and Shoma Uno.
---
This year was rather unpredictable, so we don't know where you will end up spending the Christmas holidays, but if you find yourself in one of these locations don't forget to go for a skate. And if so far you don't feel too comfortable on skates then here's a target for 2023: to gain confidence on ice and conquer one of these picturesque rinks. Happy holidays!