Use Uber and Gett
It was not so long ago that unfortunate travelers had no way of knowing how the cunning taxi drivers of Rio de Janeiro would find a way to spend half an hour to drive you to the other side of the road. Now, of course, there are apps like Uber and Gett, which work almost anywhere in the world. You get the price in advance, and the quickest route from A to B is immediately visible.
However, you still have to be a bit careful. The fastest journey isn't always the safest journey. These international services load their routes via Google Maps and do not take into account the favelas – your journey might take you close to or through one of these areas where it is not unheard of for taxis with passengers to be robbed when waiting at traffic lights.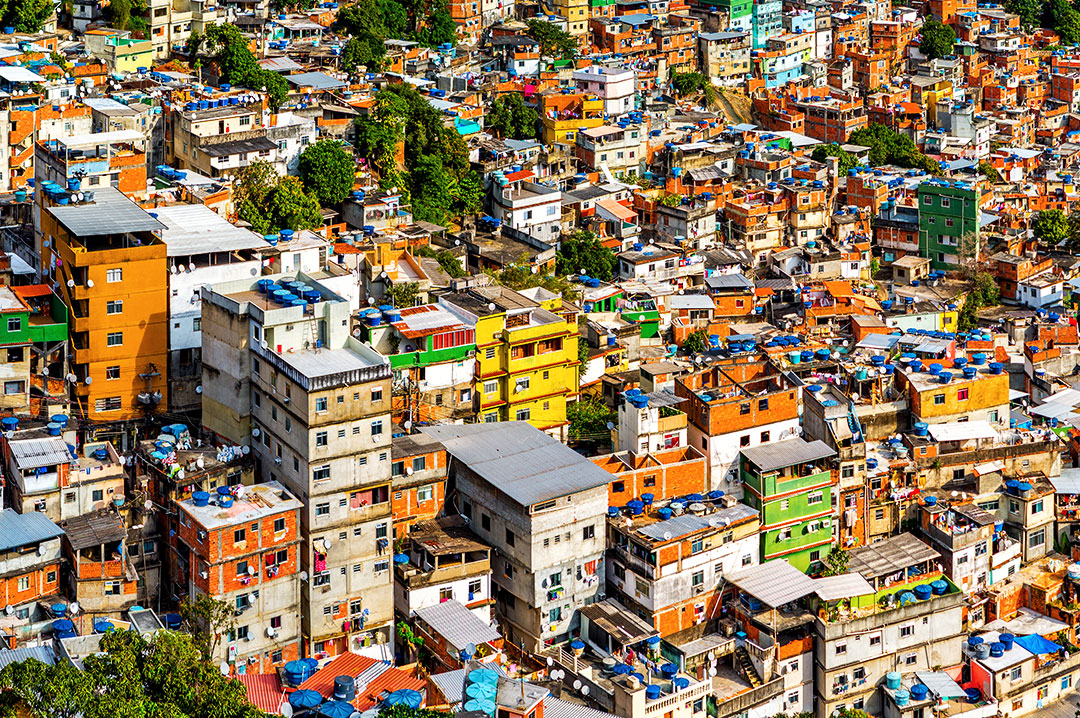 To be on the safe side, it's best to use local taxi services like 99 Taxi and Taxi Rio which have their own apps for both iOS and Android systems. Your trip might cost a bit more, but it will be safer since their drivers never take tourists through the favelas.
What is a favela, and why is it dangerous to go there?
Favelas are the Brazilian slum areas. In Rio, they are generally to be found on the hillsides. This is where the very poorest strata of society live. These slum areas are well known for extremely low standards of living and very high levels of crime. All the criminal gangs of Brazil exist here side by side. The police wage an endless war but never seem able to win. The favelas are extremely dangerous for tourists, although there are some which can be visited as long as you have a local guide with you.
The best example of one of these is favela Santa Marta, where they will not only show you around but also let you take a look at the homes of some of the locals. It's where one of Michael Jackson's videos was made, and they have erected a statue here in honor of the King of Pop.
Drink cocktails on the street
Everyone drinks outside in Rio. The city has many open-air restaurants with bars directly on the street from which they sell cachaça-based cocktails and to try them is a must for any visitor to the city – it's a part of the local culture. Buying caipirinha from a street bar is definitely a local thing, so it's worth doing it right. The prices are not too high, and they are not shy with the alcohol content. In a caipirinha bar, you'll pay between 10 and 12 real (~$2.50-$3/€2.20-€2.60), but at a street bar, you will get the same thing for around 8 real (~$2/€1.80) and sometimes even for as little as 5 real (~$1.30/€1.10).
Cachaça and caipirinha
Cachaça is often referred to as Brazilian vodka. It is a spirit (39º-40º proof) made from sugar cane, so really it's more like rum than vodka. Caipirinha is the most popular cachaça-based cocktail that they drink in Rio. They add lime, ice, and sugar. It tastes a bit like a mojito but is not fizzy.
The main thing to watch out for is that the street vendors tend to use tap water to make their ice, which is fine for the locals as they are used to it, but it could cause stomach problems for visitors. It's best to avoid the risk and drink your cocktails in bars and restaurants where the ice is made from purified water. This is also the reason why you should buy bottled water from supermarkets to drink and not from the street vendors who often fill up bottles from the tap.
Only use one bank account
It's been quite some time since thieves in Brazil learnt how to steal money not just from pockets and bags, but from bank accounts, too. It's the same old story – they attach a skimming device to cashpoints in the street and even in respectable shops. These then read the data on the card, record the PIN code, and then give the wrongdoers the keys to empty your account. This happens especially often in the departure hall at the airport. You buy something small for mum and dad from the souvenir shop, board your plane for your connection in Paris or Amsterdam, and as you cross the Atlantic, the thieves shamelessly clean you out.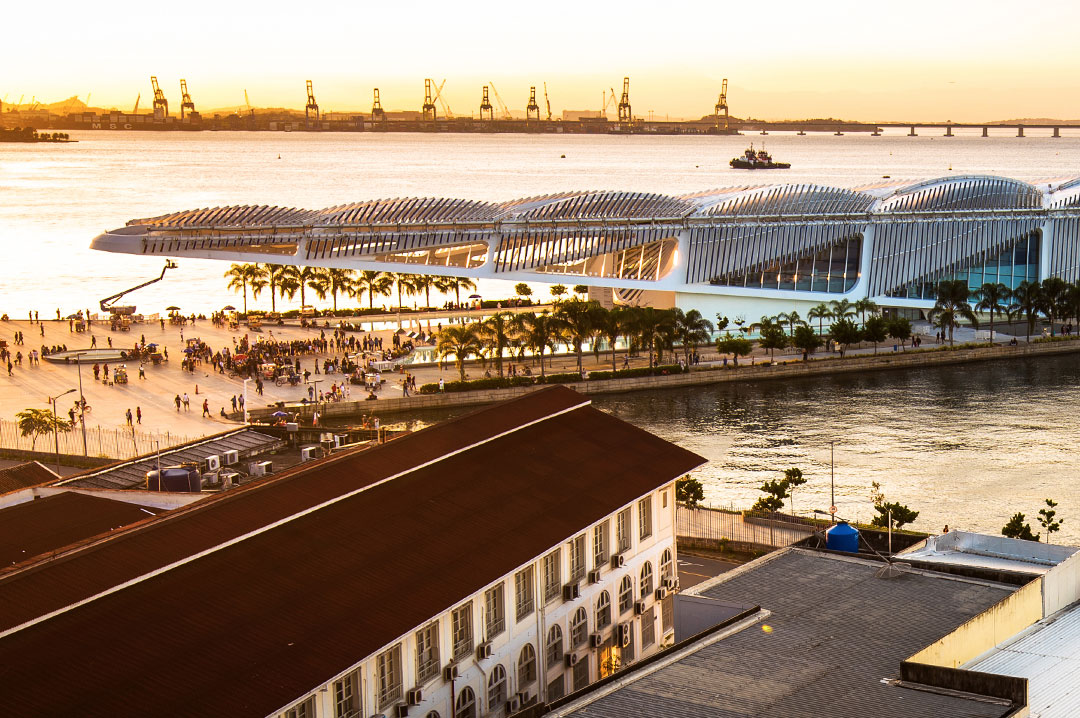 It's not difficult to avoid this. Keep your main funds in a separate account at the same bank. You can then transfer a daily amount to the account you use when you're traveling which amounts to no more than you can afford to potentially lose if the worst should happen. This can be easily done using your bank's mobile app.
Another thing – as elsewhere in Brazilian towns and cities, don't expect bank cards to be widely accepted. In the bigger chain stores they are OK to use, but in the smaller, cheaper restaurants and tourist shops, no. If you want to buy fresh fruit from a local stall, you will need to pay cash.
Where to change money
Exchanging cash for local currency also has its moments. Firstly, it's best to take cash in USD. Euros are widely accepted in Brazil, but the exchange rate for USD is much better. Secondly, do not change money at the airport under any circumstances – they will either give you a ridiculously low exchange rate or charge exorbitant commission. The best way is to order a taxi to where you are going, pay for that with a bank card, and change your cash once you are in town. You can exchange money in banks (not always the best rate), private exchange booths, tourist offices, hotel lobbies and even in some shops and restaurants.  Don't worry about forged notes – you see very little of that as they are too difficult to produce and to pass off. Just remember to count your cash in front of the cashier as you receive it. 
In Brazil, an exchange office is called "Cambio"
There are about 3.8-3.9 real to 1 USD
There are about 4.3 real to the Euro
Best of all, don't take cash – use a pre-paid currency card. That way you won't exchange money unnecessarily, the rate is your bank's rate at the time of exchange, and they are widely accepted throughout the country, thus avoiding duplicate exchange fees.
Wear expensive, fashionable clothes
Brazil is by no means a poor country, but in Rio de Janeiro, one of the South American continent's wealthiest cities, luxury sits cheek by jowl with poverty. Five minutes from the biggest favelas you'll find elite apartment blocks with sports cars parked right outside. However, on the streets, everyone is equal – it's just not worth dressing up to show off your sense of fashion and the size of your bank account. All you will do is end up attracting the attention of pickpockets and thieves.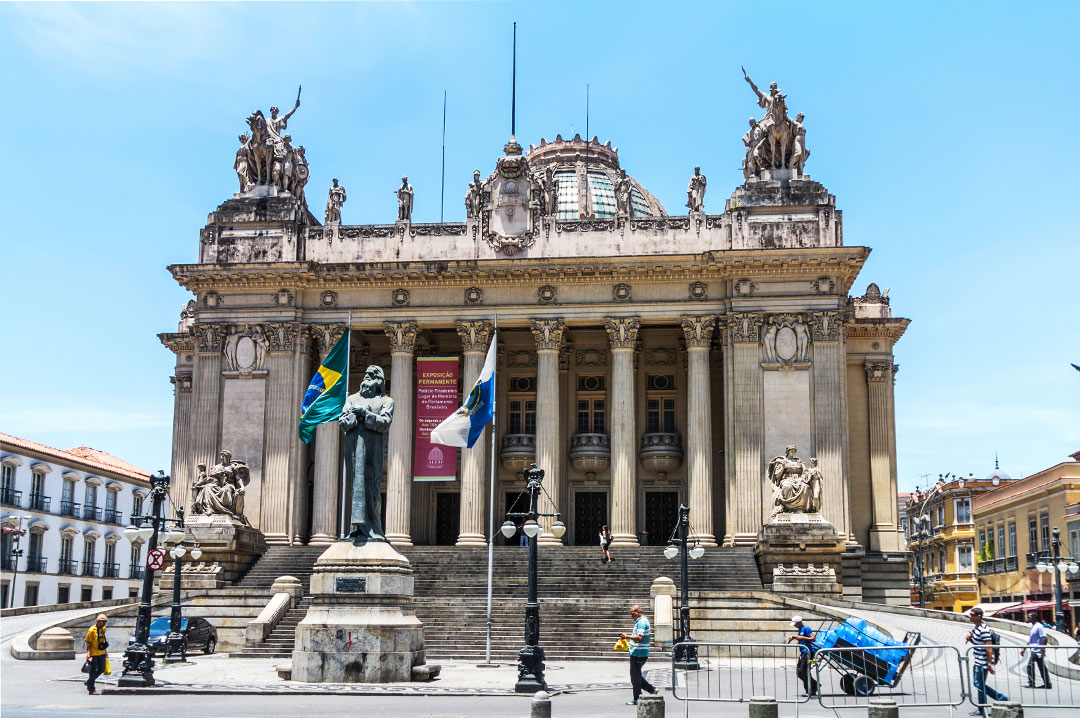 There is no point in falling victim to jewel thieves. If you want to walk in the streets of Rio, best to take off any jewelry, gold bracelets, chains, necklaces, and earrings, as otherwise there is a good chance that you'll go back to the hotel without them. The same goes for expensive electronic gadgets – don't show off the latest smartphone model you have with you or your fancy camera or smartwatch. 
Be distracted by conversations with the locals
Brazilians are a friendly lot, but they rarely initiate conversations with people they don't know. If this happens, then that person is probably after something and more often than not a simple "no thank you" will be enough to put an end to it. However, sometimes this pleasant exchange is just a way to distract you whilst someone else tries to figure out how best to steal your handbag or pick your pocket. Don't be afraid of having conversations with people who stop you, but just make sure you are aware of what's going on around you.
This applies especially to beaches. Whilst you are being charmed by an attractive local, one of his or her friends could well make off with your bag – one good reason not to spend too much time on the most popular beach, Copacabana. Better head for the less crowded and altogether more attractive Flamengo beach or the chic Leblon beach.  
Rio's beaches
Rio de Janeiro is blessed with a long coastline and a large number of beaches. There are so many of them that it is not always clear where one ends and another begins – and all are free to use. Here are some words about the top 3.
Copacabana. The must-visit beach. If you haven't been here, they say you haven't been to Rio. This is the city's biggest and best-known beach with the most famous and most expensive hotels overlooking it. As a result, this is where you will always find a lot of locals and visitors and, as so often happens on popular beaches, it isn't really a place to go if you want some peace and quiet. Having said that, it is worth a visit to say you've been.
Leblon. This beach is located to the south and borders one of the most fashionable neighborhoods in Rio, meaning that this beach is considered quite elite. There are noticeably fewer people here, hardly anyone from the favelas, mainly local high society and better-off citizens. Expensive skyscrapers line the beach, fancy cars cruise the coast road and the local beautiful people parade their show dogs as they stroll up and down. You'll also come across those poorer people who have come to see where the grass is greener, but they don't hang around. This is Leblon – the free beach for VIPs only.
Flamengo. This beach is to the north of the bay of Rio de Janeiro and it's where the neighborhood of the same name – Flamengo – spills out from the mainland. This is the preferred spot for families – you can see children playing whilst their parents see to the barbecue. You will often see several families grouped together enjoying themselves with music. In the evenings, there's a good chance that you will come across some kind of improvised beach party.      
Lose track of what you order in a bar
People can get into trouble when they're drunk in any city in the world, not just in Rio de Janeiro, but this isn't about that. One of the favored scams in Rio's bars is for bar staff to add drinks to the bill. One of my trusted Brazilian friends advised me not to let the bar staff clear away beer bottles or cocktail glasses until you have finished in that bar – that way you can count how many drinks you really ordered and compare this number with what is written on the bill. If the bar staff insist, then make a note in their presence of what you consume on a beermat or on a napkin so that he or she can't argue with you. This is a really good tip if you're in a big group.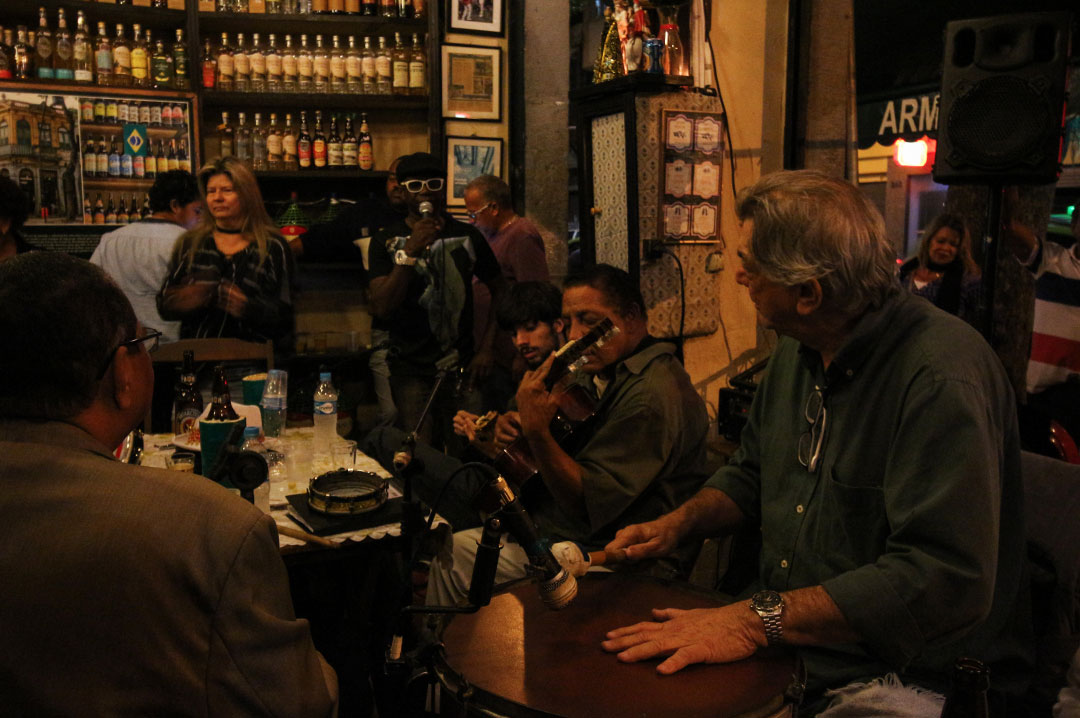 If you're planning to visit a few bars in Rio, start in any of the venues in the Lapa neighborhood. There are loads of bars here all offering similar cocktails at similar prices, around 10-15 real ($2.60-$3.90/€2.30-€3.50). Brazilians tend not to spend the whole evening in one bar if not in a big group. They normally move from bar to bar, and throughout the night they can put away an endless number of cocktails.
Explorer Bar. If it's cocktails you're after, then you really should visit this bar with its original house cocktail menu. It's located in the central Santa Teresa district of Rio, on the hill of the same name. Inside this colonial-style building, you will find a welcoming atmosphere in lush greenery – you might be lucky and see some monkeys. Prices for cocktails vary from 15-30 real ($2.60-$7.80/€2.30-€7). You can eat there, but it's better to stick to the drinks menu.
Churrascaria Palace. On the hunt for somewhere typically Brazilian, it's worth stopping by this place, a restaurant which specializes in churrasco, a type of Brazilian barbecue consisting of skewered meat. The thing about such places is that the meat menu is at a fixed price. For somewhere around 150-160 real ($38.90-$41.40/€35-€37) per head, they will keep bringing you different types of meat on skewers, and you can eat as much as you like. Drinks are extra.
Adega Santiago Barra. This bar-cum-restaurant is located within the Shopping Village Mall – but don't jump to conclusions. This place is totally independent of the shopping center itself and does not pull in crowds of shoppers laden down with bags. This is a place for romantic dinners, celebrating important events or just to treat yourself to a tasty meal and good quality drink. The atmosphere is almost homely with a great view over the city. European cuisine. Relaxed, laid back South American vibe. Dinner costs around 120-150 real per person ($31-39/€27.60-€35).     
Rely on the police
The Brazilian police force truly looks the part. You get the feeling that you can really rely on them. Alas, no. Of course, they keep order on the streets, but they are only interested in helping out with the most serious problems. That muscular robocop in sunglasses won't move an inch to help you with your stolen mobile, something which is reported hundreds of times a day in local police stations. The police simply stay away from some parts of the city, and they even disappear from the centre as night falls – except during the world cup, the Olympics or Carnival. Bear this in mind.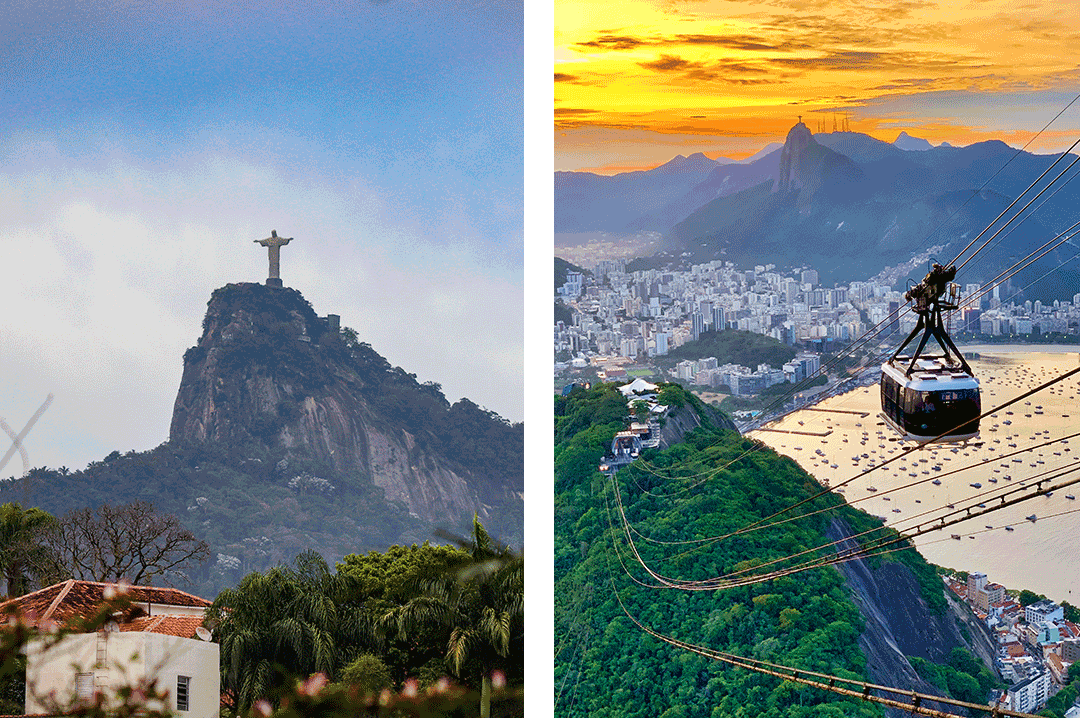 Use the buses
The Rio de Janeiro locals are used to using the buses; it's a convenient way of getting around, and the network covers almost all the city. The problem is that the buses are also used by people living in favelas and so the routes pass close to or go right through main ones. My first experience on a local bus involved the vehicle stopping at the terminus in Rocinha, the best-known favela in Rio, everyone getting off and my having to figure out how to get out of this scary neighborhood as soon as possible.
Popular bus routes
The bus network in Rio is complex and has 831 different routes. For visitors to the city, it's good to know which routes serve the beaches, the places of interest and the legendary Maracanã Stadium.
The 583 and 584 run from Copacabana Beach and Ipanema to Corcovado railway station.
The 511 and 512 run to the cable car for Sugarloaf Mountain, location of the legendary statue of Christ the Saviour. 
The 409 and 433 will take you from the beach to Lapa, the busiest part of town. 
One trip on the bus costs 3.80 real (~$1/€0.89).
A small, modern tram network was opened at the time of the Rio Olympics. The price is the same as for the buses – 3.80 real. The trams only cover the center of the city, so there's no risk of you ending up in a troublesome neighborhood. The legendary little yellow tram has also made a comeback to take you up to the Santa Teresa and the elite villas of the local wealthy population. You get a fantastic view from here; this is one of the oldest tram routes anywhere on the planet and one of Rio's stock tourist attractions – and therefore not to be missed. The best thing is that ticket costs exactly the same as on the other tram routes. 
Badmouth football players
Brazilians love football. They love to play football and to talk about football. But they hate people badmouthing their team's footballers, especially comparing them to players in other teams. Who's the best footballer in the world? It's not Messi or Cristiano Ronaldo, it's Neymar. Who is the best player in the history of football? God forbid you should say Maradona. If you can't back up your opinion, best just keep your mouth shut. Just accept that Brazilian Ronaldo is number one, Cristiane is not Portuguese, and the God of football is Pele. It's not like they will beat you up or anything, but they know how to rain down a series of very creative insults when they feel forced to!
---
Rio de Janeiro may not be heaven on earth but it's also not as bad as it's made out to be, as long as you are sensible about security. So, tune into That Girl from Ipanema and start preparing for an unforgettable holiday.
Text on button: Time to shake your feather boa!