Where to enjoy jazz or dance to electronic music
This is the first thing to find out about terrace parties. They take place nearly every day, and you can find out about them on Facebook, switch on your location finder and choose the "free music" category or via sites like Residentadvisor or Xceed where you can buy tickets for well-known DJ's.
This hotel opened only last year but has already established itself as one of the city's more fashionable venues. Apart from the rooftop terrace with wonderful views over the center of Barcelona, excellent cocktails and fantastic service, the downstairs restaurant features cabaret and a whole bar dedicated to punch.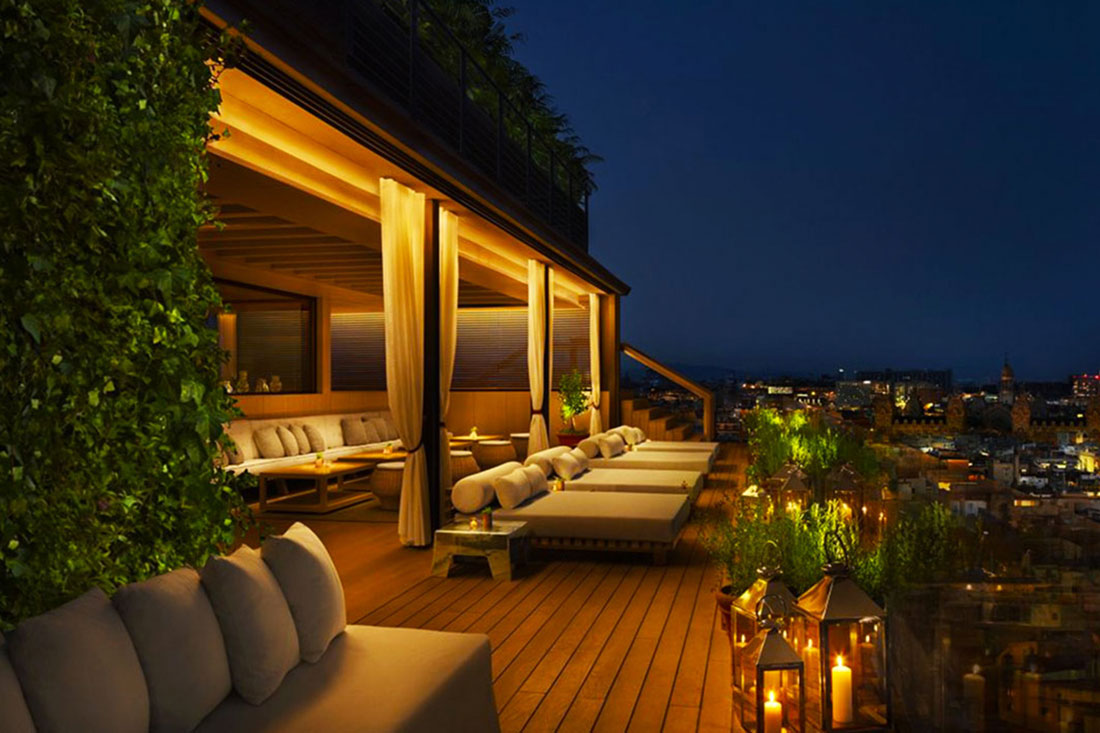 Upstairs on the roof is pleasant both during the day and in the evenings, but it's at its best after sunset with unobtrusive music, greenery and candles all creating a cozy, romantic atmosphere. One downside is that they do not offer organized entertainment or concerts here, so it's more a place to enjoy the atmosphere and view. However, there is plenty of entertainment in the cabaret restaurant and punch bar.
*Glass of wine – from €6.50
This rooftop has a very minimalist design, and the hotel lobby is also pretty low-key, but what sets this terrace apart is the fantastic view over Barcelona Cathedral.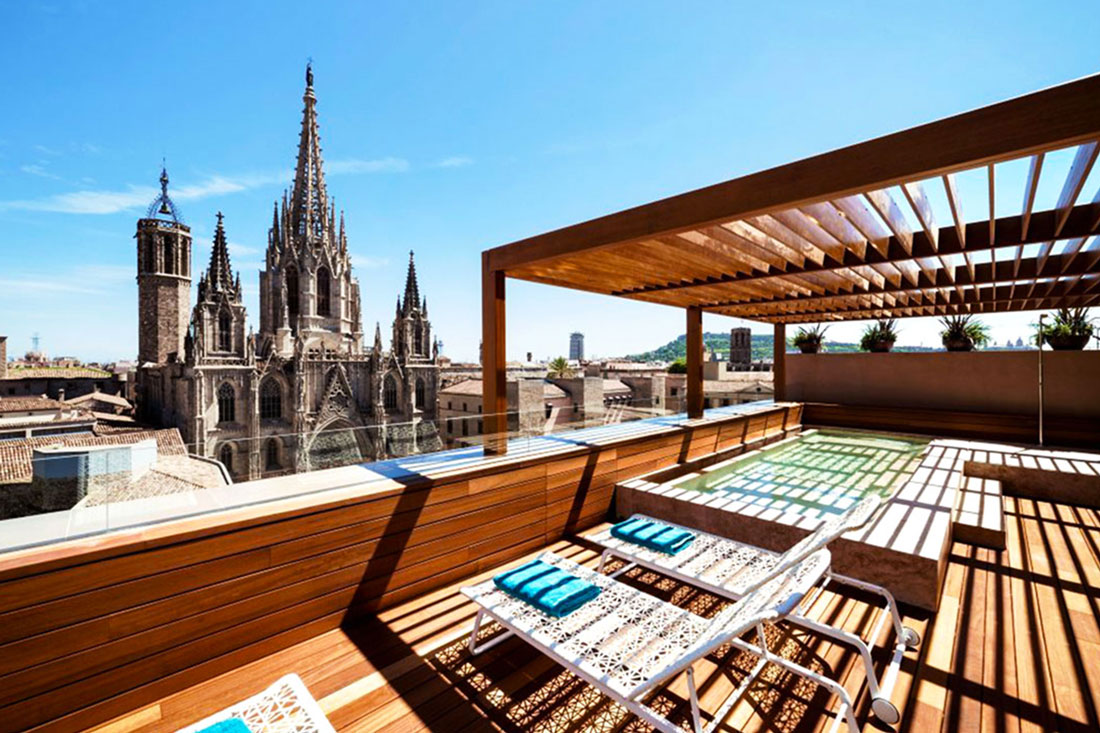 Bloggers and tourists alike head here in their droves to have the chance to take a phot here since there is nowhere else in the city where you will get closer to or higher than this, one of Barcelona's most famous attractions. A nice extra is that they have live music and you can see what is on by checking out the website. The terrace is open until 22.00.
*Glass of wine – from €7.00
The Sky Rooftop Bar opened a year ago and quickly became somewhere where enjoying a glass of wine or cup of coffee is a must and taking a photo is even more important as it has fantastic views over the city and the Plaça de Catalunya.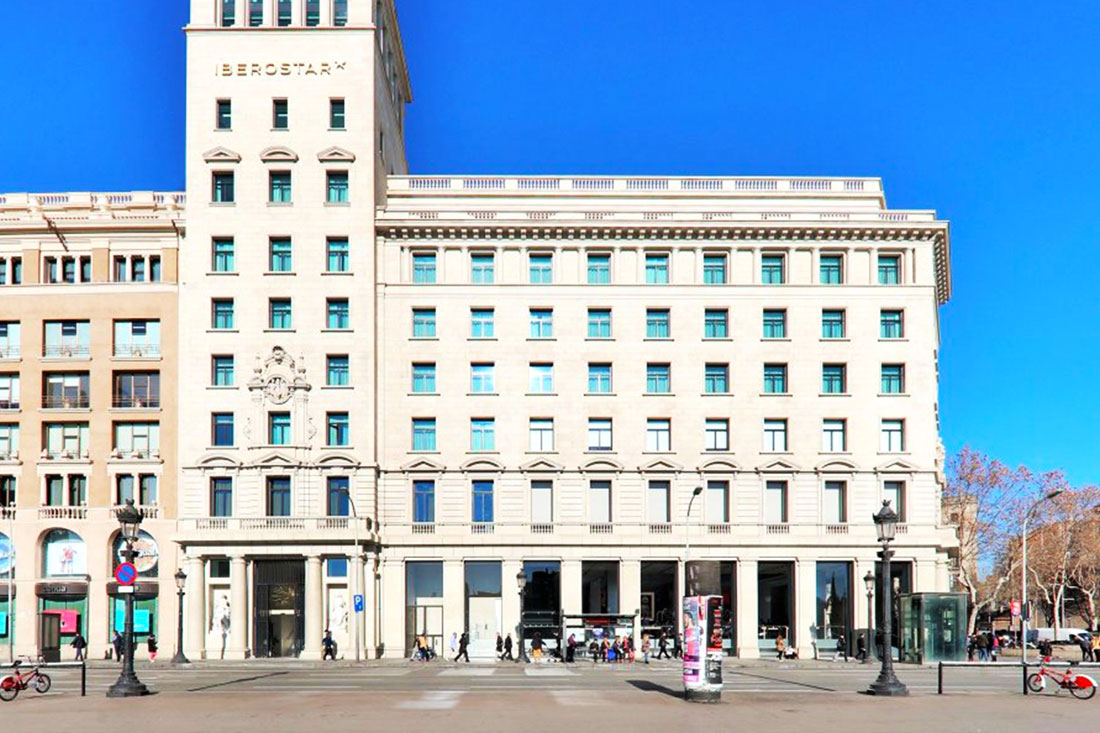 On Thursdays it's Reggaeton night, Fridays are techno and Saturdays, house. €10.00 entrance fee.   
*Glass of wine – from €5.00
You can't see the Sagrada Familia or the Cathedral from this terrace, nor can you see any other tourist attractions, so why is it in the list of top 10 tourist attractions? Well, it's all down to the atmosphere. It's worth popping in here during the day between 12.30 and 16.30 to hear the DJ sets and enjoy a glass of wine or an Aperol spritz. If the evening offerings are more your thing then come here any evening between Wednesday and Saturday and you'll find live music ranging from pop and electronica to funk as well as a tasty snack menu and a great atmosphere with lots of live plants. 
*Glass of wine – from €4.50
If you need to work while you are away, there is no better place to do so in comfortable surroundings than on the rooftop terrace of the Hotel America. The attractive red-white décor with a few trees and a choice between table and sofas to work from adds to the experience.
They will provide towels on request since no-one will stop you working and enjoying the sun at the same time. The food is good too, with enormous tortillas and Caprese with delicious tomato and mozzarella costing around €6.00-€8.00. Meat lovers can enjoy burger and chips starting from around 10.00 depending on what side orders you request.
*Glass of wine – from €5.00
This is one of the city's best-known terraces, where they are not afraid to charge premium prices for food – and this is no surprise given the view. Two of the cities most famous architectural masterpieces can be seen from here – Gaudi's La Pedrera and the Sagrada Familia.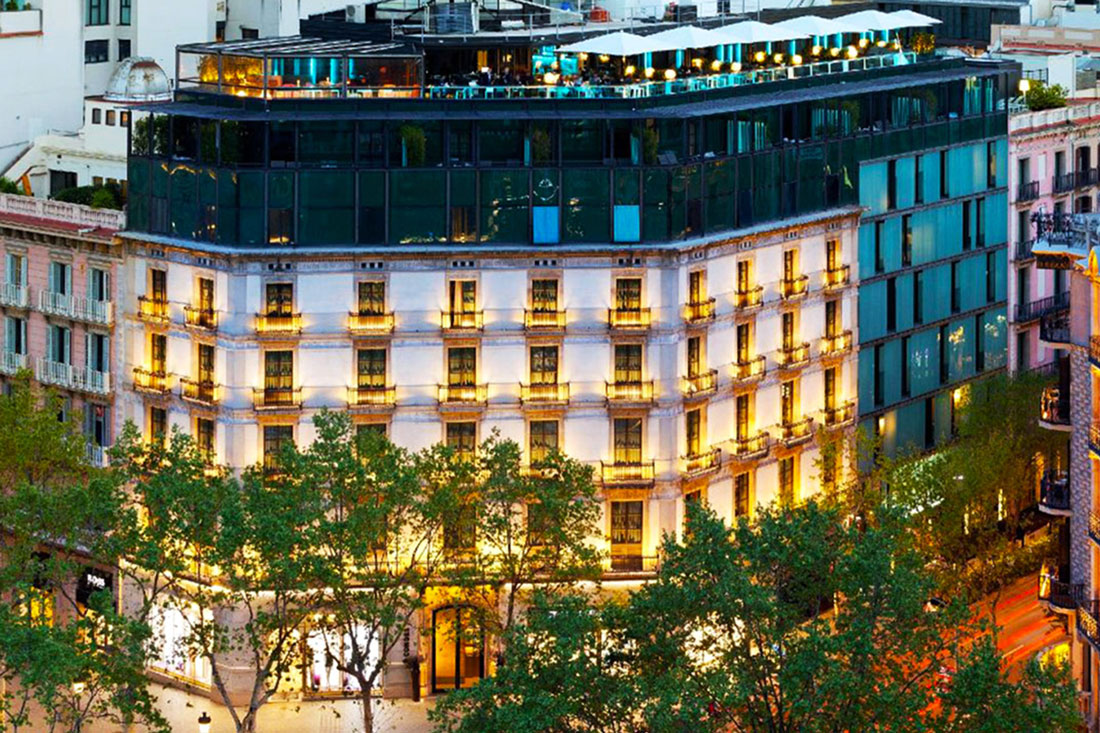 In contrast to the Colón which has placed the onus on the view, here there are many added value elements – the kitchen is open until midnight and the terrace until 02.00 in addition which they offer live music on certain evenings throughout the month – you can find what is on offer and when either on social media or on the website.              
*Glass of wine – from €7.20
This quiet, comfortable terrace is in the very center of town, on La Rambla – and it has everything: views over the sea and Montjuic Castle, an excellent menu, excellent service (the waiters even speak Russian!) and, most important of all, reclining deckchairs instead of tables, some even with umbrellas or screens to protect you from the midday sun.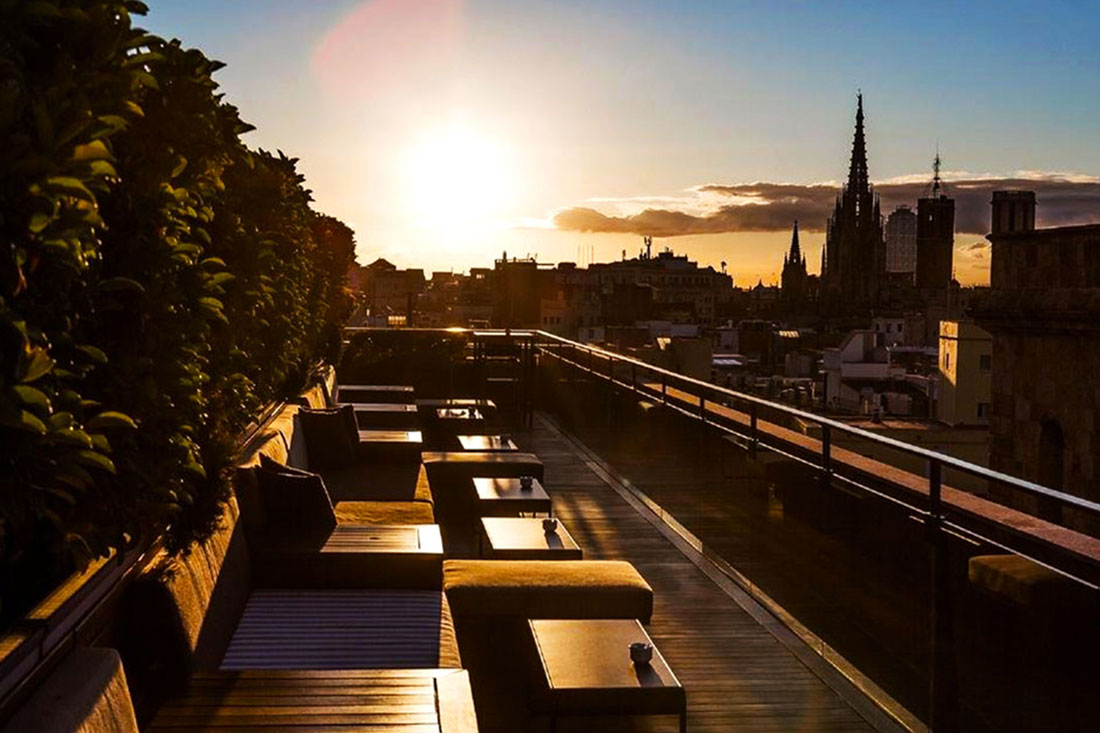 You can happily spend the whole day here sipping freshly squeezed orange juice or a glass of wine. A bonus for hotel guests is the superb swimming pool with a view and the Saturday morning yoga lessons. On top of all that, the US company Magnolia Bakery has opened a branch in the lobby where you can try their cupcakes, banana pudding and have a cup of coffee (average price – from €6.00)         
*Glass of wine – from €7.00
If you're tired of all the architecture and you just want to enjoy the beach, then this hotel terrace is for you. You'll find it on the Passeig de Colom, close to the famous monument to Christopher Columbus (did you know that there is a lift inside which you can pay €6.00 to use to get to the top?)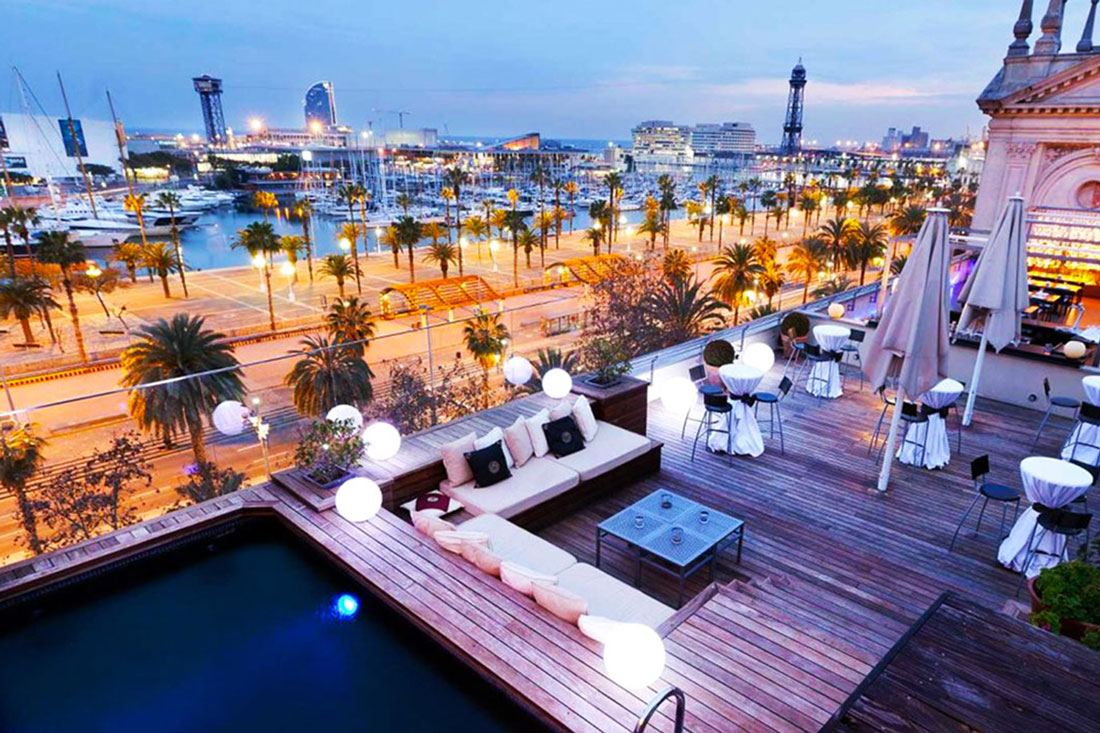 This place has a great atmosphere both day and night, and the menu offers snacks, desserts, and, of course, wine. This hotel's place in the list of best views in the city is well-deserved – and the prices are reasonable too.  
*Glass of wine – from €5.00
There are many places in Barcelona to enjoy the sun and to watch the sun go down. The first option is covered by a day on the beach, but the second requires a bit more thought. If you are happy to move a little out of town, then settle down on this hotel's terrace opposite the Agbar tower, home, it is said, to the Facebook offices.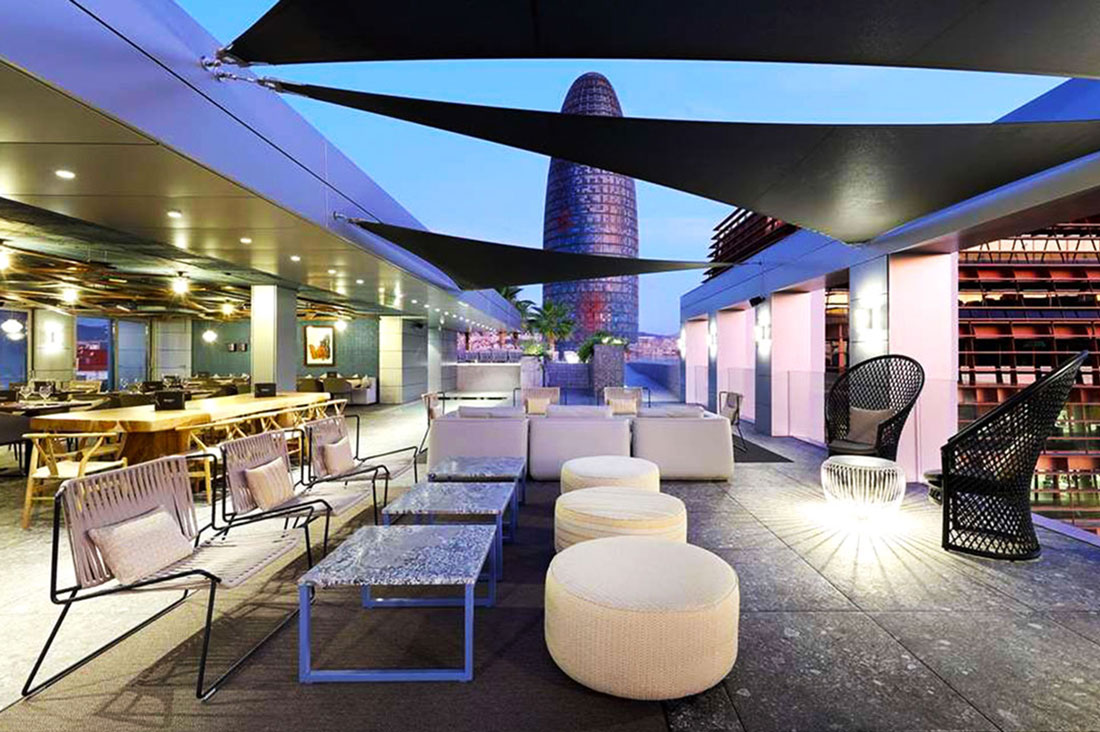 Here you will get a superb view of the setting sun which is reflected both in the swimming pool and in the windows of the tower. If you come at the weekend, a DJ will keep you company, and you won't be snacking on the usual crisps and nuts but sushi. Oh, and if you stay in this hotel, you can bring your pets.    
*Glass of wine – from €4.00
Marea Baja
This is the only terrace in our list which is not part of a hotel. It consists of two establishments on the same floor and with the same concept – Marea Alta, a restaurant and Marea Baja, a panoramic bar specializing in sangria.
The building where these places are located is close to the Columbus monument, near the port and is pretty hated by the locals; no-one likes the architecture, how high it is, or its situation. But for all that, the view is fantastic with a 360º panorama over the city, sunset, sea, and port. You can choose a glass of one of 12 different types of sangria. 
*Glass of wine – from €6.50
---
There are many hotel terraces in Barcelona which are open to guest and visitors alike. They are usually free to enter, but some of the more expensive ones might ask for an up-front payment of around €20.00 to discourage people who just come to have a look round (e.g. Mandarin Oriental or Hotel Central). Most won't object if you just drop by t take a photo without buying anything. Of course, some places have such a good feeling about them and the food and wine are so tempting that you could easily spend all day there, sunbathing and snacking by day, and transforming into a party animal in the evening enjoying the live music. The terrace season lasts most of the year, even til around now – you probably have a couple of months still to go.