When to go
Given that the islands are situated on the equator, it's summer on the Galapagos almost all year round. Officially the seasons divide themselves into two – dry and cool (June to November) and rainy and hot (December to May). If you are able to choose it's best to go in the dry season when the sea is calmer and underwater visibility is better for snorkeling. I was there over the New Year holidays, the weather was wonderful, it was warm the whole time even though the forecast on my phone showed rain and a temperature of 19-20ºC.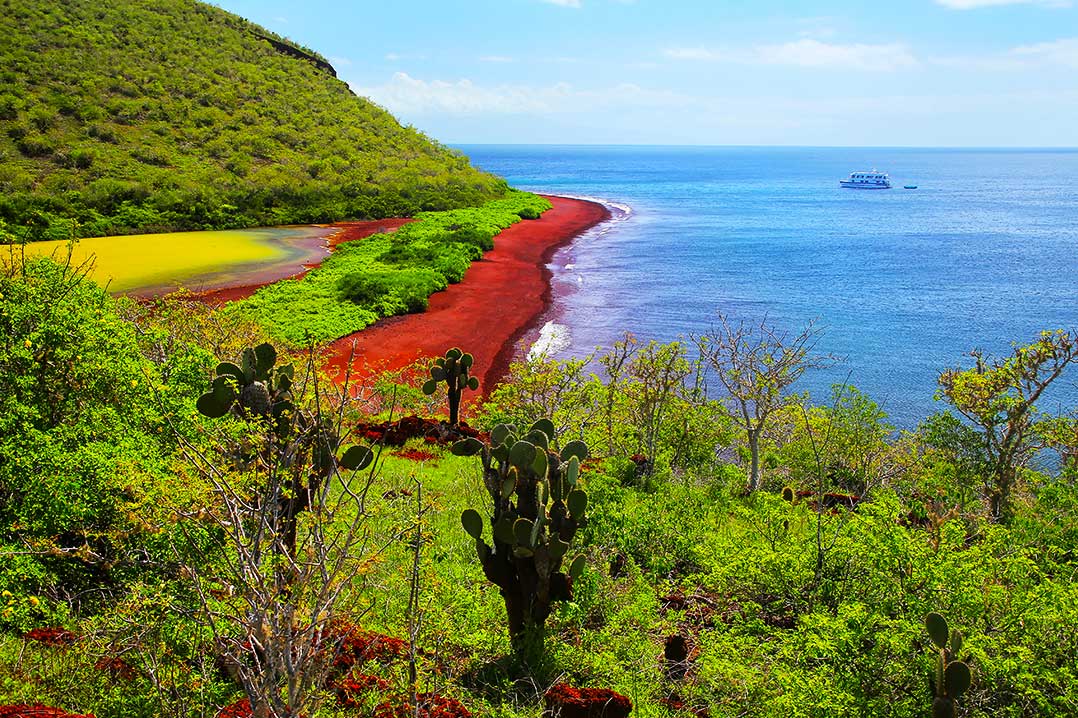 Costs
Without taking into account, the cost of air tickets ($1350/€1260), a 5 day visit will cost around $600-$700 (€630):
Local tourist tax – $120 (€112)

Hotel – $50-$70 (€56)  per room per night

Food and drink – $30-$50 (€35) per person per day

Excursions and transportation – $200-$300 (€224)

Souvenirs – $30-$40 (€35)
What to take along
Sun cream which will not damage the sea life and cоral (look for products which are certified "reef sale/coral friendly/biodegradable). If you have trouble finding such ecologically friendly products where you live, you can buy them easily when you get there, costing around $20.00 (€17)

Snorkeling equipment. You can hire this in any kiosk on the islands, but if you take your own, make sure you take it with you wherever you go.

Waterproof footwear – you'll need something on your feet to stop you slipping when walking on the sea bed.

A plastic water bottle. There is a big problem with singl-use plastic on the Galapagos, and most hotels offer guests the use of water coolers to fill their own water bottles for free.

Cash in USD; there are cashpoints on the islands but they can suffer from outages; I came across a few people who were unable to access cash because of internet problems.

A beach towel. If you are lucky, your hotel might offer beach towels but I was glad I took along my own since none of the beaches had deck chairs to sit on.
How to get there
There are two international airports on the Galapagos Islands – Baltra and San Cristobal – it's slightly cheaper and a bit easier to use Baltra.      
The airport on Baltra Island is around a 10-minute ferry ride from Santa Cruz, which is the most developed and densely populated island in the archipelago. It takes about 5-10 minutes by bus ($5/€4.6) to get to the ferry, which costs another 80 cents (€0.70). You can get from the port of Santa Cruz to the tourist center using public transport (bus without air conditioning) for $2.00 (€1.8) or in an air-conditioned taxi for about $25.00 (€22.00).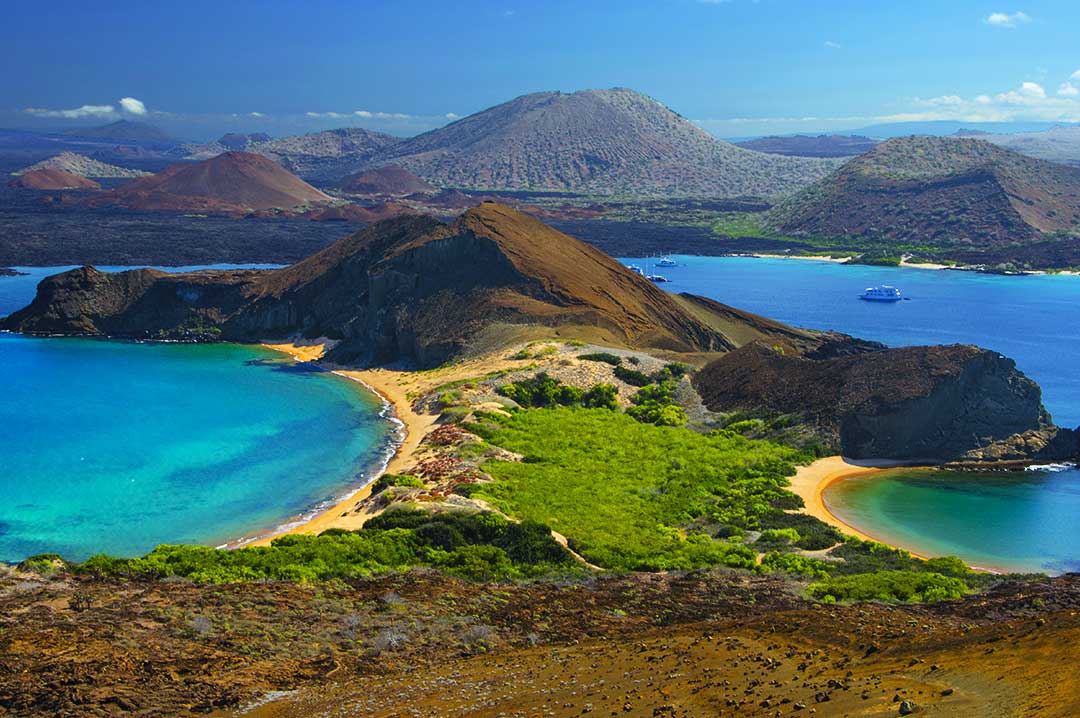 Visa
US and EU citizens do not require a visa if they plan to stay in the country for fewer than 90 days. You can find out more about visa requirements to Ecuador by clicking through this link.  
Getting ready to go
The Galapagos Islands are one of the most protected areas on earth and are a UNESCO World Heritage Site.
From the very outset, you should set aside any ideas you might have of a holiday relaxing on a sun lounger on beaches of soft white sand. The Galapagos are for those who have an active interest in the unique natural history here, wildlife which has been cut off from the rest of civilization for millions of years.
The Galapagos Islands were formed by the shifting of tectonic plates and underwater volcanic eruptions which, over time, let to land breaking the surface of the sea. Each of these volcanoes formed an island. There are 13 more or less "major" islands in the group with hundreds of smaller rocky outcrops in the surrounding waters.
Given how isolated the islands are, many forms of life evolved here which are unique to the Galapagos. Sea iguanas, giant turtles, flightless cormorants, and Galapagos fur seals form just a small part of the ecosystem which you can experience here. Tortoises will lazily cross your path while iguanas and fur seals will squabble over the best spot on the beach. Here you will truly feel part of Mother Nature's great plan – a participant, not merely a tourist.  
The Ecuadorian government limits the number of people who can visit the islands, but if you can get an air ticket, then they will let you in. On arrival in Quito or Guayaquil, you will need to proceed directly to the window marked «Instituto Nacional Galápagos» and pay your $20.00 (€18.00) transit charge. Your luggage will be checked for the presence of prohibited items of plant and animal matter (click here for a full list).   
They check bags carefully, but I saw how they let through some things like dried noodles, tinned food, cornflakes – there are strict limitations, but they will let certain items through. You should check carefully before you arrive.
After these checks, you receive a transit form which you must not lose as they will ask for it on arrival on the islands.
The islands' tourist tax is $100.00 (€90.00) per person and is payable in cash in USD, the official currency of Ecuador, at passport control. You will not be admitted onto the islands without paying this fee so you should make sure you have the right money ready in advance, before you get to passport control.
Papers you might require at the border
your return flight ticket

accommodation or cruise voucher whose dates should coincide with the flight ticket

an invitation from a resident of the Galapagos for no more than 60 days in any one year if the purpose of your trip is to visit friends and family

the transit form which you received in Quito or Guayaquil.
Where to stay
Independent travelers generally stay on the three or four most densely populated islands of the archipelago – usually Santa Cruz,  San Cristobal, and Isabela. Each of the islands has its own specific characteristics in terms of wildlife diversity and sites of interest to visitors. Santa Cruz is the most developed of the islands, and it's where most of the residents of the Galapagos live. There is a reasonable selection of restaurants, and it's easiest to get to the other islands by sea and to return to the mainland by air from here. San Cristobal and Isabela are not so developed, and there are far fewer restaurants and other tourist businesses.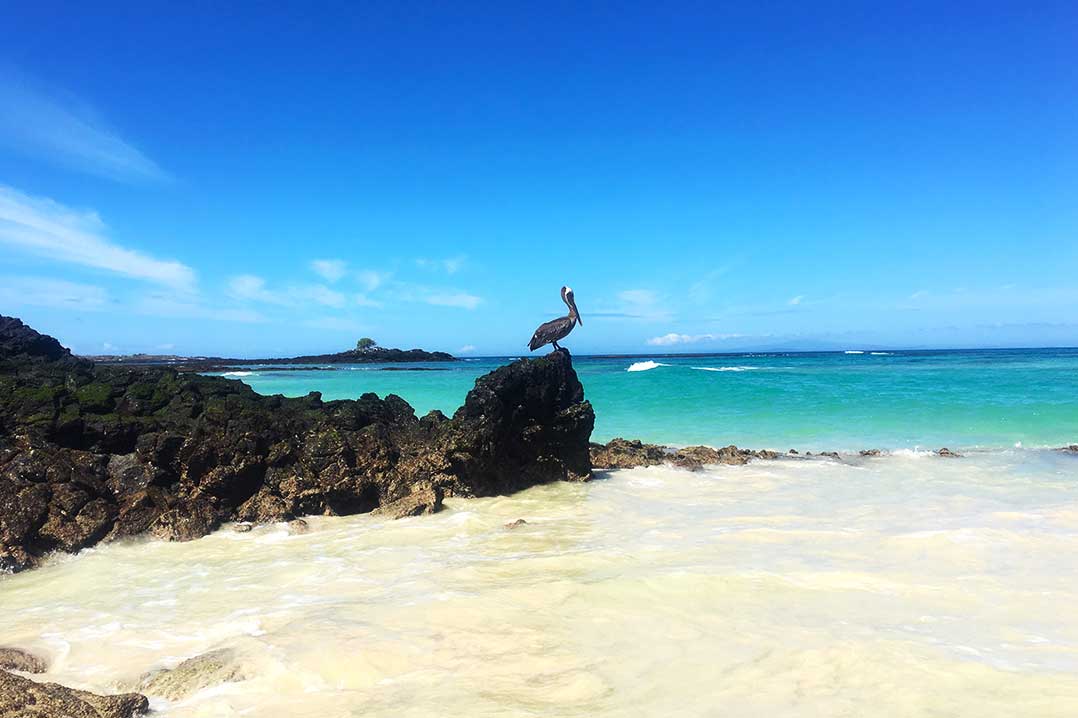 If you don't have a great deal of time then you should make Santa Cruz your base and spend 1-2 days on San Cristobal or Isabela, both of which take between 2.5-3hrs to get to by sea. The journey costs $30.00 (€28.00) each way. You will see signs everywhere telling you where you can obtain tickets – availability should not be a problem unless you are traveling over Christmas/New Year when you might want to get hold of them a couple of days in advance.
Santa Cruz
All the tourist infrastructure for the Galapagos is concentrated in the town of Puerto Ayora. There is a good selection of budget accommodation available.
La Fortaleza De Haro – a pleasant hotel with a pool, pretty garden, and a five-minute walk from the port area. Double rooms from $97.50 (€91.00) per night.          
San Cristobal
Hostal Gosen — A budget guest house with a kitchen and colourful décor, from $54.00 (€50.00) per night based on double occupancy.
La Zayapa Hotel — A boutique hotel close to the beach and the island's main tourist attractions, from $93.00/€87.00 per night for a double room with breakfast
Isabela
The Isabela Beach House — A lovely hotel on the beach from $126/€117 per night for two
Hotel Coral Blanco — A budget option a little further out from the center of town with communal hammocks. From $60.00/€56.00 per night for two.
What to see
All the beaches in the Galapagos are free of charge, totally safe and are deliberately kept clear of tourist infrastructure so as to keep the environment safe for the island's native inhabitants – the animals.
Day 1
Once you've arrived at Puerto Ayora on the island of Santa Cruz, drop off your suitcases in the hotel and head for the Charles Darwin Research Station. Charles Darwin understood how evolution was behind the unique flora and fauna to be found on these islands during his visits here in the 19th century.    
This large are houses a number of museums with information about the islands, Darwin's work and the efforts of local scientists and volunteers involved in animal conservation activities here. You can also take a look at the turtle farm where Galapagos turtles of all ages – from a few months to more than a hundred years old – are looked after.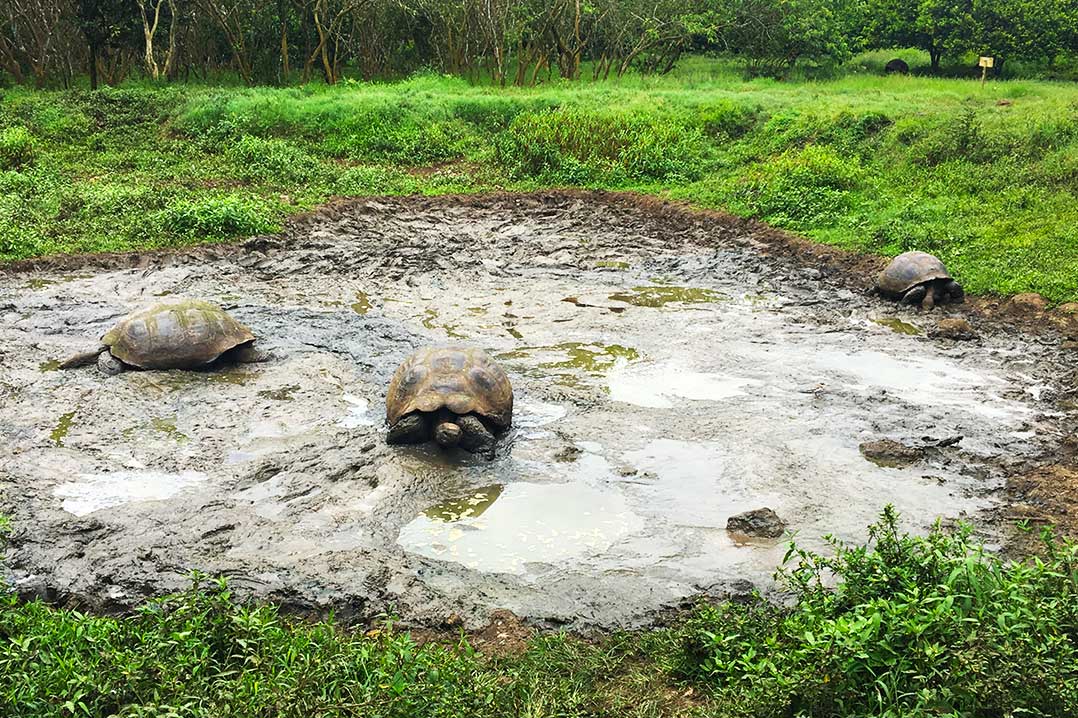 The giant tortoises are under threat of extinction and they can reach 400kg in weight. Ecuadorians are extremely fond of these ancient inhabitants of the islands and do their best to protect the ten remaining species. It is here that you can have your passport endorsed for free with a Galapagos stamp.
After dinner, jump into a water taxi down to the port and for 80 cents (70 eurocents) cross to the German Beach Playa de los Alemanes, a very quiet area, free of deckchairs and parasols and food and drink outlets, so you should take everything with you that you need.   
Having rested awhile, head towards another of Santa Cruz island's attractions, Las Grietas, a grotto in the cliff face which is filled with fresh water. This is also free of charge to visit. To get there you cross salt lakes and wonderful deserted landscapes covered in enormous cacti.    
Once you reach the grotto, chuck your stuff to one site and dive into the pure, cold water. Don't forget your snorkeling gear for this one, as well as protective waterproof footwear. You'll need this to comfortably explore the cliff grotto and properly take a look at the underwater wildlife.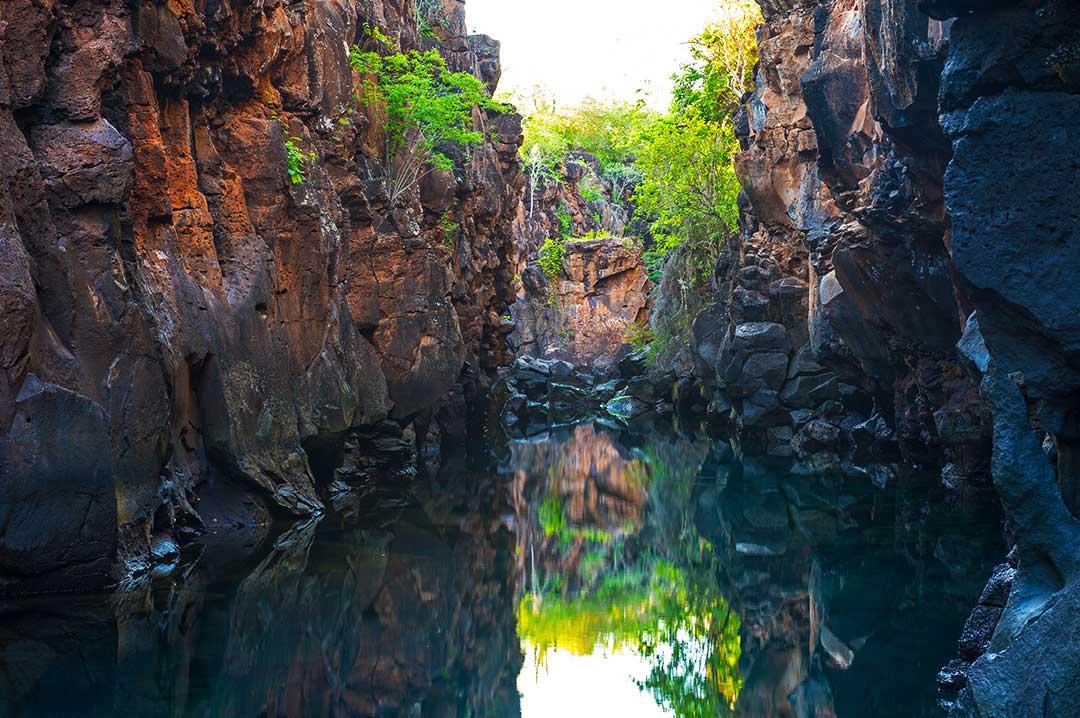 Day 2
I thoroughly recommend that you spend a day at Tortuga Bay, otherwise known as Turtle Bay, an amazing place in the south of the island. It's best to start out early in the morning because you can only reach this beach by walking 3.5km. It's open from 6am to 6pm and the only entertainment is kayak hire for $15.00 (€14.00) – and there are never enough to go around! You won't get bored, though, as the beach is enormous, although you can only really bathe in a small bay in the eastern part because of the strong undertow in the main waters on the beach.
There is no infrastructure here – it was not designed for human habitation, and you get the feeling that it is some uninhabited beach and you are the only one who found it. So take everything you need with you – food, water, something to lay down on, appropriate headgear and a swimming mask, of course. Here's where you will see giant turtles and little sharks – harmless to humans.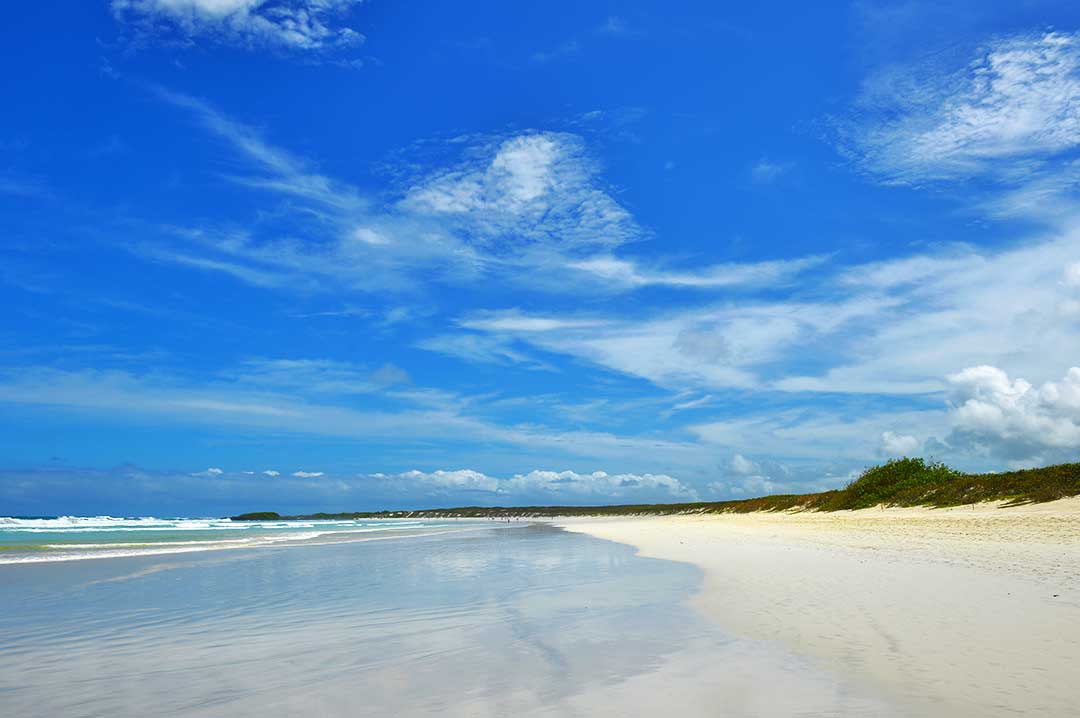 If you still have enough energy after dinner, head for the Giant Turtle Reserve, located in the very center of the island. It costs around $10.00-$15.00 (€13.00) to get there and entrance costs $5.00 (€4.50) which includes the use of wellington boots to help walk through the tall grass and mud so loved by the turtles. You won't find fences or enclosures here, nor do wardens patrol – you are free to wander where you like and get up close and personal with the turtles. Hundreds of these huge, majestic, slow, lumbering reptiles roam freely. When you enter the area, you will be asked politely not to touch the turtles and not to take photos using flash so as not to unnecessarily startle them.
Day 3
Now you're more or less settled on the island, why not book one of the day-long excursions which you can organize with any of the many tourist agencies in Puerta Ayora. Best to book the day before you want to travel. One option would be to head out to North Seymour island, an excursion which lasts 7-8 hours. You will see the beach on the opposite side of Santa Cruz with its flamingos, pelicans and the chance to take in a bit of snorkeling (use of diving mask, snorkel and flippers are included in the price), lunch on the island and a walking tour taking in routes specially designed for you to take in the local ecosystems.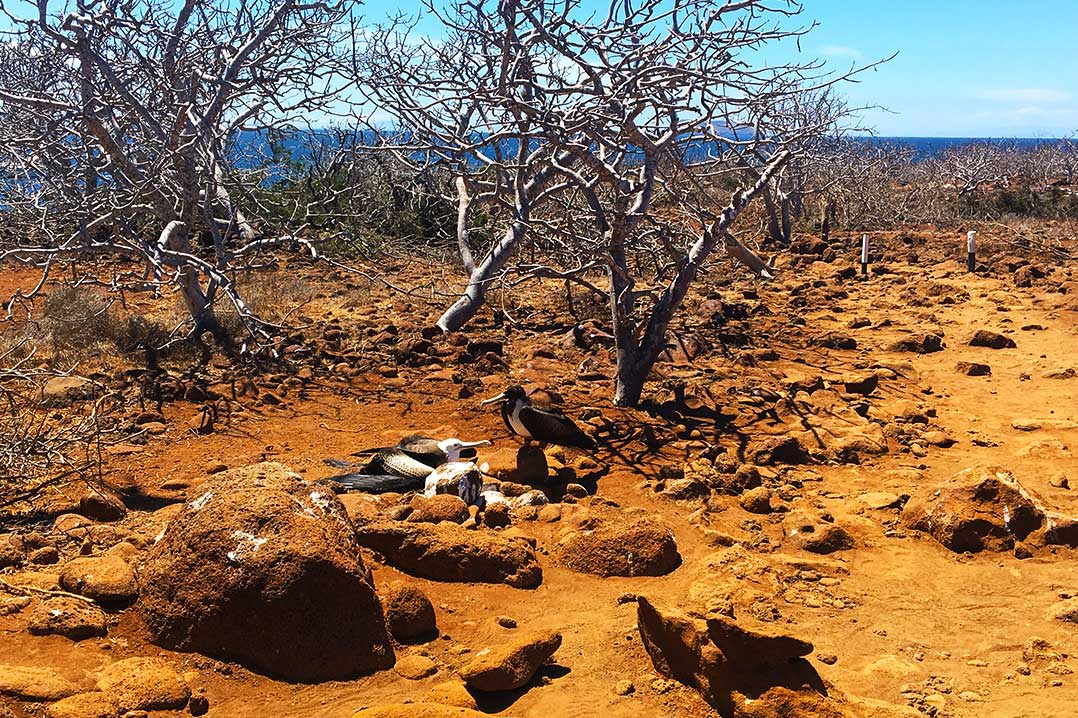 If you enjoy the underwater experience then I suggest to take in a snorkeling tour on Santa Fe island, which also takes about 7-8 hours and includes dives off the island shore, popular thanks to the sheer diversity of its sea life, including tropical fish, sharks, sea lions, tuna and much more.    
It's best to talk to a number of different agencies to get as much information as you can and understand what the best deal for you is. These excursions normally cost about $130.00-$200.00 (€170.00) per person.
Days 4 and 5
On day 4, take a boat to one of the other main islands. Isabela is the biggest is terms of area, San Cristobal is a little bit smaller but is more developed in terms of tourist infrastructure.
Isabela Island
Everyone visiting the island arrives at the port town of Puerto Villamil, the only inhabited place on the island. The liveliest place in this small town is the beach where most of the hotels are located. There are no deckchairs or loud music on this beach – you really have the feeling that you are at the ends of the earth.
If San Cristobal is the kingdom of the sea lion, here rule the iguanas in large numbers. There are sea lions here too – they love basking on the rocks and wooden jetties, something you will want to take so many photos of.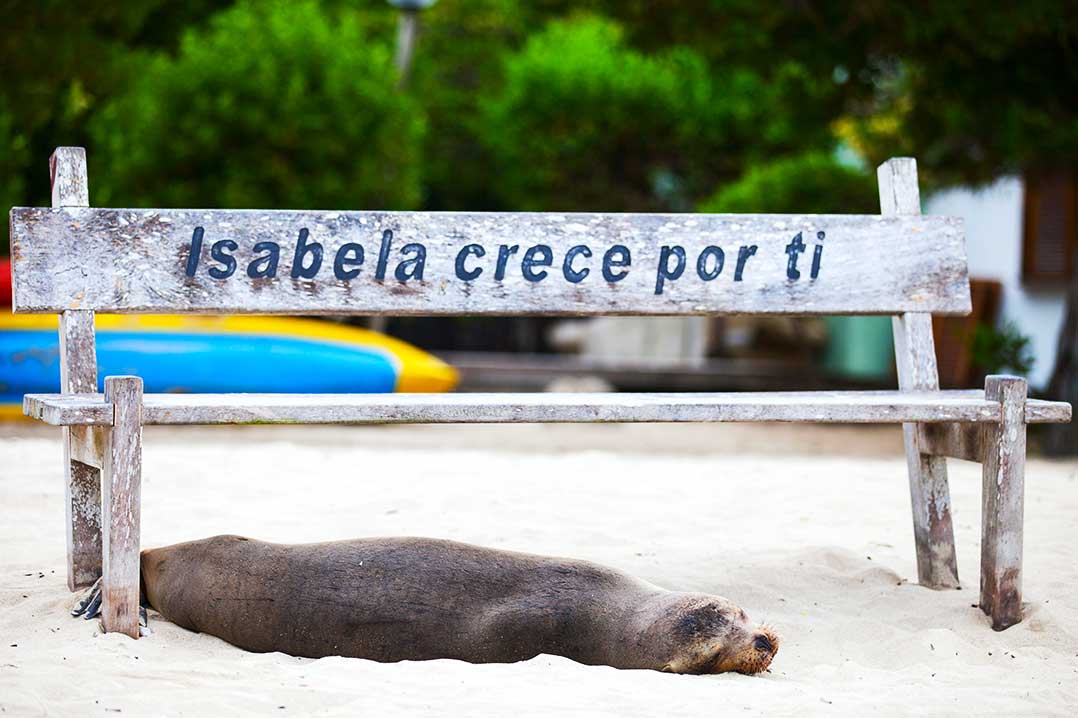 60% of all types of flora and fauna of the Galapagos are found here, including 16 types of whale.
One of the more interesting places you can reach on foot is the Concha de Perla, a bay surrounded by stone reefs. You can swim in the calm, translucent waters with sea lions here. It takes about 15-20 minutes to walk and is free of charge.
The lava tunnels are another free attraction on Isabela – in fact, there are as many as five active volcanoes on the island. The closest is the Tunel de Estero, which is the way in to the passage itself and to a rift in the crust, a window to the interior of the volcano. At this point, the tunnel is about as high as a person. The attraction is about a 3km walk or about $5.00 (€4.50) in a cab.
San Cristobal Island
Puerto-Baquerizo-Moreno is the island's tourist center where all the hotels, shops and restaurants are to be found. Start your exploration of the island with a gentle stroll through its northern part. Along the way, you will come across two of the island's most popular beaches, Playa Mann and Punta Carola. To the east of Punta Carola, around 2.5km from the center of town, you'll find some observation platforms on the Tijeretas Hills (Cerro Las Tijeretas). On one of these stands the monument to someone highly venerated by Ecuadorians, Darwin himself. There's only one path leading to these hills, so it's unlikely you'll get lost.           
Once you've had a good look round, take the narrow path down to the small bay of Muelle Tijeretas. There's no manmade access as such, but steps have been hewn out of the rock leading down to crystal clear water where you can swim with the sea turtles. As usual. Don't go anywhere without your snorkel and mask so as to enjoy the whole experience properly.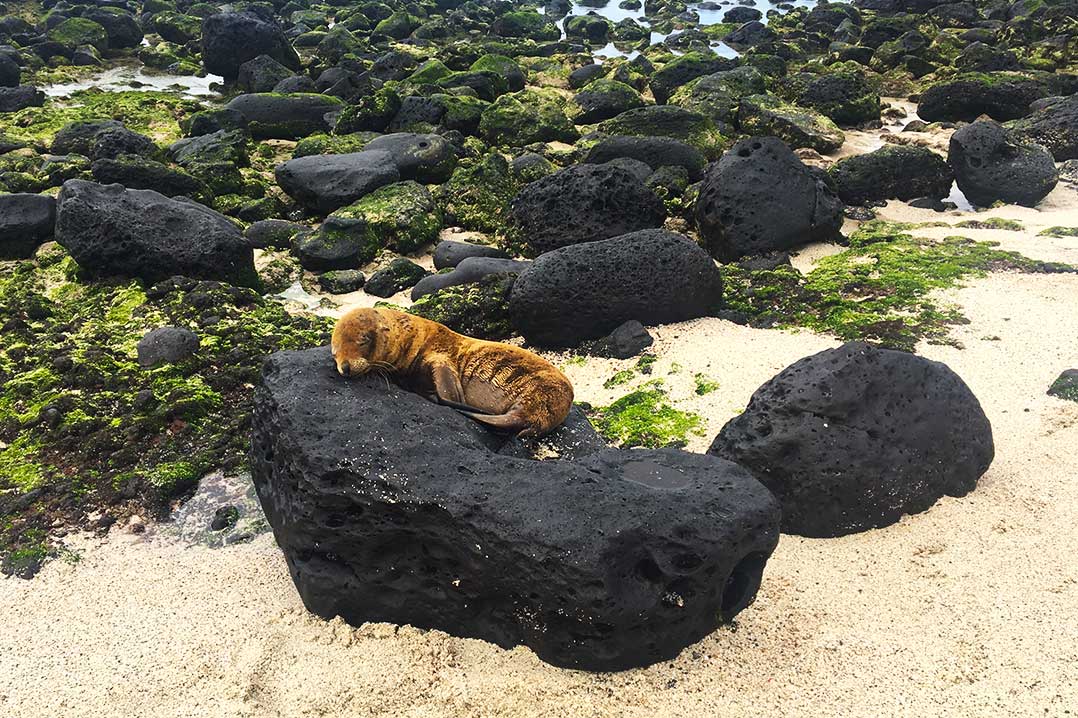 What to try
The signature dish of these parts is lobster. Normally they grill it and serve with rice, vegetables, and fries. A meal costs anything from $10.00 to $30.00 (€9.00-€27.00), but a lobster alone will set you back around $30.00 (€27.00), depending on its size. A less expensive option is to ask for lobster stew (half a lobster with other seafoods and rice) which will come in at around $15.00 (€14.00). Don't bother trying any of the exotic drinks on offer – they're all imported.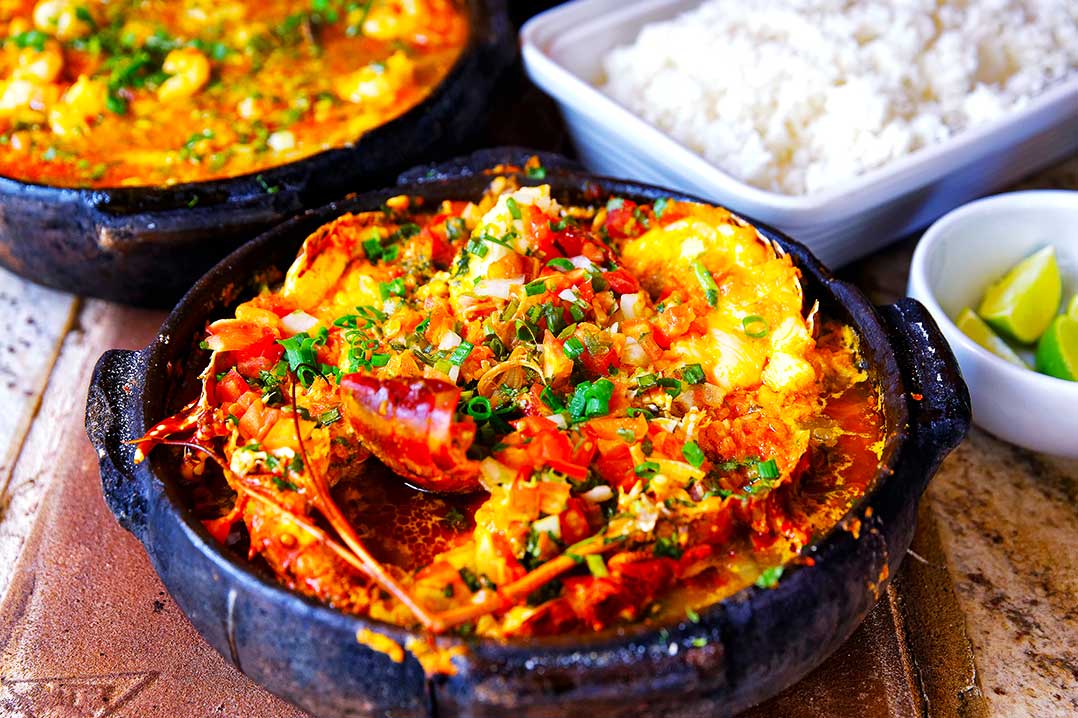 What to take back
Souvenirs in the Galapagos are very expensive and aren't always worth the money. I'd suggest just sending a postcard for 50c with one of the islands' interesting stamps attached – all of which show (you guessed it) – the turtles! It'll take some months for it to reach its destination, but it's worth it as a real sign of life from the other side of the world. Each town on the islands has a tiny post office which will send your card on its way for $10.00 (€9.00).
They grow coffee on San Cristobal which you'll find in all the souvenir shops. It's a nice idea as a present, costing around $10.00 (€9.00), but it has quite a bitter taste not exactly exalted by coffee experts. Much of what's left is imported from the mainland, so you really need to decide whether it's worth spending hundreds of dollars on run of the mill tee shirts, model turtles and iguanas, fridge magnets and what have you…
---
You can't really call time spent in the Galapagos a "holiday" as such. It's probably one of the most activity-rich journeys you can make. But even taking into account the endless moving from one place to another, it's really cool to feel part of this wild nature without barriers, security guards or wardens and to get your head around the fact that the first human beings only set foot here for the first time 200 years ago. Despite the destination's popularity, the locals really do care for the natural environment here and don't sell it out for a quick profit.