Stereotype 1: expect to be conned
Planning my trip, I had been warned many times even by North Italians: "Are you really intent on visiting Naples? Well, once you arrive be sure not to go out anywhere, sit in your room all the time and be as quiet as a mouse!"
As soon as you come out the airport hold your handbag tightly and don't open your mouth — some petty criminal might ride up to you on a scooter any second and snatch your phone out of your hand. If you find yourself in a shop, a cafe or, heaven forbid, at the market, be extra vigilant: be wary of everybody, otherwise, they will be sure to con you, and you may even get your purse stolen. Make sure to look at everybody aggressively, so they don't get the impression that you're an easy target.
Obviously, while exiting the bus station (by the way, this is a great and economical way to get from and to the airport — it costs just €5 and takes only 30 minutes), I looked all around in panic: this is just the ideal place to find yourself in trouble on the very first day!
I didn't have any Internet on my phone, and I didn't know where my apartment was located. So I had to overcome my terror and speak with two guys there (oh, and one had a black eye – you couldn't have made it up!) to ask them the way to the center (I already had thoughts that they would drag me away to some dark forest). Well, Tommaso and Giovanni needed just five minutes not only to dispel the stereotype but to take me right to the central square and even give me a mini-tour, followed by a good-bye kiss!
I had an immediate desire to drink a strong coffee (I hadn't slept all night and how else should one begin a tour of Naples?). Still feeling worried, I decided to ask a local policeman for advice. Well, he not only stopped to chat for a full thirty minutes ("Naples is an unusual city! It's not like in the North! Everywhere has problems, but you won't find cuisine like ours anywhere else!"), he even invited me for an espresso in a beautiful bar called Gambrinus in liberty style (modern Italian). The coffee cost him €1. It seems that the Italians believe it to be in poor taste to charge a lot for espresso — how else to explain that it costs next to nothing in a historic cafe open since 1860 and located on one of the central squares?
Returning that evening from another bar, Perditempo, my friend and I checked out our favorite pizzeria. It was just closing, yet they treated us not only to free pizza but also to fried mozzarella! Was that generosity due to our feminine charms?
Losing my time
Perditempo translates roughly as "losing time". A glass of wine for €3, various DJs, a crowd of guests every evening, even on Mondays, and the friendliest of bar staff. Highly recommended!
At the MADRE contemporary art museum, which recently hosted an exhibition by photographer Robert Mapplethorpe, I was asked at the entrance whether I was younger than 24. Even though I answered in the negative, they nevertheless sold me a ticket for €4 instead of €8.
As for Pompey, we just got lucky. It turned out that entry is free on the first Sunday of every month. Any other day will cost you €15.
A trip to Pompey
Forget about expensive tours and head for Pompey on the train. Not from the central station, but from Piazza Garibaldi. For €2.50 you should buy a ticket for the train to Sorrento and get off at Pompei Scavi. If you're not too tired after taking a look around, head for Sorrento itself (another €2.50), walk around there and return to beautiful Naples on the last train.
As you can see, the stereotype was smashed to smithereens. Neapolitans actually turned out to be the friendliest of all people I had ever met in Italy. You can get conned in any city in the world, and you should always be on the lookout, but I can say that in this respect Naples is neither better nor worse than other cities.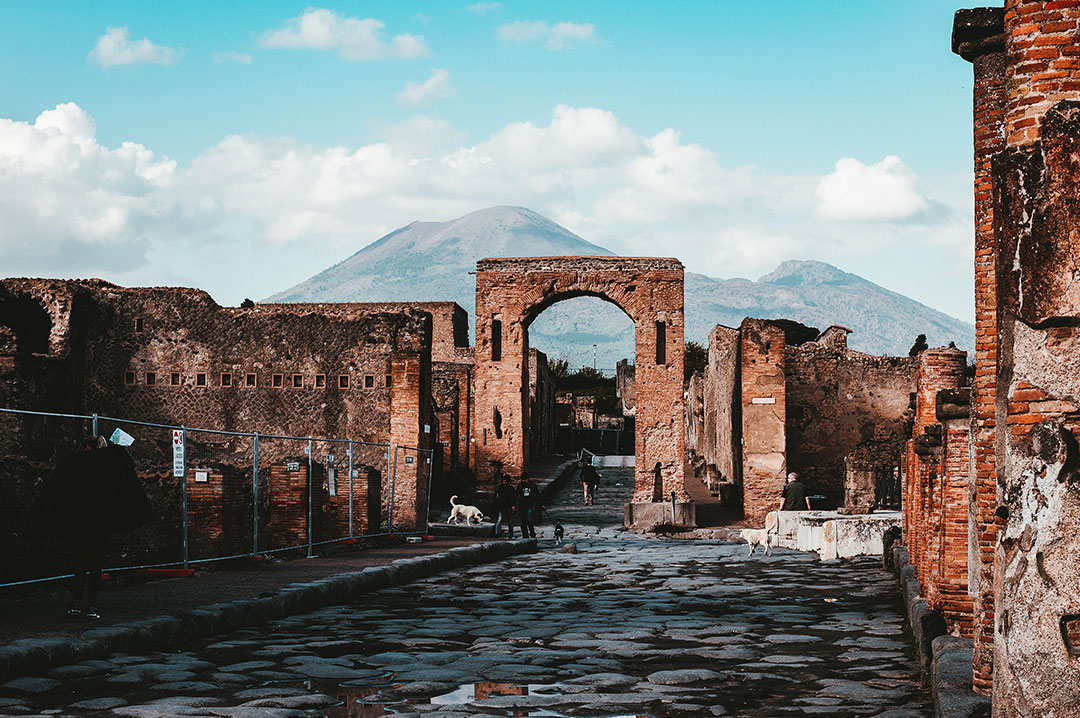 Museums in Naples
Naples is a city rich in culture and history, and even fierce believers in stereotypes acknowledge this. So we've put together a selection of museums that you should definitely visit!
Museo di Capodimonte. Entrance is €12. You absolutely must visit this museum to admire not only the works of Botticelli, Raphael, and Goya but also the amazing view over the city — the panorama from the windows is definitely worthy of your latest Instagram story.
MADRE contemporary art museum. Entrance is €8. Paintings, sculptures, and installations of modern artists. Pay particular attention to the installation of German artist Rebecca Horn portraying Pompey on the third floor: skulls hidden behind mirrors and a gravestone in the middle of the room accompanied by sad music. In the past, it hosted an exhibition of the work of Robert Mapplethorpe.
National Archaeological Museum of Naples. Entrance is €15. This museum has a collection of artifacts from Ancient Egypt, Pompey and even the home of the infamous Roman Emperor and tyrant Nero. The museum is enormous, and you will need at least four hours to view all of it.
Museo Cappella Sansevero. Entrance is €7. This houses the famous sculpture by Giuseppe Sanmartino Veiled Christ (a work so subtle that it's unbelievable that a human could have created it). Apart from that, make sure to look into the crypt: Raimondo di Sangro, seventh Prince of Sansevero, dissected his own servants (both male and female) while immersing their bodies in a strange substance that has preserved their blood circulatory system until this day (over 200 years!). We still don't know how he did it.
The city itself is an open-air museum. Visits to the churches (even the Cathedral!), where your eyes will tear up from the luxury and beauty are totally free (Naples really is a religious city). And there's also a lot of graffiti here: in the city center, you will even find Madonna with a Pistol by Banksy.
Stereotype 2: you cannot understand the Neapolitan dialect
Classical Italian only began to spread across the country after World War Two. Now, it's the language of the media and books, and it's the language used to communicate with tourists. However, in reality, each Italian region mostly speaks its own dialect. Even if you spent long years carefully studying Italian, let alone flicked through a phrasebook, you won't understand a thing said between two locals from, for example, Bergamo.
In Naples, the locals converse in the Neapolitan dialect: to understand what's going on you really have to listen very carefully. That kind policeman who bought me a coffee also spoke in the local dialect — so sometimes I didn't understand a word and simply nodded my head and smiled. At the Museo di Capodimonte, they even suggested I buy an Italian-Neapolitan dictionary as a souvenir — I didn't, but I came to regret that decision!
Naturally, the museum and restaurant staff will talk in classical Italian with you (forget about English, very few Italians speak it), but if you meet Neapolitans in a bar, you may not find a common language.
The Neapolitans don't even call their home city Napoli, but Napule.
How to get around town
The best way to see the city is on foot, but be careful — motorcyclists can appear out of nowhere, while car drivers seem blissfully unaware of the existence of pedestrians. Here, like in Rome, great beauty awaits you on every street, so walk slowly and keep your eyes wide open. If you get tired then descend into the Naples subway (a day ticket costs just €3.50) — it's amazingly beautiful. Especially take a look around Toledo station (all the more so as it's near the Spanish quarters).
Stereotype 3: the city is quite dirty
Well, unfortunately, this one is true. And although the tourist center is diligently cleaned, the local residential districts surrounding the center are filthy. The wearisome road from the central train station to our apartment drove my friend mad — our suitcase wheels got stuck with cigarette butts, plastic bottles, and adhesive packaging. Oh, and they keep digging the city up so as to "improve" the roads. Waste collection in the non-touristy districts seems to function quite poorly — you can often find an entire collection of plastic sacks alongside the local houses. So when you are told that Milan is a dirty city you really want to laugh back in the face of your conversation partner.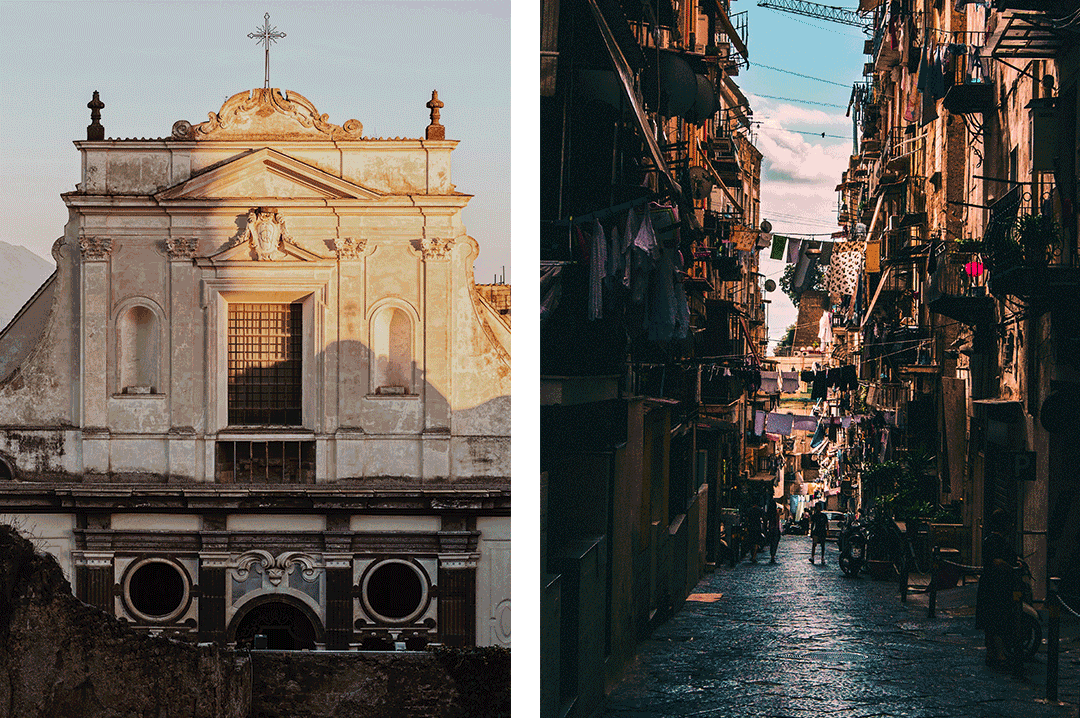 That said, if you have no plans to wander beyond the realms of the tourist zone (the districts of the historical center, Chiaia, the seafront and the districts of Vomero), you won't encounter a ridiculous amount of garbage. And anyway, in Naples and Italy, as a whole, you need to admire the palazzo facades rather than look at what's under your feet.
Where to stay
Naples is split into quartieri, i.e. quarters. Here are some where you can stay.
Centro Storico: for those who want to visit everything. This is the Naples that you came to see, with little alleys, noisy locals and, of course, amazing churches and palazzos everywhere.
Chiaia: an expensive quarter between the center and the seafront (you have to go there!). It's near the main shopping street.
Lungomare: a seafront zone where you are sure to get a pretty view from your window.
Stereotype 4: the food is great
Well, this is the only positive and probably 100% true Naples stereotype, which is confirmed both by foreign tourists and Italians from other regions of the country. The family of my Italian boyfriend, for example, put together a list of dishes that I had to try, and I've noted about ten times "a Napoli si mangia" — you will eat well in Naples. And this is despite the endless enmity between the regions for the title of the best Italian food region. Whenever I came back, they would ask me what I ate. And I would confirm the stereotype about great food.
The most popular Neapolitan dishes are pizza and ragout. You can find pizza here everywhere, however, the tastiest pizza is not that served in restaurants for €13, but that found in little kiosks for just €1.50. It's not very big but tastes so wonderful that you'll want to eat if for breakfast, lunch, afternoon tea and dinner. I especially recommend the pizzeria Di Matteo — here the recipe for Margherita has been passed on through the generations.
Ragout is another highlight of Naples cuisine. It's made from tomato sauce, two types of meat (pork and beef), onion and basil. And they even write poetry about it (yes, that's how much they love food here). The Italian writer, scenarist, and director Eduardo De Filippo wrote poems that you can read on the walls, on the menu and even in the Wi-Fi passwords of many local restaurants that serve the dish. I recommend going to Tandem Ragu — it offers many versions of the dish, including vegetarian options (from €11).
It's not tips
Despite the popular view, coperto in the bill from an Italian bar or restaurant does not mean tips included, but a table charge. You are basically paying for the fact that they set the table. You are welcome to leave tips separately.
Despite the popular view, coperto in the bill from an Italian bar or restaurant does not mean tips included, but a table charge. You are basically paying for the fact that they set the table. You are welcome to leave tips separately.
Don't forget the wonderful Italian tradition to have breakfast outside the home (take a coffee at the bar to avoid paying coperto). Coffee is another pride and joy of Naples. Strong, black and always with a free glass of sparkling or ordinary water. What to eat with it? Try sfogliatella — a light shell-shaped pastry. It can have different fillings, from ricotta to nut paste. You can taste it at a cafe called Pintauro — here both locals and tourists have been treated to wonderful dolci since the beginning of the 19th century. A coffee and dessert will cost no more than €3.
Oh, and here's separate advice for wine lovers: if you see a bottle of wine in a shop without a label don't be scared of buying it. The price will be especially pleasing (around €3), and it will taste great. If you have doubts, just ask to taste it, and they will definitely pour you some into a plastic cup. My friend looked on in disgust, really not wanting to buy wine for such a low price, all the more so without a label. However, since we tried it we have bought only that wine.
Where to shop for food
Small individually-owned shops rather than big chains are much more prevalent in Naples than in the north of Italy — you find them everywhere here. If you don't trust their prices then go to Carrefour — a French supermarket chain that is popular in Italy, too. However, I should say straight away: prices here vary depending on the location. For example, in expensive, elite Sorrento the food prices are at least 50% higher than everywhere else. So don't ignore the small individually-owned shops!
Stereotype 5: it's dangerous here, and the mafia is in control
Let's start with some basic facts: the mafia is essentially a way of defining all of Italian organized crime. However, more often than not the term refers to the Sicilian Cosa Nostra. Actually, there are several crime syndicates in Italy. In Naples and in the Campania region as a whole, the Camorra is the boss. A particular feature of the Camorra is that it's not a single entity, but several clans who also fight each other for territory.
You might think that this is just a bunch of tales for tourists: "Oh, it's awful in the Spanish quarters and Forcella (districts of Naples)!… Oh, the Camorra runs everything!"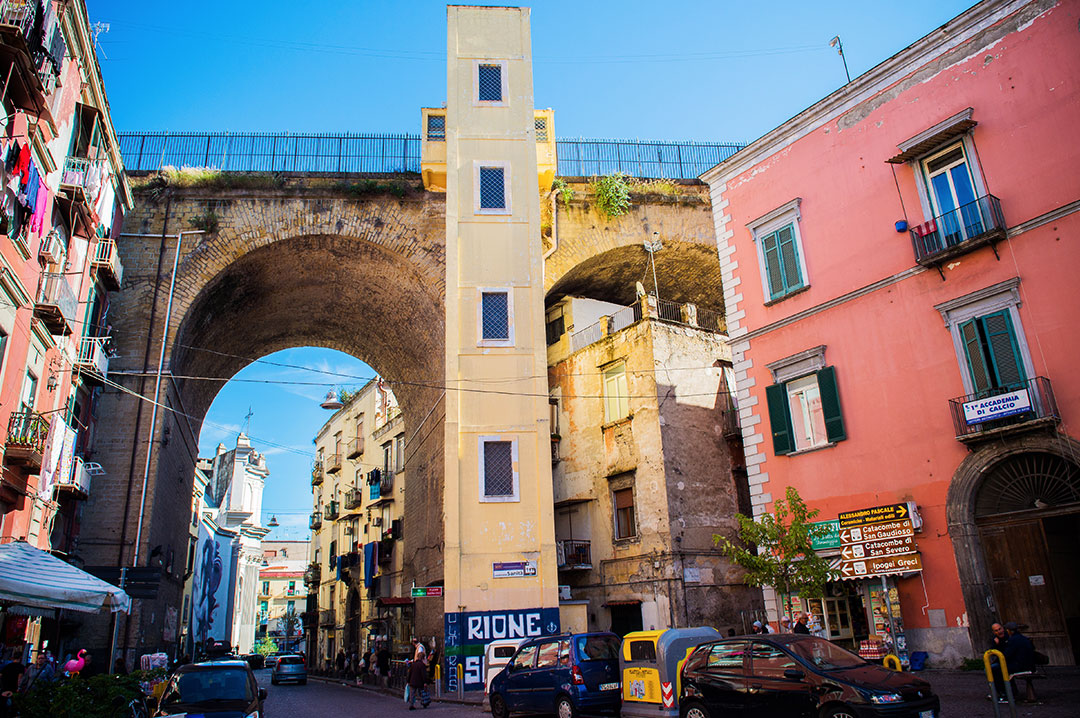 Well, here's a story for you. Returning once from Perditempo we noticed that our usually lively street was completely empty and that our favorite wine shops and even Di Matteo were closed. "Probably because it's Monday," we decided, whereupon somebody sped past us on a scooter. Having traveled a hundred meters, he took out a pistol from his jacket and, without reducing his speed, fired a shot into one of the alleys before riding off. We sensibly turned into the next street. I couldn't believe my eyes, but I spent the evening thinking that it must be some show specially for dumb tourists.
The next morning, I googled events in Naples, and my doubts were dispelled. It turned out that one gang had been threatening another. Nobody was killed, but the bullet was fired and the pistol thrown to the ground as a warning.
Where not to stay
Forcella is a part of the historic center where the famous graffiti is found displaying the city's patron saint Saint Januarius ("What?! Graffiti with a saint?!" — well, welcome to Naples!). Here the Giuliano clan of the Camorra is in charge.
We don't recommend staying in the central station zone. Like everywhere else, it's noisy and unsafe here.
Of course, nobody will specially shoot at tourists, or kidnap them for a ransom. However, when in Naples remember: here it really can get dangerous if you're in the wrong district at the wrong time.
---
To emerge unscathed: if it's not spotless building facades and well-trodden tourist paths that you like, but lively, contrasting, vivid cities, then don't harbor any doubts and buy a ticket to Naples. A huge tourist center, sights everywhere, a rich culture and great food combine here with a dramatic history and unique way of life. Naples will definitely give you what you are seeking — just smile and don't be afraid.