The Temple Bar Pub, Dublin
Temple Bar is where the night-life of the Republic of Ireland's capital city is concentrated, with its tight concentration of pubs with live music, draught Guinness and crowds of merry tourists. The most famous pub in this area is the eponymous The Temple Bar Pub, which has found favor internationally because of its great location, typical Irish décor and 450 different types of whiskey.  
This pub is not frightened to take advantage of its status when they feel able to charge €8 ($9) for a pint of Guinness, which you'll have to drink at the bar because the rest of the pub is so packed. You won't meet many locals here for this reason either – they avoid the place because it's expensive and always crowded.
If you want to drink local beer and feel a bit more of the local Dublin atmosphere then head for the nearby Hairy Lemon, which also serves traditional Irish food. Try a beef pie or Irish stew with potatoes for around €15 ($17) and a pint of Guinness for €5 ($5.50).
Times Square, New York City
This large square in downtown Manhattan has appeared in so many films, and TV shows that you feel that you haven't seen New York City unless you've made your pilgrimage here.
But what is there actually to see? Well, first of all, it's a favored spot for small-time crooks, homeless people and vendors of useless rubbish. Secondly, selling CDs of up and coming artists, tickets to shows that no-one has heard of, weird exhibitions and guided tours is just one of the ways they will try to get you to part with your cash. Thirdly, those omnipresent Disney characters will harass you to have your photo taken with them and, then will not leave you alone until you've paid them.
On top of all that, your senses are assaulted by all the advertisement hoardings, which turn many an unwitting traveler into unwilling consumers through the aggressive messaging. There's nothing else remarkable in this square apart from perhaps some chain restaurants and huge souvenir shops touting their wares for exorbitant prices. The locals are very clear: Times Square is not New York.
Oh, and watch out for pickpockets if you decide to pay the place a visit after all. OK, now you're here you might as well pop into M&M's World, just to say you've been.
For an altogether more authentic and quiet experience, head for little-known Сarl Schurz Park on the upper east side of Manhattan. There will be fewer people obsessing about Instagram here and much less stressful activity. The views over the East River and Roosevelt River Beacon are magnificent; this is the place to get a feel for a slower pace in the big city.
The Little Mermaid, Copenhagen
This 1.25m high statue was created in commemoration of the eponymous ballet and fairy-tale written by Hans Christian Andersen at the beginning of the 20th century, after which it became not just the symbol of Copenhagen, but of Denmark itself.
It's difficult to see the attraction (sic) as it's such a long way from the center of town. Once you finally get there, your first reaction is likely to be "is that it?".
To get a proper feel for a more real Copenhagen, spend some time on Nyhavn, the centrally located 17th century port area with its multi-colored façades and cozy little cafes. If you fancy a bite to eat, try out the Havfruen restaurant, where you can taste fresh seafood. Meals come in at around 600 DKR ($90/€80).
Observation platform, Eiffel Tower, Paris
Unloved by locals, but so popular with tourists from the world over, the Eiffel Tower is a must-see attraction for most visitors to the city. To see it from the outside is pleasure enough, but once you get closer and see the long queues of people waiting to go up to the viewing platform, you start to question why you're there.
If you're that determined to go up, it will set you back €25 ($28) per person and you can expect to wait for hours in the queue, especially in high season – and the view is not that different from the one to be had from the Montparnasse Tower, which costs only €18 ($20), has far fewer crowds, and you even get to see the Eiffel Tower itself.
If you want to overlook the city from above and also see the Eiffel Tower, but this time for free, head for the rooftop terrace at the Institut du Monde Arabe.
Fernsehturm, Berlin
Visitors to Germany's capital come from all over the world and head for the viewing platform at the top of Berlin's tallest building. For some reason they don't mind the two-hour wait, the dirty windows, the crowds, the high prices in the television tower's bars or even the amount they charge for the pleasure: €16.50/$18 for a normal ticket or €21.50/$24 for fast-track entry so that you don't have to put up with the poor way the queues are managed.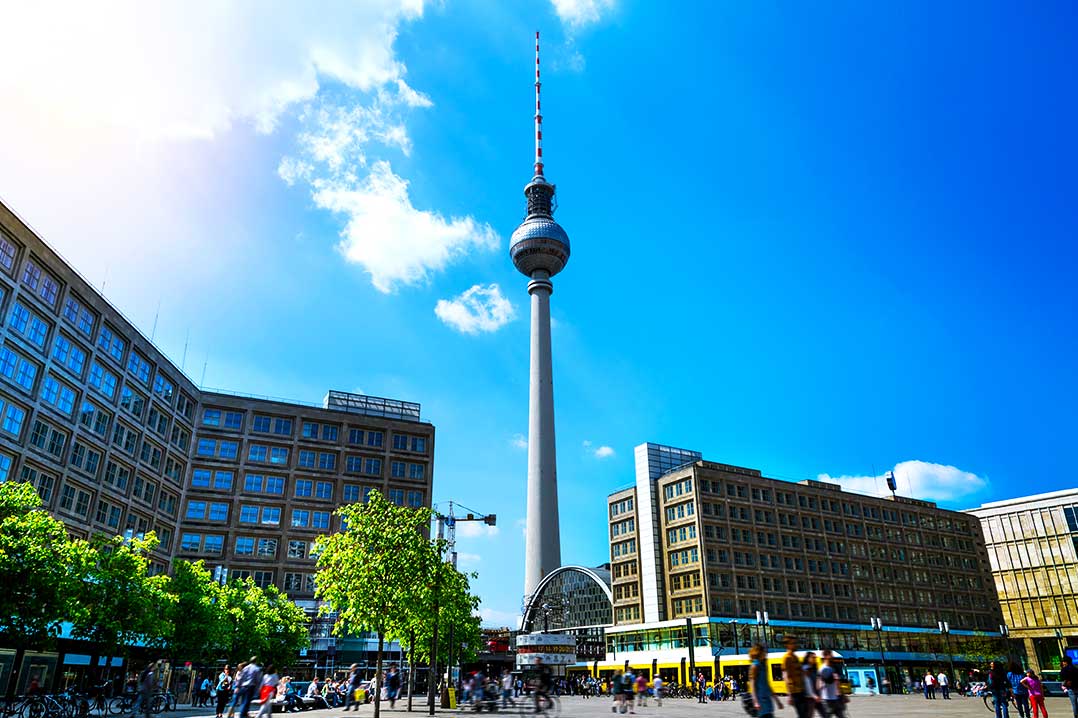 If you want to see Berlin from a height, then you should head for the Victory Column (Siegessäule), where you pay just €3/$3.50. Another option is the Cathedral (Berliner Dom), which costs €7/$8, or get a view free of charge from Viktoriapark – there is a great view over Berlin from the top of the hill.
The Heineken Experience, Amsterdam
Together with Anne Frank's House, the Van Gogh Museum, the Royal Palace decorated with thousands of multi-colored tulips, and the tall merchants' houses lining the city's canals, for some reason the former Heineken brewery also finds its way onto the list of Amsterdam's top tourist attractions. The attraction includes a tour around the main brewhouse, a visit to the brand's museum and, of course, a tasting.
It's not just the price to get in which frightens me off – you really have to be fond of beer to pay €18/$20 – it's also the fact that you have to queue outside in all weathers plus the fact that the place is not a functioning brewery, but more designed as a platform to support the brand than a museum devoted to brewing techniques.
Beer lovers would be better advised to follow the locals and take a look at the Brouwerij 't IJ brewery, located in a former bath house next to the De Gooyer windmill. They brew excellent beer here and you can taste 5 types for €10/$11 sitting down at the tables in the main room and then join a tour of the operational part of the brewery for €6.50/$7, where they will tell you all about how beer is made and even let you enjoy a glass at the end.
The Beatles Experience, Liverpool, UK
The Beatles Story museum is located in Liverpool's dock area and is the focal point for fans of the Fantastic Four who come here from the world over to find out something new about the group and their background. They are, however, in for a disappointment – there are very few exhibits and those there are aren't that riveting, and there's not really anything original for visitors to see here that has not already been done to death in the public domain.
On top of that, there are some exhibits which are bizarre, pointless, and unexpected, such as the 4D theatre featuring flowing water with neither warning nor explanation. Most are of the opinion that it's not worth the £17 ($22/€20) entrance fee.
You're better off spending your time and money by taking a stroll up Mathew Street, the city's main musical district. The street simply breathes rock 'n' roll – statues of the Fabulous Four everywhere, souvenir shops and bars somehow associated with the early career of the legendary Beatles.
Taj Mahal, India
This Indian palace of marble has created for itself an aura of magic and mystery based on a beautiful love story.
Few, however, are aware that to get from New Delhi to Agra, where the Taj Mahal is located, involves a four-hour travel ordeal. Even if you take the express train (1,100 rupees/$15/€14), you'll have your fair share of adventures as you try to get to the palace itself – by rickshaw, the most popular and accessible means of transport.
Each driver is assigned a specific route which runs via all the stalls and shops he is convinced you will be interested in visiting and which charge three times the normal price for goods and food. Once you get to the venue, you will not just be assaulted by street vendors and guides but also local residents eager for you to have your picture taken with them.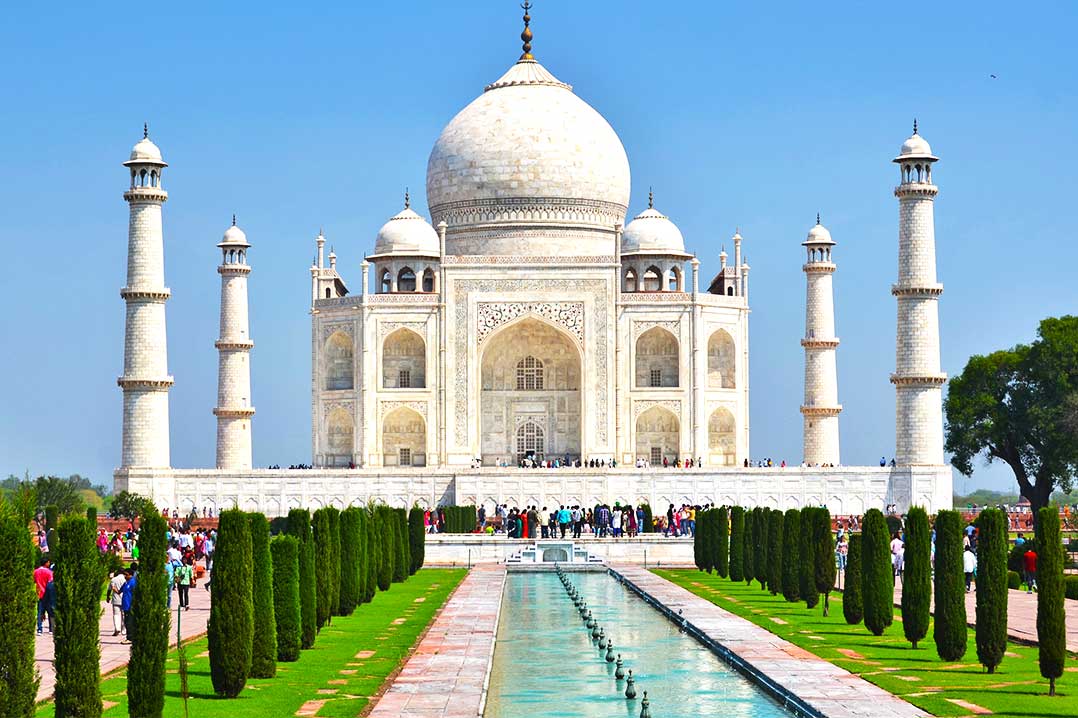 Once you finally find your way in via the elusive entrance and you've queued for a couple of hours, you'll be lucky to actually see anything because of all the crowds inside and the fact that many of the passageways are inexplicably closed off. You are allowed only to walk around in a big circle – and taking photos, for the most part, is forbidden.
For the sake of time and sanity, head for Lal Qila (the Red Fort) in New Delhi. Entrance costs 550 rupees ($8/€7). Here there is so much more to see and experience, including gardens and museums in the towers of the fort – and without the aggressive street vendors and unnecessarily strict rules.  
The Rice Terraces at Ubud, Bali
This destination is famous for its views over tiered rice plantations. The savvy locals quickly understood the potential of the numbers of visitors and started charging an entrance fee (10,000 rupees/$0.70), to take photos (20,000 rupees/$1.40) and even to have a go on the swings (100,000 rupees/$7).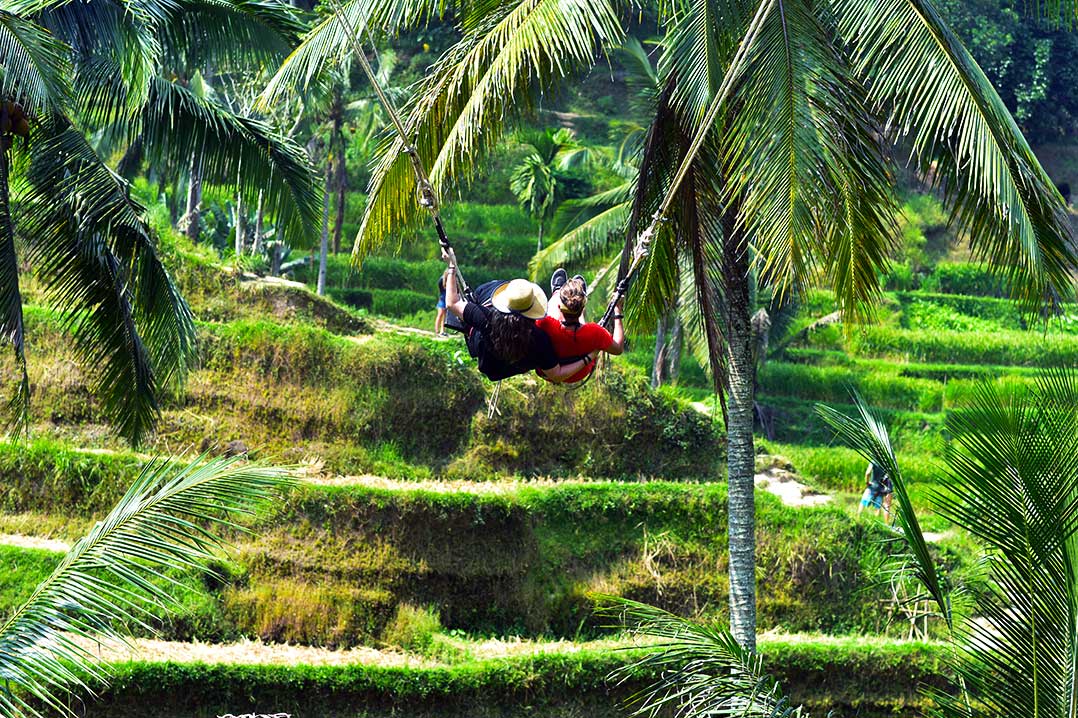 So many tourists come here that it's virtually impossible to navigate the narrow pathways – and it's almost impossible to take a decent photo of the emerald terraces – which is, of course, why most people come here.
There are rice terraces all around the areas surrounding Ubud, so why not just explore the nearby localities – without the crowds? Try taking a comfortable seat in the Rice Terrace Cafe (the average check for 2 is approx. 100,000 rupees/$7) and enjoy the views over the natural beauty.
---
So remember, sometimes it's tempting to want to see with your own eyes what you have seen so frequently in lovely pictures or to take a photo already taken by so many others, and come home happy with that. Just remember that getting that photo will probably involve a lot of stress and, almost certainly, disappointment.