They have their own language (Faroe) and traditions. For example, kædedans chain dancing — when people dance in a circular movement holding each other's hands and sing folk sagas. Or the whaling industry, which began there around one thousand years ago and is still pursued in its authentic format (no matter what we may think of it). Add to that the fact that rain pours down around 280 days per year, which is the reason for the near permanent fog over the lands, and try suggesting that the Faroes should belong to any unions and share the fate of a metropolis. No, these lands are quite unusual. Let's take a closer look.
Currency. The Faroe krona is used on the island, and it's equal to the Danish krone. It's advisable to exchange cash in advance, for example in Copenhagen. For a 2-3 day trip, you should take about 475 € with you.
What to take with you. We advise bringing an umbrella, a wind-proof jacket or raincoat and lots of warm clothes — you might even freeze in the summer, especially when traveling along the waters.

Where to stay
Staying on the Faroes doesn't come cheap, but if you're minded to go then take a look at Tórshavn hotel at 4 Tórsgøta Street (which costs from DKK 700 per night) near the historical city center. Another option is Hotel Foroyar at 45 Oyggjarvegur Street (DKK 800 per night), which is literally cast into a hill, and where you even clamber out the windows to go for a walk. At breakfast, you can take in views over the harbor and city, and witness those semi-Biblical rays of light in the sky for which so many photographers make such a long journey.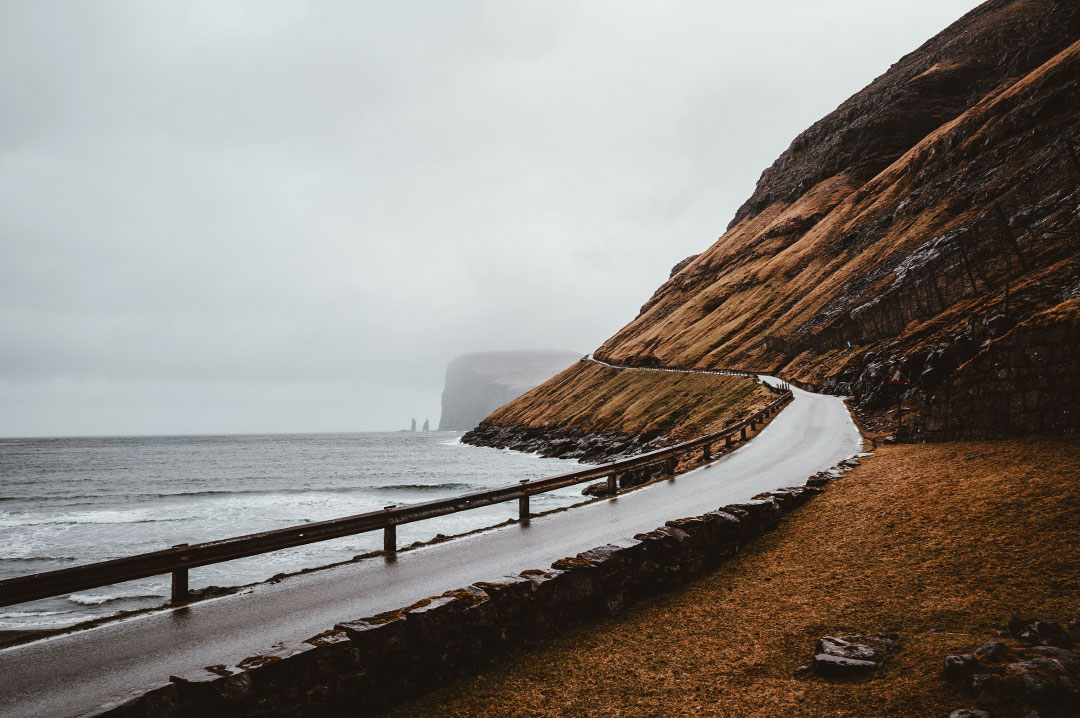 Itinerary
It's advisable to base yourself in the capital of the country and travel from there across fairytale hamlets, putting together an itinerary that you fancy in advance. Here we look at how a three-day journey could shape up with a focus on Thornshaven, as this town is often undervalued in guide books even though it actually has great paths to explore. So our itinerary across the islands is as follows: Streymoy, Mykines, Vagar, Sandoy, Eysturoy, and Kalsoy.
Day one: the town of Thor
The airport where we arrive on a tiny airplane after weaving through huge cumulus clouds is the only one on the Faroes. No matter where you fly from, you will land on the island of Vagar. After that, you can boldly set off for the capital — that very town named in honor of Thor, the god of thunder and storms, and who, according to Scandinavian mythology, protected humans from the giants.
How to get around
Prices on the Faroes are likely to hasten the pulse rate of even wealthy travelers. So it's highly advisable to plan expenditure in advance. The most budget option is to take local buses, sometimes switching to ferries and helicopters. Yeah, that's no typo: regular helicopters fly from stop to stop, dropping off and picking up passengers on the islands. You have to pay for helicopters separately (on average they cost DKK 360 per flight), whereas for buses and ferries it's best of all to buy a Travel Card for four days straight at the airport, costing DKK 500 (which is just what you would pay to hire a car for 24 hours). You can view the transport prices and timetables here.
It will take you about an hour to reach Thornshaven, which is on the island of Streymoy, and you can go for a walk straight away after that — for example, to Tinganes, a peninsula in the south of the town. It houses one of the planet's oldest parliaments. Vikings from Norway traveled here in the 9th century and would hold assemblies on these flat cliffs. Then, the Vikings left, but the idea remained. Government offices are still located here, and if you're lucky you might catch the prime minister through a window. What's odd about that? His residence is here. It contains ancient royal warehouses and a Gothic-style monastery, as well as volcanic-colored and whale-blue-colored cottages of various sizes, cobbled little streets, and stern-looking porches. This collection of buildings from the 16 th-17th centuries makes up the old town of Thornshaven.
We then head up Bryggjubakki Street, where you will find a pleasant cathedral with a tower and clock. You are free to look inside. The cathedral has a welcoming atmosphere, and it contains a picture of the last supper by the artist Peter Candid, a bell from the ship Norwegian Lion decorated with ornaments from palm leaves, an ancient Jesus on a cross made of silver, and a golden font dating to 1601. And, of course, the boat on the ceiling, because what sort of cathedral would it be without a boat? This is a perfectly common custom for the Faroes.
To the north of this beautiful building, on Vaglið Street, you will find the oldest bookshop on the Faroes, HN Jacobsens. It was opened in 1860 by the father of the linguist Jakob Jakobsen — the first person from the Faroes to obtain a doctorate. He built up a large collection of local legends and folk tales, as well as studying Norn — a dead language once spoken on the Orkney and Shetland Isles. The bookshop not only contains antique books and manuscripts but also sells souvenirs: postcards, magnets, and stamps.
What souvenirs to buy
The best thing to take home from here is a jumper made of Faroe lambswool. It's so warm that it will do instead of a light coat (and costs from DKK 700).
Anyway, by this time you will have grown hungry, so it's time to turn to where to eat a decent meal. For example, you can head for the Aarstova restaurant in Thornshaven at 1 Gongin Street. Here you can try a bisque of langoustine and the softest monkfish. This is a fairly popular eatery, so it's best to book a table a few days in advance.
There's another great restaurant nearby called Barbara Fish House on 4-6 Gongin Street. The restaurant is decorated in maritime style: fishnets, ships, blue cushions, a lamp on the wall, maps, old photos, and plates with drawings on them. All very simple without being hideously expensive. Here you can try the famous Faroe salmon, as well as the restaurant's most popular dish of all — horse mussels.
Lamb in the wind
Skerpikjøt is a popular Faroese delicacy. It consists of pieces of lamb dried in the wind. This local specialty was first created when salt was hard to come by and hence meat was cooked with the help of the elements. This tradition continues in our day. Thanks to the humid salty air, gastronomic fermentation occurs naturally in the wind, and it takes between five and nine minutes for an air-dried lamb to be ready for consumption.
After finishing your meal, you can take a free red bus that travels around the town to the other cultural hotspot of the capital — Norðurlandahúsið, or Nordic House found at 14 Norðari Ringvegur. Events are held here: from exhibitions with the participation of an octopus in rubber gloves (art performances) to classical concerts. Sometimes the entrance is free, but it's best to check on their website in advance.
It's worth taking a particular look at the works of a local glassmaker. Tróndur Patursson is an artist, sailor and Hemingway-type "old man of the sea". His glass birds the height of humans have made the journey from the village of Kirkjubøur, which is where we head in the next part of our tale, all the way to the John F. Kennedy Center for the Performing Arts in Washington. In fact, they have been flying around the world for many years, adorning cultural centres and museums. Patursson also decorates local churches and tunnels and makes "ocean installations", that is to say, huge light- and dark-blue canvases on the glass. You can view them at the National Gallery located at 9 Gundadalsvegur Street (the entry price depends on the season). It's best to check in advance whether his works have been sent off for display to the Louvre or somewhere.
The Elfish girl who gained worldwide acclaim
The locals are highly artistic people with their own particular view of the world. Some paint pictures, some compose songs, and others make films. Sometimes, their passions bring them international glory. This happened, for example, to the singer Eivør Pálsdóttir, who now tours the world. This girl with the face of an elf has a strong and distinctive voice, and what she does with it is like the northern lights, but musically. You can listen to her here: Nú brennur tú í mær.
The spiritual element
Now it's time to jump into another of those red buses and set off for Kirkjubøur — a village around 30-40 minutes outside the capital. Here you will find not only the home of our glassmaker, which he built with his own hands but also the ancient spiritual center of the islands. In the past, bishops lived in this village, but then they were removed by the series of events during the Reformation, while a storm washed most of the houses into the ocean. However, some of the buildings stood firm. For example, Roykstovan, a 900-year old building with a peat roof where the 18th generation of the Patursson family now lives. They have been here since the 16th century. The oldest inhabited wooden house in the world is now part of a farm where travelers are welcome to visit.
You can also find in the village the ruins of the incomplete St. Magnus Cathedral, as well as the Church of St. Olav, which has undergone multiple reconstructions and still holds services. Actually, to feel the presence of a deity you don't have to go inside. It's sufficient to walk among the surroundings, taking in the landscapes or even visiting a restaurant, Koks.
Yes, this restaurant has a Michelin star, making the islands a key stronghold of new Nordic cuisine. It's located on the territory of the Foroyar hotel on Kirkjubøurа hill, with the address 13 Geilini Street, which we mentioned earlier. Here you have the chance to try ancient shell fish, langoustines caught just a few hours before they are served, dry moss, shark with nettles and apple and thyme soup, which smells like perfume and can be used as such on your wrists.
Koks has a menu with 17 dishes that are cooked according to traditional local methods of smoking, drying, and pickling. The pictures show sea-urchins with pickled parsley stems and sorrel, as well as lamb hearts.
Musical tunnels
Before starting a long trip from island to island it's worth looking at the threads that connect them. What are these threads? Well, tunnels — and quite amazing ones at that. When you travel through some of them it seems as though some huge flute is playing. Maybe it's the music of the ocean — some tunnels are built underwater at a depth of around 150 m.
Day two: bird-monks and the finger of a female troll
We make our way to Mykines, which is serviced by a regular ferry between May and October as well as a helicopter that flies three times per week (a ticket from Thornshaven costs DKK 215). This is the most western island of the archipelago, and its residents include 13 people and tens of thousands of fulmars. These birds are very trusting and are not really afraid of humans. They walk right up to you — so close that you can literally pick them up. Their name in some languages translates as "Arctic monks" and they really do resemble robed priests, reminding us that we need to trust each other.
After watching these birds, we head for Vagar — the island from which we began our journey. It is marked by a lake in the mountains right above the ocean, the Múlafossur waterfall, a beautiful six-kilometer tunnel and the village of Gasadalur, which is located in a valley between the island's highest cliffs. You can spend a leisurely couple of hours here enjoying the beautiful landscapes.
After that, we need to travel to the island of Sandoy. Here, in a settlement called Skopun, you will find the world's largest post box. We also visit the village of Sandur, which boasts a wooden church with a white belfry. Pagan burial grounds from Viking times were found here. We peruse the local museum, and then take a walk around the island to view the lowland landscapes and hills, lakes and black basalt beaches with dark volcanic sands and ruins of a traditional Norwegian longhouse dating to the 14th century.
At the culmination of our journey, we come across Trøllkonufingur — the Troll woman's finger. Everybody who makes it to these parts takes photos with this monolith in the background.
Day three: a picturesque village and the Seal-woman
What to do on the third day? You can go and visit Gjógv, a naturally picturesque village on the island of Eysturoy which protrudes right into the ocean — a truly moving and romantic sight. Also, it's worth reaching the island of Kalsoy to see the statue of the Seal-woman, underwater galleries, a lighthouse, and a sea arch. You can get here by ferry from Klaksvík (on the island of Borðoy) to the north of which you will find the highest cape in the world, Cape Enniberg. You can reach the town via public transport, so let's not forget that all tickets on the buses and ferries are covered by our Travel Card.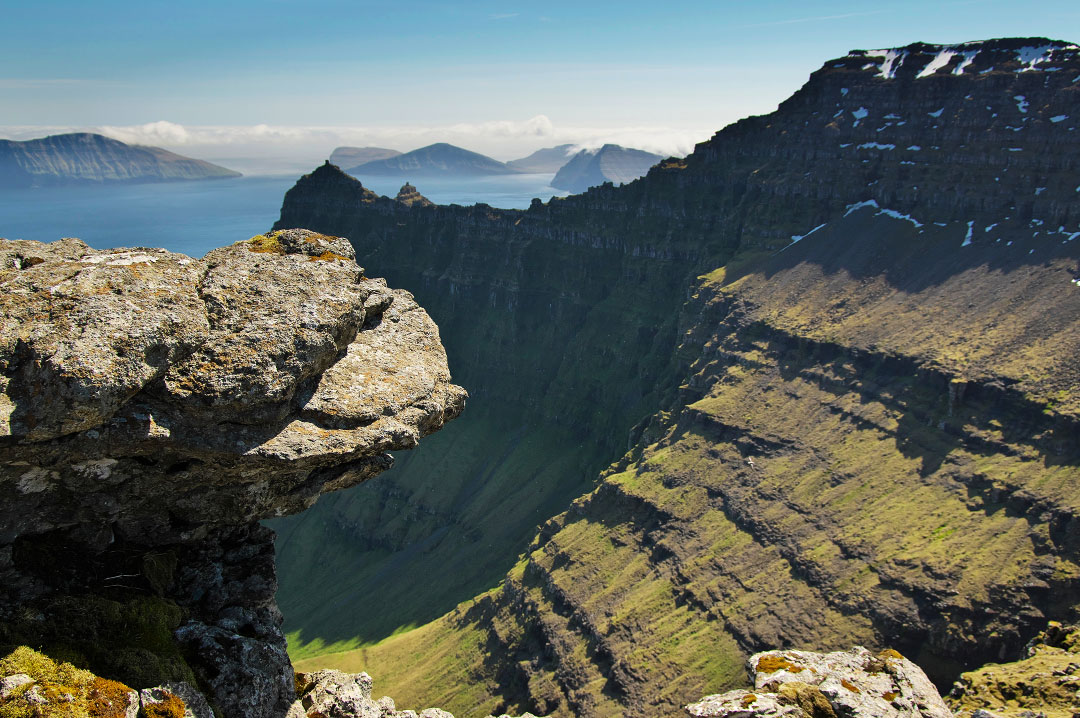 If you don't want to travel out too far, you can ride by bus from Thornshaven to the village of Vestmanna, which is on the north-east of the same island. From there you can head for the thick of wild bird-land with magnificent cliffs under which we will sail on a small boat, admiring the alternating grandiose silence of the coves and the mad racket of the birds crying. The voices above your head are so powerful that you sometimes have the impression of a concert being held in the skies, especially as you travel from open space to the caves, accompanied by the echo.
The panoramic cruise along the craggy coast of Vestmannabjørgini can be ordered at the tourist center of the village. It's located in a red house by the harbor and has a huge sign on it saying as much. The journey lasts around four hours and costs DKK 295. They give you a helmet on the boat to protect you from the birds' "bombs".
---
So that's the Faroes for you. Foggy, expensive, bird-like, arty and a little bit godly. It seems that the disappearing resources of quietness and serenity are concentrated here. Now we know that there is a place on Earth where people dance in circles singing about ancient sagas, where the birds let you get so close you can pick them up, where you can eat wild herbs and moss in a restaurant straight from the Michelin guide, and you can hear music in tunnels in the depth of the ocean.
And there is nothing so delightful as remembering the sheep that sat on the emerald hill, so calm and wooly.