During your visit, I hope you will discover some authentic restaurants, but make sure you keep this list of 10 places worth visiting to hand so that you will take home some pleasant gastronomic memories of your time away. 
Trattorie
A trattoria is a family-run restaurant which attracts the same clientele day in, day out. The interior of a trattoria is quite simple, the choice of dishes is not large, and the service can be a bit hit and miss. On the other hand, you can make yourself at home in these places, experiment with local delicacies, and enjoy time amongst the noisy locals. 
Another thing about trattoria is that the menus are normally only in Italian so here's a short guide to what you can expect.
| Italian | English |
| --- | --- |
| antipasti | Starter |
| primi piatti | First course |
| piatti del giorno | Dish of the day |
| secondi piatti | Main course/second course |
| contorni | Side orders |
| insalatone | Salad |
| formaggi | Cheese |
| dolci | Dessert |
| frutta | Fruit |
| servizio | Service |
| coperto | Cover charge |
Starters can include things like crostini (small pieces of fried bread with different types of covering), bruschetta, simple salads, marinated fillets of fish, prosciutto with mozzarella, home-made sausage and even pork fat. 
First courses don't include so many soups but definitely include lots of pasta such as spaghetti or tortellini. For Italians, pasta is a first rather than main course, and it's normally eaten at lunchtime. For your main course, you can choose beef, veal, chicken or fish. Side orders of fresh vegetables and greens as well as fried potatoes will be on offer.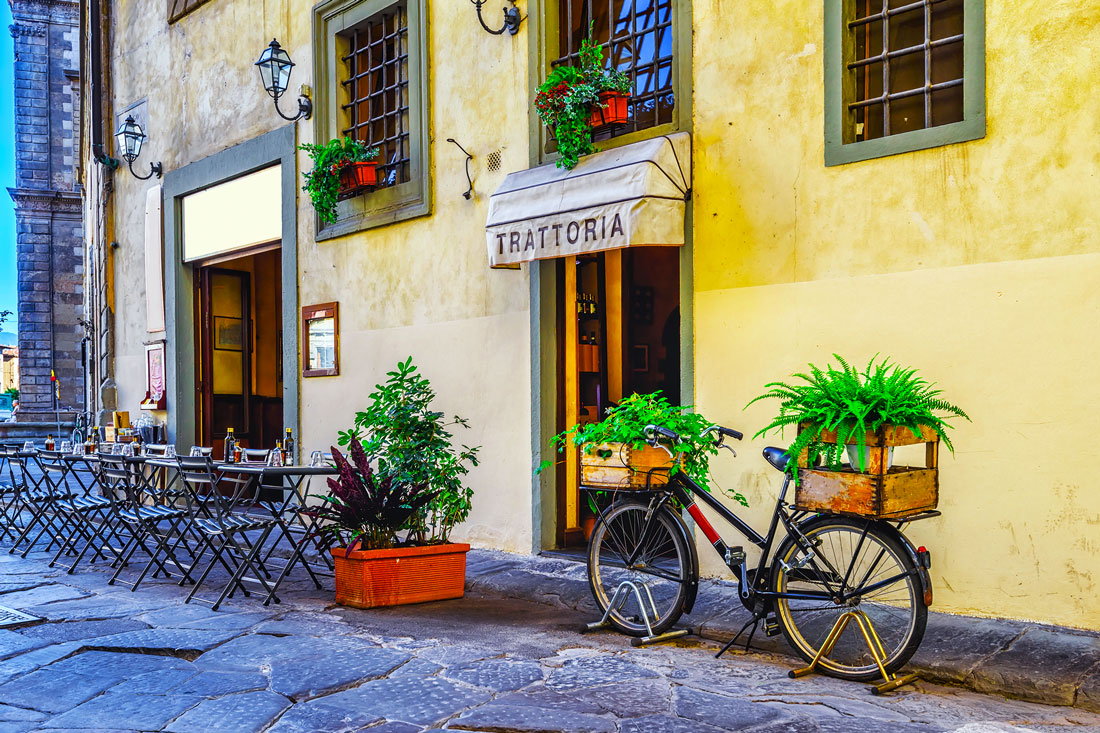 Trattoria La Casalinga
Location: Oltrarno, left bank of the river Arno
Lunch: 12.00-14.30
Dinner: 19.00-22.00
Average price: starters €5.00-€6.00, first course €7.00-€8.00, second courses €10.00-€15.00, Florentine steak €40.00 per kilo
If you've worked up an appetite in the Boboli Gardens or in the halls of the Pitti Palace, then you should make for the Trattoria La Casalinga. Many locals eat here, and it's so popular that you should reserve in advance. You should try their crostini toscani as a starter, toasted bread with chicken pâté for €5.00. As a first course, you might try the tortellini panna e prosciutto which is pasta with ham in a creamy sauce for €8.00. The second course could be a cut of beef for €10.00 with vegetable salad for €3.00. If you still have room for dessert then go for the lemon sorbet or panna cotta, each costing €4.50.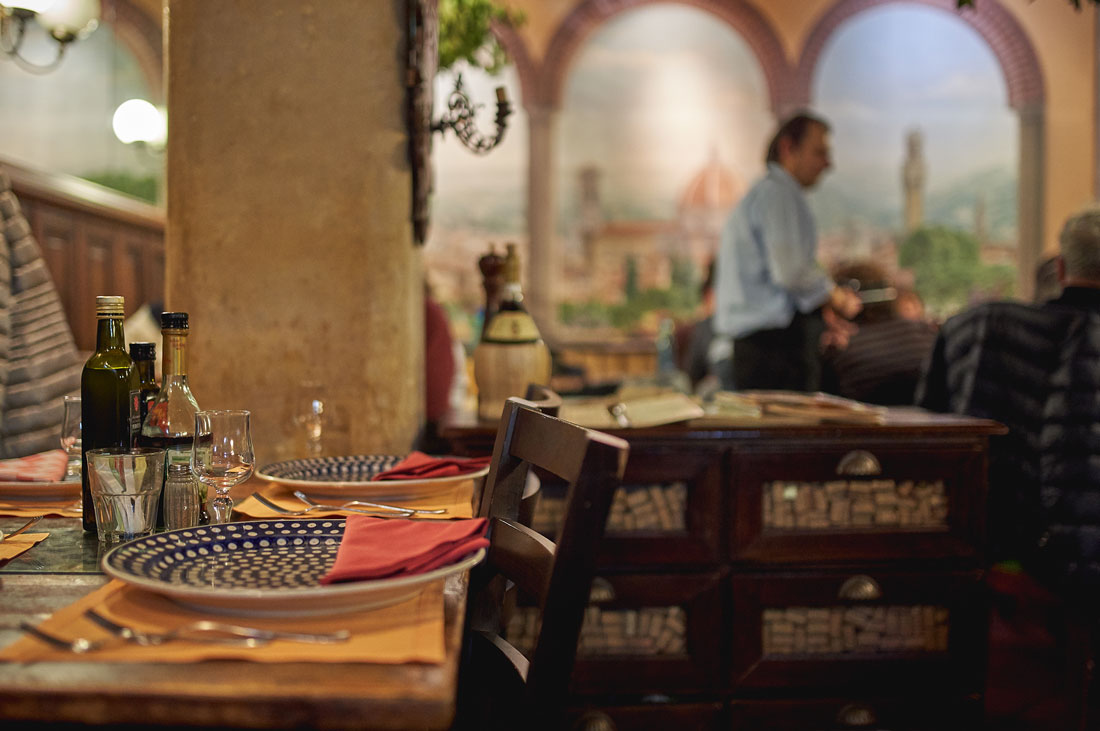 Trattoria Sostanza
Location: historic centre, not far from

piazza Santa Maria Novella

.     

Lunch: 12.00-14.30
Dinner: 19.30-21.45
Average cost: starters €4.00-€7.00, first courses €8.00-€11.00, second courses €9.00-€22.00, Florentine steak €25.00 per 500g
Trattoria Sostanza is located close to Florence's main railway station. If you arrive in the city by train at lunchtime, give this place a go – you might be lucky and get a table. Try the local Tuscan salami for €7.00 as a starter while chicken pâté with toast costs €4.00.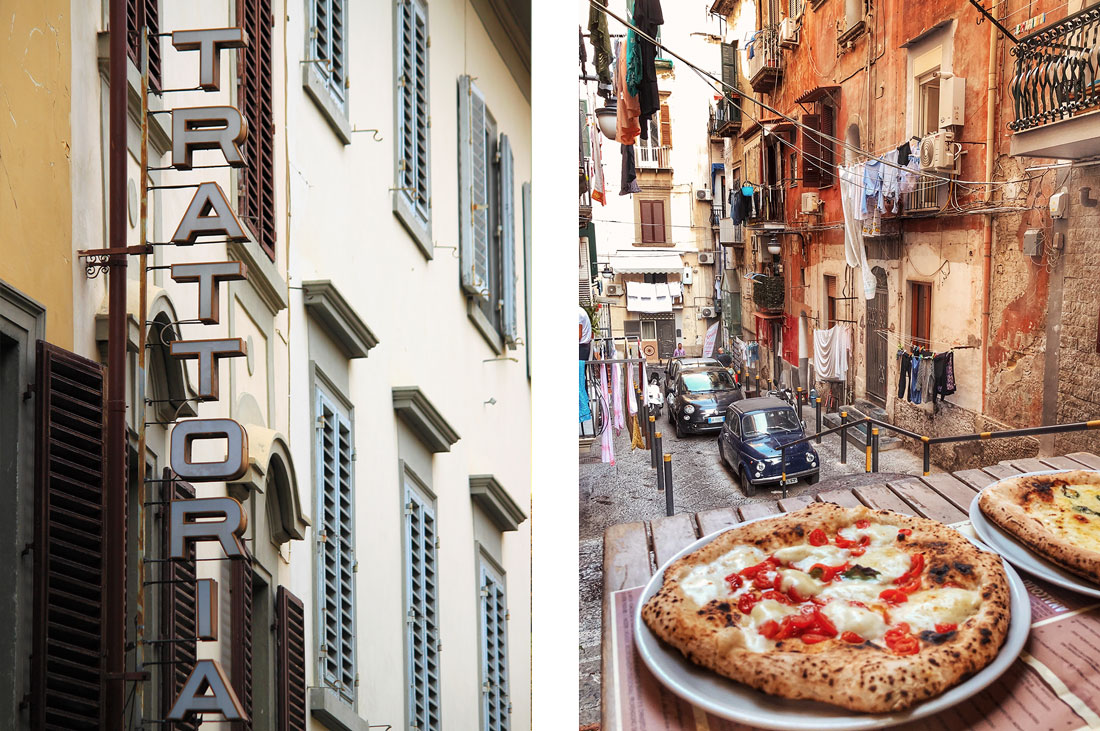 People often order Florentine steak at the Trattoria Sostanza which normally weighs about 1200-1500g, so enough for two. If you still can manage dessert, you should go for the strawberry meringue for €10.00 or the Tuscan dessert cantucci for €7.00.
Trattoria Lo Stracotto
Location: historic centre, piazza

Madonna Degli Aldobrandini

.  

Lunch: 12.00-15.00
Dinner: 18.00-22.30    
Average cost: starters €7.00-€16.00, first courses €8.00-€12.00, second courses €12.00-€25.00, Florentine steak €45.00 per kilo
Trattoria Lo Stracotto is situated on the piazza degli Aldobrandini, not far from the Ponte Vecchio, the oldest bridge in Florence. This trattoria specializes in Tuscan food. I would recommend the filling vegetable soup known as ribolitta for €8.00 or the pasta dish pici cacio e pepe with cheese and peppers for €12.00.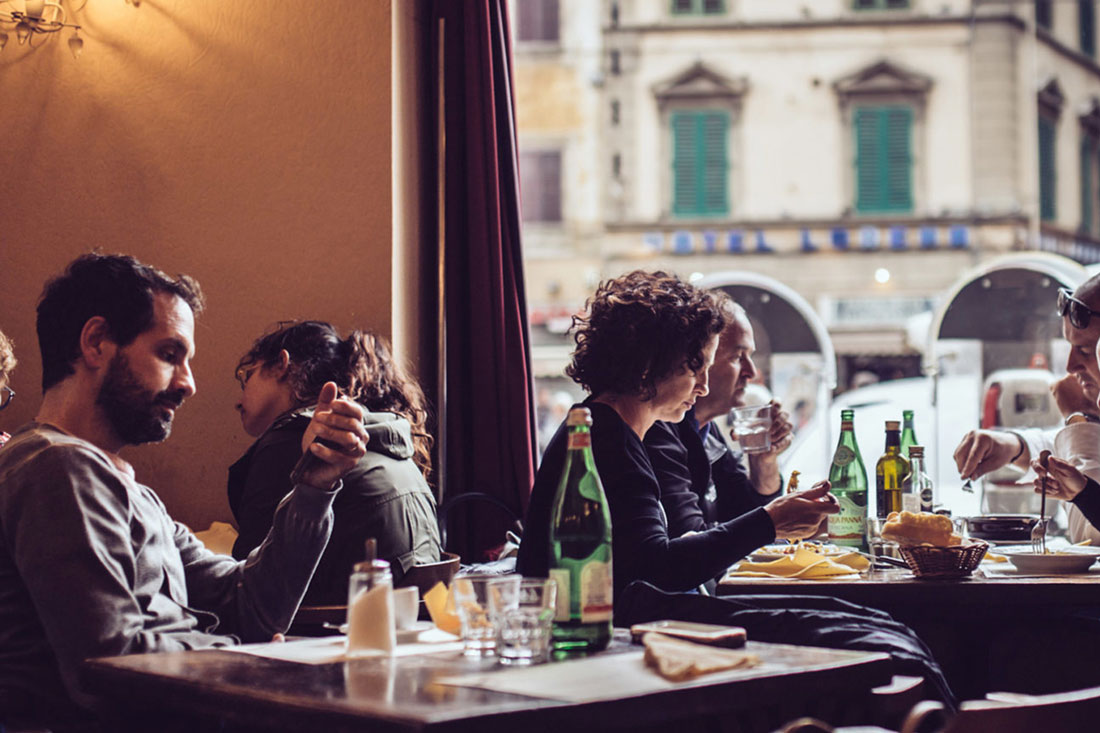 As a second course you could try the Florentine stewed beefdish called stacotto do manzo alla Fiorentina for €15.00. For dessert go for the legendary cheesecake which is exactly as is described in the menu – il leggendario cheese-cake di kill at €6.00.          
Pizzerie
Gustapizza
Location: Oltrarno, near to the Trattoria la Casalinga
Opening times: Tues-Sun 11.30-15.00 and 19.00-23.00
Average price: €5.00-€8.00
Gustapizza is one of the favorite pizza places amongst locals. The pizzas here are baked in a wood-burning oven in an open kitchen meaning that when you make your order, you can watch it being prepared. The basic menu offers seven options based on the traditional Margarita for €6.00 and Neopolitana for €7.00. Their signature house pizza, Gustapizza, is covered in mozzarella, parmesan, rucola, and cherry tomatoes and costs 8.00.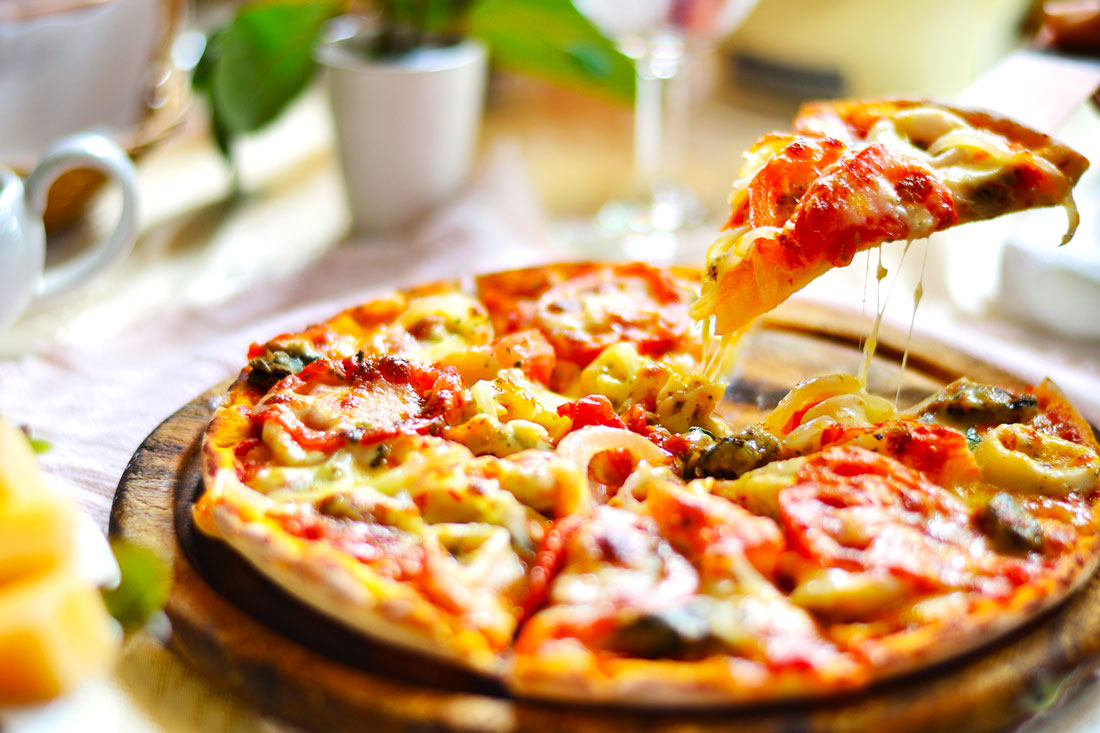 I'Pizzacchiere
Location: Oltratno, close to the

Giardino dele Rose

   

Opening times: 12.45-14.30, 18.00-22.30
Average cost: €5.00-€8.00
If you like to have lots to choose from, I'Pizzacchiere is the place for you. This pizzeria has 45 different types of Neapolitan pizza on offer including traditional varieties such as Margarita or Marina and some more unusual choices such as vegetarian or even a type or Margarita with prosciutto crudo and parmesan. It's not worth recommending any particular type, but there are some quite intriguing offerings like the calzone Ponte-Vecchio and Miss Potato pizza.       
Snack bars
Italina snack bars usually serve panini, which are types of hot and cold sandwiches. Unlike the more traditional English-type sandwiches, panini are made only of Italian bread. In Florence, they use a local bread recipe called schiacciata toscana. The better-known Italian bread, ciabatta, can also be found. The use all sorts of things as fillings –including Italian sausage, ham, cold meats, old and young cheeses, vegetables and salad.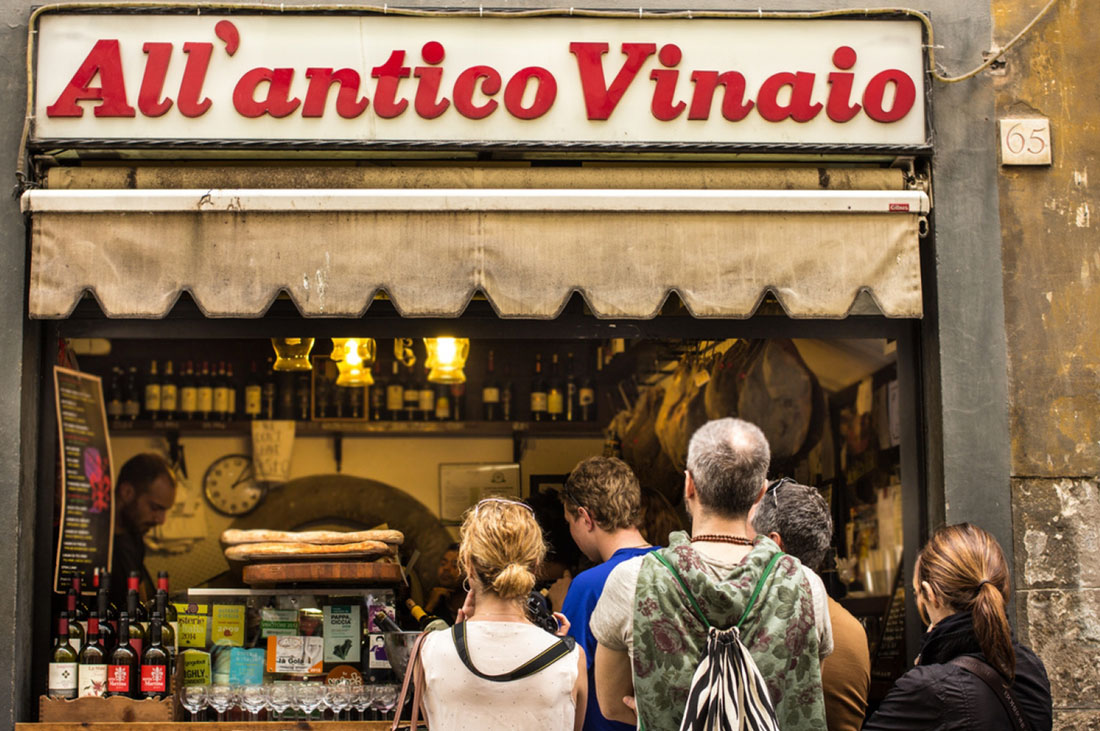 Da Vinattieri
Location: Oltrarno, near Dante's house
Opening times: 11.30-23.00
Average cost: €4.00-€6.00
Da Vinattieri make sandwiches out of Tuscan bread called schiacciata toscana. You can choose sandwiches with sausage, ham, cold meats, rucola, cheese, tomatoes or you can have them made to order. If you're not afraid to try something different, order the traditional Florentine sandwich with lampredotto for €4.00. Lampredotto is а type of tripe made from the stomach of a cow. It is extensively prepared in the kitchen and cooked with tomatoes, parsley, onions, celery, and spices. I'd suggest you enjoy it with a basil sauce.        
All'antico Vinaio
Location: historic centre, not far from the

Palazzo Soldani

    

Opening times: 10.00-22.30
Average cost: €5.00
All'antico Vinaio is the place for satisfying Italian sandwiches for just €5.00, and so you can expect to have to queue here – but not for long. The staff are quick to prepare the sandwiches with fresh bread, ham, cold meats, cheese, salad, and vegetables.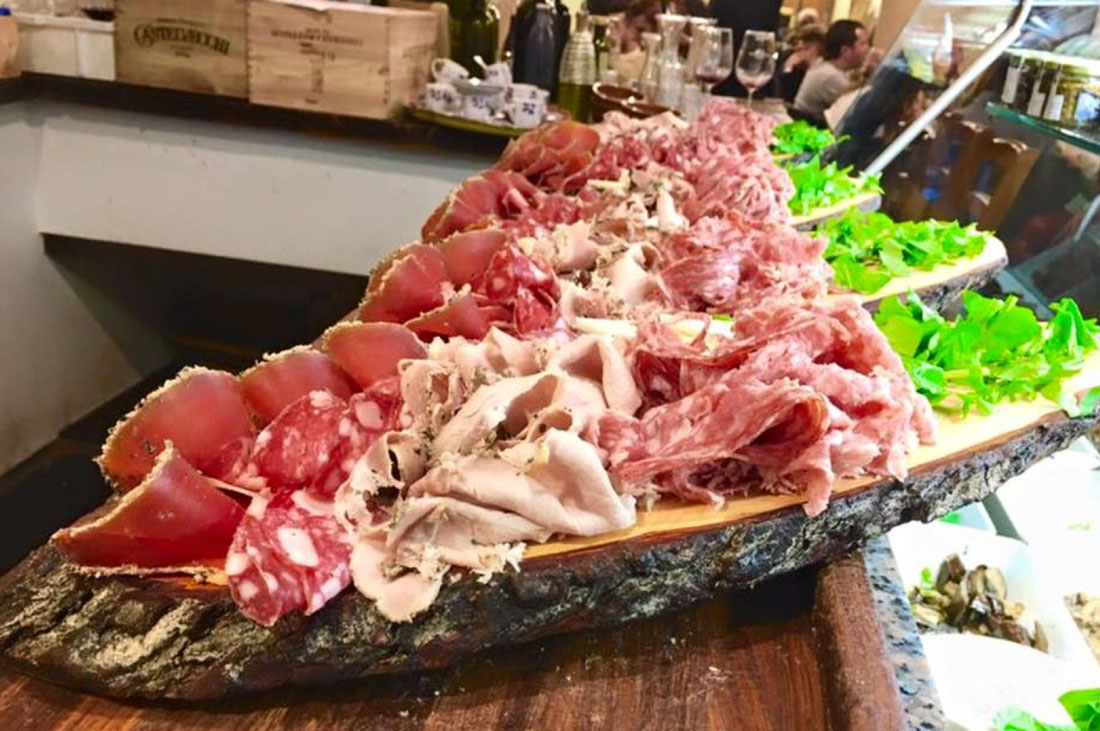 Try the Dante with its filling of ham, cream cheese, truffle cream, tomatoes and rucola. You could also try the Inferno, full of roast pork, spicy meat paste, aubergine, courgette, and rucola. Both cost €5.00.       
Gelaterie
No visit to Florence would be complete without enjoying some of the famous local gelato, or Italian ice cream. It differs from other types of ice cream in that it contains more sugar and less dairy fat. It is flavored with fresh berries, fruits, nuts, chocolate, and even cheese.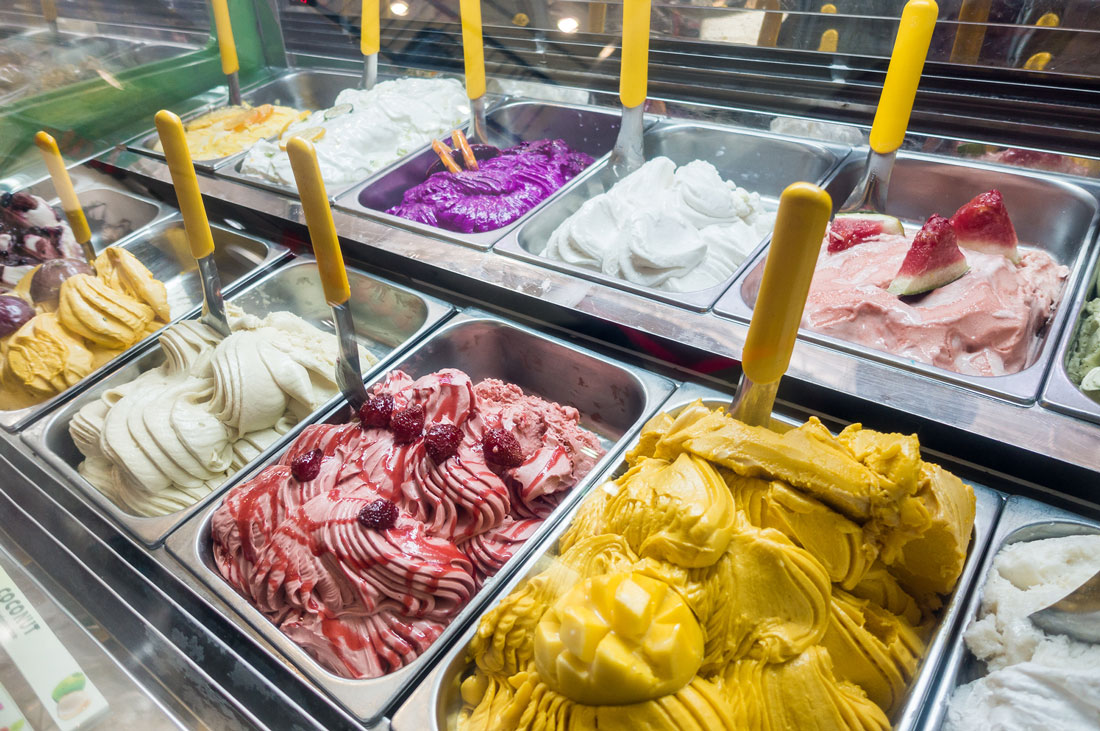 Antica Gelateria Fiorentina
The Antica Gelateria Fiorentina is located not far from piazza Madonna degli Aldobrandini close to the Medici Chapel. They have a wide choice of ice creams so I would try something unusual, like cinnamon or saffron. Once scoop costs €1.80, 2 scoops cost €2.50 and 3 scoops cost €3.50. You can either eat it out of a paper cup or from a cone. They also sell thick milkshakes; 200ml costs €2.00, 300ml costs €3.00.    
Gelateria La Carraia
Location: historic centre, close to

piazza di Santa-Croce

.  

Opening times: 11.00-00.00
Average cost: €2.00-€3.00
The La Carraia ice cream parlor has a large choice of classic berry and fruit flavors, but they do have a few more unusual choices. Try chocolate and orange or ricotta with pear. One scoop costs €1.50, two scoops cost €2.00 and three cost €3.00.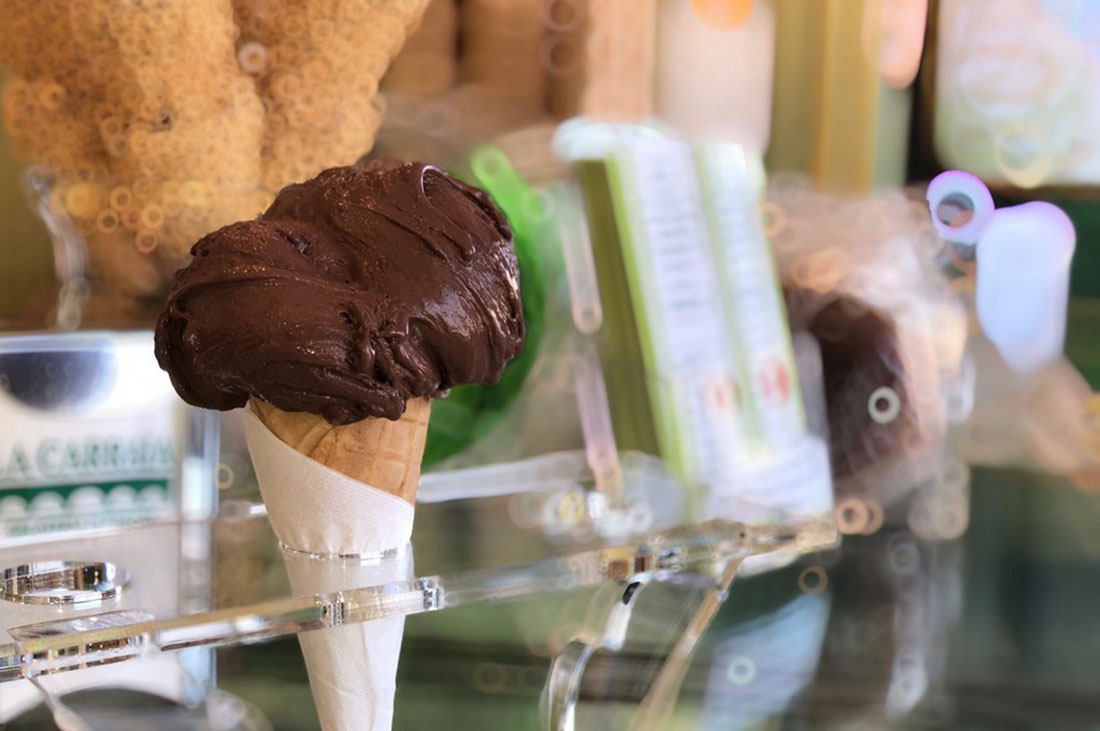 The Central Market
Location: San Lorenzo
Opening times: 10.00-00.00
The Mercato Centrale is Florence's main market, the main place to go for edible souvenirs, hustle and bustle and lots of different flavours. You can get pizza in the food court along with panini, fresh salads, handmade chocolates, wine, and even cocktails. You can even get typical Asian street food here, like noodles and spring rolls or rice with meet and vegetables. If you need a quick carb hit, then burgers and fries are also available.      
Prices are similar to those in the small snack bars and cheap pizzerias.
| Type of food | Price |
| --- | --- |
| Pizza | €5.00—€8.00 |
| Bruschetta | €4.00—€5.00 |
| Pannini | €5.00—€7.00 |
| Small jar of sun-dried tomatoes | €3.00 |
---
Florence is a city where your cultural experience has to include visits to local trattorie and gelateria so that these gastronomic discoveries will become part of the memories you take home about the Tuscan capital, together with the world masterpieces housed in the Uffizzi, the fantastic cathedral of Santa Maria del Fiore and the ancient Ponte Vecchio bridge.