Morocco is a large, mad mix of nice clothes, delicious cuisines, a unique culture, and adventures. Here you will encounter legends about a thousand and one nights, the air is filled with the aromas of oranges and mint, and the starry night sky seems unbelievably huge and close.
Colorful cities, vibrant markets, endless desert, an alluring ocean, new smells, unexpected tastes — you will experience all this today.
Step 1 — time to change clothes
Morocco means eclectic styles, a country of bright and shiny clothes, colorful headscarves and light materials. You can boldly meet any fantasy — wrap yourself in a rug or choose the prettiest flower-patterned dress, and maybe put them all on at once and a little neck-scarf on top — whatever you fancy.
If you want a greater focus on detail, you can refresh your memory with scenes from the serial The Clone. The costume designer did a fantastic job. 
A special job for the girls: at last the time has come to show all your treasures to the world! Boldly put all your jewelry on, mix them and don't be afraid to put on lots and lots, because today you're a Moroccan lady, and they know for sure that there's no such thing as too much jewelry.
However, there are a number of rules. For girls — ankle-length clothes, show minimal skin on your body (let's not forget where we are), and for the guys — baggy shirts and trousers from natural materials of pure colors. No shorts, let's not take our eyes off the ball!
Step 2 — we cook something delicious
Today a veritable Disneyland of tastes awaits you: aromatic and spicy, always delicious and filling recipes. They love cooking in Morocco, they have lots of national dishes, and there's no way you can refuse them, from flatbread to the nicest mint tea in the world. Let's get down to it!
Main dish: Tagine
This is the most popular food in the country. It has a specific recipe and is different from the recipes in other Arab countries. To cook it you will need a serving dish also called a tagine, which is essentially a ceramic pot with a lid.
It's not only tasty, but pretty!
Salad: Zaalouk
It's quite a healthy dish. Here's the recipe.
Dessert: Baghrir
An alternative to traditional pancakes, you can make them for breakfast. Serve delicate little pancakes with honey! 
Drink: mint tea
In Morocco, your host will take it as an insult if you don't drink at least three cups of mint tea. Do you really think that's a lot? Believe me, you will want to drink an entire bucket-full, as mint tea in Morocco is a real work of art.
Classical recipe
We pour two tea-spoonfuls of large-leaf green tea into a metal teapot, pour boiling water into it (around 1.5 liters), and leave the mixture to brew for 15 minutes.

We percolate the infusion without stirring into another metal teapot.

We add sugar to our taste, boil the drink on medium heat until the sugar has fully dissolved.

We add mint to the brewed green tea before it reaches boiling point. But you can also add it to the ready tea. 
The amount of mint depends on your personal taste. Just a few leaves may be enough, or you might want to fill the teapot to the very top. Then we pour the brewed tea into a glass and it's ready!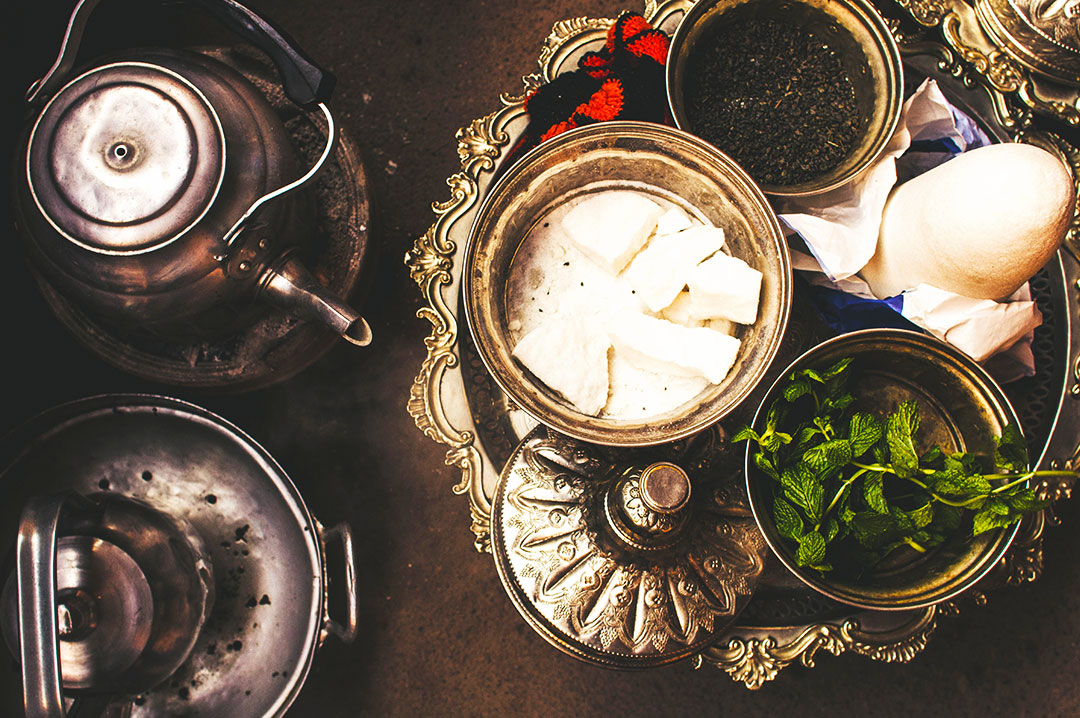 Different regions of the country add different things to the tea — such as zhen mei and zhu cha green tea leaves (the main tea components), various spices, citreous fruit, milk, lemon verbena, or wormwood.
In order to truly grasp the drink's taste the glass has to be filled several times!
Step 3 — we choose a film for the evening
You cannot immerse yourself in the real Morocco without films. The whole country is one big film: epic, historic, vivid. Here is Tilda Swinton walking along the narrow, mazy lanes of Tangiers, here is Russell Crow proving himself to be a true gladiator among the sands of Merzouga, and there's Colin Farrell acting as Alexander the Great near the ocean coast of Essaouira.
Here's a set to immerse yourself in beauty:
The Jewel of the Nile, 1985
Alexander, 2004
The Man Who Knew Too Much, 1955
The Mummy, 1999
Gladiator, 2000
Queen of the Desert, 2014
Only Lovers Left Alive, 2013
And if you have tons of time, don't forget that the serials Game of Thrones and The Clone were partially filmed in Morocco.
Music is the soul of a country, especially when talking about oriental states. A thousand-year history has left its mark in the musical memory of Moroccans. It's the art of thousands of peoples, centuries and events. You can and must imbibe music, just like national cuisine.
Musical genres here are mostly ethnic, absorbing and experimental. An ideal choice for a journey into sound. So let's go!
Here is an ideal relaxing

hammam playlist.

 

Maximum

ethnic

, recorded by Paul Bowles in 1959.

The spirit of the desert awakens

here

.
If you still need dances, then take a look here.
Step 5 — we roll the dice
From spiritual journeys to earthly journeys. The towns of Morocco are impossible to portray without the medina, tons of stalls, workshops and, of course, jolly traders! We suggest you take on the role of a shopkeeper who really needs to get rid of his wares.
So what do we suggest? Invite your friends to an online market!
Take a critical look around your apartment and at the items it contains.

Select something wonderful but quite unnecessary.

Place it as attractively as possible on the improvised stall.

Call colleagues, friends and relatives to the greatest Zoom sale of the century.

Present your goods as animatedly as possible to everybody who comes to look.

And most importantly of all, haggle to the very end! 
I'm sure that you'll sell everything. And you will get double profit from this endeavor: things you no longer need will find new, loving owners, while you will free up space for something else.
Step 6 — we dive head-first into the atmosphere
Books whose action takes place in Morocco are always exciting and keep you engrossed thanks to their amazing detail. Morocco is a country of detail, unordinary things in ordinary life, quaint technologies. Would you like to learn why doors have two handles? Or why threads are strung along the walls of the entire medina? And then you are spellbound and read about what happened 100 years ago in that very place. It draws you like Wikipedia.
Here are some excellent examples:
Tahir Shah, The Caliph's House: A Year in Casablanca — a short Moroccan survival guide.

Paul Bowles, The Spider's House — a guide to the uprising in Fez.

Joydeep Roy-Bhattacharya, The Storyteller of Marrakesh — fables from the capital.

Paul Bowles, Points in Time: Tales from Morocco — notes about the real Arab world.

Driss Chraïbi, La Civilisation, ma Mere!… — about this Moroccan writer's home and perception of the world.
Be careful with these wonderful books — they will lead to an insatiable desire to delve even further into Moroccan culture.
---
Closing my eyes and recalling Morocco, I see myself in the middle of a whirlpool of events, on the streets of the medina and selecting some colored headscarves; I observe the endless starry sky on the roof of the little neglected hotel in the desert; I haggle with the shopkeeper in a silver jewelry store over an attractive bracelet; I spin my eyes when I see the abyss under the car wheels on the winding road, and feel the grandeur of the mountains compared with little me. I sense internal freedom, the freedom that we all need right now.