Clothes, shoes, and accessories
The "Made in Italy" label on something is a guarantee its quality, prestige, and longevity. Shoes and clothing can be expensive, so we will concentrate only on the must-haves for any wardrobe. 
A few pairs of shoes and some handbags
You aren't obliged to shop at Prada, Bottega Veneta, and Salvatore Ferragamo in order to get hold of quality shoes or bags. There are much more reasonably priced shops such as Coin which you will find in almost every large Italian town and city. They don't just sell the upmarket luxury brands but also less well-known, but all the more accessible, ones too. At Armani Exchange, you can pick up a leather jacket for €235.00, or if you choose some shoes from the Italian brand Silvian Heach, you will get something in the latest fashion for under €100.00 
Borsalino hat
If you have gangster romance on your mind, why not pop into the shop where Al Capone himself used to buy his hats. It is a family business which has grown into an international brand. Now Borsalino hats aren't just worn by gangsters (although maybe a lot of them still do go for them), but by movie stars as well, like Johnny Depp and Jessica Alba. Prices start from €150.00, and their shops can be found in all major cities in Italy – Rome, Venice, Milan, etc. A list of all their stores with addresses can be found here.    
What about cosmetics?
Italians love to go down the organic path, so why not follow them? Choose shops like L'erbolario or similar organic outlets and buy everything which takes your fancy – you need have no doubts about the quality. The average price for face cream from L'erbolario is around €40.00, shampoo costs around €15.00 and perfume around €38.00.
Food and drink
Italians are real gourmets, so it's difficult not to buy lots of things to take back with you – just make sure you check your hold and hand luggage allowance with your airline to make sure you don't have problems with excess baggage. 
Parmesan, pecorino and other cheeses
It's really not important if you're preparing an Italian themed dinner party for friends or you just enjoy eating cheese at any time of day, it's out of the question to come home without at least some Parmesan, Grana Padano or Pecorino in your luggage.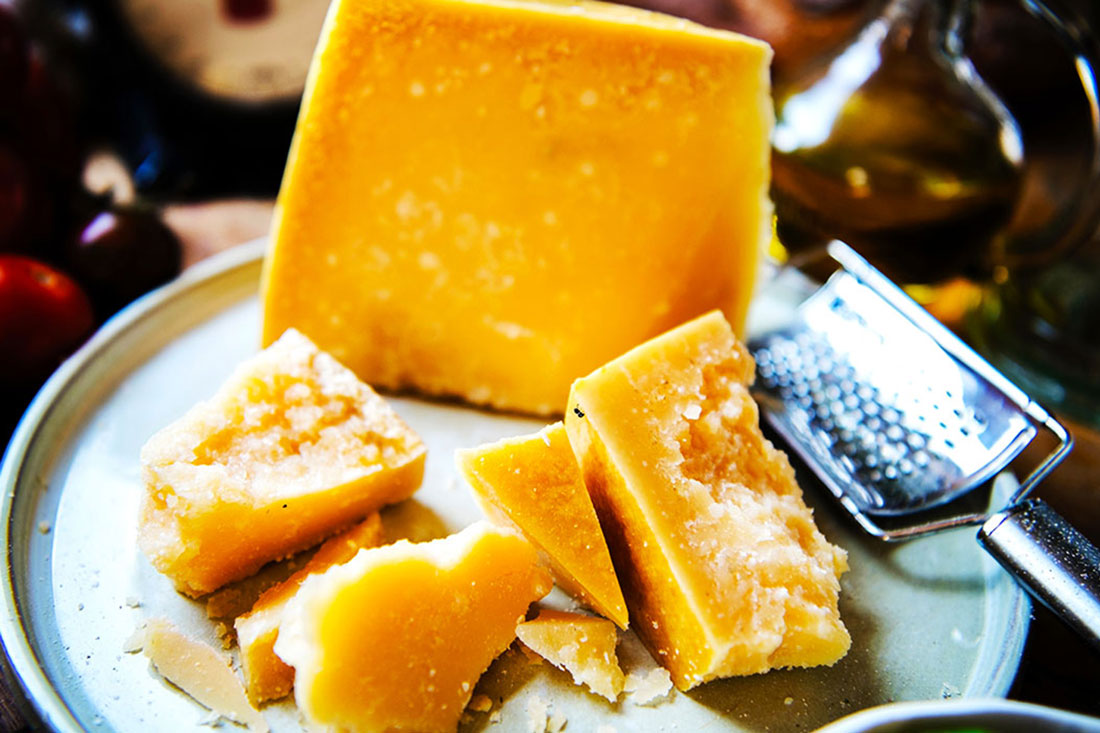 Parmesan is best bought in Parma, where it comes from. Its twin brother, Grana Padano, is produced in Veneto, Piedmont, and Lombardy. Pecorino should be bought in Rome and surroundings. The most popular sort, Pecorino Romano, is used when preparing carbonara and amatriciana, a sauce made of tomatoes and minced pork. Don't forget to pick up some burrata, mozzarella, and stracciatella di bufala too…Cheese prices can vary. 200g of Parmesan costs around €7.00 in a supermarket but around €20.00 at a cheese merchant.  
Prosciutto, salami, and mortadella
If you're more a sausage person, it's worth getting hold of a few slices to take home. Of course, everyone knows what prosciutto is (sliced cured ham from Parma – where it's cheapest and tastes best), but what about mortadella? This boiled sausage comes from Emilia Romagna and is flavored with garlic, spices, and pistachio. It costs about €0.70 per 100g. Traditional salami from Milan is also worth trying at around €1.50 per 100g. 
Olive Oil
Olive oil is a bit of a given – it would be strange NOT to bring any back from Italy. It's worth noting that the best olive oil comes from Apulia where they have the ideal climate for olive trees – hence the fact that most Italian olive oil comes from this region, most of which you can easily find in supermarkets for around €10-15.00 per liter.
Wine
In Italy, good wine is to be found literally on every street corner – and in every supermarket where you can pick up a decent bottle for as little as €5.00. You can even pick up good wines in small shops close to hotels. There are also specialist regional wine merchants (enoteca) where prices start from around €8.00.
Truffles
This horrendously expensive fungus brings to life the simplest pasta, bruschetta, or risotto. You can buy truffle-infused tomato sauce, truffle-infused oil, truffle-infused balsamic dressing – you name it, you can get it with truffles. The very curious should try a visit to Tartufi & Friends (shops in Milan and Rome), but be careful. Truffle fever can break the bank as 100g will cost you upwards of €250.00. You can get a tin of truffle sauce for about €5.00-€8.00, though.
Household goods
Italy hosts an annual Design Week where you can find all sports of interesting household articles, from material produced by such well-known designers as Fendi and Armani to all manner of gadgets.
Ceramics
Plates from the south of Italy, especially Sicily, Calabria, and Sardinia, are known as decorations for the home. You can find all sorts of unique, hand-made examples (like ones featuring the head of the Medusa – Sicily is supposed to be the birthplace – and place of death, for that matter, of this mythical being) on any flea market starting from under €15.00. You could also look in the Versace HOME shop for such a plate, where the Medusa is used as a brand logo, but there you'll pay around €100.00 per plate. Liguria is also home to pretty, striking ceramics which make lovely gifts. 
Bialetti coffee makers
If you'd like to wake up every morning to the smell of fresh Italian coffee, then you could get hold of a classic Italian coffee maker. The best-known brand is Bialetti, which has been around since 1919. These do not come cheap – you can expect to pay around €20.00 for a small, 2 cup espresso maker, which would be easy to take home. These don't take up too much space in your luggage and weigh around 3kg.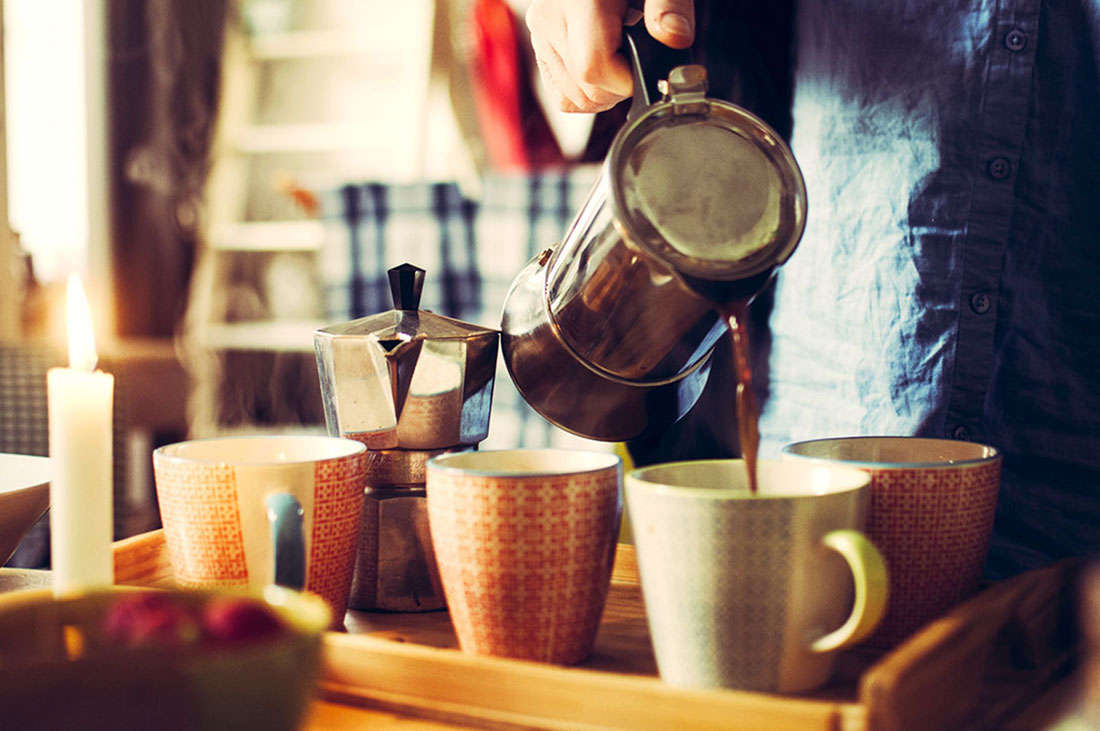 Murano glass
Murano is a small island in the Venetian lagoon where they have been producing fine, handmade glass for centuries. They make plates, vases, and ornaments and if you can buy it on-site there is less chance that you will pick up a forgery. They don't just produce vases, though; you will find ornaments, statuettes, plates, and glasses. Murano glass prices are not the lowest on the market, starting at €20.00-€30.00 for a small item – make sure you get a certificate of authenticity from the vendor!
Making savings
Although prices start quite high, it's not difficult to make some savings in Italy. Firstly, there are two sales seasons every year – winter, from the beginning of January until the beginning of March, and summer from the beginning of July until the end of August. Discounts can be as much as 70%.
Apart from that, Italy has many outlet stores ranging from ones offering multiple brands, like The Mall just outside Florence to branded ones like the Prada outlet not far from Arezzo. Also, don't forget than the further south you go, the more inclined they are to haggle, even in shops, and this can help you save. This happens from about mid-Italy downwards, but don't try it in the north. At best they will think you've gone mad, at worst, they will just think you're being rude.
Souvenirs
Pinocchio
Pinocchio is a symbol of Italy, and you can fund him in every souvenir shop. He doesn't cost very much (up to about €4.50 depending on size), but the models are quite sweet. These make great gifts for friends, acquaintances, and colleagues if your budget doesn't run to more.
Venetian mask
A Venetian mask is an ideal souvenir if you enjoy role-playing … or, if course, you can just hang it on the wall. Mass-produced plastic masks are quite cheap at around €10.00, ceramic ones are a bit more expensive, costing from €30.00, and if you have a Venetian craftsman make one especially for you, the prices start from €100.00.
---
The list could go on and on, but I think we have covered the basics. The great thing about Italy is that there is something for everyone and for all budgets.