To Rome: dine at La Terrazza
For whom: for true foodies.
A trip to the Eternal City isn't the most original of ideas, but we couldn't resist, for a number of reasons. Firstly, the weather in Rome is beyond doubt nicer than somewhere in Northern Europe (the average temperature reaches +12° C). Secondly, winter isn't high season: return tickets cost around €200. Thirdly, we've found the ideal restaurant for you and your other half: La Terrazza with panoramic windows and a Michelin star.
The chef Fabio Cervo isn't afraid of innovating, combining the highest-quality ingredients in his dishes. Book a table by the window and admire the view over Rome, including the incomparable Altar of the Fatherland and St. Peter's Basilica, while working up an appetite by taking a walk before your meal — because you will need to eat a lot.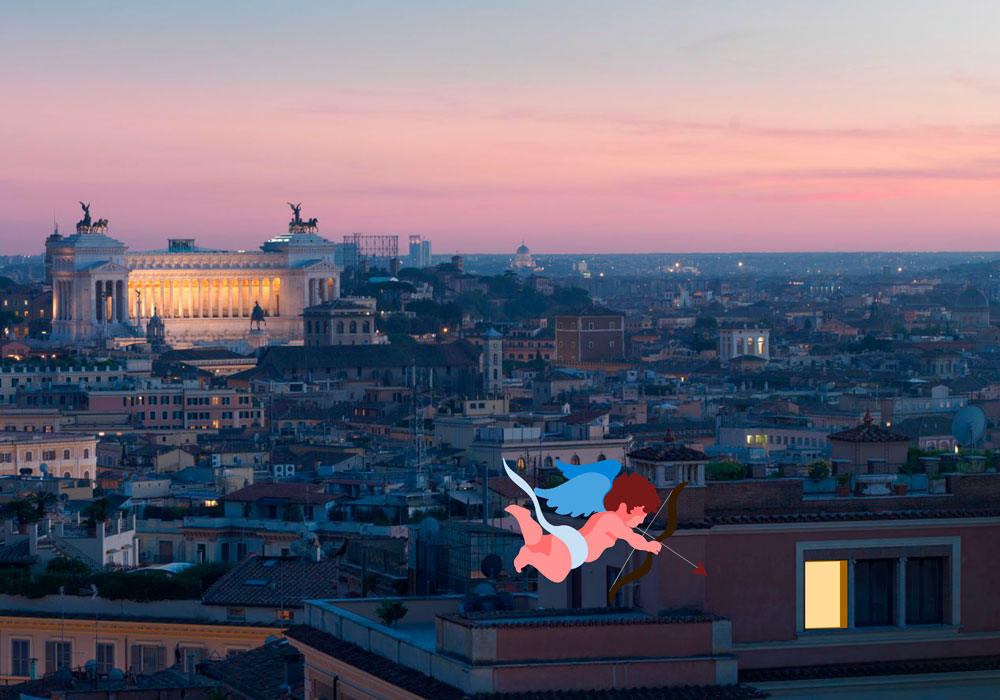 Begin with mushrooms and black truffles — €45, try the calamata (ring pasta) with oysters — €45, and for dessert go for the chocolate soufflé with pears — €28. This should all be washed down with a bottle of Montepulciano (from €38), glistening in wine glasses against a background of a Roman sunset. This is the occasion when you can forget about calories and everything else — all the more so as that evening will clearly not end with the restaurant.
If you want more variety and to really go for it, try the tasting menu with eight dishes for €200 per head without a sommelier, or for €280 under his skillful guidance.
How to get there: the restaurant is located seven minutes' walk from Spagna underground station.
Where to stay: at the Berg Luxury Hotel 4* — for €130. Guests are offered modern rooms and a spa where they can relax after the official part in the restaurant (if you know what we're talking about!). The hotel is located two minutes' walk from La Terrazza and five minutes from the Villa Borghese park, where you can continue to admire the city and take a romantic walk among the sculptures, counting the stars.
To Lapland: to view the Northern Lights
For whom: for those who don't mind the cold.
If you two prefer mountains to the beach, spending the entire winter on the snowboard or skis and mentally hoping for the cold season to continue, then head for Lapland. From September to March, you can admire the Northern Lights when the sky is clear — there is no more romantic decoration than that (yeah, it's not just boring meteor showers that you'll see!).
Moreover, you might get to meet Santa Claus as he takes his deserved break after a hard-working Christmas. After all, you might suddenly remember that you forgot to ask the old man for an important prezzie.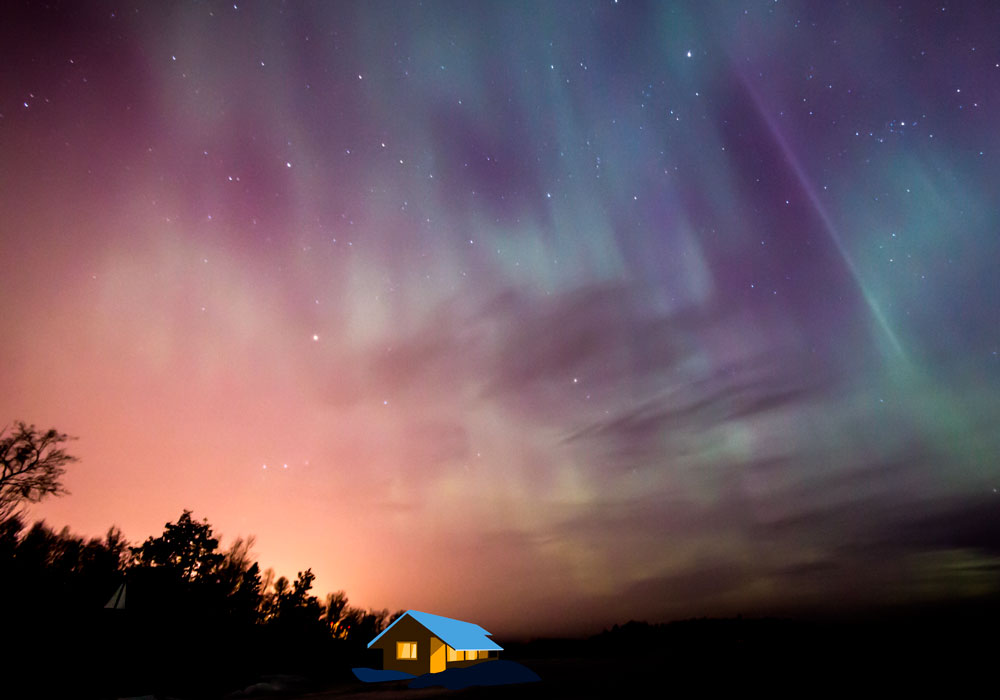 The Northern Lights don't delight the Finns and tourists all year round, but February is one of the best months for witnessing this wonder of nature with your own eyes. The colder it is, the higher your chances of catching the Aurora. By the way, in February 2020, the temperature will fall to –22° C.
Download the free My Aurora Forecast app (
Google Play
,
iOS
), which notifies you if the Northern Lights may appear soon. Based on the weather, the program creates a forecast for the next few weeks.
How to get there: a trip to Lapland may seem difficult, but in reality, it isn't. You can get here from most European cities, or at worst with one connection in Finland.
Where to stay: if that's your dream, then make it a big one! Stay in one of the cottages with a glass roof, where you can lie there snuggled up to each other and admire the Aurora all night.
A room at Nellim Wilderness Hotel will cost around €240. The hotel is found in the village of Nellim, where only 200 people live. The only way to get to the village from Ivalo is by taxi, as no public transport will take you there.
A more budget alternative (but without panorama ceilings) is the Hotel Ivalo: for €151.
To Pamukkale: to bathe in the thermal waters
For whom: for a career couple wishing to recharge their batteries.
When you look at Pamukkale (a place of natural beauty in the province of Denizli in South-West Turkey), you realize that no architect, not even the most talented of them all, is capable of outdoing nature.
Pamukkale is Turkish for "cotton castle" — and indeed, the travertines (natural bathing pools) form layers on top of each other and are bordered by snow-white lime and stalactites — this all resembles a fairytale palace.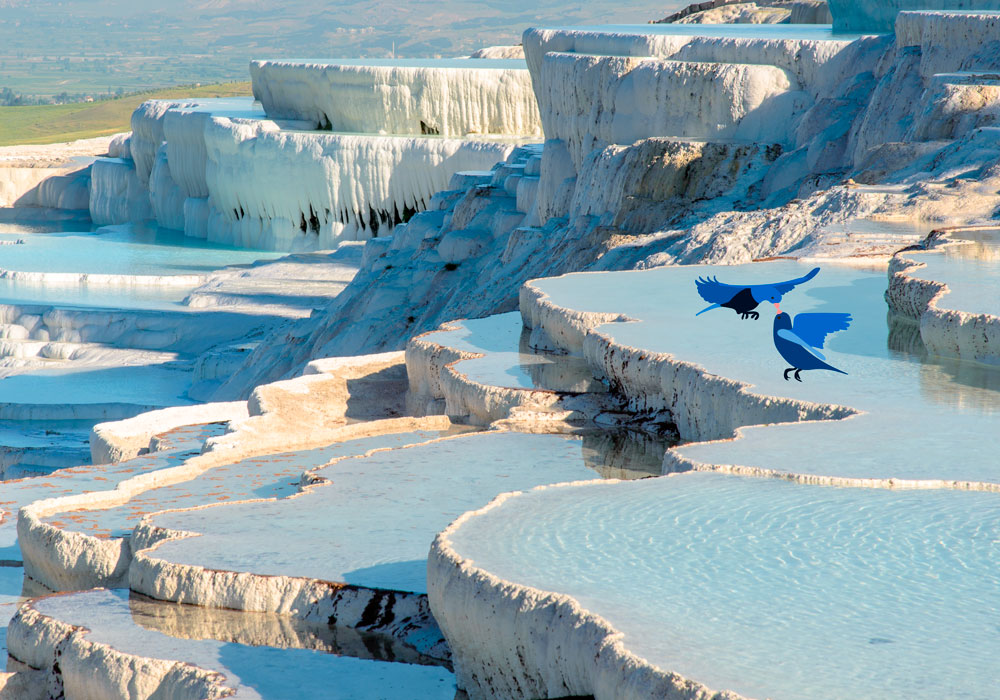 You're not allowed to bath in the travertines (the limestone quickly gets dirty), and there's no point anyway — they are too shallow. But you can and must take photos of yourself there, because it would be criminal to forget all this magnificence. The sole downside is that you have to walk here barefoot so that you don't harm or dirty this fragile creation of nature that has been included in the UNESCO list of world heritage sites.
Still, if you really do want to bathe, then you are welcome to visit the Cleopatra pools (this is from where the waters descend to the travertines). The warm water of this thermal source (the temperature remains at +36° C all year round) is often compared to Champagne thanks to its bubbles. To go bathing here will cost you 32 lira.
The price for entry to the Pamukkale complex — the Cleopatra pools — is 35 lira. In winter, the complex is open from 8:30 to 17:00.
How to get there: the nearest town to Pamukkale is Denizli. You can fly direct to Antalya, then take an intercity bus at Antalya bus station that will bring you to Denizli in four hours for 45 lira. After that, take a mini-bus to Pamukkale (3.5 lira), which will deliver you there at high speed in 20 minutes.
Where to stay: five-star hotels are ideal for stays with your partner, so we recommend Spa Hotel Colossae Thermal. All the more so, as prices in Turkey are always attractive: a standard room will cost 403 lira, and a luxury room will cost 481 lira.
To Vienna: to pop the question by Klimt's painting The Kiss
For whom: for art lovers.
If that question has been on the horizon for some time, but you could never find the right place or time, then we suggest the two of you head for Vienna. Immediately after a cup of Viennese coffee and slice of Sacher (we recommend Cafe Sacher for that, where a piece of cake will cost you €10 and a cappuccino will set you back another €5.70) head for the Belvedere Gallery.
It's located in a huge historical baroque-style palace. Here you will find famous works such as The Five Senses by Hans Makart, Pair Embracing by Egon Schiele, and other works, but the most important of all is, of course, Klimt's painting The Kiss. And is there really anywhere better for getting down on one knee than under that painting that humanity perceives as a symbol of love?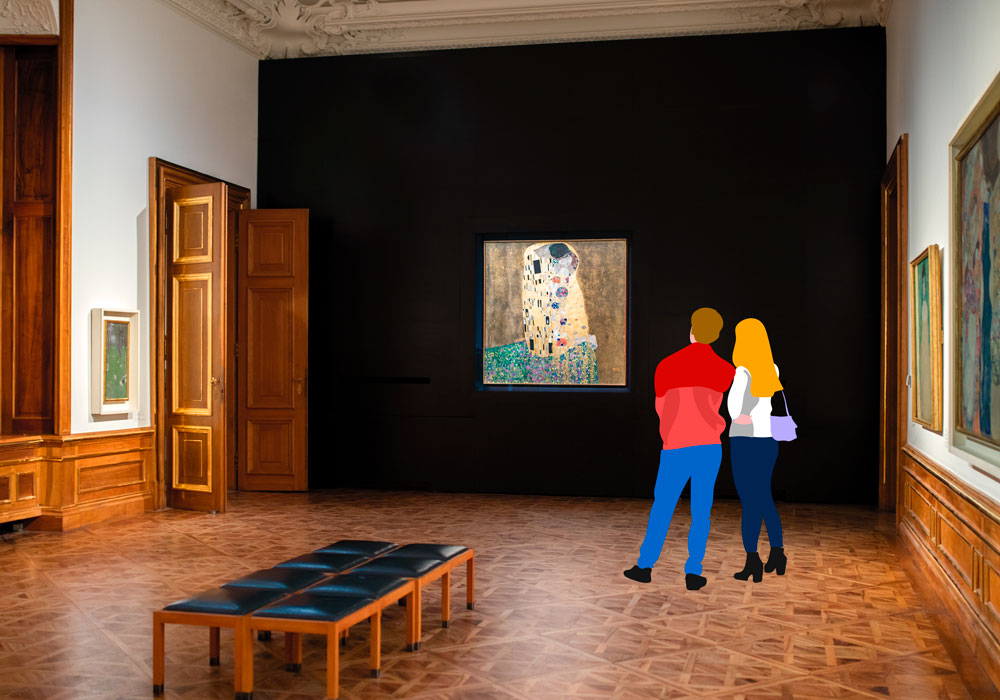 The cost of an entry ticket and the most romantic proposal on Earth (not including the ring, of course — that will be a bit more expensive) is €15.
How to get there: the nearest tram stop is Plößlgasse.
Where to stay: at the Hotel Am Schubertring 4* in the historic center — here you can fully immerse yourself in the city atmosphere. The price of romance in this hotel is €100.
---
Relationships are a unique thing, and of course, only you know what will please your other half more than anything else in the world. Our modest role is to hint at where the two of you will be happy alone and where you will once again enjoy the fact that you found each other in this huge world (of which you will now travel the length and breadth together).