Things which most often get stolen
Technology and jewelry. In any country, there are places where no-one asks questions about where goods have come from

Money

Bank cards. Methods favored by the most advanced thieves as they take money directly from your account

Documentation. Thieves specializing in document theft are generally engaged in blackmail. Without your passport, you cannot get home, and even the best of us can not stop the stress it creates when it comes to figuring out what to do. The thieves take advantage of this and contact you with an offer to return your documents – for a fee, of course.
Here we talk about how to avoid getting into trouble in the first place – and what to do if the worst should happen. 
Where to store valuables in a hotel or hostel
First of all, check the online reviews and check whether anything unpleasant has been reported. Sometimes small things or amounts of money get taken in order to buy time before the owners find out what's missing.
When the subject of security comes up, thoughts of safes at reception and in the room, luggage storage rooms and lockers come to mind. Safes sound like guarantors of security but don't forget that they can be accessed via special codes or passkeys proved by the manufacturer. Not all hotels, let alone hotels pay enough attention to security – any hotel resident can go into luggage storage rooms – sometimes even people who walk in from the street – and padlocks on lockers can easily be broken if the will is there. Let's take a closer look. 
Deposit boxes at reception
Cost: generally, a fee is charged
How it works: you pay your fee, get the key to your safety deposit box, put your stuff in, and sign a register. In some hotels, you will be given a receipt once the register is signed. 
This is the safest way of all. For even more peace of mind, you can even film the storage of your property. 
You're hardly likely to count everything you put in the safe down to the last cent when you're putting it in. It's possible you won't remember exactly how much you put in. There is no point in complaining if you can't remember how much cash you stored, so I find it's useful to put a note in the envelope showing how much went in.
General precautions
Don't leave anything on the balcony, especially if you are staying on the ground floor. When you leave your room, make sure that the balcony door is locked shut. 

Make sure your room door is firmly locked behind you when you go out (double check by turning the handle and pushing/pulling)

Don't leave your belongings unattended in the public area of the hotel or hostel (lobby, restaurant/kitchen area, lounge area, swimming pool, etc.)

Don't leave valuables on the bed, bedside table, or table. When the rooms are being cleaned, the door is usually left open. You can't rule out an opportunistic thief sneaking in and taking something.
Room safe
Cost: usually free, sometimes for a charge
Types: many. Some safes give instructions on how to use your own password; some require a password given at reception or some need a key. The information provided on

ZenHotels.com

gives full information about safes. It can be found in the "All Facilities and Services" section.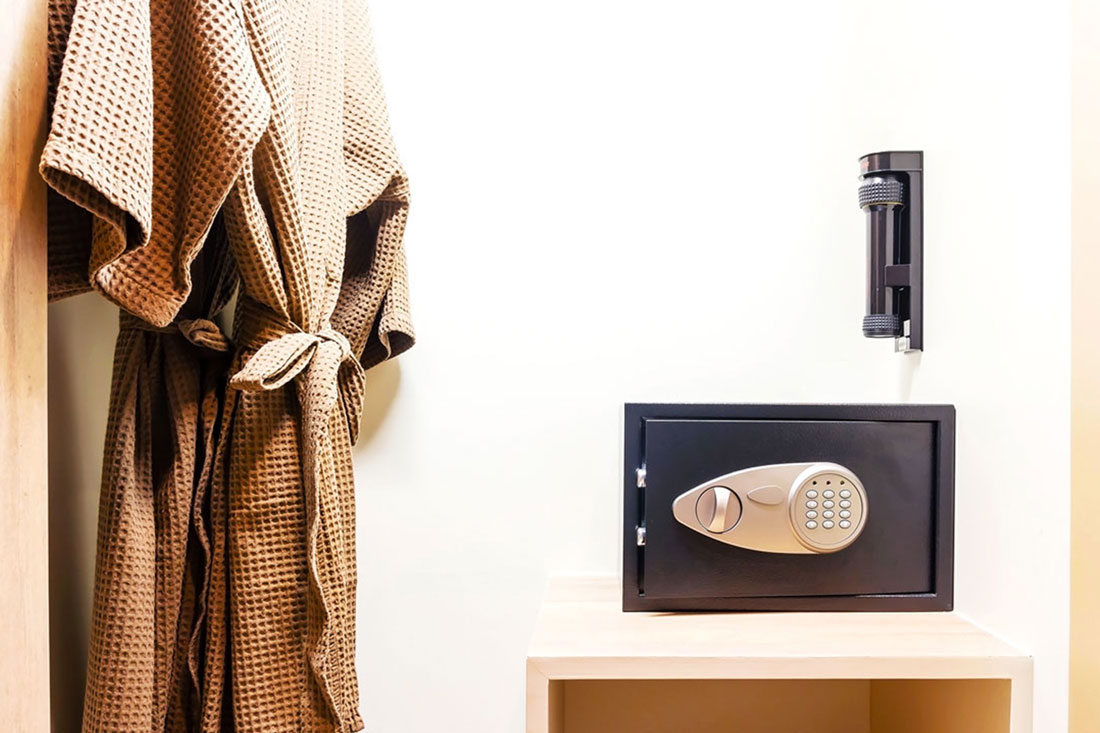 There's not much point making a video in this case as no-one is there to witness it. How can anyone know that you did not take the money yourself? There' only one way to handle this – the minute you notice anything missing then you must go straight to the hotel management and then report it to the authorities. Either call the police or g to the nearest police station (Google maps can help). Explain that you have been the victim of theft and they will take the appropriate action.
Marina, teacher, traveler, a fan of Asia
"I decided to explore rural Thailand. I hired a bike and rode from town to town. I was staying in a guest house, and it was not long before I found out that the guest house had a dubious reputation. I had quite a lot of cash on me, and there was no safe. I frantically tried to find somewhere to hide the money and for some reason, the Poe story "The Purloined Letter" cаme to mind. Hide it in plain sight! Of course! So I hid some banknotes in a packet of tissues and put it under my pillow; I put some more under the deodorant lid and carelessly threw it on the table; my moisturizer was running out, so I opened the bit where the remnants were and hid some cash in there".
Luggage storage rooms
Cost: both for a fee and free of charge
What is it? Usually a room with storage cubby holes close to reception where there is space to store suitcases and larger pieces of luggage. The door is locked, and the key can be obtained from reception. 
Checkout is midday, and your flight at 22.35 – you know that feeling, right? You can use this time to explore the destination one final time, but if you have to lug your baggage with you, it's a less appealing prospect. You can leave it in the specially designated luggage room – but the same rule of thumb applies wherever you are in the world – don't leave your valuables in there! It does mean you'll have to carry your laptop, camera and other valuables with you, though.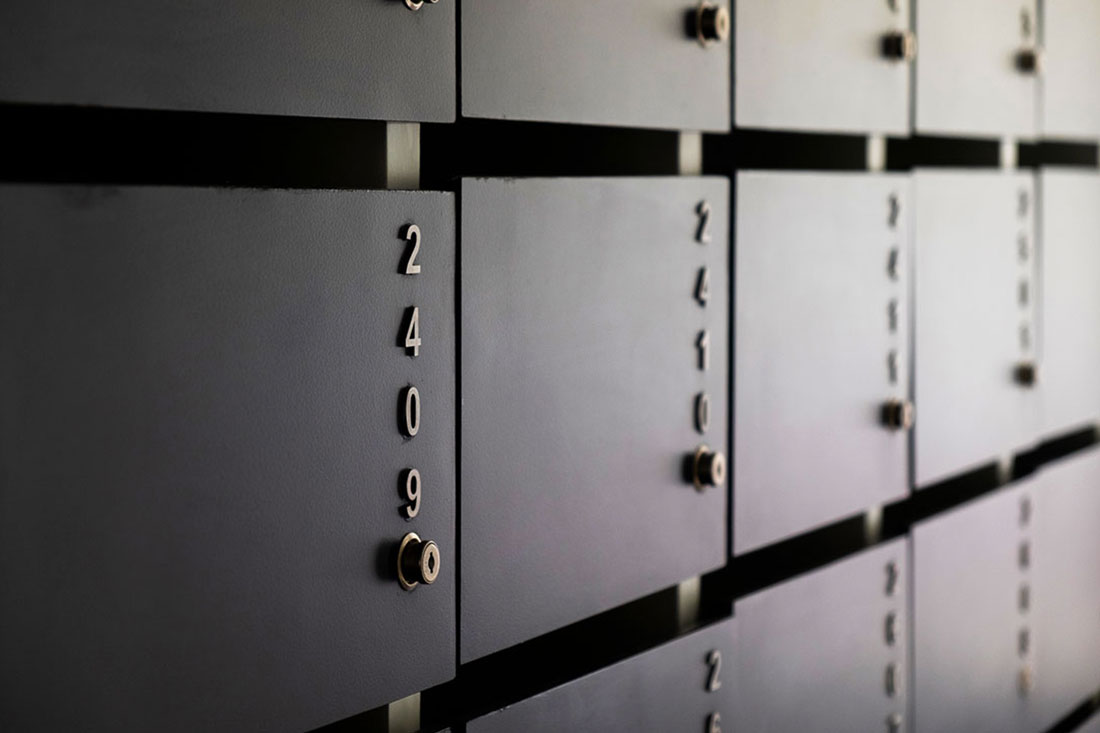 Where you are staying will not accept responsibility for valuables left there since other guests also have access. The security guards can't watch every bag. Padlocks are worth using but remember that many of them can be picked using a paperclip, a pin or some other such object.
Anton, motion-designer, freelancer, mad about Portugal.
"I once thought up a real paranoiac's scheme – conceal money or bank cards in your food. You could, for example, buy some cakes in a tin you can't see through or something along those lines and then put your valuables in the bottom. Make sure you spread the cakes out generously so that the other contents aren't obvious. I can't guarantee that this will always work, but it's something which makes me feel a bit calmer".
Lockers
Cost: Chargeable and free of charge. Sometimes a deposit is payable which you get back when you hand the keys back. 
What are they? Little lockers or cupboards with locks.
Lockers are used to store possessions in hostel dormitories. Several people share the space, each with their own bed (the facilities are normally located in a separate area, so you can't really compare them with most hotels).
6-12 people will be sharing a room with you, so leaving your belongings on the bed or bedside table is a bad idea. The hostel staff cannot be held responsible for the actions of your roommates so they will rent out lockers or padlocks for designated storage areas. You can even use your own padlock. 
As we mentioned above, baggage locks can easily be picked but hostels, strange as it seems, help prevent that as there is always someone in the room. People will notice suspicious people near someone else's things and prevent anything bad happening. 
Advice
Make copies of your travel documents and keep them in an electronic wallet on your smartphone and use banking apps. If you are separated from your documents, it's much easier to replace them if you have copies because it's easier to confirm your identity. 

Don't take a lot of cash with you when you travel; use your card. Take only cash for tips and small purchases. If you become separated from your card, you can block it, and your money is safe, but you can definitely say goodbye to cash. 

Take more than one bank card with you or link them to a mobile payment app like Apple Pay or Google Pay. One of the cards could be for the travel budget, and the other can be empty. If the card with the money is lost, you can transfer the funds to the other card. Otherwise, you can block the lost card and ask friends to loan you some money on the empty one – just remember to agree this with them before leave; agree some kind of codeword or phrase to use in an email or text or over the phone so they know it's you that's asking for the favor.
---
It's not about being paranoid but following basic rules to keep your belongings safe. You'll agree that it's better to spend five minutes working out how to use the safe and put your laptop and passport inside than to repent at leisure. Let's hope that your travels are trouble-free!