One of the best times of year to take a road trip in Montenegro is in the autumn.  Around the end of September – beginning of October, Montenegro explodes into green, red, yellow and orange hues and the weather is just right for long walks – and car rental is far cheaper than in high season.
Tourism will live on, but it will restart at different times in different countries. We monitor information on domestic and international tourism on a daily basis and update it as soon as the new data arrives.
Where to rent your car
I used two car hire providers: Rentacarfor.me и Rentalcars.com.
Rentacarfor.me offered very low prices – 10 euros per day –  and I managed arrange everything the night before I took the car. Having said all this, the first car they offered was not very clean and because of a mix up in the paperwork I ended up with a manual vehicle rather than the automatic I had ordered. They quickly put things right but still, it was time spent waiting. Overall, though, the reviews online are good and the staff were helpful and friendly, so that left me with a positive impression.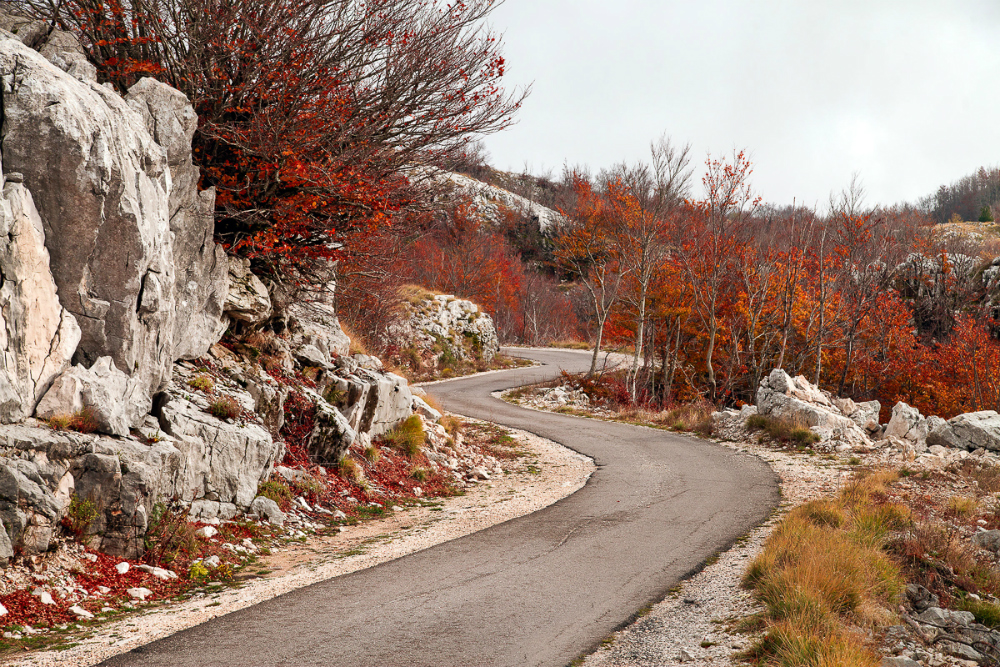 The second provider was the aggregator site RentalCars.com, which shows listings from several different rental companies. Here, the care hire was 30 euros per day. The paperwork was dealt with quickly, the car was in good condition and drove well.
What you need to know once you have the keys to the vehicle
1. Roads are free of charge. The only place where a toll is payable is for the tunnel from Sozina to the town of Bar, but it's possible to avoid this by taking the mountain road.
2. Parking is easy to find and easy to pay for. Some car parks are free of charge, others charge a fee. Parking fees vary from place to place so you should check when you get there. Charges vary from one euro per day to as much as two euros per hour.
3. Don't park too close to other cars. The attitude of locals towards their cars can be quite casual – they don't seem to mind how much dust and dirt covers their vehicles. What's more, your car can easily be scratched by a door opening from a neighbouring vehicle. For total peace of mind, it's best to take out full insurance.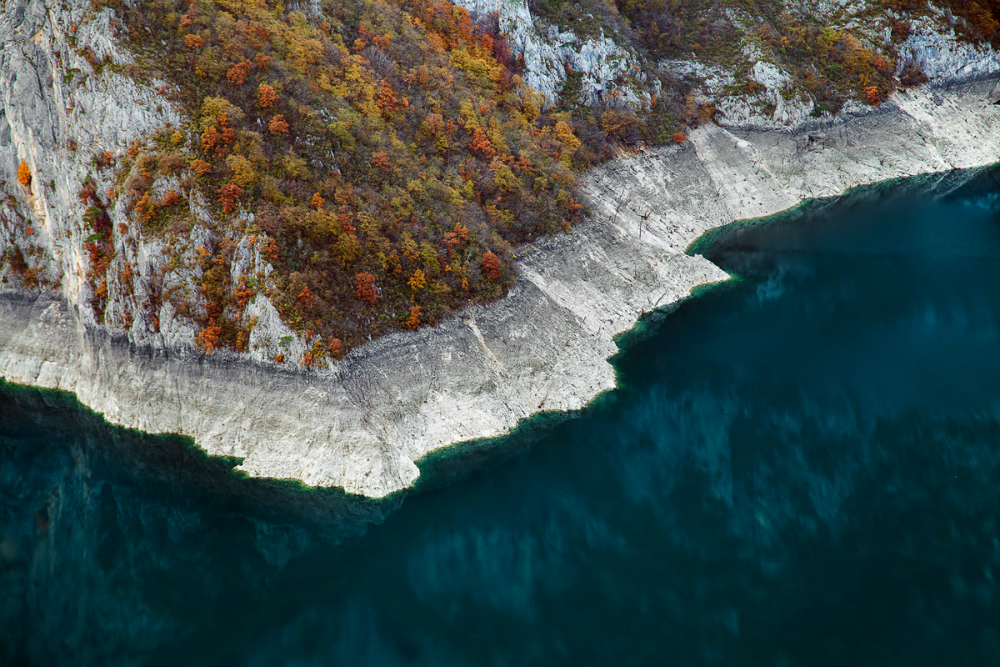 4. Ensure that the rental car has a green card. This international insurance certificate allows you to travel outside the country. Distances in Montenegro are small and it is quite possible to drive to neighbouring Serbia, Albania or Bosnia in a day. But if the vehicle does not have a green card you will not be able to take it outside Montenegro.
5. Download GoogleMaps and Maps.me onto your smartphone. Using two map applications will give you added confidence when driving around the countryside. GoogleMaps can sometimes make mistakes when calculating routes, but it has almost any destination in its database. Maps.me is better at calculating the routes, but sometimes, especially in more remote areas, it marks the route as a dotted line. In mountainous terrain it can be difficult to drive on such roads, so it's better to stick to the main highways.
6. Be careful on hairpin bends. There are many hairpin bends and narrow mountain roads in Montenegro, especially in the Durmitor area, and it's often tricky for two cars to pass each other. The locals tend to drive at speed even in dangerous places, they take bends quite recklessly, and generally show no fear of the road. They are not a good example to follow, so be sure to drive slowly and carefully because of unexpected oncoming drivers.
Budva to Durmitor – full day
This is of my favourite routes as the scenery is spectacular and you drive through places where you can truly relax, enjoy the peace and quiet of the surrounding landscapes and forget about the pressures of everyday life.
Our starting point is the favourite tourist hotspot of Budva. It's best to leave Budva as early as 7 or 8 o'clock in the morning as traffic is much lighter at that time of day, although in the off-season it's generally not so bad. The total route with stops, walks, snacks, photos, and return journey takes a whole day. The journey is broken into manageable chunks but you still might want to include an overnight stay in Kolašin or Žabljak to break the return journey.
Budva to Morača Monastery
Taking the coast road to the monastery takes about 1.5-2 hours. The road runs through the mountains and, after Podgorica, through river canyons where you will be tempted to stop every 500 meters to take in the spectacular views.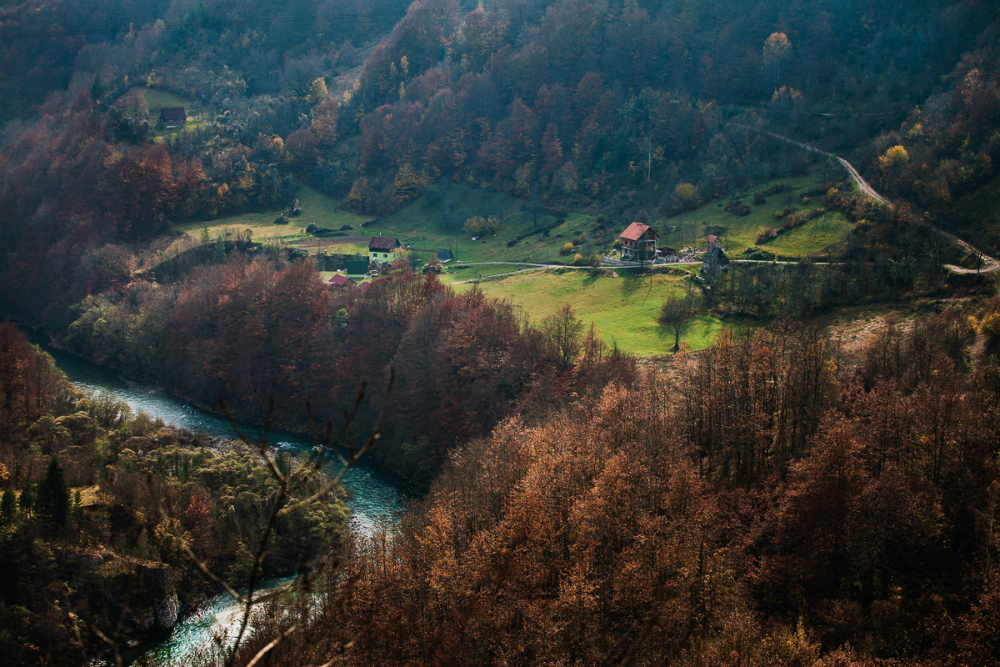 Morača Monastery was founded in 1252 and it is considered one of the most important mediaeval sites on the Balkan Peninsula. It is to be found tucked away in a canyon on the Tara river, surrounded by mountains and lush greenery. For me it is a place of great power. Peace and quiet are in abundance but this somehow fills you with energy, ideal for recharging your batteries.
Take a walk through the grounds, take a peek into the rose garden and drink some water from the natural springs. They say that this is healing water so locals and tourists alike fill up a bottle and take it home with them. The monastery also keeps bees and sells honey. You may want to chat with a priest or light a candle and, after stretching your legs, enjoy a refreshing drink in the small wooden café.
Morača Monastery – Biogradska Gora National Park
Continuing along the same scenic stretch of road via the town of Kolašin, you arrive at Biogradska Gora National Park. If you're feeling peckish, make a pit stop in Kolašin and pop into the Savardak restaurant. Here you can try local specialities such as traditional northern kačamak — a rich maize and potato porridge. After enjoying this feast, you'll be well set to take to the road again and explore the park and its lakes.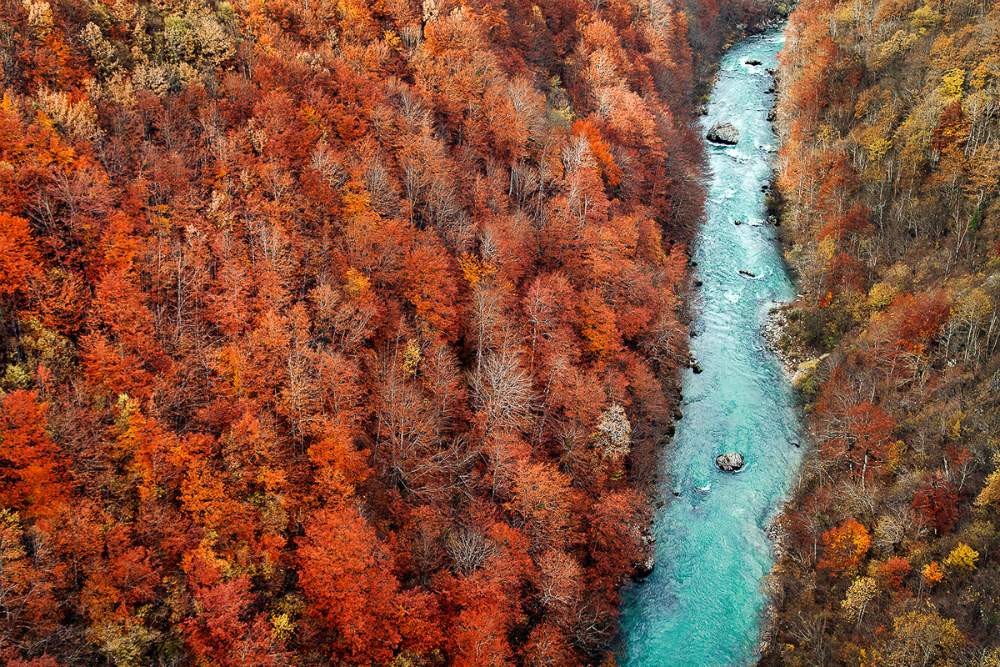 The pride of the Park is Biogradsko Lake, contained in a natural mountain basin over 1000m above sea level. It is the largest among the six lakes in the park. You'll have more than time enough to explore and enjoy the surroundings and even to take a small boat out onto the lake.
Biogradska Gora National Park – Đurđevića Bridge
The journey from Biogradsko Lake to the bridge itself takes about an hour. This is one of the best-known tourist destinations in the area, but this does not detract from its charm. Đurđevića bridge soars above the river Tara at a height of 172 meters. This is probably the best viewpoint over the canyon and the best place to take in the beautiful blue of the mountain river. The most breath-taking views are to be had from the viewpoint in the middle of the bridge where the deep canyon opens out below and all around you vast expanses of forest stretch into the distance.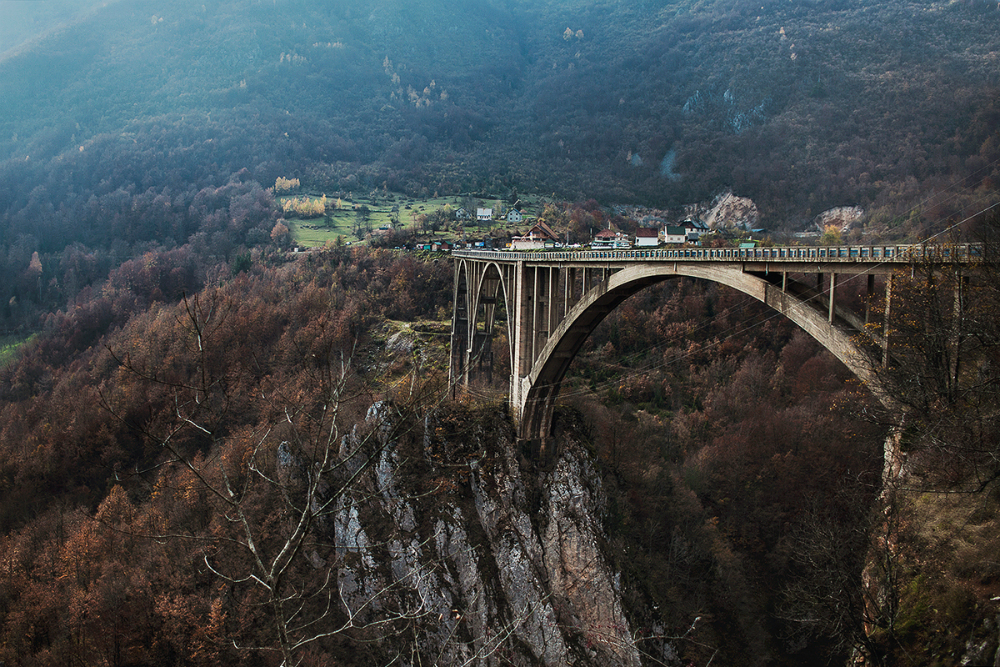 Fans of extreme sports can zipline over the Tara Canyon on a steel cable from one side of the river to the. This is something unforgettable! If, however, you prefer to quietly contemplate the beauty around you, simply settle down in a café with a view of the bridge and treat yourself to something sweet.
Đurđevića Bridge to the Black Lake in Durmitor
Our next stop is Crno Jezero, or the Black Lake. There is a legend which says that the lake is named the Black Lake not because of some grim history, but due to local environmental peculiarities. The lake is surrounded by mountains and clouds often gather overhead making the lake turn almost black in colour — hence the name.
To get to the lake, you will need to buy a ticket into Durmitor National Park, which costs about 4 euros per adult. Up here, you certainly start to feel that you have gone north as the temperature is quite a bit lower than in the south and you are surrounded by coniferous forest. Be sure to take a warm sweater or even a jacket to enjoy your walk. On the way down to the lake you can buy locally grown wild berries. As Durmitor is one of the most ecologically clean areas in Europe, you can be sure that these forest treats are of the highest quality.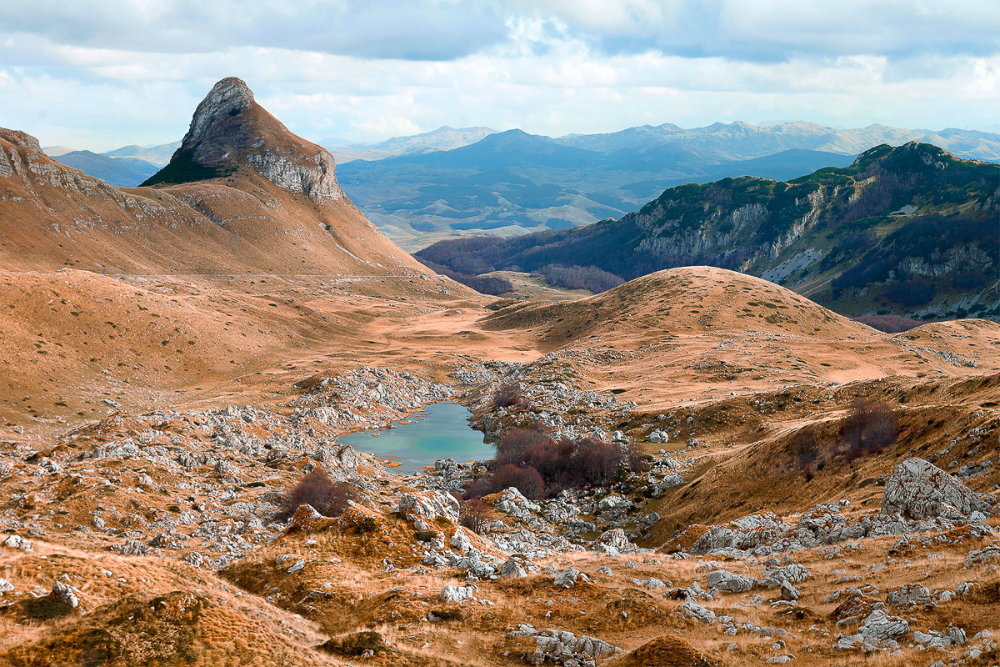 Once you have completed the hiking trail and reached the shore, it'll be clear why I suggested you visit this place. The colour of the water is incredible and you are surrounded dense spruce forest and high mountains. There are no beaches and little wonder; only the most hardy would dare to take a dip here as it's freezing cold, even in summer.  The water temperature is at least four to six degrees below the air temperature. Choose wisely. I would stick to swimming in the warm sea and come here for the nature. Some tourists do have a quick swim, just to show off, but it's only a quick swim for a reason….
You can also take a boat out and explore the lake or have a berry picnic on the beach, enjoying the wild strawberries and blueberries you picked up along the way. The Black Lake is one of nature's rarest beauties and is the perfect venue for taking amazing photos, a place to really blow away the cobwebs. To walk all around the lake takes about 2-3 hours.
The Black Lake is the end point of our day out. Now it's time to return to Budva. The return journey without stops will take around 3.5 hours.
Breaking the journey
If you want to break the return journey, I would suggest a stop in either Žabljak or Kolašin. You will come to Kolašin just after Morača Monastery.  There are many lovely hotels with a pool, spa and good food. For instance, the Bianca Resort and Spa, a traditional wooden style hotel which is located on the main drag so you don't have to go far out of your way.
More reasonably priced, but no less comfortable is the Four Points hotel. It is located next to the ski complex, so if the journey has not taken too much out of you, head for the Ski Сentar Kolašin. There is a lift which will take you to the height of 1450 meters from where you can enjoy the magnificent view over the mountains and centuries old forests.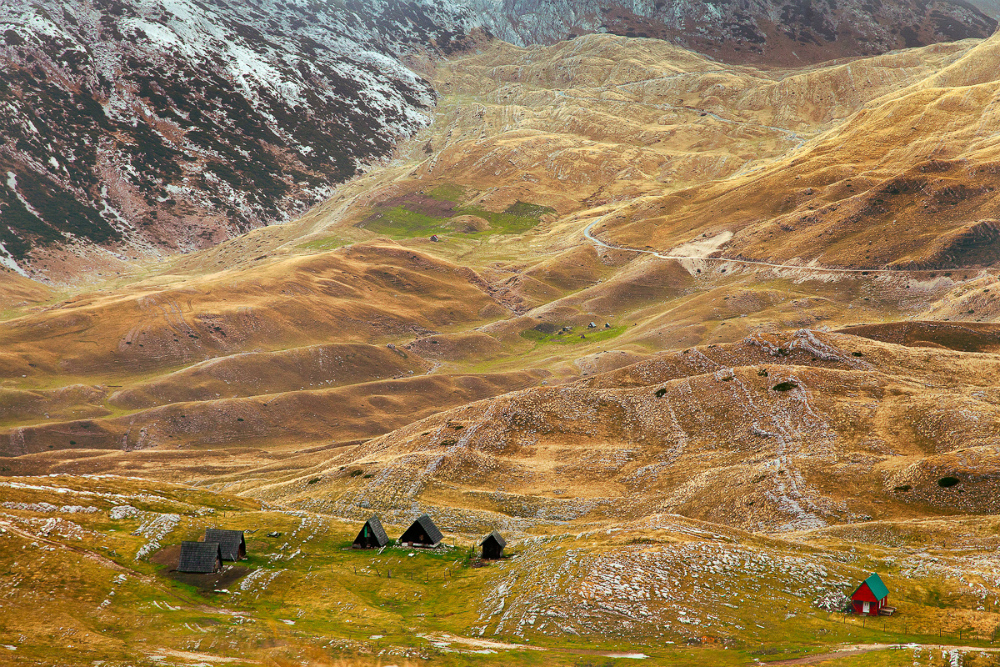 The other option is to stay the night in Žabljak. It's a small town with a population of 4200 people and is already close to where we ended our journey earlier. So, after walking around the Black Lake simply check in to your hotel and relax in the spa or go straight to the restaurant. Worth knowing: here, you'll be sleeping at an altitude of 1456m in the highest settlement in the Balkans. I can heartily recommend the Polar Star Hotel — with its own spa, sauna and restaurant. Otherwise you might like to try the cottages for hire at Boskovica Brvnare, located within the boundaries of Durmitor National Park.  
---
A reminder to those travelling on the Budva-Durmitor road
Decide in advance whether to break the return journey or not. If you want to stay overnight on the way back, book your hotel in Zabljak or Kolasin in advance.

Take warm clothes — it can get quite cool in Durmitor National Park.

Don't park close to other cars as those parked next to you may scratch your car and leave, but it will be up to you to sort it out with the car hire company.

Don't drive like a lunatic on the hairpin bends, take it easy and take your time.