Southern Italy is almost like another country, not at all like Venice, Milan or Rome. You won't find so many chic and shiny boutiques and apartments here, but on the other hand, you will find history, great local cooking, and the real Italian spirit. Italians call this region the Mezziogiorno, or Midday Region, probably because it's almost as if life here just stopped in the middle of a hot, sunny summer's day.  
Campania from Capri to Naples
The main beach resorts of Campania are to be found on the island of Capri. Your credit card might take a bit of a battering here – no cappuccino for €1.50/$1.70 or three-course meals for €6.00/$6.70, but it is still worth coming to visit for a couple of days.
Where to swim
For trouble-free seaside relaxation, we suggest you use the beaches at La canzone del Mare . It's an easy slope down to the water and the view over the Faraglioni rocks, a symbol of Capri. If the saltwater is too much for your delicate skin, there are also two swimming pools and of course a bar and restaurant so you can really feel like a D&G model fresh from a photoshoot (you do get them here too). For all this rapture, you'll have to pay €30.00/$33.00.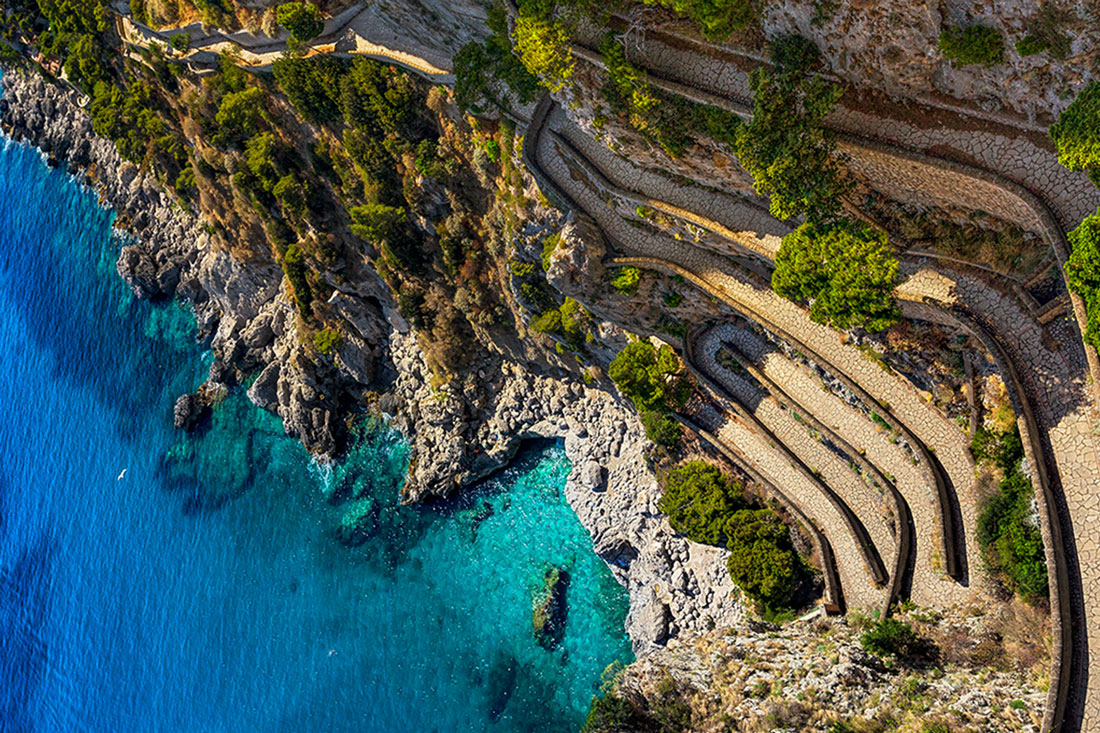 What to see
Amongst the sights for you to visit on Capri, we would recommend the Villa Lysis, the luxurious 20th-century art nouveau villa, where the French industrialist and poet Jacques d'Adelswärd-Fersen hid and smoked opium in the cellar (entrance a mere €2/00/$2.25). If natural is more what you're looking for, then you should head for the Grotta Azzura where, thanks to the way the sunlight shines into the cave, the water takes on a deep blue color, as if you were looking at it through a filter.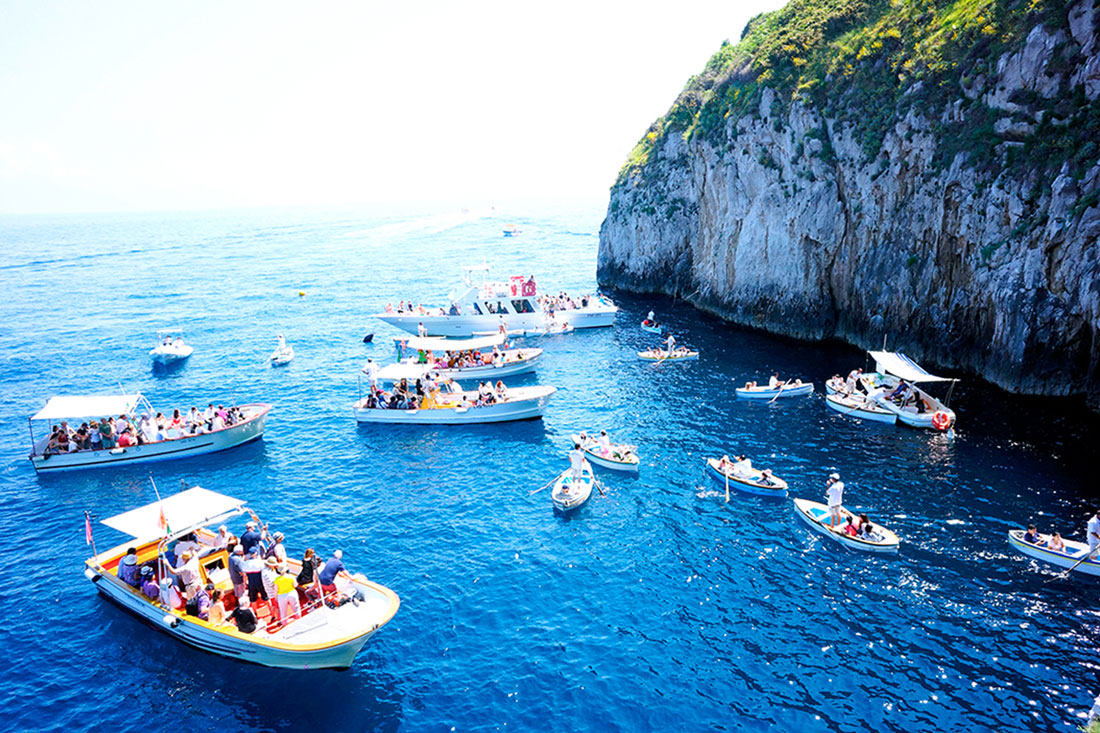 After some quality time on the beach, you should make sure you don't miss Naples itself, a city of contradictions. Some will tell you that it's a crazy place and dangerous, but this is rubbish. It would be a crime NOT to see the city where the historical and contemporary are right next to each other; washing lines hang between the balconies of palaces dating back to the 16th-18th centuries, you can drink a cup of strong espresso surrounded by enormous graffiti spread across the facades of more contemporary buildings and then head down to the market on Via Pignasecca in the Spanish Quarter where you can buy fresh fish and local produce to make a light lunch for yourself, or buy the ingredients for a picnic on the shore.
The Spanish Quarter
(Quartieri Spagnoli) basks in murky glory. It is said that it's easy to get into trouble here with the local Neapolitan mob, the so-called Camorra. It even had a bad reputation back in the days of the Spanish occupation – day and night disorder reigned here in this royal enclave. The reality is that it's not anywhere near as bad as people make out. Of course, you don't make a point of showing off your brand new camera but the Camorra has other things on its mind than tourists. But really, if people think that by coming here, they are going to get caught up in crossfire, you're more likely to see that at home than here – it's a gross exaggeration.

Where to swim
The beach at Punta Prosciutto made it into the Daily Telegraph's list of the world's top beaches. 80% of the area is freely accessible, but there is something for those who want to go that extra mile, for example at Spiaggia del Conte beach, for €40.00/$45.00 you can hire a parasol and two sun loungers, access free WIFI and the bar – all mod cons.          
What to see
About an hour's drive from the beach you'll find the town of Lecce where the local architecture will amaze even the most experienced visitor to Italy. Lecce, also known as the Florence of the South, is located on the southernmost peninsula and abounds in Baroque buildings. The perfect example of this style can be seen in the Santa Croce Basilica. If Baroque does nothing for you, then the small town of Alberobello is to be recommended where you will be completely surrounded by little white houses with tapering roofs (called "trulli") – it's as if you are Snow White in the village of dwarves.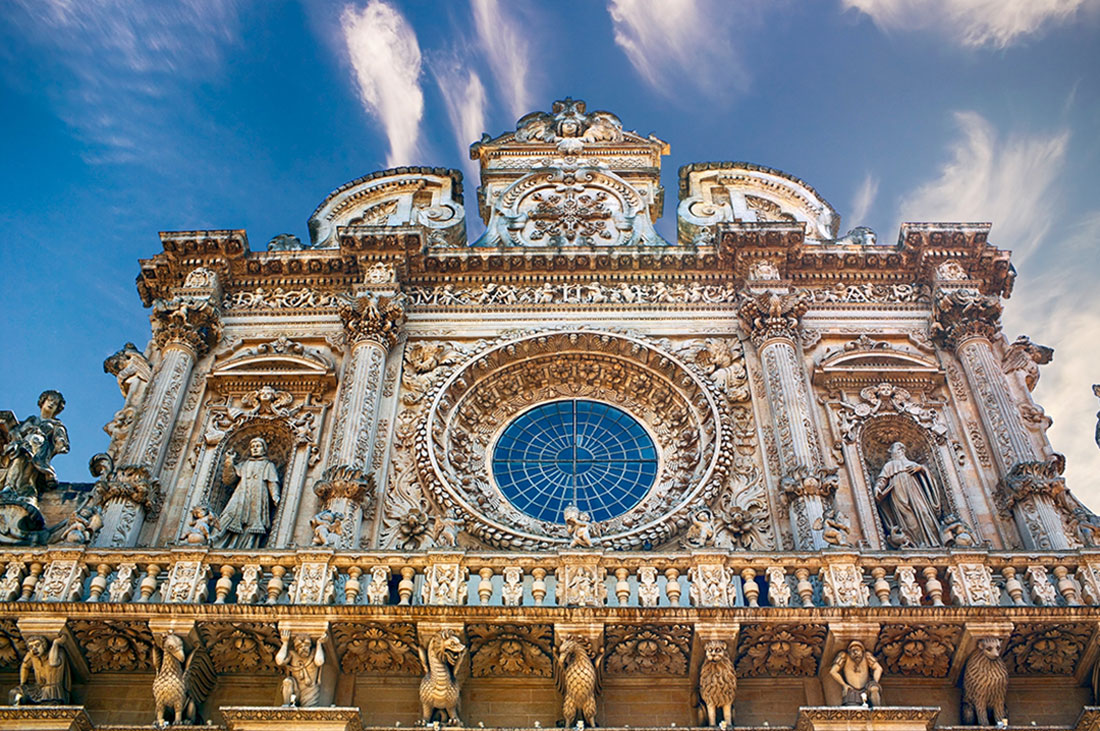 Where to stay
In Lecce itself, there is the 4* historic Risorgimento Resort hotel with views over the town's cathedral, a spa, and a fitness center. In Alberobello try the cozy 2* Driade dei Trulli guest house. If you're on the lookout for something more luxurious, then we recommend the 4* Grand Hotel La Chiusa di Chietri where there is an indoor pool, and the chef comes highly rates as a master of Аpulian cuisine.
Apulian cuisine is one of the tastiest in Italy. I know, I know, we say that about every Italian region's cooking, but just you try the panzerotti (little fried patties with Mozarella, prosciutto, salami or other fillings to your taste) and tell us otherwise. Apulia is also the birthplace of burrata and Stracciatella. And then there's the octopus, seafood pasta dishes and gallons of the local primitivo red wine…it's enough to make you want to start packing right away.

Basilicata: Maratea to Matera
Basilicata is Italy's poorest region, but for all that, it's one of the prettiest. About half its area is wild and mountainous with many forests and country parks, but there are many pearls to be found inland – areas untouched by human hand and more often than not, free of charge to visit!
Where to swim
You really must head for the free beach at Cala Janitta which they also call the Black Beach, not surprisingly because the sand there is black. If you enjoy diving and admiring marine life up close, then this is the ideal beach. The water is deep, clean – and you might just glimpse some mermaids.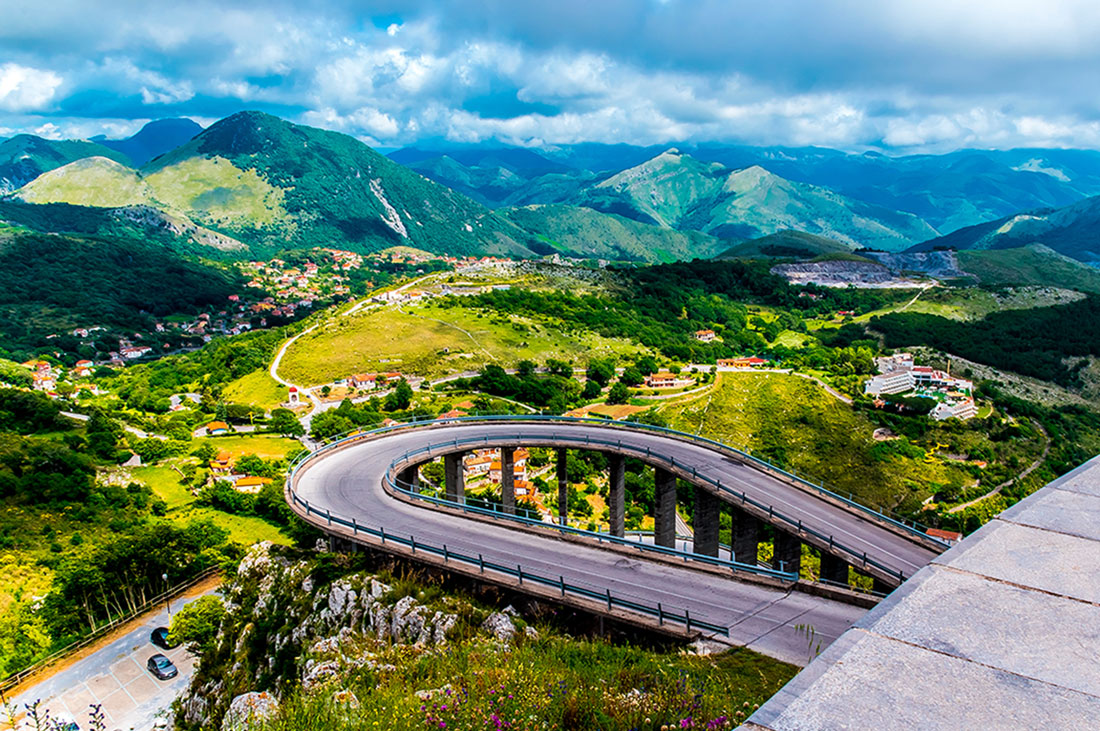 Right down on the beach is the mysterious Grotta della Sciabella. It is said that a certain Isabella used to entertain her male lover here but was discovered by her husband whose revenge was to push her through a hole in the roof of the cave.
What to see
Basilicata is the kind of place which would appeal to Indiana Jones. Take the cave-town of Matera, for example.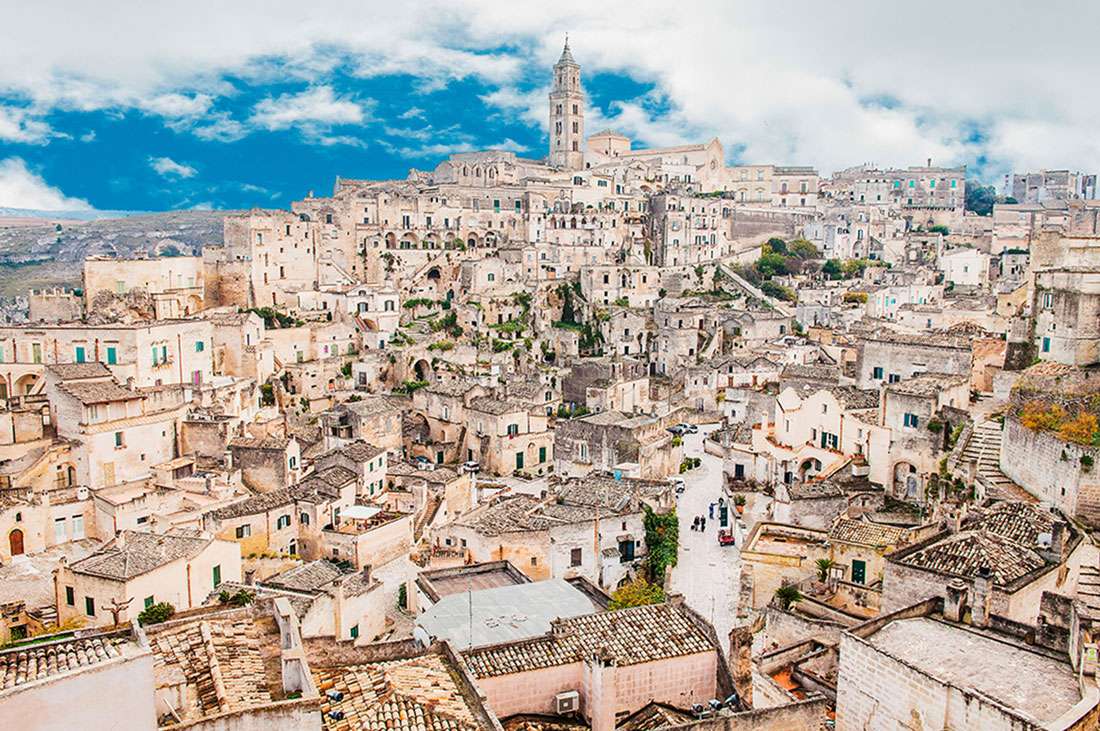 Where to stay
You can actually stay in one of these historic caves! The 4* hotel Sextantio Le Grotte Della Civita will afford that very unique experience. Who knows, perhaps you too will awaken the next morning filled with that oh so ancient wisdom of the Italian forefathers.   
Calabria: Catanzaro – Reggio-Calabria
Calabria attracts few tourists, and if they do go it's only because they've already seen Tuscany, Veneto, and Sicily. This is why here you won't find the tourist gloss, people touting restaurants on the streets or bars with inflated prices. Instead of all that you will get 70km of coastline and the emerald waters of the Ionian and Tyrrhenian Seas from which Calabria gets its nickname of the "Caribbean of Europe." 
Try to avoid going to Calabria in August. The northern Italians will have closed their shops and offices, switched off their computers and headed down here so there won't be much room on the beaches – but as for September, Benvenuto! Welcome!
Where to swim
We recommend the beach at Camania close to the town of Catanzaro. Getting around Calabria – including to the beaches – is best done by car as public transport in this part of Italy still has some way to go. This beach charges people to use it, but it's worth the money. Lots of space, clean, no better place to spend the day.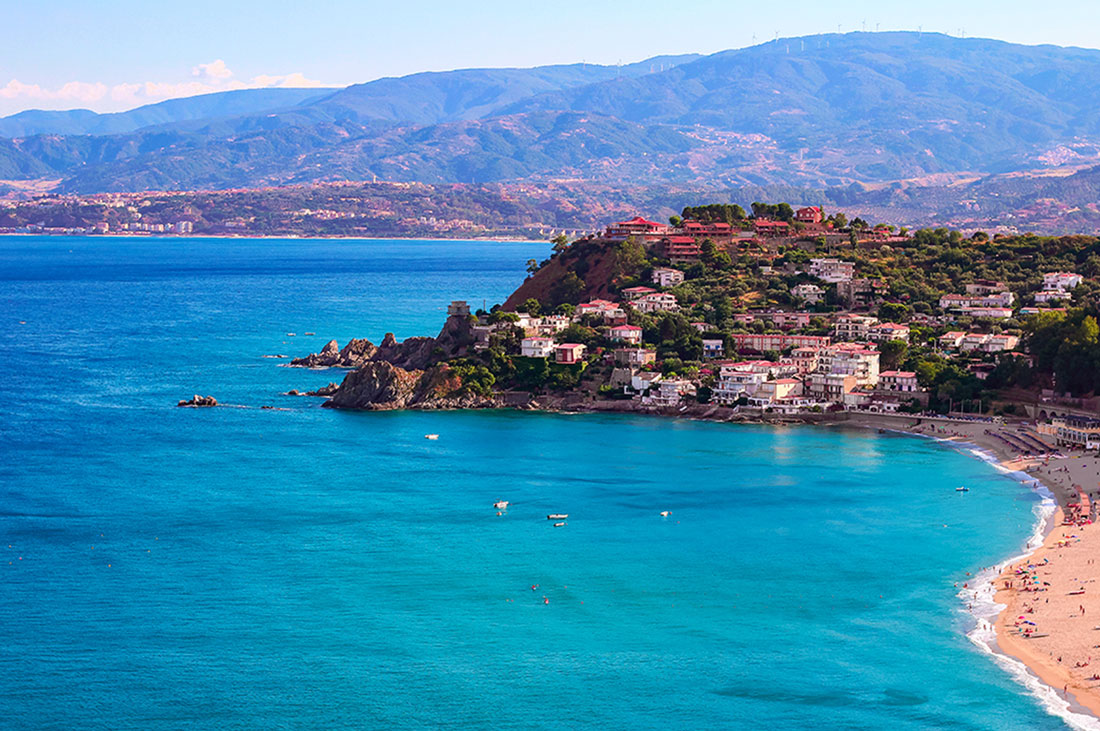 What to see
Not far from Catanzaro there is a market of the same name which is held on Thursdays. Here you can get hold of the normal stuff that you don't really need as well as some unusual Calabrian handicrafts and great quality local foods.
Culturally we'd recommend the Museo Nazionale della Magna Grecia in Reggio-Calabria where you will find exhibits from the 5th century BC and the Riace bronzes, also known as the Riace Warriors. These need to be seen if only to really get a true feeling for the power of humanity.
The unofficial symbol of Calabria is the very hot chili pepper, so if you like spicy food, this is the place for you. You should also make sure you try the Calabrian 'nduja, a type of spreadable salami you can have with anything – bread, pizza – you name it.
We also recommend a visit to the Aspromonte National Park. They say that this was a favorite place of the Ndrangheta Calabrian mafia to keep people they had kidnapped. Don't worry, though. You'll be quite safe here as the Ndrangheta has moved north to get more involved in Milan. On Montalto, the highest point of the park, there is a bronze statue of Jesus Christ and a spectacular view over nearby Sicily.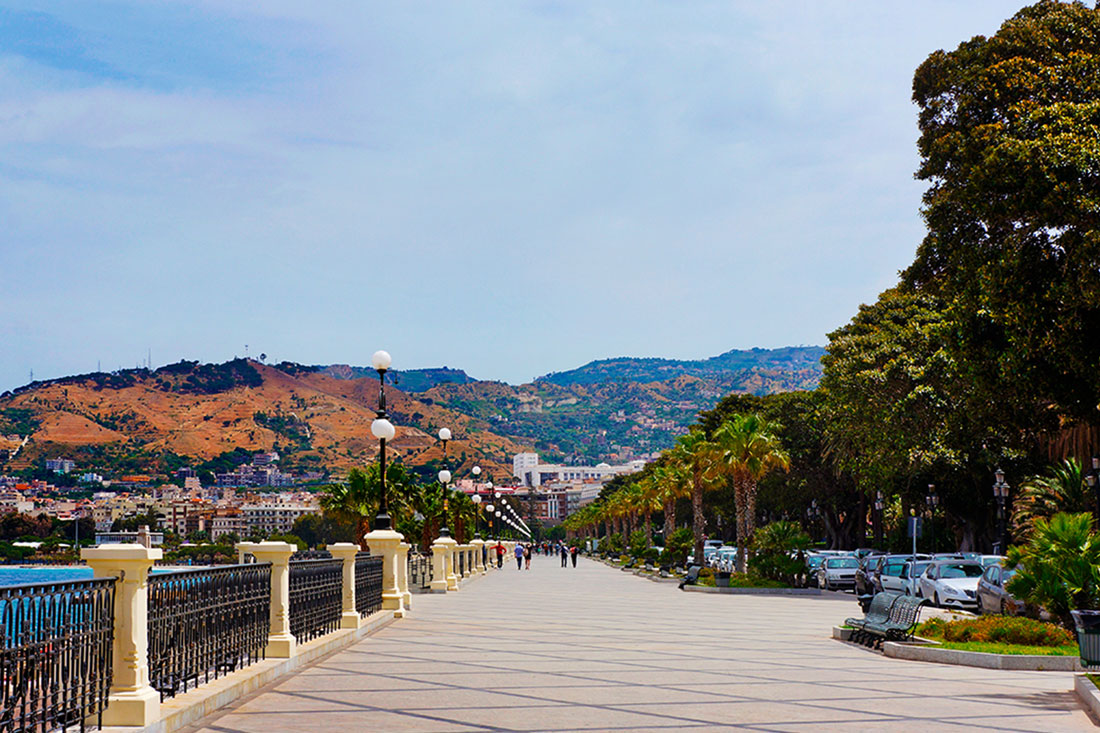 Where to stay
In Catanzaro, we suggest the beachfront 4* Grand Hotel Paradiso. This is a good place for when the sun starts to get strong as they have a cool, covered pool area, a relaxing spa menu, and excellent food. In Reggio, you can try the 4* Albanuova Hotel. If you're in luck, you'll get one of the historic rooms with a stucco ceiling.
Sicily: Agrigento – Palermo – Catania
So here we are in Sicily. Go on, admit it, you've always wanted to see this island with its orange trees and cannoli, enjoy its baroque architecture, see an opera and be amazed at the volcanoes. Sicily has almost 1500km of coastline, so here you will find beaches to suit every taste – but we suggest you focus on the most picturesque and out of the ordinary.
Where to swim
Scala dei Turchi are brilliant white cliffs going down straight to the sea. If you're brave enough, you can climb them and get some spectacular photos. If that all sounds like a bit too much, then just relax on the golden sands and admire them from afar.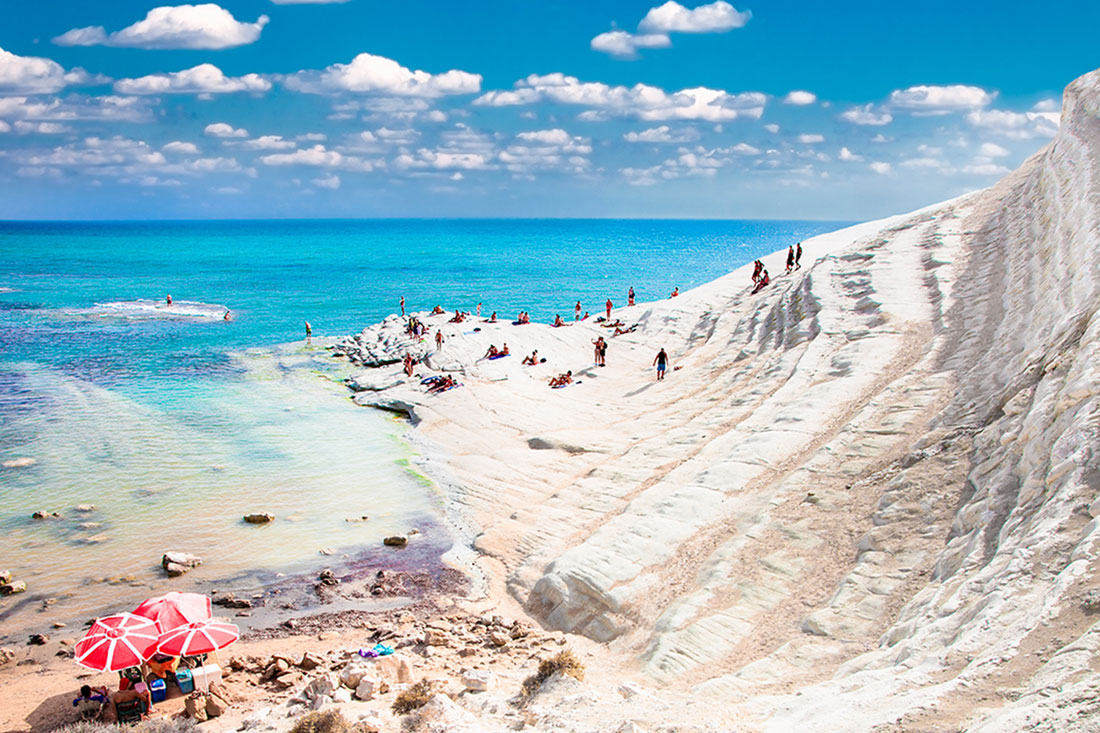 Not far from Palermo is the beach at Mondello, with a section you have to pay for and areas which are free of charge to everyone. If you can't live without fine architecture, hire yourself a villa in the Italian Liberty style right on the beachfront.
What to see
After the beach, let's head for the big city, to Palermo, where sophisticated lovers of culture will find themselves at home. There is so much here in this city to marvel at and then to recount wisely to your friends over an evening glass of wine. Take the glittering golden interior of the Palatina Chapel or the Teatro Massimo, one of the Art Nouveau finest opera houses anywhere (tickets to the opera cost from €20.00 to €125.00/$22.00-$144.00).
If you're more drawn by busy streets, local bars and joy unbounded, get yourself to Catania. Here you'll find the A' Piscaria Mercato del Pesce (fish market) where you'll find some most unusual specimens for very reasonable prices; just remember to smile – the Italians in general, southern Italians in particular, really like a smile.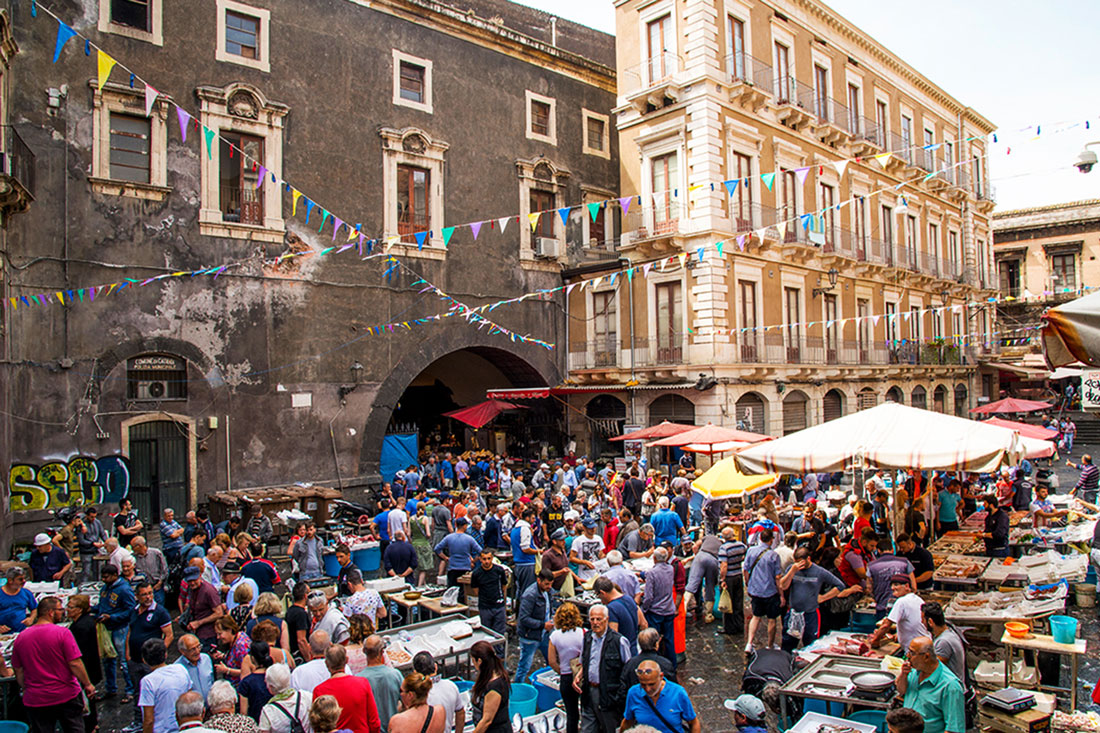 You should also pay a visit to the Galleria d'Arte Moderna where you will find works by Italian artists as well as photographic displays. Naturally, visiting such a city without seeing the historical monuments would be unthinkable. Catania is home to the ruins of a real Roman amphitheater and if you are not distracted by all the boutiques on the Via Etnea, take a small detour to the Bellini Gardens where you will get a superb view over Mount Etna.
A quite unique statue stands on the central Duomo Square. It is unique for two reasons. Firstly, the statue is of a smiling (no, seriously) elephant called Liotru and secondly, it is made of lava.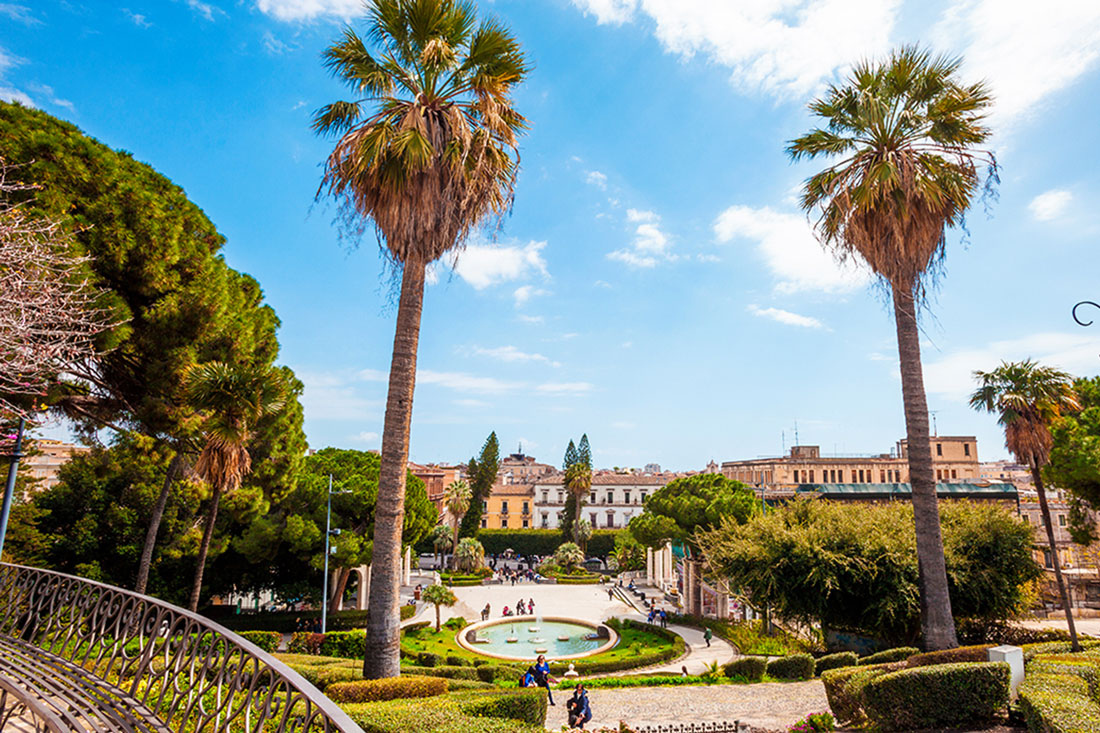 You cannot come to Sicily and not visit Mount Etna. This is where, according to Roman legend, the god Vulcan (in Greek, Hephaestus), lord of the furnace, worked in the crater. To appreciate the Vulcan landscape with your won eyes, take a walk through the black sand, the yellow flowers, the huge boulders which resemble animals and take a ride on the funicular. And of course, get yourself a bottle of the local wine. The soil on Etna is extremely fertile, ideal for growing wine.
Where to stay
The 4* UNA Hotel Palace in Catania is a former palazzo dating back to the 1900's, built and restored in the Sicilian style – an authentically local experience is guaranteed. On the seventh floor of the hotel is an open terrace with views over the town which you can enjoy along with fine Sicilian cuisine.
---
Just because summer is over is no reason to pack away the suitcase confine the bathing suit to the back of the drawer. Southern Italy awaits you with its gentle sunshine affording a gentle tan and warm seas. Contentment and calm come together with the local wines, empty beaches, and the breeze from Etna to give you the ideal early autumn break. Don't forget to send a postcard!