International travel
The United States requires a negative PCR test for all passengers arriving from other countries, the presence of a negative result will be checked before boarding flights. Also, a quarantine for people arriving in the country from abroad is imposed.
The United States has restricted the entry of all foreign nationals who have visited China, Iran, the Schengen Area, the United Kingdom, Ireland, South Africa, or Brazil in the last 14 days. US citizens and permanent residents who have passed through or have been in any of the above countries in the past 14 days may still enter the United States.
When to go
If you have pictures in your head of sun-filled days as cruise around in a Chevvy, then I'm going to have to disappoint you. San Francisco's weather is as unpredictable as the weather in London or Saint Petersburg. This is down to the fact that the city is built on the shore of the bay of the same name, which holds in cold air, meaning you get mists even in the heat of summer. 
My advice would be to go in the autumn, between September and November. The temperature is around 17ºC-21ºC with a small risk of showers – and hotel prices will be lower because there are fewer visitors to the city at that time of year. I went at the end of January, and it was warm and sunny, but as the locals kept telling me, I was very lucky with the weather.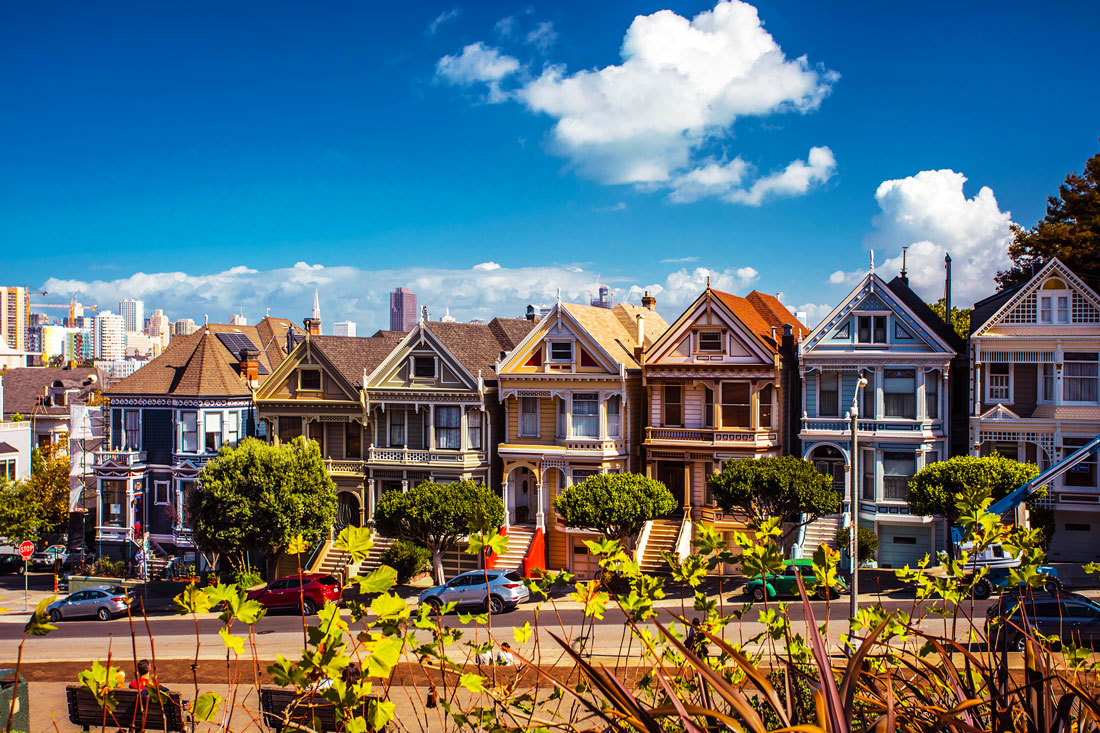 Getting there
With one stop it takes about 13-14 hours to get to San Francisco from Berlin, and tickets cost around $1156.00/€1045.83; with two stops the cost is much lower — from $330.00/€298.55. From London, it's an 11-hour flight, and tickets cost around $1131.00/€1023,22. From Washington, it takes around 6 hours and an air ticket costs from $261.00/€236,13.
Visa
If you are traveling on a Schengen or UK passport, you can obtain an ESTA electronic visa easily online. It costs $14.00 (€12.67) and is valid for stays of 90 days over a one year period.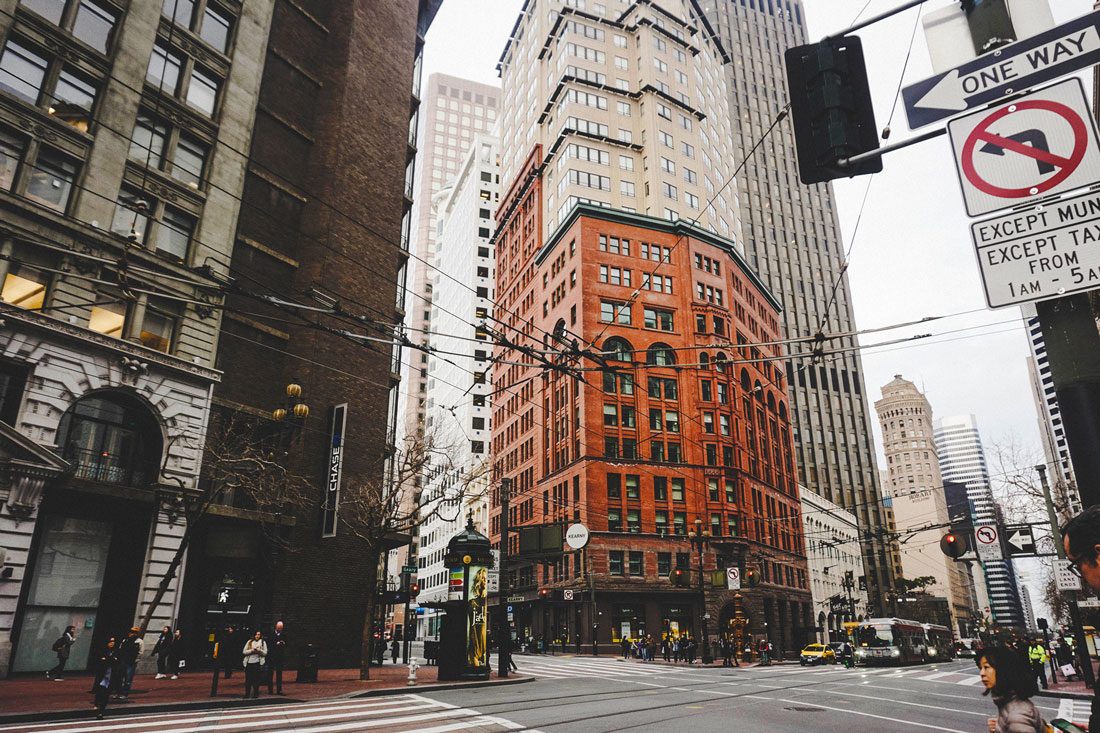 Budget
Conservatively speaking, you'll be lucky if you can manage to get by on $75.00-$90.00/€62.20-€82.00 per day if you are able to get a bed in a hostel dormitory sleeping 8-16 people at $30.00-$40.00/€27.20-€36.60. If you're used to more comfortable accommodation, steel yourself for some heavy spending. A simple hotel room starts at around $250.00/€227.30 for two per night plus entertainment and food, a minimum of $50.00/€45.50 per day. 
The prices in shops and cafés also reflect the relative wealth of the city's inhabitants, mainly people working in internet companies). The average price of a restaurant meal per person is around $20.00-$30.00/€18.00-€27.30, but there are some slightly cheaper places around where you will pay $10.00-£$15.00/€9.00-€13.60. 
Public transport is good in San Francisco, and for a couple of dollars, you can get to most places in the city by train, tram, or bus. The locals tend to get around mostly using taxis, which cost around $5.00-$10.00/€4.50-€9.00 per journey, electric scooters, and bicycles. You can hire these using the Jump or Scoot apps for $2.00-$7.00/€1.80-€6.40 depending on how much time you want them for.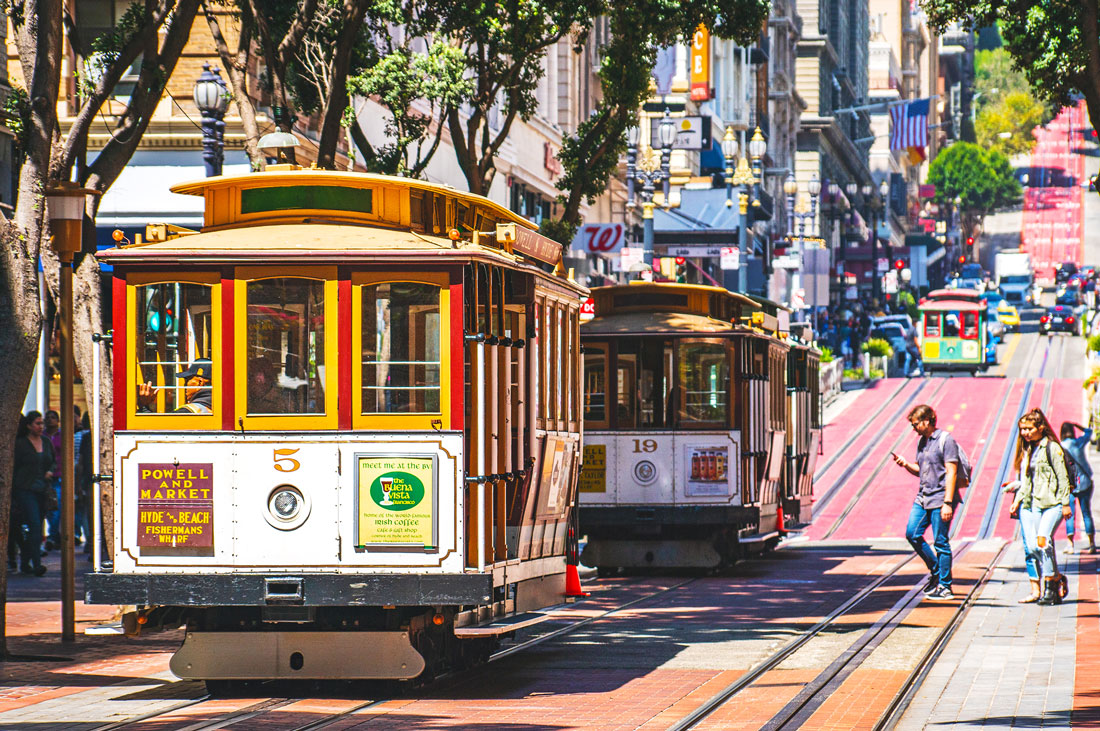 Where to stay
San Francisco was once at the heart of alternative culture, a place where artists, musicians, beatniks, and hippies flocked, a place where they could escape prejudice. As Silicon Valley grew, so did real estate prices until they got so high that they were beyond the means of most members of the city's counterculture. Most of the residential suburbs suddenly became desirable, a high-rent district that pushed tourists even further out from the city center. 
Despite all this, San Francisco remains quite a compact, user-friendly place, and anywhere within the city limits is still convenient for most of the sights and places of interest. If you really want to stay downtown, then aim for hotels and hostels in the Union Square district, if you want somewhere a bit more hipster, then the Mission District will suit you perfectly, and if you want something a bit more upmarket, then head for Pacific Heights.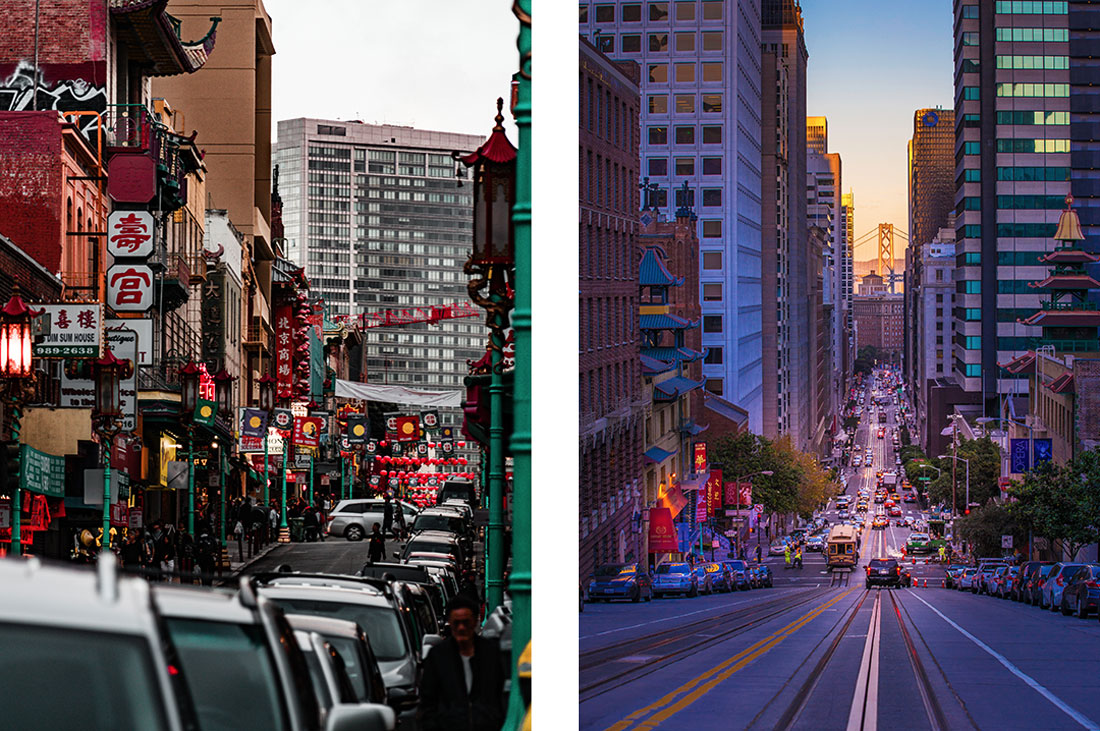 What to see 
Day one
Start exploring the city down in the bay area. Try breakfast in the Ferry Building, which has been taking over by cafés, restaurants, and even a farmer's market. You'll get great coffee at Blue Bottle Coffee for $4.50/€4,07.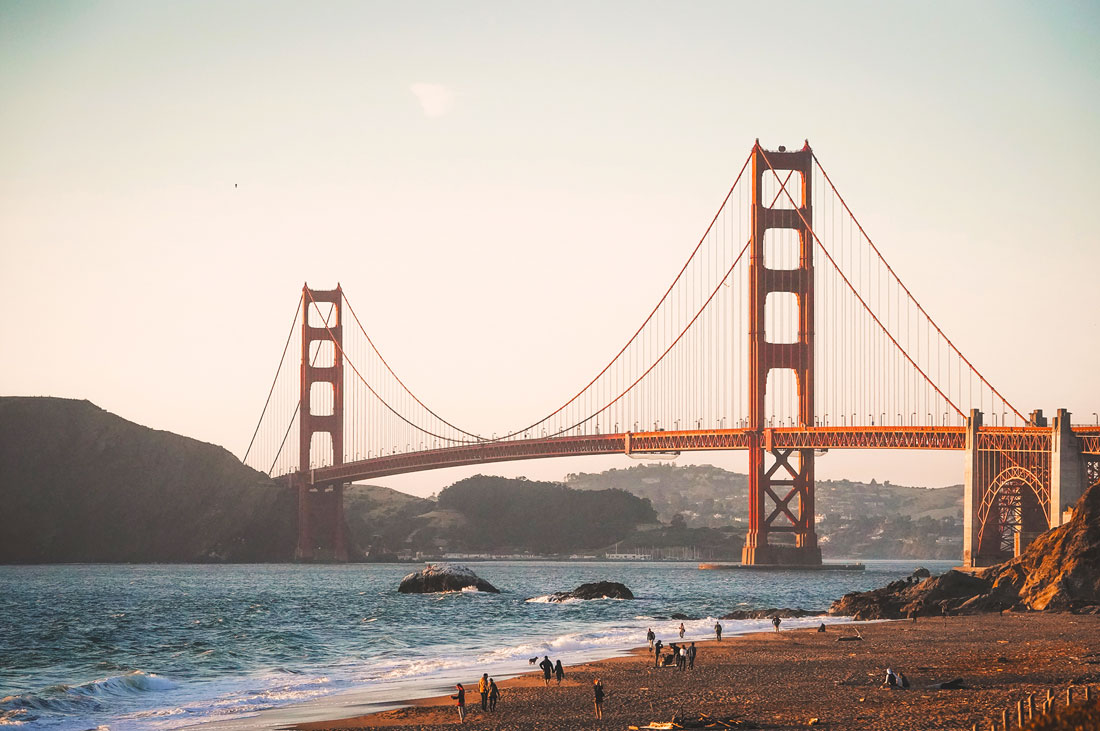 Once you've got your strength up, it's time to make your way to some of the city's most popular tourist attractions – not that this makes them any less appealing – places like Pier 39 and Fisherman's Wharf. At Pier 30, you will encounter many sea lions splashing and playing only meters away. Only 20m further on and you are in souvenir shop city, and a fabulous view over the Golden Gate Bridge and Alcatraz open up in front of you. You will find loads of restaurants here, and you'll be able to try the local crab in almost any of them ($20.00/€18.00) as well as the traditional clam chowder, a shellfish soup ($7.00/€6.30).         
Continue along the waterfront towards the legendary Golden Gate Bridge, whose golden orange color was chosen specially to add a bit of color to this otherwise misty and rainy city. Stop as just short of the bridge – these are the best views.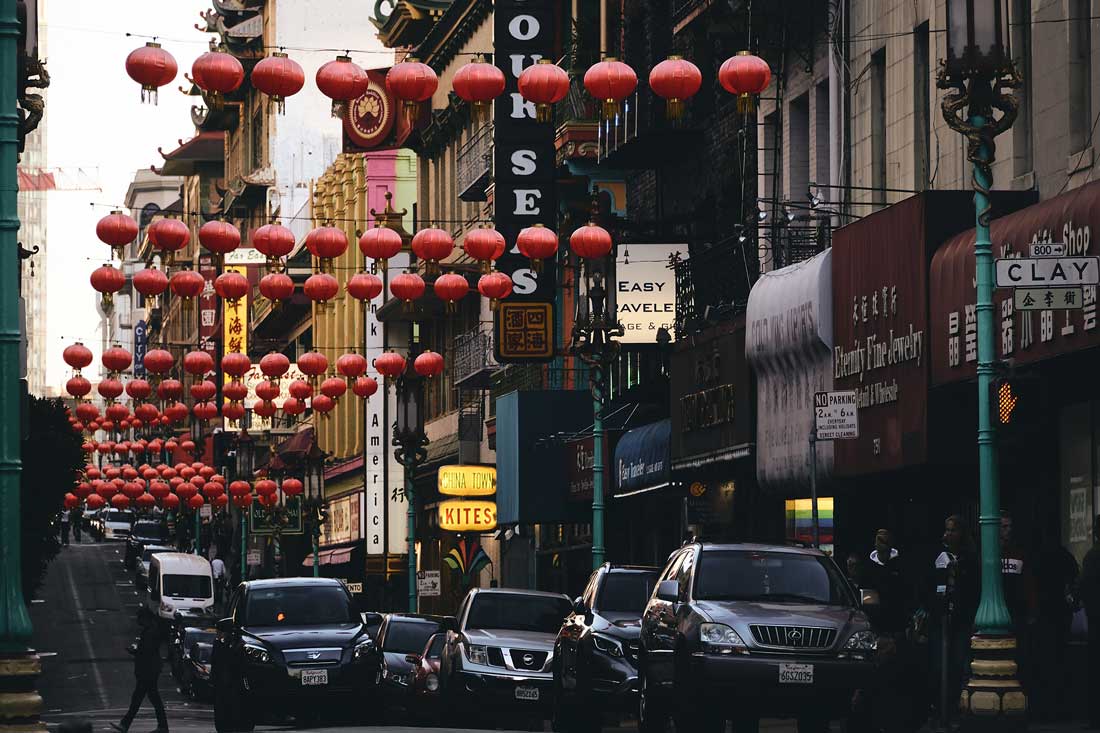 After taking the fresh sea air, it's time to take a look t the shops, whilst you still have some cash in your pocket. The best-known shopping area is Union Square, a kind of Californian mini-version of Times Square in New York. It has shops of all types from department stores and mass-market outlets to designer boutiques – not to forget, of course, the enormous Apple Store – San Francisco is where this legendary company began.    
Ten minutes' walk from Union Square is Chinatown, the oldest and largest Chines quarter in the world outside China. Streets are decorated with brightly colored lanterns, and there are many shops selling Chinese goods and souvenirs, which will keep you busy for a couple of hours, at least. You can even go for a late supper here as the enormous Chinese diaspora living here offers some fantastic food. Try the Begoni Bistro or China Live, where the food is always tasty – and authentic. The average check comes in at around $30.00/€27.30 per person. 
Day two
The next day should be devoted to exploring the prison building on the small island of Alcatraz, an iconic part of the history of the USA. One of the strictest prisons in the country, it housed some of the 20th century's most dangerous criminals, such as Al Capone, and was where many well-known films were made, such as "The Rock" and "Escape from Alcatraz." You need to book tours of the prison two to three weeks in advance, but it's easy to do this online. Tours cost $41.00/€37,11 per person, and you get a fantastic view over the bay and almost all of San Francisco from the island.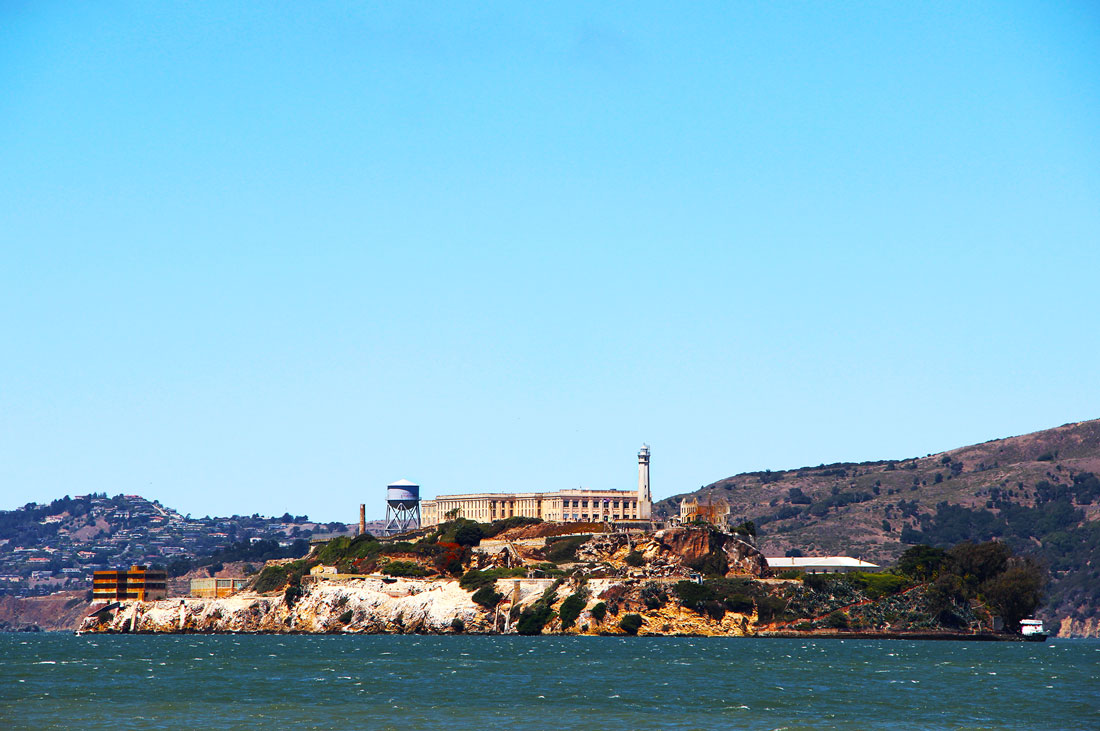 After your morning trip out to the prison island, it's time to head on up to the Coit Tower (entrance $10.00/€9,05) up on Telegraph Hill from which you will get more great views over the city. To get there, you will need to go through hilly, narrow streets and small gardens, not far from the windiest street in the city, the famous Lombard Street which you will have no doubt seen on postcards or even in the movies.          
I wouldn't recommend taking a car to drive up here if you don't know the area, but taking a photo of the "world's windiest street" is absolutely the thing to do. 
If you still have any strength left after all this exertion, then head for Golden Gate Park (not to be confused with the bridge). This is a large nature reserve with some of the most beautiful gardens and lakes, where you can hire a bike for $8.00/€7.30 per hour and explore the whole park with its museums, Japanese tea garden, Dutch windmills, botanical gardens and much more – but the best thing is that it gently merges into the wide sandy Pacific coastline. It just goes to show the varied natural beauty of this great megapolis.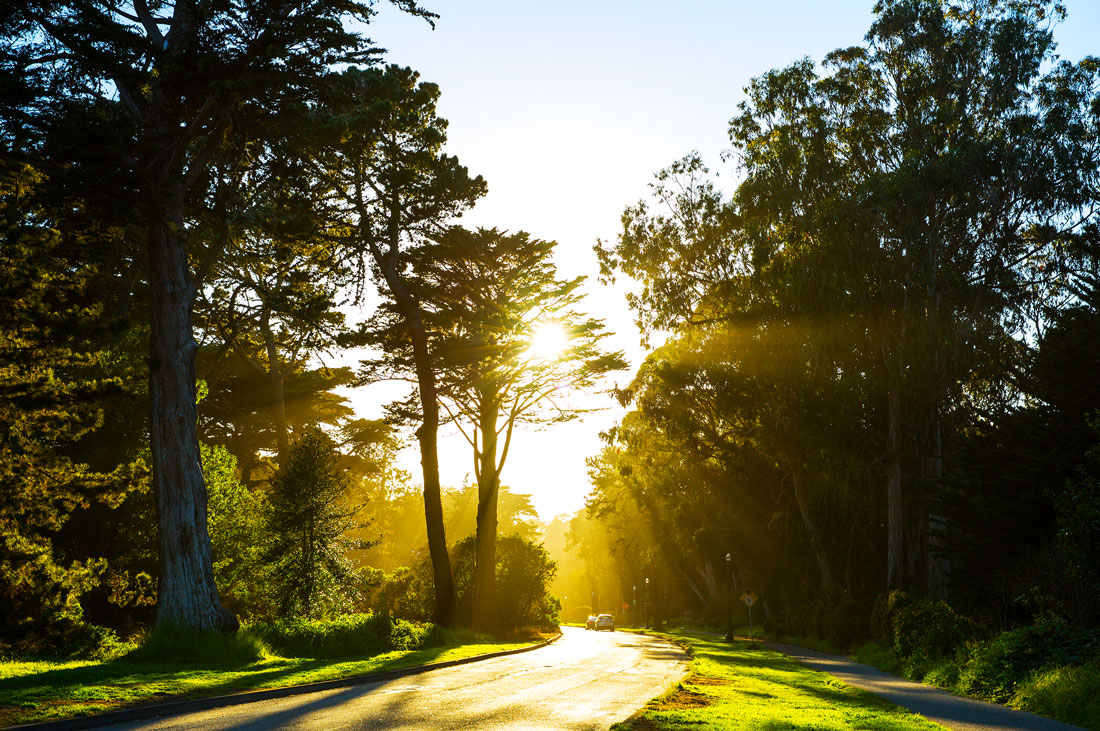 Day three
You can really relax and really experience rural America if you head out to the nearby small town of Sausalito, where it's almost as if time has slowed right down. You will just want to sit on the edge of the bay and watch the passing boats and ships.     
You can get there by taking a ferry costing $8.00/€7,24 from the Ferry Building terminal, just as the locals do every morning and evening as they make their way to and from their places of work – or you can take a bus or car across the Golden Gate Bridge.
The streets of Sausalito are littered with antique shops and other retail outlets, as well as many family-owned and run cafés and restaurants, which are clearly handed down from generation to generation.    
Here, you can really breathe in the sea air as you stroll around the narrow streets taking photos of the American dream.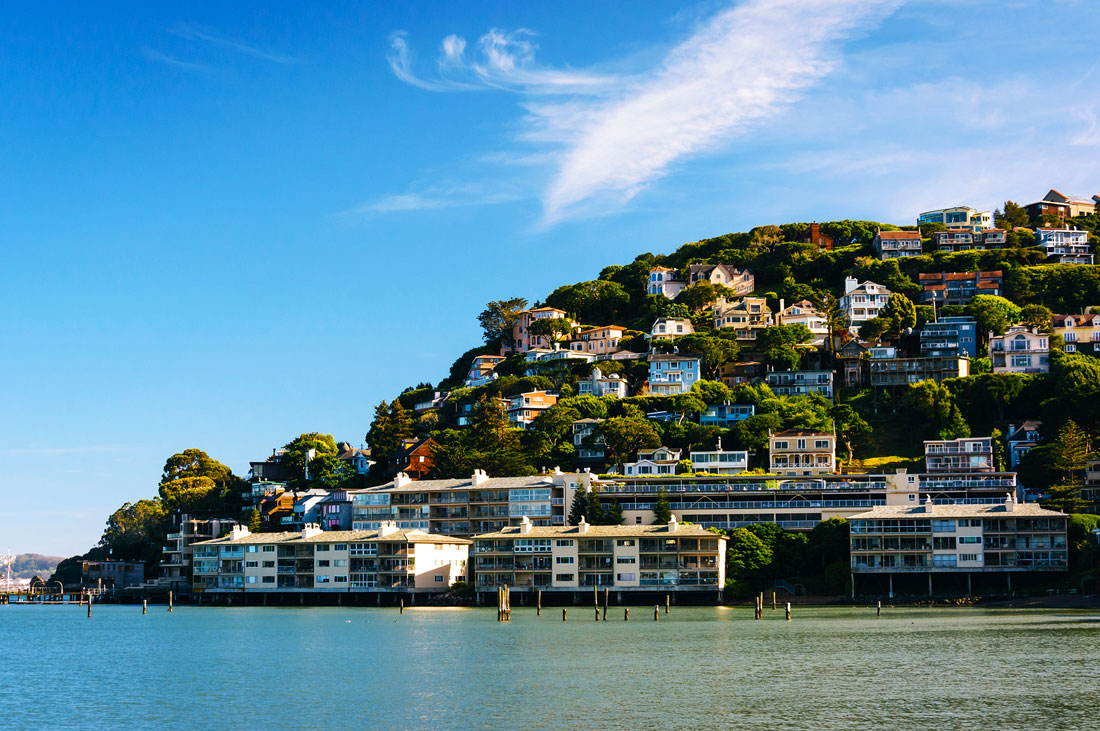 You should spend the second [part of the day exploring what is left of the counterculture in the Mission District or take a look around the Financial District. 
The mission is a lively, multicultural district with Latin American roots and a contemporary hipster feel. This is where you will get the best burritos and find some of the most interesting street art and vintage clothing outlets.
Taqueria Cancún, Taqueria El Farolito, and Papolete are some of the better Mexican restaurants (average check $15.00/€13.60 per person) where you can be sure to get tasty food. There are some great bars in the Mission district where you can spend the evening. Why not try places like Doc's Clock, The Homestead, and Knockout and get properly involved in the San Francisco nightlife.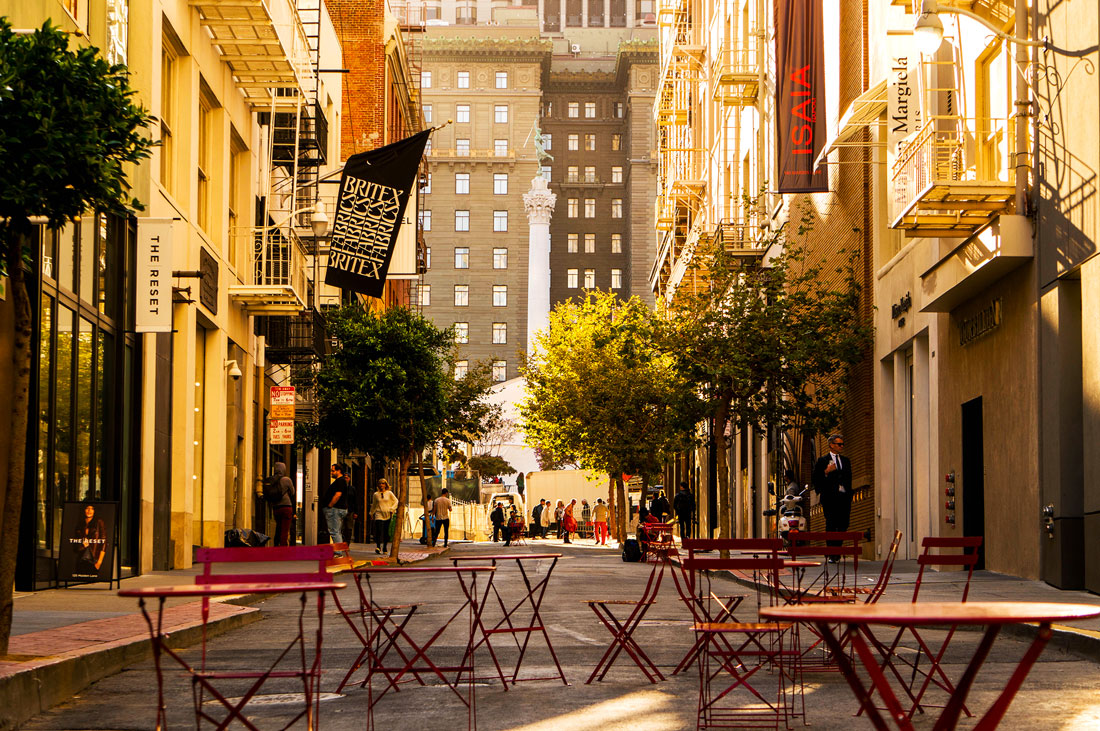 If you decide to take on the Financial District instead, with its skyscrapers and bustling streets, then don't worry – you won't be short of things to see and do. Take a look at the unusually shaped Transamerica Pyramid, or the city's oldest restaurant, the Tadich Grill, which opened in 1849, as well as the former red-light district at Jackson Square, now part of the Financial District. You will find many of the city's shops and hotels here, which explains why you'll also bump into as many tourists as there are city workers.
---
There are cheaper and perhaps more interesting places to visit in America than San Francisco, but if you, like me, grew up on a diet of TV shows from the '90s and early noughties, then you will already have an idealized image of this hilly city and its fictional inhabitants from serials like Charmed or Full House. I'd recommend you spend 2-3 days here – there's a lot more interesting stuff for you to see in the areas outside the city.