Lisbon: the ancient tram
Route: Martim Moniz — Campo Ourique.

Ticket price: €3 from the driver or €1.50 with a pass.

Where to catch it: at Martim Moniz or Campo Ourique.
The Portuguese capital sports six city routes, serviced by both large modern streetcars and ancient "carriages". In another city, these colorful little trams with tight cabins and hard seating would have long been sent for recycling or turned into history museum exhibits. However, in Lisbon, they dash along the extremely narrow little streets, making a lap of honor along a colorful tourist route.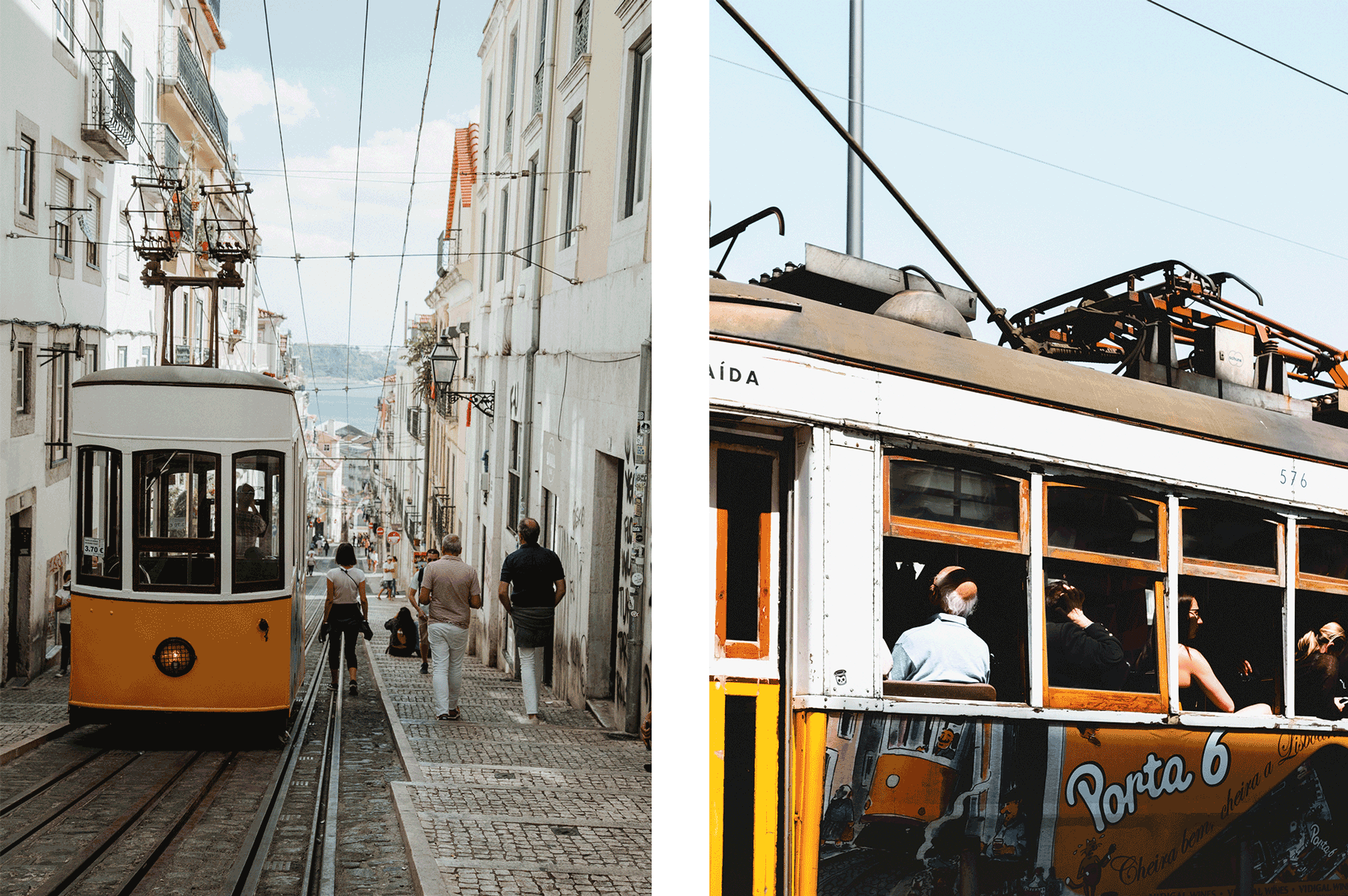 Riding past houses and rows of parked cars with screeches and bangs so close that they almost scrape them, the trams carry a noisy crowd consisting of tourists mixed with locals. And if for the latter this is a way of avoiding the tiresome upwards and downwards slopes encountered on foot, then for holidaymakers this is an amusing attraction and a must-do in their tourist program.
Lisbon souvenir shops sparkle with postcards and magnets portraying a little yellow tram. Firmly attached to the wires in an arch, it tenaciously glides up a steep street. This is tram number 28 – the city's calling card.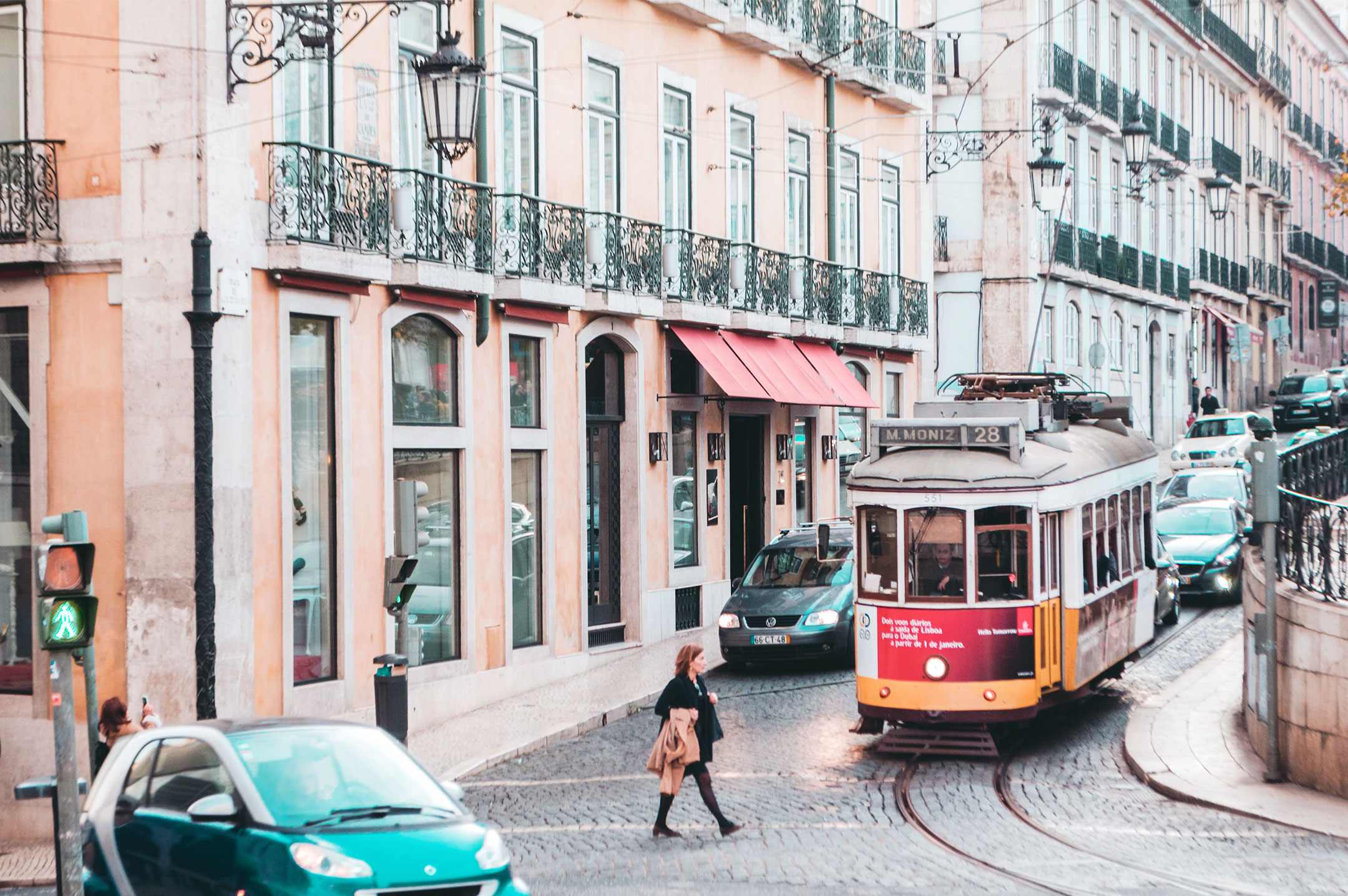 It runs frequently during the day: with an interval of every eight or nine minutes, while late at night, there are only three to five every hour. But that is when you are much more likely to avoid the huge queues to get on and when you are likely to get a seat. To be sure to get on this little 'box', it's best to head for the starting station or terminus: otherwise, brimming full, it may not stop at other stops.
Viewing the flowery streets from the tram windows, you should keep a close watch on your own possessions: there is always a risk that somewhere among this multi-colored, the happily lulled crowd experienced pick-pockets have wormed their way in. Well, this is probably the only disadvantage of such a trip. All the rest: the noise, the fracas, the sharp braking, the drunkards hanging on to its steps (even that can happen, I've seen it with my own eyes) is considered an integral part of Lisbon's fun and an unforgettable part of its scenery.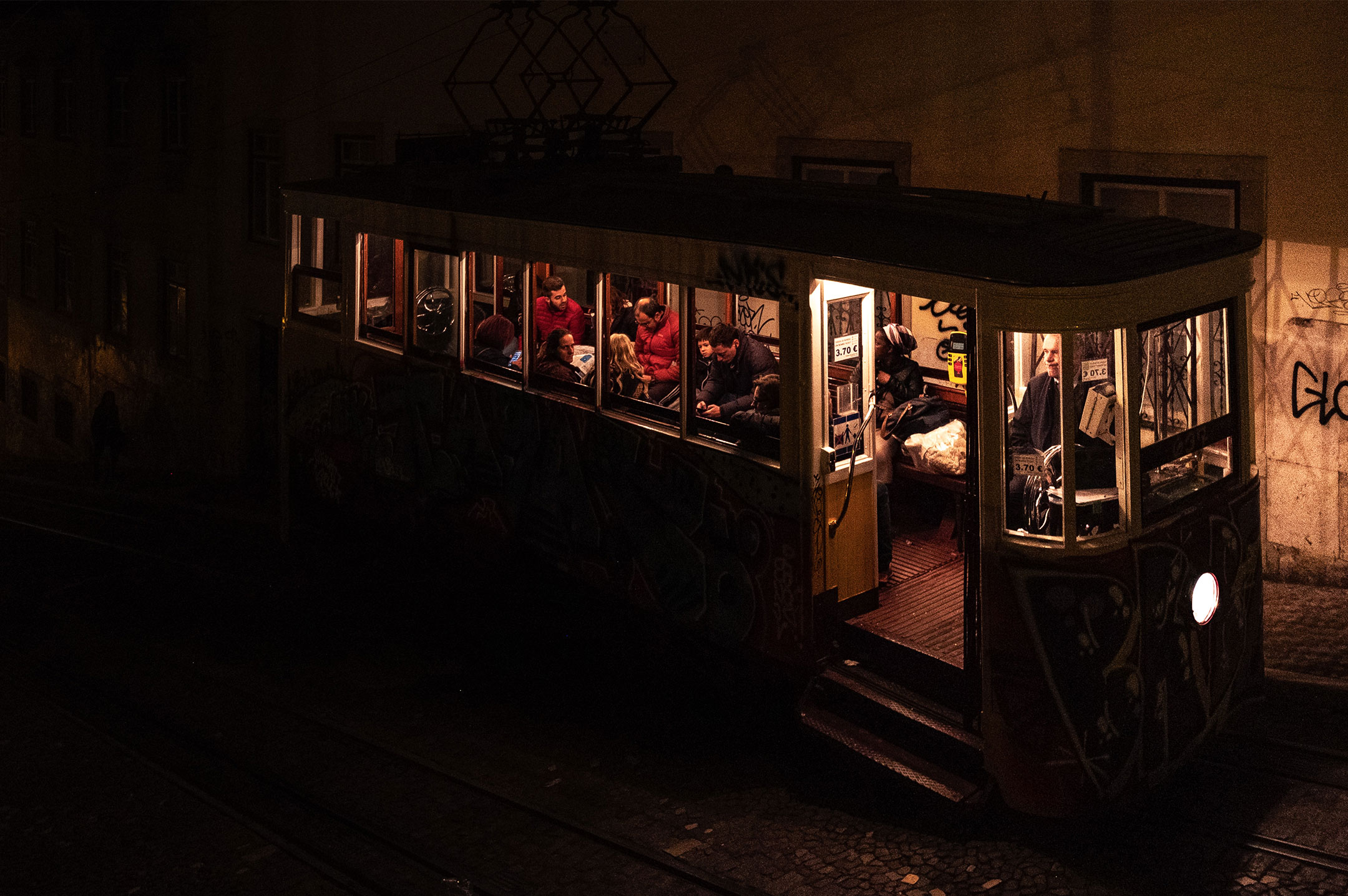 Budapest: double-sided trams
Route: Jászai Mari Tér – Közvágóhíd.

Ticket price: 350 forints (≈€1).

Where to catch it: any stop on the banks of the Danube.
Another yellow tram on postcards is the one from Budapest, number 2. To be fair, I will say that this is not the only route of interest in the Hungarian capital. The entire tram network is unique: one of the largest in the world, it's even more popular than the city subway.
There are never too many trams
Just think about it: nearly 40 routes! There are no limits, especially if you buy a Budapest Card. Here you can even see the longest trams in the world, the 54-meter Siemens, as well as the pretty Spanish CAF and not to mention the aging but still lively Hungarian Ganz — those ones also decorate local souvenirs.
When you come across a local tram for the first time, it can be mind-blowing: why is it traveling backwards? Stay calm! It's traveling as it's meant to, it's just that the doors are located on both sides, and there are two driver's cabins: at the front and at the rear. A true Pushmi-Pullyu: it really doesn't care which direction it's meant to take, and at the terminus, it doesn't need any circular track.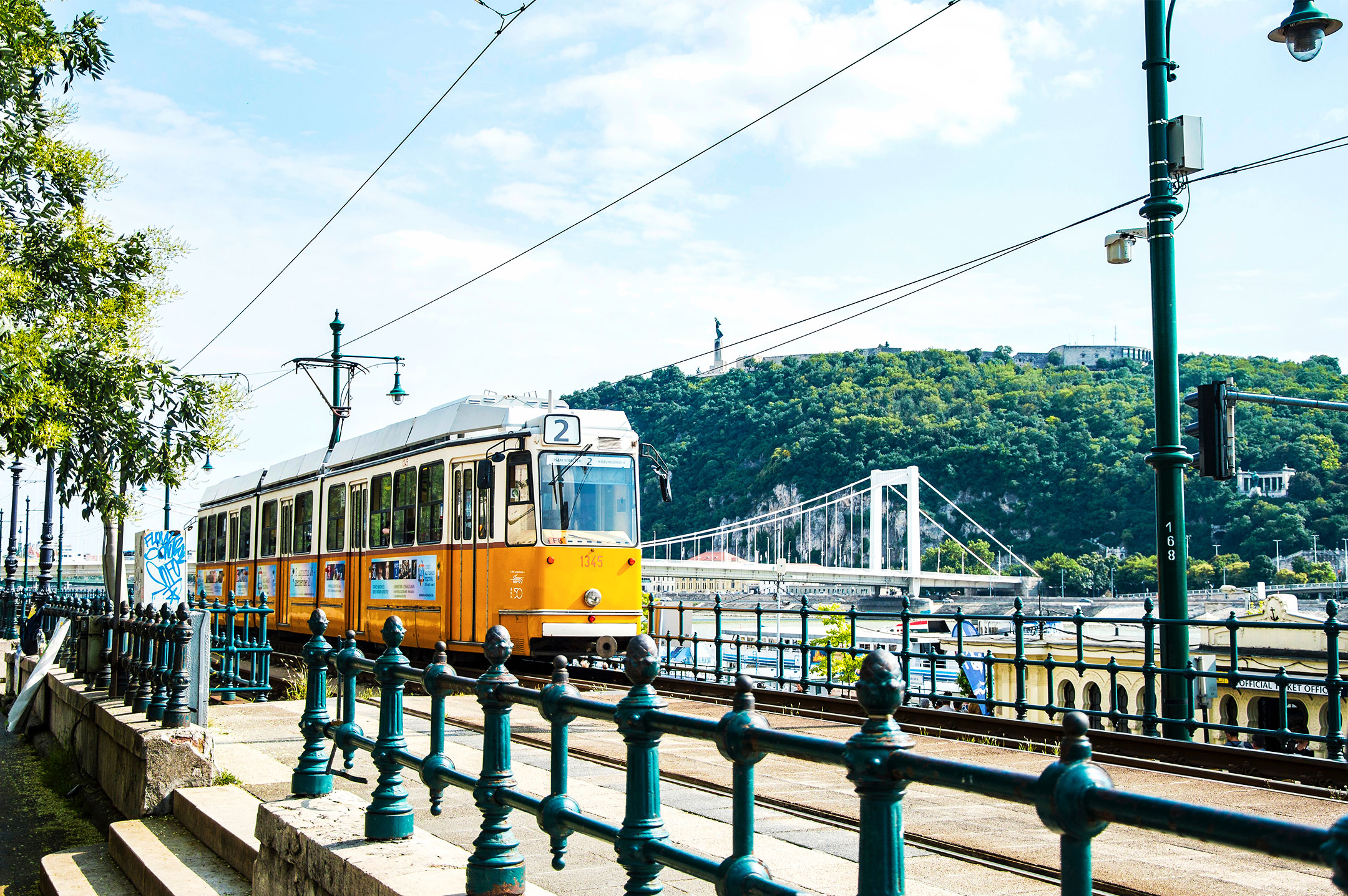 Well, the most popular route among tourists is number 2. It runs between the stations Közvágóhíd and Jászai Mari Ter, starts its working day at 4:40 in the morning and only packs up for the night after midnight. During the 20-minute trip along the Danube, you can take in the main tourist sites of the city, including the parliament, Elisabeth, Freedom and Chain bridges, towers of the Fisherman's Bastion, and the Gellert hotel.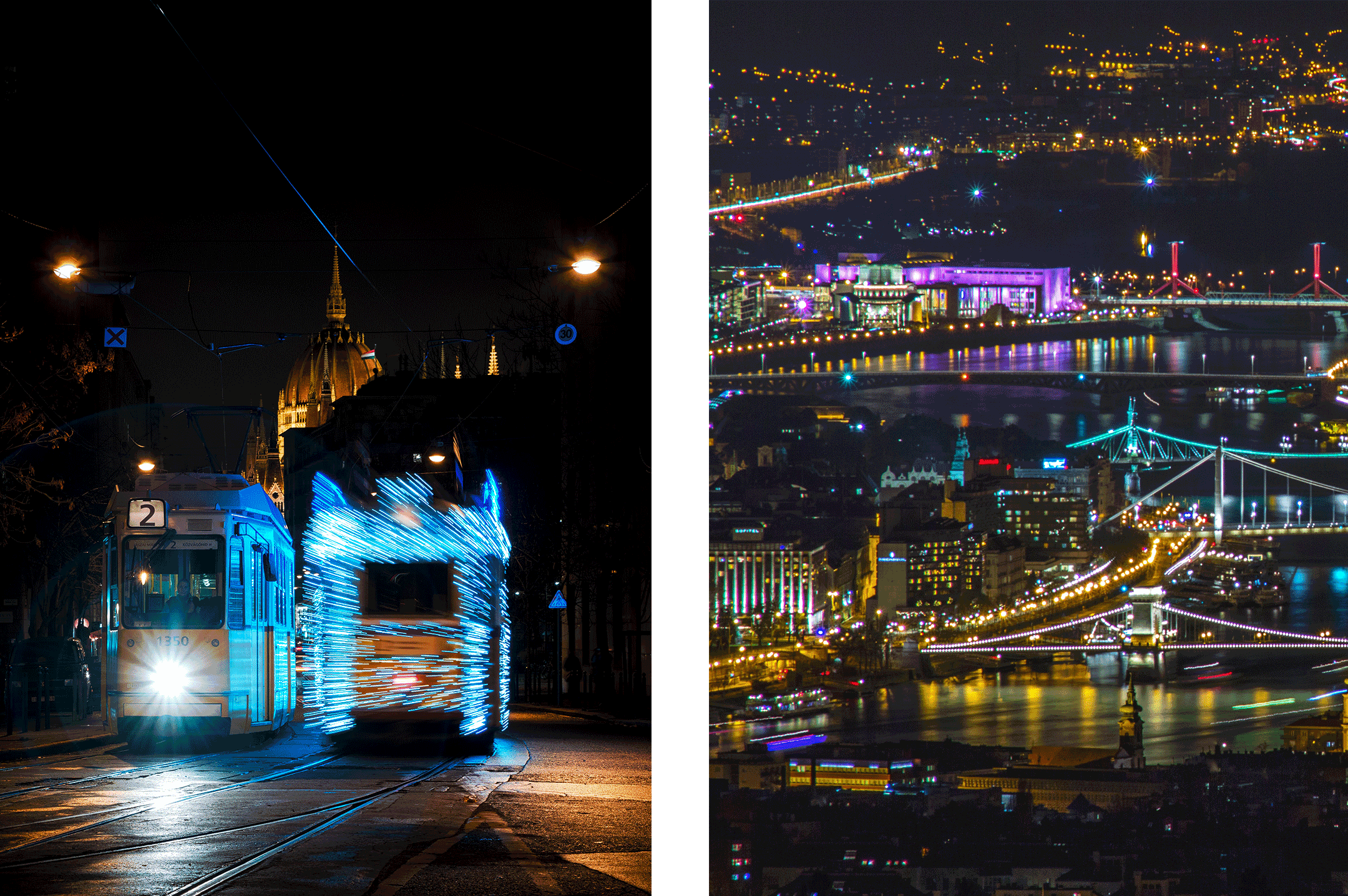 You might say that all this is better observed during a long walk? That's absolutely true! But sitting cozily by the window of tram number 2, it's so nice to 'polish' your impressions and finally allow your patient legs to rest a little. If you visit Budapest at Christmas time, it really is worth envying you: the Hungarian trams are decked out in festive illuminations like they are from a fairy tale!
Prague: nostalgic tram with an absolute right of way
Route: Královka — Zvonařka.

Ticket price: 24 korunas (≈€0.90) for 30 minutes, 32 korunas (≈€1.20) for 90 minutes.

Where to catch it: at any stop along the route.
If you have not traveled on the Prague tram, consider that you have never known the real Prague. OK, you were there, but you didn't get to know it thoroughly. The tram is the pride and joy of the Czech capital, and it has an absolute right of way on the road, even vis-a-vis pedestrians! But that place in society is fully deserved: there are 35 routes in Prague. Actually, nine of them start late at night and run all night. So you can confidently enjoy a late night out without worrying that you will need to order a taxi back.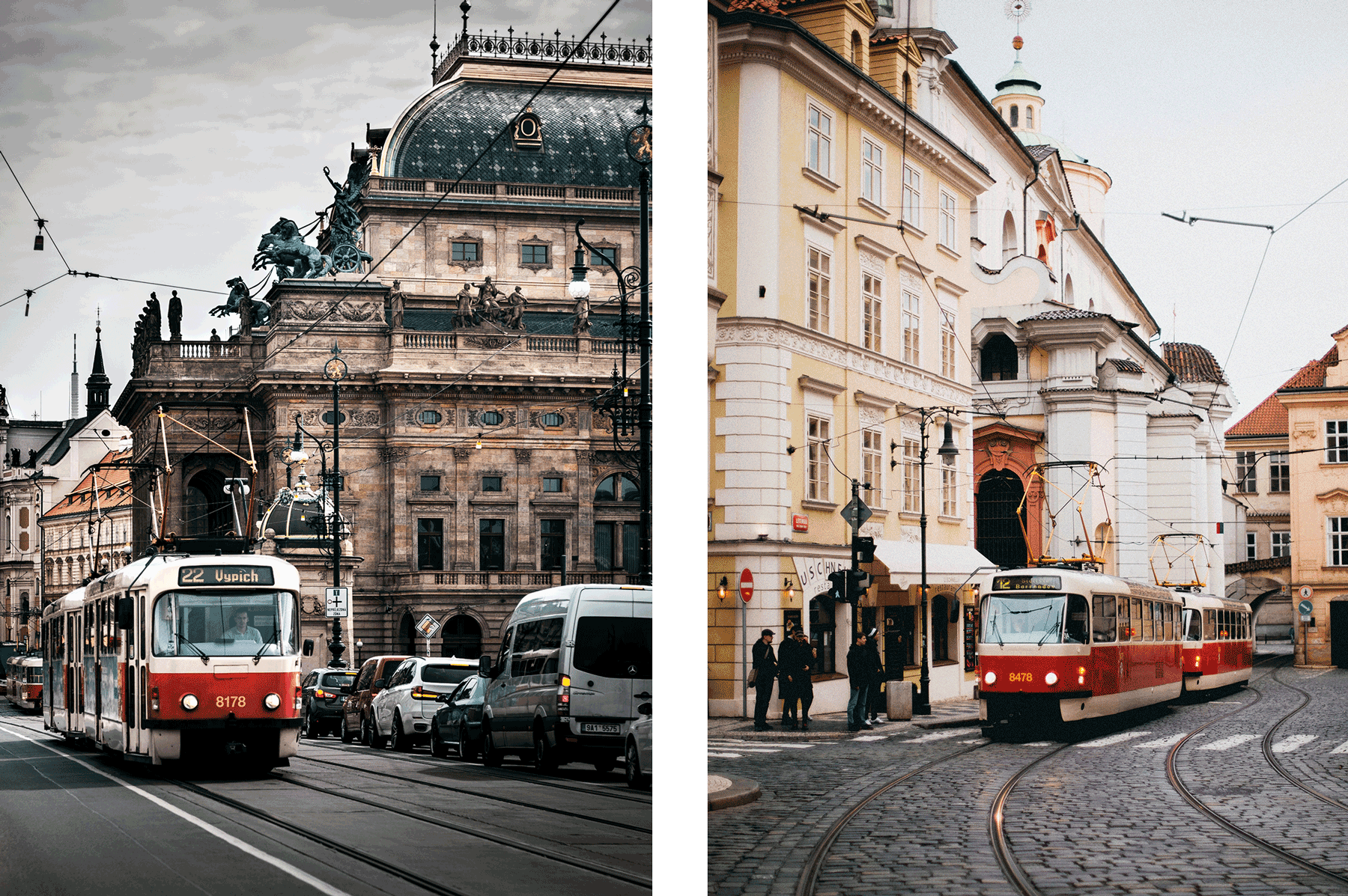 Prague's tram parc counts a full thousand cars! The lion's share consist of Tatras of various modifications: modernized and hence perfectly comfortable. But on special nostalgic route number 23, launched in March 2017, all 18 trams are the old and familiar Tatra T3, fitted out in retro style.
Sitting in these charming, goggle-eyed trams from your childhood, you can admire Prague Castle, the national theater, and other tourist sites of Prague's eclectic beauty — the route runs through the historical center. The Tatra T3 with 23 on its tableau starts operating at 8:30 in the morning, finishing at 7 at night: it has an interval of half an hour on weekdays, while at weekends during the tourist season, there is one every 15 minutes.
Show us your jízdenka!
The main thing is not to forget to buy a travel pass — the jízdenka — and to stamp it when you get on the tram. There are ticket machines at every stop: even if you forgot to buy a ticket early, you could do so before you get on the tram. While if you have a local SIM card, then you can buy a single-journey ticket via a text.
Prague trams have a convenient and understandable timetable. They are always banging on time and are quite frequent. We recommend downloading DPP Info — a mobile app covering all of Prague's public transport network. You can use it to find out how to get to the required stop, how much it will cost, and how long the journey will take.
Graz: the free tram
Route: between the stops Südtiroler Platz, Kaiser-Josef-Platz, Südtiroler Platz, Dietrichsteinplatz, Schlossbergplatz, Finanzamt, Dietrichsteinplatz, and Jakominiplatz.

Ticket price:

free

; outside the free zone — from €2.50.

Where to catch it: at stops with special stickers.
You cannot imagine Austria without strudel, but it's even harder to imagine it without the green tram in Graz, the country's second-largest city. The tram here is the main means of transport. The local government and residents are so proud of its history that there is even a Tram Museum. Here you will find about 40 historical tramcars, the oldest manufactured back in 1873!
During national holidays some of the exhibits are decorated and taken outside. Tours planned in advance may be taken on historical tramcars, and at weekends in the summer, free excursions are put on. At the same time, the modern trams consist of various models: there are 70s models as well as the low-floor Bombardiers.
Free? How come?
There is a special transport zone in the historical part of the city (Altstadt), between Jakominiplatz and Hauptplatz. Within this zone, all trips are free. Stops included in the zone are marked with special stickers. You can ride for free there all year round, on any day of the week and at any time. Graz was the first European city to adopt such an initiative. It was introduced by the authorities together with the tourist board. Its aim is to raise the attractiveness of the historical center for tourists and local residents.
Zurich: an elite, gastronomic tram
Route: historical center.

Ticket price: 85-95 francs (≈€80-90).

Where to catch it: by Bellevue square.
Do you want a ride on a Pony, Cobra, or even a Blind Cow? Then you urgently need to get to Zurich. Those are the names of the tram cars circulating along the streets of the largest city of Switzerland. Here the tram is the main means of transport, carrying two-thirds of total passengers and capable of delivering a tourist absolutely anywhere, even bringing him or her from the airport.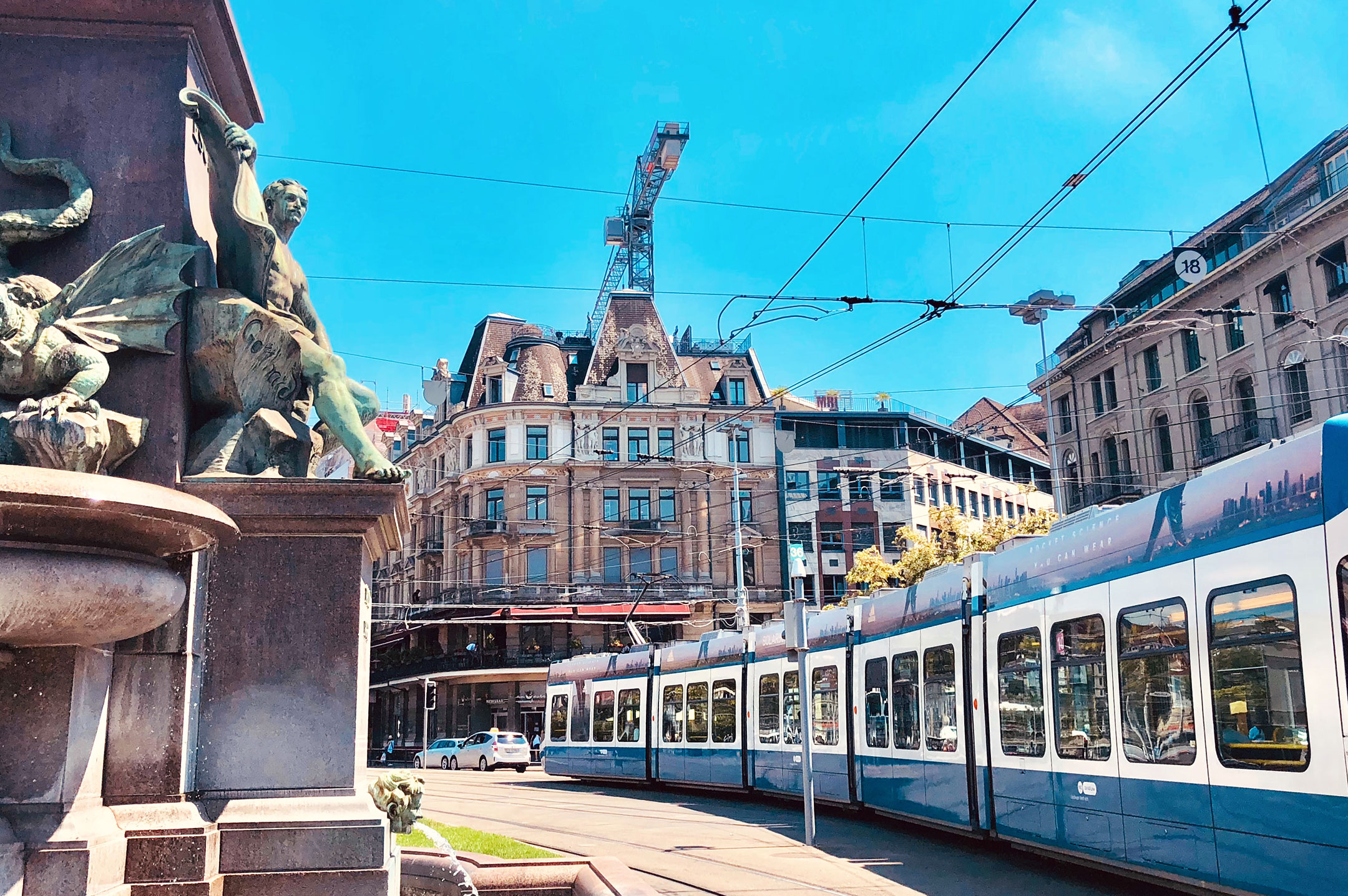 And how about forking out 85-95 francs (≈€80-90) for a tram trip combined with an exquisite dinner? Then choose what dearest is to your heart: a hot cheese fondue, elegant aromatic Jamon and prosciutto or specialties from the local cuisine of the canton of Ticino? 
Between mid-June and mid-September, the Welt der Schinken Tram operates, from September to the end of November, you can catch the Ticino-Tram, while from November to February the Fonduetram supplies evening romance. Seats at the tables of the tram restaurant are sold in advance, and you can order yourself a New Year present even now. Note that alcohol is not included in the price of the trip, while the menu (just like the narration of the local tourist sites) is only in German. And of course, don't be late: the tram sets off from the square bang on time – after all, in Zurich, everything functions like Swiss clockwork.
The budget option
If however 85 francs for a trip is wasteful, then buy an ordinary ticket (from 2.70 francs, or ≈ €2.50) and ride on an ordinary tram along the center on Bahnhofstrasse (one of the most expensive shopping streets in the world) or else through the 4-km tunnel where trams suddenly switch to driving on the left. This tunnel was built back in 1971 when the Zurich authorities planned to endow the city with a subway system. However, the ordinary locals didn't like the idea and strongly voted it down in a referendum. Since then, Zurich has remained without a subway system, but it acquired this unusual feature. The tunnel is located between the stops Schwamendingerplatz and Milchbuck.
Bilbao: the green tram
Route: Atxuri — La Casilla.

Ticket price: €1.50.

Where to catch it: from any stop.
If you've already ridden the Barcelona street escalators to your heart's content, taken a boat trip on Spain Square in Seville, and traveled above Madrid on a cable car, then it's high time you rode on the amazing tram in the pearl of northern Spain — Bilbao.
Its tram network is one of the newest in Europe: operating since 2002. Here there is just one 4.4-km line with a single route — over 14 stops. But it's an amazing one, quite unforgettable! The tram passes along the river shore, and from its windows, you can see the city's main tourist sites, including the eccentric silver flower housing the Guggenheim Museum and the tower Iberdrola piercing the sky.
But what is so special about the Bilbao trams? Firstly, all the cars are manufactured by a local company. Yes, it's CAF, which makes trams for Budapest, but for itself, this Biscay company makes special tram cars that don't resemble any others. And by the way, they are also double-sided. Secondly, in places, the rails run right through green lawns, which the futuristic irons of the Biscay trams flatten very softly and precisely.
So, trams in Europe are not only popular but also highly respected. They are portrayed on postcards, museums are opened to honor them, and pedestrians give way to them… For both locals and seasoned travelers, an attractive and comfortable tram has long become an everyday means of transport. But sometimes a tram-ride can be memorable and true tourist entertainment!