Getting there by air
You will have got the idea that the 13th largest island in the world is not a small place, so what do you do if you want to get around as much as possible? There are six international airports on Java with flights to Bali, Borneo, Thailand, and even Australia, meaning that you can fly to Java for a short break from virtually anywhere in South East Asia. 
Ticket costs (one way)
Kuala Lumpur— Jakarta — from €30.00/$33.00
Bangkok — Jakarta — from 61,5 €61.50/ $67.70
Denpasar (Bali) — Jakarta — from €52.00/ $57.20
Jakarta — Yogyakarta — from €43.70/$48.00
Jakarta — Subaraya — from 58,8 €58.80/$64.70 
Java is a colorful place and is covered with spectacular volcanoes and beautiful temples. There are dozens of good reasons to visit Java in its own right, or even just to spend a few days.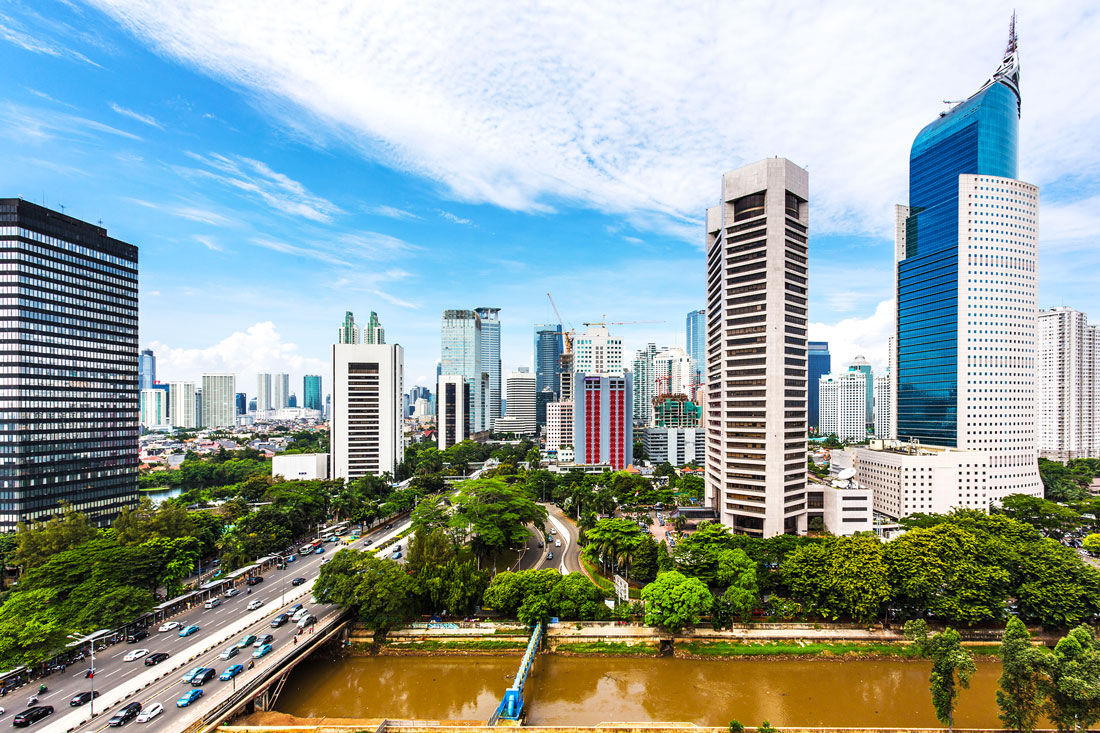 Western Java
What to do: take in the contrasts of the megapolis of Jakarta, do some shopping in Bandung, take a walk around the tea plantations or bathe in the thermal springs in the outskirts of Bandung.

How long to spend there: three days

Getting there: by plane to Jakarta or Bandung from anywhere in the world
Jakarta
On arrival at Jakarta airport, look for the signs to the Sky Train, a monorail that opened about half a year ago and connects all the airport terminal buildings with Soekarno-Hatta Airport Railway Station. Now the journey lasts only an hour and costs 70,000 rupees (€4.80/$5.30). You can only pay using a bank card in the terminal station.        
Take a walk around the center to get a feel for the place. Jakarta is a typically South East Asian city whose enormous skyscrapers sit cheek by jowl with poorer dwellings made of anything the inhabitants could get their hands on, where street food and strange smells change every 50m and where people's smiles are brighter than the sun.          
This is a huge city and until recently had no underground railway. The first metro station opened on 24th March 2019, and before then, you had no other choice but to sit in stuffy traffic jams if you wanted to get anywhere. Soon, Jakarta will no longer be the capital city as the Indonesia authorities have decided that new capital will be located in the province of West Kalimantan on the island of Borneo. They haven't come up with a name for it yet.  
When I first came to Jakarta, it took me eight hours to get from the plane to the train, and seven of those were spent asleep on a bus in a traffic jam. Needless to say, the train left without me. Not a great start, obviously.
Much more interesting in this part of the island is the city of Bandung and its outskirts, 180km southeast of Jakarta, so it makes little sense to hang around in the capital for more than a day. A three-hour train journey costing 65,000-130,000 rupees (€4.50-€9.00/$5.00-$10.00) will take you from Gambir station up to this colonial plateau paradise, surrounded by mountains and tea plantations.      
Bandung
They call this city the Paris of Java thanks to its Asian-Bohemian laid back feel. Here you can stay at the Sheraton or Hilton, eat at the Sierra Café (average check 150,000 rupees/€9.80/$11.00) with a beautiful view over the city, or have a mooch around the shopping centers and outlet stores.
Once you've had a day strolling around "Paris", spend the next one hiring a car with a driver and go up to  Tangkuban Perahu volcano, walk around the tea plantations, stop by the thermal springs and the crater lake at Kawah Putih. A car with driver for a day cost around 500,000-700,000 rupees/€31.50-€45.00/$34.60-$49.50)   
Sheraton Bandung Hotel and Tower — from €71.00/$71.80 per night
Hilton Bandung — from €82.00/$90.20 per night
Central Java
What do to: drink in the ancient atmosphere of Yogyakarta, greet the misty dawn from the upper tier of the Borobudur Temple, lose yourself in the parks around the majestic Prambanan temple complex. 

How long to spend there: three days

Getting there: by plane or train from Jakarta or Bandung to Yogyakarta. The plane costs from €42.40/$46.60 and the train from 350,000 rupees (€22.00/$24.20) for the eight-hour journey. There are night trains, and the timetable is

here

.               
Yogyakarta
It's not just people and horses thronging the streets here, but there's a bit of everything – rickshaws, taxis, horse-drawn carts all out on the roads at once, fast food stalls sell their wares on the pavements. To your right, a woman weaves silk, to your left a man loudly bashes a hammer against an anvil and a bit further down the road, a man in a colorful Bob Marley beret expertly paints the landscape onto a canvas. 
Yogyakarta is the island's cultural capital where you will find many art galleries and museums, atmospheric street markets, the sultan's palace, and some theatres. However, I have lost my heart in particular to the two main tourist attractions – the Borobudur Buddhist temple and the ancient Prambaban complex.     
Borobudur
Built in the 9th century and abandoned by its inhabitants in the 14th century after the eruption of Mount Merapi (to this day, the most active volcano in all Indonesia), Borobudur was only rediscovered under layers of ash in the 19th century.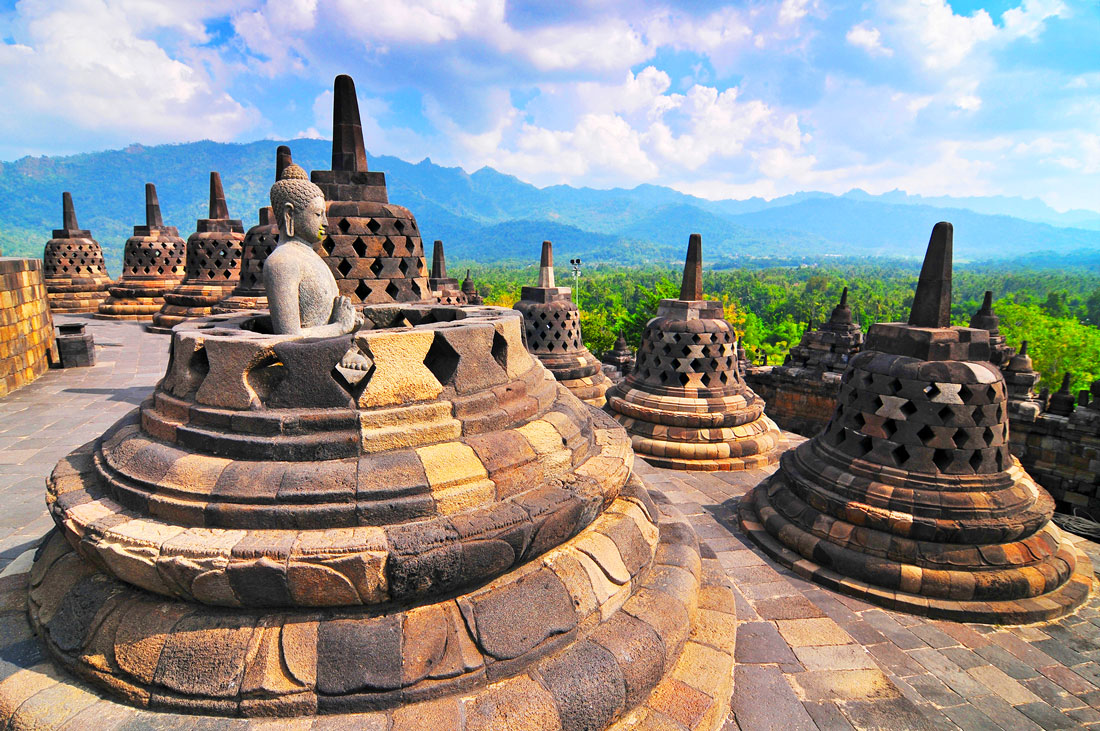 This huge Buddhist temple stands on square foundations which are 118m long each side and is eight stories high. The three uppermost stories are circular, and there are 72 steps thereon in which 504 statues of the Buddha are located. To reach enlightenment, you have to go round each story eight times in a clockwise direction.  
Prambanan
A well-tended park and nicely mown lawns with immaculate flower beds give a false impression of modernity, an impression which melts away without a trace after the first 100m. Like mighty heroes, three enormous temples suddenly bear down upon you as they appear from behind a well-tended green curtain of trees. These three are not the only ones, they are the only ones visible from the park; in fact there are many more temples than that. Prambanan is a whole complex of Hindu temples, the biggest in Indonesia, and one of the biggest in South East Asia.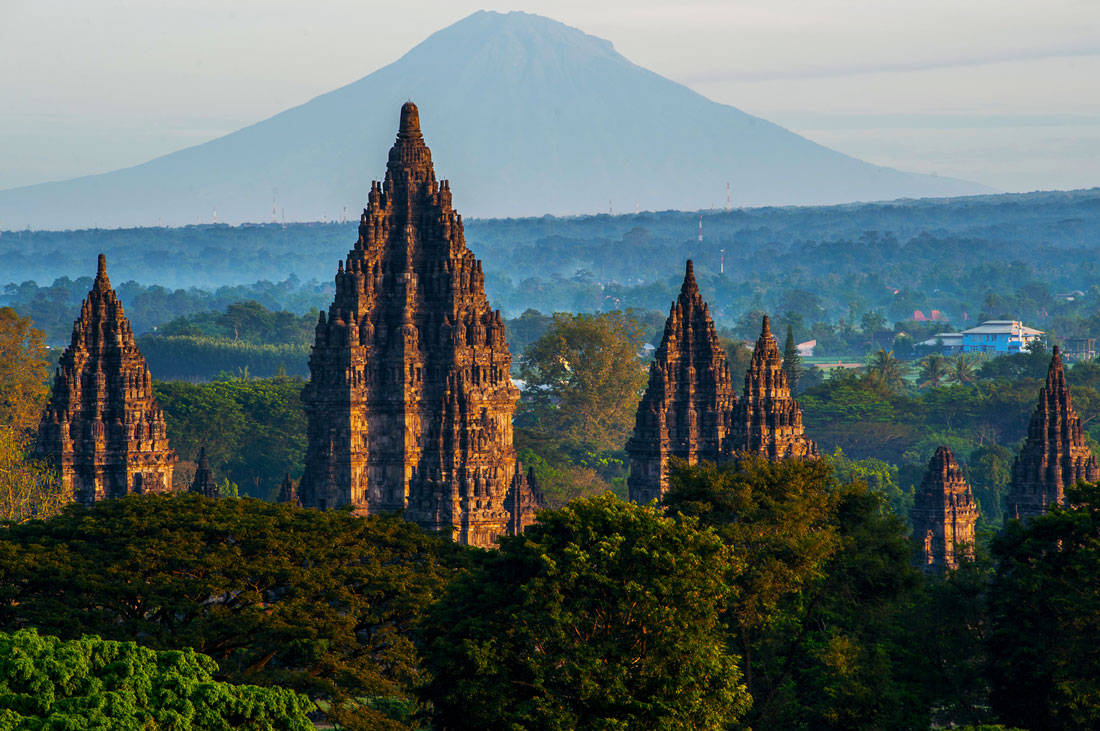 You can visit both places in a day. The best way is to hire a car and driver for the day. It's not hard to find these – via the reception of any hotel, on the street, in restaurants – in short, they are all over the city, just waiting to be hired. Agree on what you want with the driver the night before. Head to Borobudur by 6 am as that's when the gates open, and you will catch the sun as it rises from the thick mist, hanging over the valley at the foot of the temple, gradually illuminating the carved steps. Then head for the park and ruins at Prambanan. 
A car with a driver will cost around 550,000-850,000 rupees (€35.50-€39.00/$39.00-$43.00) for the day depending on your haggling skills. A combined entrance ticket to bot parks costs 550,000 rupees (€35.50/$39.00)
This is Java, my child
They will offer you money here to have their photo taken with you. Yes, you heard right. It brings good luck to have a photo with a light-skinned person. Remember to avoid visiting Prambanan on Tuesdays, Thursdays, and the third weekend of the month, which is which the school groups are there. You will be inundated by requests for photos from virtually every Indonesian schoolchild. Real adventures begin when you dive into the local culture…    
Eastern Java
What to do: admire the star-filled skies at the foot of the Bromo volcano and climb the Ijen volcano

How long to spend there: three days

Getting there: by plane from Denpasar to Surabaya – from €31.50/$34.50 one way, then by bus or train to Probolinggo. Or you can take the train from Yogyakarta to Probolinggo, which costs from 225,000 rupees (€13.70/$15.00) and takes about 8 hours. You can find the timetables here. 
Bromo
The basic hotels in the village of Chemorolavang at the foot of the volcano cost anything but basic money. They basically have a monopoly, but then again, they know they also offer a view in a million.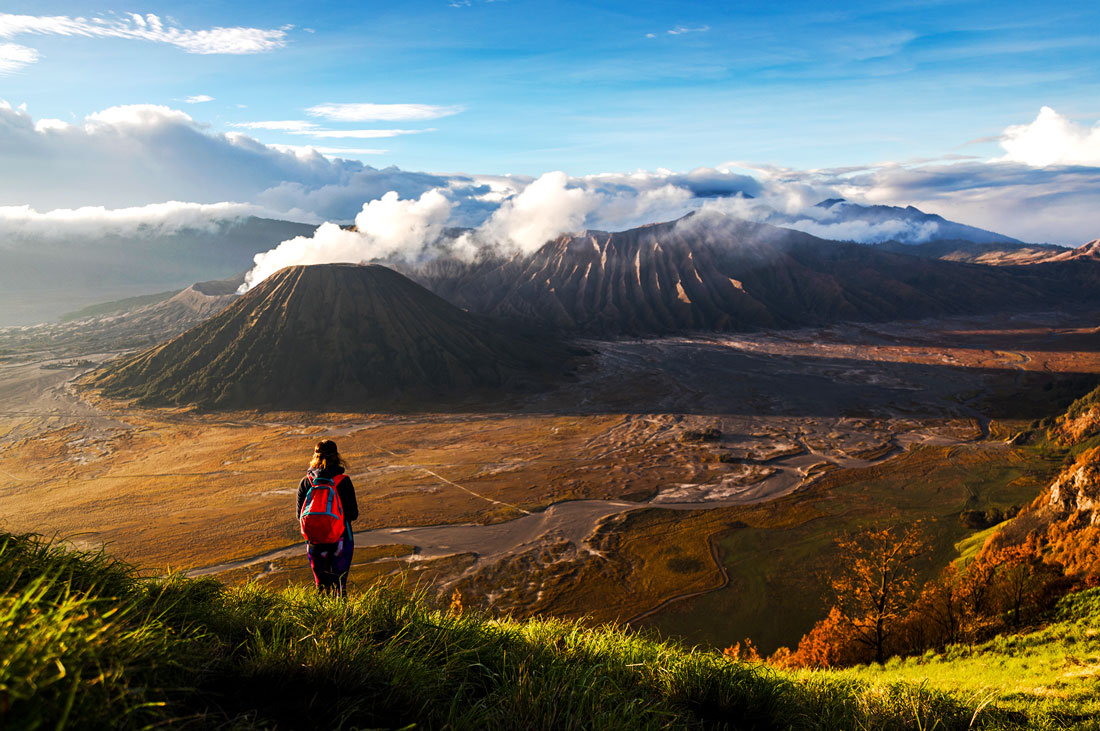 It's not so high, around 2000m, but the sky seems incredibly low and gives a very striking impression of just how many stars there are in the universe. You can tell how close we are to the equator. It's almost as if it's not worth taking a room in a hotel because the sight of that sky can keep you here for hours, and then at 4 am, you jump into the jeep and make for the foot of the volcano to greet the dawn. But the nights here are very cold, and temperature can drop close to zero. They have extra quilts in the hotel rooms.       
You can book your seat in a jeep on arrival. A whole jeep costs from 350,000-400,000 rupees (€23.20-26.00/$25.50-$28.60), and each can take 5-6 people. You will normally be with people from your hotel or from neighboring properties, so you can reckon on about €5.00/$5.50 per person if the jeep is full. The jeep picks you up from the hotel, takes you to the viewing platform, waits for you, then drives you up to the crater, waits some more, and then brings you back to the hotel in time for breakfast. The official price to visit the Bromo-Tengger-Semeru park is 220,000 rupees (€13.70/$15.00) per person – it's what you will need to pay if you take a jeep.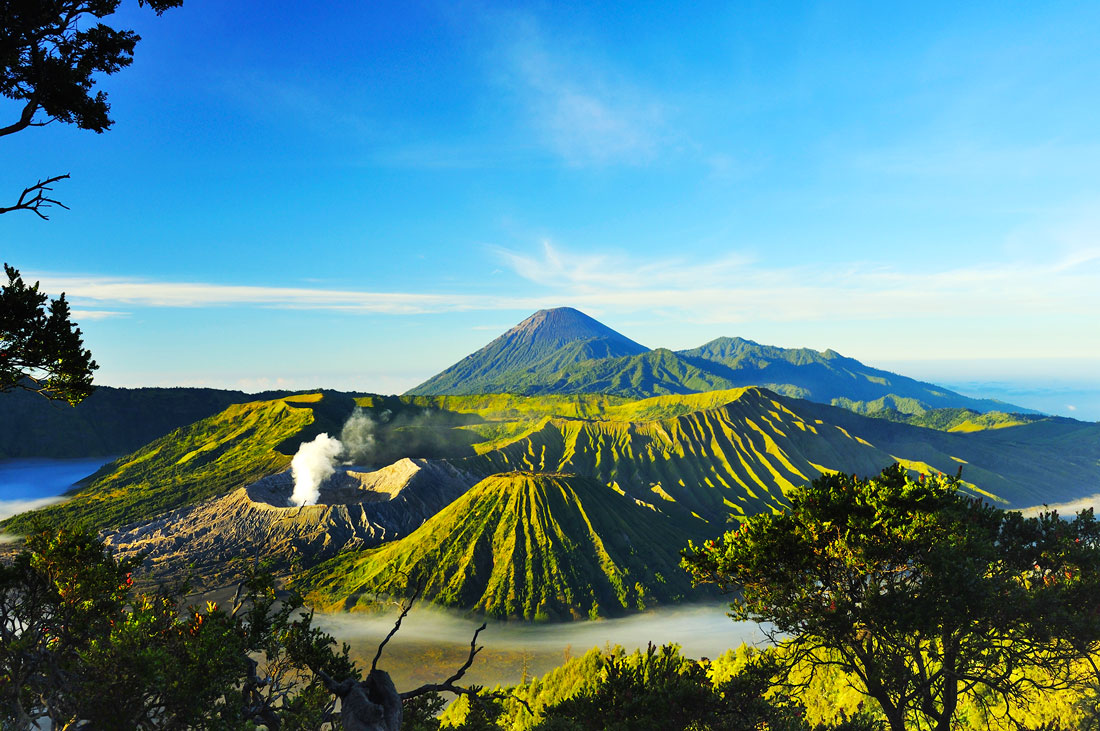 A way around this is to go most of the way on foot. , about 4.50km from Chemorolavang village to the viewing platform at King Kong Hill, where you can greet the dawn and then take a bike taxi to the foot of the volcano (100,000 rupees/€6.40/$7.00) and then walk the 3km back to the village afterward. You can get away without paying anything to get into the park that way.       
You can only get to Chermolavang from Probolinggo, where green minibusses leave the central square every hour and cost 35,000-500,000 rupees (€ 2.30-€37.00/$2.50-$41.00).   
Public transport in Indonesia
Overland public transport in Indonesia is extensive and convenient. One thing you need to get used to is that the buses and minibusses never leave or arrive on time. Never. You should also be aware that the drivers like to try and earn a bit on the side regardless of the official, advertised price of the ticket. Each full bus has its "price" which is the ticket price multiplied by the number of seats, and as long as one of these conditions is not met, the bus won't be going anywhere. If you want to leave now, you pay for the empty seats on the bus, or you wait. Sometimes for hours.  
There are trains from Yogyakarta to Probolinggo (direct or with a change in Suarabay), which cost from 110,000-190,000 rupees (€7.10-€12.30/$7.80/$13.50) and takes about eight hours. Here is the timetable.    
Ijen
Getting up to the world's largest acidic lake, you need to slog it up the side of the volcano (about 3km) and then drop down into the crater. It's best to go at night, around 2 am. As you ascend, you will be rewarded with wafts of sulfurous gases, light blue flames, and bright yellow chunks of sulfur. Doesn't sound too attractive, does it? As you get closer, you see the bright blue flames, ribbons of gaseous sulfur, heated to 600 C, erupting from fissures in the mountain and igniting on contact with the oxygen in the air.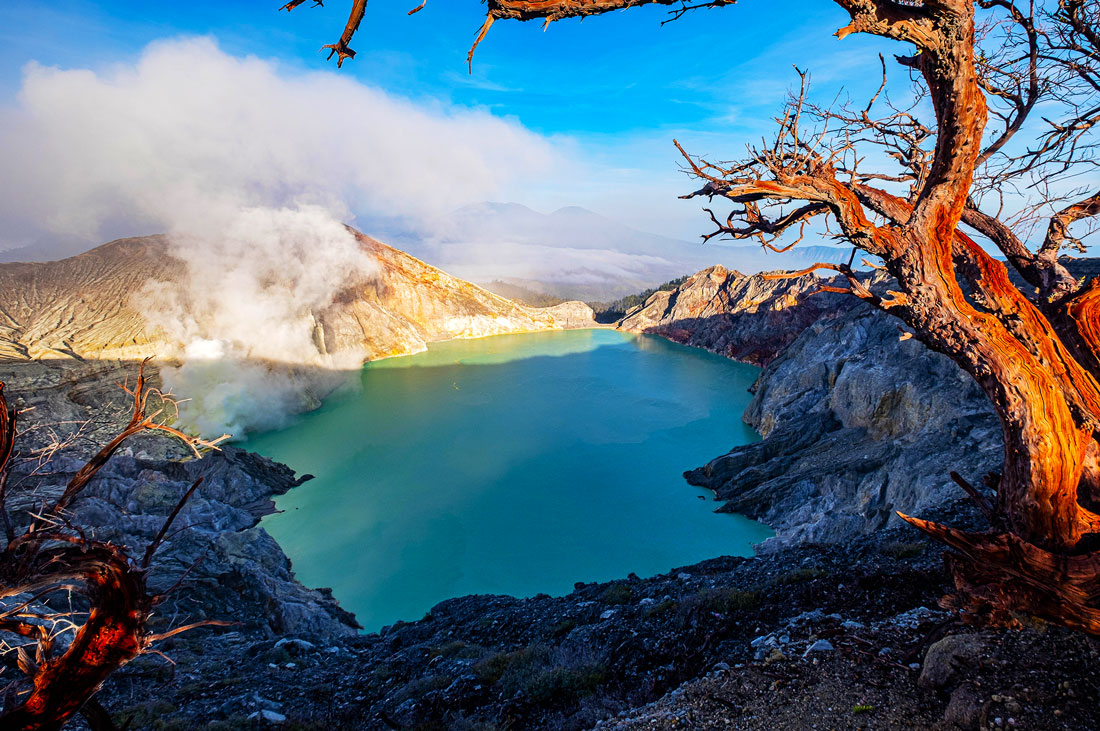 As the sun rises, the blue flames become dimmer, and they are replaced by a beautiful turquoise-colored lake. I can't figure out whether it's just the ascent doing this to me or whether it really is that pretty. You will need a mask, comfortable shoes and a good head-torch – and even with all this equipment, your eyes will still probably water and breathing will be difficult – but then again, who said that breathing on another planet would be easy? You just can't call this an earth-like landscape. Entrance to this other world costs 100,000 rupees (€6.40/$7.00) during the week and 150,000 rupees (€9.50/$10.50) at weekends. You can hire masks there for 25,000 (€1.60/$1.75).    
You can get to Ijena from Probolingo in four hours by train to Banyuwangi station, and a ticket costs 85,000-150,000 rupees (€5.50-€9.00/$6.00-$10.00).    
---
There is not much logic in the way transportation is organized on Java, and accommodation prices are not always what you would expect. For a few dollars, you might find yourself in a windy tent or a superb hotel room with starched linen sheets. Many of the locals on the island have yet to figure out how to squeeze tourists to the max – and this means that you're guaranteed a smile and a hug.