Lake Como
How to get there. Lake Como is around 40 minutes by train from Milan central station (Milano Centrale), and you get off at Como S. Giovanni station. You might bump into George Clooney as you leave the train as this is where he has his villa.
Where to stay. There are many small Italian towns and villages dotted around the lake, and the best known is Como. We'd recommend the 3* Engadina hotel as it's close to both the station and the lake.
Beaches. There are many small beaches around Como, especially near the small fishing village of Bellagio. If you're looking for something a bit more upmarket, choose one of the beach clubs like the Lido di Lenno which costs €10.00/$11.00 to get in, another 10 for a sun lounger and 6 for a parasol.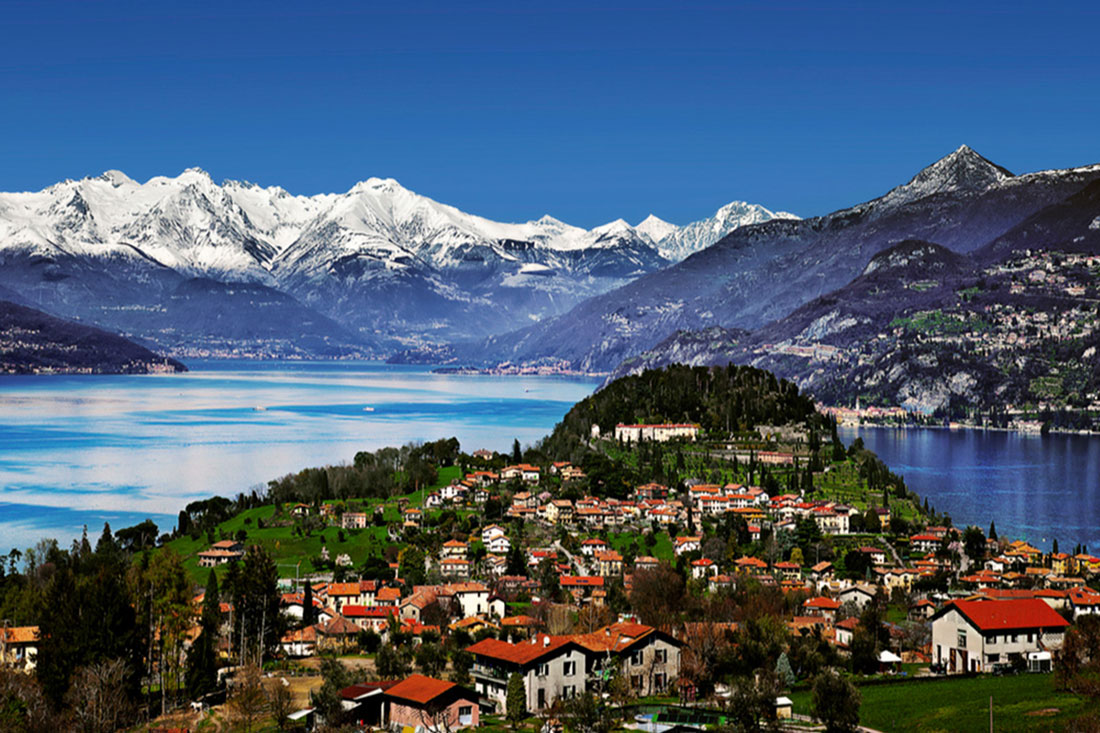 Things to do. The local cathedral is worth visiting (as you know, every Italian town has its own cathedral), you can take a ride on the Como-Brunate funicular and while you're at it, breathe. In the clean Alpine air as you visit one of the villas there, like the Villa del Balbianello which costs €20,00/$22.00 to get in. This was the villa featured in the Bond movie Casino Royale, and from the spacious balcony, you get an expansive view over the lake and mountains with all their trees and flowers. The view is such that you could just point your camera and shut your eyes – the photo would be worthy of the cover page of a travel magazine.
Villas are a large part of the Italian cultural heritage. They each would have belonged to at some time to Italian aristocratic families, and some still do. Although titles no longer mean anything in modern-day Italy, there is still a chance you might bump into a count or a countess. Many of these villas are open to the public, and you can visit the interiors and the gardens and get a feeling of what it would be like to be part of the Italian jet set.
Lake Garda (Lombardy, Veneto, Trentino-Alto-Adige)
How to get there. This, the second most popular Italian lake, belongs to three regions – Lombardy, Veneto, and Trentino – Alto-Adige, so transport connections are quite good. You can take the train from Milan central station to Desenzano which takes about an hour and a half and then take the bus to Sirmione, which takes about another 20 minutes. Another option would be to take the train from Venice Santa Lucia station to Verona Porta Nuova, which takes about an hour, and then take another bus.
You can find the prices for these trains on the Italian Railways' website
 trenitalia.com
. If you already know when you will be traveling, you can buy your tickets online straight away- they will be a bit cheaper, and this is where you will find any special offers.
Where to stay. We would recommend Sirmione, which is unusual in that it is surrounded by the lake on three sides. You could try the 3* Malvino hotel, which is a six-minute walk to Catullus' Grotto and eight minutes from the main municipal beach. The hotel has nice balconies in the traditional Italian style.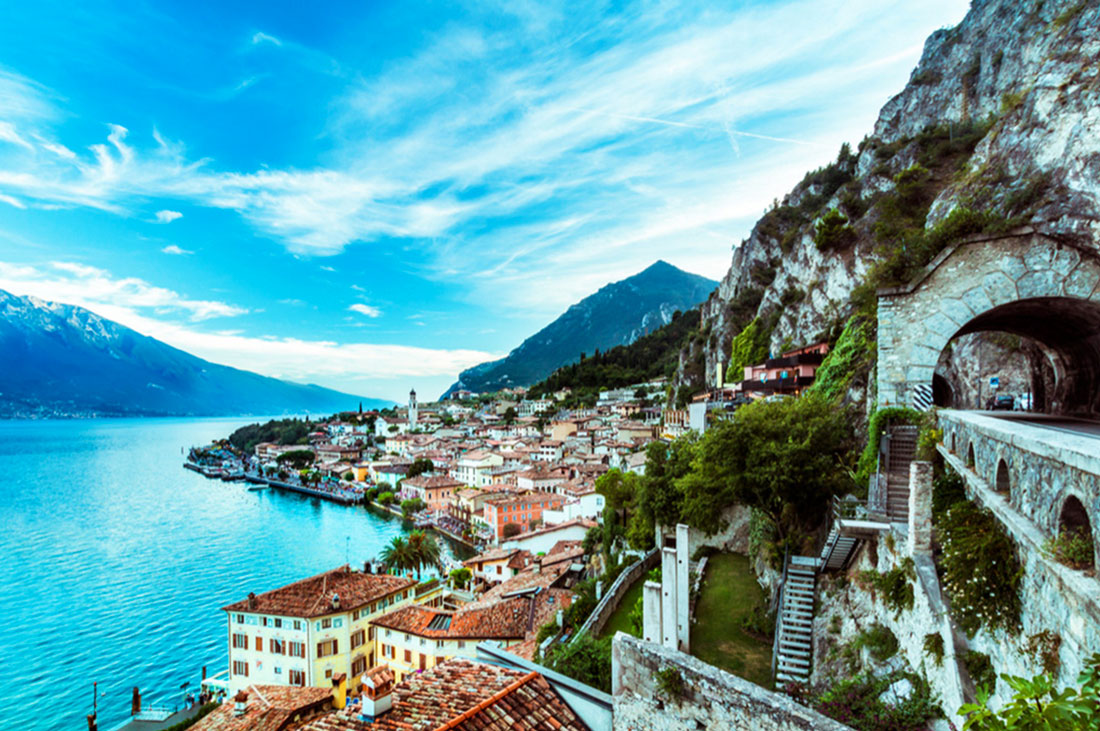 Beaches. The free of charge Jamaica Beach is close to Catullus' Grotto, where you can sunbathe whilst you admire the little boats, each worth thousands and thousands of euros, as they dart up and down the lake. Take a towel with you as it is a stony beach which gets very hot. Here you'll also find the Jamaica Bar where they make a strong cocktail. Why bother with your own yacht when you already have the views, the sunshine, and the drinks?
Things to do. The Grotte di Catullo we talked about earlier is a big local tourist attraction. These ancient ruins were where one of Rome's most famous (and sarcastic) poets lived, Gaius Valerius Catullus. You should also try to get to the small island of Isola del Garda one half of which is taken up by a Venetian style villa and the other half by beautiful gardens. The island was only recently opened to the public, so why not be amongst the first to visit? Entrance costs around €30.00/$33.00.
Lake Maggiore
How to get there. It's an hour and a half by train from Milan central station to Stresa station. If you are coming in from Turin, you need to travel to Milan first from Torino Porta Susa station.
Where to stay. There are only about 5,000 inhabitants in Stresa, but in spite of its small size, it is still an impressively beautiful Italian town. We would highly recommend the 4* Hotel La Palma, which has an open-air pool, rooftop bar,  and spa – all three with a magnificent view over the lake and mountains.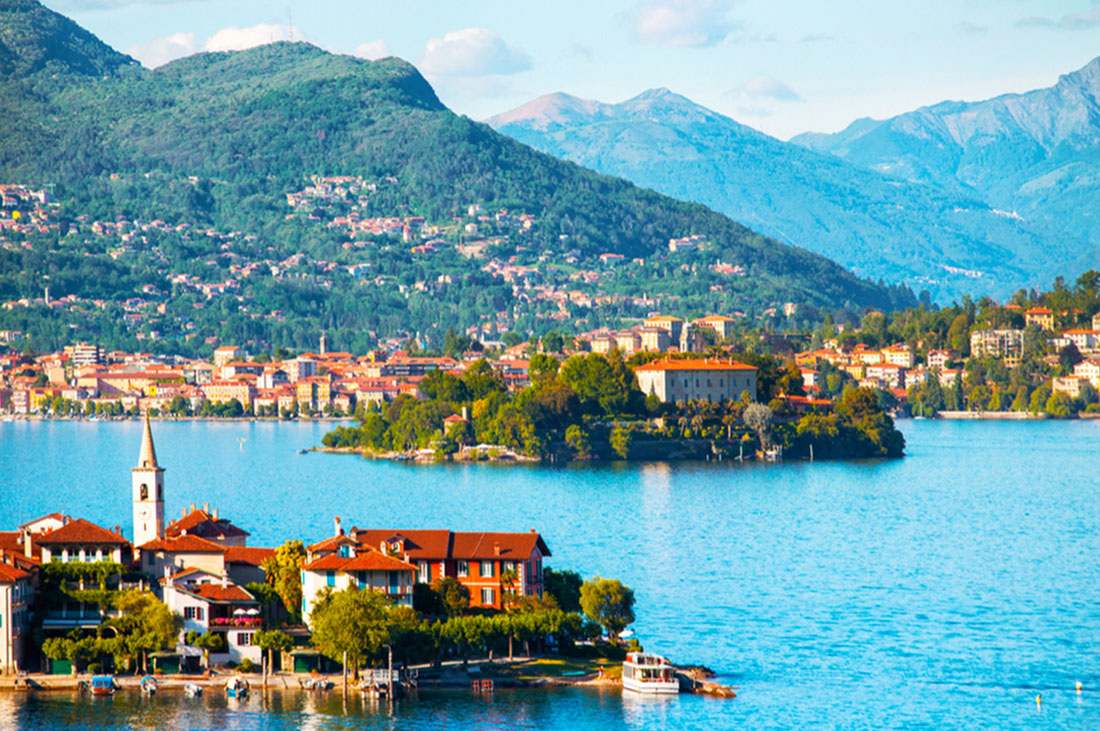 Beaches. In Stresa itself, there is the Lov Beach Lounge private beach, which charges for entrance. It has a bar, mini-golf, and multicolored fairy lights illuminate the are at night. They charge €6.00/$6.75 for the use if sun loungers and access to the bar.
Things to do. Maggiore is the second-largest Italian lake after Garda, and it boasts an unbelievable number of small islands and villas. If the aristocratic life lures you, don't pass up the opportunity to take a boat out to Isola Bella and its own villa with its fantastic baroque interiors and gardens where white peacocks hold sway. Entrance costs €16.00/$18/00. Not far from Stresa is the Giardino Botanico Aplinia, or the Alpine Botanical Gardens, which exhibits 700 species of plants. Entrance costs €4.00/$4.50.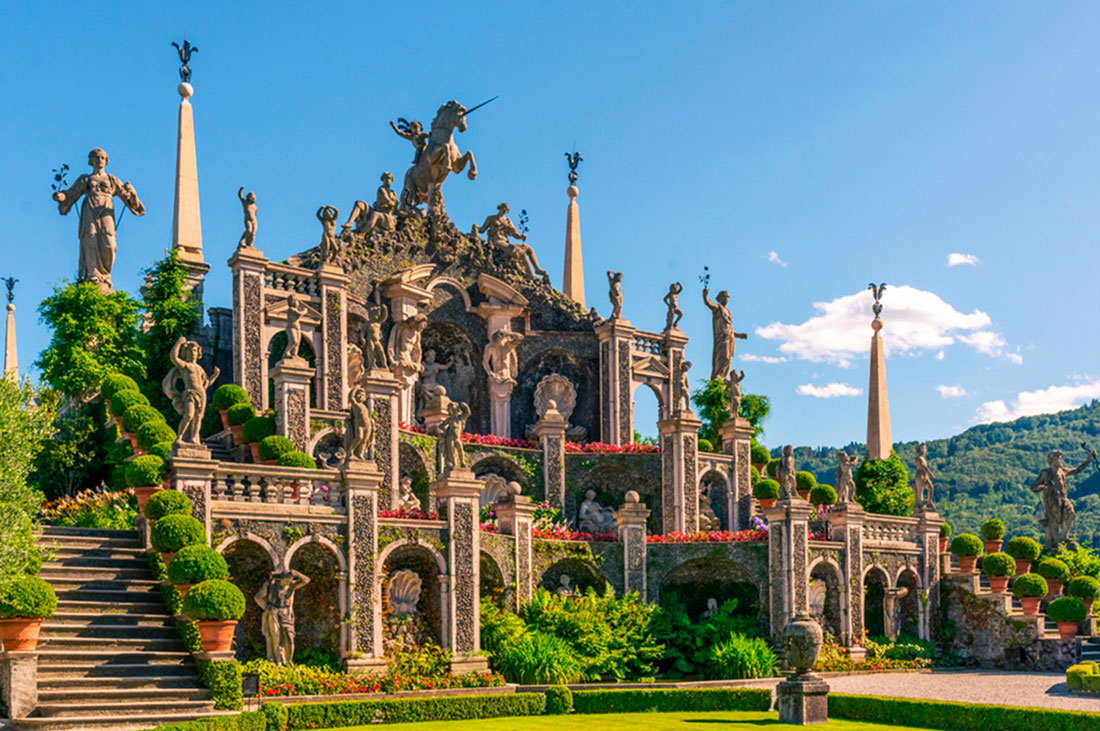 Lake Bracciano 
How to get there. By Italian standards, this lake is in the middle of nowhere at 32km from Rome, but for us, it's like the morning commute to the office. It takes about 40 minutes by train.
Where to stay. In the village of Bracciano on the lakeshore is the small Bed And Breakfast il Giardino where it is peaceful, quiet and secluded.
Beaches. There is a small beach, free of charge, the Spiaggia dei Gabbiani which also accepts pets. If you want more space, then head for the Spiaggia Vigna di Valle, which is also clean and free of charge.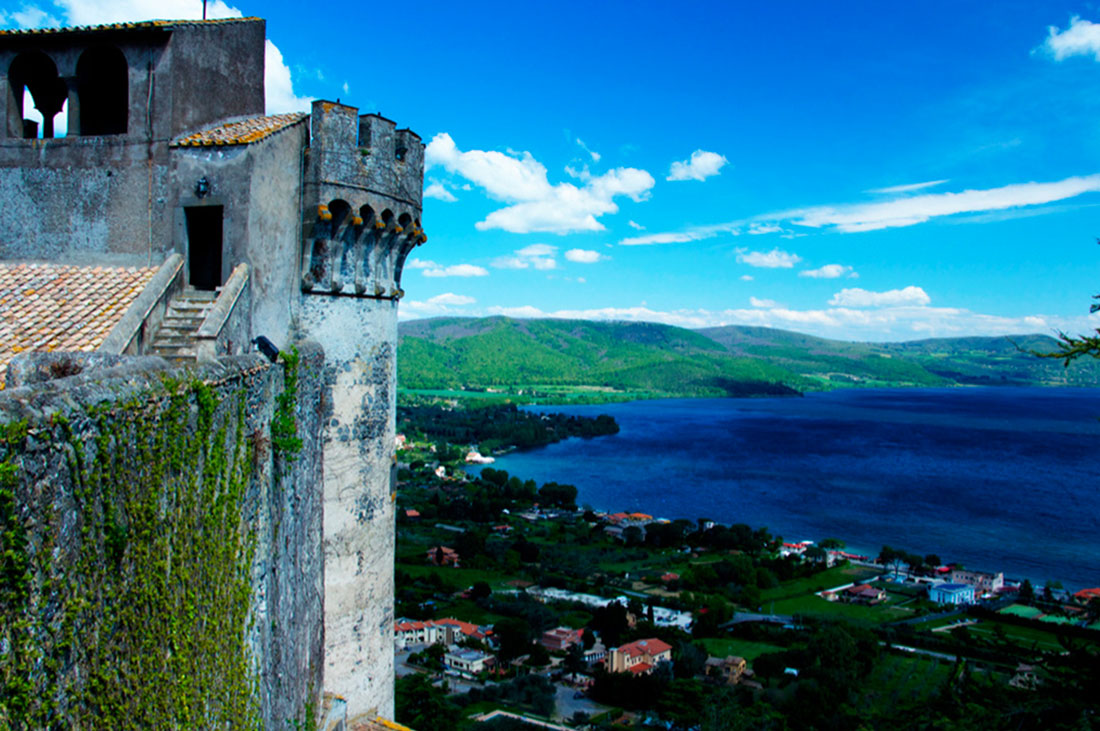 Things to do. The huge Castello Orsini-Odescalchi is situated in the center of town. It houses 20 historical rooms displaying medieval weapons, paintings, and sculptures, including busts of 12 Roman emperors. If you are with the kids, you can send them on an adventure tour of the castle (€15.00/$17.00 each). They will collect clues as they go round the castle, learning about the local legends and history. While the children are occupied, the parents could go on a food and wine tour (€300.00/$338.00 per group of max. 12 people), or you could take a stroll around the Bracciano-Martignano regional natural park which surrounds the lake; this is how you can burn off all those calories from the delicious food on offer here in the Lazio region.
Lago dell'Accesa
How to get there. Two-and-a-half hours from Firenze Santa Maria Novella station in Florence to Follonica and then another 32km by bus to Massima Marittima Risorgimento.
Where to stay. In the small town of Massa-Marittima you'll find the La Fenice Park Hotel, a 19th-century former palazzio with a pretty garden ideal for relaxing on a sun lounger as you plan your next excursion. If you ask, they will also organize a wine-tasting for you.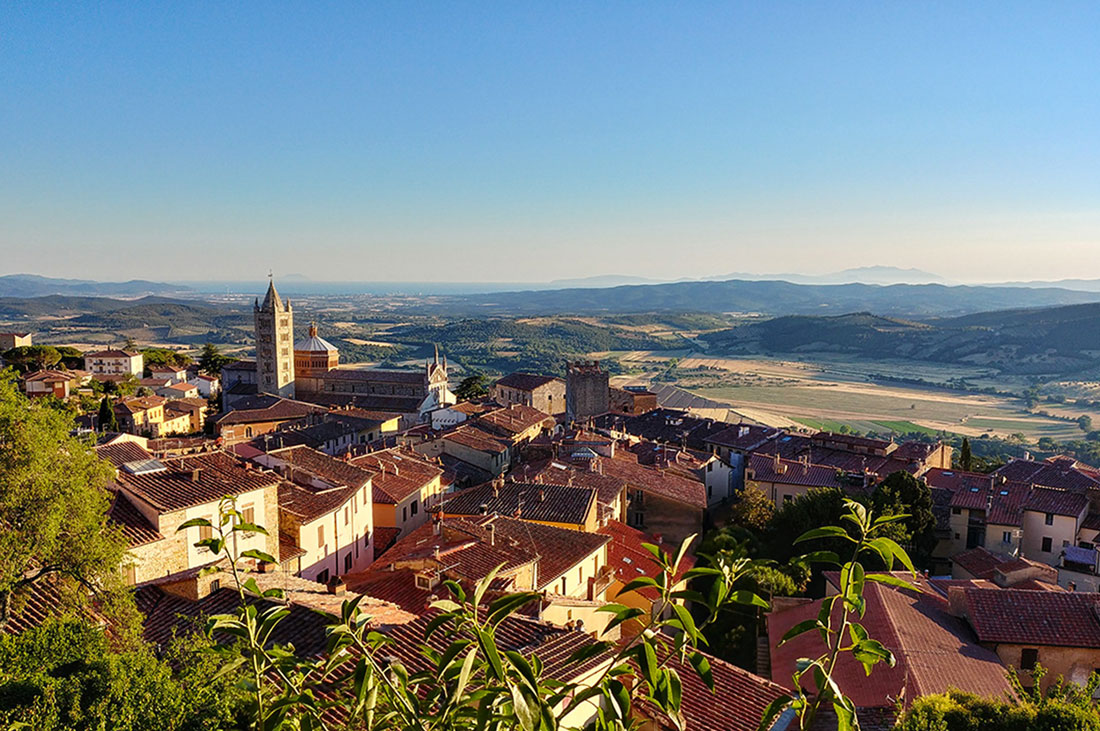 Beaches. The water in this small lake is crystal clear, and it's very quiet as there are virtually no tourists. The lakeshore is the ideal place for a picnic – and getting the ingredients together couldn't be simpler. You are right next to two vineyards, so the wine is taken care of; all you need to do now is buy some cheese and cold meats, throw down the picnic blanket and enjoy the rest of the day… but don't stay until after sundown as ancient tombs surround the lake and they say that ghosts sometimes walk there at night!
Things to do. Like most places in Italy off the tourist trail, Massa-Marittima is only a small town, but very pretty. There is a typically Italian palazzio, squares where you can enjoy the sunsets and lots of very reasonable restaurants. If you're curious about the place, why not visit the local archeological museum (only €3.00/$3.40). In May and August, they have amusing medieval festivals where lovers of the Middle Ages get together and compete in competitions of strength, marksmanship and medieval weaponry.      
Molveno (Trentino – Alto-Adige)
How to get there. The quickest way is from Verona. Take the train from Verona Porta Nuova and get off at Mezzocorona station after about an hour and a half. Then take the bus for about another 50 minutes to Molveno.
Where to stay. Molveno is the only town situated on the lake of the same name. The Trento – Alto-Adige region in Italy has special tax collection rights and the funds collected here go to the regional rather than the national budget and as such is one of the best managed and served places in the country. The 3* Hotel Du Lac Vital Mountain Hotel is located on the lakeshore. You can start the day with a morning swim here in the hotel's pool and then have breakfast with a view over the Dolomites.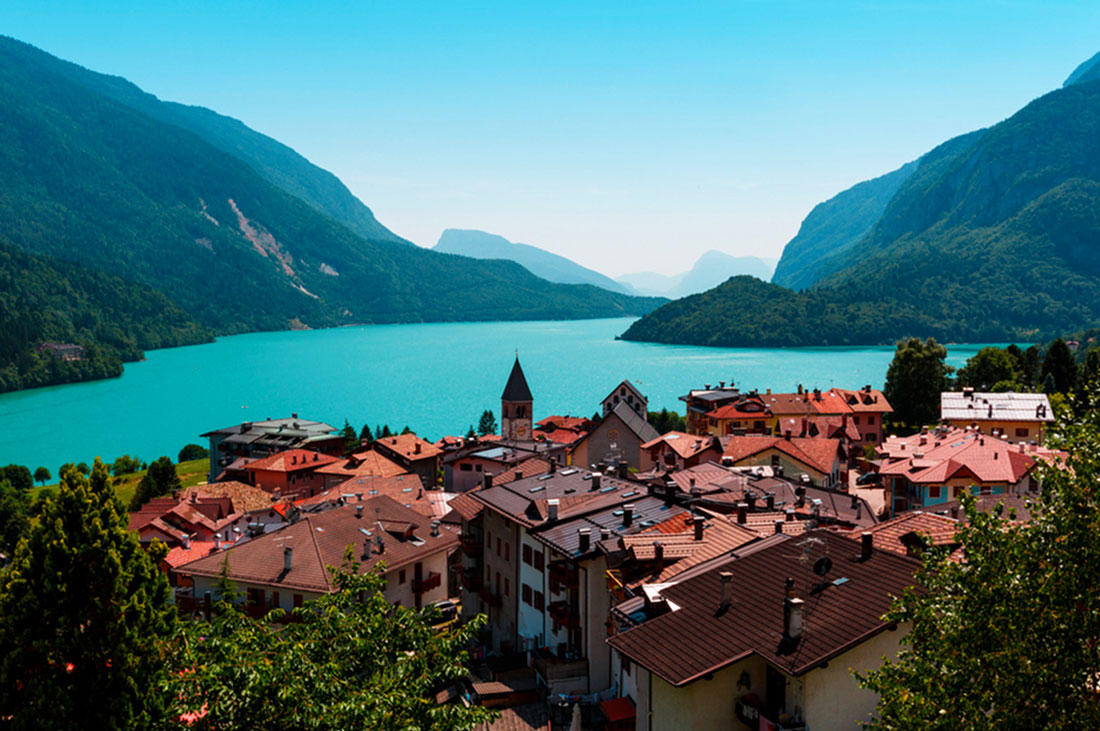 Beaches. The local beach (also called Molveno Beach) is 12 hectares of sand and the cleanest water. In 2018 it was voted best beach in Italy. You do have to fork out for it, it's true; entrance to the beach costs €9,50/$10.50 – you can find the whole list of charges here. There are smaller, quieter beaches if you want to get away from the noise and activity.
Things to do. Enjoy the surroundings as the views here are magnificent. The lake is surrounded by landscaped lawns, so your children, your future Maradonas and Messis, will love to play football here. If you're up for something a bit more energetic, head out onto one of the mountain hikes. One of the best (and it's not too testing) is from Molveno to Altopiano di Pradel. Once you get to the level 500m above the lake – a total of 1367m above sea level – you're in for some spectacular views. If wheels are more your thing, then hiring a bike is not a problem – and for the laziest amongst you, there's a funicular which will take you right up there in five minutes for €8.00/$9.00 each way, €12.00 there and back. As if that weren't enough you can go and take a look at the mice, lynxes, foxes, wolves, and owls at the Spormaggiore Animal Park, a 17-minute drive from Molveno.      
Lake Iseo
How to get there. The easiest way is from Bergamo, an hour by train to Brecsia station and from there, another 30 minutes to Sulzano.
Where to stay. The small village of Sulzano has only a tad over 1000 inhabitants. The 4* Hotel Rivalago will make for a relaxing stay on the lake. It offers a pool, jacuzzi, and restaurant with a summer terrace.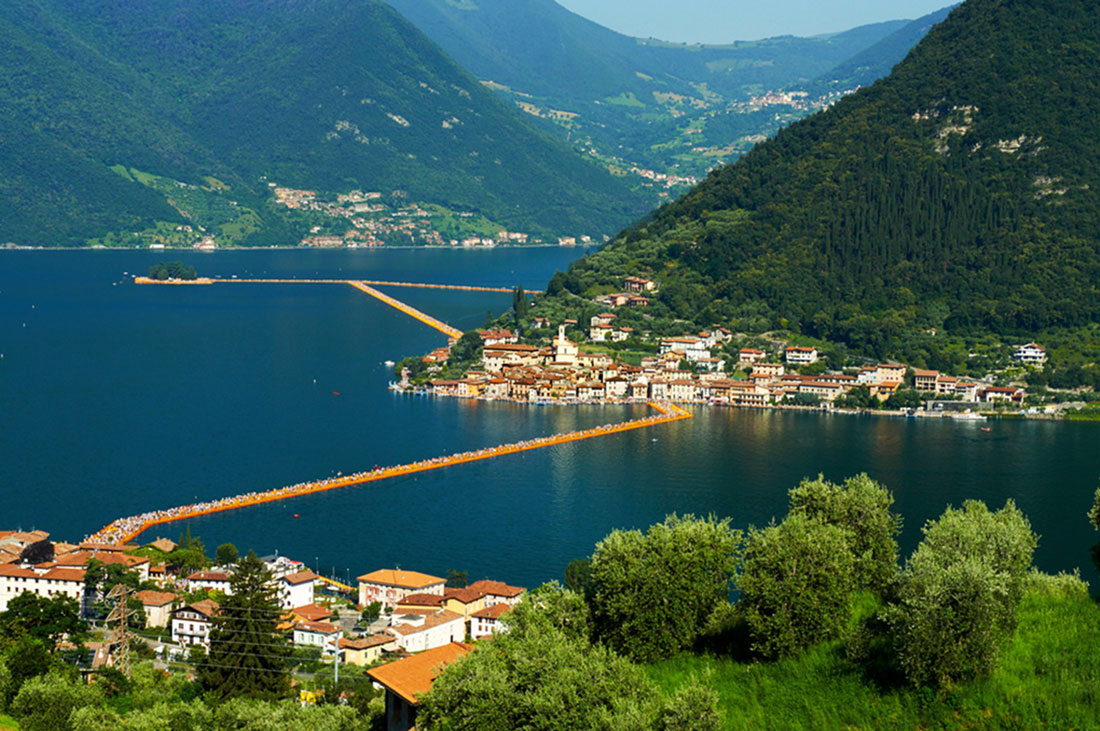 Beaches. The free beach at La Spiagetta, with all mod cons like toilets, shower, sun loungers,  and a bar, is an hour's drive away. If this is a bit far for you, there are also a few free beaches in Sulzano as well, but they are not so well catered for. Try Spiaggia Vetrine and Lido Comunale.
Things to do. You have to visit Borgo Lovere (a borgo is a small, historic town in Italian), one of Italy's prestigious "most beautiful historic towns" since 2003. It is a beautiful place, and at weekends they have a free open-air cinema. Monte Isola is another must-see destination. They also make the Franciacorta DOCG sparkling wine on the lake, so don't forget to give it a try and take a couple of bottles home for your friends.     
---
We hope that we've managed to persuade you that a holiday by the lake is just as good as one by the sea. There are far fewer people, there's no fuss with salt,  and you don't have to worry about jellyfish and sea urchins. Apart from the swimming, there's always something to keep you occupied – restaurants and cafes with local food, the mountain air, and cool shade, luxurious villas and fantastic buildings. You really need to see each of these lakes at least once.