How to get there from Lisbon
By train. From Oriente or Santa Apolónia train stations, journey time: 2.5-3 hours, ticket price: from €24.
By bus. From Sete Rios bus station, journey time: 3.5-4 hours, ticket price: €19.
By car. Journey time: 3-3.5 hours (314 km).
Ribeira neighborhood and the embankment of Douro River
You can begin your date with Porto from its most famous neighborhood, Ribeira, which is located along the embankment of Douro River. Layers of run-down differently-colored houses are firmly wedged next to each other, adding melancholy to the city's image for the last few centuries.
This is where the poorest residents live, those whose work depends on the river. And on the whole, the neighborhood gives you an oppressive sensation. Yet at the same time, Ribeira features charming medieval streets, facades made of azulejos tiles, and the three-hundred-meter-long Dom Luís I Bridge designed by a pupil of Eiffel and elusively resembling its distant relative from Paris.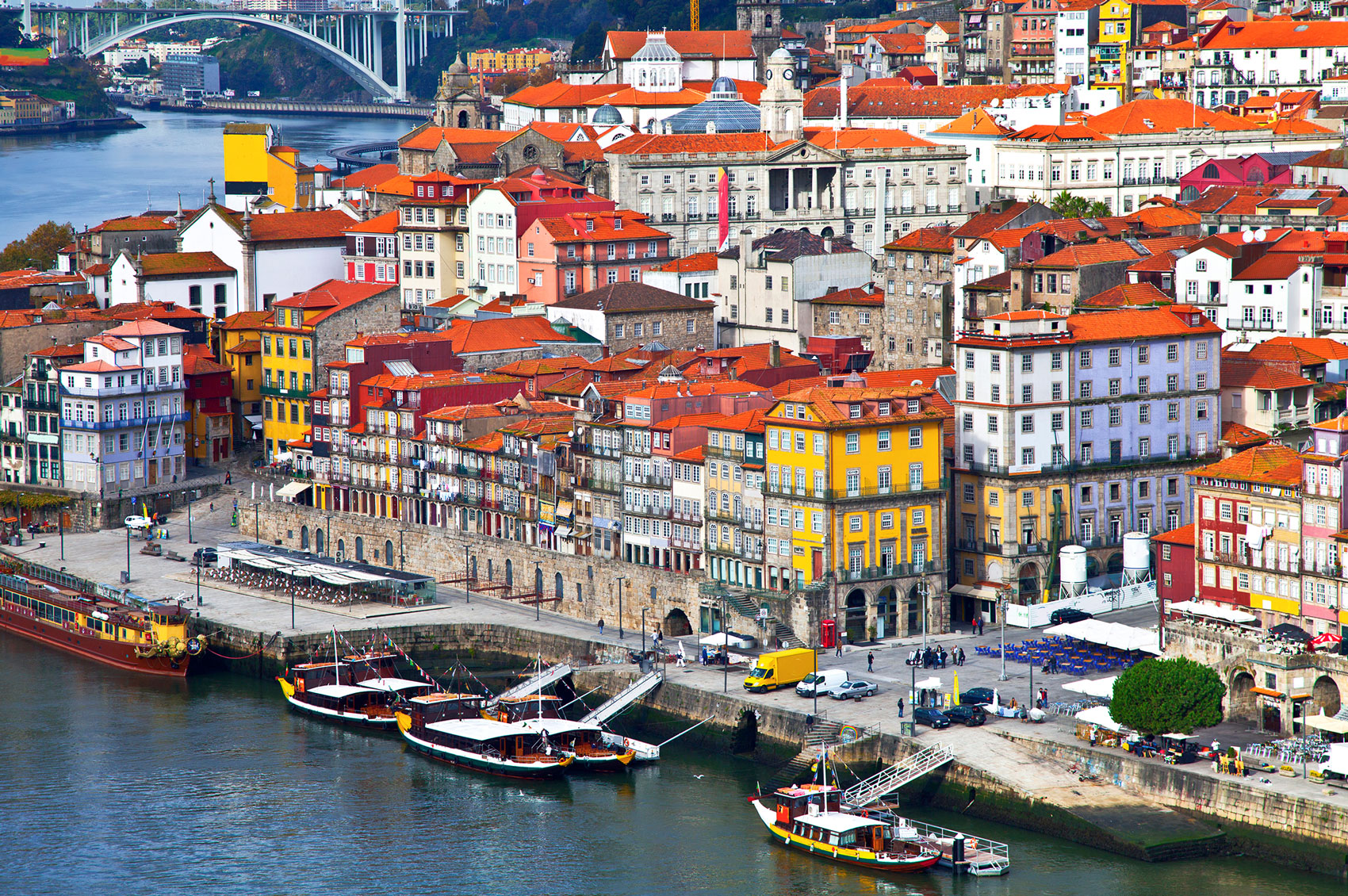 Why it's worth visiting
So that after wandering around the medieval streets, you can take lunch in one of the dozens of fish restaurants, then climb up to Dom Luís I Bridge and cross over to the other side of the river. There you will find yourself in Vila Nova de Gaia, which is technically a separate city, but in essence, another Porto neighborhood.
This is where the port producers keep their cellars, and dozens of bars and restaurants are also concentrated here – so that you can taste the best port. Lots of boats, containers, and barrels stand along the embankment of Douro River in which port is transported from the producers' cellars to warehouses. These are amazingly gaudy sights!
Ribeira and the embankment of Douro River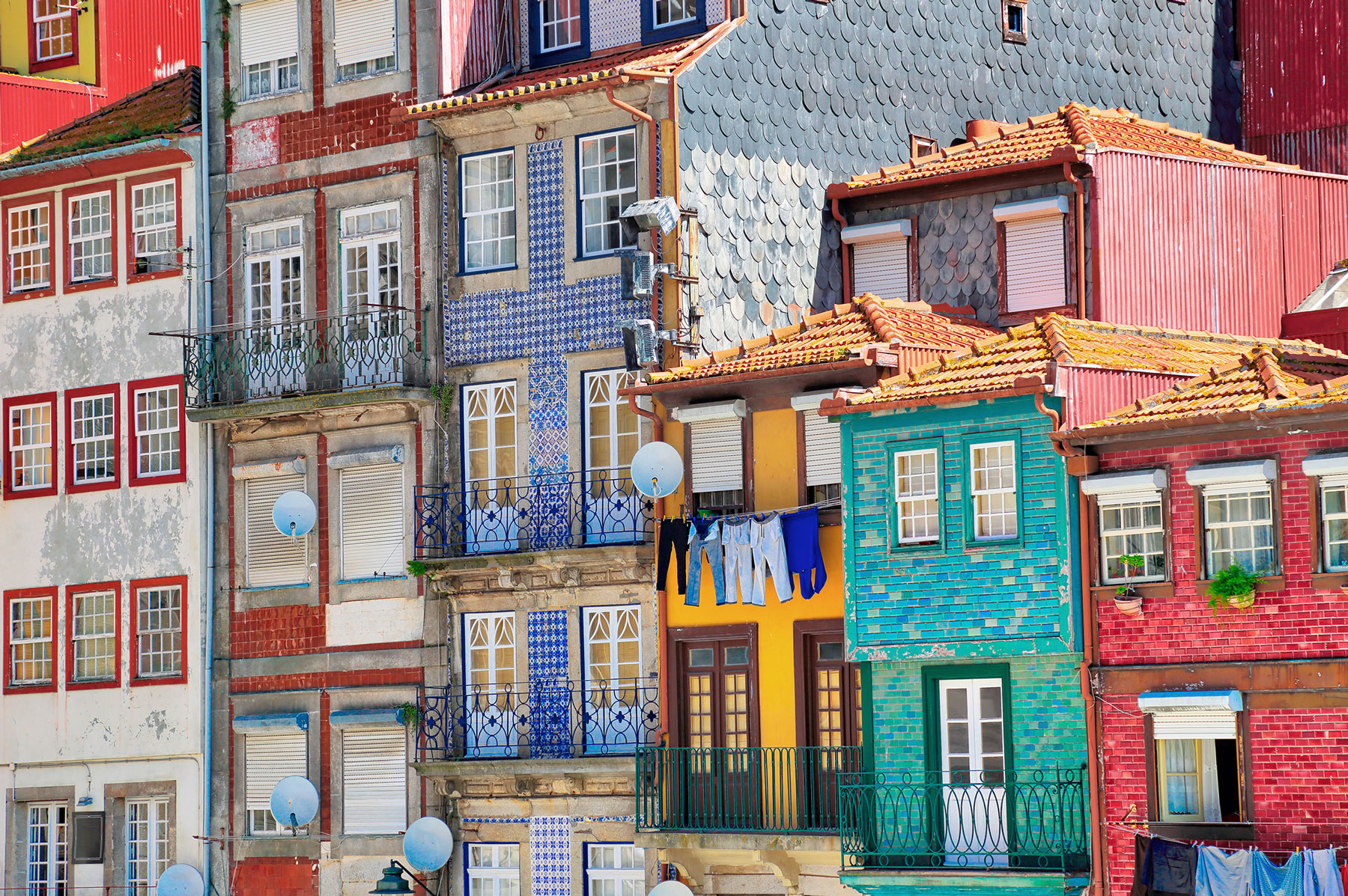 Livraria Lello book shop
Livraria Lello is constantly included on the list of the most impressive book shops in the world. It opened at the start of the 20th century by the brothers José and António Lello, for whom the books business was a life's mission.
Apart from the archive of antique books, you will be impressed here by the interior, which is as though taken from Harry Potter books. But the reality is the opposite: Harry Potter and his school Hogwarts are taken from Lello.
Joan Rowling lived in Porto in the early 1990s, where she taught English, and according to witnesses, spent much time in Lello. As the popularity of the books about the little wizard grew, the Lello-Potter association turned into a city legend, and they experienced what was just about a massive pilgrimage of tourists.
The number of visitors to the book store grows every year, but most of them would merely come to admire its famous interiors and didn't buy anything. So the store's management decided in 2015 to charge a €5 entry fee, which could be offset against the cost of books. And by 2017, Lello saw over one million annual visitors, with revenues exceeding $8 million, according to Der Spiegel.
Why it's worth visiting
So that as a bare minimum, you feel like you are in Flourish and Blotts book shop from the Harry Potter series. Moreover, Lello has retained that old-school magic in the form of rails and a wooden cart that were once used to transport books between shelves.
It will be hard to depart without purchasing anything, after all, here they sell books in dozens of different languages. You can find lots of examples of unusual works about art and architecture, as well as rare books that the shop retains in carved bookcases under the ceiling.
São Bento Railway Station
Unlike airports, railway stations throughout the world still retain their individuality, so I carefully collect examples in my memory when the architecture and interiors remain unrepressed by faceless functionality.
It's enough to recall Grand Central in New York with its celestial ceiling, or Madrid's Atocha with its tropical garden inside. São Bento Railway Station is deservedly placed alongside them.
In the 16th century, a Benedictine monastery was located here, which was pulled down by the end of the 19th century because the city railway network was expanding. Instead of the monastery, the architect José Marques da Silva designed a building in the best traditions of the French school of architecture.
But the tastiest sight is to be found inside: over 20 thousand milky-blue azulejos tiles portraying historical scenes. And unlike the azulejos in Lisbon with their rhythmic multi-colored patterns, ceramics in the architecture of Porto are more restrained and mostly two-colored.
Why it's worth visiting
Firstly, to set off for nearby cities (Guimaraes and Braga) and to the Douro valley, the route to which begins at São Bento. Secondly, in order to photograph oneself against the background of the artistically decorated panels in the building's concourse.
By the way, the Portuguese artist Jorge Colaço, who painted most of the scenes on the station walls, required 11 years to complete his monumental legacy.
Stock Exchange Palace
Being one of the most powerful colonial empires over nearly six centuries, Portugal always traded actively with dozens of other countries. Moreover, its southern and northern capitals (Lisbon and Porto) constantly competed for the title of port and trading center. In the 1840s, Porto got lucky, as the queen of Portugal Maria II donated land to merchants right in the center, where the recently burnt down St. Francis monastery had stood.
And by 1850, the trade association had been provided for its own use the palace built by local architect Joaquim da Costa Lima Júnior. In those years, the Palladian style was fashionable in Portugal, borrowing elements from the antique architecture of Ancient Greece and Rome, hence da Costa Lima designed an imperious building where business meetings were held and all-important economic decisions were taken in the following years.
Today, the Stock Exchange Palace is used for formal receptions for heads of state visiting Porto. However, tourists may also visit it. A ticket costs €8.50, and guided tours are available in four languages: Portuguese, Spanish, French, and English.
Why it's worth visiting
To see for yourself the luxurious interiors where Portuguese traders of the time worked. For example, the Palace of Nations, decorated with the crests of over 50 states with which Portugal cooperated. It even includes Russia. The most famous is the Arab Room of the Stock Exchange Palace, which will strike your imagination with its finery. Even though it was created in Moorish style and is decorated with gilded Arabesques and stained-glass windows, the interiors were created by Portuguese engineers.
Stock Exchange Palace (Palácio da Bolsa)
Serralves Museum of contemporary art
Apart from the Tram Museum and Port Museum that are obvious visits for Porto, the curious tourist should not miss Serralves, the largest museum of contemporary art in Portugal. It was designed by the Pritzker laureate Álvaro Siza Vieira in 1999.
In the museum's impressive modernist building, you will find the huge private Serralves collection, which includes works from 1968 onwards. Permanent exhibits include paintings by Portuguese artists Helena Almeida and Paula Rego. The latter is associated with the London School and is famous throughout the world for her works in mixed techniques, analyzing children's fetish and disturbing images.
Moreover, Serralves is not just a museum, but also a huge park where you can spend hours viewing the installations and sculptures that are often used as exhibitions' continuations. The park contains, for example, the Mirror Pavilion designed by that same Álvaro Siza. Mini-films are shown within the pavilion.
Why it's worth visiting
To make it to the exhibition of Olafur Eliasson, a Danish-Icelandic artist famous for his large-scale installations on the subjects of the environment and the future. Eliasson's birch groves in Serralves will be displayed until 14 June 2020. Heading here, it's best to plan an entire day on the museum and the park. A ticket will cost €20. Moreover, there is a shop at the museum with excellent souvenirs representing Serralves's most important exhibits.
Museu de Arte Contemporânea de Serralves
---
Porto, like a true northern capital, might appear restrained and in places, a bit glum, but cannot possibly be considered uninteresting. Those who want to see more than cult tourist sites are advised to take a look at the vintage furniture and antique shops, a selection of which can easily be found on the Web.
Being a colonial power, Portugal traded in furniture, household items, and silverware. You can still find lots of this in the antique and vintage shops if you make an effort to look for it. And make sure to finish your wandering around Porto with dinner and port, including the local fried squid in one of the Ribeira fish restaurants.