Not leave the hotel
In many places, there is nothing much of interest beyond the walls of your resort, but in Mexico, the opposite applies – it's all happening everywhere. Everything is laid on for the tourist – beaches, and cenotes (natural subterranean swimming pools), pink lakes and the remains of ancient civilizations like the Mayans, Aztecs and Olmecs. Of course, no-one is forcing you to leave the hotel complex, but if you don't, your visit to Mexico will be nothing more than just a stamp in your passport. If you want your holiday to be one where you stretch out on white sand and try to work out where the bluest sea meets the sky, then take a look at these beach hotels: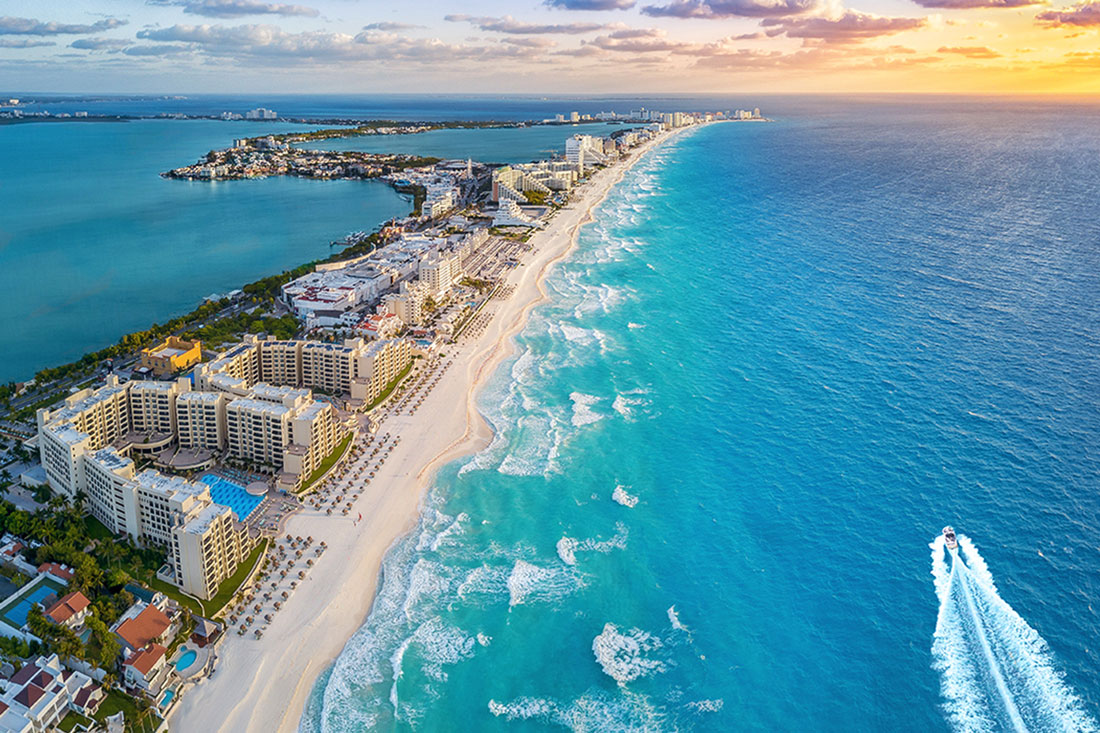 Where to stay
The Cancun Hotel Zone
The Mayafair Design Hotel from $57.00, located on Caracol Beach, right in the middle of the clubbing district
The Casa Maya hotel, from $112.00 per night per twin/double room
The 5* Iberostar Cancun All Inclusive from $286.00 per night per twin/double room, all-inclusive. The hotel is located on the Playa Delphines beach.
Communal beaches within the Cancun Hotel Zone
Playa Tortugas. Small waves, supermarket, little restaurants, public conveniences. One of the most popular beaches with the locals.
Playa Chac Mool is ideal for those who like water sports as the waves here are quite active. The beach is within the Hotel Zone. Changing rooms, toilets, and showers are provided free of charge.
Playa Delphines will suit those who want to have their photo taken in front of the word "Cancun." This is truly heaven with no admission fee. The beach boasts umbrellas, changing rooms, toilets, and even an open-air gym. Best of all, it's all free of charge. It's at the last stop of bus routes R1 and R2 which runs the length of the Hotel Zone day and night, and a ticket costs $0.50.
If you would like to spend some time relaxing on an island, then head for the Isla Mujeres where you can spend a day – or even a few days – after a short ferry journey. The crossing takes 30-45 minutes depending on where you board the boat. There are three ports in the Hotel Zone and one not far from central Cancun. The timetable, prices, and departure points can be found on the Ultramar website.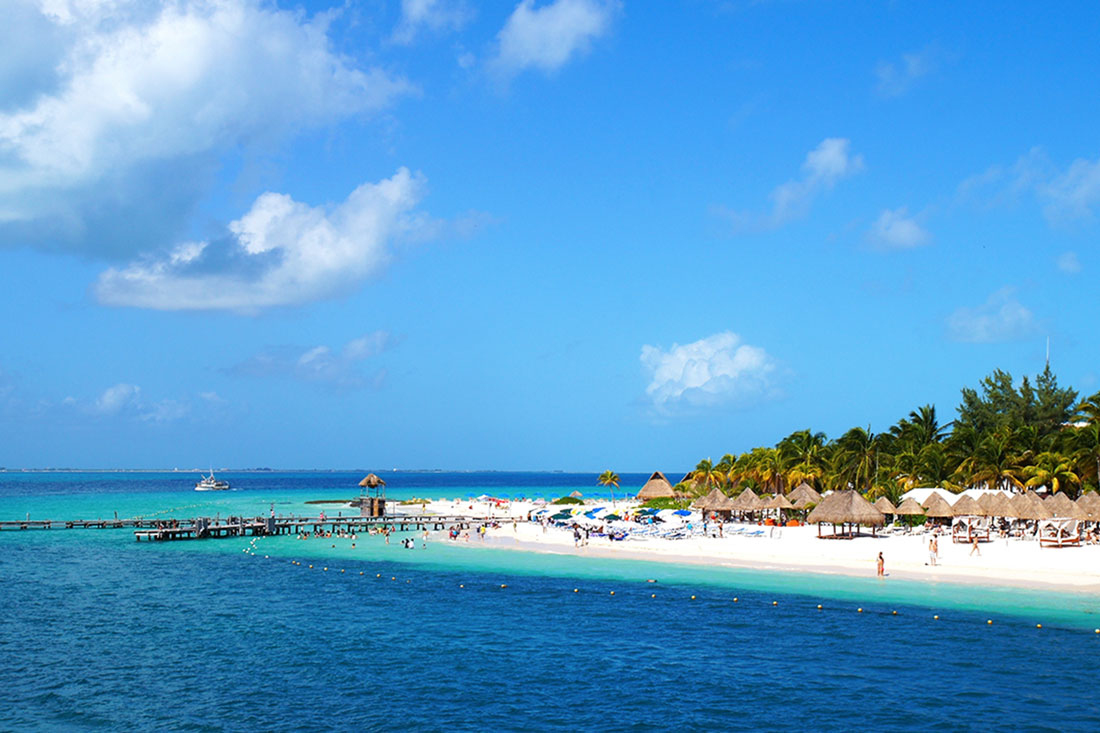 Where to stay
Sueno Maya hotel – from $45.00. Budget accommodation very close to the Playa Norte (North Beach), the main communal beach.
Casa de los Suenos hotel – $238.00 per night per twin/double room. The hotel is located in the far south of the island. They have their own private beach and relaxation zone.
Buy a package tour
When you buy a package tour, there is less of an incentive to go out and visit other places and experience other beaches because you've already booked and paid for your accommodation. Another way to do it is to buy your air tickets yourself and book your won accommodation … you know what to do next!
As far as accommodation is concerned, there is no shortage of options on the Mayan Riviera.
If you want to save some money and get your international friends' attention, stay at the Selina hostel on Playa del Carmen beach. A bed only costs $12.00 per night, and you get access to great facilities – kitchen, showers, a bar, and a huge coworking space. The hostel is located right on top of the area's nightlife.
An apartment with kitchen would suit those who like to cook for themselves. Take a studio flat in the Blue Palms Condos complex from $124.00 and eat fresh fish in the evenings and run on the beach in the mornings – cool, no?
Do you want to get away from it all with your better half? Head for Tulum and opt for one of the many "adults only" hotels, such as the Mi Amor — Adults only Colibri Boutique Hotel (from $528.00).
If you are looking for peace and quiet and beautiful sunsets not too far from civilization? Check-in at the Sunset Fishermen Beach Resort Playa del Carmen All Inclusive hotel (twin/double room from $179.00 all-inclusive).
The great thing about doing it this way is that you get to see the variety of the Mayan Riviera in one single visit and you can choose what you want to do without being held back by tour operator restrictions.
Useful information
Air tickets from $1000

Visa requirements: no visa necessary for US and Canadian citizens and travelers from the Schengen zone, UK, Ireland, Australia, New Zealand can also visit visa-free

Local currency: 1 Mexican peso (MXN) = $0.50

Time difference: GMT-5

Climate: the dry season on the Caribbean is from November to April. Hurricane season is from June to October.

Official language: Spanish.
Book accommodation in central Cancun
If your dream is to wake up in the morning with views over the Caribbean Sea – then don't, under any circumstances – this is a city of half a million people. The center is full of plain-looking buildings, few retail outlets and noisy public transport and the hour and a half journey to the beach and back every day won't make you feel any better. So, the best place to stay in Cancun is a property within the so-called Zona Hotelera (Hotel Zone), a 22.5km long island where all the hotels sit on top of each other. It's worth noting that you will be surrounded by tourists – the only locals who come here come to work and you won't see much of real Mexican life in the area.
But there's more to the Mayan Riviera than just Cancun. The coast extends for 140km along the Caribbean Sea south of Cancun. The Mayan Riviera is in the state of Quintana Roo on the Yucatan Peninsula. Other places of interest include:
Puerto Morelos. This is the first resort you come to on leaving the airport if you're traveling away from Cancun. It's a quiet, clean place. Plus points are an impressively large sandy beach where it is easy to find somewhere to settle, and there are decent facilities like bars and restaurants. It's the kind of place which would suit those who like peace and quiet. Minuses are that you need to take a bus or taxi to the nearest big town and for that, you need to get to the main highway.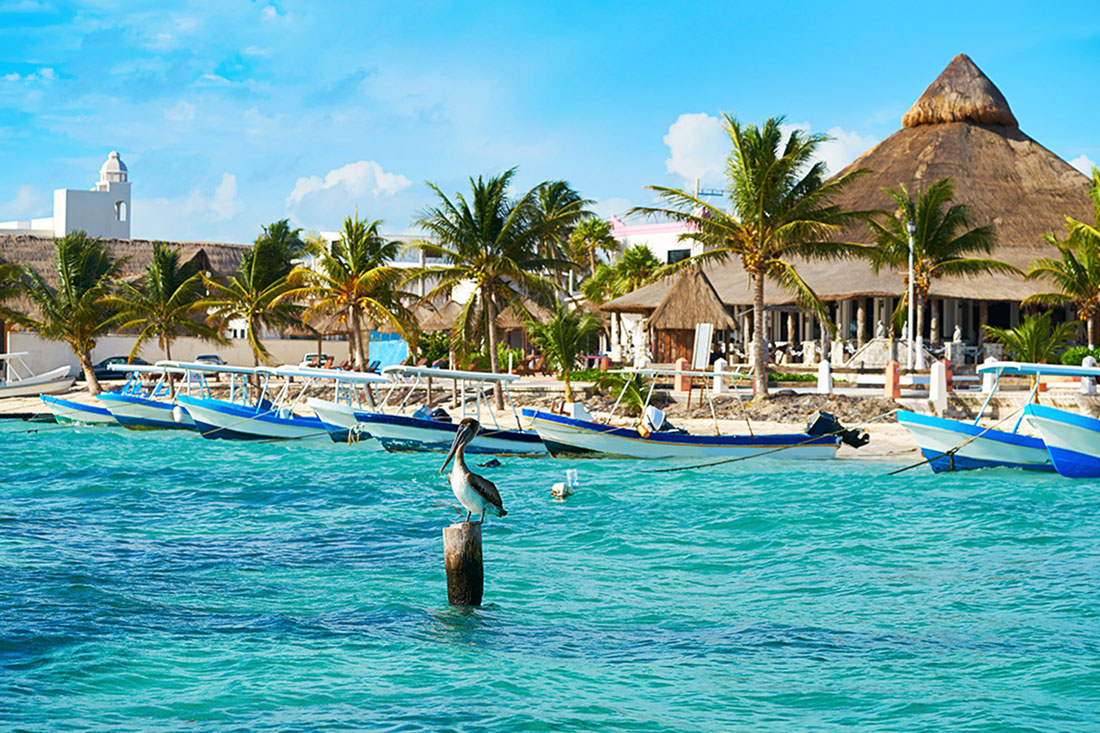 Playa del Carmen.  This resort is an hour's drive from the airport. Unlike Cancun where the tourists and locals never meet, here they do. You can get around here without relying on public transport. Accommodation within easy walking distance of the sea is easy to find. You can take apartments with a kitchen area if you want to cook for yourself. Hypermarkets and markets are plentiful where you can get seafood and fresh fruit. Eating in restaurants is cheaper than in Cancun and the choice is better. On top of this, the leisure facilities are great – including a vibrant nightlife. There is no shortage of after-hours fun here, the ideal place for young people. The location is great if you want to explore the Yucatan Peninsula using public transport.
Tulum. Heaven for hippies and party animals. This little place is blessed with a wonderful beach, but the downside is that it is 5km from the nearest town. You have to find your way there either by taxi or bicycle. A taxi costs around $10.00 (no fixed fare), which is about the same as it costs to hire a bike for a day.
Both upside and downside at the same time is actually to stay on the beach – but there is nothing there. On the one hand, you will be able to enjoy the wonderful sunsets without being disturbed, but on the other hand, you can't just pop to the shop for some water. The best way to approach this is to either take a hotel (not less than $100.00 per night, such as the O Tulum – Adults Only hotel) or a camping site, like the Playa Roca Tulum Camping where they charge $5.00 to pitch a tent.
Confine yourself to the beach
Mexico is a country with the richest cultural and natural diversity, so spending the whole time on the beach would be a crime for today's traveler. What should you try to see in Yucatan? Top of the list would the cenotes, underground lakes up to 30-40 feet in diameter with piercing blue water. Usually, they have quite unremarkable entrances, a bit like a gap in the earth, but their size together with the way the light plays and the cool water on a hot day all make for an unforgettable experience.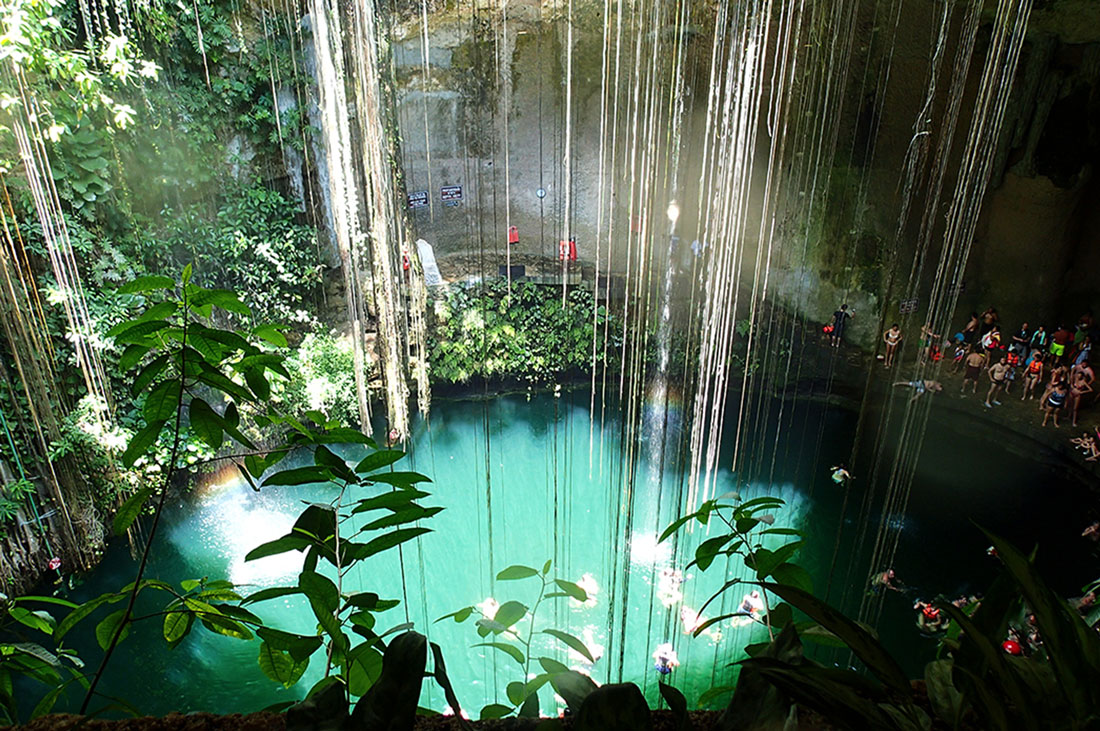 Exactly how many cenotes there are in Yucatan is unknown, but they are believed to be in their thousands. Only some of them are open to the public. At the Grand Cenote, they will let you have a refreshing swim (entrance – $4.00), and at the Dos Ojos cenote, you can go snorkeling with a mask or dive with an aqualung. It's not the cheapest option, but for all it costs, it's worth the money. The cenote has one of the largest underwater networks open to the public. The entrance costs $14.00, snorkel hire is $5.00 and a guided tour to the place where you can see both the Ojos (eyes) costs $42.00. To dive with an aqualung you have to have an advanced diving certificate or higher, and the experience costs $142.00.
Mexico has a long history and is the product of many different pre-Columbian cultures which left behind many traces. Make time to see some of the Mayan pyramids. Some interesting ones include Tulum, a former port on the Caribbean coast, Coba where you can climb to the top of a pyramid in the middle of the jungle, or one of the new wonders of the modern world, Chichen Itza. You can't visit Tulum and Coba in one day on public transport, so you'd need to hire a car or book an organized tour.
The scheduled ADO bus is the only one which runs from Cancun/Playa del Carmen to Chichen Itza. It leaves the Playa at 8 am and Cancun at 8.45am and returns to both places from Chichen Itza at 4.30pm. Once there, after you've explored the archaeological remains, you can visit the cenote at Ik Kil. To be honest, this trip is best done as part of an organized tour from Cancun; it'll be cheaper and easier to organize. The standard day trip includes transportation, the ruins with guided tours in English and Spanish, the cenote, and a buffet lunch in Valladolid. The whole thing costs around $60.00, whereas if you book the return bus ticket and ruins yourself without the guide, you will pay $63.00
If you don't want a long day out, there are Mayan ruins within Cancun's Hotel Zone. Take the R1 or R2 bus which run across the whole island. Say the magic words "zona archeologica" to the driver, and he will drop you at the entrance to El Rey.
Ignore reports about the sea conditions along the Mayan Riviera
It's a sad fact that there has been a steep rise in the amount of Sargassum seaweed being washed up on the Caribbean coastline. It is not dangerous as such, but when there's a lot of it, it really spoils any holiday by the sea. It grows on the sea bed, and when it becomes detached, it floats randomly in the water. The Sargasso Sea in the Atlantic was named after this stuff. If the tides wash the seaweed up onto the beaches, you have to clamber over it to get to the waterline. At times, the whole coastline from Holbox to Majahual can be affected.
It's impossible to say when the seaweed will appear. All you can do is check the current situation before you leave. The Sargazo Network group page publishes a daily summary of the seaweed situation. This can be seen as yet another argument to book your accommodation yourself (you know where… ) especially if you choose the right cancellation terms. If the situation is not good in one place, you can always cancel and move on somewhere else.
Underestimate the strength of the sun and walk on the beach during the danger hours.
If you've not yet come across factor 100 sunblock (see our article on sun protection), you will see it in every pharmacy and supermarket in Mexico. The sun is extremely strong here, and it makes no exceptions for visitors. The Caribbean region is close to the equator, and your risk of getting sunburn is about twice higher than at home.
Assuming you don't want to spend half your holiday locked away suffering the ordeal of blisters all over your skin, cover yourself in sunblock no lower than factor 50 and stay in the shade from 11 am until 3pm. That famous Mexican hat is not called a sombrero for nothing – "sombre" means shade, so kill two birds with one stone and buy yourself a souvenir which will also protect you from the sun!
Ignore the street food
You can't say you've been to Mexico unless you've eaten taco here. A taco consists of pulled meat wrapped in a corn tortilla. They come with sauces with different levels of spiciness. All types of meat are used. A popular version is the tacos al pastor ("shepherd style") which is made of grilled pork, onion, and pineapple. The typical taco costs around $1.00, and you can order them one by one or a few at a time, depending on how hungry you are. It's hard to say where to get the best tacos as every place is different, but I particularly like El Fogon.
A similar kind of snack is the quesadilla. Again, a maize tortilla with a filling but this time based on cheese. It could be just cheese or cheese with mushrooms, meat or vegetables. Las Quekas is one of the places where you can get freshly made quesadillas. They cost $0.50, and they will appear at your table after only a couple of minutes. If you pay another $0.50, you can enjoy your quesadilla with one of two traditional drinks – horchata, a type of rice milk, or Agua de Jamaica, which is really hibiscus tea.
Mexican street food is an integral part of the culture, so if you really want to try something local, don't simply walk past the numerous street vendors. You can enjoy sweetcorn, drink freshly squeezed fruit juices or milkshakes and nibble on banana crisps.
Ignore discounts and happy hours
There are more men than women in this country, so women are shown preferential treatment. One way to experience this preferential treatment is to enjoy Ladies' Nights in Playa del Carmen.
Every day, different venues offer free or heavily discounted cocktails to women at certain times of the day. Make a note of the addresses.
Cancun's "Happy Hour" locations
Mondays: Abolengo night club from 10.30pm until 1 am. Pop, reggae.
Tuesdays: Terrace of the Lobo del mar hostel. 9pm-11pm. Swimming pool and pop music. Very crowded and small dance floor.
Wednesdays: Hotel Selina bar. From 9pm-11pm. A comfortable venue not too far from the main nightlife.
Thursdays: Rooftop bar of the Be Playa hotel. From 7 pm to 11 pm. A calm atmosphere with plenty of seating.
Fridays: Rooftop club at The Palm. From 8 pm to 11 pm. Great bar on the rooftop of the hotel with swimming pool and views over the city.
Saturdays: Hotel Selina bar. From 2 pm to 5 pm
Sundays: from 5pm to 8pm, dancefloor of the 3B hostel, the rowdiest one in Playa. You don't have to throw yourself into the crows if you don't want to, but this place has a spectacular view of the sunset.
You can check current information here before you leave. Venues, times, and days of the week can change based on management decisions of the establishments.
Not dance all night long
You've almost certainly seen those American films where the characters just throw themselves into unbridled pleasure – this is not make-believe; it really goes on. The Mayan Riviera is famous for the fact that every night is Friday night.
The nightlife in Cancun all happens in the so-called Party Centro/ Party Zone. In Playa del Carmen, head for Avenue Quinta (Fifth Avenue) and try out the La Vaquita night club – or just go towards the music you like best.
You should try the Coco Bongo at least once. This is the club from the movie "The Mask." You pay $80.00 and have access to a free bar from 10.30pm until 3.30am as well as a cabaret featuring covers of popular songs. This is a cult venue and is packed to the rafters every night so if you want to get a place close to the stage, make sure you're there no later than 10 pm.
Go home and not buy a ticket back to Mexico
The Yucatan Peninsula, home to the world-famous resort of Cancun, is only a small part of Mexico but also has a lot of interesting places and attractions to offer and which are easy to see in a two-week stay.
But Mexico is so much more than the Yucatan Peninsula, and the other states also have so much to see!
---
I hope that your visit to Cancun will be just the beginning of a long and happy relationship with this wonderful country. Hasta la vista en Mexico – see you in Mexico!