Antalya has an unfair reputation as being the home of all-inclusive and nothing else, as though it has zilch to offer other than lying on the beach, shopping, and endless gluttony. Yet the town actually boasts interesting tourist sites, beautiful nature, centuries of history, excellent service, and a surprisingly pretty old town no less impressive than those you'll find anywhere in Europe. So that you don't spend the entire holiday lazing around, we have put together a detailed guide for you. Make the most of it!
Don't forget that you can check the latest information by country with current restrictions on this page.
Contents
Nostalgic Tram
Our introduction to the beauty of Antalya begins with the Nostalgic Tram. Its route runs from the Archeological Museum (entry — 30 TRY / ≈ €4, audioguide — 10 TRY / ≈ €1.5) to the eastern part of the old town. Nostalgic will take you to the most picturesque locations:  Hadrian's Gate, Hidirlik Tower, Yivliminare Mosque, and other famous sites that look good on postcards. Nostalgic is an absolute must-do in Antalya: it's not only a trip on an antique tram but also a wonderful excursion for your first acquaintance with the town.
Nostalgic's route also runs through Işıklar Street, which is Turkish for "street of fires." Palm trees grow alongside the tramlines, an artificial stream has been built there too, and original sculptures are stationed throughout the streets. This is where you find the true Antalya spirit like nowhere else: the enticing aromas of local cuisine and freshly-brewed Turkish coffee flow from the cafes, while the shops and souvenir stalls offer everything for which Turkey is famous: economically priced textiles, leather shoes, hand-made desserts, aromatic spices, and memorable little presents.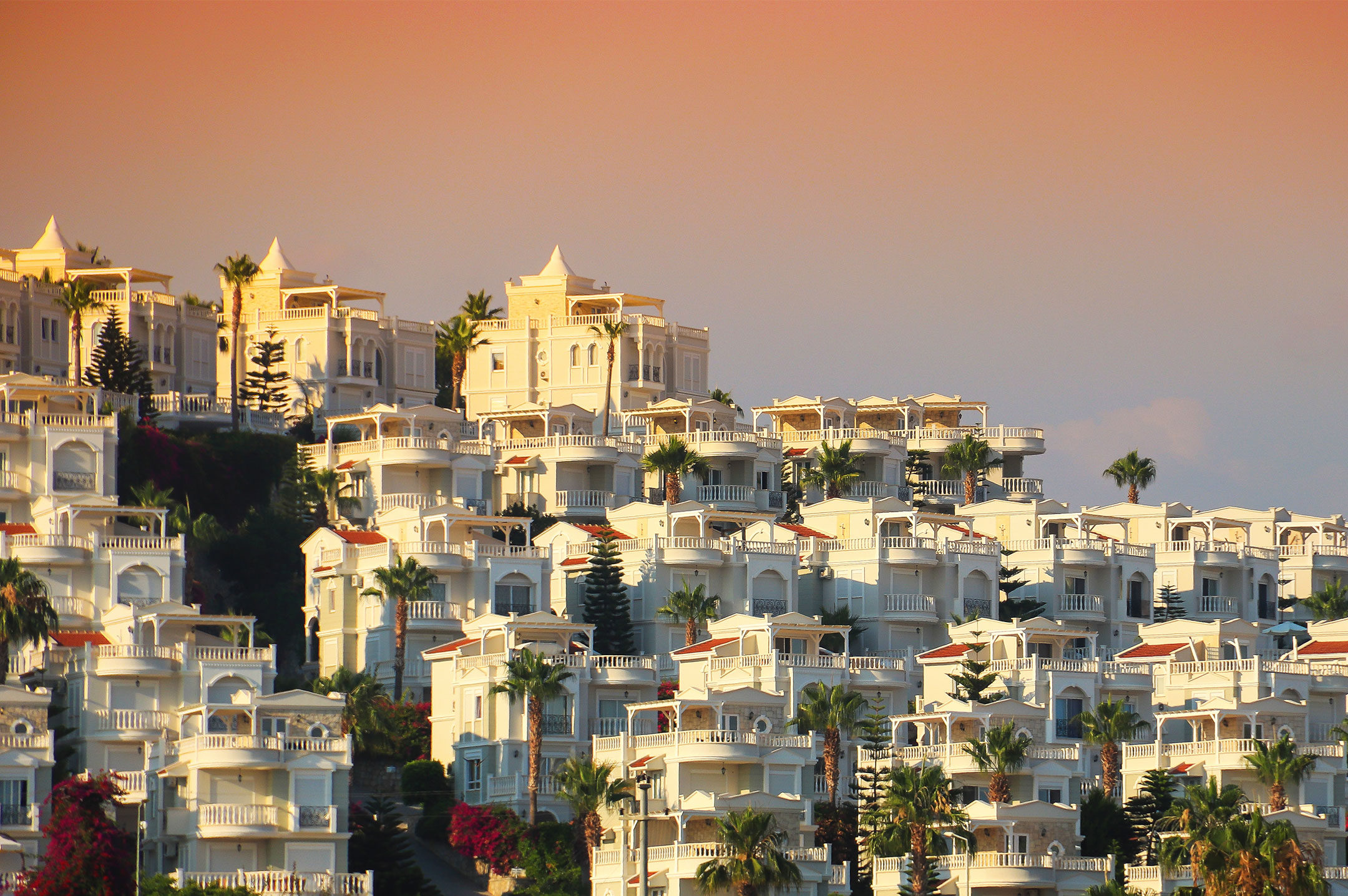 The price of a trip on Nostalgic is 2.4 TRY (≈ €0.3). You can pay using the local Antalyakart transport card or by a contactless bank card.
More details about the Antalyakart
There are two types — paper-based (Limited Card) and plastic (Smart Card). 
A Limited Card is issued for 2 or 4 trips (6.5 or 12 TRY / ≈ €0.8 or €1.5). This price includes the cost of the actual card — 1 TRY (≈ €0.1), while the rest is the balance which you can top up no more than five times. After that, you can throw the card away. 
A Smart Card can be topped up endlessly, and each subsequent boarding on transport within an hour will cost 1 TRY (≈ €0.1). A Smart Card with a zero balance costs 5 TRY (≈ €0.6) and is valid for several years. You can buy the Antalyakart throughout the town and in its suburbs: in small shops, kiosks, and terminals, as well as at the airport and bus station.
Hadrian's Gate
The architecturally magnificent Hadrian's Gate, which served at the entrance to the old town, is a legacy bequeathed to Antalya by the Roman Empire. During that time, the town flourished as a port, and it needed strong defenses. Antalya was hence protected by fortress-like stone walls with several gates. However, only Hadrian's Gate has survived. It is built as a triple arch portal and somewhat resembles a triumphal arch.
A small square is located near the gate, where you can engage in a purely Turkish pleasure — sipping tea under the sprawling branches of trees that have witnessed troubled milestones of world history in their time. Waiters carry tea around the park in huge copper pots from which they pour the drink into traditional glasses. To pay, you simply have to leave coins on the bench. The tea costs 2 TRY (≈ €0.2).
Hidirlik Tower
Walking through the old town, you cannot miss Hidirlik Tower. It stands right on the seafront, surrounded by blooming trees and flowers. The tower was built back in the 2nd century AD. Like Hadrian's Gate, it's an example of Roman architecture. In its prime, it played the roles of lighthouse and fortress — showing sailors the path and defending the town from raiders. Near the tower, you will also find Karaalioglu Park, where it's nice to take a stroll and relax after a walk through the town packed with impressions.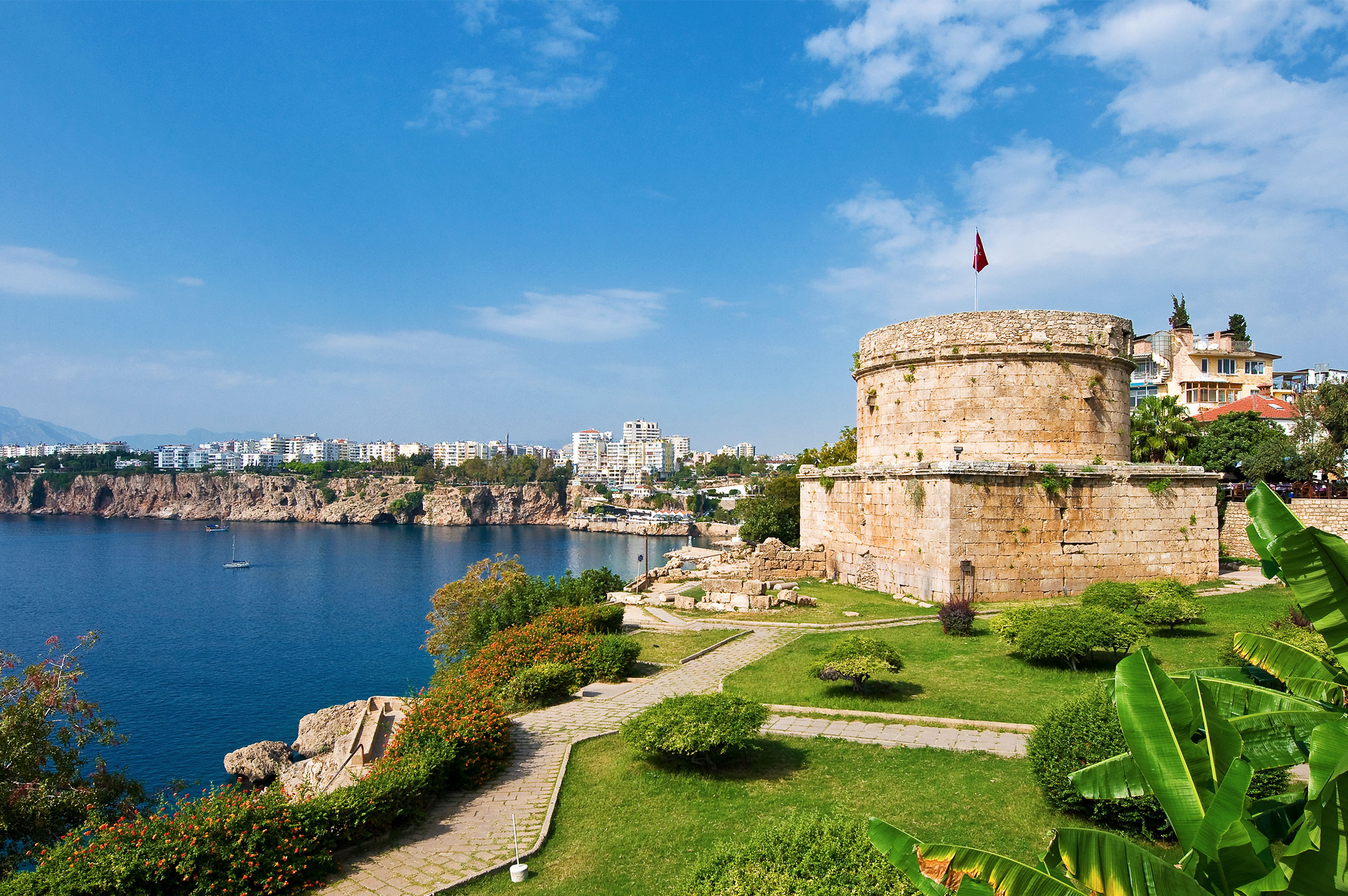 Ayar Meyhanesi restaurant
To kill two birds with one stone — to discover the local hospitality and enjoy seafood to your heart's content — head for Ayar Meyhanesi. It was opened by a simple sailor who, in a short while, turned it into one of the best restaurants of Antalya. Ayar Meyhanesi is now firmly entrenched in the top ten, according to TripAdvisor, with a 5 / 5 rating. It's found in the very heart of the old town and specializes in fish and seafood dishes. Waiters trained no worse than English butlers will deliver all the riches of the Mediterranean Sea to your table. All that's left is for you to indicate what you want to eat, and the chef will make it exquisitely.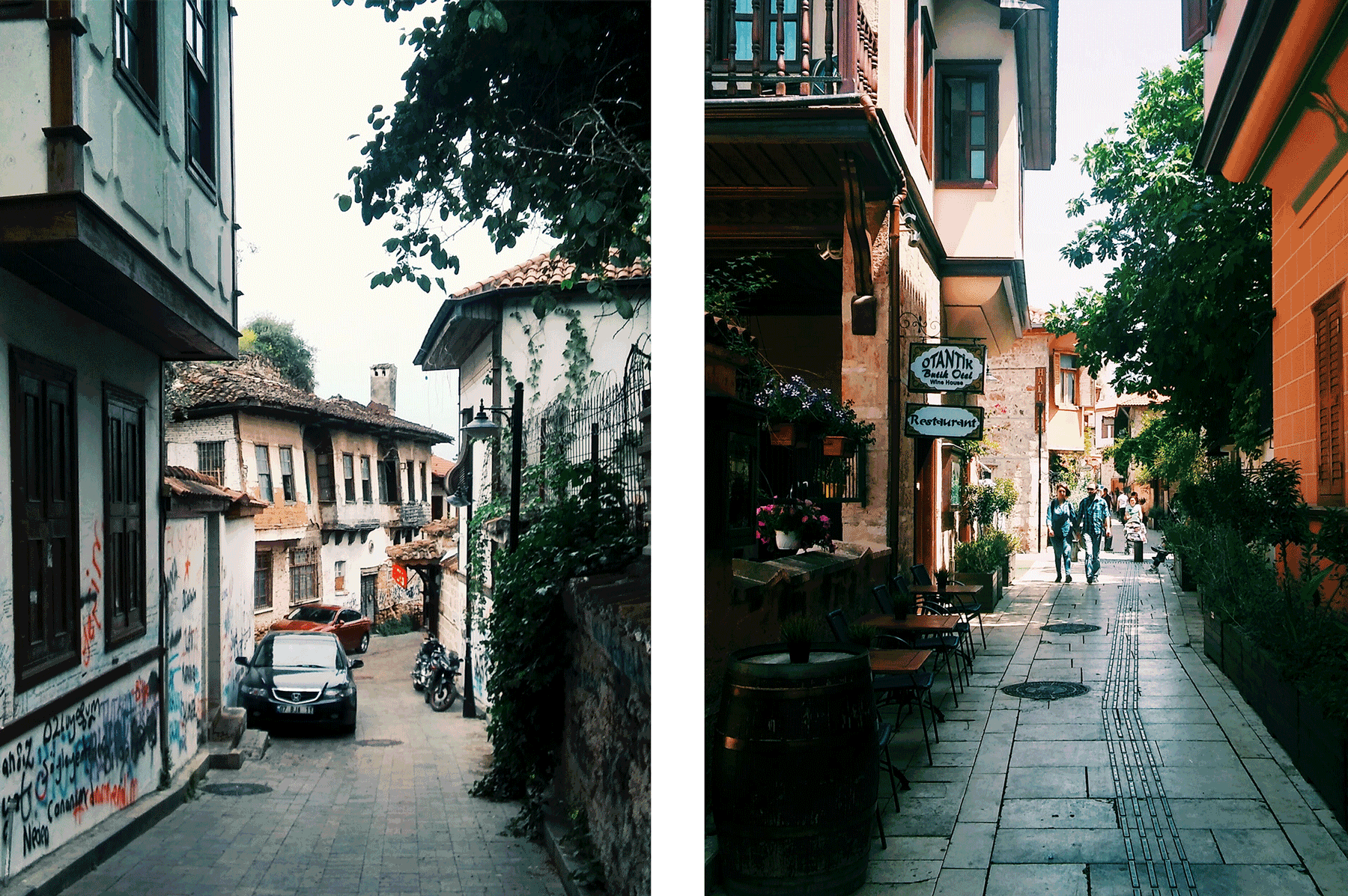 On average, a meal for two will cost 150 TRY to 500 TRY (≈ €19.5 to €65), but trust us – your investment will pay back a hundred times. You will get wonderful service and lots of surprises in the house. Most often, the treats they bring are Turkish coffee, strong tea, desserts, fruit, salads or mezze appetizers, and sometimes all of them at once.
Tekeli Mehmet Pasa Mosque
A number of pretty mosques have survived in the old town, but of particular interest is the mosque named after the great Vizier Mehmet Pasa. It was built at the end of the 16th century, and no corners were cut in decking it out: stone tiles, Arabic calligraphy, gables from hewn stone, marble decor, and lots of detail create a unique festive atmosphere.
Make sure to look at this subtle artwork. Tekeli Mehmet Pasa Mosque is still used for services. You can visit it freely. There is no charge for entry, but donations are very welcome.
How to act in a mosque
Don't disturb the believers: turn your mobile phones to silent, don't photograph people while they pray or wash their feet, and avoid visiting the mosque during prayers.

Observe the dress-code: cover your shoulders and knees, and women also need to wear a headscarf. In major mosques, you may be able to borrow special capes and headscarves, but it's better to bring your own.

You are expected to take your shoes off in front of the mosque. You can either leave your shoes by the entrance or put them in a plastic bag and take them with you.

You mustn't eat or drink in a mosque.

Taking photos is allowed in some mosques, but only after prayers are over.
Tünek Tepe hill
Outside Antalya, in the resort town of Konyaaltı, you can admire the beauty of the seafront from Tünek Tepe hill. It contains a panoramic viewing point from where you can see Antalya in all her splendor: the ports, the mountain ridges, the Mediterranean Sea – celestial blue by the shore, and cobalt-color in the distance – as well as little boats and big ships cutting through the waves. You can get to the peak of Tünek Tepe hill on a modern cable car. It operates every day except Mondays, from 10:00 to 18:00. A ticket costs 15 TRY (≈ €2). Looking from Konyaaltı beach when the skies are clear, you can make out a round-shaped restaurant at the top of the hill. A meal here will cost three times as much as in the town, so after viewing the local nature, it's better to take any bus marked KL and to ride to Ataturk Boulevard. Along this huge street, you are sure to find an excellent restaurant with reasonable prices.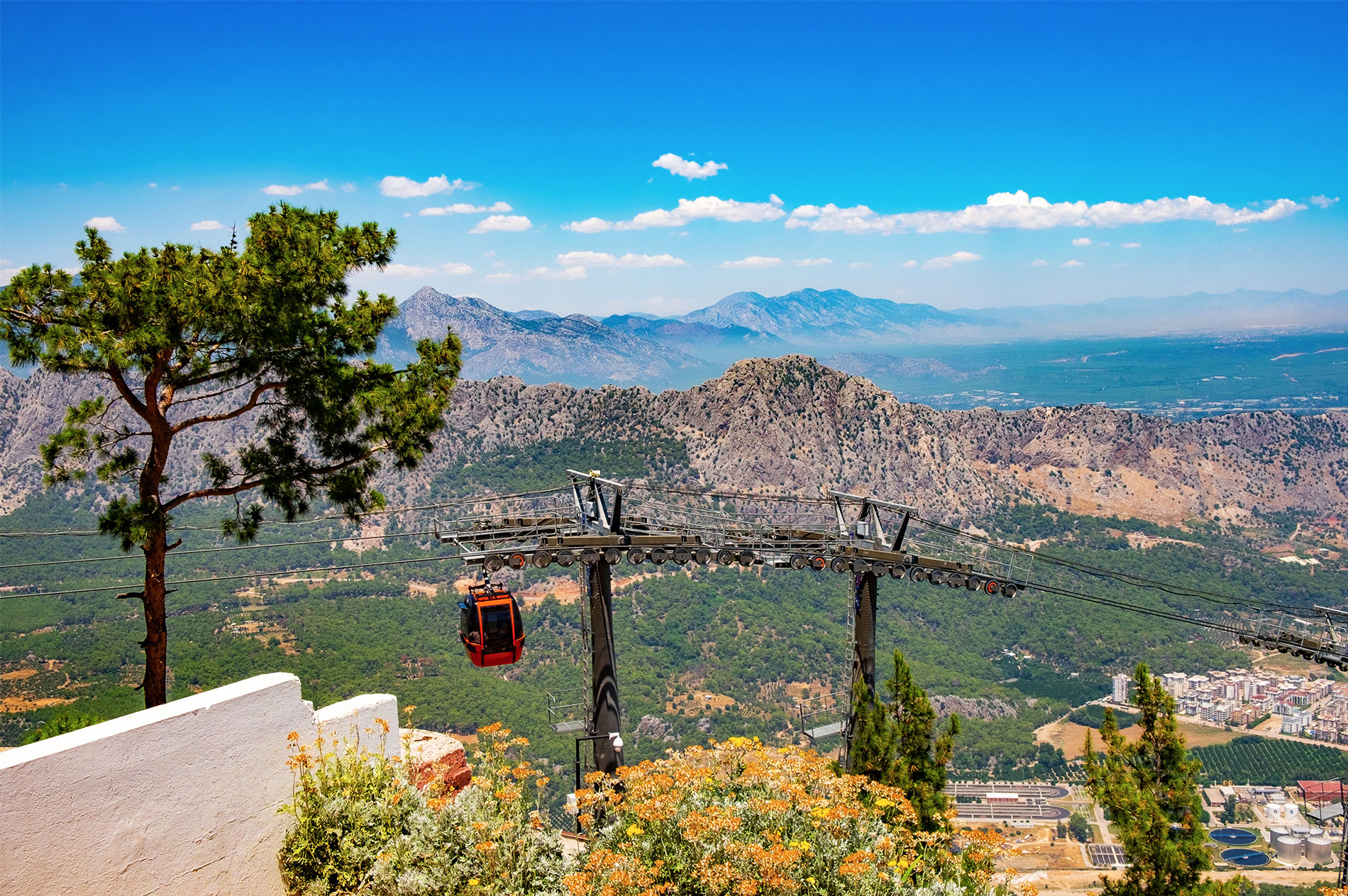 In Kazan Restaurant, you can discover traditional Turkish cuisine. Try the legendary iskender kebab (15 TRY / ≈ €2 per 100 grams). It's made on thin slices of mutton or veal baked on a flame. The meat is stuffed into a fine envelope of pitta-bread, dressed in tomato sauce and hot melted butter. The iskender is served with a side-dish of grilled vegetables and yogurt.
Düden Waterfalls
Ask any Antalya local what they are proud of the most and what they recommend visiting above all, and they will all name Düden. There are two Düden Waterfalls — Upper and Lower. The upper one falls off a 20-meter crag. It's surrounded by a park with winding paths in the shade of ancient plane trees that are over 500 years old. There is a great view of the lower waterfall from Lara beach. It's a stunning picture: light crashes against powerful torrents with rainbows appearing all around.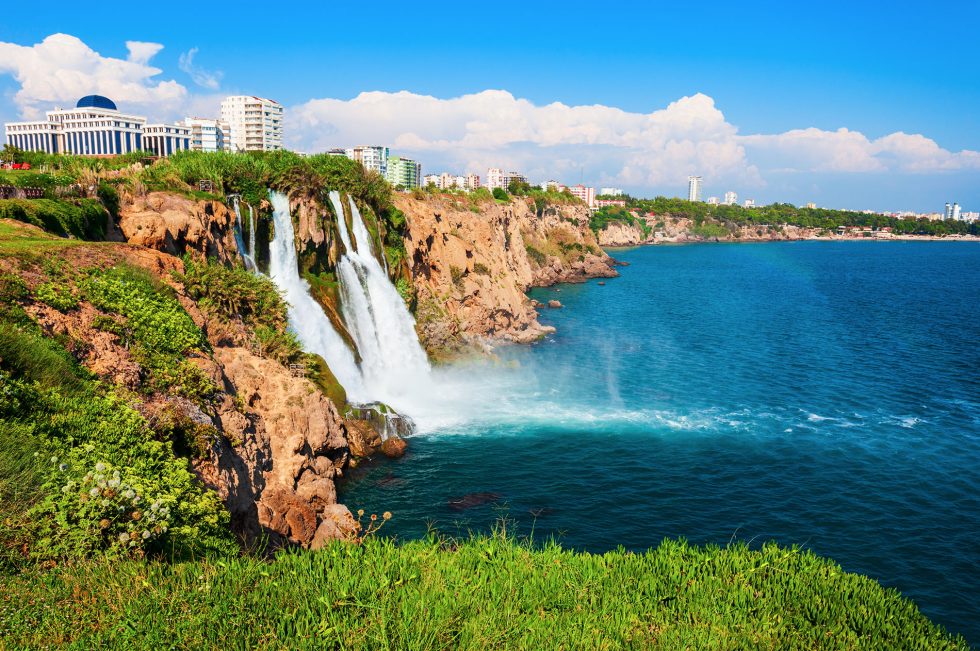 From Antalya, you can get to Upper Düden by number VF66 bus. The stop is called Duden Selalesi. Entry to the park will cost 5 TRY (≈ €0.6). Payment is by cash only.
You can get to Lower Düden by number KL8 bus, and the stop is called Duden Park Lara. Entry to this park is free.
Perga
Traces of just about all advanced ancient civilizations can be found in Turkey. This is where events of the Trojan War unfolded. Alexander the Great frequented the territory during his expeditions, and the Roman Empire flourished here. Historical events combined with legends of antiquity in Pamphylia, home of the ancient town of Perga.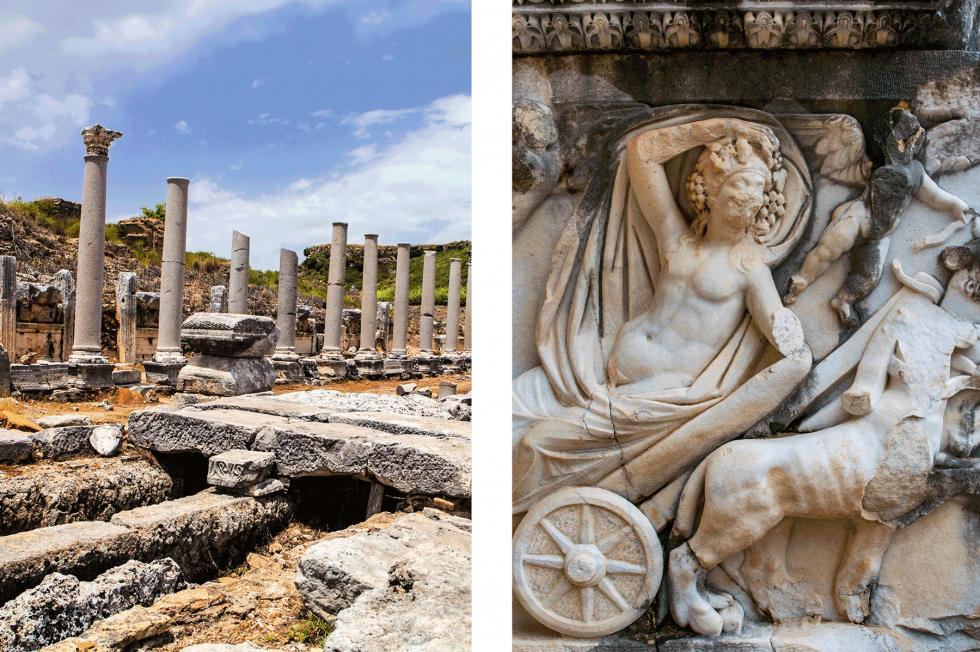 Perga is also famous for its Hellenistic period, and if we are to believe The Acts of the Apostles, according to St. Luke, this is where Jesus's disciple St. Paul preached. Perga now offers highly interesting ruins, and in order to delve deeper into the historical context, it's best to visit on a guided tour. In Antalya, you'll find tons of tourist services with Russian-speaking guides (250-450 TRY / ≈ €33-€60). If you want to discover the ancient town on your own, be prepared to pay 43 TRY (≈ €6) for entry.
Aqualand
If you are traveling with children or you are still a kid at heart, then come and visit the largest waterpark in the region — Aqualand. Its huge territory incorporates nine slides of differing levels of difficulty, several swimming pools, a water village for toddlers, and even a dolphinarium. The local dolphins are not only friendly and smart but also carry out amazing tricks for the public and even paint pictures, which you can buy right there at an auction. There are also plenty of attractions to choose from: the Lazy River for relaxation along which you can slide at a leisurely pace on an inflatable ring, while if you want something more exciting head for the Crazy River. The "Multi" is perfect for the entire family, while if you are into extreme adventures that try the high-speed descent into the Black Hole in total darkness or the Kamikaze and Tornado whirlpools.
Entry for an adult for the day costs from 90 TRY (≈ €12), while a child's ticket costs from 60 TRY (≈ €8). You can buy tickets on the official website with a discount of 6 TRY to 9 TRY (≈ €0.8-€1.2).
Beaches of Antalya
The beaches of Antalya are a tourist attraction by themselves. After all, the majority of tourists are here because of them. So what sort of friends would we be if we didn't suggest that you take a swim in the warm and velvety sea after all that sightseeing?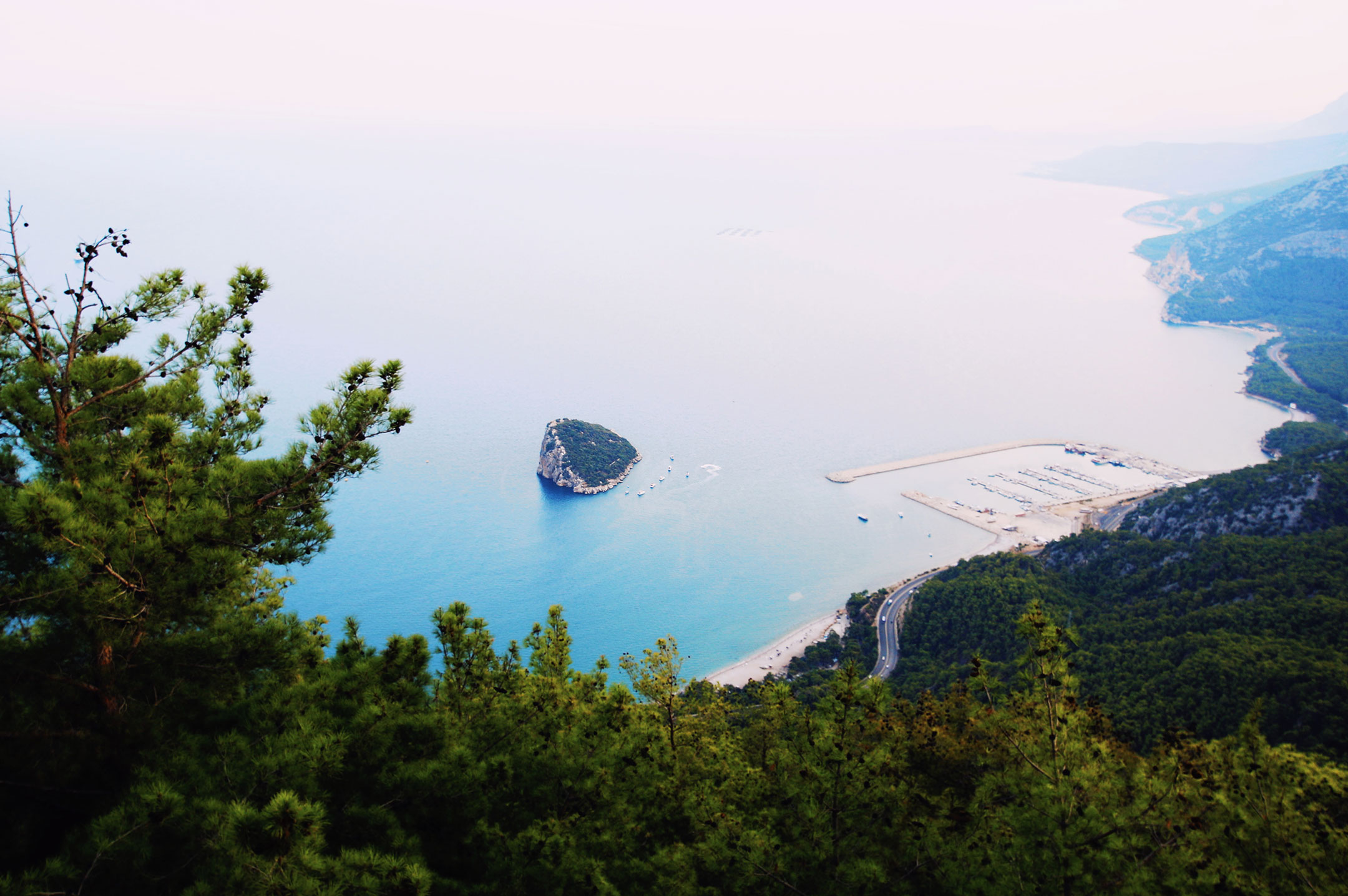 Almost nobody goes swimming in the town itself. Its shore is high up and rocky. You can only swim properly in the vicinity at Mermerli beach, located in Kaleici. Mermerli is Antalya's oldest beach. It's near the port and consists of a platform with deck-chairs. To reach it, you will need to descend long, ancient stairs. The beach is sandy with shingle in occasional spots. The sea is crystal clear, but the seabed is stony — it's best to bring water shoes with you. You have to pay for entry (17 TRY / ≈ €2.2), and the price includes a deck-chair and umbrella. You pay at the restaurant of the same name when entering the beach.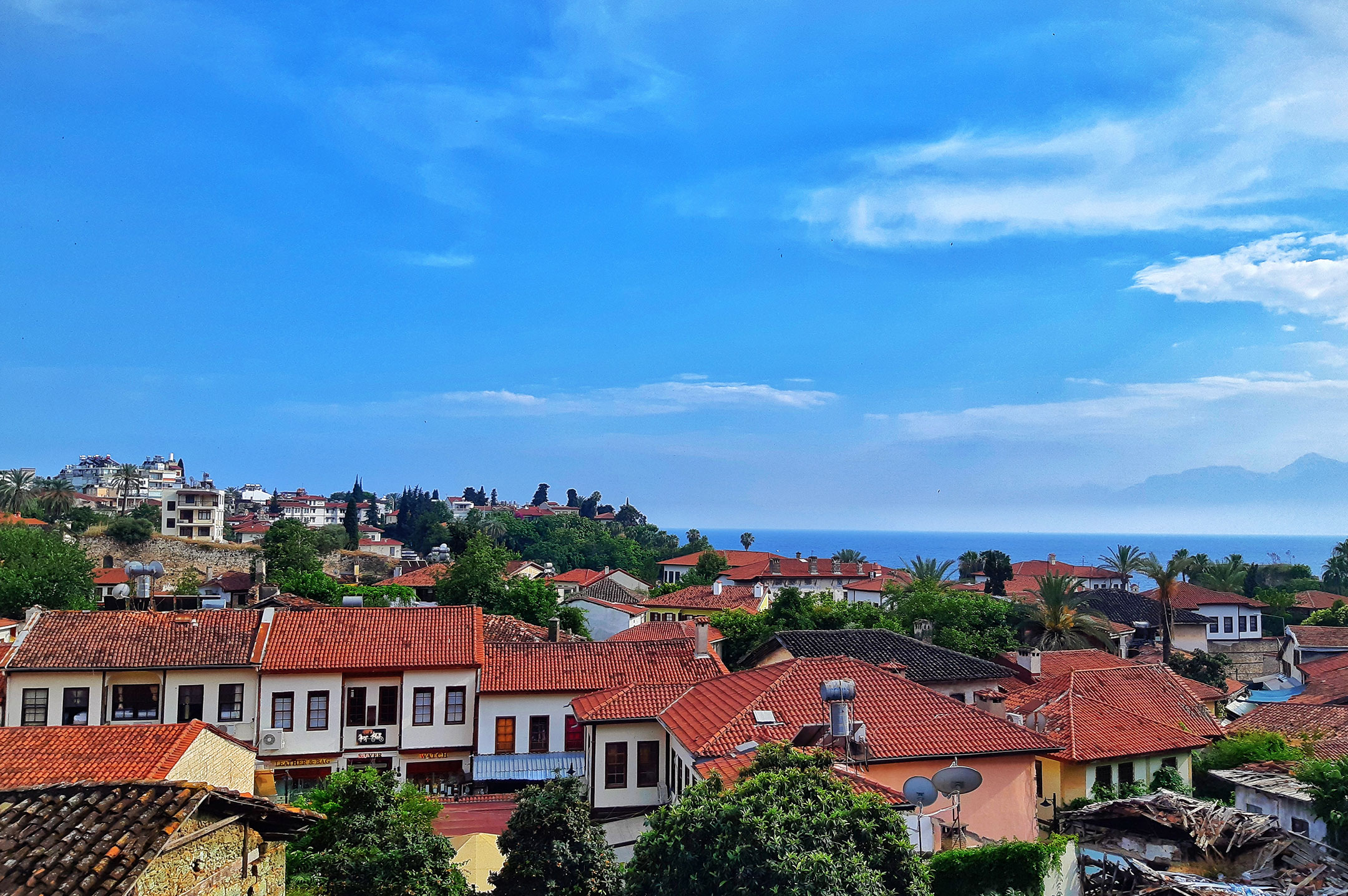 The two most popular beaches on the Antalya coast are found in the nearby localities Konyaaltı and Lara. They are both municipal beaches, with free entry. They contain tons of entertainment options, from banana-boat trips to parasailing. Both beaches have advanced infrastructure: a wide coastal line, promenade, children's play parks, fountains, changing facilities, toilets, and showers. The key difference between them is that Konyaaltı is a shingle beach while Lara is sand and shingle. A set of two deck-chairs and an umbrella over them will cost, on average 35 TRY (≈ €4.5).
---
Surprise your friends and take an active holiday in Antalya: view the legendary sites, feel the spirit of ancient history, enjoy the riches of nature, and the amazing Turkish hospitability. This way, you will get to see true Turkey: sparklingly Oriental with European restraint.