International travel
Passengers from Australia, New Zealand, Russia, Rwanda, Singapore, South Korea and Thailand will be allowed to enter Greece without quarantine restrictions. The submission of the Passenger Locator Form (PLF) by all passengers of international flights to Greece remains mandatory. Those traveling abroad from Greece (outbound travelers) are also obliged to fill out the PLF form 24 hours before their trip, which will be found here. Tha mandatory 7-day quarantine for all travellers is in place.
Greece will allow entry to all foreigners from May 14, 2021 if they have one of these documents:
negative result of a PCR test no older than 72 hours;
an antibody test confirming a previous disease;
a vaccination certificate.
How to get there
Thessaloniki is the closest airport to the peninsula, and it will take just over an hour's drive to reach it. We recommend booking an apartment on the peninsula and hiring a car (at an average price of 50 Euros per day). However, if you have no plans to use a car, then you can perhaps arrange a transfer with the apartment's owner, and then travel around the island by bus. This is a trickier option, as you will constantly need to check timetables and routes.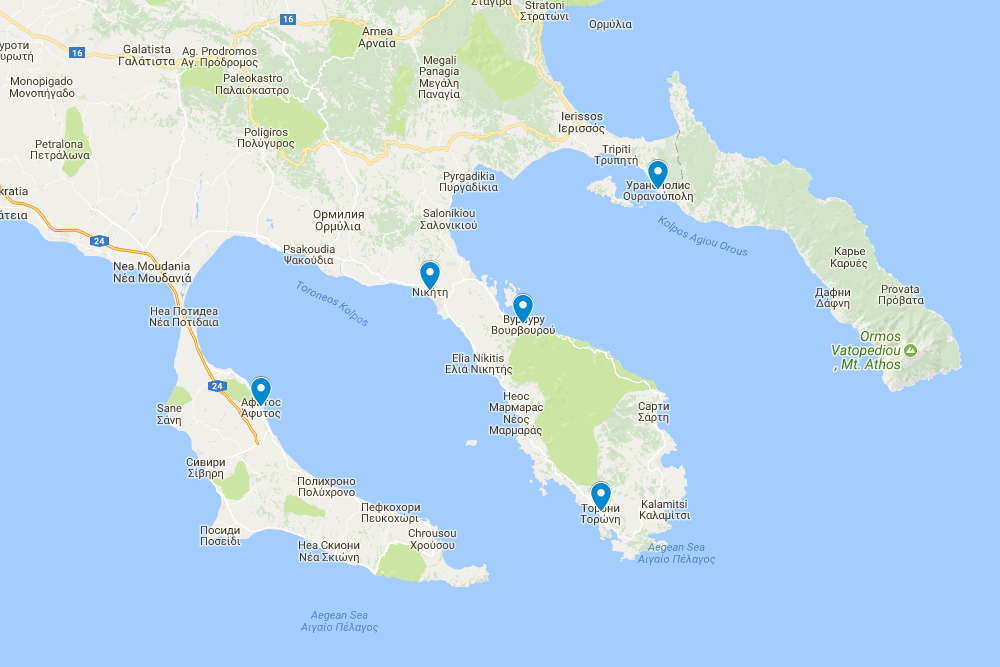 You may of course, spend your entire vacation at a single spot and not have any need for transport, but that would be a waste on Halkidiki. It's great fun to journey around the peninsula: it's easy to come across a wild beach with a mind-blowing combination of white sand and blue sea, or a cozy inlet with boulders and sprawling pine trees — so park your car and jump into the water.
Where to stay
Halkidiki has an unusual shape. It consists of three finger-shaped peninsulas: Kassandra, Sithonia, and Athos. If you don't plan to stay in one place, then it's best to book accommodation between the "fingers" — for example, in Yerakina, Psakoudia, Agios Nikolaos, or any other village in the vicinity. That will make it easier and quicker to travel around the peninsula. 
The third "finger", Athos, is only partially accessible to tourists. Most of it belongs to the autonomous Monastic Republic of Mount Athos. Only male pilgrims may visit, and only upon obtaining special permission.
Afitos
When you travel through Kassandra from the side looking out at Sithonia, don't miss the turn to Afitos. This cozy and picturesque village is located on a rocky piece of coast: little stone houses cutely embrace each other, with cobbled paths weaving their way around them and this entire scene drowning in succulent greenery and nicely arranged flowerbeds. You can walk through ancient little streets, take a look in the shops selling souvenirs, leather apparel, clothes, local cosmetics, and spices, or relax in the restaurants savoring huge portions of Greek salad, gyros or souvlaki.
The dominant architecture on Afitos is that of the stone church of St. Demetrios built in the 19th century, with a dome, bell tower, rich iconostasis, and impressive crystal chandelier.
To reach the main beach, you need to descend a path running down a mountain (and, hence, you need to climb it on your return), but this is really the only inconvenience. The second most important beach — Liosi — is a bit further away. They both feature fine sand. 
Food time
Traditional lunch on the peninsula, as a rule, includes seafood (prawns, octopus, squid — often grilled), stuffed vine leaves, tzatziki (a garlic yogurt, and cucumbers), and eggplant caviar.
Then more delicacies at dinner: souvlaki (Greek kebabs), moussaka (baked mutton and eggplant in Bechamel sauce), gyros (pitta with meat), pastichio (baked macaroni, mincemeat, and tomatoes), stifado (meat stewed with onion), and paidakia (ribs of lamb). 
As for wine, in this part of Greece, you need to try retsina — white wine with a slightly resinous taste (the wine matures in pine barrels that emit resin). Don't forget to grab a couple of bottles to take home!
Nikiti
Nikiti is another old village, this time located on Sithonia. The sand along the coast is white and has a pleasant feel, and the path down to the sea slopes gently. It also features a picturesque promenade — a walkway along the beach. The coast boasts all the trappings of civilization: deck-chairs and umbrellas, taverns and cafes, showers, and changing facilities.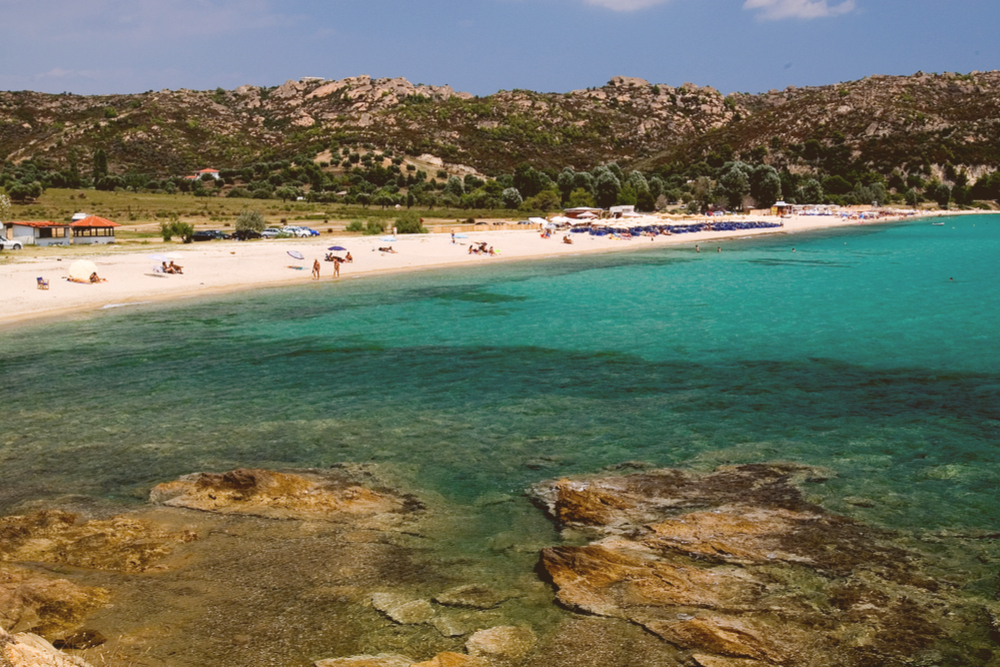 If you get bored of swimming, then spend a bit of time discovering the local tourist attraction — Basilicata Sophronios. This building is dated to the early Christian period (5th century) and was discovered during archeological explorations in 1981.
Note
If you see deck-chairs or umbrellas on beaches that don't belong to hotels, then in 99% of cases, you can use them for free. After a while, a waiter may approach you from the nearest cafe and offer you something from the menu. It's an unwritten rule that all you need to order is a cup of coffee, and you can relax on their equipment the whole day.
It's not that easy to find the basilica. Don't count on there being street signs (I spent about an hour and a half looking for it) and instead search for Archaeological Site Basilicata Sophronios in Google Maps straight away.
Make sure to ascend to old Nikiti — only not when the heat is at its peak. It's on top of the mountain, about 1 km above sea level. The little streets weave around ancient churches and little stone houses with wooden balconies and tiled roofs. Climb up to the very top, to the cemetery — and from there, you can enjoy a view of the entire village, sea and even the peninsula of Kassandra in the distance.
Toroni
Close to the very south of Sithonia, you will find the massive Toroni beach. It is quite lengthy, and wild plots alternate with developed ones, containing deck-chairs, umbrellas, beach cafes, and taverns. It's worth coming here if you're tired of the calm waters at the main "fingers". This part of Sithonia looks over the edge of Kassandra and the open sea, hence the waves are turbulent and the sea bed more typical — it gets deep pretty quickly. In high season you will find crowds of tourists at Toroni, so it's advisable to visit the southern part of the beach — there are fewer people here.
Special features
Jams, marmalades, and pine honey are another special feature of the peninsula. Much of it is exported, which should be no surprise: natural ingredients and unique production methods are highly valued in the market. As a rule, these sweet delicacies are added to soft curds (and breakfast is ready) or used to make toppings and sauces. They make great souvenirs for friends or your good self.
Local olives are a pride unto themselves. These aren't the tiny olives found on your supermarket shelves to which we are all used, but aromatic and meaty olives — so much so that they are served stuffed: for example, with peppers, onions, almonds or capers. In the village of Metazigi hey even grow their own kind — blue olives, you won't find them anywhere else in the world.
Ouranoupolis
There are more pilgrims on Mount Athos than ordinary tourists. Moreover, it isn't much of a resort. A holiday here is quieter and less hurried than on the rest of Halkidiki. However, the sea and beach (Ouranoupolis beach) are just as good. The town of Ouranoupolis is more appropriate for those enjoying a more remote holiday. A 14th century Byzantine tower has survived here, right on the coast: you can swim and admire this architectural rarity.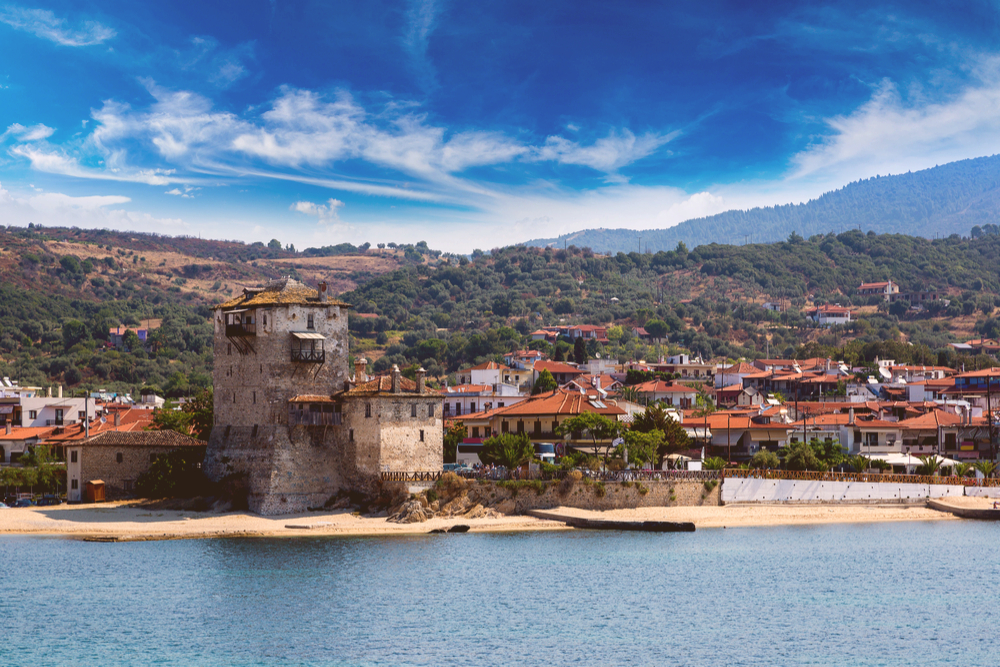 It's in Ouranoupolis that male pilgrims can receive permission to visit the monasteries on Athos. Women are also allowed to touch the relics: the town contains a number of shops where you may buy Athos icons, beads, and incense. And you really feel the proximity of the holy places.
Vourvourou
Karidi beach in the village of Vourvourou is beyond a doubt my very favorite Greek beach of those that I have visited (and maybe not only Greek ones). Just imagine a complete sea idyll: not a gram of civilization, elegant pine trees, snow-white sand, and a bluish-turquoise sea. Admittedly, it gets a bit crowded in high season. This place is particularly popular among tourists with kids: the water is shallow, and you can wade several dozen meters into the sea before it's even knee-level. The water and sand on Karidi will amaze you. I recommend spending the entire day here, walking along the beach, climbing onto the boulders, and enjoying the views all around.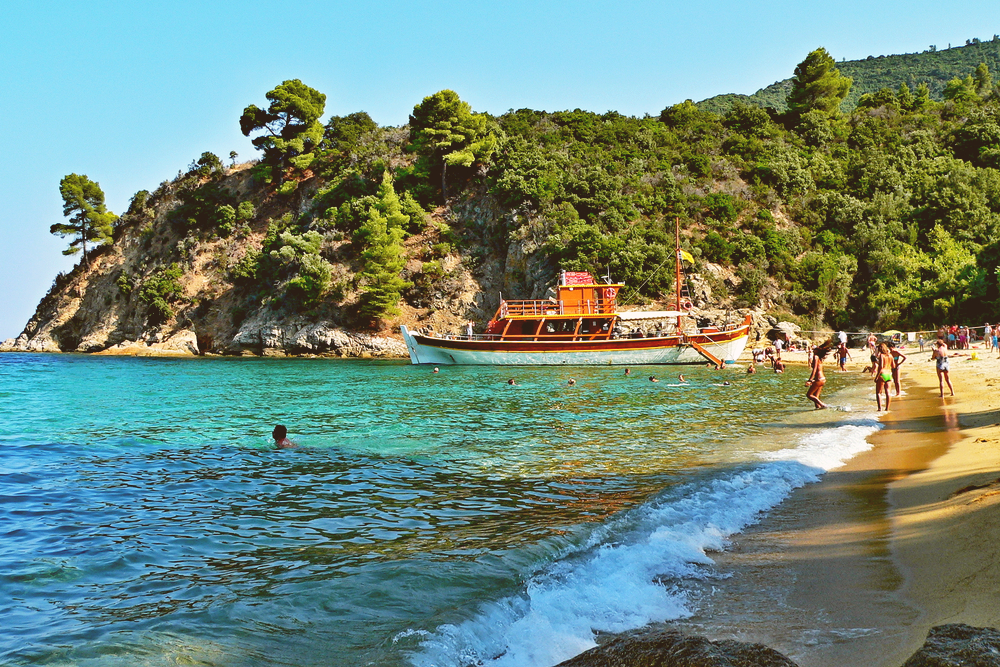 ---
The five beaches that we mention here are only a tiny bit of the peninsula's riches. A beach holiday on Halkidiki is quite amazing.